Effectiveness of Support for Local Government
Appendix A. Results of the statewide survey
Background
As part of this audit we conducted a survey of all of Victoria's 79 councils that focused on the effectiveness of support provided by Local Government Victoria (LGV) and the Municipal Association of Victoria (MAV). Instructions for completion were for an individual response from each council, to be coordinated by a designated representative and ultimately endorsed by the chief executive officer.
Seventy, or 89 per cent, of Victoria's councils completed the survey. There was representation across the different council types—15 of 17 inner metropolitan councils, 10 of 14 outer metropolitan councils, all 11 regional councils, all 16 large shire councils and 18 of Victoria's 21 small shire councils.
Who councils approach for support
Most councils look either to MAV (69 of 70) or LGV (65) for support, but other organisations and agencies are approached as shown in Figure A1.
Figure A1

Organisations and agencies approached for support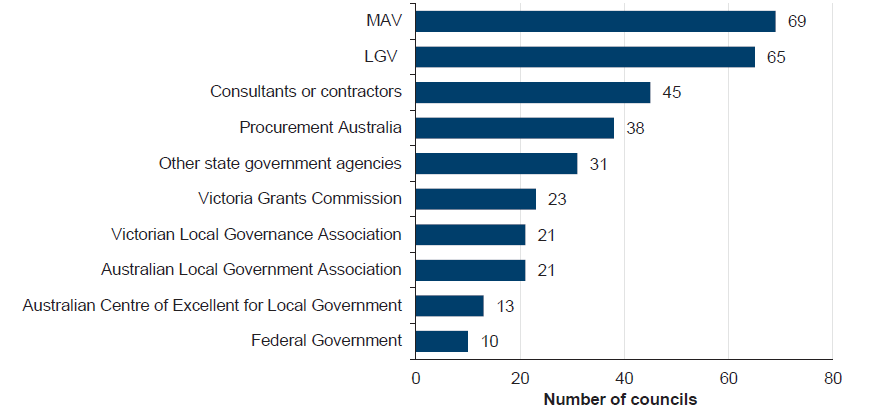 Source: Victorian Auditor-General's Office.
Frequency of support
When councils needed support, over half (36 of 70) approached either LGV or MAV most of the time (21) or about half the time (15). Around one-quarter (18) approached either LGV or MAV less than half the time, and (13) only occasionally. One council approached LGV or MAV every time it identified a need for support, and conversely one council indicated it never approached either organisation for support.
While some councils approached MAV and LGV through meetings, conferences, workshops or forums (15), bulletins, networks or interest groups (5), the majority approached them by phone (53), online or by email (46) or through written communication (24).
Type of support
Councils indicated that support was a way of sharing insights across the sector and learning from their peers. As Figure A2 indicates, councils were most likely to seek support from LGV or MAV for information or clarification, legal guidance, to access information, or for insight from across the sector, or for advocacy.
Figure A2

Types of support sought by councils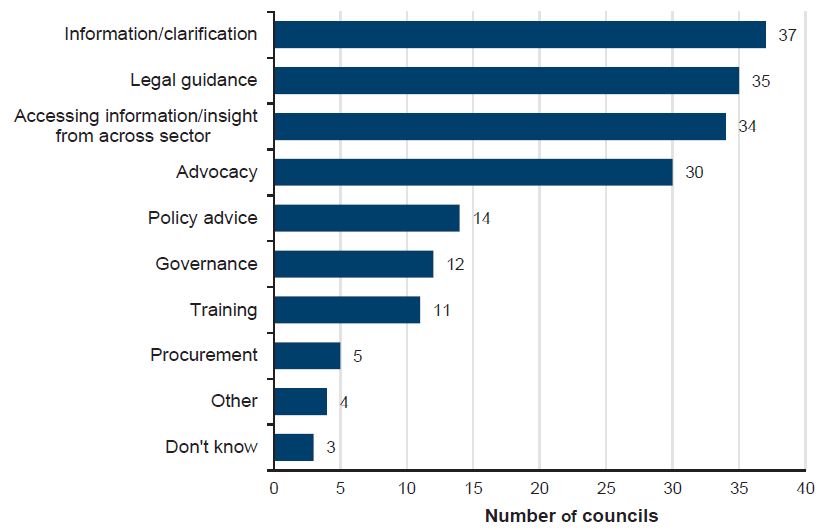 Source: Victorian Auditor-General's Office.
Although councils reported that they are most likely to consider themselves self‑sufficient in the areas of finance (53 of 70), governance (37), insurance and policy advice (35 each) and procurement (34), this does not mean that they would not consider seeking support in these areas. Some councils indicated they would seek support because they would want confirmation or a second opinion.
Support activities received by councils
Councils were asked to provide information about each of the areas of support they had received in the past 12 months. We refer to each of these examples of support as an episode. However, a number of councils questioned this approach because they:
suggested that support was sometimes ongoing, rather than time-limited
questioned the assumption of discrete, defined support
queried to what extent advice, such as online resources, counted as support, or performed the same role
queried what was meant by support.
Nevertheless, most councils were able to report on episodes of support and 150 episodes were described.
As shown in Figure A3, there were no leading areas of support in any one thematic area, rather support themes were broadly distributed.
Figure A3

Areas of support received by councils in the past 12 months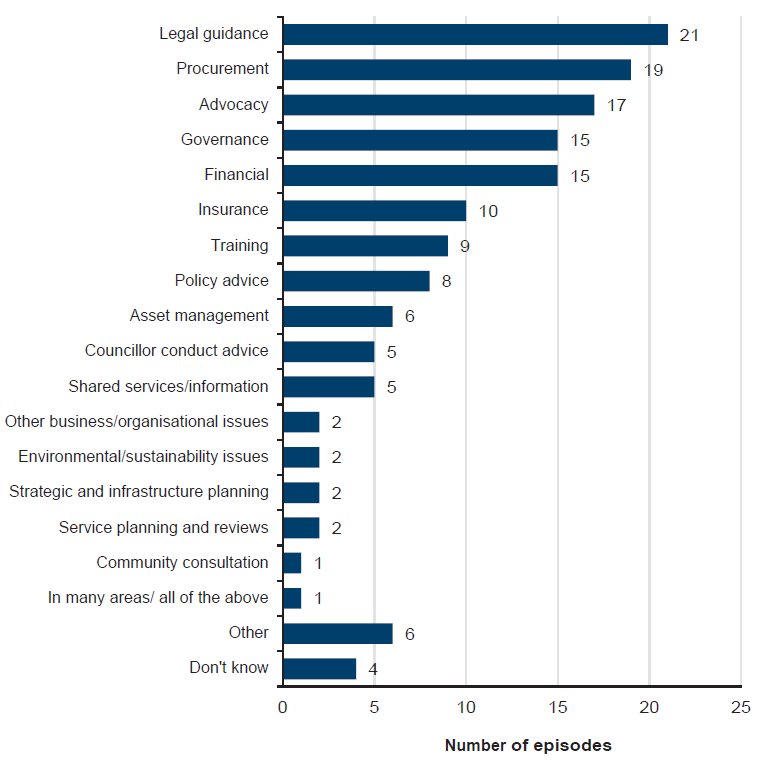 Source: Victorian Auditor-General's Office.
The most likely provider of support was MAV (123 of 150 episodes), followed by LGV (48). Other key providers of support were the Victorian Local Governance Association (19), Procurement Australia (17) and consultants or contractors (24).
Satisfaction and impact of support
Councils were asked to provide a specific rating on a five point satisfaction scale of how well the support suited their needs. Overall, more than three-quarters of support episodes (116 of 150) were rated either satisfied (88) or very satisfied (28). In contrast, only seven episodes were rated dissatisfied and 27 episodes were rated neither satisfied nor dissatisfied.
Councils were also asked to rate the impact of each episode of support on their council's performance. Most episodes (127 of 150) were described as having a degree of impact, however, this tended to be relatively modest. Impact tended to have some impact (90) rather than significant impact (31) or major impact (6). Four of the six episodes rated as having a major impact occurred at small shire councils.
The impact of support was most likely to be in knowledge or understanding (44 of 142 episodes), finance (25) or in legal guidance (20). Small shires were significantly more likely to report an episode of support impacting on financial matters (10 of 25).
Summary of council views
With responses from 70 of the 79 councils across Victoria, the survey represents a reliable and representative view of all councils, and reflects the full diversity of their opinion. However, the representation fell slightly among outer metropolitan councils where the response rate was 70 per cent.
The survey results provide useful and perceptive insight into the functioning of support for local government in Victoria, and are helpful in identifying some of the key issues.
In terms of the value of support services provided by MAV and LGV, results suggest there is some tension between smaller shire councils at one end of the spectrum, and larger metropolitan councils at the other. Many smaller shire councils and other non‑metropolitan councils indicated they understand the difficulties of providing support to many small councils over large distances. Nevertheless, some questioned the value they are getting from the current support activities, and the extent to which entities providing support genuinely understand their particular issues and concerns.
Without considering the effectiveness of support provided, there is some apparent frustration about how well the needs of smaller councils are even understood. However, this response was not uniform, as many smaller councils reported valuable support that has helped them with major issues. On a number of occasions, councils emphasised the importance of support services being flexible and tailored. There is much to be gained from this in improving perceptions of some smaller councils about support provision.
There is much evidence to suggest that councils see LGV and MAV as very different, but complementary in their collective support delivery. Councils also identified difficulties due to an overlap of activity, a lack of collaboration and the perception that there are limitations on the resources of both organisations. LGV is viewed more often as the expert on legal guidance and governance, while the remit of MAV is seen to be in areas of insurance, advocacy and training—which aligns with each organisation's current activities. Issues of policy advice and finance are seen as issues broadly shared across both organisations.
Evidently, support from MAV and LGV is used almost universally by local government—there are only a few councils who reported they do not engage with one or both on a regular basis. Moreover, councils engage with MAV and LGV for support on a wide range of issues, so we can conclude that both play a key role in the sector.
Engagement with MAV is more frequent overall, and on most measures councils are more willing to indicate satisfaction with or approval for, the work of MAV than they are for LGV. Many councils acknowledged, however, that the scope of LGV's work is narrower, and that its resources are less than those of MAV.
Some councils viewed LGV's position within the portfolio of the state government as influencing its ability to robustly pursue the interests of the local government sector. In this regard, MAV's greater independence is seen by many councils as an advantage in advocating for the sector. However, at least one council also saw MAV as compromised through its delivery of government programs.
The area that councils were least satisfied with both LGV and MAV was in their engagement about the effectiveness of the support provided both during and after its delivery. There appears to be scope for both organisations to improve their engagement processes. In particular, in measuring the effectiveness, or communicating more clearly to councils how they are measuring it. Additionally, they could use what they learn to shape future support activity. There is also a lot of evidence that councils would like LGV and MAV to improve the way they work together to support local government.
The breadth of current support activity is considerable in thematic terms, and in particular, councils raised the importance of issues such as shared services—where the roles of LGV and/or MAV are significant in identifying opportunities and bringing parties together—and in asset management and councillor conduct advice. The responses from several councils—both from officers and mayors— stressed the value of support in the areas of councillor training and conduct. This is an area where many councils seek additional advice and input and the authority of an external third party in providing guidance. It appears that both MAV and LGV are involved in providing advice around councillor conduct, but the balance of comment appears to indicate a desire for a greater LGV lead and guidance to build councillor capacity.
Where costs can be applied, and apart from some notable outliers, values attributed are modest. Despite this, there were a number of comments questioning the value of MAV membership, particularly from smaller, rural shire councils. There appears to be a genuine difference of opinion about the role that MAV should take in industrial relations. Comment was not solicited in this specific area, but comment was made by councils both in support of greater MAV involvement, and also in suggesting that MAV's role should be reduced or removed entirely.
Key themes raised by councils included requests for greater support for non‑metropolitan councils, more specialised or tailored services, and more information or support relating to shared services.
Mayoral comments
Mayoral comments varied in response to a question on the effectiveness of LGV and MAV. Sixty mayors provided comments and they displayed a wide range of views about the effectiveness of both organisations. This clearly indicates there is not a consistent view among Victoria's mayors.
A number of mayors expressed views relating to issues of rural representation, access to support services for non-metropolitan councils, and the value received by those councils, particularly in relation to their MAV membership subscription. However, there was also recognition of the difficulties faced in meeting very diverse needs.
There was a great deal of positive comment offered by mayors. Some of it was specific to either MAV or LGV, but in many cases it was equally positive about both—identifying their different strengths and values and the ways in which they can work together for the good of the sector.
There were many other comments that were broadly positive about LGV and MAV, though there were also others that were positive about MAV, but either more critical of LGV, or indicated a more distant relationship with LGV than with MAV. Despite this, even when mayors were critical of or had less engagement with LGV, there was often recognition of the value of LGV's role, or of the limitations placed upon it by funding. Moreover, there were examples of councils that are positive about LGV, and less so about MAV. This was often related to concerns about how well MAV represents the interests of small shire councils.
Several mayors raised the issue of MAV's advocacy role and there was a mixture of positive and critical comments.