Effectiveness of Support for Local Government
Auditor-General's comments
John Doyle

Auditor-General

Audit team

Andrew Evans—Engagement Leader

Charles Tyers—Team Leader

Sophie Fisher—Analyst

Sheraz Siddiqui—Analyst

Engagement Quality Control Reviewer

Michele Lonsdale
The community relies on Victoria's 79 councils to provide a range of important infrastructure and services. Councils face a range of critical challenges in relation to their financial sustainability, resources, capability and the increasing expectations from their communities. Any support councils receive to address these challenges is therefore crucial to enable them to operate effectively, efficiently and economically.
The Municipal Association of Victoria (MAV) and Local Government Victoria (LGV) are two key bodies that provide support to councils. While the nature of support each provides differs, both have established methods for identifying the support needs of councils. However, with only some exceptions, neither can clearly demonstrate whether their support activities are making a difference to Victoria's councils. In particular, their monitoring, evaluation and reporting on support activities is not sufficient to provide assurance that intended outcomes are being achieved. My audit found that while MAV and LGV have worked together to support councils, they need to clearly identify when and how they should work together in the future. The Victorian State-Local Government Agreement potentially provides a mechanism for both LGV and MAV to identify and provide support more effectively to address council support needs.
MAV's conduct during this audit has been disappointing. It has been marked by repeated challenges to my mandate, the scope of the audit, its inability to provide evidence in a timely fashion, and sometimes its refusal to provide certain information.
For over 100 years, MAV has been a legislated public body, with much of its revenue, nearly $60 million in 2012–13, derived either directly or indirectly from taxpayers, councils or ratepayers. This audit of MAV is clearly within my mandate and it is appropriate for me to audit MAV; just like any other public body in Victoria. MAV does not appear to acknowledge or accept that it is not only accountable to its members but that it also has broader responsibilities and obligations for the efficient, effective and economic use of public funds. It is my hope that this report provides an impetus for change.
MAV claims it is unique and that my office has applied an 'agency of government lens' which is not appropriate given that it is an independent membership organisation. My office has not erred in its assessment of MAV. To the contrary, it is entirely appropriate for me to assess whether MAV's support activities are effective, efficient and economical and we set out and consulted with MAV early in this audit on our approach.
The fundamental issues about MAV are clear. Its legislation is outdated and has not kept pace with contemporary standards of good governance. This needs to be promptly addressed. In the absence of clear and comprehensive legislative arrangements, MAV has not itself sought to bridge this gap by establishing and maintaining a robust set of governance arrangements, policies and procedures. MAV also undertakes a broad range of support activities, but it is not clear whether all of its existing functions are within its legislated mandate. I note MAV's assertion that its Board is responsible for the conduct of MAV's activities. My assessment in this audit is that the Board has failed to fulfil its obligations to provide appropriate oversight of the operations, governance and performance of MAV, to the detriment of Victoria's 79 councils, Parliament and the community.
This underscores the need for a comprehensive review of MAV's role and legislation, and a clear set of expectations around MAV's role and governance in providing support to councils needs to be established. Such a review is well overdue and might well consider whether the original intent of the Municipal Association Act 1907 is still appropriate in the 21st century.
I also found that the independent oversight and scrutiny applied to MAV is well below the level that most statutory public bodies face. There is limited scrutiny of MAV's Rules, limited independent review of its performance beyond its annual reporting, and no clear understanding of whether MAV is delivering value for money. Indeed, my audit provides a rare independent and transparent assessment of MAV's performance. I have recommended that Local Government Victoria takes a much more proactive role in its oversight and monitoring of MAV's activities and performance, and advice to the minister on its performance. MAV seems to have misconstrued the need for appropriate oversight and monitoring to support the Minister's accountability for the Municipal Association Act 1907 as implying the need for the minister to direct or control MAV. However, my report is clear that overseeing MAV's performance and compliance with the Act does not require the minister to have the power to direct or control.
The tenor of MAV's response is indicative of an organisation that has not been subject to the sort of independent oversight and scrutiny of its performance and operations that the public and Parliament expect and are entitled to, and one that lacks a culture of best practice and accountability for its performance. It is not unreasonable to expect the highest standards of governance, accountability and transparency from MAV. The body charged with promoting the efficient carrying out of municipal government and watching over councils' interests, rights and privileges should be an exemplar in everything it does, and provide value for money to its members, and ultimately the people of Victoria.
I am pleased that the Department of Environment Land Water and Planning and LGV has acknowledged that my recommendations will strengthen support for local government, and has accepted all recommendations and committed to actions to address them. While I am disappointed that MAV has not clearly accepted my recommendations or outlined how it will address them, I will be monitoring developments closely in relation to these and intend to follow up with both the department and MAV to ensure that my recommendations are addressed. My office has also commenced undertaking financial audits of MAV, and will routinely assess and report on MAV's financial performance, along with the rest of the local government sector in Victoria.
I would like to thank the many council chief executive officers and Mayors who took part in my survey and participated in consultations throughout the audit. Lastly, I urge all Victorian councils to consider my report and its findings, conclusions and recommendations, and ensure that they play their part in holding MAV to account for its performance in future.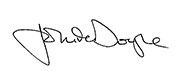 John Doyle

Auditor-General
February 2015