Effectiveness of Support for Local Government
Appendix B. Audit Act 1994 section 16—submissions and comments
Appendix B. Audit Act 1994 section 16—submissions and comments
Introduction
In accordance with section 16A and 16(3) of the Audit Act 1994, a copy of this report, or relevant extracts from the report, was provided to the Department of Environment, Land, Water and Planning and the Municipal Association of Victoria with a request for submissions or comments.
The submission and comments provided are not subject to audit nor the evidentiary standards required to reach an audit conclusion. Responsibility for the accuracy, fairness and balance of those comments rests solely with the agency head.
Responses were received as follows:
Further audit comment:
RESPONSE provided by the Secretary, Department of Environment, Land, Water and Planning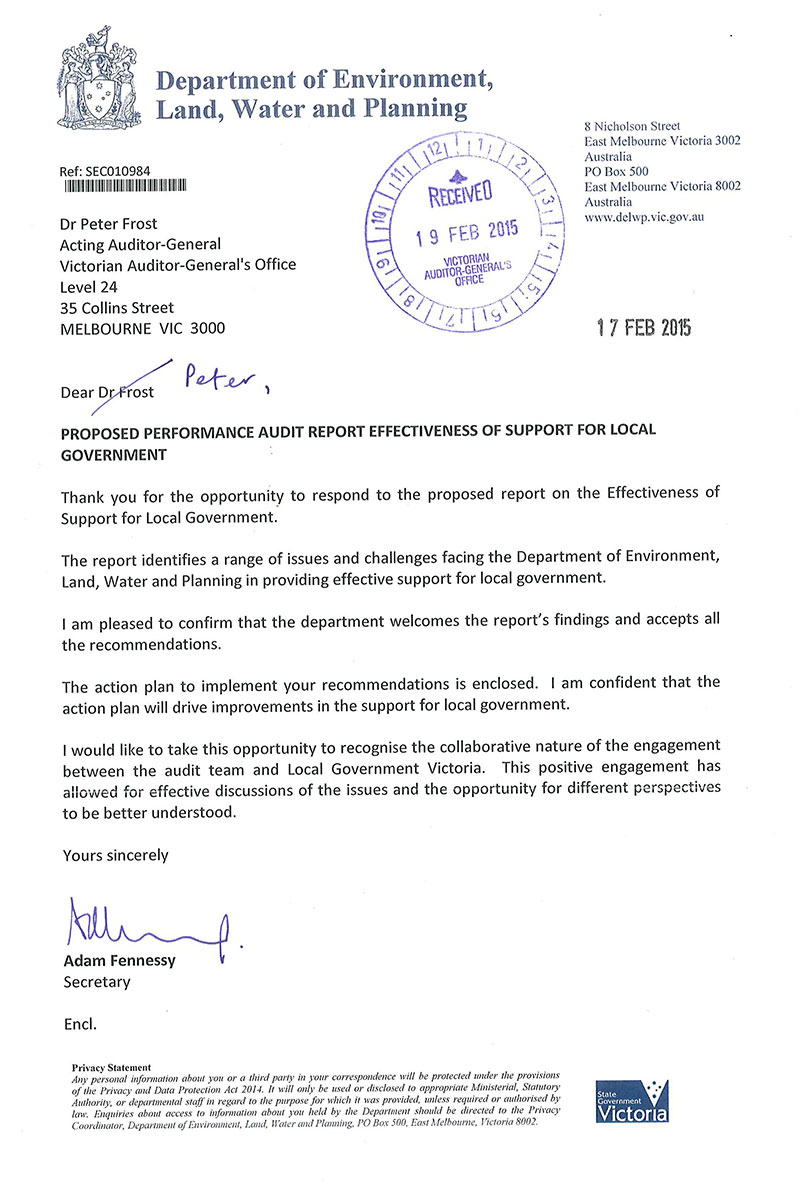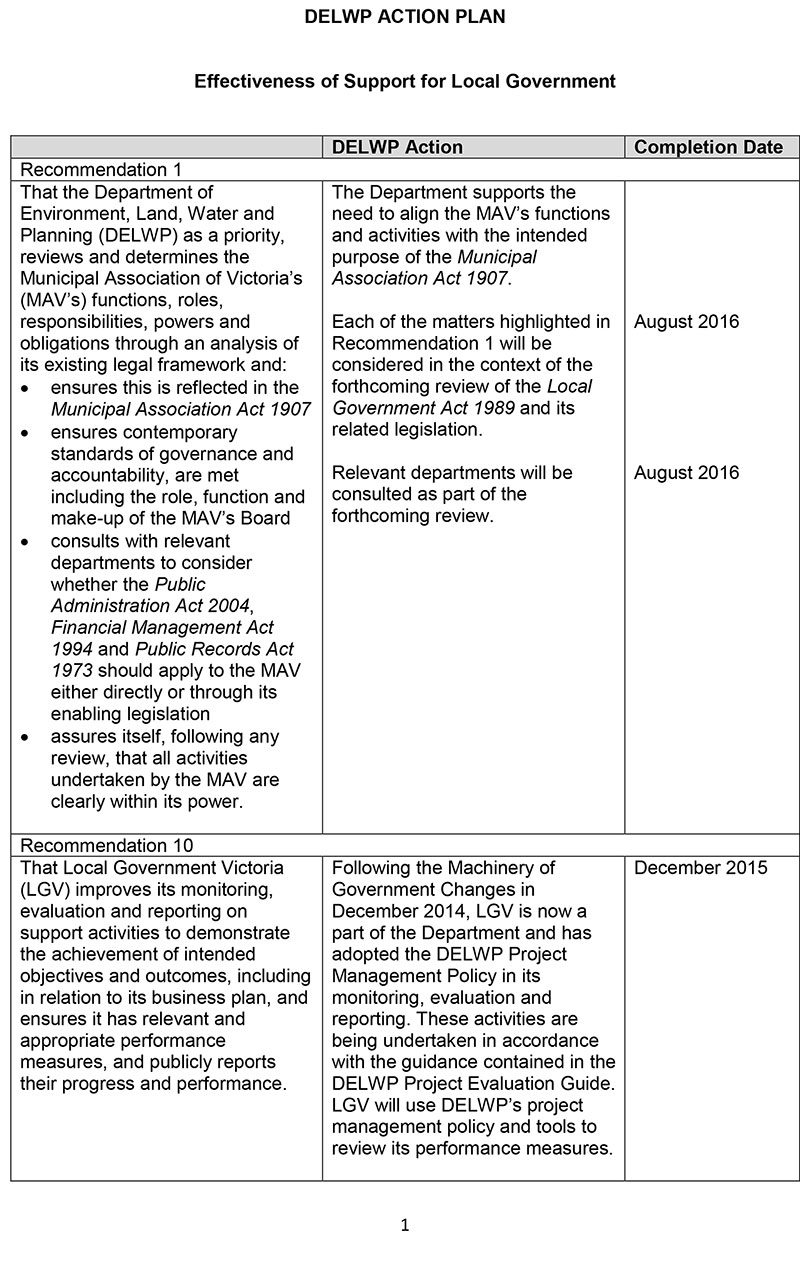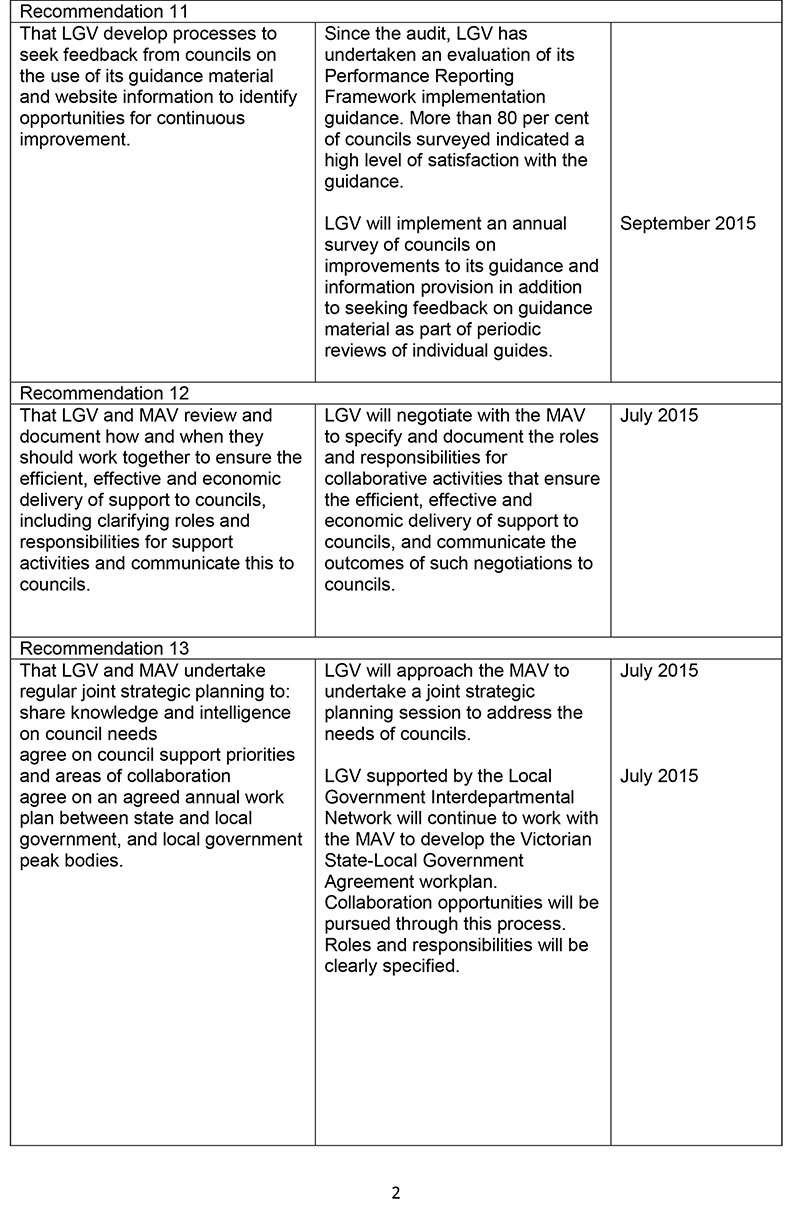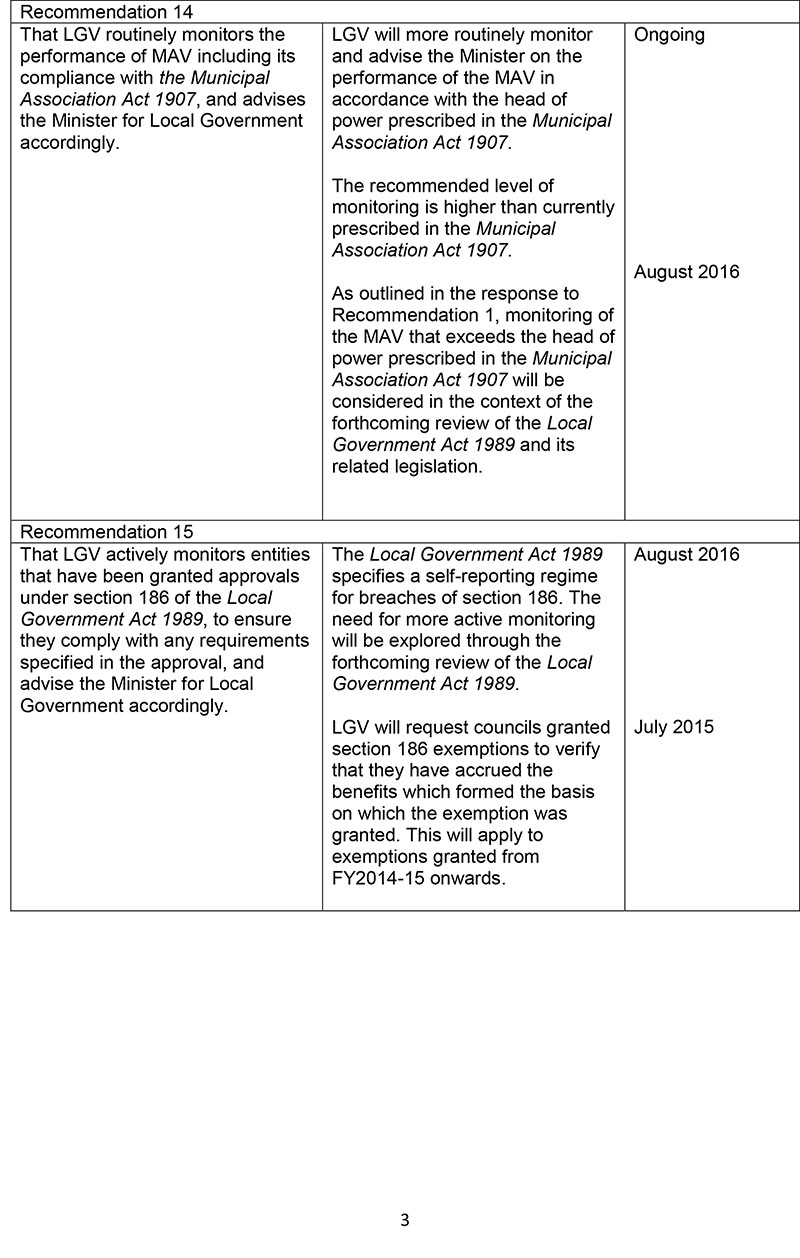 RESPONSE provided by the Chief Executive Officer, Municipal Association of Victoria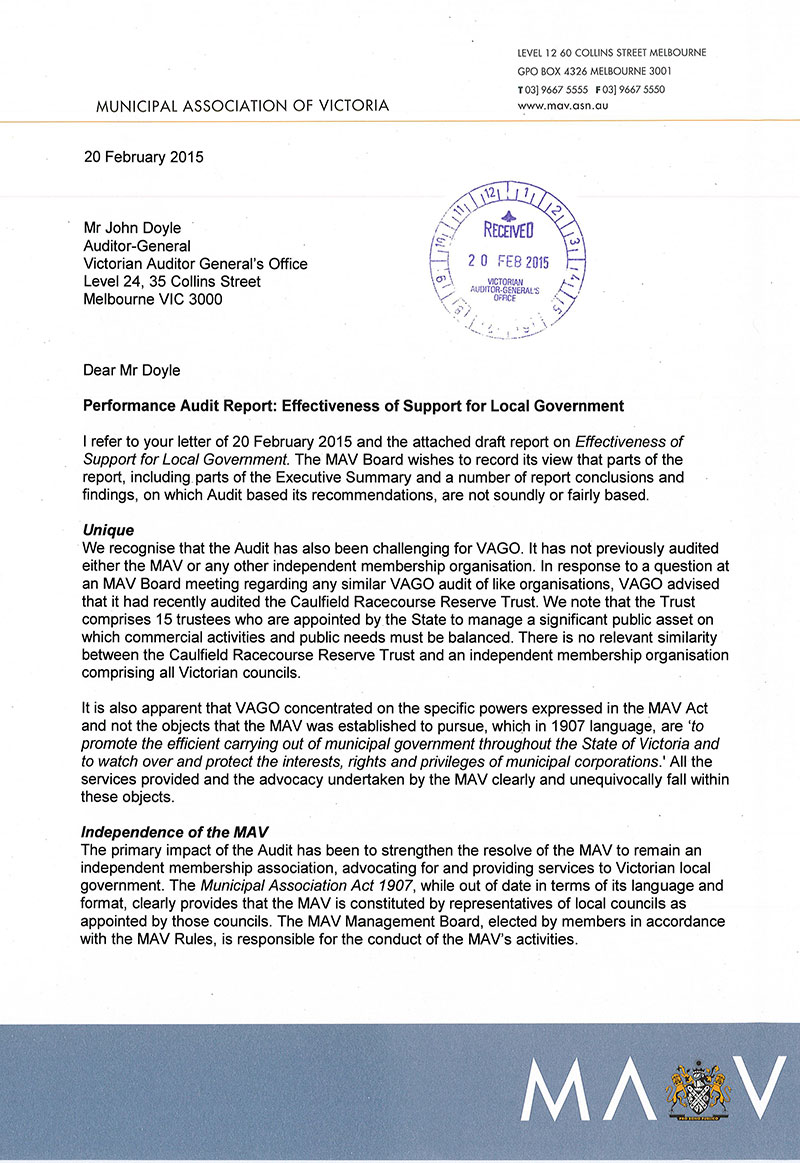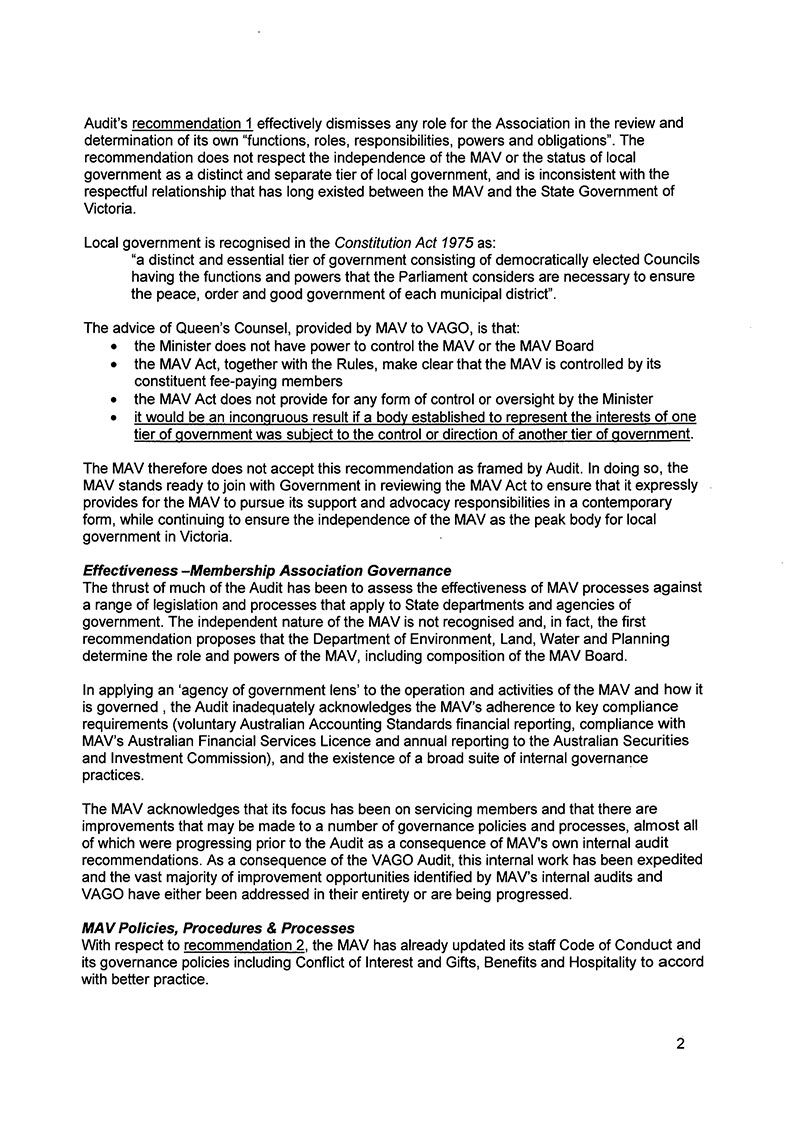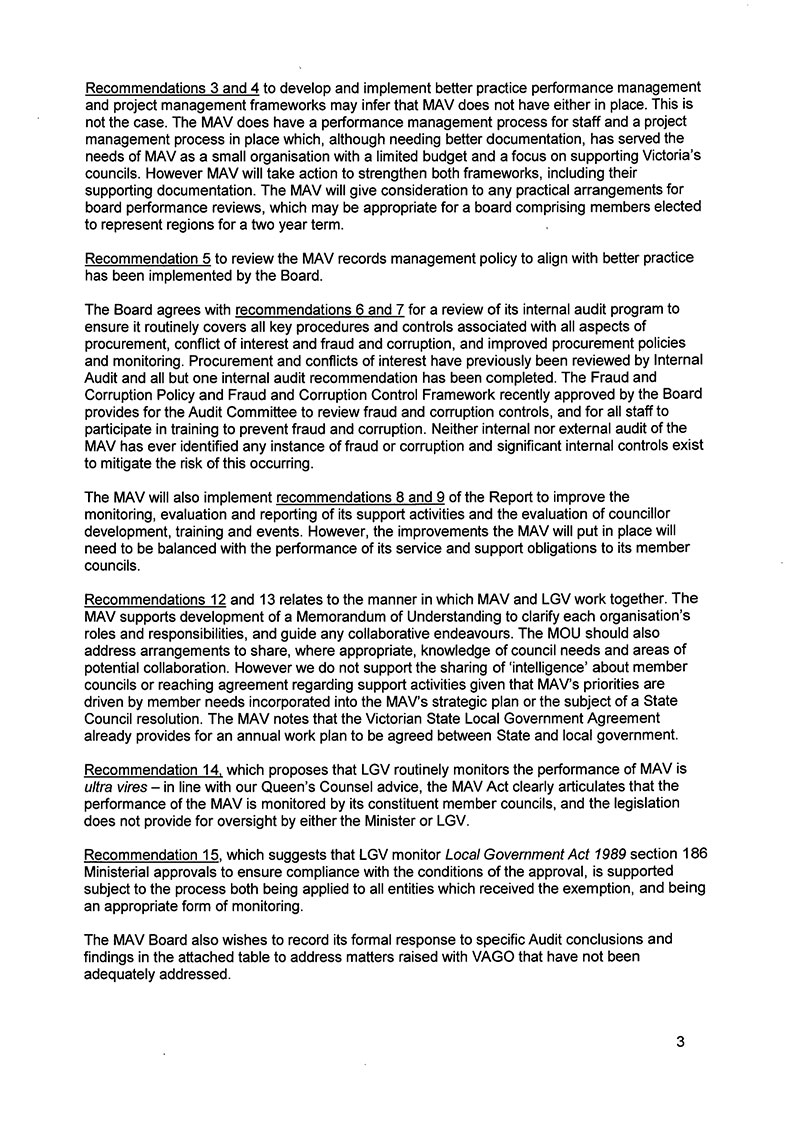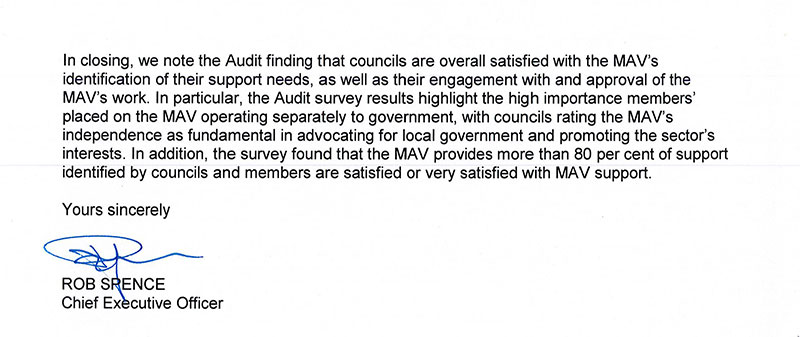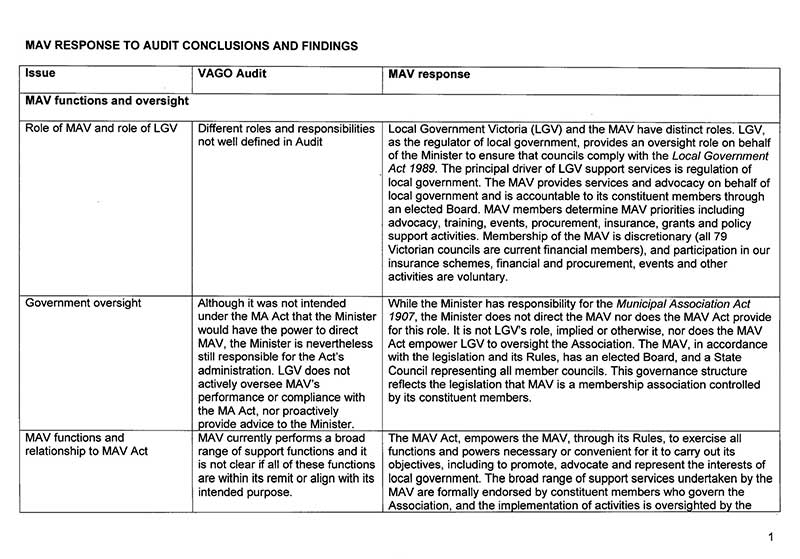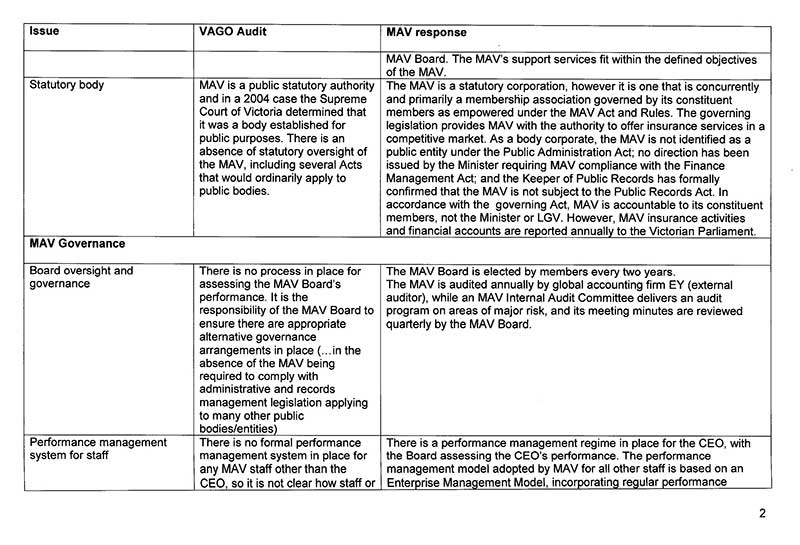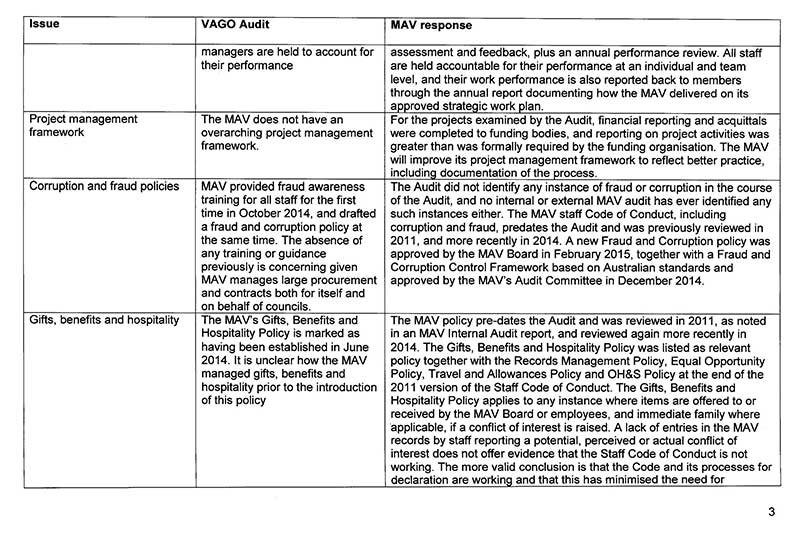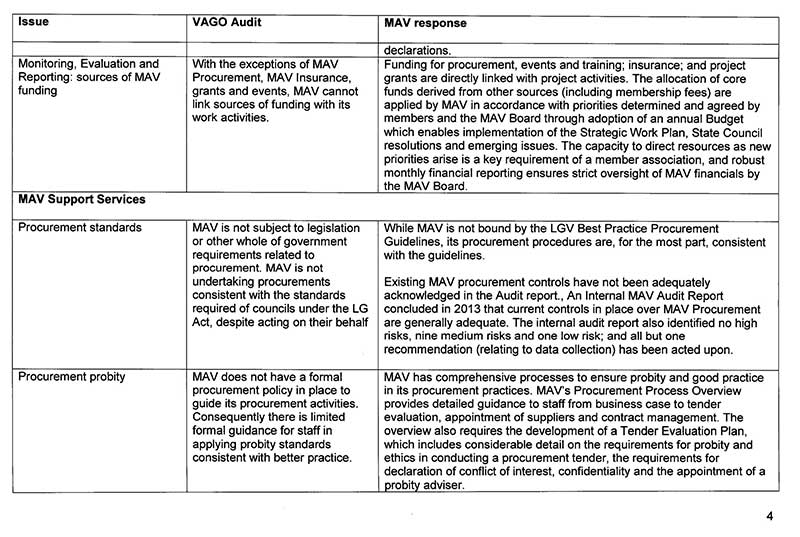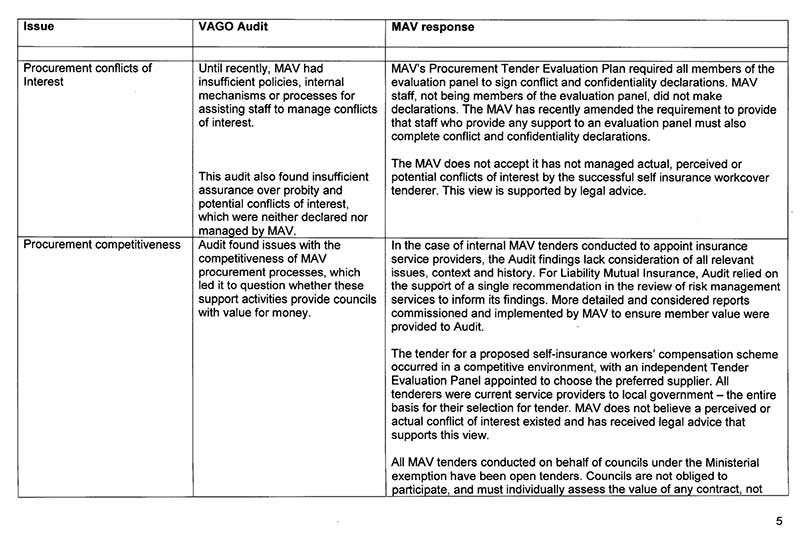 Auditor-General's response to the Chief Executive Officer of the Municipal Association of Victoria
MAV makes a number of comments in its response which I strongly refute. I do not intend to respond to all of the issues raised by MAV as many are covered in detail in my report, which clearly sets out the basis for VAGO's findings, conclusions and recommendations.
Below are comments on a number of specific issues raised by MAV.
Audit findings are not soundly or fairly based
MAV has indicated that it believes the findings and conclusions of the audit are not soundly or fairly based. I strongly disagree.
VAGO performance audits are required to meet the highest standards as set out in the Australian Auditing Standards. These standards require, among other things, that sufficient and appropriate evidence be used to form findings and conclusions. This audit is based on all evidence obtained during the audit and provided by MAV.
Consistent with our standard practice, MAV was provided with numerous opportunities over an eight-month period to both provide comments and evidence in relation to its arrangements and practices, and to respond to the emerging findings and conclusions. Despite these opportunities, MAV was not always able to provide sufficient or appropriate evidence to support its assertions. It did not always answer questions directly or provide information or advice beyond what was strictly requested by VAGO.
MAV was treated fairly by VAGO and provided many opportunities to engage with the audit team and comment on emerging findings and conclusions. Its voluminous responses at each stage were acquitted in detail and discussed with MAV staff. Additional opportunities were provided to MAV to enable it to identify what it claimed were further factual errors. These opportunities were well in excess of VAGO's legal obligations and standard practices and beyond what VAGO has afforded to most other public sector bodies—including LGV in this audit. We provided these further opportunities primarily on the basis that MAV believed there were factual inaccuracies in the report, but also because this was the first time it has been audited by VAGO or indeed ever been subject to an independent public review. VAGO is satisfied that the report is factually correct as it stands, and that it fairly and accurately reflects all evidence provided by MAV during the audit.
Policies and practices
MAV's response states that it has already updated its staff code of conduct and its governance policies including Conflict of Interest and Gifts, Benefits and Hospitality to accord with better practice. It also states that the MAV records management policy has been updated to align with better practice. No evidence has been provided to support these claims.
While MAV has indicated that almost all of the improvements to its policies were progressing prior to the audit, it appears the extent of activity in establishing and finalising these policies was significant and coincided with the period of audit, and was much later than any internal audit recommendations. Irrespective of the driver, it was pleasing to see the concentrated focus over the period of my audit in developing various policies, some of which were established as recently as this month.
Fraud and corruption
VAGO's role is not to identify or investigate instances of fraud and corruption. This is the role of the Independent Broad-Based Anti-Corruption Commission. We have examined the extent to which appropriate controls are in place to deal with systemic issues of fraud and corruption. Where such controls are absent or ineffectively applied, a heightened risk of fraud and corruption in the workplace exists. We have reported our findings accordingly.
Procurement practices and Conflicts of interest
MAV's response states that it does not accept that it has not managed actual, perceived or potential conflict of interest by the successful self-insurance workcover tenderer, and this view is supported by legal advice. The response also states that MAV does not believe a perceived or actual conflict of interest existed and it has received legal advice that supports this view. MAV has not provided any evidence to support these claims.
With regard to probity, MAV's response states that it has comprehensive processes to ensure probity and good practice in its procurement practices. The response also states MAV's existing practices require the development of a Tender Evaluation Plan which includes considerable detail on the requirements for probity and ethics. My report acknowledges that probity is considered in Tender Evaluation Plans and Tender Evaluation Reports, but is clear that this does not cover all stages of the procurement process. My report is also clear on the weaknesses in key areas of probity and conflict of interest in MAV procurement policies and procedures which should be addressed promptly.
Acceptance of recommendations
Unlike other public sector bodies, MAV's response to this audit's recommendations provide neither clear nor consistent responses as to whether it accepts the recommendations and the timing of any specific actions that it will take to address the issues identified. On numerous occasions MAV was advised that its response should set out how it will address the audit recommendations. This reinforces the lack of transparency and accountability for its operations and performance.
Irrespective of MAV's lack of clear acceptance and commitment to timely improvement, I will closely monitor the implementation of these recommendations as part of my follow up program.