Effectiveness of the Victorian Public Sector Commission
High-quality public services are critical to the wellbeing and prosperity of the community. The Victorian public sector comprises approximately 3 388 entities, employs about 286 000 people, and delivers a diverse range of services, such as healthcare, schools and roads. This requires a skilled public service capable of giving comprehensive and impartial advice to government, effectively and efficiently implementing policy, and delivering services. The public sector must operate with absolute integrity to meet the needs of the Victorian community and maintain its trust.
Public sector commissions exist in all Australian jurisdictions, and play an important role in supporting an effective public sector. They provide guidance and set standards in areas such as merit-based employment, professional codes of conduct and good governance practice.
1.1 The public sector commission in Victoria
In Victoria, the public sector commission function was performed by the State Services Authority (SSA) from 2004 until 2014, and by the Victorian Public Sector Commission (VPSC) from 2014 onwards.
1.1.1 State Services Authority
SSA was established in 2004, under the Public Administration Act 2004 (the Act). Its role was to:
identify opportunities to improve the delivery and integration of government services and report on the outcomes of these services
strengthen the professionalism and adaptability of the public sector
promote high standards of integrity and conduct in the public sector
promote high standards of governance, accountability and performance for public entities.
In July 2012, the creation of the Independent Broad-based Anti-Corruption Commission (IBAC) changed the Victorian integrity landscape and provided an opportunity for government to reconsider the role of SSA. The Department of Premier and Cabinet (DPC) led a review of SSA in 2012, which recommended changes to SSA's governance structure and new requirements for long-term strategic planning. The Act was subsequently amended in 2014, replacing SSA with VPSC.
1.1.2 Victorian Public Sector Commission
VPSC began operating on 1 April 2014, with two objectives:
to strengthen the efficiency, effectiveness and capability of the public sector in order to meet existing and emerging needs and deliver high-quality services
to maintain and advocate for the professionalism and integrity of the public sector.
The Act prescribes VPSC's functions, as shown in Figure 1A. Six of the functions are specific, such as issuing codes of conduct, while others can be fulfilled in various ways.
Figure 1A

VPSC's functions under the Public Administration Act 2004
Section 39: Public sector efficiency, effectiveness and capability
(a) to assess and provide advice and support on issues relevant to public sector administration, governance, service delivery and workforce management and development
(b) to conduct research and disseminate best practice in relation to public sector administration, governance, service delivery and workforce management and development
(c) to collect and report on whole-of-government data
(d) to conduct inquiries as directed by the Premier.
(e) The Commission must perform any work falling within section 39 as requested by the Premier and may perform any work as requested by a minister or a public sector body.
Section 40: Public sector professionalism and integrity
(a) to advocate for an apolitical and professional public sector
(b) to issue and apply codes of conduct and standards
(c) to monitor and report to public sector body heads on compliance with the public sector values, codes of conduct, and public sector employment principles and standards
(d) to review employment-related actions and make recommendations following those reviews
(e) to maintain a register of lobbyists and a register of instruments.
Note: VPSC is not subject to ministerial direction or control in performing any of the functions listed in section 40.
Source: VAGO, based on the Public Administration Act 2004 .
These functions are substantially the same as those of SSA, with two noteworthy differences:
the addition of a research function—section 39(b)
a new role as an advocate for an apolitical and professional public sector—section 40(a).
When SSA transitioned to VPSC, the number of leadership positions was reduced. Figure 1B shows these changes.
Figure 1B

Changes in governance in the transition from SSA to VPSC

Note: SSA appointed commissioners as required for short-term projects. VPSC's advisory board is appointed by the Premier and consists of up to seven members who collectively have knowledge, skills and experience in public sector, business, service delivery and regional matters.
Source: VAGO.
Under the Act, VPSC is accountable to the Premier and the advisory board. VPSC's functions under section 40 of the Act are independent and not subject to ministerial direction. Provisions in section 39 of the Act can be subject to direction from the Premier.
The Commissioner is a member of the Victorian Secretaries Board (VSB), along with the secretaries of the seven departments and the Chief Commissioner of Victoria Police. Although not a formal part of VPSC's governance structure, VSB makes requests to VPSC for work, and VPSC considers VSB an important stakeholder in its activities.
Advisory board
Under the Act, the advisory board must provide:
assistance to ensure VPSC's work is appropriately targeted and reflects emerging challenges and opportunities
advice on and help with the development of draft three-year strategic plans and annual plans, before they are submitted to the Premier
strategic advice on matters relevant to VPSC's objectives and functions.
The Secretary of DPC is the chair of the advisory board, and DPC held secretariat responsibility until it transferred this responsibility to VPSC in November 2016.
1.1.3 Operating budgets
Between 2005 and 2013, SSA operated with a budget of about $10.5–$12 million. In May 2013, SSA's budget was reduced by 36 per cent.
Since VPSC's establishment, its recurrent budget has remained around $6 million, with supplementary funding of:
$2.05 million in the 2015–16 State Budget—for development of a strategic vision and medium-term plan, a review of internal capability and staffing profile, a business case for ongoing funding in 2016–17, and to undertake organisational reviews that align with government priorities
$2.8 million in the 2016–17 State Budget—to cover its projected deficit, and enable it to continue to deliver its activities.
Figure 1C shows SSA and VPSC's operating budget over time.
Figure 1C

SSA and VPSC operating budget, 2005–06 to 2016–17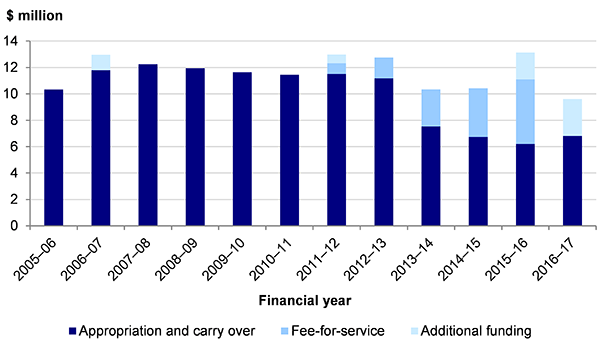 Source: VAGO, based on data from VPSC.
In response to the reduced budget, SSA lowered its costs by reducing staff numbers via voluntary departure packages, and reducing overheads. It also stopped promoting its guidance, and carried forward its previous‑year commitments to avoid a deficit. VPSC has continued these activities.
SSA also responded to the reduced budget by shifting some of its services to a fee‑for‑service model—an approach that VPSC has continued.
SSA already charged fees for several activities, such as its management of the Victorian government careers website and delivering the graduate recruitment scheme for the Victorian public service. From 2014 onwards, VPSC increased fees for these activities to better reflect their total costs. It also shifted its public sector agency review function, previously funded through appropriations, to a fee-for-service model.
Figure 1D shows the increase in SSA and VPSC's fee-for-service income from 2011−12 to 2015−16.
Figure 1D

SSA and VPSC fee-for-service income, 2011–12 to 2015–16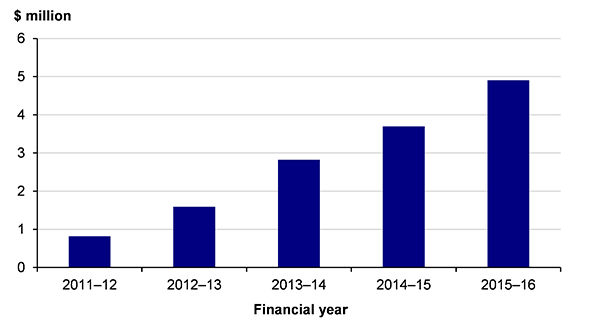 Source: VAGO, based on data from VPSC.
1.2 Oversight of the Victorian Public Sector Commission
VPSC is a portfolio agency of DPC. DPC is responsible for supporting the Premier of Victoria and the Special Minister of State in promoting good governance, public administration and workforce management, as well as providing advice on the Act. In fulfilling this role, DPC has an interest in the effective operation of VPSC.
From 2016, amendments to the Standing Directions of the Minister for Finance (Standing Directions), derived from the Financial Management Act 1994, have given departments clearer information on how they should conduct relationships with their portfolio agencies.
Under the Standing Directions, DPC is responsible for establishing and maintaining an effective relationship with VPSC, including:
providing advice and support to VPSC on financial management, performance and sustainability
supporting the Special Minister of State's oversight of VPSC, including providing information on its financial management, performance and sustainability
providing information to the Department of Treasury and Finance's accountable officer to support government's sound financial management.
1.3 Why this audit is important
VPSC's statutory objectives focus on strengthening key elements of the Victorian public sector—effectiveness, efficiency, capability and integrity. In this way, effective delivery of VPSC's functions has a significant impact on the way the broader public sector performs its roles.
Recent investigations by IBAC have exposed significant instances of fraud and corruption within the Victorian public sector, which point to weaknesses in the structures and processes intended to ensure the public sector acts with integrity. These findings demonstrate the public sector's need for more guidance and support to ensure agencies and employees act with integrity.
VPSC has not previously been subject to a performance audit. Given recent integrity failures, this audit will provide timely and important insight into VPSC's impact and effectiveness.
1.4 What this audit examined and how
In this audit, we examined whether VPSC is effectively performing its functions. Specifically, we assessed whether:
VPSC effectively plans and prioritises its resources to strengthen the performance, capability and professionalism of the public sector
VPSC's governance and oversight arrangements—incorporating the advisory board and DPC—are effective and support the achievement of its objectives
VPSC is effectively and efficiently achieving its objectives.
The audited agencies were VPSC and DPC.
We conducted our audit in accordance with Section 15 of the Audit Act 1994 and Australian Auditing and Assurance Standards. The cost of this audit was $575 000.
1.5 Report structure
The remainder of this report is structured as follows:
Part 2 examines VPSC's planning and oversight, including the operation of the advisory board and DPC's role as VPSC's portfolio department
Part 3 examines how effectively and efficiently VPSC delivers its key activities.