Managing Development Contributions
As Victoria's population grows, state and local governments need to build infrastructure to maintain Victorians' standard of living. However, this places financial pressure on state and council budgets.
Development contributions provide governments with the opportunity to acquire additional funds to meet these needs.
1.1 Development contributions
In addition to regular revenue sources such as rates or grants, councils have other options, legislated by the Victorian Government, to collect funds from developers to help pay for infrastructure. For example, a council could create a DCP over a specified area. Any developers who build in that area then must pay the council levies on a per lot or per hectare basis.
Councils can also enter into individual legal agreements with developers called VA/s173s, which they can create when necessary.
All councils can use the DCP program or VA/s173s to obtain contributions for infrastructure. Only seven councils are eligible to use ICPs, the newest development contributions tool. The Minister for Planning (the Minister) chose these councils, which comprise six interface councils and one large shire, as listed in Figure 1A.
The state government can also collect funds from developers to provide state infrastructure such as schools, health facilities, bus services and stops, and train stations. In certain growth areas, developers are liable to pay GAIC, which is a flat charge applied on a per hectare basis. To date, legislation only allows seven LGAs to receive GAIC funded projects, which are the same seven councils that can utilise ICPs. In this report, we describe these as GAIC and ICP-eligible (GIE) councils.
Only state agencies may apply for GAIC-funded projects. The state can also use DCPs or ICPs, but this is rare.
Development contributions to either the state or councils can be payments in cash, services, works, or facilities in kind.
Figure 1A
Councils included in the GAIC and ICP programs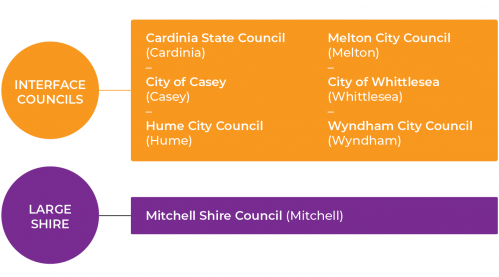 Source: VAGO, based on DELWP information.
Growth Areas Infrastructure Contribution
The state government set up GAIC in 2010 to help fund infrastructure in seven councils on Melbourne's expanding fringe.
Developers of land in GAIC-eligible areas are liable to pay the GAIC charge the first time one of four 'trigger' events occurs:
transfer of title
issuing statement of compliance for subdivision
application for a building permit
an acquisition of land valued at over $1 million.
Under the Act, a landowner liable to pay GAIC can apply to the Minister to enter into a staged payment arrangement when issuing a statement of compliance for a subdivision or applying for a building permit. If approved, this allows the developer to spread payments over years.
Events that may be exempt from GAIC include:
a purchase of land under five hectares
a development that is demolishing or repairing an existing building
a subdivision that separates an existing house from a larger piece of land
a farm being transferred between family members.
SRO collects GAIC revenue and DELWP distributes it evenly into two trusts as required by the Act. State agencies can submit an application for GAIC funding to an interdepartmental panel, led by DELWP. The panel chooses projects based on their eligibility under the Act and alignment with the application guidelines, which DELWP releases annually. DELWP manages the annual funding round to distribute funds for state projects, and financially manages the two trusts. Figure 1B outlines the process.
Figure 1B
GAIC collection and distribution

Source: VAGO, based on DELWP information.
In addition to the annual funding round, the government can also use GAIC money to fund eligible projects through the state budget process. To support this, departments need to identify the parts of their budget proposals for which they are seeking GAIC funding and demonstrate eligibility.
The Act and the 2019–20 Growth Areas Infrastructure Contribution Policy Statement detail eligibility requirements for GAIC funded projects.
GAIC's two project funding processes reflect the Minister's and Treasurer's joint responsibilities for administration of GAIC.
VPA is responsible for:
administering GAIC staged payment arrangements
providing details on GAIC-eligible properties to state agencies
facilitating GAIC work-in-kind agreements.
Under a work-in-kind agreement, the liable person agrees to provide land and/or works instead of a cash payment to meet their liability wholly or in part.
Development Contributions Plans
In 1995, Parliament amended the Act to enable planning authorities—including councils—to create DCPs. Under a DCP, a council can obtain funds from developers to support infrastructure delivery by collecting:
a development infrastructure levy, which can fund roads, public transport infrastructure, basic improvements to open spaces, early childhood facilities, and associated land acquisitions
a community infrastructure levy (CIL), which can fund construction of other facilities used for community or social purposes. The CIL is capped at $1 190 for each dwelling to be constructed for 2019–20, and in rare circumstances 0.25 cents in the dollar of the cost of building work in any other case.
Under the Act, a planning authority can be a minister, a local council, or VPA.
Councils usually develop their own DCPs. VPA develops DCPs on behalf of GIE councils and will sometimes develop them for other councils.
In each DCP, the planning authority identifies the:
area for development
required infrastructure
proportion of the new infrastructure to be used by new and existing properties
costs of developing the DCP
levies that developers will pay.
Planning authorities incorporate the proposed DCPs in an amendment to their planning scheme. They make this public and may receive stakeholder feedback. The final stage is for Planning Panels Victoria to review any unresolved issues with the amendment.
Planning Panels Victoria assesses planning proposals and major projects. It is an administrative office within DELWP and consists of a chief and five senior panel members, and a pool of sessional members.
Once approved, all new developments pay a contribution to the council, or perform work in kind to meet their liability. Developers cannot challenge the requirement to pay these contributions.
Of Victoria's 79 councils, 24 had active DCPs in either 2017–18 or 2018–19. As shown in Figure 1C, the seven GIE councils that the Act declared as growth areas collected 92 per cent of DCP contributions in those two years.
Figure 1C
DCP revenue by council type, 2017–18 and 2018–19
| Council type | Payments received ($m) | Work in kind received ($m) | Total ($m) |
| --- | --- | --- | --- |
| GIE council | 395.5 | 507.59 | 903.09 |
| Metropolitan | 15.51 | 16.49 | 32.00 |
| Regional city | 10.47 | 18.30 | 28.77 |
| Large shire | 9.54 | 7.9 | 17.44 |
| Interface | 1.35 | 2.36 | 3.70 |
| Small shire | 0 | 0 | 0 |
| Total | 432.38 | 552.64 | 985.02 |
Note: The GIE council category includes six interface councils and one large shire. We excluded GIE councils from other categories.
Note: We excluded one regional city council due to errors in its reporting on DCP outcomes.
Note: Minor variations for total amounts are due to rounding.
Source: VAGO, based on DELWP data.
Infrastructure Contributions Plans
In 2015, Parliament amended the Act to establish the ICP program. A 2016 ministerial direction made the ICP program available to the seven GIE councils. VPA has developed all eight ICPs so far, the first of which was gazetted in 2017.
Currently, when a ministerial direction brings a new area into the ICP program, it replaces the DCP program. Existing DCPs continue until they are finalised.
The intended advantages of the ICP program over the DCP program are:
standardised levies leading to greater certainty for all parties
increased transparency
reduced risk of infrastructure cost increases
simpler processes to develop plans.
The government intends for ICPs to operate in three development settings:
Metropolitan Greenfield Growth (MGG)—land in metropolitan Melbourne that is defined as a growth area
Strategic Development Areas (SDA)—areas in metropolitan Melbourne that are planned for significant land use change and/or growth
Regional Greenfield Growth (RGG)—rural land outside of metropolitan Melbourne that is planned to be used and developed for urban purposes.
A development setting is a type of land specified in the ministerial direction where an ICP may apply.
Currently, ICPs only operate in the MGG development setting. The MGG includes seven LGAs on the fringes of Melbourne: Cardinia, Casey, Hume, Melton, Mitchell, Whittlesea and Wyndham. These are the same LGAs included in the GAIC program.
DELWP and VPA have not yet recommended to the Minister:
when ICPs should expand into SDA and RGG development settings
which parts of Victoria to include in these categories
how to calculate ICP levies in these areas.
ICPs were originally designed to collect only money. The government revised legislation in 2018 to include both 'monetary' and 'land' components.
Monetary component
The ICP program has a standard levy comprising two components—a community and recreation levy, and transport construction levy. The community and recreation levy is capped.
Net developable hectare is the land within an ICP available for urban development.
Figure 1D shows the 2019–20 standard levy rates for MGGs. The ICP program applies the levy to each net developable hectare in a development to calculate the total amount payable.
Figure 1D
2019–20 standard levy rates
| Class of development | Community and recreation | Transport construction | Total standard levy rate |
| --- | --- | --- | --- |
| Residential | $89 518 | $124 344 | $213 862 |
| Commercial and industrial | N/A | $124 344 | $124 344 |
Note: All amounts in dollars per net developable hectare.
Source: VAGO, based on DELWP information.
The ministerial direction defines the types of projects that each levy can fund. These include, but are not limited to:
| | |
| --- | --- |
| Community and recreation | Transport |
| Multipurpose community facilities | Roads |
| Outdoor multipurpose sports fields | Intersections |
| Pavilions for sports fields | Road bridges |
An ICP can include a supplementary levy for transport projects if issues such as geographical challenges increase the cost of construction. This commonly applies to bridge construction, for example.
Land component
The land component requires developers to contribute land for public infrastructure such as community centres or sports fields. The ICP outlines the land contribution, which the planning authority uses to determine the average amount of land each developer needs to contribute.
If a developer contributes more than the average, then the council compensates them with levies from developers who contribute less than the average. Those who contribute less than the average pay an additional levy to fund these payments. Overall, the payments to and from developers should balance so that the council receives the right amount of land.
Voluntary agreements/s173s
In addition to the DCP and ICP programs, councils can also form a voluntary agreement with a developer on a project-by-project basis. Voluntary agreements have the broad purpose of placing conditions on the use of land, such as obliging developers to comply with building restrictions. We only looked at voluntary agreements related to development contributions.
Councils and developers can formalise these voluntary agreements through section 173 of the Act. The council records details of the agreement on the land title to ensure future owners are bound by it, and this remains on the title until the developer makes the agreed contribution.
Unlike DCPs and ICPs, voluntary agreements:
do not force a council to consider its holistic infrastructure needs
rely on individual negotiations with a developer
are not designed for collecting development contributions.
There is no public reporting on councils' use of voluntary agreements, including the collection of revenue and delivery of infrastructure.
1.2 Roles and responsibilities
DELWP is the legislation and policy owner for development contributions in Victoria.
VPA is a statutory authority with functions under the Act to:
advise and assist planning authorities, including councils where the Minister approves
advise and assist the Minister on planning the use, development and protection of land in Victoria
undertake integrated land use and infrastructure planning in areas designated by the Minister
coordinate state government action in relation to planning the use, development and protection of land in areas designated by the Minister.
Under the Act, the Minister issues a statement of expectations for VPA outlining the projects that it should work on, including ICPs and DCPs in designated areas.
Councils decide on their development contributions strategy within the parameters set by the state government.
DELWP, VPA, SRO, councils and DTF all have key roles in relation to development contributions. Figure 1E outlines the agencies' responsibilities in relation to the four audited tools.
Figure 1E
Agency roles and responsibilities for the four development contributions tools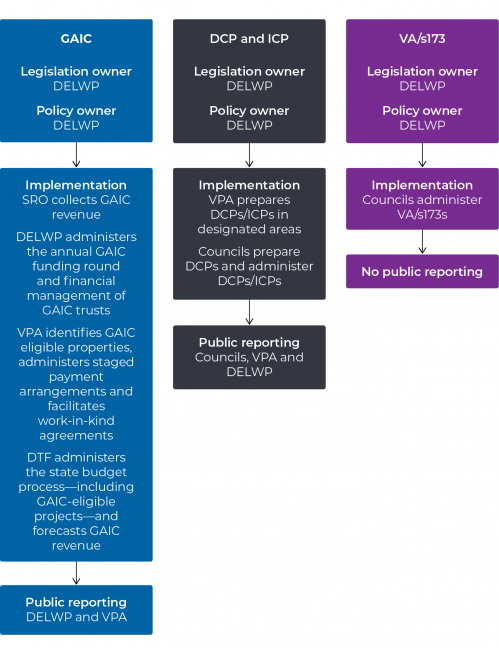 Source: VAGO.
1.3 Legislation and regulations
The Act is the enabling legislation for the four audited development contributions tools. The Local Government Act 1989 also provides direction to councils on the provision of services and fiscal management. There are also ministerial directions for the DCP and ICP programs outlining how they operate.
The current directions and guidelines are:
Development Contributions Guidelines (2003, amended in 2007)
Ministerial Direction on the Preparation and Content of Development Contribution Plans and Ministerial Reporting Requirements for Development Contributions Plans (2016)
Ministerial Direction on the Preparation and Content of Infrastructure Contributions Plans and Ministerial Reporting Requirements for Infrastructure Contributions Plans (2018)
Infrastructure Contributions Plan Guidelines (2019).
1.4 What this audit examined and how
We examined whether development and infrastructure contributions provide required infrastructure to new and growing communities as intended. To address this objective, we examined whether:
there has been strategic oversight of development contributions
the tools have delivered on their objectives
agencies considered learnings from the DCP program when designing the ICP program
councils have used DCPs and VA/s173s to obtain necessary funds for infrastructure development
the agencies and councils have evaluation frameworks for the tools and are evaluating outcomes.
In conducting the audit, we:
reviewed cabinet-in-confidence documents
met with Cardinia, Golden Plains, Melton and Whitehorse staff and reviewed council documents
spoke extensively with DELWP and VPA and reviewed their documents
visited SRO to understand its processes
collected and analysed data from DELWP and SRO
spoke with urban planning experts.
We also surveyed Victoria's 79 councils to understand their experience using development contributions. This included their experience with the DCP program, the support they receive and their expectations for the ICP program. We received responses from 65 councils, which is an 82 per cent response rate. Appendix B details their responses to survey questions that we used to support our audit findings.
The state agencies included in this audit are DELWP, VPA and SRO. The councils in this audit are Cardinia, Golden Plains, Melton and Whitehorse.
We conducted this audit in accordance with the Audit Act 1994 and ASAE 3500
Performance Engagements. We complied with the independence and other
relevant ethical requirements related to assurance engagements. The cost of
this audit was $595 000.
1.5 Report structure
The remainder of this report is structured as follows:
Part 2 examines how the state agencies manage development contributions at a system-wide level.
Part 3 examines the effectiveness of the DCP and GAIC programs, and how councils use development contributions tools.
Part 4 examines the future of development contributions, particularly the ICP program.