Managing Development Contributions
2 State agency management of development contributions
In this Part, we examine the management of development contributions tools by the relevant state agencies. We look at how strategically they operate, along with how policy advice, public reporting and evaluation activities contribute to effective administration of these tools.
2.1 Conclusion
Victoria's development contributions tools operate in isolation across multiple agencies, with little focus on how they work collectively. DELWP has not performed system-level oversight, coordination or evaluation, meaning there is no statewide consideration of how development contributions, collectively, could best support infrastructure delivery.
This failure to coordinate has led to inefficient, overlapping functions across DELWP and VPA. It has also resulted in councils not receiving comprehensive and timely advice about development contributions options.
2.2 Lack of a strategic approach
Instead of an integrated, strategic approach to managing development contributions, there is:
a lack of coordination
duplication of effort
multiple sources of information and advice.
The four audited development contributions tools were established at different times and were never intended to work as part of an integrated system. Responsibility for the tools is separated across various departments and branches within DELWP, and four different agencies have roles in administering them.
Despite the development contributions tools having similar purposes and overlapping geographically, state agencies have not considered their total impact and how they interact. For example, DELWP has not evaluated development contributions as an overall system and its advice to government is program specific.
In the absence of a holistic, strategic approach, the seven GIE LGAs have received nearly all DCP revenue, as shown in Figure 2A. As determined by the Act, they are also the only recipients of GAIC projects.
Figure 2A
GAIC and DCP funding received by council type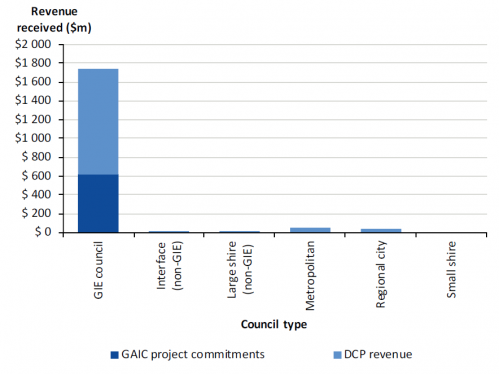 Note: GAIC revenue is current at 31 October 2019. DCP revenue is current at 30 June 2019. There has been no ICP revenue recorded to this date.
Note: The GIE council category includes six interface councils and one large shire. We excluded GIE councils from other categories. There are three non-GIE interface councils and 18 non-GIE large shire councils.
Note: We excluded one regional council's DCP data due to errors in reporting.
Source: VAGO, based on DELWP data.
Development contributions should target areas with population growth, to help build infrastructure for new communities. Figure 2B shows councils' population growth from 2016 to 2018 compared to DCP funds they collected in the financial years 2016–17 and 2017–18. It shows 41 councils with population growth collected no DCP contributions. We note though that these councils may already have sufficient capacity in their existing infrastructure, or may have collected contributions through a VA/s173.
Figure 2B
LGA population growth (2016–18) versus DCP revenue (2016–17 and 2017–18)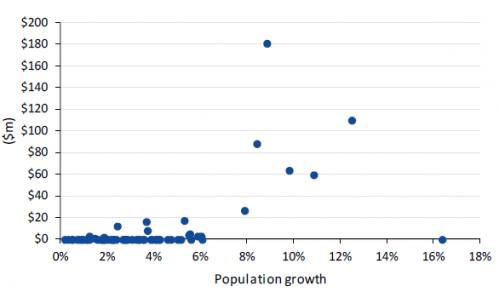 Note: We excluded councils with negative population growth.
Note: We excluded one regional council's DCP data due to errors in reporting.
Source: VAGO, based on DELWP and Australian Bureau of Statistics data.
2.3 Policy guidance
DELWP is responsible for maintaining policy guidance across the development contributions tools. As shown in Figure 2C, some of the policy documentation is outdated and incomplete, or DELWP withdrew it for an extended period.
Figure 2C
Policy document reviews
| Tool | Policy advice |
| --- | --- |
| GAIC | Up to date and reviewed annually. |
| DCP | DELWP last reviewed the policy in 2007. The policy explains how to set up a DCP but has limited information on implementation. |
| ICP | DELWP released a policy in 2016 but withdrew it in June 2018 when the legislation changed. DELWP renewed and reinstated the policy in September 2019, incorporating the legislative changes governing how councils acquire land in an ICP. |
| VA/s173s | DELWP last reviewed the policy in 2007. It includes limited information on how councils can or should use VA/s173s. |
Source: VAGO, based on DELWP documentation.
Policy advice and reviews
DELWP publishes GAIC application guidelines annually, which provide information about GAIC's objectives, criteria and decision-making processes. SRO also publishes advice on its website about applying for and collecting GAIC funds.
DELWP's development contributions guidelines describe VA/s173s and provide information on how to develop a DCP. However, these guidelines have limited value because they:
are over a decade old
do not provide advice on:

implementing DCPs
how to negotiate with developers
how to use VA/s173s

do not disseminate better practice.
The audited councils' use of VA/s173s varies, as we discuss in Section 2.4. While this variation reflects the flexibility of VA/s173s, stronger policy guidance would help to disseminate better practice. This would benefit councils that do not use other tools or need more help to negotiate VA/s173s with developers.
After DELWP withdrew the 2016 ICP guidelines in June 2018 in response to legislative changes, it did not update them until September 2019. During this 15 month gap, councils and VPA had no written guidance on ICP development or usage, which contributed to uncertainty about the program.
State advice to councils
Councils obtain information on development contributions tools from different sources. Cardinia and Melton advised us that they obtained legal advice on their DCPs, but also approached VPA. Golden Plains engaged DELWP for information about development contributions, while Whitehorse has engaged both DELWP and VPA. This variation is evident in our survey results, summarised in Figure 2D.
Figure 2D
Councils' responses to question: 'Who would you approach to understand the development contributions system?'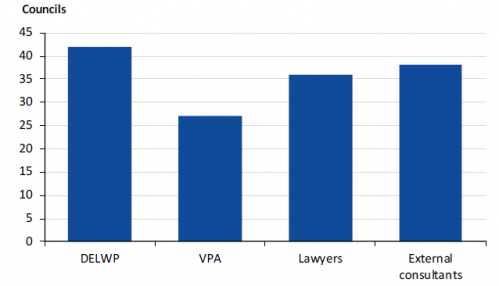 Note: Surveyed councils could select multiple responses to this question.
Source: VAGO.
As councils seek development contributions advice from both DELWP and VPA, the state is speaking with 'two voices' to the sector. This means DELWP and VPA may:
duplicate effort in research, analysis and stakeholder engagement
need to retain staff with expertise in relation the same tools
provide inconsistent advice to councils.
Our survey results emphasise the need for clearer advice to councils. Only 11 per cent of councils agreed that they have received the required information or advice from state agencies to make an informed decision about participating in the DCP or ICP programs.
While councils are responsible for their own decisions, they rely on clear information to make informed ones. DELWP has not communicated with councils about the status of the ICP program. VPA communicated the status of the ICP program to councils and other stakeholders in September 2019. However, it is not VPA's responsibility to advise all Victorian councils.
2.4 Public reporting and transparency
DELWP, VPA, SRO and councils report publicly on development contributions through their annual reports and program websites. This leads to duplicated effort and no single source of information. Collating this information would help the public understand the outcomes achieved by development contributions tools.
Reporting on GAIC
Under legislation, both DELWP and VPA report on GAIC. This increases the risk of error:
| | |
| --- | --- |
| While ... | there is an issue because ... |
| DELWP, VPA and SRO all have GAIC websites | they each report on different aspects of the program. This means the public needs to read all three sites to understand the program |
| DELWP and VPA both report on GAIC revenue and expenditure in their annual reports | past annual reports had different results for payment timing, interest earned and fund balance |
| SRO's website reports on GAIC 'revenue collected' (meaning the total liability incurred | DELWP refers to 'revenue received' for the actual amount of payments. This causes confusion for the public |
Adopting common terminology and one complete source of information would increase transparency in the management of GAIC.
DELWP and VPA work to make their figures consistent. However, their annual reports for 2013–14, 2015–16 and 2016–17 have discrepancies on:
which of GAIC's two accounts payments came from
the amount of interest accumulated in GAIC funds
when developers made payments for projects.
DELWP performed an expenditure review in late 2019 to identify various discrepancies and subsequently revised its expenditure records.
The discrepancies in GAIC reporting mean that the public does not have a clear view of where GAIC money is coming from and going.
Reporting on DCPs and ICPs
Since 2016, the Act has required councils to report on their DCP and ICP revenue and project status. DELWP collates this information and the Minister reports to Parliament annually on statewide outcomes.
This significantly improves the system's transparency, which is an objective for the ICP program and a stated principle in the DCP guidelines. The public can more easily compare their council's DCP and ICP income against similar councils.
However, we identified that one council had significantly misreported its DCP revenue when collating this information, leading to the Minister's reports to Parliament including this error in 2016–17 and 2017–18. DELWP has not corrected this error. This indicates there is room for improvement in DELWP's quality assurance.
Reporting on VA/s173s
Neither councils nor the state report on contributions towards infrastructure from VA/s173s. DELWP does not collect data on voluntary agreements, except where they relate to affordable housing.
Therefore, it is impossible for either the government or the public to know which councils use these agreements and what contributions towards infrastructure they have received. It is also not possible to find the outcomes of councils' individual approaches using VA/s173s.
Based on our consultation, we found that the audited councils use VA/s173s to support development contributions in different ways:
Cardinia and Melton use VA/s173s to support DCP implementation. For example, if a developer agrees to provide infrastructure in lieu of payment, councils will use VA/s173s to lock in its timing and quality.
Golden Plains uses VA/s173s to implement its development contribution policy.
Whitehorse uses these agreements on a development-by-development basis to obtain contributions towards infrastructure.
In addition, our survey found that:
63 per cent of councils reported using VA/s173s to obtain development contributions to support infrastructure delivery
77 per cent of councils that have either a DCP or ICP are using VA/s173s to support their implementation.
Implementing a reporting system similar to that used for the DCP and ICP programs would improve transparency and enable evaluation of councils' performance.
2.5 Evaluation of development contributions
Good program design should incorporate an evaluation framework at the outset. This includes goals, measures and targets at every stage through to delivery so that agencies collect the required data to measure the achievement of intended outcomes.
DELWP has no plan to evaluate how development contributions tools operate as an overall system. Additionally, none of the four audited tools have their own evaluation framework. As such, there has been no analysis of the collective or individual impact of the development contributions tools on issues such as:
timely delivery of infrastructure
equity between regions
social outcomes that result from infrastructure, such as access to education or public transport
consequences for housing affordability.
While state agencies have improved their revenue monitoring since 2016, the absence of evaluation frameworks, data collection and analysis means they cannot show the impacts of the development contributions tools or how the state could improve them.
Evaluating GAIC
GAIC exists to obtain funds for growing communities, but DELWP has not identified any specific social or economic outcomes for the program. Further, DELWP has not set measures or targets to assess whether GAIC is successful.
Evaluating the DCP program
As with GAIC, the DCP program does not have an evaluation framework, and DELWP has not set goals to measure success against.
However, the transition to ICPs has led DELWP and VPA to evaluate some aspects of the DCP program. For example, they have engaged consultants to analyse:
DCP levy data
community infrastructure requirements
standard costs for infrastructure
how to apply levies to different areas—for example, converting farming areas versus developed industrial areas.
DELWP and VPA have also consulted with developers and councils throughout the ICP program's development, which meant they heard stakeholders' experiences implementing DCPs.
DELWP and VPA's knowledge of the problems with DCPs—including that they are costly and lengthy to develop—is clear in the advice they provided to the government on ICP design. Despite this, these issues remain unaddressed.
As the DCP program is the only choice for 72 of Victoria's 79 councils—and may continue as such for most of them—it is important to develop an evidence base for changes to improve its accessibility and outcomes.
Evaluating the ICP program
The ICP program does not have an evaluation framework at either the state or individual ICP level to allow it to assess achievement against its objectives of:
simplifying the development of a contribution plan
increasing transparency and certainty of infrastructure delivery
obtaining land for infrastructure delivery
preventing infrastructure delivery that is beyond a 'basic and essential' standard
collecting a contribution from developers to the delivery of infrastructure.
VPA advised that the government plans to conduct a five-year review of the program. However, the value of this review may be limited without a formal evaluation framework. There is still time to develop a framework based on the Victorian Government's outcomes architecture, shown in Figure 2E.
Figure 2E
Victorian Government outcomes architecture
Source: VAGO, based on the Department of Premier and Cabinet.
A comprehensive, program-wide evaluation may not be possible for some time, because:
the first ICPs are only a year old
the program is still being implemented
councils will receive revenue over approximately 20 years
councils need to deliver the infrastructure before realising benefits.
However, an upfront evaluation framework will enable DELWP to perform a comprehensive, long-term evaluation, as well as conduct interim evaluations.