Managing Development Contributions
4 The future of development contributions
In this Part, we examine how DELWP and VPA are working to improve the development contributions tools. We also evaluate if local councils will be able to use these tools to better access development contributions in the future.
4.1 Conclusion
DELWP and VPA face multiple challenges to improve development contributions tools and ensure timely and transparent infrastructure delivery.
Ongoing delays in the rollout of the ICP program have left many councils unsure if they will be eligible to participate. These delays reduce the likelihood that the ICP program will achieve its objectives, which include simplifying the development of a contribution plan.
DELWP and VPA's effort to implement the ICP program has reduced focus on addressing existing issues with the DCP program. As a result, many councils lack an effective program for obtaining development contributions to support growth in their communities, meaning their communities miss out on infrastructure they might otherwise benefit from.
4.2 Will the ICP program deliver on its objectives?
DELWP developed five objectives for the ICP program, as shown in Figure 4A.
DELWP introduced several mechanisms to deliver these objectives through the ICP program. These mechanisms include:
capping expenditure on community and recreational infrastructure
setting a standard rate per hectare for all ICPs to streamline the approval process
estimating benchmark pricing for different types of infrastructure and publishing a guide in October 2019. However, these benchmarks are not mandatory.
increasing public reporting at both council and state levels.
Figure 4A
The ICP program's objectives

Source: VAGO, based on information from DEWLP.
However, there is no evidence to show how these mechanisms address the program's objectives and, in turn, deliver the intended results.
VPA implemented the first ICPs in 2017, with input from councils. Eight ICPs are now in place. While the program is new, early experience indicates that some of the issues with the DCP program are reoccurring in the ICP program.
Simplify the development of a contribution plan
DELWP and  VPA aimed to make the ICP program simpler, quicker, more consistent and less costly than the DCP program.
By applying standard levies, the ICP program should follow a simplified pathway that eliminates the need for:
each draft ICP to go through a full public exhibition and Planning Panels Victoria process
councils to develop detailed infrastructure costings in their plans.
However, ICPs developed to date have not followed this simplified pathway. In particular:
ICPs have needed supplementary levies to meet the high construction costs of projects. This requires VPA to publicly exhibit the ICP.
Melton and Cardinia advised us that they are fully costing infrastructure to test if the standard levies are sufficient to reduce their risk of committing to unaffordable projects.
This results in a process that resembles the effort and time requirements of the former DCP process. Our survey results in Figure 4B show that councils that have experience with both programs see ICPs as less reasonable in terms of the time they take to set up, the amount of administration the set-up requires, and their upfront costs.
Figure 4B
Survey results comparing councils' opinions of ICP and DCP set-up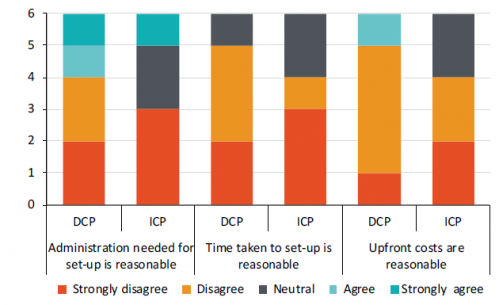 Note: Includes responses from the six councils that have experience with both ICPs and DCPs.
Source: VAGO survey data.
This is a negative outcome for a program that is meant to be simpler. However, the government is still rolling out the ICP program, so it may address these issues as it matures.
In 2018, VPA advised the Minister to increase the standard levies for transport and community recreation infrastructure, which would reduce councils' reliance on supplementary levies. However, these levies remain unchanged beyond indexation. Increasing the levies could eliminate the need for public exhibition of ICPs and in turn reduce the associated administrative, time and cost burdens. VPA advised that the proposed five-year review of the ICP program will consider this issue. As VPA implemented the first ICPs in 2018, we would expect the five year review to occur in 2023.
Increase transparency and certainty
DELWP's reporting changes to the DCP and ICP programs have significantly improved their transparency. However, as discussed in Part 2, by adopting a quality assurance approach to collecting DCP and ICP revenue data, DELWP could avoid making reporting mistakes in the future.
There are conflicting views on whether councils are legally obliged to deliver infrastructure listed in their ICPs. This reduces public certainty about what infrastructure projects they will deliver. A report by Planning Panels Victoria from December 2019, which examines but does not conclude on this issue, notes the opposing views between councils and VPA:
Two GIE councils believe they have the right to determine which infrastructure projects they will and will not deliver. This is based on the principles of sound financial management listed in the Local Government Act 1989.
VPA disagrees with the councils' position, citing:

a 2006 Victorian Civil and Administrative Tribunal decision that reinforced councils' obligations to deliver infrastructure listed in a DCP
the Minister's second reading speech that introduced the ICP system, which notes that ICPs are not intended to fully fund the infrastructure listed in them.
By setting standard levies for ICPs, DELWP and VPA have improved certainty for developers, in terms of what they can expect to pay⁠, and councils, in terms of what they can expect to collect. However, the frequency of councils using supplementary levies reduces this certainty.
Obtain land for infrastructure delivery
The ICP program initially included a monetary levy that councils could use to purchase land for public use. In 2018, legislative changes mean that councils now receive land directly as part of the ICP. The government designed this change to protect councils against escalating land prices over the life of an ICP.
Melton advised us that the 2018 changes have created a new set of administrative and financial problems. Some developers over-contribute public land and others under-contribute. Over time, these contributions balance out, but in the short term the council must credit over-contributors to make up the difference.
Councils cannot use money collected for transport or community infrastructure to credit developers for land. They need to either borrow money or use other council resources to finance these credits. Melton advised us that they have had more developers over-contribute land, which has left it out of pocket. VPA acknowledged this issue and noted that it will require legislative change to fix.
Prevent gold plating
A key objective of the ICP program is to reduce 'gold plating' of projects funded in plans. According to DELWP and VPA, gold plating is when councils deliver community facilities that are more expensive than the required 'basic and essential' standard.
VPA gave examples of councils estimating infrastructure costs that were higher than VPA's estimated costs. However, DELWP and VPA have not verified or quantified the extent of gold plating.
Specifically, they have not:
defined what 'basic and essential' means
examined how communities view 'basic and essential' standards
qualified what types of infrastructure councils are delivering above this standard
quantified how prevalent gold plating is across Victoria's councils
calculated the impact or potential impact of gold plating on the costs of DCPs and ICPs.
To support the existence of gold plating, VPA provided a consultant's report that a development industry body commissioned in 2011. The report stated that 'the cost of community facilities as a proportion of the total DCP levy has been generally steady since 2004'. Rather than gold plating, the report attributes rising DCP levies to increases in open space and road infrastructure costs.
The ICP program has a cap on its community and recreation infrastructure rate. While developing the program, DELWP advised government that this cap was necessary because gold plating had increased the costs of DCPs.
DELWP calculated the ICP cap by analysing community infrastructure funded through DCPs. However, this analysis deliberately excluded project costs that exceeded the DCP's CIL cap. As a result, the nominated cap ensures community infrastructure costs to developers do not rise from the DCP program to the ICP program. This cap led to shortfalls averaging 12 per cent in community infrastructure funding. The amount of unfunded construction has varied between each of the ICPs agreed to date and depends on the amount of community infrastructure included. Figure 4C shows the percentages of these shortfalls.
Figure 4C
ICP community infrastructure funding shortfalls
| ICP | Community and recreation cap per hectare | ICPs' community infrastructure costs per hectare | Percentage shortfall | Total shortfall |
| --- | --- | --- | --- | --- |
| Mt Atkinson and Tarneit Plains | $86 627 | $146 413 | 69% | $24 546 936 |
| Minta Farm | $89 518 | $143 156 | 60% | $7 761 419 |
| Donnybrook-Woodstock | $86 627 | $133 008 | 54% | $47 901 369 |
| Plumpton and Kororoit | $86 627 | $118 438 | 37% | $35 980 095 |
| Sunbury South and Lancefield Road | $89 518 | $110 261 | 23% | $26 826 922 |
| Lindum Vale | $86 627 | $86 627 | 0% | $0 |
| Cardinia Creek South | $86 627 | $86 627 | 0% | $0 |
| Beveridge Central | $89 518 | $82 013 | -8% | -$1 694 479 |
Note: All figures have been rounded to the nearest whole number.
Source: VAGO, based on published ICPs and DELWP public information.
There is no guarantee that gold plating will not occur under the ICP cap because:
The ICP cap only limits the total amount councils can spend on community infrastructure—it does not limit the amount that they can spend on individual projects.
VPA's pricing benchmarks for different infrastructure types are not mandatory.
VPA's pricing benchmarks detail suggested unit pricing for specific infrastructure types, such as sporting pavilions and playing fields.
Planning Panels Victoria, which resolves disputes between developers and councils over ICPs, considers the lack of clarity on the definition of 'basic and essential' a systemic issue, according to a report from December 2019. VPA's pricing benchmarks may provide clarity for future ICPs and reduce disputes over what is considered basic and essential.
Obtain a contribution from developers
When introducing the ICP program, the Minister stated that ICPs should only contribute to, and not fully recover, the total cost of infrastructure. DELWP and VPA confirmed this during the program's development. However, we found no evidence that the agencies:
defined what 'a contribution' means in practice
explained why only community and recreation infrastructure cannot attract a supplementary levy to recover full costs
analysed the impact of different contribution amounts on council revenues, infrastructure delivery, the rate of development or housing affordability.
For road and transport infrastructure, councils can apply to include supplementary levies to recover the full cost. Similarly, councils receive all the land needed for an ICP from developers. Councils can also use leftover community and infrastructure funds to pay for transport projects, but the Act does not explicitly allow them to do the reverse. It is not clear to councils why ICPs only require a contribution from councils for community infrastructure, and not for transport or land. VPA advised us that this arrangement reflects the high importance placed on securing land and providing transport access before building community infrastructure.
4.3 Timeliness and completeness of ICP rollout
The government intends for the ICP program to operate in MGG, SDA and RGG areas. However, delays in the program's implementation mean that to date, only the seven MGG areas can access it. Councils do not know if the government will include them in the SDA and RGG categories or when they will be able to get an ICP. According to our survey results, 35 of 58 councils that are not eligible to get an ICP want one.
DELWP began developing the ICP program in 2012, but the first ICPs were not approved until 2018. The delay is due to:
DELWP and VPA still determining how they will implement the program
work associated with the government revising the Act in 2018 to include both monetary and land components in the ICP program.
In August 2019, DELWP and VPA obtained the Minister's support for their ICP implementation 'roadmap' in SDA and RGG areas, and for a review of the implementation of ICPs in MGG areas. These roadmaps require DELWP and VPA to resolve issues such as:
how levies will be set
which methods will be used to value land
which areas can access the ICP program
how stakeholders will be engaged and/or consulted
the list of allowable infrastructure items in an ICP.
The state has divided responsibility for delivering these roadmaps between DELWP and  VPA. This approach:
requires each agency to develop their own expertise
splits engagement with councils based on whether they are in SDA or RGG areas
increases the risk that the roadmaps will develop at different speeds and with different approaches.
Once DELWP and VPA complete this work, the ICP program can extend to LGAs beyond the seven MGGs that have access to it. However, these roadmaps do not commit to where or when this rollout will occur. As DELWP and VPA plan to complete the roadmaps in June 2020, it is unlikely that ICPs will be in place for councils that want to access the program before 2021.
The lack of certainty about the ICP program's future rollout has affected councils' ability to plan their approach to obtaining development contributions, including whether they should pursue DCPs in the interim. Our survey found that 33 of 65 councils said they had not received the required information from state agencies to help them make informed decisions about using the DCP or ICP programs.
4.4 Continuing issues with the DCP program
DELWP has not revisited the overall design of the DCP program since it began in 1995. As discussed in Part 3, the program has existing structural issues. While DELWP has a clear understanding of these issues, it has no current plan to address them.
If the ICP program was rolling out in a timely manner across all of Victoria, this would not be an issue. However, based on the roadmaps, we expect that the ICP program will not be extended before 2021 at the earliest, and may not replace the DCP program for all Victorian councils. For this reason, the barriers and risks in the DCP program will continue to affect the councils that do not have access to the ICP program.
If the state does not allow some councils to participate in the ICP program and does not fix the existing issues with DCP program, then councils will continue to lack an effective program for obtaining development contributions to support their growing communities.