Managing Development Contributions
3 Existing program effectiveness
In this Part, we examine state agencies' design and implementation of the DCP and GAIC programs. We also look at councils' use of development contributions tools.
3.1 Conclusion
The DCP and GAIC programs have design weaknesses that impact on their ability to provide required infrastructure to growing communities.
Councils seeking to establish a DCP must overcome significant time and cost barriers to establish a plan. This makes the DCP program less attractive for councils, despite it being the only formal development contributions tool available in 72 out of 79 LGAs.
GAIC's capacity to fund state infrastructure projects has improved after an initial lag in receiving revenue. However, GAIC project selection arrangements remain split between the state budget process and DELWP's process. This limits DELWP's ability to take an overarching strategic approach that targets GAIC funds based on the areas of greatest need and benefit.
Developers can defer GAIC payments, which limits the reliability of the government's forecasting of future GAIC revenue. As the state has committed more GAIC funds to projects than the total revenue collected to date, DELWP needs to carefully manage GAIC's two trusts.
3.2 DCP program effectiveness
Throughout 2017–18 and 2018–19, 24 councils used DCPs to obtain funds that supported infrastructure development.
Significant barriers to councils' participation in the DCP program include the complexity, cost and time lag in establishing a DCP. Figure 3A shows participation in the DCP program by council type and indicates that the barriers may be larger for smaller councils or those with lower population growth.
Figure 3A
Councils with DCP contributions by council type, 2017–18 and 2018–19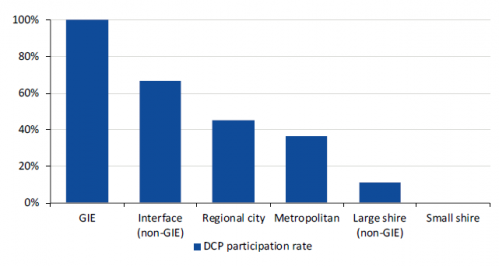 Note: The GIE council category includes six interface councils and one large shire. We excluded GIE councils from other categories.
Source: VAGO, based on DELWP data.
Cost
Our survey results found that the high cost of developing a DCP is a barrier to council participation. Of councils that have had DCPs, 70 per cent said that their upfront costs were not reasonable.
We reviewed a selection of 13 DCPs and found the average cost was $585 077. Four of them cost over $1 million. It is unclear how councils and VPA divided these costs.
These include direct costs such as consultant and legal fees. It is unclear which councils include staff costs in their cost estimates. Melton, which set up three of the 13 DCPs we analysed, advised us that it does not include council staff costs in its preparation costs. If this is consistent across councils, then they are understating their actual costs to prepare a DCP.
While a council can include set-up costs in the DCP and recoup the expense over its life through the levy, it may wait decades to recover the funds if development is slow. Where VPA incurs costs from preparing a DCP, it has no way to recover these costs.
Timeliness
When setting up a DCP, the planning authority—either the council or VPA:
identifies the infrastructure required and costs the projects
develops a draft DCP
receives feedback from stakeholders
publicly exhibits the draft DCP—It is then subject to a Planning Panels Victoria process, which involves the formal input of stakeholders, including developers and their lawyers
seeks ministerial approval to gazette the planning scheme amendment.
The length of each step in the process varies, and no data is available to determine the average time taken to set up a DCP. However, Cardinia advised us that DCPs take between two and four years to prepare, draft and gain approval. Of surveyed councils that have had a DCP, 77 per cent said that the time taken to set up a DCP is not reasonable.
A council only receives revenue after the DCP is in place and development occurs. Again, there is no data on how long and at what rate councils will receive revenue through a DCP.
The significant period of time needed for councils to see a return on their investment may discourage them from participating in the DCP program.
Complexity
Councils also need a significant level of expertise—both in-house and from consultants—to design a DCP and ensure they have estimated project costs accurately. Required consultants' advice often includes:
traffic analysis
site analysis to determine if there are geological challenges to building the proposed infrastructure
drainage studies
land valuations
assessments of community and recreation needs
construction cost analysis.
Cardinia and Melton advised us that their staff have gained significant expertise in developing and managing DCPs over time. However, Melton noted it is a challenge to find and retain experienced staff. This indicates there is a shortage of expertise in the sector that may impact other councils' participation in the DCP program.
Financial risk exposure
The financial risks to councils are also a barrier to their participation in the DCP program. Once the Minister approves a DCP, councils must complete all of its projects, even if the costs of completing the project increase or it is no longer needed.
Cardinia and Melton advised us that their more recent DCPs are better costed, after they experienced financial loss in earlier DCPs. We cannot test this assertion based on the data we have received because the newer DCPs are still in progress.
DCPs have become more expensive for developers as councils have better managed financial risk by:
factoring in contingency
locking in the price of required land early in a DCP's implementation to avoid the impact of escalating land prices
using indexation methods that reflect increases in construction costs.
A DCP can leave a council with cashflow problems as the receipt of funds does not necessarily occur before it needs to deliver projects. For example, as shown in Figure 3B, Melton forecasts it will be $35 million in arrears by 2024–25 due to receiving revenue after it has to deliver infrastructure.
While the DCP will eventually recoup this money, Melton will need to fund the interim shortfall from other revenue sources or with debt. These cashflow issues are worse for councils with slower growth—common in regional areas—because they are less sure that growth will happen, and that levies will be collected. As such, fast-growing areas such as MGGs are best placed to deal with these issues.
Figure 3B
Melton's projected cash transactions, 2018–19 to 2028–29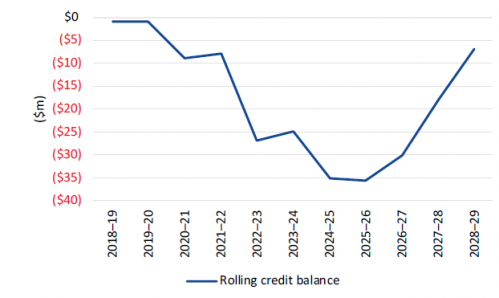 Source: Melton.
Under the Act, a DCP also includes a cap on the CIL. As shown in Figure 3C, the cap remained $900 per lot between 2004 and 2016. During this period building construction costs increased while the rate remained the same, meaning councils were underfunded. A consultant advised DELWP in 2015 that DCPs led to a 12 per cent shortfall in funding for the community infrastructure included in the DCP, partly attributing this to the CIL cap.
The government raised the rate to $1 150 in 2016, and introduced indexing in 2019 so that the rate keeps pace with the costs of building construction.
Figure 3C
Comparison of the actual DCP CIL cap with cap levels that include indexing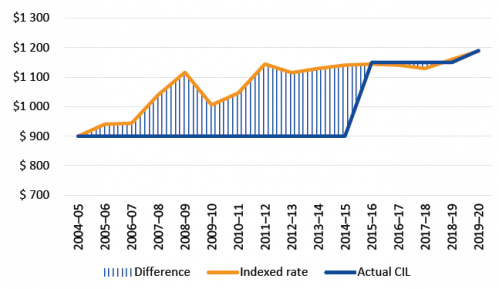 Note: We calculated the indexed rate using the Producer Price Index for Non-Residential Building Construction in Victoria. The index is published by the Australian Bureau of Statistics.
Note: The first annual indexation of the maximum levy amount and the payable dwelling amount is on 1 July 2019. Therefore, this indexation was applied to the 2019–20 actual CIL cap.
Source: VAGO.
3.3 GAIC program effectiveness
DELWP, VPA, SRO, Land Use Victoria (LUV) and DTF all have roles in managing GAIC, including:
financial management
revenue forecasting
identifying GAIC events and collecting revenue
policy and legislative advice
fund allocation.
Collection of GAIC revenue
Identifying GAIC events and collecting revenue involves three agencies that each manage separate datasets, which have limited interactivity. This separation of responsibility and data increases the risk that SRO has not collected all GAIC revenue. Figure 3D shows each agency's role in the process.
Figure 3D
GAIC liability identification and collection

Note: The timing of GAIC payments to SRO depends on whether developers enter staged payment arrangements, which VPA administers.
Note: A developer can also make GAIC payments through a work-in-kind agreement.
Source: VAGO, based on information from SRO and DELWP.
After SRO confirms that a developer has addressed their GAIC liability, it provides them with a document giving consent for the land transaction to proceed. The developer must then print and manually lodge this document with LUV. This process is inconvenient for developers and potentially open to fraud, as there is no confirmation between the agencies to verify the validity of the document.
Despite this risk, SRO's evidence of the limited manual reconciliation it has undertaken with LUV data since 2009 has only identified three cases in which it did not charge a developer their GAIC liability.
SRO and LUV have addressed some of the flaws in the collection and recording of GAIC payments through recent changes:
| | |
| --- | --- |
| Prior to 2019 | From 2019 |
| When a developer paid their GAIC levy, SRO provided the developer with a certificate and consent form showing they had met their GAIC obligations. The developer then took the consent form back to LUV. | Conveyancing is moving to a digitised system. This will remove the need to provide paper-based evidence of GAIC payment. |
| SRO and LUV did not conduct regular reconciliations of their records of GAIC-liable developments. | Since July 2019, SRO has been piloting monthly reconciliations with LUV. |
Distribution of GAIC funds
DELWP improved the way it assesses potential GAIC-funded projects after the distribution of funds was initially delayed. However, distribution remains based on processes that prevent DELWP from taking a strategic approach to obtain the best outcomes from available funds.
How GAiC funds are used
DELWP's ability to recommend GAIC-funded projects to the Minister was initially delayed because actual developer contributions to the fund were either deferred or paid via staged payment agreements over multiple years. DELWP recommended this decision to government based on consultation with the sector, but it resulted in a significant lag from the program's set up in 2010 to its first commitment to significant projects.
Between 2011–12 and 2015–16, developers incurred $500 million in GAIC liabilities, but paid only $146 million to the state. It took until 2016–17 before the state had built a sufficient level of funds in the trust to make significant project commitments.
Figure 3E shows the cumulative amount of accrued liabilities, revenue actually received by DELWP, the value of projects committed to and the actual expenditure on those projects.
Figure 3E
GAIC cumulative values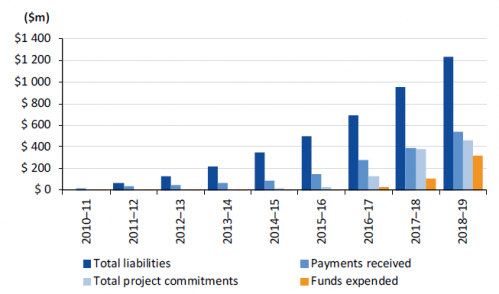 Note: Data as of July 2019.
Note: All figures are cumulative over financial years.
Note: There is no total liability data available for 2010–11.
Source: VAGO, based on SRO and DELWP data.
GAIC has funded a range of project types, with 48.5 per cent for building schools, as shown in Figure 3F.
Figure 3F
GAIC committed funds by project type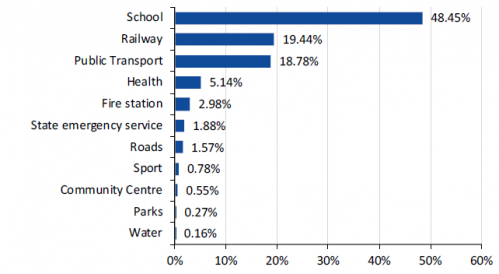 Note: Data as of 31 October 2019.
Source: VAGO, based on DELWP information.
In GAIC's legislation, funds received by SRO are split evenly between the Building New Communities Fund (BNCF) and Growth Areas Public Transport Fund (GAPTF). Projects that are funded from these follow one of two approval processes:
Annual funding round—since 2016–17 DELWP has chaired an interdepartmental panel that receives and assesses applications for funding from departments for approval by the Minister and the Treasurer. The panel assess applications to ensure their eligibility under the Act and the GAIC application guidelines.
State budget process—the government may also use GAIC to fund eligible departmental funding proposals during the annual state budget process. Departments must identify which parts of their proposals are eligible.
Figure 3G shows that 61 per cent of GAIC project commitments since 1 July 2018 were funded through the state budget process. These projects were eligible for GAIC funding under the Act and the GAIC policy statement. Thirty seven per cent were funded through the annual funding round, while the remaining 2 per cent covered work-in-kind agreements.
Figure 3G
Annual GAIC project commitments by funding method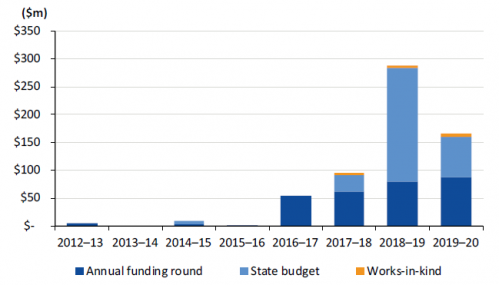 Note: Data as at 31 October 2019.
Note: Further project commitments may be made during the remainder of 2019–20.
Source: VAGO, based on DELWP data.
While the Act requires that GAIC funds be divided evenly, it does not require the same split for project commitments. As at 31 October 2019, GAIC had committed $387.7 million to BNCF projects and $232.6 million to GAPTF projects, despite each fund receiving $310.1 million. The committed amounts include cash outflows for forward years.
The even division of GAIC funds into two trusts has the following impacts:
As a higher proportion of BNCF funds have been committed, DELWP is monitoring fund allocation to avoid overdrawing on this trust.
Legislatively dedicating funds to the GAPTF despite having fewer project commitments means DELWP cannot fund additional BNCF projects with this money.
If the allocation to GAPTF continues to exceed project commitments, money will increase in the trust without delivering infrastructure to the communities as intended.
Strategic approach to project selection
DELWP publishes GAIC's application guidelines each year and receives submissions from agencies through the annual funding round. DELWP advised that where necessary it proactively engages with agencies to increase their awareness of the program and encourage bids for funding.
However, the ability to fund GAIC projects separately through the state budget process—which is outside of DELWP's control—means that it cannot take an overarching strategic approach to:
selecting projects in areas of greatest need and benefit
financial management of GAIC's two trusts.
A newly formed subgroup of the government's Land and Infrastructure Working Group is working to improve the way GAIC projects are selected. DELWP—as a member alongside DTF (as chair), VPA, SRO and a selection of other departments—advised us that this includes the development of demand assessments to establish a pipeline of works for future funding. It is unclear whether this work will prompt changes to GAIC's legislative and policy requirements, or to DELWP's role.
The Land and Infrastructure Working Group formed in response to our August 2017 Effectively Planning for Population Growth audit. Its role includes reviewing mechanisms used to fund infrastructure provision and identify potential reforms.
Lack of council input
GIE councils have no formal input into the processes DELWP uses to fund state infrastructure. As a result, the provision of schools and public transport projects may not align with council plans for residential, commercial or industrial developments.
While DELWP does not formally consult councils, it considers relevant Precinct Structure Plans—which VPA develops in conjunction with councils—and considers demand assessments during the annual GAIC funding round. This is consistent with the GAIC application guidelines, which ask applicants to identify which Precinct Structure Plan a proposed project is supporting.
Precinct Structure Plans are master plans for development and investment in a local area. They usually cater for between 5 000 to 30 000 people, 2 000 to 10 000 jobs or a combination of both.
Equal funding over time
GAIC policy recommends that DELWP distributes funds to LGAs proportionate with developers' contributions to the same areas over time. However, this is not a legislative requirement. Figure 3H shows that, as of 30 June 2019, DELWP has distributed funds largely in line with where developers made payments, with the exception of Wyndham.
Figure 3H
GAIC payments versus commitments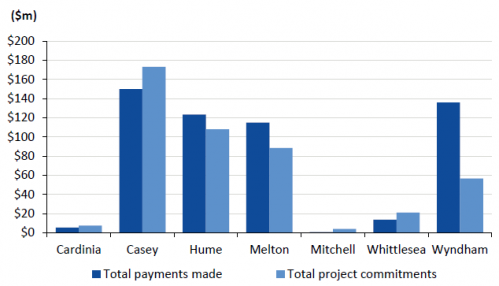 Note: Data as of 30 June 2019.
Source: VAGO, based on DELWP data.
As GAIC's objective is to support infrastructure in growing communities, funding should have a strong relationship to population growth. However, the GAIC application guidelines do not explicitly require consideration of population growth when assessing funding proposals. Figure 3I shows that population growth is not directly informing fund distribution.
Figure 3I
GAIC project commitments compared to LGA population increases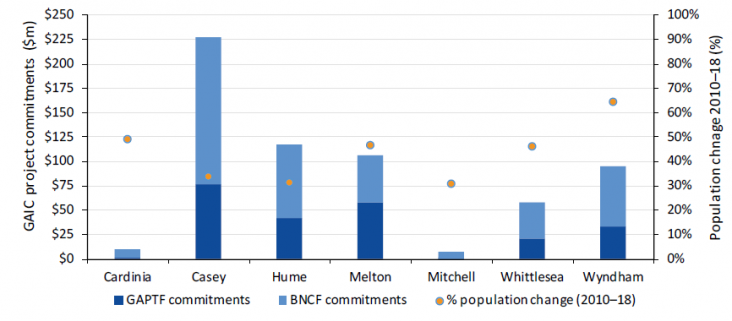 Note: Some population growth may occur outside of GAIC-eligible areas.
Note: GAIC data as of 31 October 2019.
Source: VAGO, based on DELWP and Australian Bureau of Statistics data.
3.4 GAIC future revenue forecasting
DELWP uses DTF's forecasts of future GAIC revenue to manage its two trusts. DELWP needs to understand this forecasting to correctly advise government and recommend projects while minimising financial risk to the state.
Total GAIC revenue
DELWP has used different DTF forecasts of total GAIC revenue to advise government. These forecasts have ranged from:
a 2008 estimate of $1.8 billion, which covered a 24-year period between 2008 and 2032, to
a revised 2019 estimate of $3 billion to $3.5 billion, which covered a 30 year period between 2010 and 2040.
In this report, references to DELWP include former departments that were responsible for Victoria's planning system.
DTF advised us that the reliability of the 2008 estimate was limited due to a lack of available data, and uncertainty about how much developers would defer GAIC payments. DELWP did not communicate the limitations of this estimate to government.
DTF also advised us that its 2019 estimate of $3 billion to $3.5 billion is more accurate because it included additional data and used more sophisticated forecasting tools. However, DTF did not provide sufficient evidence to test this.
Both the original and revised revenue forecasts estimate that GAIC will fund approximately 15 per cent of required infrastructure in growth areas. However, there is no evidence detailing the basis for this estimate.
Year-by-year forecasts
Accurately predicting GAIC revenue each year is challenging:
Staged payment arrangements make up more than 80 per cent of GAIC revenue. SRO can report on when staged payment arrangements are due, but their timing can change because developers can amend these arrangements.
At 30 April 2019, developers had collectively deferred payment of $500 million in GAIC liabilities. As payment depends on the development going ahead, it is not possible to predict when developers will make these payments.
GAIC work-in-kind agreements reduce revenue received.
If Victoria's growth in GAIC-eligible areas slows, the amount of money coming to the state will slow. This could jeopardise the delivery of projects that the state commits to in advance. There is an increasing risk that the projected revenue will not meet future commitments, considering that:
a high proportion of GAIC liabilities are subject to a staged payment arrangement
as at 31 October 2019, total GAIC project commitments ($620.2 million) exceeded the total collected revenue ($592.7 million).
DELWP advised us that it is actively managing both GAIC trusts to ensure they are not overdrawn. This includes:
working with DTF to estimate available cash in both GAIC trusts prior to the state budget
reviewing all commitments to identify payments that could be moved into future years if actual revenue falls short of forecast revenue
delaying future annual funding rounds until after the government makes state budget funding decisions. While this gives DELWP greater certainty about available funding, it would likely increase the number of funding allocations made outside of its process.
3.5 Councils' approach to development contributions
Different tools suit different councils. For example, it may not be worth the time and money it takes to set up a DCP for a rural council that has slow growth. Similarly, if a council has a fast rate of development and needs to build extensive infrastructure, it may find it expensive and inefficient to negotiate an individual VA/s173 with every developer.
Figure 3J shows councils' use of the development contributions tools available to them. At least 22 councils do not use any of these tools.
Figure 3J
Councils' use of development contributions tools to collect levies
Note: (i) VA/s173s data was based on 65 councils that responded to our survey. (ii) DCP and ICP data is based on information from DELWP. (iii) ICPs are limited to the seven GIE councils. (iv) One GIE council is awaiting ministerial approval of their ICP.
Source: VAGO.
We examine the four audited councils' approaches to development contributions in detail below.
Cardinia and Melton
Cardinia and Melton rely on DCPs and ICPs to collect money to fund necessary infrastructure. With more than a decade managing DCPs, both councils have developed expertise and internal processes, and are now applying these to their new ICPs.
Resourcing
Both councils dedicate significant staff resources to managing DCPs and ICPs.
Cardinia advised it:
has two full-time equivalent strategic growth area planners contributing to ICP and DCP preparation
commits two staff to monitoring the implementation of and financial contribution to their DCPs and ICPs, but both have other additional responsibilities
dedicates resources to building projects that the DCPs partially fund.
Cardinia also advised it would like to resource further staff to the financial management of DCPs.
Melton advised it has:
one and a half full-time equivalent strategic planners preparing DCPs
four statutory planners who perform development contributions work, with future plans to create a second team that will share this work
two accountants monitoring DCPs' and ICPs' financial status
a DCP/ICP working group of 15 to 20 council staff who prioritise project delivery.
The staff resources Cardinia and Melton dedicate to managing DCPs and ICPs shows the high administrative and financial burden of participating in these programs. While DCPs can deliver significant financial benefits, councils cannot recover these ongoing administrative costs, which may explain why smaller councils have not engaged in the DCP program. DELWP has acknowledged the substantial resources and costs required to develop a DCP in its advice to government on the ICP program.
Policy approach and documentation
Cardinia and Melton advised that their financial management of DCPs has improved over time, but that shortfalls have occurred because:
they did not lock in land prices with VA/s173s early in their initial DCPs
they did not include contingency amounts in their project costings
construction costs escalated at a higher rate than the indexation rate they set in the DCPs.
Cardinia and Melton both now use VA/s173s to support the implementation of DCPs. Both councils advised that their practices have evolved over time in response to experiences implementing DCPs.
Cardinia and Melton use VA/s173s to:
lock in land prices so they are less exposed to financial shortfalls as land prices increase
ensure developers deliver works in kind on time and to council specifications
provide clarity to both the developer and council on expectations regarding work-in-kind agreements.
Melton developed a policy document in 2015 to support staff in their negotiations with developers. It is now reviewing this policy to improve its approach to development contributions. The 2015 policy guides staff to consider:
the timing of infrastructure provision
the community benefit
financial impacts for the council
the council's infrastructure priority list.
To assist in negotiations, the council also has a publicly available policy that covers how it administers DCPs and its stance on key issues, such as works in kind and land valuation. This makes Melton's position clear to developers and the public, reducing uncertainty for all parties. These two documents promote consistent application of Melton's DCPs.
Cardinia does not have a formal development contributions policy to guide its decision-making. Instead it relies on in-house expertise and managerial oversight to ensure consistency, and ongoing engagement with developers to explain its position. This increases the risk of Cardinia:
losing valuable corporate knowledge if staff leave
applying inconsistent approaches to negotiating agreements.
Evaluation framework
Cardinia and Melton monitor the implementation of their DCPs/ICPs, focusing on:
funds received, expended and cashflow
projects delivered
their financial exposure.
The two councils are also reviewing their practices:
Cardinia obtained a consultant's evaluation of its DCP management in May 2019, resulting in 55 recommendations for process improvement. The council is responding to the report.
Melton's consultant is currently reviewing its development contributions guidelines.
However, the councils have not documented the program outcomes they want to achieve beyond the acquisition of funds for infrastructure. For example, they have not set outcomes measures for:
improving the timeliness of infrastructure delivery
the social and economic benefits the DCPs have delivered.
This means they have not taken an outcome-focused approach to evaluating their participation in the DCP and ICP programs.
Golden Plains
Golden Plains does not have a DCP and is not eligible to get an ICP, as the ministerial direction does not include the council. To obtain contributions towards infrastructure, the council chose to implement a local development contributions policy in 2005. The council updated the policy 2016.
Golden Plains approaches development contributions as part of its regular planning processes. When assessing a planning permit request, staff check whether the developer has made the necessary contribution. They monitor payment through planning process checklists and the requirement to cite the payment receipt on file.
The council also dedicates resources to monitoring the contributions it has received and the infrastructure built.
Policy approach and documentation
Golden Plains decided against using DCPs because in 2015 its consultant advised:
a DCP would not suit the size of development in the council area
the process of drafting a DCP would be long and expensive
a DCP is inflexible in the way council collects and spends contributions.
Instead, it developed a policy to collect development contributions. Golden Plains used its regular policy development processes to do this, including welcoming comment from the public prior to a council vote.
The policy sets two contribution rates for development—$4 500 per lot in the Bannockburn area and $1 500 per lot in other parts of the shire. Golden Plains applies VA/s173s to each development to implement the policy. The council has raised $1.9 million from 362 developments through this policy to 30 June 2019.
As the policy is not a formal DCP, a developer could challenge the contribution request at the Victorian Civil and Administrative Tribunal. Golden Plains advised us that this has not occurred.
Golden Plains developed this policy primarily to raise funds to build the Bannockburn Recreation Centre and some small-scale projects, including resurfacing a local tennis court. The contributions to date have serviced the loan the council took to build the recreation centre.
However, Golden Plains advised us that the contribution rate does not supply enough funds for emerging infrastructure needs. To support new projects, the council would need to increase the contribution rate by changing its policy.
Golden Plains adopted this strategy based on its perception of the structural barriers inherent to DCPs. However, it will need to comprehensively review its infrastructure needs before setting any future levy rates.
Evalution framework
Golden Plains reviewed its plan in 2016 and adjusted the contribution rate based on the consultant's recommendations.
Golden Plains has not evaluated whether its overall development contributions approach is successfully meeting the infrastructure needs of its community.
Whitehorse
Whitehorse has experienced significant population growth in recent years, mainly in Box Hill. Whitehorse does not have a DCP, so it has received minimal development contributions. It also has used VA/s173s to collect some infrastructure contributions from developers.
Resourcing
Whitehorse does not dedicate resources specifically to development contributions, because it does not have a DCP or council policy on development contributions to implement.
Policy approach and documentation
In August 2017, Whitehorse's consultant recommended that it pursue an ICP for Box Hill once the program became available to it. The consultant also recommended that Whitehorse:
pursue a DCP if the ICP program did not become available
undertake some infrastructure assessments in the meantime.
Whitehorse advises that it is still working to complete these assessments and expects to choose a development contributions solution by the end of 2020.
It also advised that if it had known in 2017 that the ICP program rollout would be delayed, it would have pursued a DCP more definitively. However, in September 2017, VPA staff emailed Whitehorse staff saying there was no certainty around timing for ICPs and suggested that Whitehorse pursue a DCP.
Between 2008 and 2018, Whitehorse's population grew by 14.8 per cent, which is larger than eight of the 26 councils that collected contributions through a DCP in 2016–17 or 2017–18. We estimate Whitehorse could have raised at least $4.16 million in total contributions in 2016–17 and 2017–18 if a DCP were in place in Box Hill, as shown in Figure 3K. This excludes levies that it could have collected from commercial and industrial development.
Figure 3K
Whitehorse—potential missed DCP revenue in Box Hill from residential development
| Item | Figure |
| --- | --- |
| New lots in Box Hill 2016–17 to 2017–18 | 1 486 |
| Missed metropolitan DCP rate per lot | $2 800 |
| Potential missed revenue | $4 160 546 |
Note: We reviewed all non-municipal-wide metropolitan DCPs in effect during this period and have applied the median per lot rate from them.
Note: Minor variations are due to rounding monetary amounts.
Note: These rates have been indexed using the Producer Price Index for Non-Residential Building Construction in Victoria. The Australian Bureau of Statistics publishes the index.
Note: DCP rate as of 31 June 2019.
Source: VAGO, based on publicly available DCP documentation and advice from Whitehorse.
While Whitehorse advised us that other funding sources have been sufficient to fund necessary infrastructure, they have missed an opportunity to release funds for other council purposes.
Evaluation framework
Whitehorse commissioned an evaluation of its approach in 2017, resulting in four recommended actions. Three relate to pursuing an ICP as the preferred approach to development contributions, which it has accepted.
Whitehorse does not plan to evaluate how its use of VA/s173s helps to achieve its infrastructure objectives, such as those outlined in its housing strategy.