Managing the Level Crossing Removal Program
1.1 Background
Melbourne has an extensive transport network, which includes rail, roads, cycle paths and footpaths. The challenge is to ensure these components work together as an integrated transport system so that people and goods can move efficiently in and around Melbourne.
Melbourne is facing unprecedented population growth. In the next 30 years, Victoria's population is expected to increase by up to 60 per cent to 9.5 million. As the population grows, travel demands also increase, with public transport use growing at a faster rate than the population. Plan Melbourne 2014 indicates that, by 2050, Melbourne's road and rail network will need to accommodate an additional 10.7 million daily trips, on top of the 14.2 million daily trips recorded in 2014.
Managing increasing demand on road and rail infrastructure is a key task for government, and central to maintaining Melbourne's liveability.
Level crossing removals in Melbourne
A level crossing—also known as a grade crossing—is an intersection where a railway line crosses a road or path at the same level, as opposed to crossing over or under using a bridge or tunnel.
Separating the level of the road and rail is a grade separation. Grade separations can enhance road and rail network performance through the removal of the conflict at a crossing, improved station design, improved station access, and the integration of stations into the surrounding area.
Reasons for removing level crossings
Governments remove level crossings for a range of reasons, including to facilitate an increase in the frequency of train services, to extend rail lines through developed areas or to improve safety and traffic flow. In the past, some of these removals were part of a larger project—for example, the grade separations in the extension of the Hurstbridge-South Morang lines—however, most were done on an ad hoc basis.
The rail corridor is the land on which the railway is built. It comprises all property typically bounded from fence line to fence line or, if not fenced, everywhere 15 metres either side of the outermost parts of the track, unless otherwise indicated.
Between 2005 and 2015, there were more than 149 collisions between a train and a vehicle or pedestrian along a rail corridor across metropolitan Melbourne—including the 178 level crossings on the electrified rail network. Of these, 38 resulted in fatalities and 22 in serious injuries. Boom gate closure times and traffic volumes across sites vary significantly and, in some locations, extended boom gate closures can contribute to road traffic congestion.
Large number of crossings in metropolitan Melbourne
The number of road level crossings remaining on Melbourne's metropolitan electrified train network is high compared to other Australian cities—see Figure 1A.
Figure 1A
National comparison of metropolitan rail level crossings
| City | Number of level crossings at September 2017 |
| --- | --- |
| Adelaide | 84 |
| Brisbane | 47 |
| Melbourne | 178(a) |
| Perth | 29 |
| Sydney | 3 |
(a) Figure for Melbourne is prior to the LXRP.
Note: Canberra, Darwin and Hobart do not have metropolitan train services.
Source: VAGO.
A level crossing removal program managed by VicRoads, Metro Level Crossing Blitz, commenced under the previous government in 2011, with business cases finalised in 2013 and 2014.
The current government announced a level crossing removal program while still in opposition. This program formed part of its Project 10 000 election commitment which identified 40 level crossings for removal. Ten further crossings were added before the election.
These crossings formed part of the 2015–22 LXRP. In 2015, LXRA was established and took over responsibility for managing the program from VicRoads.
1.2 Options for level crossing removals
There are four main types of road-rail grade separations—see Figure 1B.
Figure 1B
Main types of road-rail grade separations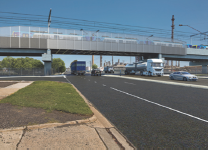 Rail over road—the road remains at its existing level and a rail bridge is built over it. Modifications to train stations may be required, at least to the platform levels, to suit the new rail level. Elevating the rail line provides opportunities for increased connectivity across the rail corridor.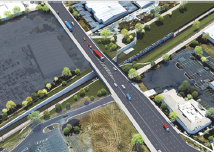 Rail under road—the rail line is lowered to go beneath the existing road. A bridge is built to maintain the road at its existing level. Where there are nearby train stations, these need to be modified or rebuilt to suit the new rail level. Additional pedestrian or cycling bridges may be used to improve access across the lowered railway.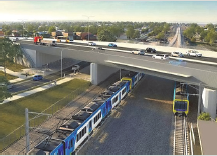 Road over rail—the rail line remains at its existing level and a road bridge is constructed over it. Local road and pedestrian accessibility is maintained with local service roads or by providing alternative access. This does not generally require any modifications to rail platforms because the level of the rail does not change. Where there are nearby train stations, access to them needs to be maintained.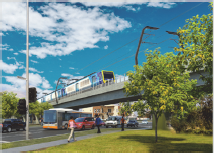 Road under rail—the road is lowered to go beneath the rail line. A rail bridge is built to allow the rail to remain at its existing level. Local road and pedestrian accessibility is maintained with local service roads or by providing alternative access. Where there are nearby train stations, access to them needs to be maintained.
Source: VAGO, based on information provided by LXRA. Photographs courtesy of LXRA.
Other options for grade separations include:
hybrid options—involve raising or lowering both road and rail instead of only one
closure—closing the level crossing. This option provides no new alternative crossing of the rail corridor and road traffic must find an alternate route.
1.3 Level Crossing Removal Program
The LXRP is one of the Victorian Government's key transport infrastructure projects. Its stated aim is to remove 50 of the most dangerous and congested level crossings by 2022. In May 2015, as part of the Budget, government announced an interim target of 20 removals by 2018.
Since LXRP's announcement, the LXRA has identified two additional level crossings for removal, bringing the total to 52—see Appendix B for a full list. Figure 1C shows the location of these crossings.
Figure 1C
Locations of the level crossings to be removed under the LXRP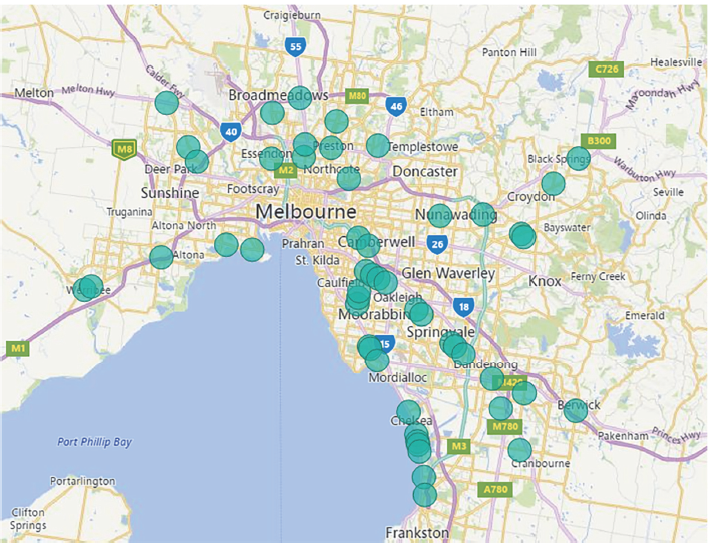 Source: VAGO, based on information provided by LXRA.
The stated benefits of the LXRP are diverse. They include to deliver significant safety improvements for drivers and pedestrians, improve travel around Melbourne and enable more trains to run more often and on time.
Level crossing removal packages
Level crossings will be removed along most Metropolitan train lines. The Cranbourne-Pakenham line will have the most removals, however, these will only amount to 52 per cent of the level crossings on that line—see Figure 1D.
Figure 1D
Level crossing removal by metropolitan train line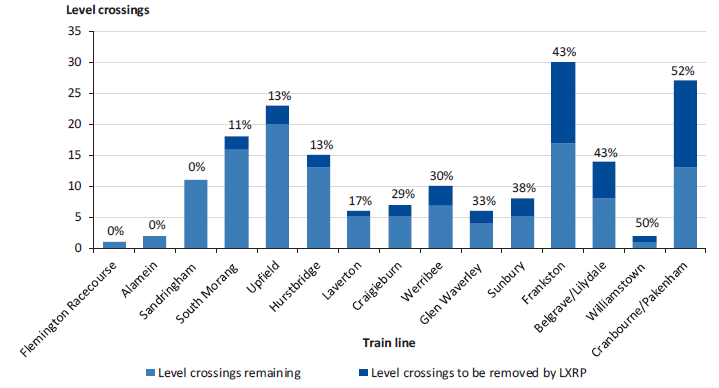 Source: VAGO, based on information provided by LXRA.
Individual level crossing removal sites are grouped into delivery packages—see Figure 1E.
Figure 1E
Level crossing removal packages
Package

Level crossings included

Package 1

North Road, Ormond; McKinnon Road, McKinnon; Centre Road, Bentleigh;

Burke Road, Glen Iris

Package 2

Main Road and Furlong Road, St Albans; Blackburn Road, Blackburn;

Heatherdale Road, Mitcham

Package 3 (CTD)

Grange Road and Koornang Road, Carnegie; Murrumbeena Road, Murrumbeena; Poath Road, Hughesdale; Clayton Road and Centre Road, Clayton; Corrigan Road, Heatherton Road and Chandler Road, Noble Park

Package 4

Scoresby Road and Mountain Highway, Bayswater

Melton Highway

Melton Highway, Sydenham

Thompsons Road

Thompsons Road, Lyndhurst

North Eastern Package

Lower Plenty Road, Rosanna; Grange Road, Alphington; Bell Street, Preston; High Street, Reservoir

North Western Package

Bell Street, Coburg; Buckley Street, Essendon; Camp Road, Campbellfield; Glenroy Road, Glenroy; Moreland Road, Brunswick; Skye Road, Frankston

Western Package

Abbotts Road, Dandenong South; Aviation Road, Laverton; Cherry Street and Werribee Street, Werribee; Ferguson Street, Williamstown; Kororoit Creek Road, Williamstown North

Southern Package

Balcombe Road, Mentone; Charman Road and Park Road, Cheltenham; Edithvale Road, Edithvale; Eel Race Road and Station Street, Carrum; Seaford Road, Seaford; Bondi Road and Mascot Avenue, Bonbeach

Unallocated level crossings

Clyde Road, Berwick; Hallam Road, Hallam; Manchester Road, Mooroolbark; Maroondah Highway, Lilydale; South Gippsland Highway, Dandenong; Toorak Road, Kooyong
Source: VAGO, based on information provided by LXRA.
Each package has its own governance arrangements that include:
a project director
a project team, consisting of senior project managers, project managers, senior project/design engineers, and project control/support officers.
The project director reports to the LXRA Chief Operating Officer, who reports to the Chief Executive Officer.
The project teams are supported by functional teams that include communications and stakeholder relations staff, safety staff, cost controllers and commercial managers.
1.4 Status of the Level Crossing Removal Program
VicRoads had commenced work on the procurement and construction of 10 level crossing removals prior to the establishment of LXRA. The LXRP incorporated these crossings. The status of those crossings was:
four sites had already completed full business cases—Blackburn Road, Main Road, Burke Road and North Road
four sites had prepared project proposals—McKinnon Road, Centre Road (Bentleigh), Furlong Road and Heatherdale Road
two sites had completed preliminary planning and a business case—Mountain Highway and Scoresby Road.
All 52 level crossings are planned to be removed by 2022. While an interim target of removing 20 crossings by 2018 was set in 2015, LXRA is now intending to complete up to 28 by 2018. The 2017–18 State Budget brought forward additional funding to achieve this outcome.
By September 2017, LXRA had removed 10 crossings, with another 16 in the design and construction stage—see Figure 1F.
Figure 1F
LXRP status as at September 2017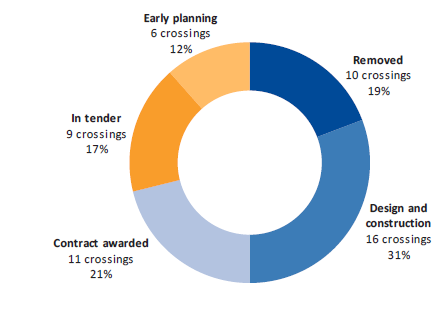 Note: 'Contract awarded' includes additional works packages.
Source: VAGO, based on information on LXRA's website.
1.5 Integration with other transport projects
Some level crossing removals are part of the government's program of major rail network upgrades. This includes the removal of nine level crossings on the Caulfield-Dandenong corridor and three level crossings on the Sunbury corridor to allow for the rail service increases planned as part of the CPLU and MTP.
Coordination between the LXRP and other major transport projects is important for the development of Melbourne's future transport network.
1.6 Governance framework
Project governance is about guiding and monitoring the delivery of intended benefits and outcomes. The DTF project governance guidelines state that there are four key principles for effective project governance:
establish a single point of overall accountability
service delivery ownership determines project ownership
project decision-making is separate to stakeholder management
distinction between project governance and organisational structures.
HVHR investments require greater scrutiny and support from central agencies.
Major transport infrastructure program
The LXRP is part of DEDJTR's Major Transport Infrastructure Program (MTIP) governance framework. Figure 1G outlines this framework.
As government has approved key decisions for the LXRP (including the scope, budget and procurement approach), the governance focus is now on project delivery.
Ultimately, the government is required to approve the LXRP business case, project proposals or works packages, and funding for project delivery.
Figure 1G
Governance for the MTIP
Source: VAGO, based on information provided by LXRA.
Project delivery
Figure 1H shows the framework for the delivery stage of the LXRP.
Figure 1H
LXRP project delivery governance framework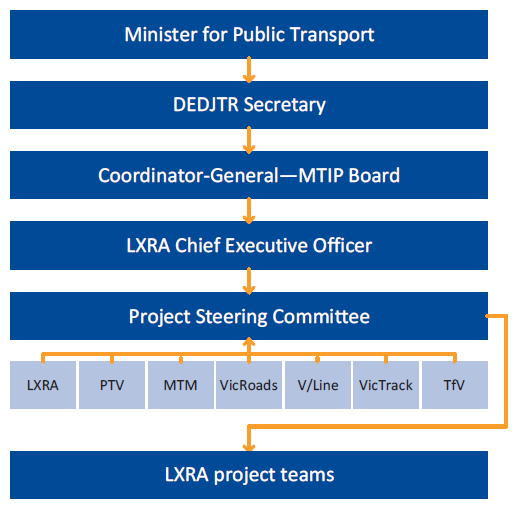 Source: VAGO, based on information provided by TfV.
The Major Transport Infrastructure Board advises the Coordinator-General of the MTIP on the delivery of the program. It includes independent members, industry experts and the Coordinator-General. LXRA reports monthly to the MTIP Board on the progress of the LXRP, including delivery, safety and finance issues, and key risks.
LXRA established a Project Steering Committee to:
oversee the progress and implementation of the LXRP
consider operational impacts on the rail and road network and franchise arrangements
approve plans for level crossing site occupations
endorse the scope and technical requirements for the project, including agreeing on standards and requirements
discuss, but not determine, any change to the project scope or time lines
ensure that objectives and key deliverables are met
ensure that all stakeholders are kept informed about the progress and status
resolve disputes arising between the parties
note monthly reports provided by LXRA, PTV or MTM.
LXRA's Chief Operating Officer chairs the Project Steering Committee which comprises senior representation from PTV, VicRoads, V/Line, VicTrack, MTM and TfV.
Governance prior to LXRA
DEDJTR, PTV and VicRoads were accountable for the finalisation of the project development stage, including the business cases and project proposals prior to LXRA. This audit does not focus on the project prior to LXRA's establishment.
1.7 Agency roles
Level Crossing Removal Authority
The government established LXRA in March 2015 as an administrative office within DEDJTR to manage the delivery of the LXRP, the Mernda Rail Extension and any other project as required. As stated in the LXRP business case, LXRA will oversee the LXRP's implementation and delivery of expected benefits.
Department of Economic Development, Jobs, Transport and Resources
DEDJTR is responsible for the integration of transport projects into the overall transport network. The Coordinator-General sits within DEDJTR and has responsibility for overseeing the MTIP.
The Coordinator-General provides strategic advice on progress towards achieving the intended project benefits to the Premier, the Minister for Public Transport and the Minister for Roads and Road Safety, as well as the Secretary of DEDJTR and the Head of TfV. The Coordinator-General also provides assurance regarding the planning, procurement and delivery of the projects.
Transport for Victoria
Formally established in April 2017, TfV is the state's lead transport agency. TfV's objective is to bring together the planning and coordination of Victoria's transport system and agencies, including VicRoads and PTV, and to integrate Victoria's transport system to connect people, places and opportunities.
VicRoads
VicRoads' purpose is to deliver social, economic and environmental benefits to communities throughout Victoria by managing the state's arterial road network and its use as an integral part of the overall transport system.
Public Transport Victoria
PTV was established in April 2012. In September 2016, PTV received a ministerial direction to undertake a network integrity and assurance role, to ensure:
the public transport network remains functionally effective, reliable, maintainable, secure, safe and environmentally compatible as it evolves through future investment
capital programs are aligned to network requirements and standards
the readiness of the operating environment to implement investments into the transport network.
Prior to the establishment of TfV, PTV was also responsible for detailed public transport network and service planning.
VicTrack
Created in 1997, VicTrack is a state-owned business operating under the Transport Integration Act 2010. It owns Victoria's railway land, infrastructure and assets. Through a subsidiary—the Rolling Stock Holdings group of companies—it also owns much of the state's rolling stock (trains and trams). VicTrack leases train and tram infrastructure and assets to PTV, which then sub‑leases the infrastructure and assets to the metropolitan train and tram operators and V/Line. VicTrack also has a role in providing telecommunications services to operators.
1.8 Relevant legislation
The Transport Integration Act 2010 requires that all decisions affecting the transport system are made within the same decision-making framework, to support the provision of an integrated and sustainable transport system. The Act:
encourages transport agencies to work together toward the common goal of an integrated and sustainable transport system
makes it clear that the transport system needs to be sustainable economically, environmentally and socially
provides a framework for integrated transport policy and operations
recognises that the transport system should be thought of as a single system performing multiple tasks rather than separate or competing transport modes
integrates land use and transport planning and decision-making by extending the policy framework to land use agencies which significantly impact the transport system
establishes transport bodies with consistent charters to deliver outcomes aligned to the overall vision and objectives of the Act.
1.9 Why this audit is important
The LXRP faces a number of challenges including its large scale, engineering complexity, short delivery time frame and budget pressures. Elements of the project have attracted criticism, particularly grade separation options.
The LXRP is designed to contribute to longer-term improvements to the road and rail network by easing transport congestion and delivering a safer and more efficient road network. This audit, at this point in time, serves to identify the risks, lessons and opportunities for improvement for future works.
1.10 What this audit examined and how
This audit examined whether the LXRP has been cost-effective in improving, or potentially improving, the safety and efficiency of the state's road and rail network. Our audit focused on DEDJTR's role, LXRA's role in program delivery and benefits monitoring, and TfV's role in providing oversight and strategic focus for the LXRP.
Other agencies in the scope of this audit are PTV, VicRoads and VicTrack.
The audit methods included:
interviews with agency and departmental staff, and site visits
review of strategies, program delivery documents, business case, and Cabinet material
analysis of datasets relating to road and level crossing safety, traffic congestion and rail services.
We conducted this audit in accordance with section 15 of the Audit Act 1994 and the Australian Auditing and Assurance Standards. The cost of the audit was $530 000.
1.11 Report structure
The rest of this report is structured as follows:
Part 2 examines the basis for program investment and decision-making
Part 3 analyses program procurement, packaging and sequencing of works
Part 4 looks at the intended program benefits
Part 5 examines network integration and integrity.