Managing the Level Crossing Removal Program
5 Network integration and integrity
The LXRP is occurring in parallel with a range of other major transport projects including the MTP, CPLU and HCMT projects.
Integration between the LXRP and other major rail projects is important for ensuring the efficient and effective development of Melbourne's future transport network—now overseen by TfV. PTV also has a major role in ensuring integration of all rail projects into the network.
5.1 Conclusion
PTV does not have adequate resources to effectively perform its network integrity role. This has undesirable cost and scope consequences for the integration of the LXRP and other concurrent rail projects into the rail network. PTV, with support from TfV, which is now responsible for transport planning, will need to ensure that actions to address shortcomings are effective.
5.2 Oversight of public transport network integrity
One of PTV's key functions, since September 2016, is to ensure network integrity—a functionally effective, reliable, maintainable, secure, safe and environmentally compatible public transport network. Among other things, this requires PTV to:
understand the network's future performance requirements
establish network requirements and standards
understand the current condition of rail assets.
This function is particularly important for the effective delivery of the LXRP as part of a series of other city-changing rail projects. Specifically, PTV and TfV need to make sure all concurrent rail projects properly integrate with the existing train network and that their expected project benefits can be realised.
PTV has not performed this role due to a lack of capability, and by not establishing standards or controlling risks.
Capability gaps
PTV commissioned an independent review in May 2016 (the May 2016 review), which identified that PTV had insufficient capability to perform its network integrity function:
'the network integrity role was not performed to an adequate level having limited resources, a focus on discrete individual projects rather than a 'whole of network' public transport system perspective and insufficient governance during delivery.'
The May 2016 review also found a number of capability gaps existed within PTV, including engineering, technical safety and asset management. The review noted that if PTV does not address these gaps, network integrity is at significant risk. PTV would then not be able to demonstrate that it is effectively managing its portfolio of transport assets and providing long-term value for money.
Absence of contemporary rail standards
As part of its network integrity and assurance role, PTV is responsible for establishing:
network technical requirements—high-level technical requirements for a transport corridor or geographic area
network technical standards—derived from network technical requirements and used to inform and direct the development of system requirements and specifications, and engineering standards that AROs are required to develop.
Neither network technical requirements nor network technical standards have been established—instead, Victoria operates under the industry-derived Victorian Rail Industry Operators Group standards.
The May 2016 review also found that no entity has responsibility for reviewing the Victorian Rail Industry Operators Group standards adopted by the AROs. The process of updating and challenging standards to achieve a best-for-Victoria performance standard has not progressed effectively in recent times.
The May 2016 review emphasised that without contemporary standards, agencies delivering rail projects are proceeding with varying levels of understanding of network requirements and of their duties to assure projects meet engineering, network integration and technical safety requirements.
This poses significant risks of the new systems not being integrated into the current network.
PTV has acknowledged that while it has relied on Victorian Rail Industry Operators Group standards, a modern public transport network requires a more robust and formally managed set of technical standards, including the establishment of appropriately controlled engineering standards.
PTV has initiated action aimed at establishing appropriate engineering standards, with a view to replacing the Victorian Rail Industry Operators Group standards with the network technical standards by July 2018.
Application of standards to the LXRP
LXRA set project system requirements that contractors delivering the LXRP are required to comply with. These project system requirements are a translation of PTV and MTM requirements, as well as other standards and specifications. However, during the project system requirements process, there is scope for variations which, in turn, can have cost implications for projects—for example, an approval to not comply or partially comply may reduce project costs and time lines.
MTM, the ARO in the metropolitan area, manages the approval processes for changes to its engineering standards and their interpretation. This can occur using either a:
standard waiver—a mechanism to assess, document and approve any deviation from current endorsed standards applicable to maintain, upgrade, renew, build and commission MTM assets
design practice note—an instruction issued by MTM on how to interpret, or to clarify a standard or practice, which is then applicable to that standard for the entire network.
However, PTV agrees that as MTM has limited insight into network-level requirements, including future developments, there is a risk that these decisions can affect other transport projects.
Furthermore, as MTM is also a member of all of the LXRP alliances, there is a perceived conflict of interest. MTM is both part of the project development team applying for a standard waiver and part of the organisation making decisions on variation requests.
LXRA and PTV have both advised that MTM's standard waiver process mitigates the risk of the perceived conflict occurring, as the process is managed through a different part of the organisation than the one that is involved with the project. The Office of the National Rail Safety Regulator is also an important control. MTM is accountable to the Office of the National Rail Safety Regulator, requiring it to conform to correct processes in granting waivers; otherwise, its accreditation is at risk.
While the Office of the National Rail Safety Regulator would consider processes for granting standard waivers, it would not necessarily look at the process of developing design practice notes. To mitigate this and other network integrity risks, PTV has introduced a number of controls.
Controls for network integrity risks
PTV has established a number of arrangements to improve oversight of and accountability over how it manages network integrity risks. These include a network integrity governance framework, as shown in Figure 5A.
Figure 5A
Network integrity governance framework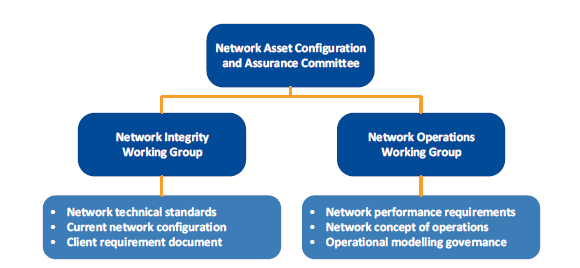 Source: VAGO, based on information provided by PTV.
In November 2016, PTV established the Network Asset Configuration and Assurance Committee to provide:
integrated advice on network planning and development
assurance that the capital program is aligned to network technical requirements and network technical standards
assurance that the existing network is ready to receive planned investments.
The Network Asset Configuration and Assurance Committee also approves any proposed changes to network performance requirements.
Two working groups support the Network Asset Configuration and Assurance Committee:
The Network Integrity Working Group—established in February 2017, includes representatives from PTV, MTM, TfV, VicTrack, V/Line and Yarra Trams. It is accountable for the technical integrity of the public transport network system and assets, including:

approving interpretation of network standards
approving all standard waivers specific to a project
reviewing risks, assumptions, issues and opportunities that will have an impact on the integrity of the network, including future proofing.

The Network Operations Working Group—provides advice on public transport network capability and performance.
In addition to these internal governance arrangements, PTV also added a formalised standards governance process in the new franchise agreement with MTM, beginning on 30 November 2017. This includes the planned establishment, in January 2018, of a standards governance group comprising senior representatives from PTV and MTM that will review and approve:
any proposed changes to network standards
any proposed new standards
any processes to be adopted relating to the assessment or acceptance of any MTM noncompliance with a standard.
PTV's introduction of these additional controls to improve its network integrity function is happening in parallel with the delivery of a number of important transport projects. It is therefore important for PTV, and TfV, to closely monitor the effectiveness of these new arrangements, particularly for programs such as the LXRP, which is well underway.
Network development plan
PTV developed a network development plan for metropolitan rail in 2012, which sets out the future state of the rail network. PTV has not revised this plan.
TfV has indicated that it is developing a rail network development plan to replace PTV's 2012 plan. The LXRP business case refers to PTV's plan.
LXRA's report to the MTIP board in April 2017 stated that:
'TfV currently does not have an agreed baseline for the performance of the metropolitan rail network (e.g. trains per hour, power requirements), no comprehensive assessment of the condition of rail assets and no agreed plan for the future state of the network.'
Until TfV develops and approves an updated plan, there is a risk that LXRA may need to vary or redo works associated with the current crossing removals.
5.3 Cost implications of poor network integrity
Poor network integrity has already contributed to cost increases for some rail projects, such as those along the Cranbourne Pakenham rail corridor that include the HCMT, CTD and the MTP.
In March 2017, PTV predicted that the long lead times of projects in the CPLU program would necessitate parallel development and delivery to meet key delivery dates. However, detailed consideration of the appropriate network requirements, and their subsequent application to the projects currently in delivery, highlighted some scope gaps and interface management issues that need to be resolved.
An indicative cost estimate for addressing these issues was $381.3 million—$158.6 million for additional work required in 2017–18 and a provision to cover associated risks of $222.7 million.
The successful completion of the CTD project, as well as other major transport projects, is critical for the successful future operation of the MTP. As PTV predicted, parallel development and delivery of these projects has been necessary to meet key delivery dates.
As part of DTF's HVHR project requirements, a due-diligence review on the interface and integration risks associated with the MTP and associated inter‑related projects on the Sunbury to Dandenong rail corridor was commissioned in September 2016.
The review noted that the LXRA, together with the Melbourne Metro Rail Authority, had developed interface control documents for the CTD and HCMT projects—including for additional works that LXRA could deliver while completing grade separations that would be beneficial for the HCMT.
The review also acknowledged that while a number of issues with the inconsistency of network standards existed, these are dealt with through the MTM Engineering Standards Committee. LXRA, MTM, PTV and the Melbourne Metro Rail Authority attend this committee. LXRA has established a process to evaluate the inconsistencies against current approved project baselines. The outcomes are reported back to MTM and PTV.
The April 2017 Infrastructure Coordination Committee report also stated that the absence of an agreed network performance plan is resulting in the uncoordinated inclusion of additional scope to accommodate some future requirements, including:
Camp Road futureproofing of the Somerton rail connection and future Campbellfield Station
Kororoit Creek Road power upgrade to 1 300kV
Aviation Road/Cherry Street upgrade to include two additional tracks on the Werribee Line.
The April 2017 Infrastructure Coordination Committee report also identified that the uncoordinated changes to rail standards related to existing LXRA projects have impacts on scope, cost and time lines.
In response, LXRA has started discussions across the MTIP and with TfV aimed at developing future rail standards and an interim change management control arrangement to enable the scope of LXRA projects to be controlled.
Change management process
The LXRP project steering committee, comprising LXRA, PTV, MTM, VicRoads, VicTrack and TfV, manages information gaps such as network performance, asset condition and future network requirements.
For example, if PTV requests LXRA undertake additional works to accommodate possible future changes to the network, PTV needs to justify the request, including the cost. If the committee considers the request is not justified, it does not proceed. If the committee cannot reach a decision, it puts the request to TfV. The steering committee can make decisions on additional works' ability to comply with any updated or new standards.
Without additional funding, LXRA is reluctant to approve requests for additional works.
Now that TfV is responsible for setting the strategic transport direction, it should capture lessons from the LXRP to provide sector-wide leadership to transport agencies, so that future network requirements underpin planning for all future major transport projects.