Managing the Level Crossing Removal Program
3 Procurement and delivery
Infrastructure project delivery should balance the control of project cost and risk against achieving objectives and outcomes. It also requires agencies to consider which delivery methods are available and best suited to achieve economic and efficient delivery.
3.1 Conclusion
The need for LXRA to meet the government's committed time frame for the LXRP has had an impact on procurement, packaging and sequencing. Although the use of partial price competition saves time, it removes competitive tension and, if not adequately managed, the LXRP is at risk of not maximising value for money. It is too early to tell if LXRA is successfully mitigating this risk because not all of its risk mitigation tools are fully developed.
LXRA has prioritised the removal of level crossings that had greater preparatory work completed and less complex design solutions. This has brought forward some removals, and LXRA now intends to exceed the target of 20 removals by 2018. The remaining crossings are more complex and potentially more challenging to complete within the allocated time frame and budget.
3.2 Delivery models
LXRP sites are grouped into packages for tender. Traditional design and construct contracts are being used to procure two sites and alliance contracts for all others.
Alliance contracting
The alliance contracting model involves a state agency (the owner) working collaboratively with private sector parties, or non-owner participants (NOP), to deliver a project. It requires parties to work together in good faith, act with integrity and make decisions that are best for the project as a collaborative team.
The key difference between a traditional contract model and an alliance contract model is the allocation of risk. In traditional contract arrangements, parties allocate risk to the party best able to deal with it. In contrast, parties to an alliance contract share responsibility for managing all project risks.
Alliance contracting is useful when a project has risks that owners cannot adequately define prior to commencement. The flexibility of the alliance model allows parties to deal with new risks as they arise, rather than seek contract variations.
A target outturn cost is the estimated actual cost of designing, constructing and delivering the project.
There are three main approaches to pricing in alliance contracts:
Competitive alliances (or full price competition)—where two or more shortlisted parties develop competing target outturn costs. According to the National Alliance Contracting Guidelines (NACG)—which Victoria has adopted as its alliance contracting policy—owners should consider full price competition as the default pricing position for any alliance.
Partial price competition—where shortlisted parties only develop pricing for some elements of the target outturn cost. The sole successful party then prices the remaining target outturn cost elements alongside the owner.
Non-price competition—where owners select private sector parties using non-price selection criteria only, such as team capability and experience.
Figure 3A shows the contract and pricing models used by LXRA and VicRoads for each package.
Figure 3A
Contract and pricing model for LXRP delivery
| Package | Sites | Contractual and pricing model | Awarded by |
| --- | --- | --- | --- |
| Package 1 | 4 | Competitive alliance for all sites | VicRoads |
| Package 2 | 4 | Competitive alliance for all sites | VicRoads |
| Package 3—CTD | 9 | Competitive alliance for all sites | LXRA |
| Package 4 | 2 | Competitive alliance for all sites | VicRoads |
| Melton Highway | 1 | Design and construct | LXRA |
| Thompsons Road | 1 | Design and construct as part of VicRoads duplication of Thompsons Road | VicRoads |
| North Eastern package | 4 | Partial price competition alliance for all sites | LXRA |
| North Western package | 6 | Competitive alliance for initial two sites; partial price competition for additional four sites | LXRA |
| Western package | 6 | Competitive alliance for initial one site; partial price competition for additional five sites | LXRA |
| Southern package | 9 | Competitive alliance for initial four sites; partial price competition for additional five sites | LXRA |
| Unallocated level crossings | 6 | LXRA to award these sites using partial price competition to existing alliances dependent on performance | LXRA |
Source: VAGO, based on information provided by LXRA.
Partial price competition
Partial price competition contracts remove an element of competitive tension from the tendering process. This can restrict an agency's ability to achieve value for money and can limit innovation in design and construction solutions.
To date, LXRA has used partial price competition to award two sites, both in the North Eastern package. At the completion of the LXRP, LXRA will have used partial price competition for 24 of the 52 level crossings.
Despite the NACG preferring competition as a default condition for alliances, they permit the use of partial price competition in alliances in some circumstances. However, the guidelines also state that agencies should seek an exemption before proceeding with a non-competitive or partially competitive alliance.
LXRA advised that exemptions were unnecessary as government approved each procurement strategy and, in compliance with this approval, LXRA put in place performance and benchmarking frameworks for comparing price and productivity efficiencies.
North Eastern package
The North Eastern package is the only package where LXRA will use only partial price competition.
The rationale for this decision was the need to fast track procurement for the North Eastern package to meet the government's commitments to remove 20 level crossings and duplicate the Hurstbridge line by 2018.
This is not consistent with the NACG. The need to accelerate procurement—in most situations—does not justify using partial price competition. The exception is a rare situation where the community needs construction to commence immediately. LXRA has not argued that there is a need for immediate commencement of the North Eastern package.
LXRA's view is that the NACG does not apply as the LXRP time frame came from a government direction. However, LXRA is ultimately responsible for advising the government on the appropriateness of procurement strategies, including whether they align with state policy.
In addition to meeting committed time frames, LXRA advised that partial price competition presents other benefits to the project as it:
secures resources prior to a market activity peak across Australia in 2019–22
enables concurrent stakeholder consultation and constructor involvement in options assessment.
However, these benefits also apply to other alliances where LXRA procured the initial sites using full price competition. Over the life of the package, LXRA should monitor, report on and commission an independent evaluation on whether partial price competition has achieved value for money and delivered on the benefits stated above.
3.3 Contract structure
LXRA devised a contract structure that allows it to defer pricing on some crossing removal sites for the North Eastern, North Western, Western and Southern packages.
Parties competitively bid for the initial work package, which can include one to four sites. If LXRA is satisfied with the alliance's performance in delivering the first site's works, it will then ask the alliance to develop a formal proposal for the additional sites in that package.
LXRA may approach other alliances or the wider market to deliver the additional works if it is not satisfied with the alliance's performance or proposal.
Appendix F shows the initial and additional works for each package. There are at least two sites in each package that LXRA will allocate to an alliance without full price competition.
Benefits of the contract structure
LXRA chose this contract structure based on lessons learned during VicRoads' extended procurement process for early LXRP packages as well as its own procurement of the CTD package. According to LXRA, one benefit of the structure is that it keeps project teams together, resulting in productivity improvements through the retention of staff and key knowledge and skills throughout the whole process.
LXRA has identified other advantages with this contract structure, in terms of engagement with the private sector—particularly, that it:
allows LXRA to leverage contractor involvement in development and communications processes
enables contractors to lock in key resources that may be lost to other infrastructure projects
ensures stable engagement with the private sector
reduces tendering costs and ensures focus is on the actual delivery of works
allows the majority of procurement activity to be completed prior to peak market activity in 2019–22.
As LXRA is yet to allocate any of the additional works to an alliance, it has not tested the effectiveness of its contract structure. LXRA should monitor this throughout the program.
Risks of the contract structure
LXRA's contract structure introduces a number of risks to achieving value for money and on-time project delivery, primarily due to the reduced price and design competition. Parties may also engage in loss-leading behaviours in initial tendering in order to secure the larger package of works.
DTF and DPC advice to government also identified potential risks:
the selected party for the initial sites may have an incumbency advantage when seeking the additional sites, due to existing knowledge, experience and stakeholder relationships
LXRA may need to return to the market if the selected proponent performs poorly on the initial site(s), leading to significant program delay—this is particularly the case with the Western program alliance which has only one site in the initial works package.
These risks are compounded in the North Eastern package, where LXRA did not use full price competition to procure a proponent for the initial sites. Acknowledging these risks, LXRA is developing mitigation tools, as outlined in Section 3.4.
3.4 Management of procurement risks
LXRA is using benchmarking and commercial frameworks to manage the risks of partial price competition and the contract structure.
Benchmarking framework
LXRA's benchmarking framework includes a tool for comparing price and productivity efficiencies across the program alliances and allows LXRA to consider whether a proposal achieves value for money.
The benchmarking tool contains a detailed breakdown of costs for each level crossing removal in the program, as well as for some previously completed removals. Where a project has not been completed or awarded, LXRA bases the data on the business case cost estimate for that site. Data compiled in the tool includes direct job costs such as signalling and landscaping, as well as design and occupation costs.
LXRA also collates cost data according to grade separation type—for example, rail under road—which enables it to develop and compare cost profiles for each type of grade separation. This is an essential step as the type of grade separation is a strong factor in determining the overall cost of a removal.
When LXRA awards contracts or completes level crossing removals, it replaces estimates in the tool with contracted or actual costs. Therefore, as the program continues, the tool will become more accurate and will provide a more adequate control for procurement cost risks.
LXRA also uses an independent estimator to confirm that proponents have priced their target outturn costs competitively and that they adequately reflect the scope of work.
Limited application of benchmarking tool
To date, LXRA has only applied the benchmarking tool for the North Eastern Program Alliance.
Government approved the procurement strategy for this package in May 2016, subject to the Treasurer's approval of a strong performance and benchmarking regime. LXRA selected the preferred party for this package in August 2016. The Treasurer only formally approved the benchmarking framework in December 2016, shortly before approving the award of the contract in January 2017. The short time frame between approval of the tool and the award of the contract indicates that LXRA relied on the tool to mitigate procurement risks prior to its formal approval. LXRA advised that DTF had viewed the tool and informally approved its use prior to the Treasurer's formal approval.
LXRA has advised that it will use the benchmarking tool when assessing future proposals for additional works as a way to overcome the risks of a non‑competitive process. It is therefore important that LXRA continues to update the tool with actual cost data as it becomes available and integrate it into future procurements.
While the benchmarking tool has the potential to allow LXRA to monitor value for money, it cannot, on its own, drive innovation in design and construction solutions. LXRA uses the commercial frameworks of its alliances to motivate NOPs to find innovative construction and design solutions.
Commercial frameworks
LXRA is using the commercial framework of its alliance agreements to mitigate the risks of its procurement strategy. The commercial framework sets out the structure and principles that govern remuneration for the project. It includes the following three main elements:
reimbursable costs—NOPs' actual direct project costs
corporate overhead and profit
a risk and reward regime.
Direct costs, corporate overhead and profit
LXRA sets some financial elements for all of its alliances using full price competition. This is what makes LXRA's alliances—excluding CTD—partially competitive rather than non-competitive. These elements serve as a control for the risks of LXRA's deferred pricing contract structure. The largest element set this way is corporate overhead and profit.
When awarding the initial works packages, LXRA locks in overhead and profit for all remaining sites in the package. Overhead and profit as a percentage of direct job costs is lower for awarded packages using the deferred pricing model than for the initial four alliances that did not use this model.
This could demonstrate that LXRA's model is effectively engaging the market, ensuring a steady pipeline of work that allows proponents to lower procurement costs. However, there is a risk that parties have bid low on overhead and profit with the expectation of increased direct job costs on later sites. This highlights the need for LXRA to continue to update and apply the benchmarking tool to effectively assess its proposals.
Risk and reward regimes
A risk and reward regime sets out the owner and NOPs' share of the 'pain or gain' outcome of the project. This involves comparing actual and target performance in both cost and non-cost areas.
In terms of cost, parties essentially share in the cost underrun (gain share) or overrun (pain share) of a project.
All of LXRA's alliance contracts cap NOP pain share—the amount the NOP would have to pay in the event of a cost overrun. This is standard practice in alliance contracting. However, the NACG notes that owners should be cautious of such caps. When the overrun exceeds the cap, the state effectively bears all project risk beyond a certain point. This unequal risk exposure can put pressure on collaborative alliance principles such as best-for-project decision-making.
NACG recommends that owners consider placing a reciprocal cap on the amount NOPs can receive for a cost underrun. This helps to alleviate concerns about the potential for NOPs to earn large profits.
LXRA applied a cap on pain share to three of its works packages. However, there is no reciprocal cap on gain share for CTD. Packages 1, 2 and 4, awarded by VicRoads, also do not have a cap on gain share.
For non-cost areas, the regime includes financial incentives for strong performance and penalties for poor performance. A risk and reward regime is a key element of the collaborative nature of alliances.
LXRA's risk and reward regimes are generally in line with NACG. Although the regime is slightly different for each package of works, each one includes a clear method of calculating performance. LXRA uses its risk and reward regimes to motivate strong performance in areas such as safety, minimising passenger disruptions, continuous improvement and stakeholder management. This mitigates the risks introduced by partial price competition.
LXRA intends to use its risk and reward regimes to measure alliance performance during project delivery. In particular, LXRA intends to apply a 'track record' test to determine whether an alliance has performed well enough to merit allocation of additional sites within the package. The track record test assesses alliance performance against KPIs, package cost risk or reward regime, and any other measures LXRA deems necessary to assess performance.
If LXRA applies this consistently, it will mitigate the risk of parties having an incumbency advantage when seeking further sites.
3.5 Packaging and sequencing of works
Packaging
Dividing the LXRP into packages of work is beneficial for LXRA as it can match level crossing removals to rail capacity investments, road projects or other works. Packaging also provides a more predictable pipeline of work for industry.
LXRA estimated that packaging level crossing removals, as opposed to individually removing them, would save approximately $400 million across the program.
Packaging options
The LXRP business case considered two options for packaging the remaining 30[1] level crossing removals, namely:
a corridor approach—in which crossing sites along rail corridors are packaged together
a discipline-based approach—where similar work types are packaged together (such as stations, power, signalling, and rail track).
LXRA's evaluation of these two options emphasised that time, management of disruptions and risk management were important considerations. LXRA ultimately determined that the corridor approach better matched the LXRP's objectives.
The business case also considered the number of crossings in work packages. Analysis of previous procurement processes found larger package sizes could result in savings as they provide efficiencies with staff, site facilities, design, occupation and direct costs. LXRA balanced these potential savings from larger package sizes with market participation and capacity limitations to facilitate competition for packages.
Packages of work
Of the 52 level crossing removal sites, eight packages contain between two and nine level crossings and two packages have one crossing each. There are six crossings that LXRA has not yet allocated to a package.
Figure 3B shows that the LXRP has packaged the majority of crossings according to their rail corridor location.
Figure 3B
Level crossing removal packages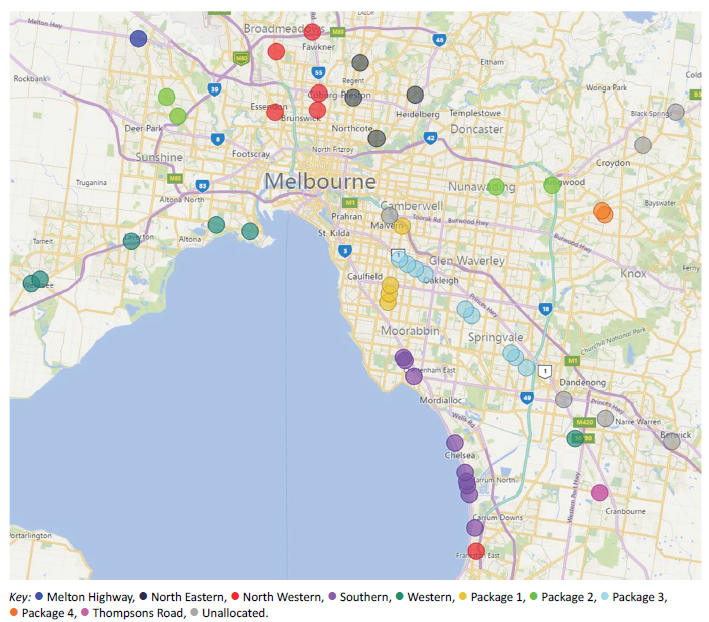 Source: VAGO, based on information provided by LXRA.
LXRA has not packaged three crossings within the relevant corridor:
Abbotts Road, Dandenong South—Western package
Toorak Road, Kooyong—unallocated 'package', yet in close proximity to, and on the same line as, Burke Road, Glen Iris (Package 1)
Skye Road, Frankston—North Western package.
The level crossing at Skye Road was initially part of the Frankston package, consistent with the corridor approach. However, following a decision to accelerate the removal of this level crossing, LXRA moved it to another alliance—North Western package—as described in Figure 3C.
Figure 3C
Case study: Acceleration of Skye Road crossing removal
Skye Road is the most southern crossing on the Frankston line in the LXRP. While it was in the top 50 most dangerous metropolitan crossings on the ALCAM 2008 list, VicRoads rated it as no priority in its 2013 list and it was not on RACV's 2013 priority list.
LXRA initially listed this crossing as part of the Frankston package—later renamed the Southern package—as additional work.
In December 2016, LXRA provided advice to government on accelerating the removal of the Skye Road crossing by moving it to the North Western package, as initial work. Advice to government emphasised the benefits of acceleration, and stated that the change would achieve a value-for-money outcome for the state. However, it did not include the expected acceleration cost, relative priority for removal, or disadvantages of accelerating the removal.
LXRA advised that the main benefit achieved would be to bring forward the commencement of the removal by one year, from mid-2018 to mid-2017. LXRA also advised the benefits would include saving escalation costs and assisting delivery of its most difficult and complex package.
Both the Southern package and the North Western package are using a competitive alliance for the initial sites, with additional sites dependent on the alliance's performance.
DTF initially advised government against accelerating the removal of Skye Road. It considered the acceleration was rushed and warned that it may increase the cost and complexity of the North Western package. At DTF's request, LXRA provided documentation showing the capacity of the North Western package to undertake the additional work. DTF subsequently approved the acceleration.
Prior to receipt of this documentation, government decided to proceed and moved responsibility to the North Western Alliance. In March 2017, LXRA estimated that this cost an additional $11 million, due to a reduction in anticipated program efficiencies.
Source: VAGO, based on information provided by LXRA.
Compared with other crossings in the Southern package, Skye Road is the easiest to progress as the community supports the reference option in the business case. While $11 million in additional costs is not material in the context of the whole LXRP, accelerating its removal by moving responsibility to the North Western Alliance helps LXRA to meet the government's committed target of removing 20 level crossings by 2018.
Inclusion of additional level crossing sites
The pre-determined selection of level crossings affects packaging. As stated previously, the government added two level crossings to the LXRP, due to their adjacency to other LXRP works. This indicates that the LXRP could have gained efficiencies by considering level crossings that are outside the 50 selected.
Figures 3D and 3E present alternative packaging options for the Frankston and Craigieburn lines.
In the 7.5-kilometre stretch of the Frankston rail line between Edithvale Road and Station Street, Seaford, there are 10 level crossings. The LXRP will remove five of these, leaving five in place.
Also on the Frankston line—in the 1.9-kilometre stretch between Neerim Road and North Road—there are three level crossings. The LXRP has removed North Road. Glen Huntly Road level crossing is 1.6 kilometres from North Road and the Neerim Road level crossing is less than 300 metres away. Neither of these are part of the LXRP.
Figure 3D
Alternative packaging options—Frankston line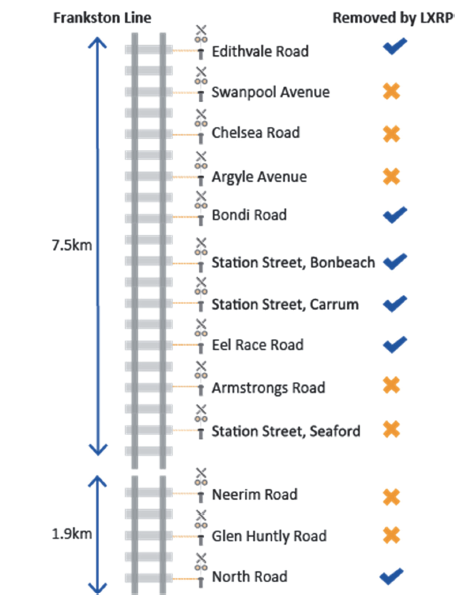 Note: Distances listed are from the first to last crossing.
Source: VAGO, based on research by Stone and Woodcock.
On the Craigieburn line, LXRA will remove Buckley Street as part of the LXRP. However, two level crossings in close proximity are not part of the program for removal. The Park Street level crossing is 550 metres away and Puckle Street is 1.1 kilometres away, as shown in Figure 3E.
Figure 3E
Alternative packaging options—Craigieburn line

Note: The distance shown is between the Buckley Street and Puckle Street crossings.
Source: VAGO, based on information provided by TfV.
TfV is currently leading the development of the methodology for selecting further level crossings for removal, so neither LXRA nor TfV could advise us of whether or how crossings such as those listed above will be incorporated in future removal packages.
Sequencing
Sequencing refers to the order in which removals occur, both within packages and across the whole LXRP.
Sequencing of all transport infrastructure projects currently underway—including the LXRP—needs effective management to ensure expertise and resources are available, and to minimise the impact on the community.
Sequencing of LXRP works
Meeting the government's commitment to deliver 20 crossing removals by mid-2018 is a determining factor in the sequencing of crossing removals.
When planning the delivery of crossing removals, LXRA also considered:
the large volume of rail projects in Victoria and New South Wales between 2016 and 2025, including MTP, CPLU, Sydney metro expansions and New South Wales light rail projects
maintaining flexibility in the procurement and delivery of crossings
government announcements about the timing of individual crossing removals
the extent of preparatory works that were complete for each crossing
whether the design solution was known, and its complexity.
LXRA did not analyse which crossings had the highest priority for removal, from a safety or rail efficiency perspective, to inform the sequencing of crossing removals. LXRA advised that instead, the packaging of works drove sequencing decisions. This meant that crossings that were already progressed enough to be put to tender became the initial works within a package and were removed first.
LXRA implemented the sequencing of works through the request for proposal of each package. This outlined a proposed delivery order and time frame, however, alliances were able to propose alternative sequencing within the package to optimise value for money.
3.6 Rail occupations
Removing level crossings involves the temporary closure of the rail line and its occupation to enable construction works. Minimising the impact to the travelling public has been an important consideration for LXRA and alliance members.
Types of occupations
There have been two types of rail track occupations:
major works—longer track occupations which result in larger disruptions and often require alternative transport services for the travelling public
minor works—short-term use of the track, with less disruption, where occupations usually happen after the last train has run and before the first train the following morning, or single weekend day works.
At July 2017, there were 95 major and 257 minor occupations planned, of which around 51 per cent and 56 per cent respectively have been completed, as shown in Figure 3F.
Figure 3F
Occupations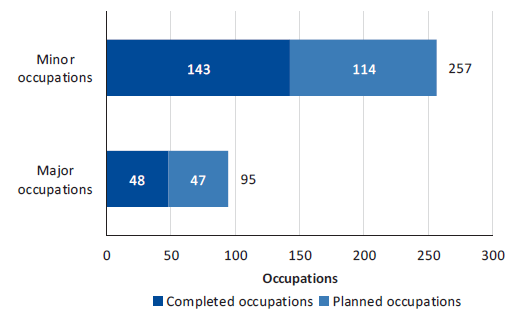 Source: VAGO, based on information provided by LXRA.
At September 2017, the longest major occupation was 42 days and the longest planned occupation is 83 days.
Planning for occupations
During the request for proposal stage, alliances are responsible for proposing the number, type and length of occupations that will best deliver their program of works. If LXRA deems that the proposed occupation schedule is not acceptable, it seeks to resolve its concerns with the appointed alliance.
Planning for major occupations commences at least six months before the proposed occupation. As the rail line operator, MTM is the ultimate approver of rail occupations. If planning documents do not meet its requirements, or the occupation is not likely to cease on the agreed day and time, MTM may postpone or cancel the planned occupation.
At July 2017, the alliances did not complete around 3 per cent—three occupations—of total major occupations as planned. Two of these delays were less than one hour, and the third was one day late. The small number of late completions is a good result, and evidence of sound occupation planning and management.
Alternative transport provision
The majority of major occupations, and some minor occupations, require alternative transport, usually through bus replacements.
PTV, LXRA, MTM and VicRoads notify public transport users of planned service disruptions and bus replacement services well in advance through public transport websites, social media and notifications at train stations and tram stops.
1 The business case was completed prior to the addition of the two extra crossings.