Managing the Level Crossing Removal Program
2 Level crossing selection and cost
A comprehensive business case is important for large investments and should be prepared prior to making an investment decision. It provides confidence to decision-makers that the:
strategic justification for the investment is valid
right investment option is selected
government can deliver the investment as planned.
DTF's HVHR guidance states that the business case should consider the whole investment life cycle and that its role changes from one stage to another. In later stages, government uses it to ensure that it is delivering the investment as planned. If there are any changes, agencies should update the business case and assess the ongoing business justification in light of the new details.
The LXRP business case was completed prior to the addition of the two extra crossings, and covers only 50.
2.1 Conclusion
Weaknesses in the LXRP business case undermine its value and ability to provide a sound basis for the government's decision to commit to the investment. The government's election commitment was the basis for the selection of sites for the LXRP.
Not all of the selected level crossings are among the 50 most dangerous and congested. However, post-election advice to government did not test the validity of the selected sites against other site options.
2.2 Site prioritisation and selection
The government has consistently stated that the main objective of the LXRP is to remove 50 of the most dangerous and congested level crossings. This is not consistent with the LXRP business case, as it omits the word 'most'.
As the sites identified for removal were part of an election commitment, DEDJTR decided not to assess the merits of their selection. As a result, there is no analysis or rationale in the business case or other documentation about why the 50 level crossings selected were given priority.
The role of the public service to provide full and frank advice was not realised in this case. DEDJTR should have advised the incoming government that an analysis was needed of the selected sites against the stated program objective of removing 50 of the most dangerous and congested level crossings. A 2015 DTF gateway review of the business case identified these issues.
There was a range of guidance, summarised in Figure 2A, available to inform the prioritisation of level crossings for removal. DEDJTR could have used this to validate or test the merits of the sites chosen.
In the absence of program-specific analysis, aligning site-specific conditions to criteria linked to the expected benefits of the LXRP, government cannot be assured that its investment in the removal of 50 level crossings is targeted appropriately.
Figure 2A
Guidance for prioritising level crossing removals
Australian Level Crossing Assessment Model (ALCAM)
ALCAM is a tool for identifying key potential risks or deficiencies at level crossings and for prioritising crossings for upgrades. It has three components:
infrastructure factor—which considers how the physical properties at each site will affect human behaviour
exposure factor—which considers the baseline likelihood of an accident at a level crossing, excluding site‑specific conditions that are captured in the infrastructure factor
consequence factor—which considers the seriousness of a collision at a crossing in terms of fatalities and injuries.
When combined, these three components produce a unique risk score for each level crossing.
Level crossing surveys are used to update the risk profiles for each crossing. A survey of level crossings occurs approximately every five years. A Victorian list was last publicly released in 2008, by the then Department of Transport.
VicRoads strategic framework
VicRoads created a strategic framework to provide guidance on the prioritisation of level crossings for removal in metropolitan Melbourne. Completed in June 2014, the framework used 2013 data and was publicly available in October 2015.
VicRoads assessed each level crossing against the following weighted criteria to determine priority:
the crossing's strategic fit in the transport network (60 per cent)
potential environmental and economic benefits (25 per cent)
safety (15 per cent).
The framework rated crossings as either high, medium, lower or no priority. VicRoads developed two priority lists of level crossing sites for removal—a 2013 priority list and a 2022 forecast priority list.
Royal Automobile Club of Victoria (RACV) prioritisation list
In February 2013, the RACV published a priority list of 31 level crossings for removal. Project 10 000 cites the RACV prioritisation list as a source for the government's removal program.
Source: VAGO.
Our analysis of the 50 LXRP sites in the business case compared to the publicly available ALCAM list for 2008 shows around 62 per cent of the LXRP crossings (31 sites) are in the top 50 metropolitan crossings on this list—see Figure 2B. Appendix C contains the ALCAM 2008 list excluding crossings removed before LXRP.
Figure 2B
LXRP crossings compared to ALCAM 2008 list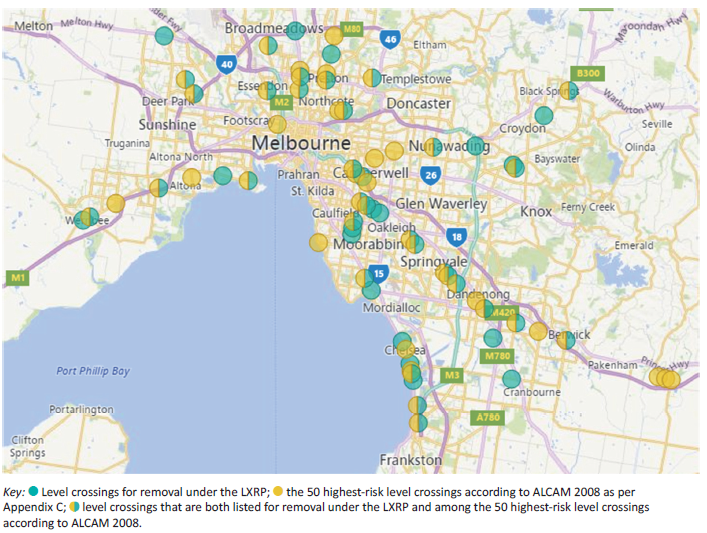 Note: This map shows only the original 50 sites of the LXRP.
Source: VAGO.
Our analysis shows that LXRP will remove 16 of the 20 crossings (80 per cent) that VicRoads rated as high priority in its 2013 list, and five of the nine crossings (56 per cent) rated medium priority—see Figure 2C. However, VicRoads rated 29 crossings in the LXRP lower or no priority—see Appendix D.
Figure 2C
LXRP crossings compared to VicRoads 2013 list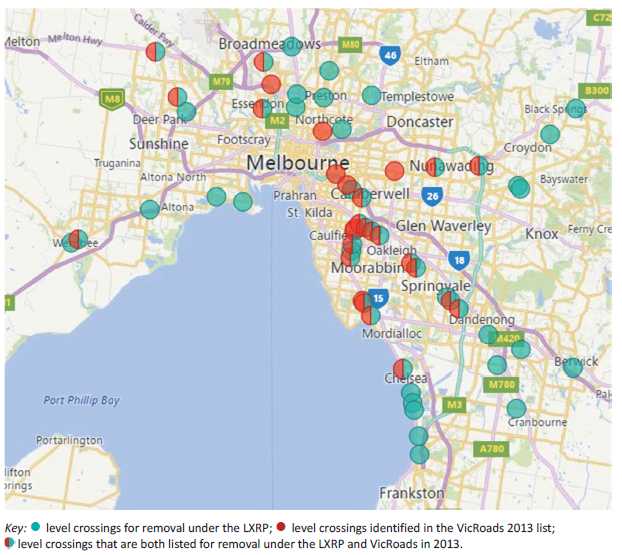 Note: This map shows only the original 50 sites of the LXRP.
Source: VAGO.
Some of the sites in the LXRP are not highly ranked on either the VicRoads or ALCAM lists. For example, VicRoads rated the following sites as no priority and they also received relatively low priority on the full ALCAM 2008 list:
Camp Road, Campbellfield (ALCAM rank 144)
Kororoit Creek Road, Williamstown North (ALCAM rank 139)
Abbotts Road, Dandenong South (ALCAM rank 132)
Manchester Road, Mooroolbark (ALCAM rank 130).
In contrast, the following sites are not included in the LXRP, despite being high priority on the VicRoads list, with one site in the top 50 of the ALCAM list:
Union Road, Surrey Hills (ALCAM rank 13)
Glenferrie Road, Kooyong (ALCAM rank 67)
Glen Huntly Road, Glen Huntly (ALCAM rank 71)
Madden Grove, Burnley (ALCAM rank 72).
This shows that the LXRP is not meeting its stated objective of removing 50 of the most dangerous crossings in Melbourne.
2.3 Options assessment
Options assessment is used to identify the most appropriate grade separation option for each site. LXRA and VicRoads completed options assessments for 20 crossings before the business case was completed. LXRA's options assessments for the remaining 30 crossings, developed as part of the business case, differ in approach and level of detail to the first 20.
The remainder of Section 2.3 focuses on options assessments for the remaining 30 sites.
Options assessment framework
DEDJTR developed a framework to assess and shortlist grade separation options at each of the 30 sites. Application of this framework aims to ensure that the chosen options are cost‐effective and defensible, and the process is comprehensive, transparent and consistent. The framework is detailed in Figure 2D.
Figure 2D
Options assessment framework
Stage
Assessment phase
Description

Business case

Initial feasibility assessment

Identifies options that are not technically feasible to implement. This results in a shorter list of options for assessment in the next phase.

Rapid assessment

Identifies options for further development—around four to five. It is a qualitative assessment of the performance of options against the project objectives and outcomes.

Detailed assessment

A detailed evaluation of the performance and impacts of the remaining options, to identify between one and three options to take forward to the next phase.

Project/works package proposals

Final assessment

A further detailed assessment of the remaining options using more developed design documentation to inform the scope of the recommended reference solution.

Procurement

Market-based assessment

An assessment of proposals put forward by bidders during the procurement stage to ensure that the proposed solution still meets project objectives.
Source: VAGO, based on information provided by LXRA.
The options assessment framework includes a multi-criteria analysis tool to select reference options for inclusion in the business case and the preferred solution to present to government. As LXRA completes further technical investigation and consultation for each site, it reapplies the tool using the updated information.
LXRA does not directly assess primary criteria. It rates an option's performance as either strong, average or poor against each secondary criterion. While there is guidance on what constitutes strong, average or poor performance, the criteria are not weighted. This means that there is no indication of the relative importance of each criterion.
Changes to the multi-criteria analysis tool
Under the options assessment framework—see Figure 2D—LXRA should reapply the multi-criteria analysis tool to options once it has gathered more detailed site information. In the final assessment phase for sites in the Southern package, LXRA used a different set of criteria.
Figure 2E lists the criteria applied to the Southern sites and those applied to all other sites to date.
LXRA advised that it did this to accommodate additional information gathered about the Southern package sites through more detailed analysis and community consultation. However, the existing option assessment framework is designed to incorporate additional information as site investigation proceeds.
Figure 2E
Assessment criteria
Southern sites

 

All other sites (business case)

Category

Secondary criteria

 

Primary criteria

Secondary criteria

Adjacent properties

Property acquisition

Voluntary Purchase Scheme

Permanent land use changes

Noise

Visual impact/views

Overshadowing

Overlooking

 

Alignment with program benefits

More reliable and efficient transport networks

Better connected, liveable communities

Safer communities

Community and stakeholders

Cross-corridor connectivity

Shared user paths

Linear/parks/landscaping

IDOs

 

Project outcomes

Capital cost

Whole-of-life cost

Value-capture opportunities

Time frame

Delivery risks

Protection of future assets

Environment and sustainability

Environment impact

Heritage impact

Flooding risk

Contaminated soil

 

Project impacts

Land acquisition impacts

Land use impacts

Environment impacts

Temporary impacts

Construction impact

Utility service impact

Rail closures

Road closures

Station closures

Car park closures

Delivery risk

 
 
 

Cost

Capital cost

 

 

 
Source: VAGO, based on information provided by LXRA.
There are important differences between the two sets of criteria. In particular, the Southern sites' criteria place more emphasis on adjacent properties and do not consider whole-of-life cost. LXRA's assessment using the modified criteria produced similar results to the original assessments in this instance. However, the decision to change the criteria indicates that LXRA has not consistently or transparently applied the options assessment framework.
Approval of options
LXRA refers all preferred options to the Minister for Public Transport (the Minister) for approval. The Minister may approve the option or, where it is likely to be contentious with key stakeholders, refer the site to government for endorsement.
How LXRA identifies sites as contentious is not clear. LXRA advises that the decision to refer a site to Cabinet is determined by the Minister. LXRA does not document this decision.
Community consultation during options assessment
LXRA's community consultation during the options assessment process differs between packages. LXRA relied on the market to create innovative design solutions in one of the largest packages of works—CTD. The community consultation for this site happened concurrently with the tender process. This limited the role that community views could play in the options assessment process, as shown in the case study in Figure 2F.
Figure 2F
Case study: Consultation for the CTD package
Community consultation for the CTD package occurred at the same time as the tender process. LXRA advised that, as a result, probity and commercial confidentiality requirements limited the information that it was able to share with the public.
LXRA started raising public awareness of the project in May 2015 and gathered initial community input on design in July 2015. At the same time, it released the request for proposal to two shortlisted parties.
During the request for proposal period, LXRA's community consultation efforts included briefings, workshops and feedback sessions aimed at allowing community members to view design concepts. It also included a Community Tender Advisory Panel that consisted of representatives from the community and stakeholder groups. The panel served as a proxy for wider community consultation by giving feedback on design solutions at key points during the tender process.
As the request for proposal was occurring concurrently, the panel was bound by confidentiality provisions. LXRA advised that this panel allowed it to gather community feedback on the design without breaching confidentiality and probity arrangements. In February 2016, LXRA announced a preferred party and the preferred design solution. Throughout February and March 2016, LXRA sought community feedback about the preferred rail-over-road solution.
The feedback indicated that there was significant opposition from adjacent residents and traders due to concerns over amenity and noise. In advice to government, LXRA defended the rail-over-road solution as performing substantially better than other options. It also cautioned that a complete redesign prior to awarding the contract could have serious probity and legal implications, resulting in a need to re-tender the project.
LXRA introduced a range of measures to mitigate the impact of elevated rail on the community, including open spaces, landscaping and a voluntary purchase scheme for properties abutting the corridor. The combined cost of these measures was $49.6 million(a).
(a) Voluntary purchase scheme accounts for $17.26 million of $49.6 million.
Source: VAGO, based on information provided by LXRA.
In contrast, Figure 2G provides an example of LXRA integrating community consultation into the options assessment process.
Figure 2G
Case study: Southern package consultation time line
Community consultation for sites on the Frankston line commenced well before procurement for the package in January 2017. In September and October 2016, LXRA sought feedback from the community on possible design solutions for the sites. The consultation findings showed community opposition to rail-over-road solutions.
In December 2016, LXRA presented these findings to government, along with a detailed options analysis for each site. Although LXRA's options analysis showed that rail-over-road solutions generally performed better, government elected to change five sites to rail under road. LXRA advised that as it had not yet released tender documentation, there were no probity or legal concerns about changing design solutions.
Source: VAGO, based on information provided by LXRA.
These examples demonstrate that the timing of consultation has a big impact on the role community views can play in options assessment. LXRA used the lessons learned from CTD, and applied them to the Southern package. By consulting with the community on design options prior to commencing procurement for the Southern package, LXRA was able to better understand and integrate community views into its advice to government and options assessment process.
Cost estimates for reference options
As part of the detailed assessment phase of the options assessment framework, LXRA produced cost estimates for each shortlisted grade separation option. The LXRP business case, however, does not present this range of cost estimates for grade separation options.
Although LXRA completed cost estimates for one to four grade separation options, the business case only included the cost of one reference option.
These options represented a point‐in‐time view—for February 2016—of the estimated cost of how LXRA could deliver the program. The business case did not include the potential maximum and minimum costs of other options, as shown in Figure 2H.
Figure 2H
Comparative cost estimates for the remaining 30 sites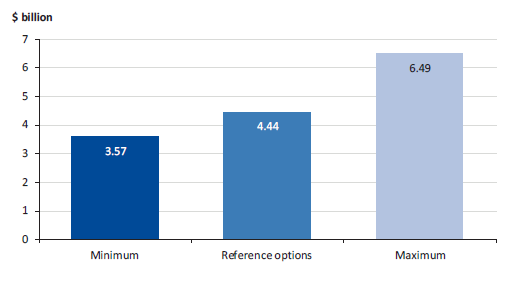 Note: Reference options cost does not include packaging savings.
Source: VAGO, based on information from LXRA project option reports.
As LXRA developed the reference options with limited stakeholder and community consultation, there was a significant risk that the proposed reference option could change and impact on program costs.
This risk has subsequently materialised. There have been multiple changes from reference options, resulting in increases to the total program cost.
Changes from reference options
LXRA is undertaking further investigation and public consultation at individual sites as the LXRP rolls out. As a result, LXRA is recommending different design solutions from the reference options—as shown in Figure 2I. LXRA submits proposed new solutions, together with additional funding requirements, to government for approval.
Figure 2I
Changes from reference options for the remaining 30 sites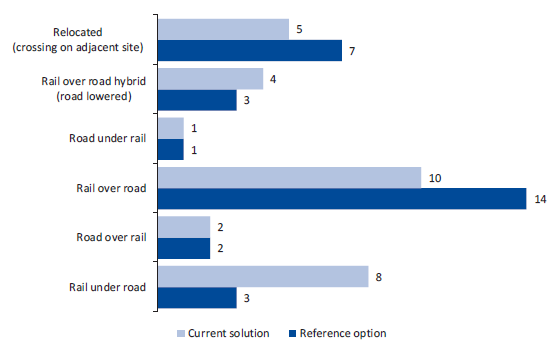 Note: Status at July 2017.
Source: VAGO, based on information provided by LXRA.
The most significant changes are the five additional rail-under-road solutions and four fewer rail-over-road solutions. Based on advice LXRA provided to government, changing a site from rail-over-road to a rail-under-road solution could increase the cost of that removal by an average of $18 million, and up to $100 million for more complex sites, such as those on the Frankston line.
2.4 Program cost
The business case did not adhere to the HVHR guidelines in a number of ways, including by:
not providing cost estimates for more than one option per site—the HVHR guidelines expect project options to be thoroughly analysed in the business case, including expressing a cost range
basing business case costings on a like‐for-like replacement of existing infrastructure
not considering operational or maintenance costs, or other rail programs impacting the LXRP
not updating the business case to reflect ongoing changes to program cost estimates—these changes include the addition of two level crossing removal sites and changes to preferred reference options.
The cumulative cost of the program has increased since the initial funding announcement in 2015, as shown in Figure 2J.
Figure 2J
LXRP cost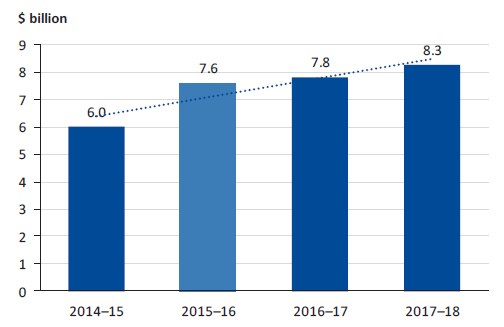 Note: The $6.0 billion in 2014–15 represents the $5–6 billion range quoted as part of government's election commitment.
Note: The $7.6 billion in 2015–16 represents the program cost identified in the business case.
Source: VAGO from information provided by LXRA.
LXRP associated network improvements are additional works delivered with level crossing removals, such as new train stations and improved public transport access.
The business case provides a total program cost estimate of $7.6 billion—made up of $6.6 billion for level crossings and $1.0 billion in associated network improvements. An HVHR gateway review of this business case highlighted that the program cost in the business case is greater than the $5–6 billion election commitment.
The cost of the program as at July 2017 is $8.3 billion. This represents an increase of more than 38 per cent—based on the initial estimate of $5–6 billion.
The cost increase is mostly due to changes in the recommended options, particularly for the sites along the Frankston line.
Cost of works packages
The cost of packages is included in the total program cost. As at July 2017, the program's forecast final cost is $306.3 million over the approved individual work package budgets, excluding program risk. The majority of the budget overrun is from the CTD package—$302.9 million. This is due to a number of factors including the complexity of the construction method, poorer‑than‑expected site conditions and additional scope in response to stakeholder and community feedback.
Other costs
Futureproofing works
The business case provides for the construction of futureproofing works for 13 of the 16 crossings identified as requiring such works. These works include:
increasing station platform length
widening the rail corridor
building wider road bridges.
LXRA will make provisions for the remaining three crossings—for example, by setting aside the required land—but will not construct the works as part of the current program.
The business case estimates the cost of futureproofing works at all 16 sites to be $148 million. This is less than 2 per cent of the $7.6 billion project cost identified in the business case. As LXRA does not track spend on futureproofing items, we are unable to confirm the additional costs of the works undertaken to date.
Power upgrades
Additional works such as upgrades to the traction power network or signal power at a number of crossings were not included in the business case. Figure 2K demonstrates the implications of changing network electrical standards.
Figure 2K
Case study: Implications of changing a network electrical standard
MTM and PTV have an agreed electrical network standard requiring a minimum 1 300 volts under normal conditions and 1 150 volts for first-order traction power failure conditions. The standard allows for changes to the service plan including the integration of HCMT rolling stock and proposed service level changes. The majority of the traction power network does not comply with the new standard.
The LXRP business case is based on maintaining existing network capacity. LXRP provides for the removal and replacement of overhead systems and associated infrastructure only where the removal requires new track.
New substations for future traction power requirements were specifically excluded from the business case cost estimates, as the LXRP is not a network upgrade project.
Source: VAGO, based on information provided by LXRA.
MTM electrical standards—for traction power and signal power—have been in place since January 2015 and should have been considered when the business case was being developed. As the business case did not consider this electrical standard, unplanned scope and design changes have been necessary.
Cost–benefit analysis
Although a cost–benefit analysis (CBA) is the key metric for evaluating the quantitative economic merit of the program, government decided to fund the LXRP prior to the completion of the business case.
The LXRP's CBA conforms to the HVHR guidelines and applies the recommended discount rate of 7 per cent for this type of project. Sensitivity testing which includes the application of a 10 per cent discount rate was also completed.
The Victorian Integrated Transport Model is the state's main strategic transport model that predicts changes in overall transport demand and mode choice.
In its appraisal, DEDJTR has quantified core benefits using an approach that primarily relies on the Victorian Integrated Transport Model. See Appendix E for a summary of the core quantifiable benefits in its program appraisal.
Benefit–cost ratio
BCR attempts to identify the relationship between the costs and benefits of a project. If a project's BCR is:
greater than one, it indicates that project benefits outweigh the cost
less than one, the project's costs outweigh the benefits.
Figure 2L provides a CBA summary for the three appraisal scenarios included in the business case.
Figure 2L
CBA summary
| Scenario | Benefits | 7 per cent discount rate (real) | BCR |
| --- | --- | --- | --- |
| LXRP (reference case) | Core transport system benefits | $4.7 billion | 0.78 |
| LXRP (reference case including additional and wider economic benefits) | Additional and wider economic benefits | $0.7 billion | 0.9 |
| Combined appraisal (LXRA, MTP and CPLU) | Core transport system benefits | $14 billion | 1.2 |
|   | City-shaping benefits | $3 billion | |
|   | Productivity benefits | $4 billion | |
Source: VAGO, based on information provided by LXRA.
As shown in Figure 2L, the LXRP reference case does not achieve a positive BCR using the standard discount rate of 7 per cent. If the BCR was updated to account for current program cost, assuming there are no further increases in benefits, this would result in a reduced BCR.
Further, sensitivity testing identifies that if costs increase by 20 per cent, this will result in a BCR of only 0.65 at this discount rate.
The cost at July 2017 stands at $8.3 billion, a 9 per cent increase on the $7.6 billion in the business case. Given the LXRP has only removed 10 crossings to date, with five years still remaining and more complex crossings to remove, there is a real risk of further cost increases.
A BCR of 0.9 is achieved when wider economic benefits are included with the reference case. However, DTF guidelines recommend excluding wider economic benefits from the BCR calculation while appraising projects.
A positive BCR is only achieved for the combined appraisal, which includes the total sum of benefits from all major rail projects—CPLU and the MTP—not just the LXRP.
DEDJTR's rationale for using this approach is that these projects are interdependent, and the CPLU and MTP assume delivery of the LXRP. Therefore, the projects were combined to look at the city-shaping benefits. This is a reasonable approach as these are not mutually exclusive projects.
DEDJTR engaged a third party to peer review the economic evaluation of the LXRP business case. A report was prepared which concluded that, overall, the approaches as described in the economic evaluation appear appropriate for the economic assessment of the LXRP.
2.5 Strategic planning for future prioritisation
TfV and LXRA should develop a robust selection and prioritisation process for future level crossing removals so that the rationale for selecting sites is transparent.
Infrastructure Victoria's 30-year infrastructure strategy recommends that the government develop a transparent prioritisation process within five years for the targeted removal of level crossings beyond its current commitments. It also recommends that this process should build on work already completed by VicRoads and consider desired land use outcomes, including supporting major employment centres.
Activity to date
TfV is leading a planning study to identify potential future level crossing removals as part of it network planning function. This study will:
identify a list of initial priority sites for government to consider for early removal in conjunction with the current committed program
provide program options for government to identify future level crossing removals.
The study will also consider the links to other planned network investments and how these may offer opportunities to package them with the level crossing removals.
Figure 2M shows the criteria TfV has developed to identify initial potential sites.
Figure 2M
Criteria for identifying initial sites
| | |
| --- | --- |
| Adjacency | The site is adjacent to, and affects, an existing LXRP site. |
| Major need | The site will have very significant impacts on congestion or safety, taking into consideration rail service increases that have been enabled by other projects that are being implemented. |
| Efficiency opportunity | There may be significant cost efficiencies that could be realised by delivering the level crossing removal in conjunction with an existing LXRP site. |
Source: VAGO, based on information provided by TfV.
Potential sites must satisfy the criteria in Figure 2M before moving to the program options assessment phase. TfV has also developed criteria for this phase as shown in Figure 2N.
Figure 2N
Criteria for identifying program options
| | |
| --- | --- |
| Movement | Amount of traffic (current and future), level crossing boom gate closure times, the type of movements and traffic using each crossing, train frequencies (current and future) and strategic network considerations. |
| Safety | Safety risk ratings (ALCAM) and incident records (fatalities, serious injuries, near misses). |
| Place | Activity areas, urban renewal and growth precincts, community services and facilities, station access, pedestrians, cyclists and emergency services. |
| Deliverability | Cost, risk and packaging (considering rail occupations, site adjacency, disruption and likely procurement efficiencies). |
Source: VAGO, based on information provided by TfV.
While initial planning demonstrates TfV is working towards developing criteria and a methodology to test sites, it is not evident if there will be a criteria weighting system so that site assessment is objective and transparent. Nor is it clear how TfV plans to determine which sites to test.