Police Management of Property and Exhibits
1.1 Property and exhibits
Property classes
Victoria Police collects a vast range of property in the course of its duties. Managing this property is an integral part of policing and a critical part of successful prosecutions to maintain community safety.
Property includes all lost and found, created, surrendered and/or seized property that comes into police possession. The property's class is determined by how the item has come into police possession. An exhibit is any property in police possession that may be used in court as evidence.
Figure 1A defines the four property classes.
Figure 1A
The four property classes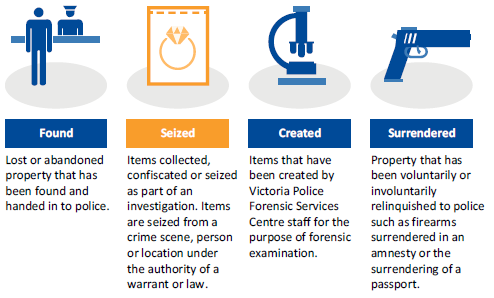 Source: VAGO based on information provided by Victoria Police.
In this audit, we focus on the collection, management and disposal of seized property and exhibits. Of the property currently in police possession, seized property accounts for the largest amount (78 per cent), followed by created property (14 per cent), as shown in Figure 1B.
Figure 1B
Percentage of property in police possession by class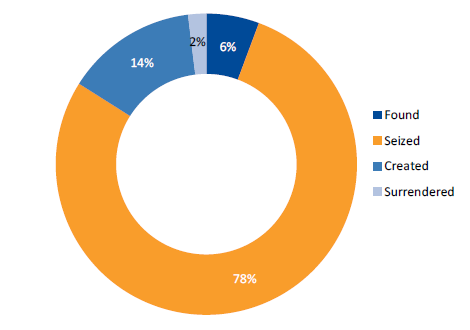 Source: VAGO based on PaLM data, extracted 20 June 2018.
Buccal swabs are a relatively non-invasive way of collecting a DNA sample, by swabbing the cells on the inside of a person's cheek.
Types of seized property
Within each property class, there are broad categories or types of items such as drugs, firearms, forensic property—DNA samples (such as buccal swabs) and fingerprints—weapons, money, vehicles and general lost property.
Figure 1C shows the top 10 categories for the seized property class in police possession.
Figure 1C
Top 10 categories of seized property currently in police possession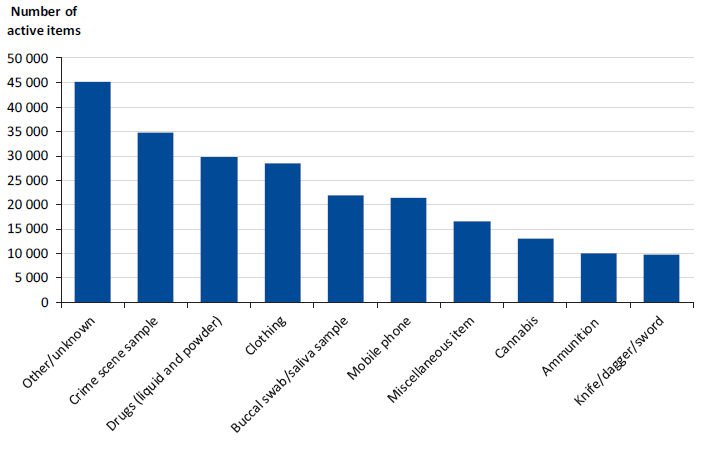 Source: VAGO based on PaLM data, extracted 20 June 2018.
Legislative and policy framework
Legislation
The legal framework for the management of property is complex and requires an understanding of, and ability to apply, at least 19 different Acts of Parliament, including the Crimes Act 1958 and the Criminal Procedure Act 2009.
The Charter of Human Rights and Responsibilities Act 2006 confirms a person's right to property, requiring that a person must not be unlawfully deprived of his or her property.
Victoria Police does not have unilateral rights to items seized under a search or arrest warrant. The Magistrates' Court Act 1989 requires Victoria Police to present these items to court for viewing where the presiding magistrate may impose specific instructions for how the items may be used, retained or disposed of. These requirements can create limitations and requirements for police before an item can be forensically examined or used for investigations.
The Evidence Act 2008 stipulates that only relevant evidence is admissible in court. The use of primary or real evidence during court proceedings is an integral aspect of criminal proceedings.
Administrative policy and procedures
Victoria Police Manual
Section 60 of the Victoria Police Act 2013 gives the Chief Commissioner of Victoria Police authority to issue the VPM. The VPM provides rules, procedures and guidance to assist Victoria Police in meeting its obligations. It also sets out the behavioural, operational and administrative standards for Victoria Police. It applies to employees of all ranks and employment types.
The VPM documents the process for managing property and exhibits. The manual incorporates legislative requirements and outlines:
roles and responsibilities
processes for storing, handling and managing property
methods and time frames for disposal of property.
Workplace Inspection Manual
The Workplace Inspection Manual (WIM) provides guidance on requirements for workplace inspections, audits and verification inspections within Victoria Police. The manual combines VPM requirements with what Victoria Police consider to be better practice. The WIM outlines monthly property reporting against five compliance measures. It also requires that each property store conducts four full stocktake audits a year—two conducted by the workplace officer in charge and two by an inspector or above from another station. The reporting requirements and the audit requirements are discussed in Part 2 of this report.
Standard Operating Procedures
Individual police stations and specialist units have local SOPs. SOPs supplement the VPM with more detailed guidance on property management specific to that police station or storage facility.
Property management process—seized items
The process for property management varies depending on the property class. Figure 1D outlines the property management cycle for seized property items.
Figure 1D
Overview of the Victoria Police process for managing seized property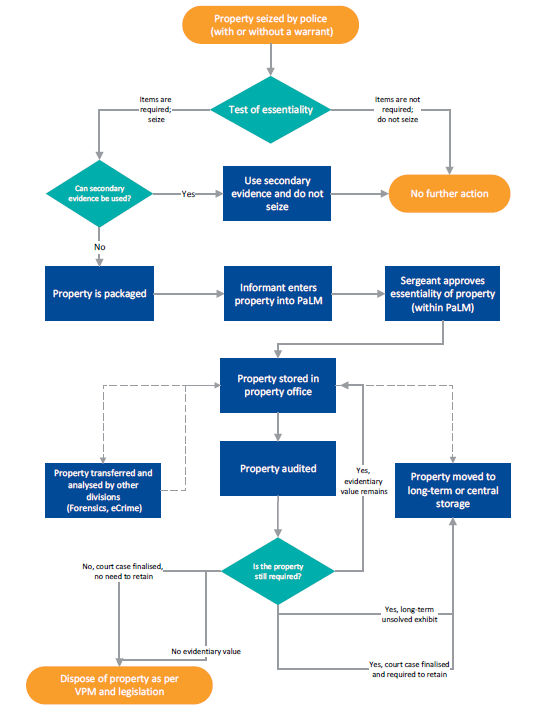 Source: VAGO based on information provided by Victoria Police.
Test of essentiality
Before seizing any property, the VPM requires police officers to apply the test of essentiality. This test has multiple steps, requiring police to assess whether the property item has evidentiary or investigative value, or whether secondary evidence can be used in its place. The informant must:
assess whether the property is lawful, whether it is necessary to seize it and whether the use of secondary evidence is possible or appropriate
assess whether the property requires forensic testing, for example, fingerprinting
obtain a supervising police officer's approval in PaLM, which acts as confirmation that the item is essential and has evidentiary value
following forensic analysis (if applicable), determine whether the item is still required for investigative purposes.
Victoria Police has revised the test of essentiality in its draft VPM updates. The draft amendments make the test clearer and simpler but do not change the intention. We discuss the test of essentiality further in Section 3.2.
Secondary evidence
It is not always necessary to seize and retain an original item—in some instances, police may be able to use secondary evidence. Secondary evidence may be a copy, replica or substitute for primary evidence. It includes, but is not limited to, photographs, audiovisual recordings, plans, inventory of equipment, and statements relating to property. The manager of the work unit is responsible for using secondary evidence provisions wherever possible.
The VPM sets out the following guidelines:
All original documents must be retained.
All original property with significant value must be retained—for example, clothing with blood stains.
A statement of secondary evidence should be compiled to prove the continuity of evidence.
Storage and handling
Police members must package and store property appropriately to maintain its condition at the time of seizure and to preserve its evidentiary value.
Property may be produced in court as an exhibit or moved to other police stations, central storage locations or facilities for analysis (such as forensic testing).
Continuity of evidence, or chain of custody, describes how police are accountable for the integrity of an exhibit. Proving continuous possession throughout collection, storage and disposal of property is important for preserving the integrity of exhibits used in prosecutions.
All movements must be recorded, which forms the continuity of evidence or chain of custody. Victoria Police stores property at over 200 storage locations, including:
police stations across the state
other property storage locations, such as:

the Vehicle Impoundment Support Unit, which stores evidentiary and impounded vehicles
a large central storage facility, which stores overflow evidence from Crime Command and from other criminal prosecutions managed by specialist units across the state, along with high-risk items and exhibits related to unsolved serious crimes

the Victoria Police Forensic Services Centre, which performs various forensic tests on exhibits such as fingerprint, DNA and drug analysis.
Recording and the property management system
Police members must record all new property accurately by the end of their shift. Records should include a description, a storage location and, in the case of seized property, an indication that the test of essentiality has been completed.
In late 2011, Victoria Police began rolling out PaLM to deliver a single statewide system to record and manage property items. PaLM was not operational across the entire organisation until 2014. PaLM is an off-the-shelf web-based application that was initially designed as a forensic laboratory management system. PaLM was customised by the vendor to include Victoria Police's requirements for a property management module.
PaLM records the description and life cycle of property, from when it is received into the possession of Victoria Police, any movement and approval transactions, and any forensic analysis performed on it (where applicable), through to the nature and circumstances surrounding its disposal. It also facilitates and displays electronic approvals, date stamps and some investigation details.
By recording all property movements and storage locations, PaLM was intended to:
provide an organisation-wide view of property holdings
facilitate analysis and reporting
strengthen the continuity of evidence.
Prior to PaLM, property entries were recorded using several manual and computer-based systems. The majority of stations recorded their property in hardcopy property books. Police members attached court orders and official documents to the relevant entry in the property books. The information from the property books was then regularly transferred into a standalone database called Station Books. This limited police's ability to search for property at other stations or to have an organisational view of all property holdings.
Disposal
In general, Victoria Police disposes of seized property by:
returning it to the owner when it is no longer required
returning it to the owner as a result of a court order
destroying it as a result of a court-ordered forfeiture
selling it by auction as a result of a court-ordered forfeiture.
Property must be disposed of at the earliest opportunity by the appropriate method. Seized property may be disposed of when the informant considers it no longer of value to an investigation. If seized property is subject to a court order, it cannot be disposed of until a 30-day appeal period has ended.
Some property and exhibits are required to be held in long-term storage—for example, where the property was seized in relation to a serious crime and no person has been charged with the offence.
1.2 Roles and responsibilities
Figure 1E shows the spread of roles and responsibilities related to property management across the organisation. Most areas within Victoria Police have touchpoints with, and some responsibility for, property management.
Figure 1E
Property management roles and responsibilities
Executive Command

Region/department/Command

Divisional Command

Property management role

Regional Operations

North West Metro, Southern Metro, Western and Eastern Regions

Divisions/PSA/Police Station:

Uniform police
Specialist units

The relevant investigating officers collect and authorise disposal of property—property officers store and dispose of property

Regional Audit and Risk Unit

Audits compliance against WIM

Specialist Operations

Crime Command

Specialist Divisions

The relevant investigating officers collect and authorise disposal of property—property officers store and dispose of property

Forensic Services Department

Lab Operations

Provide forensic science services, such as drug analysis and destruction, ballistics, fingerprint and DNA analysis

Capability

Capability Department

Policy and Legislation

Develops VPM and progresses legislative change

Organisational Performance

Development of dashboard

PEMRP

Property improvement project

Professional Standards Command

Risk Mitigation

Investigates complaints, breaches and misconduct

Intelligence

People Development Command

Learning Development and Standards

Training and professional development

Human Resources Command

Health, Safety and Deployment

Monitors OHS risks

Infrastructure

Operational Infrastructure Department

Operational Infrastructure

Property capability owner

Transport Services, Logistical Support, Property

Provides infrastructure, warehousing, transport and logistics services, including for property

Infrastructure and IT Services Department

Service Operations Office

PaLM user support
Source: VAGO based on information provided by Victoria Police.
Victoria Police divides the state into four regions—Eastern, North West Metro, Southern Metro, Western. Regions are made up of divisions—there are 21 divisions overall, with four to six per region. The divisions are further divided into police service areas—there are 54 police service areas overall, with two to four per division. There are over 200 police stations within the 54 police service areas.
A police station includes Uniform police members, who are general duties officers. It may also include specialist units, such as Sexual Offences and Child Abuse Investigation Teams, Crime Investigation Units, Divisional Response Units and Family Violence Investigation Units.
At each property storage location, a number of staff have property management responsibilities:
The informant (investigating police member from any police unit) is responsible for collecting property, applying the test of essentiality, entering the property into PaLM and arranging for the property's disposal when no longer required.
One or more property officers provide support and logistics management for property items. Property officers do this for each unit's property located at the station, including specialist units. Smaller stations may not have a property officer and may rely on neighbouring stations to manage their property.
Some stations also assign a sergeant as the property portfolio sergeant. This role works closely with the property officer and officer in charge on property reporting, property destructions and following up with informants when items require action.
The officer in charge of each work unit has overall responsibility for informants' property. This includes ensuring that property entered into PaLM by police members should be retained (in accordance with the test of essentiality), that it is described adequately, that disposal is arranged within time lines, and that the correct disposal method is authorised and used.
Each station's property office is resourced differently. Large stations may have multiple property officers, while smaller stations typically have one officer who may also undertake administrative duties. Usually the property officer role is undertaken by a public servant but, at some stations, the property officer role may be performed by police members.
1.3 Past reviews and recommendations
Several past reviews, both external and internal to Victoria Police, identified significant weaknesses in Victoria Police's management of property and exhibits.
A 2012 review from the then Office of Police Integrity found vulnerabilities and risks at all stages of property management. The Office of Police Integrity's 36 recommendations focused on:
policies and procedures
training
the use of secondary evidence
the management of forensic medical examination kits.
The 2014 Victoria Police Evaluation of Property Management (2014 evaluation) highlighted a number of inefficiencies and areas for improvement, including:
the allocation of resourcing
the use of disparate information and communications technology and management systems
inefficiencies in the management, movement and storage of property
decentralised governance arrangements and a number of overlapping policies and guidelines.
The 2014 evaluation made 81 recommendations that received support in principle from Victoria Police's executive team.
In 2017, an internal audit examined the end-to-end process for property management. It found inconsistencies and noncompliance in the way property was managed between storage locations and that Victoria Police does not have complete and accurate oversight of its property holdings. Management accepted the three recommendations and is currently actioning them.
Property and Exhibit Management Reform Program
Victoria Police commenced the PEMRP in 2015. The PEMRP aims to address the 81 recommendations from the 2014 evaluation and key weaknesses that were also identified in the 2017 internal audit.
PEMRP's 25 projects are grouped into six work packages. See Appendix B for further detail on the PEMRP projects and streams.
The PEMRP aims to:
improve property and exhibit storage, handling, transport and disposal to reduce Victoria Police exposure to OHS risks
reduce property and exhibit holdings and related resource costs
streamline the movement and life cycle management of property and exhibits
improve governance of property to address inconsistency in recording and to preserve the integrity of exhibits
improve practices and policies for property and exhibit management
support the capability of those who use property management systems and processes.
The PEMRP commenced in June 2015. However, after Victoria Police reassigned the resources dedicated to the PEMRP to other projects, it was put on hold, before recommencing in 2017.
The PEMRP was governed by a bi-monthly steering committee and involved property management stakeholders, subject-matter experts and the Victoria Police executive.
The PEMRP concluded in June 2018 and the executive program sponsor—Victoria Police's Deputy Commissioner, Capability—is currently acquitting the projects.
To date, the PEMRP has rolled out e-learning modules for property management, established a 'community of practice' for property officers, driven the drafting of updates to the VPM, progressed legislative reform, and initiated research into methods for destroying particular types of property, including drugs, digital devices, mobile phones and weapons.
1.4 Previous audits
Our 2013 audit Asset Confiscation Scheme examined confiscated assets, which are a type of seized property. We found that Victoria Police had policies and procedures to guide its activities around asset management and disposal.
However, a range of weaknesses in the policies and procedures, while not material, could lead to inconsistent approaches to managing and disposing of confiscated assets. Victoria Police accepted all 12 recommendations. We conducted a follow up of this audit in 2016 and found that Victoria Police had implemented nine of the recommendations and was still in the process of implementing the remaining three.
1.5 Why this audit is important
Good property and exhibit management is fundamental for Victoria Police to support the administration of justice and protect the community. Mismanaged property creates risks for Victoria Police, including:
adverse impacts on court outcomes
liability for missing or damaged property
arbitrarily depriving citizens of their property
misuse of sensitive or private information
OHS and workplace incidents
reputational damage.
This audit is therefore important in identifying opportunities for improvement in Victoria Police's property and exhibit management.
1.6 What this audit examined and how
The objective of this audit was to determine whether Victoria Police stores and secures property and exhibits effectively and efficiently.
We considered whether Victoria Police has a control framework for property management that supports high performance and whether it prioritises and sustains improvement projects. We also examined whether Victoria Police stores and secures property in a way that supports frontline staff, reduces associated risks such as OHS risks, and maintains evidentiary value.
In conducting the audit, we:
reviewed Victoria Police documentation
visited eight police stations across the four police regions, the central storage facilities, Crime Command and the Forensic Services Department
interviewed property officers, logistical staff and police members across the stations and storage facilities we visited—the majority of police members were general duties members, responsible for attending the station and patrolling the division
spoke to specialist units at some stations
spoke to regional audit teams, responsible for monitoring compliance with the WIM
spoke to staff at Victoria Police headquarters including from the Capability Department, the Organisational Performance Division, Professional Standards Command (PSC), Victoria Police Prosecutions, the PaLM application management team and the Operational Infrastructure Department
conducted meetings with the PEMRP team and observed steering committee meetings
obtained and analysed PaLM data to determine its integrity, to obtain an organisation-wide snapshot of property holdings, and to investigate key weaknesses and gaps in the property management process
conducted stocktake audits at four stations and two central storage facilities, where we tested the accuracy of a sample of 768 items recorded on PaLM.
The operational police members we spoke to ranged in rank from constables to inspectors. These interviews gave us insight into how Victoria Police policies, procedures and PaLM are used in practice. Many of the corporate staff we interviewed were also police members with diverse experience and expertise.
We conducted our audit in accordance with section 15 of the Audit Act 1994 and the Australian Auditing and Assurance Standards. The cost of this audit was $435 000.
1.7 Report structure
The remainder of this report is structured as follows:
Part 2 examines Victoria Police's property management control framework and the move to a single property capability owner
Part 3 examines the seizure, storage and disposal of property.