Police Management of Property and Exhibits
2 Property management control framework
Victoria Police's day-to-day management of property and exhibits is devolved to individual stations and business units across the organisation. Therefore, an effectively implemented, organisation-wide control framework is essential for assuring executive management that:
staff understand their roles and responsibilities and comply with relevant legislative and internal policies and procedures
the organisation as a whole is actively managing and overseeing property and exhibits
key risk areas or trends can be identified, strategically planned for and addressed.
The control framework should clearly articulate expectations and internal accountabilities for the management of property and exhibits, along with key risks.
For Victoria Police to apply the framework consistently and rigorously across the entire organisation, it needs to establish clear responsibilities at the station, divisional, regional and executive levels. Corporate policies for property management need to clarify requirements, and staff need to receive adequate training and be provided with fit-for-purpose and reliable systems, to effectively fulfil their responsibilities.
The framework also requires mechanisms for coordinated monitoring and reporting by divisions or regions to executive management that enable effective organisational oversight and strategic management of the function.
In this part of the report, we assessed whether there are clear lines of accountability and organisational reporting, whether there are comprehensive policies, guidelines and training, and whether the property management system is fit for purpose for recording and monitoring property items.
2.1 Conclusion
Victoria Police's control framework has not been designed to deliver efficient or effective property management.
Weaknesses in all facets of the control framework undermine data integrity, create inefficiencies and reduce overall confidence in the system. Under current reporting processes, staff are intentionally recording some information incorrectly, albeit due to frustration with system limitations. Such behaviours, despite understandable intentions, should not be tolerated, especially in a law enforcement agency.
A tamper-evident audit bag is a purpose-designed single-use security bag with a seal that makes it obvious if it has been broken or tampered with. They preserve the integrity of an item and assist in preventing unauthorised tampering with evidence.
Of more concern is the risk that control weaknesses, system limitations and variable work practices could mask inappropriate behaviour and make it difficult to detect or prove. Opening tamper-evident audit bags (TEAB) as part of a stocktake, when this is not required and should not occur, is one example of such an exposure. The use of 'return to owner' (RTO) as a method to remove duplicate records on the system is another. Marking property as being returned to the owner—when it has not been—is a control weakness and could make inappropriate behaviour difficult to detect or prove.
Through the PEMRP, Victoria Police has made a concerted effort to address a range of issues affecting property and exhibit management, but some significant gaps remain:
Overall, there are no clear lines of accountability and reporting for the property management function to provide an organisation-wide view of property holdings, property management performance and emerging issues and trends.
Training and guidance is not always consistent across the organisation or available as needed, meaning that staff do not always understand their role, and variations exist in the way they record and manage property.
PaLM has usability and functionality issues that mean it does not appropriately support operational police or reporting requirements.
Audits of property stores are not well resourced or implemented. There is no organisational oversight to hold work units to account for following up the outcomes of audits. There are also no consequences if work units do not conduct audits as required.
Current reporting does not provide an accurate view of compliance for the property management function, as inherent data integrity issues impact results. The level of noncompliance is likely to be understated and reports probably provide a false sense of assurance that property is well managed.
Ultimately, a single point of accountability for the property and exhibits function is needed to drive consistent and rigorous application of a comprehensive control framework across the entire organisation.
2.2 Policies and procedures
Corporate policies and procedures must clarify expected requirements and are a key element in ensuring that staff understand their roles and responsibilities and comply with relevant requirements.
Victoria Police Manual
The VPM contains the property management policy and guidance for Victoria Police. While it is useful in providing general policy and guidelines, overall, it does not provide a comprehensive practice guide to resolve the many practical issues faced in the day-to-day management of property and exhibits.
The VPM is difficult to navigate, requiring property officers and police members to search across multiple documents, some of which contain duplicated information. Further, until recently, the VPM had not been updated since 2014–15 and was missing some essential practical information—for example, as at 30 June 2018, the VPM still referenced Station Books instead of PaLM.
Through the PEMRP, Victoria Police considered a number of draft changes to the VPM, submitted during 2017 and 2018. The draft updates are yet to be finalised.
Standard Operating Procedures
SOPs—which are usually station-specific and approved by the officer in charge—do not generally provide sufficient detail to manage property effectively. We reviewed 10 property management SOPs from police stations and property offices and found that they varied in their level of detail:
SOPs are brief—the shortest SOP stated that property should be dealt with in accordance with the VPM, be recorded in PaLM and be stored in the property office, and that handling and disposal of property must be in accordance with court instructions.
SOPs selectively include some aspects of property management, without providing detail on others.
One of the SOPs restated information from the VPM without any further detail.
Some stations do not have SOPs—one station could not locate its SOP and another did not have one and instead relied solely on the VPM.
Another issue was that SOPs generally do not include a published or 'last reviewed' date, so we could not assess when they were last updated.
Better practice SOPs that we reviewed:
differentiate between the roles and responsibilities of the property office and those of the informants
include templates and links to applicable forms
explain the test of essentiality in easy-to-understand language and emphasise the use of secondary evidence
include screenshots and additional guidance to demonstrate processes that are difficult or often done incorrectly.
The need for a property management handbook
The 2014 evaluation recognised the need for an organisationally-endorsed property management handbook to drive consistency and improve knowledge across the organisation. However, this project was out of scope of the PEMRP, and responsibility was reassigned to the Policy and Legislation Division as part of the 2016–17 VPM refresh, which did not eventuate.
The VPM and SOPs do not provide property officers and police members with comprehensive advice and guidance to resolve practical issues with managing property and exhibits, so there is still a need for an organisation‑wide property handbook.
The case study in Figure 2A shows the need for clear and consistent guidance on storing seized property—in this case, mobile phones.
Figure 2A
Case study: VPM guidance on storage standards for mobile phones
Appropriate storage of mobile phones preserves the integrity of the data contained within the phone. This is particularly important for seized mobile phones requiring forensic analysis.
During the audit, we were consistently told by officers and the eCrime department (responsible for forensic extraction and analysis of mobiles) that mobile phones are required to be stored with the SIM card removed or with the device set to flight mode. This is to help preserve the evidence contained within them.
Several property officers we spoke to were not aware of the risk to evidence if SIM cards are not removed or if devices are not set to flight mode. We also confirmed with Corporate Policy (the owner of the VPM) that the requirement to store mobile devices in this way is not documented, nor is it included in the June 2018 draft amendments to the VPM. This lack of clearly documented guidance could impact investigations.
We came across 25 mobile phones during our stocktake audit (see Section 2.6) and found that only nine had the SIM card removed, or a note to show that the device had been set to flight mode.
Better documenting expected requirements is key in ensuring that staff will consistently handle mobile phones in a way that will maintain their evidentiary value.
Source: VAGO.
2.3 Support and training
Training and support is another way to ensure staff understand their roles and responsibilities and comply with relevant legislative and internal policies and procedures.
The absence of proper training increases the risk of incorrect or inconsistent practice and may increase the risk of inappropriate behaviours. Untrained property management personnel may also be subject to OHS risks, especially when handling potentially dangerous goods.
Induction training and ongoing support for property officers
Process training
Until recently, there was no formal induction or training process for new property officers. Property officers report that they have been mainly learning on the job, through handovers with the previous officer (if available) and from the station's property portfolio sergeant, the officer in charge or, most frequently, from other property officers, either in the station or at nearby stations.
This has resulted in inconsistent practices for property management and noncompliance with policy requirements. For example, from the eight stations we visited, one property officer was not aware of the audit requirements for storing property despite having been in the job for over two years. Some property officers reported opening TEABs when conducting audits to inspect and verify the contents. This practice risks contaminating the evidence and compromising the chain of custody.
Both the 2014 evaluation and the 2017 internal audit identified the lack of property management training and inconsistent practices. The 2017 internal audit recommended that Victoria Police evaluate the current capability and capacity of property officers and managers to comply with the property management process. Victoria Police has not yet implemented this recommendation.
The PEMRP undertook a formal training needs analysis, which identified gaps in members' technical and soft skills. It also noted weaknesses such as a lack of succession planning for property officers or training for relief staff.
Support networks
During our site visits, the lack of official organisational support was a common issue raised by property officers.
Property officers report directly to the officer in charge at their station or storage facility. Their ability to access support and training outside of their station and immediate network is limited.
We asked about the number of current property officers, but Victoria Police was unable to give us an up-to-date list. The list we were given was from 2013 and did not differentiate between property officers and administration staff. Not knowing the number of property officers or the number of police members who work in this capacity highlights not only the need for succession planning, but also underscores the considerable underinvestment in the property officer role from an organisational perspective.
A PEMRP project to create a 'community of practice' forum has recently established a network for property officers. The project brings together property officers to support the development of property management skills and capability, and to share better practice. Through the PEMRP, Victoria Police has hosted five forums, reaching over 120 property officers.
The forums were held across five metropolitan and regional locations. They provided opportunities for other divisions and teams to present to and engage with property officers. This included the Forensic Services Department, Asset Disposal, OHS branch and firearms officers.
The Operational Infrastructure Department took over the management of the community of practice in July 2018. The continuation of the forums will depend on handover arrangements and active management in the future. The community of practice will provide a forum through which the Operational Infrastructure Department can communicate with, or disseminate information directly to, property officers across the organisation. There are currently no other direct links between property officers and this department.
Property management and PaLM system training for police members
As for property officers, there is inadequate property management or PaLM system training for police members. This is partly driven by the fact that there is no single area responsible for PaLM—much like the property and exhibit function as a whole.
Training for new police recruits
The Victoria Police Academy is the training school for new police recruits. Training includes academic study as well as physical training and operational skills.
The only formal training for property management is provided at the Victoria Police Academy. New recruits only receive limited training on property and exhibits and the use of PaLM.
While we did not specifically assess training at the Victoria Police Academy as part of this audit, police members at five of the eight stations we visited—including some recent recruits—noted that they receive one session on property management and PaLM, which is very high level, lasting one to two hours at most.
Police members reported that training did not properly cover how to manage property throughout the whole property life cycle or how to manage different high-risk property types, nor did it provide them with enough technical ability to effectively use PaLM.
Training for existing staff
There is no ongoing property management training available for existing police members.
PaLM system training was delivered when PaLM was implemented in 2014, but it has now ceased. Police members consulted during the audit consistently reported that training availability at the time of the rollout was limited, meaning that not all staff undertook the training. They also noted the ongoing lack of comprehensive support for people who currently use the system.
Further, those who did take the training consistently described it as inadequate. The 2014 evaluation found that:
the initial PaLM training was not adequately evaluated, therefore Victoria Police cannot determine whether it was effective
as there was no evaluation, there were no lessons learned
a PaLM user issues log was not kept, which was a missed opportunity to identify users' training needs.
While there is no formal training, there are multiple PaLM user guides available to staff. These guides were last updated in 2012 and are bundled into packages, specifically targeted to general users, property officers and approvers. The user guides are references for how to use the system. They include screenshots to explain common processes and are sufficient to assist users in navigating PaLM, however these guides do not include any policy or legislative requirements. They do not replace the need for comprehensive PaLM training.
Informal training
In lieu of organisation-wide training, some stations have created their own training, however this is not endorsed at an organisational level and relies on the member who develops the training having correct knowledge about property management. As the property officers themselves do not receive formal property and PaLM training, Victoria Police cannot guarantee that staff are receiving consistent messages about property management.
The way forward—property management e-learning
In January 2018, subject-matter experts across the organisation launched an e-learning property management portal via the PEMRP, which included training modules on:
property officer essentials, including:

an animated overview of the role of the property officer
a PaLM simulation
property classification
property scenarios

dangerous and hazardous materials awareness
health, safety and wellbeing
handling of hazardous material
minimising contamination of DNA and forensics.
The e-learning portal is a significant improvement and delivers training on the technical skills involved in property management and key policy requirements. However, it is not mandatory—by June 2018, 225 police members and property officers had completed the training. Victoria Police should ensure that all new and incumbent property officers complete the training, as well as all new police recruits.
Further, Victoria Police has identified that it needs additional modules, such as for informants and officers in charge, to provide support for all ranks and roles. However, it has not committed resources and funding for this to happen.
Overall, the available training does not address all training and skill gaps identified by Victoria Police's training needs analysis. Staff would benefit from more regular and consistent PaLM training as well as from property officer succession planning.
To date, there are no plans to address these gaps or to evaluate the training to assess its effectiveness. The lack of a single accountable owner to drive functional change in property management has stalled progress.
2.4 Property management system
A good property management system can facilitate efficient and effective property management by accurately recording, monitoring and reporting property items.
Functionality
User perspectives
During our audit, we spoke to operational police across eight stations and the central property stores. They made some positive comments about PaLM:
The ability to search for lost property across stations is useful.
PaLM is a better system than the old property books for demonstrating the continuous chain of custody.
The system is fine—staff just do not know how to use it. Organisationally, Victoria Police does not fully understand what it is capable of.
It is valuable to have time and date stamps, and the ability to write comments.
Notices and reminders are flagged for police members/informants.
However, despite these positive comments mentioned during our field visits and consultations across the organisation, we heard common and repeated complaints about PaLM's usability. We perceived that overall, the system does not have a good reputation among police members and property officers, and it is seen as a barrier to property management obligations rather than an aid.
Persistent criticisms of the system included that it is very slow and 'clunky', and that it will often crash or stop working. Processes for recording property are lengthy and convoluted, owing to the slow system, multiple screens and non‑intuitive nature of the program. There are at least 14 screens for recording items, some of which have multiple tabs, and users must switch between screens and tabs regularly. In contrast, Station Books only had one screen for recording property.
Further, there are few mandatory fields or in-built controls in PaLM to ensure data is recorded consistently, such as drop-down menus, which means that there is wide variation in data input.
Some important recording errors, such as when an item has been incorrectly marked as 'disposed of', cannot be easily fixed. For example, an item's classification cannot be changed from 'found' to 'seized' without closing the relevant file and creating a new one.
A commonly cited frustration was that documents uploaded to the system, such as court orders and destruction approvals, cannot be viewed. This leads to a double handling of documents, which must also be filed and saved elsewhere.
Although PaLM easily links to brief book entries within Station Books, it does not link to any other databases, applications or systems, making it difficult to identify property that is ready for destruction. PaLM's reporting function does not provide a whole-of-organisation view or allow for customised reports.
Our findings are consistent with those of Victoria Police's 2014 evaluation and 2017 internal audit.
Data integrity
Information architecture
Like other aspects of property management, there is no one area charged with governance of PaLM data, including accountability for the completeness and accuracy of the data. Accordingly, Victoria Police has limited knowledge about the structure of data within PaLM.
We requested a PaLM data dictionary and schema to understand what data the system holds. These documents describe the contents, format and structure of a database and the relationship between its elements. However, Victoria Police could not provide a data dictionary or schema because they do not exist.
Only one Victoria Police staff member, who is attached to the PaLM application team, has detailed knowledge about the information contained within most of the data fields. However, while this employee was helpful and able to answer some questions, they could not always provide clear information about all the data fields or processes for how PaLM produces its automated performance and compliance reporting, which we discuss below.
The lack of comprehensive, documented information about what data exists within PaLM is a risk to Victoria Police's knowledge management, as it creates a single point of failure if this employee should leave the organisation. It also does not allow Victoria Police to fully leverage the dataset that it has collected.
Common data input issues
The historical inadequacies in PaLM training and guidance, coupled with the lack of in-built controls within the system, have resulted in errors and inconsistencies in the way property is recorded within PaLM. Common reported issues include:
the wrong property class (seized, found, surrendered, created) being entered
inconsistencies in whether multiple property items are recorded separately in multiple files, or together in one file
varying levels of detail in descriptions—some staff enter more details than others or enter them in different fields
items not being put in a TEAB, or the number of the TEAB not being recorded in PaLM
court date and brief book number not being linked, where available.
Overall, these issues affect the quality and usability of PaLM data, and the ability to monitor items for compliance. They also impact Victoria Police's ability to dispose of items in accordance with minimum holding thresholds.
Data quality tests
We assessed the completeness and accuracy of PaLM data by checking whether the data falls within acceptable and consistent date ranges and category fields. The results of our testing showed:
Active items are still in police possession and not marked as disposed of, returned or approved for disposal.
missing dates—462106 seized items that had been disposed of did not have an approval date recorded for their disposal, and 116542 active seized items did not have a receipt date recorded
illogical date sequencing, where the processes appear to occur out of order—11998 property items appeared to have a court date before they had been seized, and 715 items had an actual disposal date before the disposal approval date
invalid dates—for example, a mobile phone that was seized in the 1930s when this technology was not available
zero days in police possession—10 633 items appear to have been seized and disposed of at the same date and time
negative days in police possession—111 items appear to have been disposed of before they were seized
incongruous disposal methods—green vegetable matter (GVM), which is cannabis, recorded as having been 'returned to owner'
the wrong property class—for example, property located at a crime scene recorded as 'found' property rather than 'seized' (these items would have been seized under warrant or legislation)
the wrong property category being used—for example, mobile phones entered into the GVM category
the 'other/unknown' category being used where another category should have been—for example, mobile phones, clothing or DNA being categorised as 'other/unknown', along with letters or items (incorrectly) bundled together such as a 'sealed bag of exhibits'.
Victoria Police attributes issues relating to missing, incorrect or illogical dates to data migration errors, from when data was transferred from legacy systems to PaLM over the course of several large migration runs. While Victoria Police reports performing some data validation checks before and after the data migration, no automated data cleansing processes were completed prior to the migration.
Victoria Police attributes other errors, such as the mis-classification of items, mis-categorisation of items or inaccurate item descriptions to human error and data entry mistakes.
Use of the 'return to owner' function
Approval by a supervising police officer is not required when police return property to the owner. The RTO function can be used in appropriate circumstances, but it may also be used to 'close off' duplicate files in PaLM, which were caused by data migration. This allows for police members to close a duplicate file without seeking approval from a senior sergeant or sergeant through the general process.
Victoria Police reports that it uses the RTO function in this way for duplicate files. While it is difficult to verify all instances of this, we found 1 178 instances of GVM being marked as RTO where the disposal comments state the RTO method was used to close duplicate files.
Using the RTO function in this way is a control weakness. It could make inappropriate behaviour difficult to detect or prove.
Compliance reporting
PaLM presents performance information as 'gauges' (or dials), which allow users to quickly identify risks and issues. This reporting is automatically generated from the data within PaLM. The gauges show items that are both noncompliant or 'at risk' of being noncompliant with specific time frames—the items that are flagged as 'at risk' require action or they may become compliance issues. Figure 2B shows the breakdown.
Figure 2B
Risk and noncompliance categories for PaLM reporting
Category

File type

Description

Risk

 

1

Found property

Created/in possession for 3–4 months

2

Seized property

Court date passed by between 28 and 60 days

3

Seized property

Created/in possession for 2–3 months with no brief book number

4

Seized property

No activity for 1–2 months

Noncompliance

 

1

Found Property

Created/in possession over 4 months

2

Seized property

Court date passed by over 60 days

3

Seized property

Created/in possession for over 3 months with no brief book number

4

Seized property

No activity for over 2 months
Source: VAGO based on information provided by Victoria Police.
The compliance categories are based on legislative time frames and best practice. For found property, legislation requires police to hold the property for a minimum of three months before it can be disposed of. The compliance requirements for seized property are an amalgamation of current practice and what Victoria Police considers best practice.
A gauge for each risk and compliance category—an example is shown in Figure 2C—shows the extent to which files within the category comply with the required standard. The results are presented as a percentage score for the category using a traffic light system—see Figure 2D. There is also a gauge for overall compliance.
Figure 2C
Example of a PaLM compliance gauge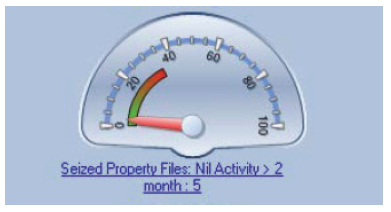 Source: Victoria Police.
Figure 2D
Compliance ratings
| | | |
| --- | --- | --- |
| ● | Unsatisfactory | less than 80% |
| ● | Close to standard | between 80% and 95% |
| ● | Satisfactory | more than 95% |
Source: VAGO based on information provided by Victoria Police.
Issues affecting the accuracy of gauges and compliance scores
Due to various factors, the PaLM risk and compliance gauges do not accurately reflect actual performance.
Data quality issues
As noted earlier, some PaLM files contain incorrect or illogical dates, and these issues with data quality affect the accuracy of the gauge reporting, as dates are automatically drawn from PaLM.
Further, the 2017 internal audit noted that the migration of property data from the legacy systems to PaLM resulted in multiple duplicate entries and instances where property files which were previously recorded as 'disposed of' have been reopened as active files on PaLM. It is difficult to identify duplicates in the data as they received unique item numbers in the migration.
Business rules for the gauges
The gauges only pick up items that are classed as 'seized' and 'found'. This means that there is no monitoring or reporting on 'created' and 'surrendered' property classes in police possession—currently around 16 per cent of all property.
When entering property into PaLM, police members create a property file that relates to the relevant investigation. Each property item is then listed under that file. A property file can hold up to 9 999 items and each item can fall under its own category.
The gauges measure and report on property files, as opposed to property items. However, they count all items within an active property file, even if some of those items have been disposed of. This inflates the number of reported property items in the gauges and is inconsistent with the 'all active items' property report that work units can generate from PaLM.
The gauges are unable to differentiate between valid and invalid compliance issues. For example, exhibits that legitimately do not have a brief book number, because there is no known offender, get flagged under the third compliance category—'Seized property files: Created/in possession for over 3 months with no brief book number'.
Manipulating entries to increase compliance
The current compliance model is too focused on traffic light reporting that does not provide valuable information. Feedback from police members is that management 'doesn't want to see red' on the compliance gauges so they can feel assured that property is being managed well. However, a green gauge based on inaccurate data may provide false comfort.
The data within PaLM can be manipulated by users so that the gauges inflate the reported level of compliance—for example, the use of dummy brief book numbers so that the item will be flagged as compliant.
As mentioned above, there are items recorded in PaLM that legitimately do not have brief book numbers—for example, where police have not yet identified a suspect or an exhibit relates to a longer-term unsolved crime. At present, there is no way to remove these legitimate items from the monthly gauge reporting. This means that they consistently come up as noncompliant, requiring the work unit's officer in charge to review and explain their status every month. This is both time consuming and inefficient.
To work around this issue, some members input dummy brief book numbers so that these files are removed from the category 3 compliance gauge. These misrepresentations have occurred because PaLM is not set up to accurately reflect the nuances of property management—for example, with a check box to mark items that legitimately do not have brief book numbers and should be excluded from the gauges.
We analysed PaLM data to identify instances of false brief book numbers. We identified seven brief book numbers that appear to be false, attached to 2 053 property items. We identified these by the brief comments, however it is possible that there are further false brief books that are not easily identifiable. We confirmed that in five of the seven instances we identified, the station or unit was using a false brief book.
Use of a false brief book number removes files from the compliance categories, which improves the compliance score. As the gauges do not provide an accurate view of performance, they do not adequately assist officers in charge to easily manage and understand the true state of their work unit's property.
Every month, property officers and/or officers-in-charge must further interrogate the items that are showing as noncompliant to determine whether this rating is accurate. They then send targeted email prompts to individual informants requesting further information about items that are legitimately 'at risk'. This can be a time-consuming process, taking them away from their other duties such as operational policing.
PaLM's inability to produce other, customised business reports
PaLM has a very limited reporting function. The 2014 evaluation identified the lack of a suite of useful business reports as an issue and our conversations with police members during our audit reiterated this.
PaLM reports can show stock listings by storage location, but it is not easy to produce a statewide snapshot of:
different property cetegories—for example, mobile phones or cannabis
the number of items in each property category held at worksites
the average length of time that different categories of property are held.
Informants' efforts to manage their own property are also hindered because they cannot easily log in and obtain a listing of all the property items under their responsibility at all storage locations, with risks and required actions automatically highlighted.
Overall, the system limitations within PaLM have meant that Victoria Police cannot obtain an organisation-wide view of its property holdings.
The 2017 internal audit recommended that Victoria Police improve the use and functionality of its technology by:
improving its reporting capability to ensure it can produce a complete and accurate, organisation-wide view of property holdings for management, to improve oversight and control of property
considering any opportunities to simplify and standardise the queries used to generate reports at a worksite level to improve local visibility and oversight of property holdings.
Victoria Police is currently working on implementing the above recommendations from the 2017 internal audit.
The way forward—PaLM dashboard project
Due to escalating storage pressure across the state and the limitations in PaLM reporting, Victoria Police established a property dashboard project to give the organisation access to real‑time property performance indicators. The primary objectives of the property dashboard are to provide a more sophisticated business intelligence interface for PaLM data and to facilitate more systematic and timely disposal of seized property.
The dashboard uses PaLM data but represents the data in a separate analytics platform used across Victoria Police. Even though the project team is undertaking some data cleansing at major storage locations, any errors in the PaLM data will flow through to the dashboard.
The current version of the property dashboard has a clear focus on improving property management at police stations and major storage facilities across the state. The dashboard integrates agreed business rules to activate compliance flags and triggers. The dashboard will flag items that are noncompliant or at risk of not complying with management time lines, such as items that are disposed of but not closed in PaLM and items pending disposal for more than 60 days. The dashboard will present further data for these noncompliant items, which should more easily allow managers to fix the issues.
The dashboard will also allow stations and storage facilities to compare their compliance with that of other locations and view reports by informants or by item category. Further, the dashboard will better support regional management to oversee compliance, by facilitating views at a police service area, divisional, regional, command and department level.
The dashboard is in the late stages of development and will soon be tested with pilot groups.
2.5 Organisational monitoring of compliance
Mechanisms to enable stations, regional command and executive management to monitor property management allow organisational oversight and improve management of the property and exhibits function.
Monthly inspection reports
Officers in charge report monthly to their line manager on the status of their property items. These reports should contain:
overall compliance score based on the gauges
total number of active files and items
number of active files with noncompliant entries
number of items 'on issue' (these are items that are sent to another location, for example cash that has been banked)
cash on hand in the work unit
details of monthly inspections such as whether they were conducted and by whom.
It must also contain advice on the status of each item inspected and outline any remedial action police members should take and the time lines for this to occur.
The line manager must validate the information contained in the report and approve or reject the remedial action and proposed time lines.
Above this level, the reporting processes are unclear. A 2016 internal review of monthly inspection reports found that ownership and governance of station compliance has not been clearly defined and communicated across the organisation. It also found lack of clarity regarding who is responsible for monitoring and reporting on compliance across the state.
The way forward—improving organisational monitoring
Victoria Police has not progressed work to address recommendations from the 2016 internal review. Instead, it advised it will address the recommendations through two 2017–18 internal audits focusing on frontline compliance and business operations.
Any new reporting structure should support the organisation to actively manage and oversee property and exhibits. This includes having adequate organisation-wide monitoring that provides management with sufficient detail to identify key risk areas or trends that they can address through strategic planning.
2.6 Property store audits
Audits of property stores assess property-related practices and assure police management that key processes are being complied with.
Audit requirements
Since March 2016, the WIM has mandated that locations should perform four audits of 100 per cent of their property each year, with:
two full audits by the work unit manager/officer in charge
two full audits by an independent officer—usually an inspector or above from another station.
Prior to the publication of the WIM in 2016, property officers were required to regularly perform an audit of 10 per cent of the location's property holdings.
Property store audits aim to account for all items held at the station. A full audit requires that all property at a property store is sighted and checked to ensure that it is:
consistent with the item description in PaLM
stored correctly:

in the nominated storage location
in designated areas as per SOPs for security and OHS considerations—for example, for drugs, cash, firearms, general property
using appropriate storage methods—for example, in a TEAB or hessian bag, or, for firearms, with an open action or safety flag inserted

disposed of as soon as legally possible using an appropriate method.
Compliance with audit requirements
We reviewed the completed documentation for 15 audit reports conducted in 2017 from the eight stations that we visited. We found that none of the eight stations fully complied with the WIM requirement:
All of the stations audited a portion of their property holdings in the last year.
Only one station audited 100 per cent of its property in that year—but it only completed two stocktake audits rather than the required four.
Two of the larger stations reported never having undertaken a full audit of their property.
The 2017 internal audit also found that locations are not conducting audits of property stores four times a year, as required. This was confirmed by the PEMRP, which found that each region has adopted different approaches to auditing.
PaLM data analysis on property store audits
We analysed PaLM data about audits of property stores in 2017 and confirmed these findings. Figure 2E shows that 72 per cent of property-managing sites (police stations or central property locations) had audited less than half of their property items. Only 6 per cent of sites had audited more than three-quarters of their property.
Figure 2E
Percentage of items audited in 2017 by the managing location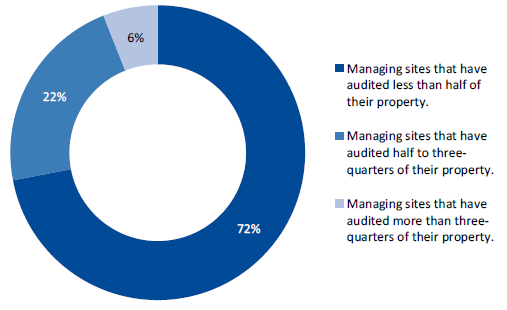 Source: VAGO based on PaLM data, extracted 2 May 2018.
Further to this, within the 72 per cent, we found that:
four locations had not audited any of their property items
a further 12 locations had only audited between 1 and 5 per cent of their property.
Most of the worst-performing sites (those that had audited less than 10 per cent of their property) were central storage locations or specialist police divisions, rather than police stations.
We also found the following issues:
Audit reports are finalised before all missing property items have been found or the outcomes of enquiries have been recorded. Victoria Police asserts that this is common practice as property items cannot be moved if audit reports are open and that anomalies are resolved after closing the report. However, we did not see evidence of follow-up once reports were finalised.
The property officer completing the audit is also the 'reviewer' of the audit, who approves the audit for completion.
Locations do not consider whether items are still required—that is, reapply the test of essentiality.
Poor audit practices increase the risk that Victoria Police may not detect and correct inaccurate property records. This contributes to poor property and exhibit management practices—issues may not be identified or, if they are, may not be adequately followed up, as there is no consequence for noncompliance within policy and processes.
Constraints of the current requirements
We spoke to property officers at eight stations and the central property stores and reviewed documentation compiled by the PEMRP. We identified some common themes concerning the constraints that hinder compliance with the audit requirements outlined in the WIM.
Time constraints
Property officers at the central property stores and the larger stations we visited cited the scope of work and time required as the reason for not completing 100 per cent of audits. Work unit managers and independent officers have numerous competing priorities, and full audits can take weeks to complete, which may prevent property officers from performing their other daily duties during the audit. Naturally, the more items in storage, the longer audits take. Therefore, it is important for Victoria Police to ensure that it only stores and retains items that pass the test of essentiality.
Documentation from PEMRP indicates that it takes approximately one day to audit about 600 items, if the scanners are functioning correctly and PaLM is not particularly slow. We also spoke to a regional audit team that conducts regular property store audits, and it estimated that it can audit 700 to 800 items a day.
Using a median value of 700 items per day, Figure 2F forecasts how long a full property audit would take for a selection of stations and property stores across the state. These sites were selected based on the volume of their property holdings.
Figure 2F
Estimated time to conduct a full property store audit
Work unit

Total item numbers

Estimated days to complete audits

One full audit

Four full audits

Crime Command Property Office

35 643

51

204

Logistics and Support Division

30 204

43

172

Sunshine (Uniform Unit)

10 445

15

60

Geelong (Uniform Unit)

8 769

13

52

St Kilda (Uniform Unit)

6 412

9

36
Note: Estimated days have been rounded.
Source: VAGO based on PaLM data as at February 2018.
Using the same data compiled in Figure 2F, if the Crime Command Property Office was to adhere to the full requirements of the WIM, the officer in charge and independent officers would spend approximately 102 days each on auditing property, as they are each required to do two full audits per year. This is just over 40 per cent of the approximately 250 working days available each year.
Technology
The technologies used to undertake a property office audit are at times unreliable and impractical.
We observed that the equipment provided to property managers and officers in charge is not fit for purpose. Property officers noted issues with the reliability of the audit scanner, which scans PaLM barcode numbers during stocktake audits. Property officers also report that some scanners do not work at the property stores because there is no internet connection in the property office.
This is a significant reason why staff consider the current audit requirements to be overly burdensome. If the property management system was quick and easy to use and provided accurate and clear information, and if the scanners worked, the audit requirements would be less onerous.
Further, the speed of the PaLM application is an issue, with extremely slow response times to bring up a PaLM record. Some worksites also told us that, on occasion, PaLM times out and data is then lost.
Packaging
Currently, packaging presents challenges when conducting a full audit. In most cases, items are stored in brown paper bags to preserve the integrity of the evidence. Some of these bags are sealed, meaning that it is not possible to verify the contents without opening the bag.
It is the responsibility of the police member who took the item into possession and entered the item onto PaLM to certify that the contents are as described. This means that the work unit manager or independent officer does not check the contents of the package—this is acceptable as opening the bags may compromise the integrity of the evidence. Therefore, most audits will simply scan the barcode on the package, ensuring that the package is in the nominated shelf/cupboard and trust that the contents in the package are correct.
Some staff told us that they do open packaging to inspect the contents, even when it is contained in TEABs. This practice risks contaminating the evidence and compromising the chain of custody. There is no requirement to open any TEAB or sealed containers—police members are only required to check that the seal has not been tampered with and that labels contain the required information. It is the responsibility of the police member and witness who sealed the TEAB to certify that the contents are as described.
Lack of consequences for noncompliance
There is no organisational oversight to hold work units to account if they do not conduct audits as required.
Without consequences for noncompliance, it is unlikely that practices will change. A 'top down' approach to monitoring audits of property stores from senior leadership will be required to drive compliance.
Reporting requirements for audit outcomes
The WIM requires that any property items inconsistent with the PaLM record or found outside designated storage locations should be investigated and reported to the workplace manager and police service area manager.
In instances where anomalies are identified and cannot be reasonably explained, the WIM also requires that the location forward a compliance report to the relevant division within the PSC. When we requested these compliance reports, PSC advised that it had never received any audit compliance reports through this process.
This is a problem as it means that the organisation has no oversight of unexplained anomalies identified through audits. Our own review of the audits conducted by the eight stations we visited showed that some audit reports are finalised before staff have located all missing property items and recorded the outcomes of enquiries. As noted above, while Victoria Police reports that this is common practice and that anomalies are resolved after closing the report, we did not see evidence of this. According to the WIM, any unexplained instances should have been reported to PSC.
More broadly, PSC is responsible for investigating police misconduct, and this is another avenue through which PSC can be made aware of issues relating to property and exhibits. PSC confirmed that it had received some complaints about mishandling of property, although it noted that the proportion of property complaints in relation to all complaints is small. From 2012 to 2017, PSC received 114 complaints about property and exhibits. The complaints were for failure to record, secure or account for property, or damage to property. Of the 114 complaints, PSC substantiated 68 cases.
Results of our stocktake audit
We conducted our own stocktake audits at four stations and two central storage facilities, using two-way matching to confirm that:
items recorded in PaLM are on the shelf
items on the shelf are accurately recorded in PaLM.
Our analysis is shown in Figure 2G.
Figure 2G
Results of the stocktake audit
Property office

Items per test

 

Exceptions

PaLM to shelf test

Shelf to PaLM test

Location A

113

 

5

11

Location B

133

 

0

4

Location C

39

 

1

3

Location D

33

 

0

0

Location E

27

 

0

2

Location F

39

 

0

0
Note: Our stocktake audits at police stations were of the Uniform police's property, rather than specialist units such as Crime Investigation.
Source: VAGO.
We found 26 exceptions across the six locations:
Four related to property accidentally marked as RTO (disposed of) but, as the item was still required, it remained in the property office.
Two items had been marked as approved for disposal but remained in the property office.
Sixteen items were found in different locations to their recorded locations in PaLM—more often than not, this was on the shelf next to, below or above the correct location.
Three items had been incorrectly scanned, or the location had not been updated in PaLM when it had been returned by an informant.
One item could not be located—in this instance, the responsible informant reported that the item had been returned to the owner. However, the associated paperwork could not be located.
We found a higher number of exceptions when cross-referencing property on the shelf against PaLM. However, these types of audits are not common practice within property offices and not specifically recommended by the WIM.
The way forward—improving governance around property store audits
The PEMRP recommended that the Workplace Standards Unit amend the annual audit requirements:
There should be one full inspection per year by the officer in charge of each work unit.
There should be one inspection by an independent officer of high-risk items only (high-risk items include drugs, firearms, currency, jewellery and any other items located within a safe).
The independent officer should also choose a sample of PaLM files and apply the test of essentiality. The sample should be 10 per cent of holdings, or 50 files maximum. This will provide an indication of the amount of property that is held without cause. This audit responsibility may be delegated from an independent officer to a senior sergeant.
The Workplace Standards Unit has not yet agreed to these recommendations. Attempting to reduce the audit requirements mainly to accommodate inefficient systems is not acceptable. The agreed audit changes should be based on the level of assurance that the organisation requires for effective property management and staff should be equipped accordingly.
2.7 Organisational monitoring of occupational health and safety risks
Failure to effectively manage property exposes individuals and the organisation to multiple risks, including OHS risks.
For example, short-term effects of handling cannabis can include skin rashes, headaches, nausea and intoxication-like symptoms. Further, the common practice of air-drying cannabis in property stores may expose staff to avoidable health issues.
Fresh cannabis is very susceptible to fungal growth, and these spores may enter the air and be breathed in. Potential long-term effects of this include lung infections and exposure to carcinogens. The seizure of hydroponic equipment from cannabis crop houses can also result in physical hazards.
At the property offices we visited we observed firsthand:
cannabis storage facilities that were at or over capacity
strong odours emitted in storage facilities where property officers are required to work
moulding cannabis
deterioration in the packaging due to mouldy and/or wet cannabis
an overflow of hydroponic equipment.
Figure 2H shows some examples of how cannabis and hydroponic equipment is stored.
Figure 2H
Storage of cannabis and hydroponic equipment at stations

Source: VAGO.
When dealing with property and exhibits, police members may also be exposed to other OHS risks resulting from handling hazardous materials or dangerous items, such as other drugs or firearms. Trips and falls may also occur when physically handling items.
Oversight of property-related OHS risks
Victoria Police disseminates safety warnings and alerts regarding identified risks associated with property types. It also has an organisational framework of OHS committees and station hazard inspection checklists and injury management consultants to ensure workplace risks are proactively identified and managed. However, while Victoria Police has systems to identify and manage individual OHS risks and associated claims, it cannot readily identify the volume or trends of OHS claims specifically caused by property management related activities.
To understand the extent of claims related to property, we requested all OHS and workplace incident reports related to property and exhibits, including information on their outcomes, from 2013 to 2018 (approximately five years). We were advised by Victoria Police that identifying those claims would be a manual process, requiring a full-time resource to spend two weeks reading the narratives of over 2 000 WorkCover claims, as the current system could not identify the cause of the claims. Victoria Police did not have a staff member available to perform this task.
This request highlighted the lack of monitoring of OHS data related to the property management function. While we do not have reason to believe that individual claims are not adequately followed up, without an organisation-wide view, Victoria Police cannot understand the extent of OHS claims arising from the management of property and exhibits. It also makes it difficult for Victoria Police to identify common and systemic risks to staff, and act to mitigate them.
Figure 2I provides a case study of OHS risks arising from manual destruction of mobile phones.
Figure 2I
Case study: Manual destruction of mobile phones
Victoria Police members have reported recent incidents in which they have injured themselves while trying to manually destroy digital devices, such as mobile phones, because they are hitting the battery.
In October 2017, a newsletter from the PEMRP directed staff to not destroy mobile phones manually due to the OHS risks. Despite this communication, two of the eight stations we spoke to during field visits were not aware of the new requirement.
Victoria Police intends to include this requirement in the current updates to the VPM.
Source: VAGO.
2.8 Transition to a single property capability owner
The control weaknesses we identified in this part of the report stem from the absence of a single point of accountability for the property and exhibits function. Victoria Police recently established the Operational Infrastructure Department as the single owner for the property and exhibits management function.
Transfer of PEMRP responsibilities
As noted, there were 25 projects in the PEMRP, which ended on 30 June 2018. Victoria Police expected these projects to deliver a range of outputs and outcomes. Some projects will require active, ongoing ownership by the Operational Infrastructure Department, or its delegate, to achieve the desired impacts.
The scope of some of the PEMRP projects was to undertake options analysis or feasibility studies. While the projects delivered these outputs, Victoria Police needs to implement the recommendations from these studies and analyses before the project can achieve all its expected outcomes. Other projects will also require ongoing management, such as maintaining the community of practice for property officers, the e-learning training portal, the implementation of packaging standards and the standardisation of cannabis destruction.
Transferring responsibility for the PEMRP to the Operational Infrastructure Department creates a high risk that progress already made will not be sustained or that the momentum of current activity may be lost. While the Operational Infrastructure Department now owns the property management function, it is not a subject-matter expert in most areas of managing property and exhibits. This may be resolved by bringing together representation from key stakeholder groups, such as Regional Operations, Specialist Operations and Capability Executive Commands to advise the Operational Infrastructure Department.
Ongoing responsibility for property and exhibits
To date, the Operational Infrastructure Department has depended substantially on the success of TALC to fulfil its ongoing property management responsibilities. It does not, at present, have completed plans for the holistic management of property and exhibits, nor has it been allocated dedicated staff for this work.
It is important that Victoria Police ensures that, as the property capability owner, the Operational Infrastructure Department does not only focus on providing its main service—infrastructure, warehousing, transport and logistics services—or only on the continuation PEMRP projects.
The day-to-day management and implementation of property and exhibits is to remain at the station or business unit level and regions/divisions are to remain accountable for property management under their control. However as an effective property capability owner, Operational Infrastructure Department must:
monitor coordinated reporting from the divisional and regional/department levels to oversee compliance, and to identify trends and strategically manage the property management function
develop and update policies and procedures for property management
develop and disseminate comprehensive training
enforce and monitor the outcomes of stocktake audits, and monitor other risks, such as OHS risks
manage the property management system, ensuring that it is fit for purpose, and uphold data integrity
prioritise and oversee improvement projects.