Results of 2018 Audits: Universities
In this part of the report, we summarise the results of our financial audits and observations for the university sector for the year ended 31 December 2018.
2.1 Conclusion
The financial reports of the universities and their controlled entities present fairly, except for those of the University of Melbourne and Deakin University with respect to their recognition of research grant revenue, which does not accord with current accounting standards.
2.2 Financial report audit opinions
We carried out our financial audits of the university sector entities in accordance with Australian Auditing Standards. Figure 2A details the opinions we issued at the conclusion of our audits.
Figure 2A
University sector financial report audit opinions issued for 2018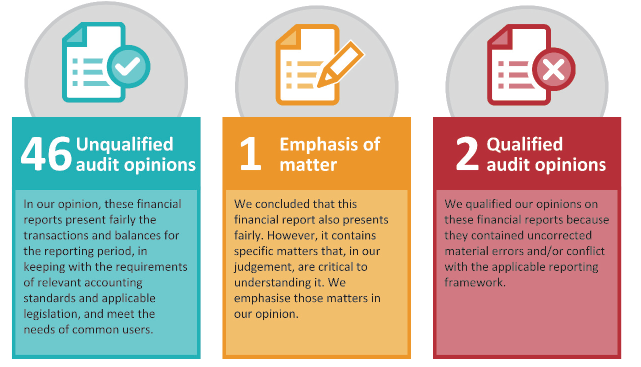 Source: VAGO.
Overall, the sector's financial reports are reliable. In 96 per cent of audit opinions we have issued to date, we concluded that the underlying financial reports do not contain uncorrected material errors. See Appendix B for details on the date and nature of audit opinions issued.
The University of Melbourne and Deakin University received qualified opinions because of the way they recognise certain types of research grant revenue in their financial reports.
Consistent with prior years, this method does not conform to Australian Accounting Standards Board's (AASB) 1004 Contributions, which requires non-reciprocal revenue to be recognised on receipt of funding. The resulting uncorrected error is material to financial statement users. We discuss this in further detail in 'Financial reporting quality' and in Part 4 of this report.
One controlled entity received an emphasis of matter paragraph because it prepared special purpose financial statements to meet the minimum reporting requirements of the Australian Charities and Not-for-profits Commission. While we opine that its financial statements do not contain material errors, we are required to report under auditing standards that those financial statements may not meet the information needs of general users.
Financial reporting quality
Two important and interrelated quality attributes of financial reporting are the timeliness of the published financial reports and the accuracy of draft reports presented for audit.
Timeliness
Timely financial reports enable users to make better informed and prompt decisions. The later financial reports are produced after year end, the less useful they become. We measure timeliness by the time taken post-year end for each university to finalise their financial statements.
The FMA requires universities to finalise their financial reports and have them audited within 12 weeks of the end of the 31 December calendar year.
As shown in Figure 2B, all eight (in 2017, seven of eight) universities met the statutory deadline for finalising their financial reports.
Figure 2B
University financial reporting timeliness for the years ended 31 December 2017 and 2018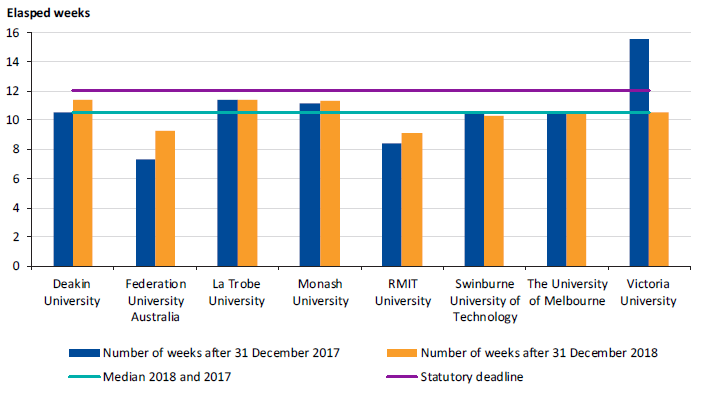 Source: VAGO.
Accuracy
Accurate financial reports do not contain material errors, and reliably represent an entity's financial performance and position.
Material errors found during the audit must be corrected by management before we can issue a clear opinion. Errors that are not corrected by management reduce the accuracy and clarity of the final financial report.
Figure 2C shows separately the net value of the adjusted and unadjusted financial statement errors we identified, as a percentage of each university's respective materiality threshold. The unadjusted errors in the financial reports of the University of Melbourne and Deakin University were material. We qualified our opinions on their financial statements.
Figure 2C also shows that while Victoria University's final financial statements were not materially misstated, the total value of the financial statement errors (including corrected ones) that we identified in the draft accounts was significant. This was mainly due to a finance lease arrangement that management had incorrectly treated as an operating lease. Management subsequently corrected this error in their final accounts.
The net impact of errors we identified in the remaining five universities was well below their respective materiality thresholds. This indicates that the internal controls over financial transactions and reporting processes at those universities are robust and able to prevent and detect significant financial statement errors.
Figure 2C
University sector 2018 net adjusted and unadjusted financial statement errors as a percentage of audit materiality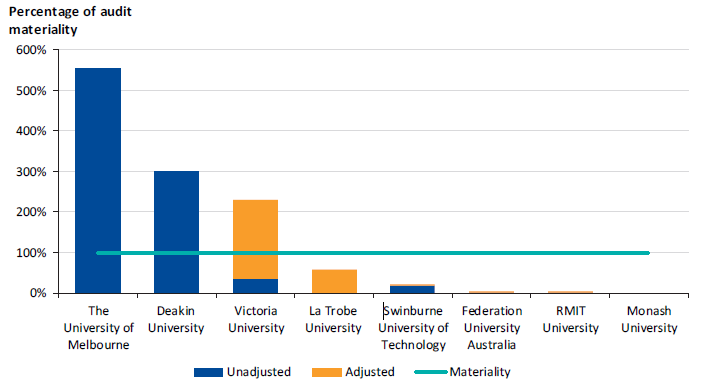 Source: VAGO.
Figure 2D summarises the number of disclosure errors we identified. There were 34 financial statement disclosure errors across the sector. Universities adjusted all but six disclosure errors, and the six unadjusted disclosure errors were not material. The high number of disclosure errors identified highlights the importance of a detailed quality review process in relation to the draft accounts.
Figure 2D
University sector 2018 adjusted and unadjusted disclosure errors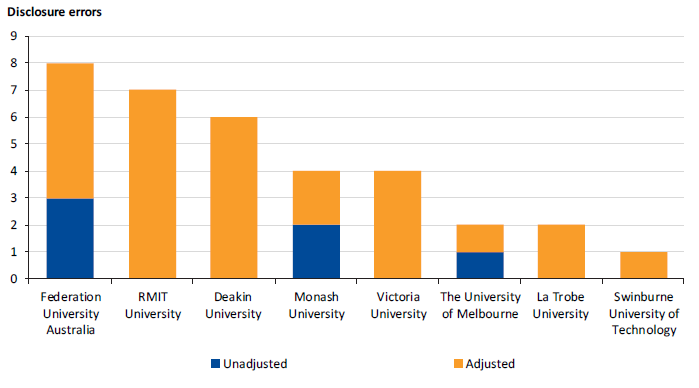 Source: VAGO.
Figure 2E summarises the common types of errors we identified during the audits.
Figure 2E
Significant dollar and disclosure errors identified across the 2018 university audits
Dollar errors

We identified 28 financial statement errors across the eight universities and their controlled entities totalling $394 million. Common themes include:

grant revenue not recognised under the requirements of AASB1004 Contributions
errors in the calculation of leave provisions and depreciation expense
recognising transactions in the wrong financial year.

Disclosure errors

Common financial statement disclosure errors we identified related to:

errors in the classification of balances between different line items in the financial statements
errors in the classification of balances as current and non-current
offsetting revenue and expenses when it is not allowed under the Australian Accounting Standards
calculation errors relating to commitments and key management personnel disclosures
disclosure errors in the cashflow statement.
Source: VAGO.
Introduction of AASB 9 Financial Instruments
A common theme influencing our audits of the universities' financial reports for the year ended 31 December 2018 was the required implementation of Australian Accounting Standard AASB 9 Financial Instruments, which replaces AASB 139 Financial Instruments: Recognition and Measurement.
AASB 9 introduced new classification and measurement rules for financial instruments, resulting in universities having to recognise most of their financial investments at fair value through profit and loss. Many of these investments were previously classified as 'available for sale' under AASB 139, and investment losses were recorded in balance sheet reserves. Under AASB 9, investment losses were recognised as expenditure in 2018, which directly affected the net result.
There were also several additional disclosures required because of the transition from AASB 139 to AASB 9. One of the more complex issues was that recognising unlisted equities at cost was no longer an option under AASB 9. This meant that all universities had to record such investments at fair value in their financial statements.
In many universities, net results were negatively affected by these changes introduced by AASB 9. We discuss these impacts in more detail in Section 3.2.
Internal control observations
To the extent that we needed to test them, universities' internal controls for financial reporting were adequate for ensuring reliable financial reporting. We identified 26 new internal control issues during our 2018 audits. Of these new issues, six were resolved by year end. As shown in Figure 2F, the number of new issues we identify each year, as well as the number of open issues remaining at the end of each year has declined over the last three years. This indicates that the universities are actively addressing their control deficiencies.
Figure 2F
Number of new and open management letter issues in the university sector for the years ended 31 December 2016 to 2018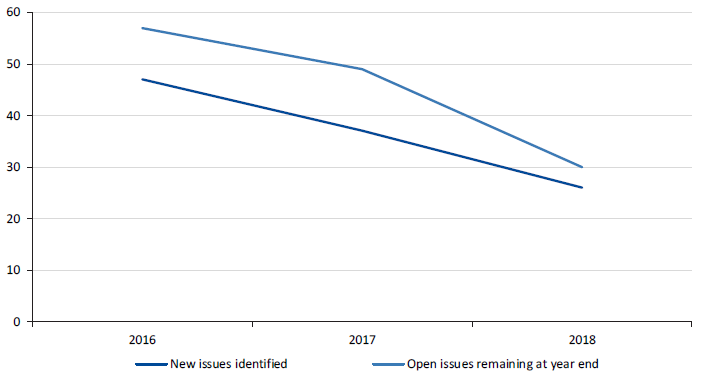 Source: VAGO.
Figure 2G summarises the internal control issues we identified over 2018.
Figure 2G
Summary of university sector's new, prior year, and resolved internal control issues as at 31 December 2018, by risk ratings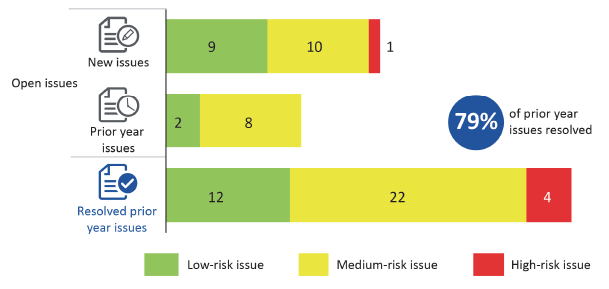 Source: VAGO.
Figure 2H outlines the themes of the 30 open issues at the end of our 31 December 2018 university audits.
Figure 2H
Themes of open internal control issues at 31 December 2018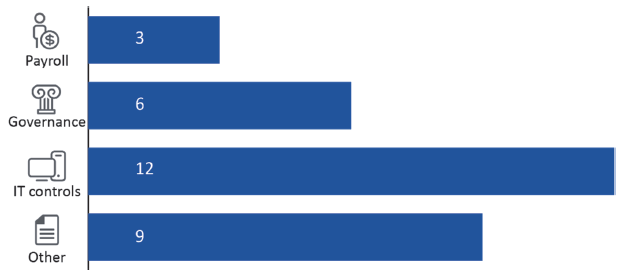 Source: VAGO.
IT control issues largely relate to weak password and user authentication settings, and a lack of monitoring and updating of user access lists. This indicates the sector needs to improve its controls around logical user access to their systems. Allowing unauthorised users to access key systems increases the sector's exposure to significant risks, including:
fraudulent financial reporting
misappropriation of assets
theft or loss of confidential and/or personal information.
None of the open IT issues this year were rated high. However, IT-related control issues have been one of the larger groups of control issues we have identified in our audits over the last few years. This indicates a continuing risk for the sector.
The only high-risk issue identified during 2018 related to payroll. We found control weaknesses around the processing of casual employees and the timeliness of termination payments at Victoria University.
Governance issues covered a variety of topics, but a common theme was improvements needed to internal policies, particularly in the areas of fraud monitoring and asset maintenance. None of the governance-related issues were rated high.