Results of 2018 Audits: Universities
In this part of the report, we discuss the significant upcoming changes in accounting standards that will impact the university sector's financial reporting.
4.1 Conclusion
Six of the eight universities are well progressed in their preparations for the significant changes to the accounting standards that will apply in 2019.
4.2 Upcoming changes to Australian Accounting Standards
In our prior year report Results of Audits 2017: Universities, we highlighted that major changes to Australian Accounting Standards would apply to the university sector for the first time, for the reporting period ending 31 December 2019. These included several new standards:
AASB 15 Revenue from Contracts with Customers
AASB 1058 Income for Not-for-profit Entities
AASB 16 Leases.
Revenue standards AASB 15 and AASB 1058
As described in our 2017 report, the new revenue standards AASB 15 and AASB 1058 introduce significant changes in the way universities will recognise revenue. Under AASB 15, contractual revenue will be recognised by the universities when their customers benefit from the goods and/or services they are paying for under the contract. Currently, under AASB 118 Revenue, service revenue is recognised with reference to the stage of completion of the associated service.
Another significant change is that transactions no longer have to be reciprocal before the recognition of revenue can be deferred. This is because AASB 15 also applies to transactions where goods or service benefits are transferred to a third party on behalf of the customer. Such transactions are considered non-reciprocal and any income would be recognised as upfront contributions under AASB 1004 Contributions.
This change is significant to the sector, especially in accounting for research grants. These grants have been considered 'non-reciprocal' revenue, since the relevant funding bodies, such as the Commonwealth Government, do not benefit directly from the research performed. This means that under current accounting standards, the grant income should be recognised up-front, once funds are received or receivable. This creates a mismatch in the timing of when grant income is recognised and when the relevant research is conducted, which may be over the course of several years.
This timing mismatch has been a contentious issue in the university sector for a number of years, with both the University of Melbourne and Deakin University receiving qualifications on their financial statements for deferring the recognition of their revenue.
With the introduction of AASB 15, the sector will need to review its current accounting practices for research grants to determine whether the standard's new requirements will help to resolve the timing mismatch. Our experience is that applying AASB 15 will require significant effort and judgement from the sector. Contractual arrangements and their terms must meet specific criteria for AASB 15 to apply for grant funding deferral. To apply their desired accounting outcome, the universities will need to demonstrate that the research grant agreements meet these criteria.
If it is determined that any research grant agreements fall outside the scope of AASB 15, it is likely that AASB 1058 will apply. This standard effectively replaces AASB 1004 and requires income for universities to be recognised up front in most cases where other accounting standards do not apply.
These revenue standards changes do not affect the recognition timing of the sector's most significant revenue streams that are paid in advance—student fees and student assistance grants. This is because students benefit from higher education as the service is delivered, which aligns to the stage of completion of the education service provided. Therefore, matching the revenue to the expense period is allowed.
In 2017, the university sector in Australia (including all Victorian universities) engaged an external specialist to perform an analysis of Commonwealth funding, including its student assistance and research assistance grants.
A draft of this paper was provided to the national and state audit offices in early 2018. While we agreed with the high-level principles described in the paper, our feedback to the external specialist and the Victorian university sector was that the universities still needed to undertake their own detailed work. They needed to review the underlying terms within their agreements in more detail before concluding on the correct accounting treatments, especially the research grants from the Australian Research Council and the National Health and Medical Research Council.
The Victorian universities that have completed their accounting treatment assessment of research grants to this point have concluded that it will be appropriate to apply AASB 15 to most of their publicly funded research grants. However, this issue is also under active consideration more broadly by the AASB, with significant input being provided by key accounting and audit firms around Australia.
Based on our observations during the 2018 audit cycle, we assessed how prepared the universities are for implementing the new revenue standards in 2019. We looked at four areas of transition, which are:
whether a detailed and documented plan had been developed prior to 31 December 2018 to ensure readiness for timely compliance with the standards
whether the selected approach outlined in the plan was appropriate and sufficiently detailed to ensure compliance with the new standards
the level of universities' engagement with VAGO around their proposed treatment of revenue, either directly or through our contracted audit service providers
how far the universities had implemented their plans as at March 2019, and whether they were able to quantify the estimated impacts of the new standards and disclose them in their 2018 financial statements.
Figure 4A details the progress of each university in their assessment and implementation of the new revenue standards, and the significance of their research grants in their financial statements.
Figure 4A
Status of universities' transition to the new revenue standards as at March 2019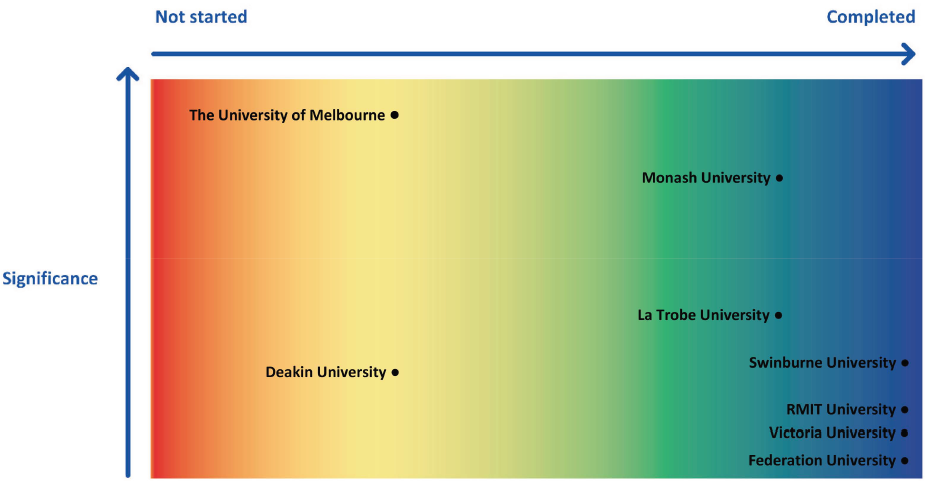 Source: VAGO.
Encouragingly, most Victorian universities had made reasonable progress towards concluding these detailed assessments:
Six of the eight universities actively engaged with us over the course of 2018 on the appropriate future accounting treatment of their grants, including providing us with sample agreements to support their current assessments and positions in line with the new standards.
Six universities completed a detailed and rigorous review of most of their research grants.
Five universities disclosed in their 2018 financial reports a quantification of the expected impact of the changes.
Although Monash University was able to quantify the estimated impact on its financial statements, it did not disclose this estimate as management believed it was not sufficiently reliable. Management was still assessing the treatment of its commercial research agreements, which had highly variable and unique contractual terms. This was appropriate in the circumstances.
Five universities had either significantly progressed or completed the system and process changes needed for ongoing compliance with the new revenue standards.
Appendix C further details our observations on each university's progress in implementing these new revenue standards.
As Go8 universities, the University of Melbourne and Monash University accounted for 80.2 per cent of the sector's research grant revenue. Of the two, Monash University was the more advanced in its implementation of systems and processes to support the recognition of revenue under the new accounting standards, including accounting for research grants. As at March 2019, it had implemented a system solution to enable it to track the completion of performance obligations to a high level of precision and to automate revenue recognition across a range of complex research grant agreements.
Monash University applied the new system after undertaking a rigorous implementation process, which included:
a detailed analysis of its key revenue contracts against the specifications of AASB 15, including an in-depth review of a significant, representative portion of its research contracts
consultation with external specialists
consultation with research faculties and other key stakeholders
engagement with auditors from early 2018, including providing us with their proposed treatments and supporting evidence.
While considerable resources were spent on this project, it was necessary due to the volume, variety and complexity of research funding agreements Monash University has as a Go8 member.
Conversely, the University of Melbourne, which is also a Go8 member and has the highest amount of research grant revenue among the Victorian universities:
had not yet performed a sufficiently detailed analysis of its own underlying research grant agreements—a material component of their revenue—as at 1 April 2019
has not yet shared with us any detailed evidence to support its position and disclosures regarding the impact of the upcoming changes to its financial statements.
We also noted that Deakin University was in a similar position to the University of Melbourne, and in addition, had not yet developed a detailed transition and compliance plan as at 31 December 2018.
We understand that both these universities still hold the view that their research grants should be recognised under AASB 15, as suggested by the high-level advice from the sector's external specialist. As a result, both these universities disclosed that they did not expect a material impact from the changes in the accounting standards.
However, delaying the detailed analysis of their research grant agreements puts these universities at risk of being unprepared for the transition to the new revenue standards during the 2019 financial year, as significant work may be required to comply with the new requirements and to be prepared for audit.
AASB 16 Leases
The changes introduced by AASB 16, while significant and requiring judgement, are generally less complex for the university sector than those introduced by AASB 15 and AASB 1058.
The main change is that universities that lease assets from other parties under operating leases will now have to recognise their right to use those leased assets on their balance sheet, with a corresponding liability for the remaining lease payments. This will eventually include peppercorn leases for which the universities will have to determine the fair value of the leased asset—the AASB has temporarily deferred this treatment until further notice. Under the current standard AASB 117 Leases, operating lease payments are mainly recognised as expenses on the income statement.
Figure 4B shows that the sector is generally more progressed with its transition to AASB 16 than it is with AASB 15 and AASB 1058. This is due in part to the lower complexity and the nature of the disclosures involved. We will be conducting further reviews of the sector's implementation of this standard during 2019.
Appendix C summarises the progress of each of the universities in transitioning to AASB 16.
Figure 4B
Status of universities' transition to AASB 16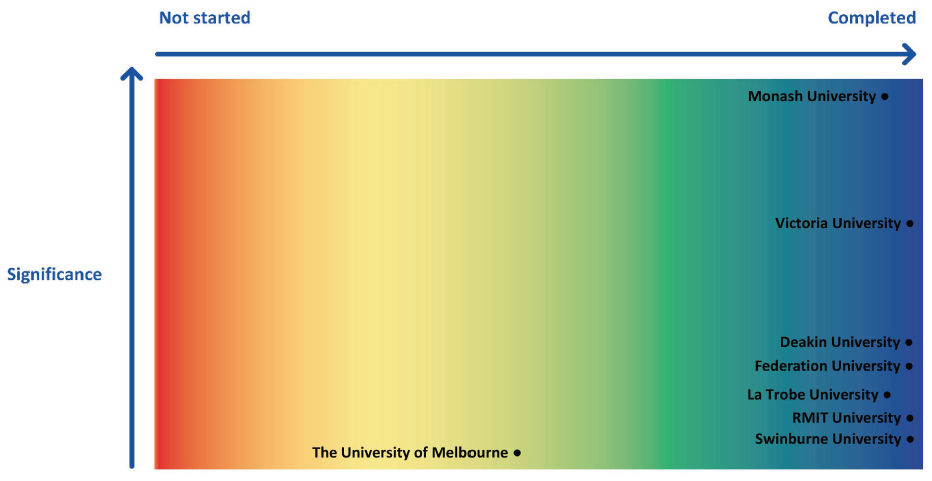 Source: VAGO.
4.3 Recommendation
We recommend that the University of Melbourne and Deakin University ensure they are ready for transition to the new revenue standards by:
prioritising their assessment of the accounting treatment for their research grants
actively engaging with us, the AASB, and the rest of the sector around their assessment and implementation.