Results of 2018 Audits: Universities
3 Financial performance and sustainability
In this part of the report, we summarise the financial outcomes of the university sector for the year ended 31 December 2018 and comment on the sustainability of the sector in the context of information we obtained and observed during our audits.
3.1 Conclusion
The sector continues to be financially sound.
3.2 Financial performance highlights
Figure 3A shows that the sector's revenues and expenses continue to increase. Revenue growth is consistent with increasing student numbers, reflecting strong demand for university-level higher education, with expenditure also increasing proportionately to service this demand. However, part of the 2018 expense increase relates to accounting changes introduced by AASB 9. These changes resulted in:
investment losses accumulated in prior years being recognised as expenditure
unlisted equities being recognised at fair value (previously at cost), which in many cases resulted in their carrying values being written down to nil with the devaluation being recognised as an expense and reducing the net result.
Figure 3A shows that the sector's net result, adjusted for this one-off circumstance, has improved slightly over the 2018 period.
Figure 3A
Financial performance of the university sector for the years ended 31 December 2014 to 2018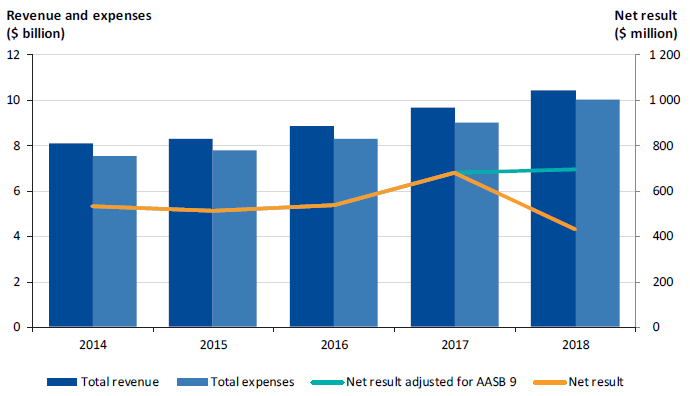 Note: Figures have been adjusted for the two universities with qualified audit opinions.
Source: VAGO.
In 2017, we observed indications of unsustainable operations at Federation University Australia and Victoria University. Since then, both universities have taken steps to streamline their operations by reducing unnecessary expenditure and increasing the efficiency of their employee base.
Federation University Australia also increased its student numbers through the provision of additional course offerings, and the acquisition of Monash University's Berwick operations.
Victoria University trialled a new model of course delivery for its first-year students called 'Flexible Block Study'. It delivers course modules to the students one at a time, over shorter and more intensive periods. In contrast, the traditional model requires students to complete several modules concurrently over a full semester. This new course delivery model has resulted in some operational efficiencies and boosted student numbers due to the popularity of the format.
Because of their efforts, both universities have reversed their medium-term negative trends and posted positive net results in 2018, as shown in Figure 3B.
Figure 3B
Net results for Federation University Australia and Victoria University as at 31 December 2014 to 2018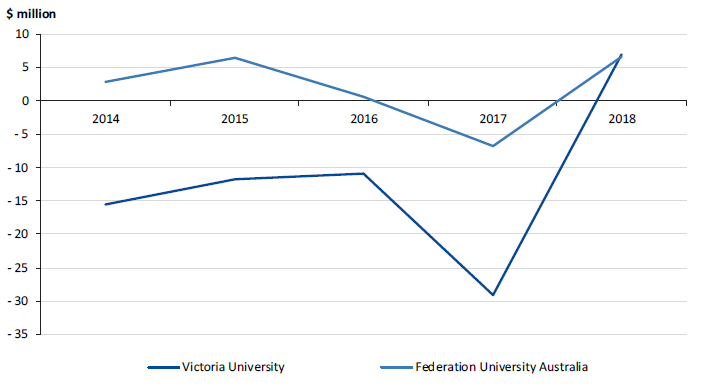 Source: VAGO.
3.3 Financial position highlights
Figure 3C shows the sector's financial position over the last five years.
Figure 3C
Total assets, total liabilities and net assets of the university sector as at 31 December 2014 to 2018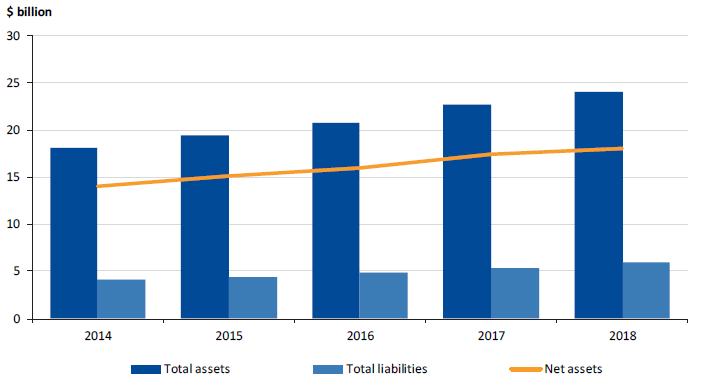 Note: Figures have been adjusted for the two universities with qualified audit opinions.
Source: VAGO.
The adjusted liquidity ratio includes non-current financial investments as most of them can be converted to cash or cash equivalents at short notice and are available to the universities to meet any liabilities if required.
The value of net assets held by the sector increased during 2018, consistent with its positive net result, and the five-year trend. As seen in Figure 3C, the sector has a very strong net asset position. This reflects its large portfolio of land, infrastructure assets and equipment, which the universities use to deliver their services. However, these assets are not easily liquidated, and cannot be relied upon if a university requires cash to meet its debts.
The adjusted liquidity ratio is a better indication of whether the universities are likely to be able to service their debt obligations in the immediate future. Figure 3D shows that, other than RMIT University, all the universities have enough liquid assets to meet their short-term liabilities.
Figure 3D
Adjusted liquidity ratio for universities at 31 December 2017 and 2018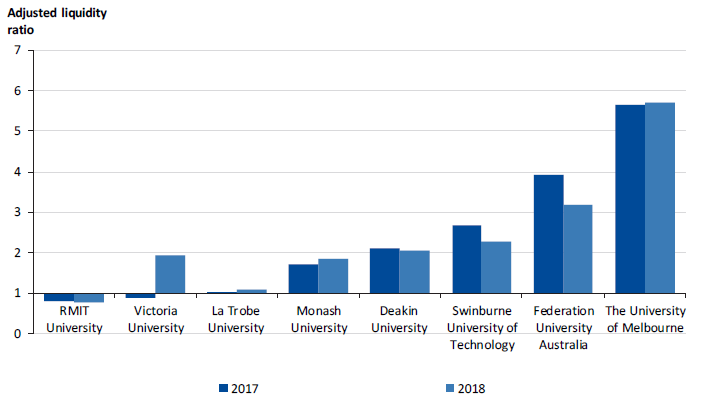 Source: VAGO.
RMIT University proactively monitors its cash position and ensures there is enough cash on hand to meet its obligations as they fall due. This is supported by its historical performance. In both 2017 and 2018, RMIT University had a strong net result and a net cash inflow that was significantly greater than its net current liability. This reduces the risk of it being unable to meet its short-term obligations.
Victoria University has improved its liquidity position significantly from 2017. Part of this improvement was due to the receipt of a large amount of cash from the sale of one of its central business district campuses.
3.4 Student volumes
Student enrolment trends are one of the strongest indicators of the sustainability of the sector. These figures drive the sector's operational activity levels, including the two largest sources of income—student fees and Commonwealth student assistance grants. Figure 3E shows the five-year trend in the total effective full-time student load (EFTSL), as well as the proportion of domestic and overseas students.
Figure 3E
University sector number and proportion of domestic and overseas EFTSL for the years ended 31 December 2014 to 2018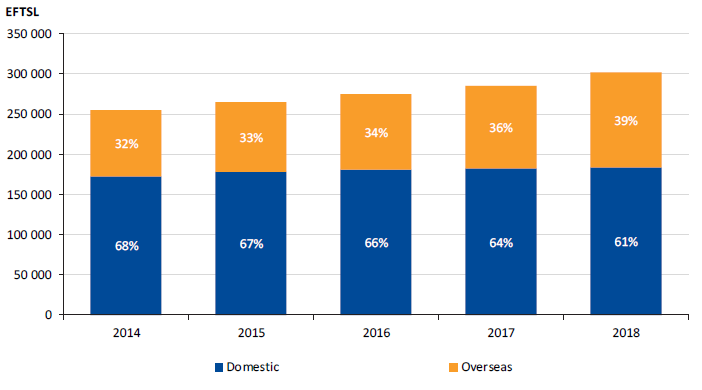 Source: VAGO.
As seen above, the total EFTSL has steadily increased over the last five years. Domestic EFTSL continues to increase at a gradual but steady rate. However, the majority of the sector's growth is driven by overseas students, who now make up almost 40 per cent of the sector's higher education student load.
The greater inflow of overseas students reduces the sector's reliance on domestic fee income and government funding. However, international students are a less reliable customer base than domestic students, as numbers of the former are subject to change due to external factors in other nations.
As the sector's dependence on fee revenue from overseas students increases, it will need to monitor circumstances abroad, and actively manage its recruitment programs to increase the diversity of the source countries that make up the overseas student base.