VPS is a major purchaser of goods and services. Spending on goods and services is typically the largest item of agency expenditure after employee costs. As Figure 1A shows, the value of VPS expenditure on goods and services reported in the 2016–17 Annual Financial Report of the State of Victoria was $18.6 billion for the year.
Figure 1A
Overview of Victorian Government operating expenditure, 2016–17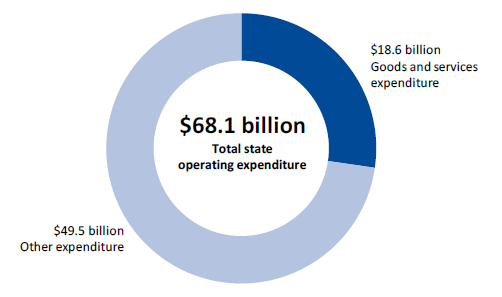 Source: VAGO, based on the Victorian Government's 2016–17 Annual Financial Report of the State of Victoria.
1.1 Departmental goods and services expenditure
VPS has seven government departments:
DEDJTR
DET
DELWP
DHHS
DJR
DPC
DTF.
In 2016–17 these departments accounted for $3.3 billion (17.7 per cent) of the total VPS goods and services expenditure.
Given this level of expenditure, the public sector has many opportunities to use its combined demand for common-use goods and services to achieve better value for money. This can be achieved through SPCs, which aim to:
achieve lower prices by aggregating demand for commonly used goods, such as utilities, office consumables and ICT, and services such as staffing, and travel
improve efficiency by reducing duplication of process.
1.2 Victorian public sector procurement framework
Various legislation governs the VPS procurement framework, described in Figure 1B, and the responsibility for policy advice, tools and training rests with several entities.
Figure 1B
VPS procurement framework
Entities

Authorising legislation

Entity responsible for policy advice, tools, training

Goods and services

All seven government departments
VicRoads, Public Transport Victoria, Cenitex
Victorian Public Sector Commission
23 specified entities

FMA

VGPB

Other non-health entities

Various

Portfolio department or agency

Health entities

Health Services Act 1988

DHHS, Health Purchasing Victoria

Construction

All entities

Project Development and Construction Management Act 1994

DTF
Source: VAGO, based on information provided by DTF.
Victorian Government Purchasing Board
In 1995 VGPB was established under the FMA to:
develop, implement and review supply policies and practices
monitor compliance with supply policies
develop procurement capability
establish and maintain a comprehensive database of departments' and supply markets' purchasing data, for access by departments
provide strategic oversight of major procurements
engage with stakeholders to drive greater procurement efficiencies.
In February 2017 the government gave approval in principle to draft a Bill to amend the FMA and other legislation. The Financial Management and Constitution Acts Amendment Bill 2017 was introduced into Parliament in November 2017 and intends to update VGPB powers, functions and responsibilities.
VGPB's vision is to provide leadership in government procurement of goods and services, in order to deliver value-for-money outcomes for Victoria. Figure 1C depicts VGPB's strategic priorities for 2016–21.
Figure 1C
VGPB's strategic priorities, 2016–21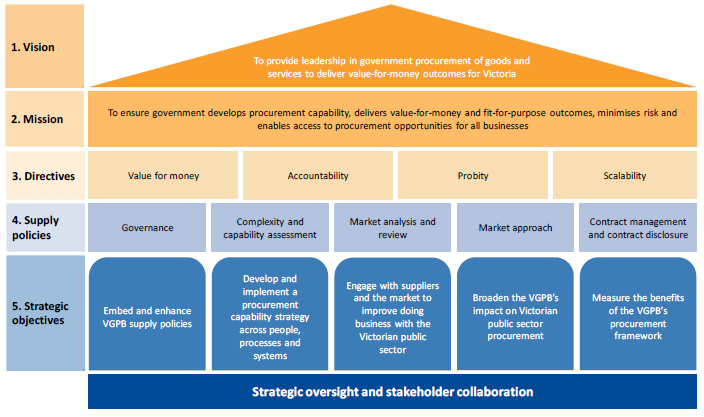 Source: Victorian Government Purchasing Board Strategic Plan 2016–2021.
The five-year strategic plan incorporates a priority for multi-organisation purchasing, which includes SPCs and other procurement models.
VGPB policies relate to the procurement of goods and services only, and apply to the following mandated VPS entities:
all seven government departments
VicRoads, Public Transport Victoria, Cenitex
the Victorian Public Sector Commission
23 administrative offices or bodies specified in section 16(1) of the Public Administration Act 2004.
Appendix B shows the entities bound by VGPB policies.
VGPB policy does not apply to non-mandated public sector entities, local government, the procurement of building and construction works and services, or to health-related goods, services and equipment, as shown in Figure 1D.
Figure 1D
VGPB's sphere of influence across the public sector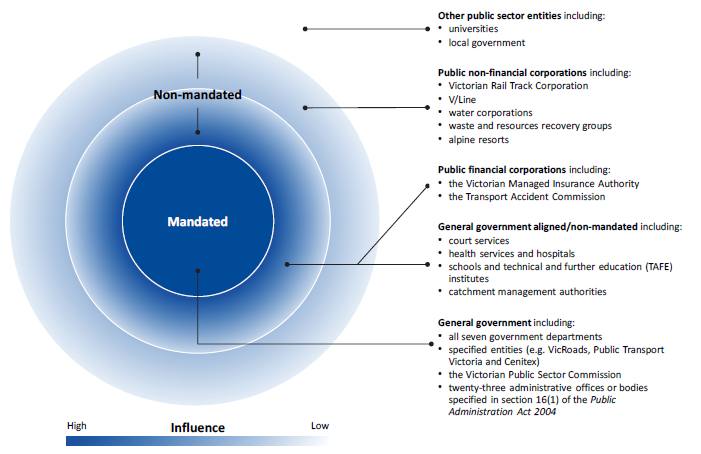 Source: VAGO , based on information provided by DTF.
VGPB works to improve procurement practices for the broader VPS and publishes accessible better practice guidance for all entities regardless of whether they are mandated to comply with VGPB policies or not. VGPB also works with non-mandated entities that want to bring their goods and services spend within the VGPB scope.
VGPB is developing a program to broaden the number of mandated public sector bodies and specified entities that it covers.
1.3 Roles and responsibilities
Victorian Government Purchasing Board
VGPB reports to the Minister for Finance, with DTF providing secretariat and other support. The secretariat is also the conduit for communications between VGPB and departments through procurement forums, the dissemination of relevant procurement information on VGPB's website, and by email to the network of procurement personnel across government.
VGPB receives no direct funding and is instead resourced through DTF's allocation to the secretariat.
In April 2018 the Minister for Finance approved a VGPB request to change its oversight process to a more pro-active, engagement model. This approval recognised the increased procurement capability and governance processes of each department and stakeholder feedback from chief procurement officers.
The changes to VGPB oversight role are intended to drive delivery of the government's procurement reforms and to implement the recommendations of a procurement review undertaken by DPC in conjunction with DTF in December 2017 .
SPC lead agencies
A lead agency is responsible for establishing and managing each SPC. The VGPB Market analysis and review policy specifies that an entity that seeks to establish an SPC must:
consult VGPB regarding the category of goods or services proposed for aggregation and inform VGPB of any analysis of spend or assessment of complexity that indicates grounds for aggregating demand
have a business case endorsed by VGPB prior to submitting it to the relevant minister for approval
demonstrate to VGPB that it has the capability to establish and manage the proposed SPC as the lead agency.
Once the lead agency obtains ministerial approval, it must again notify VGPB.
The VGPB Market analysis and review policy requires SPC lead agencies to:
consider any comments made by VGPB and the relevant minister prior to engaging with the market
inform VGPB and the relevant minister of the outcome of the market engagement process
authorise an SPC head agreement setting out the key terms of a proposed agreement between parties on behalf of the Victorian Government.
Figure 1E shows the lead agencies for the 34 SPCs.
Figure 1E
SPC lead agencies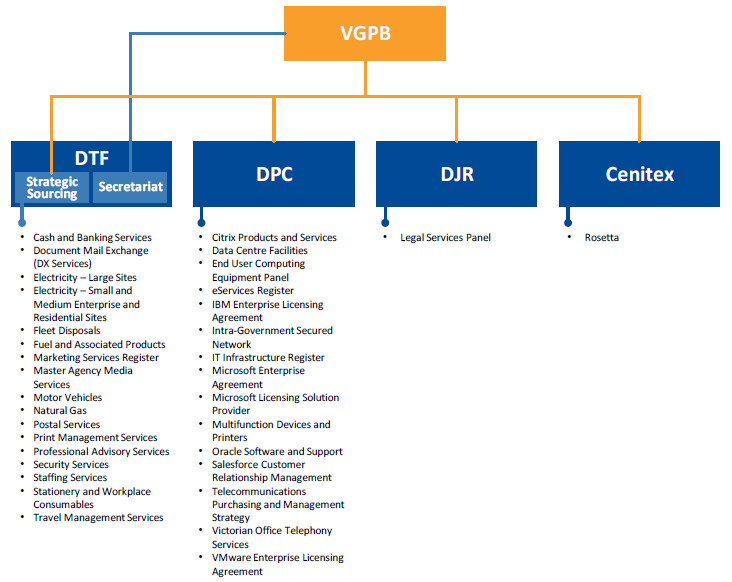 Source: VAGO.
DPC is the lead agency for SPCs relating to ICT, including hardware, infrastructure, telecommunications and software. DJR is the lead agency for the Legal Services Panel SPC. Cenitex is the lead agency for the Rosetta SPC, which relates to identity management and security software. Cenitex advised that the Rosetta SPC will likely terminate during 2018–19 given the government's intent to go to the market for a new identity and access management solution. DTF is the lead agency for SPCs relating to a selection of other goods and services.
1.4 State Purchase Contracts
The value of SPCs is significant and growing. Figure 1F shows that reported spend under SPCs increased from $1.06 billion in 2014–15 to approximately $1.47 billion in 2016–17. This is an increase of 38.7 per cent and accounts for around 8 per cent of total public sector expenditure on goods and service in 2016–17.
Figure 1F
Reported SPC spend by lead agency, 2014–15 to 2016–17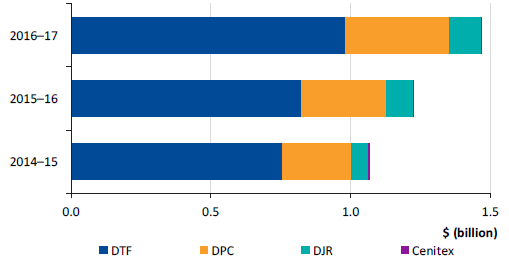 Source: VAGO, based on data provided by DTF, DPC, DJR and Cenitex.
SPCs are either mandatory or non-mandatory—based on an assessment by the lead agency—for entities bound by VGPB policies. Unless the lead agency grants a formal exemption, these entities must purchase from mandatory SPCs.
Statutory authorities, local councils, organisations that government partly funds, and charitable or not-for-profit organisations can use SPCs voluntarily, subject to approval from lead agencies. Where the lead agency grants access to a non‑mandated entity, this is for the duration of the SPC—generally, three years with provisions for two one-year extensions.
At June 2017 there were 34 SPCs—23 mandatory and 11 non-mandatory. Figure 1G provides a breakdown of the reported spend under each SPC for 2016–17.
Figure 1G
Reported SPC spend, 2016–17
SPC

Mandatory or non-mandatory

Estimated spend ($ million)

DTF

Staffing Services

Mandatory

346.7

Motor Vehicles

Mandatory

172.4

Master Agency Media Services

Mandatory

87.5

Electricity—Large Sites

Mandatory

84.6

Professional Advisory Services

Mandatory

71.0

Fuel and Associated Products

Mandatory

55.1

Security Services

Mandatory

46.6

Cash and Banking Services

Mandatory

26.6

Print Management Services

Mandatory

18.7

Electricity—Small and Medium Enterprise and Residential Sites

Mandatory

17.6

Stationery and Workplace Consumables

Mandatory

15.7

Natural Gas

Mandatory

14.5

Travel Management Services

Mandatory

13.9

Marketing Services Register

Mandatory

5.5(a)

Document Mail Exchange (DX Services)

Mandatory

2.3

Fleet Disposals

Mandatory

1.2

Postal Services

Non-mandatory

1.0

Subtotal

 

980.9

DPC

Telecommunications Purchasing and Management Strategy

Mandatory

153.8

End User Computing Equipment Panel

Mandatory

79.7

IT Infrastructure Register

Mandatory

44.6

Microsoft Enterprise Agreement

Non-mandatory

25.5

Microsoft Licensing Solution Provider

Non-mandatory

– (b)

Oracle Software and Support

Non-mandatory

22.0

Data Centre Facilities

Non-mandatory

14.9

Victorian Office Telephony Services

Non-mandatory

10.9

Multifunction Devices and Printers

Mandatory

7.7

Citrix Products and Services

Non-mandatory

5.5

VMware Enterprise Licensing Agreement

Non-mandatory

4.5

IBM Enterprise Licensing Agreement

Non-mandatory

2.9

Salesforce Customer Relationship Management

Non-mandatory

1.5

Intra-Government Secured Network

Mandatory

1.1

eServices Register

Mandatory

– (c)

Subtotal

 

374.6

DJR

Legal Services Panel

Mandatory

113.1

Subtotal

 

113.1

Cenitex

Rosetta

Non-mandatory

0.7

Subtotal

 

0.7

Total

 

1 469.3
(a) DTF estimated spend, not actual spend reported by suppliers.
(b) Spend for this SPC is through the Microsoft Enterprise Agreement.
(c) Spend is not captured by DPC.
Source: VAGO, based on data provided by DTF, DPC, DJR and Cenitex.
Appendix C outlines the scope of each SPC arrangement.
SPCs range from relatively stable goods and services, such as stationery and gas, to rapidly changing commodities, such as telecommunications and personal computers. The different characteristics of these goods and services affect the type of purchasing arrangements needed for each SPC, and influence the monitoring required.
Developing and managing SPCs
Figure 1H shows the key steps in developing and managing an SPC. The process begins with the lead agency developing a category strategy, which it uses to understand the market and potential for SPC development. In the next stage, building on the information contained in the category strategy, the lead agency prepares a business case to establish or renew an SPC.
Once the relevant minister approves the business case, the market is engaged and the lead agency executes the SPC and sets out the terms and conditions. The lead agency then develops a Category Management Plan (CMP) to monitor performance and drive continuous improvement.
Figure 1H
Process for developing and managing an SPC

Source: VAGO, based on DTF's Strategic Sourcing Procedures manual, 2016.
Benefits management
A lead agency should define the expected financial and non-financial benefits of an SPC so that progress against these can be monitored and managed throughout the life of the contract. This includes reviewing the benefits for continued relevance and achievability over time.
Figure 1I outlines a framework used to plan, capture and realise benefits.
Figure 1I
Benefits management framework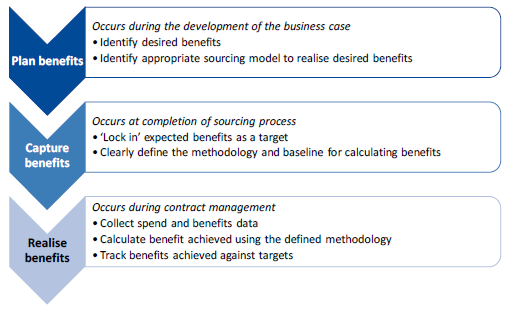 Source: VAGO, based on DJR Procurement Benefits Realisation Framework .
Benefits tracking is critical to a lead agency's ability to demonstrate an SPC's performance. A benefits management framework supports the achievement of the expected outcomes identified in the business case and the benefits finally secured on contract award.
Financial benefits are based on a question—if the SPC did not exist, would the service or goods cost more and, if so, by how much? The answer will be the financial benefit delivered by the SPC. Examples of financial benefits include cost savings through reduced pricing, increased discounts and more favourable payment terms.
Non-financial benefits can relate to environmental, social and risk management aspects. When assessing the impact of SPCs, potential non-financial benefits need to be considered. These can include:
availability of environmentally friendly alternatives
reduction in procurement risks through supplier vetting
better service quality from suppliers as they come to understand government needs through repeat engagements
reduced commercial and legal risks from a consistent set of negotiated and legally endorsed commercial terms and conditions used across government rather than several different agency-specific contracts.
DTF and DPC guidance makes SPC lead responsible for delivering the expected benefits or explaining variances when benefits do not meet expectations.
Benefits and risks of SPC arrangements
Figure 1J summarises the potential benefits and risks of SPC arrangements for government entities and suppliers.
Figure 1J
Potential benefits and risks of SPC arrangements
Entities

Benefits

Risks

Aggregated demand may increase competition among suppliers and contribute to improved pricing, terms and conditions.
There is an ability to build effective working relationships with suppliers who are familiar with the agency's needs and preferences.
A lead agency runs a single tender process for the benefit of many departments and agencies, rather than these agencies running multiple tenders across government for the same goods and services.
Faster procurement of goods and services for SPC users, given the lead agency has already performed the product research, quote sourcing and price.
The pre-qualification of suppliers ensures less risk of an inappropriate provider of goods and services.
Access to a potentially lucrative market for goods or services for a set period.
An increased probability of future work, which assists forward planning.
Familiarity with common processes, terms, conditions and performance criteria for multiple requests for goods or services, which can lead to lower costs.
Being on an SPC may enhance the supplier's reputation and legitimacy in the market.

The goods or services covered by an SPC are rapidly developing, and government cannot pursue or readily access better value-for-money options until the SPC is exhausted.
Suppliers' pricing can be affected if the scope of the SPC is defined too broadly or narrowly.
If the process to establish the SPC is not robust, government may not achieve value for money. For example, potential suppliers may not submit tenders due to onerous conditions, resulting in insufficient responses.
The lead agency may underestimate the cost of managing the SPC. In general, the greater the number of suppliers, the more work in managing the SPC.
Where unsuccessful in an SPC application, there is no opportunity to undertake this type of work with government for the SPC period.
Selection for an SPC may unduly raise supplier expectations regarding work opportunities, as participation does not guarantee a minimum amount of work.
Onerous selection processes may disadvantage small and medium firms.
Suppliers may be bound by agreed terms and conditions for the period of the SPC regardless of external impacts such as higher costs. For example, increase in raw material costs.
Source: VAGO, adapted from the Australian National Audit Office, May 2012, Establishment and Use of Procurement Panels.
SPC sourcing models
SPCs are either sole or multiple supplier arrangements, including panels or pre‑approved registers. Panels can be open or closed. Open panels can accept new suppliers during the term of the contract, closed panels cannot. Figure 1K outlines the different SPC sourcing arrangements.
Figure 1K
SPC sourcing arrangements
Sourcing model option

Sourcing model description

Sole supplier

A lead agency contracts a single supplier to provide goods and services. This is a closed arrangement for a set period. Examples include gas, electricity, and cash and banking SPCs.

Multiple supplier

Panel—allows multiple suppliers, selected through a tender process, access to government work. Panels can be either open or closed.
Pre‑approved register—allows all suppliers access to government business through a pre‑qualification process.

Master vendor

Generally, an arrangement with a single supplier, providing subject matter expertise and market knowledge. The master vendor is responsible for developing partnerships and managing relationships with tier-2 suppliers to provide required services. Used to reduce complexity and administration in managing contracts and suppliers while ensuring a broader access to supply—for example, the Staffing Services SPC utilises a modified master vendor model.

Broker

Typically, an individual supplier arrangement, engaged to source products or services from a third party such as various manufacturers. Quotations are based on pre‑defined statements of work and used where market expertise and buying power is low to deliver better value for money—for example, the Print Management Services SPC.
Source: VAGO, based on DTF's Strategic Sourcing Procedures manual, 2016.
1.5 Previous VAGO audits
In two previous VAGO audits of SPCs—Government Advertising and Communications and Personal Expense Reimbursement, Travel Expenses and Corporate Credit Cards—we found significant deficiencies with their management.
Government Advertising and Communications
This February 2012 audit examined the management of the Master Agency Media Services, Print Management Services and Marketing Services SPCs.
At the time of the audit, DPC was the lead agency for the Master Agency Media Services SPC. DTF was the lead agency for the Print Management Services and the Marketing Services SPCs, although DPC had been the lead agency until December 2009, when management transferred to DTF.
The audit made the following findings:
DPC had not been effective in managing the contracts for the three SPCs reviewed. DPC did not monitor whether contracts met objectives or confirm if negotiated rates were competitive. In addition, there was little evidence that it assessed service provider performance or consistently monitored department and agency spending under each SPC.
Management of the Print Management Services and Marketing Services SPCs improved significantly under DTF, with regular reporting from, and close coordination with, the service providers.
The audit recommended that DPC improve its management of the Master Agency Media Services contract, but in September 2015 the management of this contract also transferred to DTF.
Personal Expense Reimbursement, Travel Expenses and Corporate Credit Cards
This May 2012 audit examined how well DTF oversaw, and user departments managed, SPCs, including their understanding and management of contract leakage. The audit examined the Travel Management Services and the Stationery and Workplace Consumables SPCs.
The audit concluded that user departments had made significant savings from using these contracts. However, user departments and DTF had not fully realised potential savings because significant purchasing still occurred outside these contracts. Apart from the former Department of Justice, user departments had not understood or managed contract leakage.
The audit recommended that:
public sector agencies should report and address expenditure outside of mandatory SPCs
DTF should request an acquittal of contract leakage from participating agencies.
DTF noted in its response to the report that there were opportunities to work with public sector agencies to review the extent of contract leakage.
1.6 Why this audit is important
During 2014–15, VGPB reviewed its supply policies in response to the government's election commitments and broader operational feedback. The review identified a need for VGPB to adopt a stronger role in establishing, reporting and overseeing SPCs, which DTF oversaw prior to 1 July 2016.
It is timely to assess the extent to which SPCs provide value for money and optimise other procurement benefits, given the total value of Victorian Government agency expenditure on goods and services, including under SPCs, and the relatively recent change in SPC oversight arrangements (see Section 1.3).
1.7 What this audit examined and how
Our objective was to assess whether state government agencies are realising benefits in procurement by using SPCs. We examined whether:
SPCs are delivering value for money
SPCs are overseen effectively.
We included eight agencies in the scope of our audit:
Cenitex
DEDJTR
DELWP
DET
DHHS
DJR
DPC
DTF.
We also examined VGPB in its oversight role of state supply policies.
We examined a selection of SPCs based on factors such as strategic importance, spend and stage of contract lifecycle to assess the appropriateness of strategies, including governance, rules of use and reporting requirements. The scope of the audit included the collection of expenditure data from the seven departments' finance systems for the period 1 July 2014 to 30 June 2017.
Given the significant task of obtaining and analysing procurement data, we could not extend analysis to include the 2017–18 financial year.
We conducted our audit in accordance with section 15 of the Audit Act 1994 and the Australian Auditing and Assurance Standards. The cost of this audit was $725 000.
1.8 Report structure
The remainder of this report is structured as follows:
Part 2 examines the availability and quality of data used to inform category planning
Part 3 examines VGPB's oversight role and how well lead agencies oversee and manage SPCs
Part 4 examines whether effective arrangements are in place to monitor and evaluate the achievement of expected savings and benefits from SPCs
Part 5 examines whether departments are using SPCs when purchasing goods and services, and how user and lead agencies manage contract leakage as required by contract agreements and VGPB policies.