Effectively managing the Victorian Government's significant expenditure on goods and services is an opportunity to deliver or improve value for money for the community.
Spend across the VPS can be split into different expense and procurement categories. Good category planning relies on sound knowledge of the market, good quality procurement data and robust information systems to provide a comprehensive picture of spend.
VGPB guidance defines procurement categories as groupings of similar goods or services with similar suppliers. For example, a pen is a good whereas stationery could be the procurement category.
To understand procurement categories, VGPB and lead agencies need to know the goods and services that entities are purchasing, from whom and how much they pay their suppliers, both in unit rates and in total.
The FMA requires VGPB to establish and maintain a comprehensive database of departments' and supply markets' purchasing data, for access by departments. The FMA also provides VGPB with the power to request information and data from mandated agencies relating to the supply of goods and services.
The basis for developing a procurement category strategy is analysing and understanding spend, business requirements, supply and demand, and the market. The next step is to determine how these categories of expenditure can create value for stakeholders.
In some cases, category strategies will recommend aggregation of demand across government through SPCs. Other category strategies may recommend that agencies establish their own arrangements. What is critical is developing the right strategy for each category so that procurement is not driven by a 'one size fits all' approach.
This part examines the development of category strategies, including the availability and quality of data used to inform category planning.
2.1 Conclusion
VGPB and lead agencies do not have a complete picture of the goods and services public sector agencies purchase due to the lack of good quality procurement data and analysis tools. This limits their ability to fully harness the state's purchasing power and increases the risk that SPCs are not maximising value for money. Better information would enhance category planning by allowing insightful analysis of who is buying what, from which suppliers and at what cost. This information would also help identify new SPC opportunities and where the greatest benefits can be achieved.
VGPB has attempted to collect procurement information. However, it has not fully met its legislative responsibilities to establish and maintain a comprehensive database of purchasing data. This is mainly due to the absence of appropriate systems in departments and entities to capture this information. Departments and entities have designed and implemented their financial systems to capture spend data to predominantly meet the needs of financial reporting and payroll functions. They do not have complete procurement information such as volumes, unit prices and products purchased.
The actions underway to establish e-procurement systems , a common chart of accounts across agencies, and standard goods and services classifications are positive. However, this needs to be expedited to enable accurate data collection across departments and entities. There also needs to be a commitment from public sector agencies to improve data quality, and clear direction and support from DTF and VGPB to drive the proposed improvements, and capture and analyse the procurement data.
2.2 Development of category strategies
Effective and efficient purchasing requires a comprehensive picture of the spend profile and of stakeholder and business needs, as well as an analysis of markets . Figure 2A summarises key activities and questions leading to category strategy development and implementation.
Figure 2A
Category strategy development and implementation

Source: VAGO, based on DTF, Strategic Sourcing Procedures manual, 2016.
Although lead agencies undertake market analysis and consult with key stakeholders, including representatives from SPC users, to support category strategy development, VGPB and lead agencies also need detailed expenditure data to identify spend patterns. However, centrally captured, comprehensive and consistently categorised procurement data is lacking, as is a tool to analyse whole-of-government procurement spend.
The absence of appropriate technology and standard processes in departments is a feature of the decentralised and devolved approaches to financial management systems and reporting that arose from the new public sector financial management paradigms of the 1990s. While these approaches have had many positive impacts on improving financial governance and accountability, they have nevertheless created and perpetuated information silos that work against whole-of-government approaches.
What is missing is:
a central e-procurement system to streamline and integrate procurement processes and information across departments
a common chart of accounts across agencies subject to the FMA to consistently capture and code goods and services expenditure to allow better assessment and analysis
standard goods and services classification processes—that is, the use of the United Nations Standard Products and Services Code or the Australian and New Zealand Standard Industrial Classification (ANZSIC).
Departments have expressed interest in the use of a central e-procurement system. However, securing agreement across departments on how to meet all of their needs has proven to be complicated.
The Victorian Secretaries' Board comprises the Secretaries of each department, the Chief Commissioner of Police and the Victorian Public Sector Commissioner.
In 2016 and 2017 the Victorian Secretaries' Board endorsed Statements of Direction to move towards a whole-of-Victorian Government approach to implementing information technology (IT) systems that will support business areas, including procurement. The Victorian Secretaries' Board agreed that DPC will develop a Statement of Direction on procurement systems for the VPS that will outline the high-level requirements for consistent procurement systems in the Victorian Government.
The Statements of Direction aim to provide an agreed position across departments to upgrade and modernise IT systems to simplify processes and better manage resources. This technology has a five-year implementation time line.
VGPB advised that it expects the proposed adoption of e-procurement systems, a common chart of accounts and an expenditure classification framework to play a key support role in better managing and overseeing the state's procurement spend.
While the proposed improvements in systems and processes to capture procurement data are encouraging, VGPB and DTF need to centrally drive the analysis of this procurement data to better understand existing, and identify new, SPC opportunities.
VGPB's role in capturing procurement data
The FMA requires VGPB to establish and maintain a comprehensive database of purchasing data from departments and specified entities.
While the lack of standardised systems and business rules that govern how agencies collect and classify procurement information has hampered its ability to do so, VGPB has responsibility for fostering improvement in these areas. However, VGPB has insufficient resources to actively lead and coordinate a whole-of-government approach to procurement technology.
VGPB has attempted to meet this function by using data collected from ASRs provided by departments and specified entities. However, this information is limited because it includes only:
contract expenditure for non-construction goods and services valued at more than $100 000
procurement activity plans that outline planned procurement activity for the next 12–18 months.
This information does not provide the detailed spend data—unit price, quantity and supplier details—needed to develop category strategies. Consequently, this is not comprehensive purchasing data, which the FMA requires VGPB to collect.
VGPB review of accounts payable data
The absence of comprehensive purchasing data impacts VGPB's ability to meet a key strategic direction in its Strategic Plan 2016–2021 that requires it 'to develop a prioritised program of future multi-organisation procurement opportunities using SPCs or other forms of procurement models in consultation with VPS organisations'. The requirement to collect this purchasing data has been in place since the VGPB was established in 1995, however it has taken over 20 years to address this. In November 2017 it worked with DTF to commission a desktop review of accounts payable data from the seven departments, VicRoads and Victoria Police, to identify procurement saving opportunities. The review used data from 2014–15 and identified savings opportunities of between:
$70 million and $154 million by establishing new SPCs
$49 million and $106 million across existing SPCs, by expanding their scope or by practicing better category management.
The achievement of some of these savings depends on improved technology. The potential implementation of a whole-of-government e-procurement system is likely to enhance DTF's ability to realise these savings.
In the absence of a data classification framework, the review needed to make assumptions when classifying data. For example, if a supplier was on multiple SPCs—for example, PAS and the eServices Register—the review assigned it to one SPC. The data also did not reflect the item that the agency purchased, only the supplier and the value.
Given the limitations of the data, the review recommended a more detailed investigation of individual categories to verify the savings. In May 2018 DTF advised the Minister for Finance that a further 'deep dive' is not warranted at this stage due to:
DTF activity already underway to assess new SPC opportunities—for example, as part of the government's Regional Partnership Policy, DTF is investigating opportunities to aggregate purchasing contracts in regions, and, is considering opportunities to aggregate education and training services in regional locations
the significant level of expenditure identified as relating to building and construction, which is outside VGPB's scope
this audit, which includes more up-to-date data.
Potential changes to VGPB functions
VGPB advised that through the evolution of technology, the interpretation of VGPB's function under the FMA to 'establish and maintain a comprehensive database of purchasing data' has changed to reflect a more complex data management role than envisaged in 1994 when VGPB was established.
While we acknowledge that technology has changed, all government agencies are required to adapt their processes to align with such changes. The evolution of technology should have made it easier for VGPB to establish and maintain a comprehensive database of purchasing data.
In February 2015, DTF undertook a legal review of VGPB's functions and noted that because the purchasing database needs to be comprehensive, the threshold for data collection set by the FMA is high. The legal review stated that VGPB should 'query whether this function needs to be reviewed in light of current practice and resources. This may depend on the kinds of data that it would be useful to collect and why. '
In March 2017, VGPB put forward a legislative proposal to remove the function that requires it 'to establish and maintain a comprehensive data base of purchasing data'. The removal of the function is subject to the passing of the Financial Management and Constitution Acts Amendment Bill 2017, which was introduced to Parliament in November 2017. If this function is not reassigned to another body, it is unlikely that this important database will be delivered.
Better practice in another jurisdiction
As Figure 2B shows, the Western Australian (WA) Department of Finance provides a better practice example of how a central procurement body can capture procurement data to analyse government spending patterns and help identify opportunities to establish SPCs.
Figure 2B
WA Department of Finance interactive dashboard reports of goods and services expenditure
The WA Department of Finance has, since 2006 on behalf of the State Supply Commission, published an annual report—Who Buys What and How—on goods and services expenditure for government.
Agencies provide the Department of Finance with expenditure information categorised by the United Nations Standard Products and Services Code. The report is a valuable source of information for suppliers in identifying opportunities to provide goods and services and for government in identifying new aggregated purchasing opportunities.
More recently, the WA Department of Finance has used this information and data from sales reports provided by suppliers to develop a Who Buys What and How interactive dashboard that government agencies and the public can access. The public version excludes commercially sensitive information.
The dashboard, launched in July 2018, will help agencies understand the spend in different expenditure categories and identify potential contract aggregation opportunities. The interactive dashboard provides greater transparency of agency expenditure with the ability to 'drill down' several levels for more detailed information.
Appendix D shows screenshots of the type of information displayed by the dashboard.
Source: VAGO, based on information provided by the WA Department of Finance.
SPC category strategies
In developing a category strategy, lead agencies typically prepare a draft strategy for discussion with the designated user reference group, which comprises key user representatives from each of the departments. Lead agencies also undertake extensive market analysis, including identifying stakeholders and business needs.
However, the lack of accessible, quality expenditure data has compromised the development of category strategies. Lead agency knowledge of procurement expenditure is limited to departments' and agencies' spend on SPCs. Also, this data comes from suppliers, rather than from users. Consequently, VGPB and lead agencies have no visibility of all the spend data in an expenditure category.
In comparison, the New South Wales (NSW) Government uses a system called NSWBuy. This is a one-stop shop for all NSW Government procurement. Suppliers use the system to tender for government work and manage their product catalogues, and buyers from government agencies use it to access these product catalogues to make a purchase. Buyers can build shopping lists from the product catalogue with current unit rates and purchase from whole‑of‑government contracts online.
Users purchase goods and services centrally and the system records the products that agencies have ordered, including the rates paid and quantities ordered. This information can then be used to perform a spend analysis at a product level for a department or at the whole-of-government level. This analysis of an entire category of spend can underpin the development of category strategies.
Victoria bases decisions about which SPC to establish or renew on analysis of the supplier-reported data of spend on existing SPCs, rather than on comprehensive expenditure data from all users in an entire category of goods and services. For this reason, the category strategies in place relate to specific SPCs, rather than entire expenditure categories, which results in potential missed opportunities to realise further benefits.
Travel category
The travel category strategy does not include an analysis of all government expenditure on travel. This data is not available to the lead agency, DTF. DTF is able to analyse spend data through the Travel Management Services SPC only, as reported by the travel management supplier, not by government users. The December 2014 category strategy for the Travel Management Services SPC noted the absence of complete and reliable spend data, given DTF did not mandate the booking of accommodation in Victoria under the previous SPC. This means that DTF lacked comprehensive spend data on Victorian accommodation.
Our review of departments' accounts payable data identified that more than $4 million was spent on accommodation in Victoria in 2016–17 outside the SPC. This is almost half the value of what those seven departments spent on the SPC that year. Since establishing the current Travel Management Services SPC, DTF has acknowledged this and has worked with user departments to increase the number of Victorian accommodation bookings that users make through the SPC. These efforts have resulted in a doubling of accommodation bookings from 2016–17 to 2017–18. As usage of the Travel Management Services SPC increases, DTF will have a more comprehensive view of travel spend across the state. However, as the Travel Management Services SPC is only mandatory for accommodation outside Victoria, DTF will still only capture travel spend booked through the SPC, not the entire category spend.
Professional Advisory Services SPC
As Figure 2C shows, the PAS SPC provides a case study of the importance of category planning in establishing an SPC. This SPC commenced in September 2015 and expires in August 2019. It offers Commercial and Financial Advisory Services (CAFAS ), Tax Advisory Services, Financial Assessment Services and Probity Services . DTF has broken these four categories down into 20 sub‑categories. Before DTF established the current PAS SPC, these four services were available as four separate SPCs.
DTF has several challenges with the PAS SPC:
Its size makes management hard.
There is limited visibility of the hourly rates charged.
The high number of sub-categories makes tracking compliance hard.
Figure 2C
PAS category planning
PAS is an open panel SPC—suppliers can join at any time during the contract term following a tender process. DTF adopted the open panel model to align with the objective of providing greater access to government business.
PAS also aims to streamline government engagement with service providers by merging the four separate service contracts—CAFAS, Tax Advisory Services, Financial Assessment Services and Probity Services—into a single SPC.
When developing the PAS SPC category strategy and business case, no spend data was available for past CAFAS services engaged by government. Spend on CAFAS services has subsequently been shown to make up approximately 90 per cent of spend on the PAS SPC in 2016–17.
The March 2015 business case, for combining the four SPCs into one PAS SPC, states that DTF expected the annual contract value for the PAS SPC to be approximately $25 million a year. The actual value of the PAS SPC in 2016–17 was more than $71 million.
At contract commencement, DTF appointed 106 suppliers to the panel, with an additional 124 suppliers added. The sheer size of the PAS SPC, with 230 suppliers, has presented DTF with challenges in managing the contract. Without an automated system, the management of the SPC has primarily focused on contract administration and contract refreshes to ensure that the panel continues to deliver on the government's commitment to support local jobs. DTF has lacked the resources to undertake more strategic contract management activities for the PAS SPC such as sharing savings opportunities with users and ensuring compliance with ceiling rates.
Given the significant challenges, DTF has commenced a review of the PAS SPC category strategy. As part of the process, DTF advises it will engage and collaborate with the chief procurement officers of the seven departments and the PAS SPC user reference group to identify improvement opportunities in the lead up to a new PAS SPC. DTF also intends to engage an external subject matter expert to obtain market intelligence and benchmarking in the PAS industry and consider how the current PAS SPC compares with best practice in the broader market.
While the review and collaboration with stakeholders will provide greater insight into user needs and the market, the issue around the lack of quality data remains because accurate and comprehensive spend data on professional services across government is still not captured.
Source: VAGO, based on information provided by DTF.
2.3 Department procurement spend
Analysis of departmental expenditure data
VGPB does not have a comprehensive database of purchasing data, so we used our access powers to obtain, consolidate and analyse financial data from the seven departments for the three financial years from 1 July 2014 to 30 June 2017.
Appendix E includes a description of our methodology and screenshot from our business intelligence tool.
Using this unique dataset, we obtained insights into:
the goods and services that are purchased (procurement category analysis)
who purchases the goods and services (department analysis)
who departments purchase from (supplier analysis).
We can also use our tool to analyse any combination of the above. For example, we can analyse a department's procurement spend in professional services, analyse which suppliers the department engages the most and when payments mostly occur.
Australian and New Zealand Standard Industrial Classification
We used ANZSIC to identify expenditure categories for departmental spend. As Figure 2D shows, ANZSIC is a hierarchical classification with four levels. At the divisional level, the main purpose is to provide a broad overall picture of expenditure—see Appendix F for descriptions of each division. The subdivision, group and class levels provide increasingly detailed dissections of these categories for the compilation of more specific and detailed expenditure information.
Figure 2D
ANZSIC classification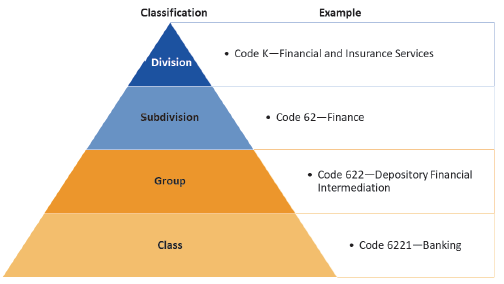 Source: VAGO, based on ANZSIC.
Departmental operational expenditure
Figure 2E displays total departmental operational expenditure, by ANZSIC divisions, for 2014–15 to 2016–17. This expenditure includes goods and services, as well as inter-governmental spend, superannuation and grants.
Figure 2E
Departmental operational expenditure summary, by ANZSIC division categories, 2014–15 to 2016–17
Division

2014–15
$ (million)

2015–16
$ (million)

2016–17
$ (million)

Total
$ (million)

Public Administration and Safety

9 748.5

8 928.6

10 140.9

28 818.0

Education and Training

5 253.4

6 174.6

5 053.5

16 481.5

Professional, Scientific and Technical Services

1 758.2

1 809.9

2 452.0

6 020.1

Health Care and Social Assistance

1 603.4

1 722.7

2 011.2

5 337.3

Construction

1 234.3

505.1

2 150.2

3 889.6

Electricity, Gas, Water and Waste Services

1 130.2

1 106.4

1 338.3

3 574.9

Financial and Insurance Services

1 184.1

752.3

449.6

2 386.0

Arts and Recreation Services

515.6

653.3

587.9

1 756.8

Administrative and Support Services

491.0

497.8

501.5

1 490.3

Other Services

391.9

500.8

443.5

1 336.2

Transport, Postal and Warehousing

287.8

211.5

396.3

895.6

Information Media and Telecommunications

233.7

273.6

279.0

786.3

Wholesale Trade

230.8

248.0

291.7

770.5

Retail Trade

243.2

246.1

208.2

697.5

Manufacturing

161.0

161.0

217.4

539.4

Rental, Hiring and Real Estate Services

94.4

115.2

161.3

370.9

Agriculture, Forestry and Fishing

65.9

71.2

56.4

193.5

Accommodation and Food Services

35.2

32.9

37.1

105.2

Mining

5.6

3.1

2.4

11.1

Uncategorised

1 339.4

1 117.5

1 690.2

4 147.1

Total

26 007.6

25 131.6

28 468.6

79 607.8
Note: Uncategorised expenditure reflects items with missing or invalid Australian Business Numbers in the data we extracted from agencies. Further follow up could have identified these items, however, this was not warranted. It should be noted that, as a result, expenditure amounts in the other categories may be slightly understated, but not materially. Data provided by DHHS excludes payments pertaining to grants, housing procurement cards, clients (for example, concessions, gas, electricity and water, assistance), bushfire and flood disasters, and payroll, given the sensitive nature of the information.
Source: VAGO, based on data provided by DTF, DPC, DJR, DHHS, DET, DELWP and DEDJTR.
Around $60.5 billion (76 per cent) of the total expenditure of $79.6 billion during the three-year period is concentrated across five key ANZSIC division categories.
Construction had the largest rise in expenditure across the three years, increasing by $915.6 million—followed by Professional, Scientific and Technical Services by $693.8 million.
In percentage terms, Rental, Hiring and Real Estate Services had the greatest increase—71 per cent.
Operational expenditure by departments
Figure 2F shows that DEDJTR (31 per cent) and DET (26 per cent) had the largest spends during 2016–17, at $8.8 billion and $7.4 billion respectively. Their combined expenditure made up 57 per cent of the total spend analysed ($28.5 billion).
Figure 2F
Proportion of operational expenditure by department, 2016–17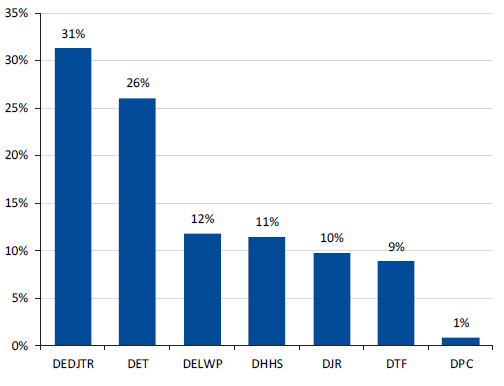 Source: VAGO, based on data provided by DTF, DPC, DJR, DHHS, DET, DELWP and DEDJTR.
Goods and services purchased
Of the $28.5 billion expenditure across the seven departments in 2016–17, we identified $3.3 billion (11.6 per cent) as spend on goods and services, as Figure 2G shows. The remaining $25.2 billion includes inter-governmental payments, superannuation and grants.
Figure 2G
Departmental goods and services expenditure, 2016–17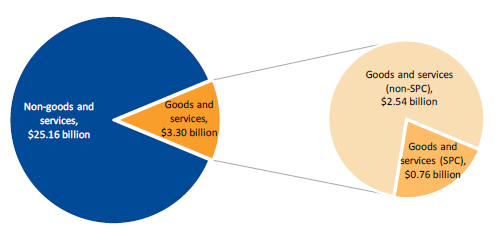 Source: VAGO, based on data provided by DTF, DPC, DJR, DHHS, DET, DELWP and DEDJTR.
Of the $3.3 billion in departmental spend on goods and services, departments spent $0.76 billion (23 per cent) through an SPC. This strongly indicates that opportunities to aggregate purchasing through new SPCs remain unrealised.
Figure 2H shows the total goods and service expenditure by ANZSIC divisions for 2016–17.
Figure 2H
Goods and services expenditure summary by ANZSIC divisions, 2016–17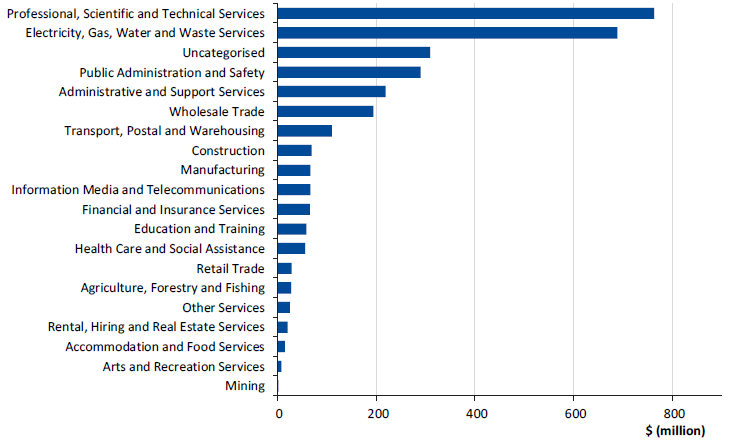 Source: VAGO, based on data provided by DTF, DPC, DJR, DHHS, DET, DELWP and DEDJTR.
Expenditure in the top five ANZSIC goods and services divisions (excluding uncategorised) comprises around $2.2 billion, or 67 per cent, of the total 2016−17 goods and services spend.
Appendix G provides a further breakdown of 2016–17 departmental spend on goods and services by subdivision, group and class.
Who purchases the goods and services?
As Figure 2I shows, the combined expenditure for DELWP, DJR and DHHS during 2016–17 makes up 72 per cent of the total goods and services spend for the financial year.
Figure 2I
Proportion of goods and services expenditure by department, 2016–17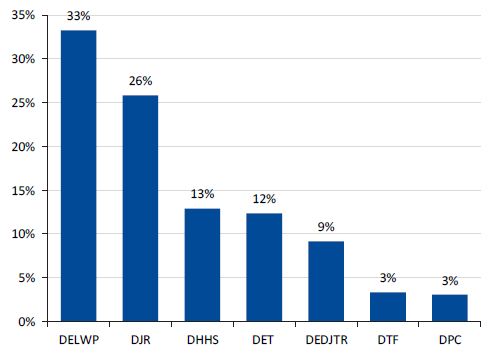 Note: Figures may not total 100 per cent due to rounding.
Source: VAGO, based on data provided by DTF, DPC, DJR, DHHS, DET, DELWP and DEDJTR.
Figure 2J shows the breakdown of the top five expenditure categories by departments.
Figure 2J
Top five expenditure categories by department, 2016–17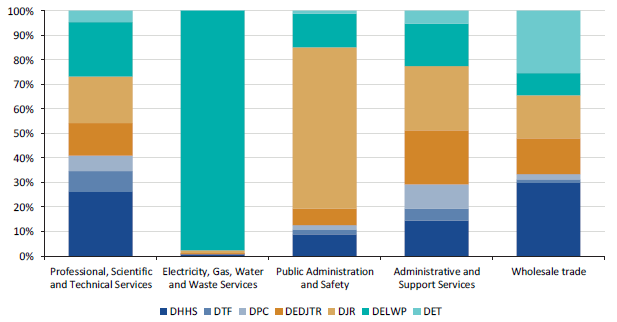 Note: Uncategorised spend not included.
Source: VAGO, based on data provided by DTF, DPC, DJR, DHHS, DET, DELWP and DEDJTR.
Who departments spend with
In 2016–17 the departments purchased goods and services from more than 20 000 individual suppliers. Figure 2K shows the top 10 suppliers, by value, used by at least four departments. The value of spend across these suppliers is $480.3 million (15 per cent) of total goods and services expenditure.
Figure 2K
Top 10 goods and services suppliers, including ANZSIC divisions, 2016–17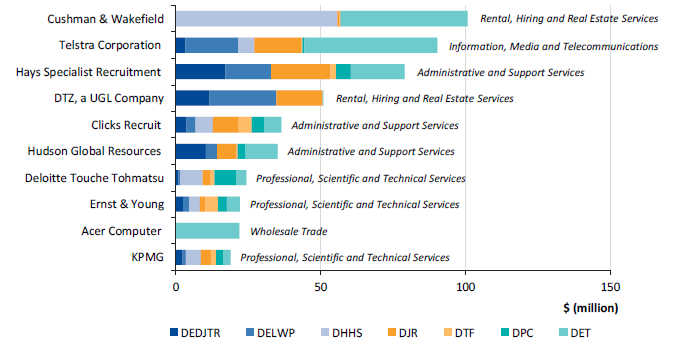 Source: VAGO, based on data provided by DTF, DPC, DJR, DHHS, DET, DELWP and DEDJTR.
Eight of the 10 suppliers in Figure 2K are nominated on an SPC. The two suppliers that are not part of a current SPC arrangement receive the highest spend (Cushman & Wakefield) and fourth-highest spend (DTZ, a UGL Company). Spend to these suppliers falls within the Rental, Hiring and Real Estate Services expenditure division. The majority of this expenditure is for office accommodation and property management services of government‑leased and owned properties provided by Cushman & Wakefield through the Shared Service Provider within DTF.
New SPC procurement opportunities
Lead agencies can achieve further savings by exploring new SPC opportunities. Retenders for existing SPCs typically occur in a mature market where government has already realised the initial savings from collective procurement, which limits further benefits.
Using our tool, we identified areas of common goods and services expenditure where current SPCs do not exist. These are categories where the Victorian Government can potentially realise benefits if departments and other public sector agencies work collaboratively to aggregate spend and coordinate market engagement and procurement activity:
Accounting services, which had a $37.1 million total departmental spend in2016–17. DHHS had the largest spend—28 per cent—followed by DTF and DPC at 26 per cent combined, and DET at 19 per cent. The remaining three departments made up 27 per cent. The top two suppliers account for 94 per cent of the total spend.
Market analysis and statistical services, which had a $13.4 million total departmental spend in 2016–17. DET spent 27 per cent of this, DHHS 21 per cent, DEDJTR 17 per cent and other departments purchased the remaining 35 per cent. The top five suppliers account for 52 per cent of the total spend.
For these three categories, it is likely that departments are currently paying different rates for the same goods and services, leading to potential inefficiencies and waste.
Other new SPC opportunities may also be available. However, lead agencies will need to use their knowledge of the relevant markets, and comprehensive and quality spend data, to undertake more detailed investigation.