Asset Management and Maintenance by Councils
1.1 Assets managed by local councils
In 2012–13, Victorian local councils managed over $73 billion in physical assets within their municipalities. These assets represent investments that have been built up over a long period of time, and include buildings, parks and gardens, roads, bridges, council land and drainage networks. The mix of assets varies with different types of councils. For example, for inner metropolitan councils land makes up the largest proportion of assets in terms of their value, while roads and bridges make up the greatest proportion for outer metropolitan and regional councils. Across all councils in Victoria, land makes up around 40 per cent of the total value of assets, roads 30 per cent and buildings 10 per cent.
1.1.1 Purpose of asset management
The physical assets managed by councils support the delivery of core services, facilitate economic activity and strengthen the economy in the long term. These infrastructure assets also support community activities throughout Victoria.
The primary aim of council asset management is to maintain an asset portfolio that effectively meets current and future demand for services. These services include:
roads and drainage
traffic and parking
health and food safety
waste management and the environment
leisure facilities and public space
cultural heritage and libraries
welfare and community services
land use planning and enforcement
business and economic development.

Wodonga Aquatic Venue and Exercise Space, photograph courtesy of Wodonga City Council.
The way councils plan, acquire, operate, maintain, renew and dispose of assets can have a significant impact on council service delivery and long-term financial sustainability. Councils should manage assets effectively and efficiently to achieve the best outcomes for the community.
1.1.2 Asset maintenance and renewal
All councils face the problem of ageing assets. As the condition of assets deteriorates, the level of service supported by those assets diminishes. Councils must invest in maintaining and replacing those assets if they wish to maintain the same level of service.
The asset 'renewal gap' refers to the difference between the funding that councils need to renew their existing assets and the money they actually allocate to this purpose. What they need and are able or prepared to fund is determined by councils after weighing up available data and evidence, competing priorities, and differing viewpoints. The renewal gap for Victorian councils is estimated to be $225.3 million in 2012 with the cumulative asset renewal gap predicted to grow to almost $2.3 billion by 2026. The nature of the renewal gap, and which types of assets it applies to, varies from council to council. Some audited councils are struggling to renew assets such as buildings and swimming pools, while others are more challenged by renewing roads and drainage systems.
Figure 1A shows the predicted cumulative growth in the renewal gap across all Victorian councils.
Figure 1A
Cumulative aggregate renewal gap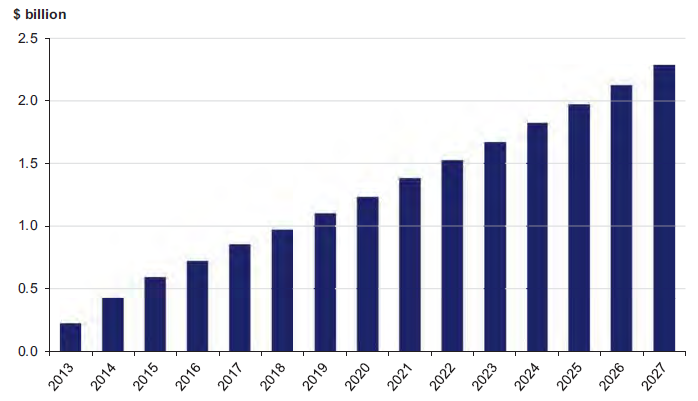 Source: Municipal Association of Victoria's STEP program overview and results, 2012–13.
The consequences of not effectively managing the renewal gap are reduced levels of services, poorer quality of community life and lower economic activity. Of course, spending more money on assets requires raising revenue by increasing council rates, increasing debt via further borrowings, or spending less on other services, so there is a need to carefully balance renewal spending against a sustainable level of service delivery.
Other potential consequences of not addressing the renewal gap are:
the accelerated deterioration of assets if timely maintenance is not undertaken
more expensive rectification treatments and/or earlier than planned renewal costs for some assets that have deteriorated beyond their critical intervention levels
risks to community service levels and potential safety risks to the public if assets deteriorate to the point of failure.
Councils' cumulative renewal gaps will be significantly affected by how well they determine their maintenance, renewal, upgrade, disposal and new asset requirements each year, and how much funding they allocate towards these various elements. This balance will also have an impact on councils' cumulative renewal gap, and their asset and service outcomes well into the future.
In some circumstances, councils may choose to reduce community service levels in exchange for savings from reduced investment in asset maintenance and renewal.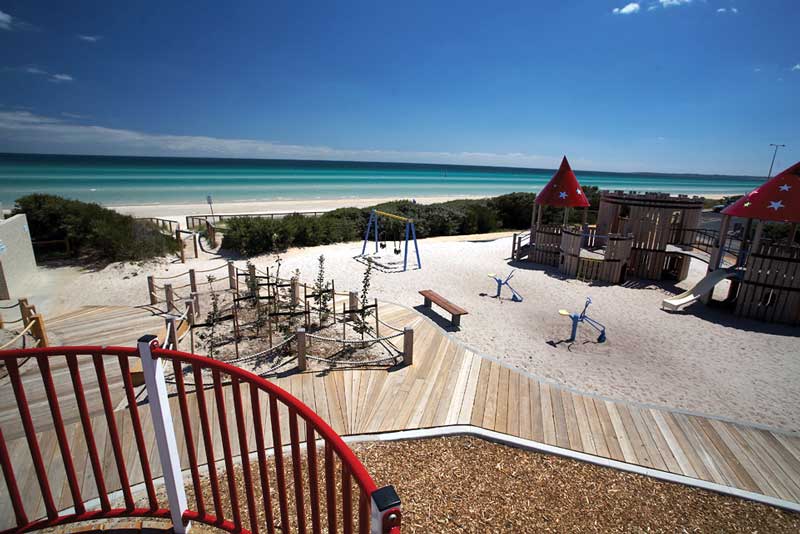 Chelsea foreshore playground, photograph courtesy of City of Kingston.
1.1.3 Key Victorian bodies
Councils
Local government is recognised under the Victorian Constitution Act 1975 as a distinct and essential tier of government consisting of democratically elected councils having the functions and powers necessary to ensure the peace, order and good government of each municipal district. Victoria has 79 local councils.
Local Government Victoria
Local Government Victoria (LGV) is a division of the Department of Transport, Planning and Local Infrastructure that oversees the administration of the Local Government Act 1989. It works with the local government sector and other parts of government to strengthen business, governance and funding practices to ensure councils function effectively. LGV provides support and guidance to councils in a range of areas, including asset management. This involves developing and disseminating better practice guides, conducting annual asset management performance surveys, and other specific initiatives.
Municipal Association of Victoria
The Municipal Association of Victoria (MAV) is the peak body for Victoria's 79 councils and is governed by the Municipal Association Act 1907. The role of MAV includes advocating local government interests, building the capacity of councils and providing guidance and support in a range of areas, including asset management. MAV has taken a long and strong interest in promoting better asset management within councils through various initiatives, including its STEP program. The STEP Asset Management Improvement Program commenced in 2002 with a self-assessment model based on the International Infrastructure Management Manual. This is a capacity building program developed to assist councils to improve their asset management capability and long term sustainability.
1.1.4 Key legislation and frameworks
Local Government Act 1989
The Local Government Act 1989 states that the primary objective of local councils is 'to endeavour to achieve the best outcomes for the local community having regard to the long-term and cumulative effects of decisions'.
Councils must seek to ensure that resources are used efficiently and effectively and that services are provided to best meet the needs of the local community.
Section 136 of the Act requires councils to implement principles of sound financial management, which include:
managing financial risks faced by councils prudently having regard to economic circumstances—including the management and maintenance of assets
ensuring that decisions are made and actions are taken having regard to their financial effects on future generations.
The Act specifies the functions of a council, which include planning for and providing services and facilities for the local community, and providing and maintaining community infrastructure within the municipality.
There are also other Acts that govern council actions in relation to asset management, for example the Road Management Act 2004.
National Asset Management Assessment Framework
In 2006, in response to a series of reports highlighting issues with local councils' asset management practices, particularly in regard to the growing asset renewal gap, the federal government's Local Government and Planning Ministers' Council (LGPMC) agreed to develop a series of nationally consistent frameworks on financial sustainability for local government. One of these frameworks was for asset planning and management.
Following consultation with local governments and other relevant bodies, LGPMC endorsed the nationally consistent frameworks in March 2007.
The National Asset Management Assessment Framework (NAMAF) is a methodology for assessing the maturity of a council's asset management practices. It was developed jointly by the Australian Centre of Excellence for Local Government and the Institute of Public Works Engineering Australia. It is a self-assessment tool to assist local councils to identify their progress in implementing best practice asset management processes.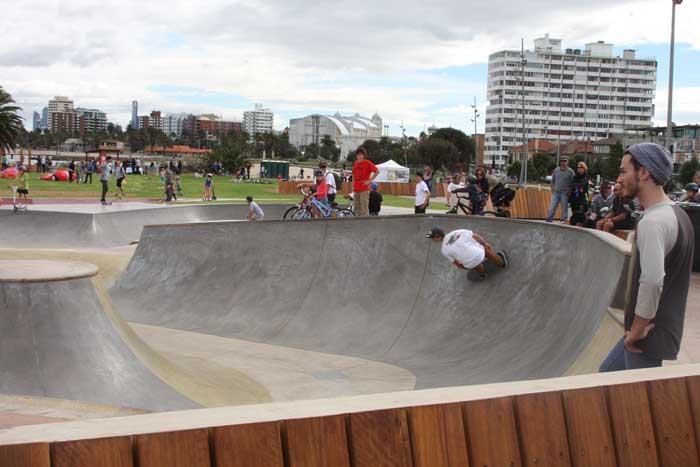 Skate park, photograph courtesy of Port Phillip City Council.
NAMAF includes a set of elements and sub-elements against which councils can judge how they are managing their asset portfolios. The key elements include:
strategic long-term plan
annual budget
annual report
asset management policy
asset management strategy
asset management plans
governance and management
levels of service
data and systems
skills and processes
evaluation.
In 2009, LGPMC agreed to enhance the national asset and financial management framework and committed to an accelerated implementation. Since 2010, MAV's STEP program has also incorporated NAMAF. Councils in Victoria self-assess against the NAMAF each year and report their results to MAV following a review and feedback on their assessments, conducted by consultants engaged by MAV.
1.2 Previous audits
This audit provided a detailed analysis of council financial and performance reporting, financial results and key internal controls. The audit analysed the trends of six key financial sustainability indicators, including capital replacement and renewal gap. Findings relevant to asset management were:
capital budgeting should have a longer-term focus connected to councils' strategic objectives and plans
the majority of councils—77 per cent—did not demonstrate links between their operational and capital budgets, and minimal consideration was given to asset depreciation or the ageing of existing assets in order to achieve an appropriate balance between maintaining older assets and investing in new assets
37 councils departed from their approved capital works budgets by 20 per cent and 45 by more than 10 per cent.
This audit found that councils' long-term financial plans were not supported by equivalent strategic plans, or service and asset management plans. There was little evidence that councils regularly reviewed their services in accordance with best value principles to inform future spending decisions.
The audit made a number of recommendations including that councils review their asset management frameworks to assure their asset policies, strategies and plans were up to date, covered all major asset classes, and adequately informed future investment decisions. The audit also recommended that LGV provide better targeted support and assistance to councils to address identified weaknesses, and that LGV monitor the impact of these support initiatives to inform its future efforts.
This audit found that councils had not developed strategies for high-risk structures. Councils needed to define meaningful levels of service for road users, set targets that take account of community expectations, and publish information that measures past achievements and the expected implications of future levels of resourcing.
The audit recommended that councils define levels of service for their bridges that capture the outcomes that are important to road users, and incorporate associated targets and measures in their plans.
This audit found that there was a lack of forward planning by local councils and their capital budgets were seldom based on detailed analysis of actual capital requirements. Councils were not managing their capital expenditure programs well, and had not implemented comprehensive asset management plans that allowed them to plan their capital expenditure.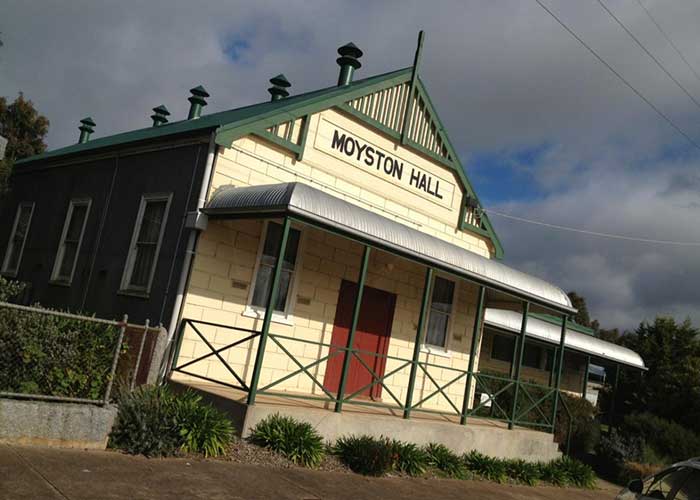 Moyston Hall, photograph courtesy of Ararat Rural City Council.
1.3 Audit objectives and scope
The audit objective was to assess whether local councils effectively manage their physical infrastructure assets by examining whether councils have:
developed and applied a sound strategic framework for asset management
implemented efficient and effective asset management practices that are consistent with better practice
been provided with appropriate guidance and support to manage assets.
The audit focused on LGV and five local councils, which collectively manage around $5.4 billion in physical infrastructure assets:
Ararat Rural City Council
Cardinia Shire Council
Kingston City Council
Port Phillip City Council
Wodonga City Council.
1.4 Audit method and cost
The audit was conducted in accordance with section 15 of the Audit Act 1994 and Australian Auditing and Assurance Standards. Pursuant to section 20(3) of the Audit Act 1994, any persons named in this report are not the subject of adverse comment or opinion.
The cost of the audit was $450 000.
1.5 Structure of the report
This report is set out as follows:
Part 2 examines the asset management frameworks used by local councils and the guidance and support available.
Part 3 examines the asset management practices used by local councils.