Asset Management and Maintenance by Councils
3 Councils' asset management practices
At a glance
Background
Better asset management practice helps councils to manage their infrastructure planning and spending well. To achieve this they must implement, monitor and review their asset plans, and report on their progress to the council and their communities.
Conclusion
While council asset management practices are improving in various areas, they do not yet meet better practice. Councils are not adequately addressing asset renewal. This affects the level of service councils can provide to their communities and, without timely and appropriate action, will likely affect council financial sustainability in the longer term.
Effective asset management is being inhibited by a combination of underdeveloped asset management information systems and a lack of skilled resources. This prevents councils from effectively monitoring, evaluating and reporting on their progress in implementing plans.
Findings
Spending on existing assets is not keeping pace with the consumption of these assets. Councils are not able to meet existing asset renewal requirements, resulting in renewal gaps growing and accumulating each year.
None of the councils has adequate monitoring, evaluation and reporting processes in place for asset management.
Community engagement around assets is poor.
Recommendations
Local councils should:
develop a strategy for reducing their asset renewal gaps
improve their asset management information systems
improve the provision of information to the community, and engagement with the community on asset management
develop and implement monitoring, reporting and evaluation systems and publicly report on their asset management performance.
3.1 Introduction
Councils should operate within a sound and strategic asset management framework, but for this framework to be effective they must also follow through with robust asset management practices. This requires them to make many complex decisions and take appropriate action in asset operation, maintenance, renewal, upgrade and disposal, including new capital spending when needed to meet changing community demands and service levels.
If councils are making these decisions well, it will be evident in a number of areas including the state of their asset management plans, their capital works budgets, the management of their renewal gaps, and how they monitor, evaluate and report progress on asset management.
3.2 Conclusion
Council asset management practices have improved, but do not yet met best practice in a number of areas.
Audited councils have underdeveloped asset management information systems and a lack of skilled resources, particularly the smaller and regional councils. Councils also have poor systems for monitoring, evaluating and reporting on the progress of implementing plans. Community engagement around assets is generally poor.
Spending on existing assets is not keeping pace with the consumption of these assets. Audited councils are not able to meet existing asset renewal requirements, resulting in cumulative renewal gaps growing every year. This situation is likely to adversely impact the condition of assets, service levels and councils' long-term financial sustainability.
There are significant differences in expenditure against capital works budgets for the audited councils. Underspending by several councils suggests there is scope to better integrate capital works programs with asset management and long-term financial planning.
3.3 Asset management practices
In order to assess how well councils in our sample perform in their asset management practices, we focused on whether they had:
implemented asset management plans as intended
effectively managed their capital works budgets and the asset renewal gap
made the best use of the available resources to effectively deliver the intended services to their local communities
evaluated and reviewed the implementation of their asset management strategies and plans.
3.3.1 Delivery of the budgeted capital works program
Developing and adhering to a capital works budget is a key aspect of effective asset management. We analysed councils' capital works budgets against their actual capital spend from 2009–10 to 2011–12.
Figure 3A illustrates the wide fluctuations between audited councils, with several significantly underspending against their capital works budget targets over the three-year period. Adhering to capital works budgets is an indicator of sound financial planning and management and is consistent with good asset management practice, although variations from budget may occur for a range of reasons, some of which may be outside the control of councils. It is therefore important that there is transparent reporting on the reasons for budget variations.
Figure 3A

Comparison of actual capital spend to capital budget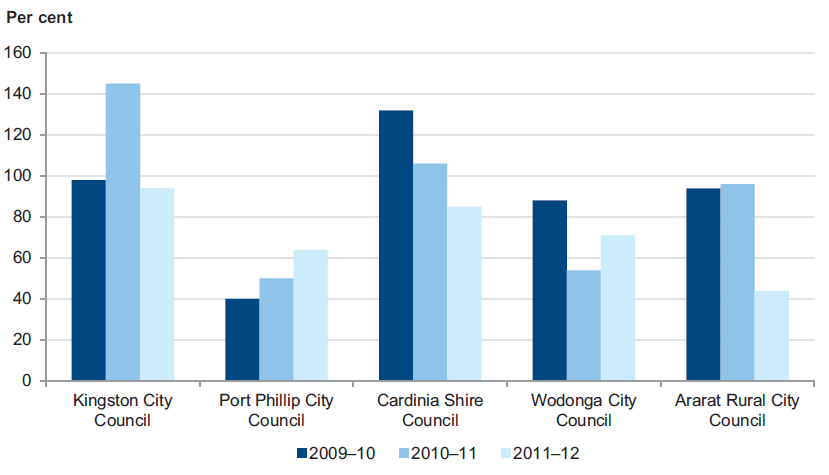 Source: Victorian Auditor-General's Office.
Councils are required to provide explanations in their annual reports for major differences between budgeted and actual capital works expenditure. Common explanations are work delays, reprioritised and reallocated works, works carried over from the previous year, unplanned works, and capital works brought forward. However, these explanations were more descriptive than explanatory and often did not fully detail the reasons for such significant variations. For example, councils frequently reported that the project was delayed, but usually did not identify the underlying cause of the delay or the potential impacts. This provides limited transparency and accountability to ratepayers.
The large deviations from budgets points to a need for some councils to better integrate their capital works budgets and programs with asset management plans and long-term financial plans. They should also set realistic and achievable levels of capital expenditure that are determined by identified community service needs and standards. Several councils commented that when they rely significantly on federal or state grants, it is more difficult to match budgeted and actual capital spend.
3.3.2 Managing the renewal gap
A key challenge for councils is to ensure their municipalities' assets are adequate for supporting the services the council provides to its community. This requires councils to systematically plan for, and continually invest in, asset maintenance, renewal and replacement. Failure to invest in these in a timely way results in an asset renewal gap that grows and becomes worse over time, putting the quantity and quality of council services at risk.
The need for action to address the renewal gap is not new. A report prepared in 1998 for Local Government Victoria's (LGV) predecessor, Facing the Renewal Challenge – Victorian Local Government Infrastructure Study, warned that unless steps were taken to address the renewal gap, the amount required for renewal would more than double by 2012. In 1997, the five-year renewal cost for Victorian councils was around 4 per cent of total asset value, but by 2011–12, this figure had risen to 7.5 per cent. Overall, councils are not making sufficient progress in addressing their renewal gaps. While addressing the renewal gap may require some hard decisions, failure to make those decisions will only lead to harder decisions in the future, and will result in the continuing deterioration of assets and services.
Renewal gap analysis in audited councils
Each year, councils determine their asset renewal requirements, which include the costs of renewing, restoring and replacing existing assets. Figure 3B shows the estimated funding needed to renew assets for the audited councils.
Figure 3B

Infrastructure renewal, 2011–12 to 2015–16
|   | Kingston ($mil) | Port Phillip ($mil) | Cardinia ($mil) | Wodonga ($mil) | Ararat ($mil) | All audited councils ($mil) |
| --- | --- | --- | --- | --- | --- | --- |
| Year 1 renewal cost (2011–12) | 22.4 | 17.7 | 24.7 | 5.4 | 3.6 | 73.8 |
| Year 1 council budgeted funding | 19.2 | 11.2 | 24.7 | 3.4 | 5.4 | 63.9 |
| Year 1 renewal gap variance | 3.2 | 6.5 | 0 | 2.0 | –1.8 | 9.9 |
| 5-year renewal cost (2011 to 2016) | 120.6 | 94.1 | 123.5 | 25.6 | 21.2 | 385.0 |
| 5-year council budgeted funding | 93.5 | 55.9 | 123.5 | 23.1 | 26.8 | 322.8 |
| 5-year renewal gap variance | 27.1 | 38.2 | 0 | 2.5 | –5.6 | 62.2 |
| 5-year average annual renewal gap | 5.4 | 7.6 | 0 | 0.5 | –1.1 | 12.4 |
Note: In Ararat's case, only 2010–11 data was available.
Source:Victorian Auditor-General's Office, using data from Municipal Association Victoria's benchmarking survey – reported in STEP Program Overview and Results 2012–13.
This analysis shows that for 2011–12, funding of $73.8 million was needed to renew assets in the five audited councils. However, councils collectively budgeted for around $63.9 million—14 per cent less than required.
The estimated required funding for the five-year period to 2015–16 is $385 million, but councils budgeted $322.8 million, a shortfall of 16 per cent. This suggests that some councils are unable or unwilling to fund their identified asset renewal requirements. As a result, their asset renewal gaps continue to grow annually. This will likely adversely impact the condition of asset portfolios and levels of service that councils can provide to their communities.
For councils individually, Figure 3B highlights that:
Kingston planned to underspend in 2011–12 by $3.2 million, or 15 per cent, and planned to underspend over the five years to 2016 by $5.4 million per year, or 22 per cent
Port Phillip and Wodonga both planned to underspend in 2011–12 by 37 per cent and Port Phillip by a proposed 41 per cent over the 5-year period
Cardinia planned to fully meet its renewal requirements in the short and medium terms
Ararat's budgeted renewal funding exceeded demand by an average of $1.1 million per year, or 27 per cent, over five years.
Figure 3B also shows that renewal expenditure estimates and the capacity to meet these varied considerably across the audited councils. Many factors account for these differences including:
council size
asset profiles
the historical approach to asset management
funding sources
staff skills and capabilities
the council's appetite for debt and borrowing.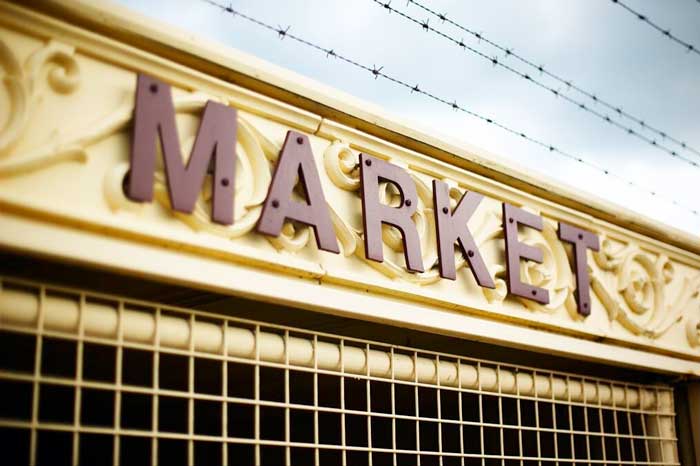 Market, photograph courtesy of Port Phillip City Council.
One council commented that councils estimate their renewal budgets based on their own capacity to fund their asset requirements, and do not take into account future state or federal grants that may also be applied to renewal needs, or the possibility of using council reserves. These additional funding sources could significantly reduce a council's renewal gap.
Councils' approach to managing renewal gaps
The audited councils have identified a number of key challenges in managing their renewal gaps, including:
having a complete understanding of their physical assets, especially their true value and condition, and the associated costs of maintaining, renewing and replacing them—this requires improved asset information systems for collecting, processing and analysing large volumes of asset data
developing more sophisticated asset data models—the data models currently used to forecast renewal funding requirements have significant limitations
employing and retaining skilled staff to properly develop and effectively use asset management information systems
managing various service level risks associated with timely asset intervention works, and the risk of community dissatisfaction, including through asset disposal decisions.
Most councils provided only limited information on how they manage their renewal gaps. While they generally demonstrated a good understanding of the challenges and risks they face in managing their renewal gaps, they were less able to provide clear evidence of having effective strategies to mitigate those risks, or plans outlining how they intend to manage their renewal gaps.
One council suggested that grants to councils from state and federal governments for new infrastructure should be tied to council asset renewal performance. It argued that whole-of-life costing of asset renewal requirements be undertaken at the time of grant applications and that future council costs be stated in terms of equivalent rate increases to ensure better investment decisions. The same council advised that it uses a benchmark of 3 per cent of assets past their intervention point as an indicator of a poorly performing council, and has kept its own close to 1 per cent.
The Municipal Association of Victoria found in 2011 that only 31 councils were fully funding their asset renewal needs, and the remaining 48 had a renewal funding gap. In 2012, the former Department of Planning and Community Development commissioned a review of the status of council asset management practices. It found that on three key asset management issues councils have not made significant progress since 1998 when the Facing the Renewal Challenge report was completed. Persistent issues included the continued expansion of the asset base and increased service levels, the need for good asset management information, and the need for asset management plans with targeted and affordable service levels.
Improving asset management practices would reduce the magnitude of forecast renewal gaps. This view is supported by LGV.
Reporting requirements on renewal gaps
There are major differences between the use of 'greenfield' versus 'brownfield' asset valuation methods when assessing renewal requirements and reporting on asset renewal gaps. Greenfield valuations are based on the costs of the initial acquisition or construction of an asset at an undeveloped site. On the other hand, the cost to rebuild or replace an existing asset includes such costs as demolition, disposal and site restoration. When renewing assets, these costs form part of the real costs to the council and are referred to as brownfield unit rates. These two methods can produce widely varying estimates when calculating renewal requirements because:
the greenfield method meets financial reporting requirements, but for councils' practical asset management purposes, may significantly underestimate the actual cost of renewing the infrastructure
the brownfield method usually provides a more accurate picture of the funding required to meet present and future infrastructure requirements and is more likely to be used by councils for estimating their renewal requirements.
The impact of these different methods of determining the renewal gap can be illustrated by the very different unit rates or costs associated with each method. For instance, for footpaths and cycle paths the average brownfield renewal rate used by one council was $150 per square metre compared to its greenfield rate for new construction of $73 per square metre. Similarly, for kerb replacement, its greenfield rate was $63 per lineal metre compared to $180 per metre for its brownfield rate. Brownfield rates factor in additional costs that enable the asset to be constructed, including any demolition and removal of existing infrastructure, and site preparation.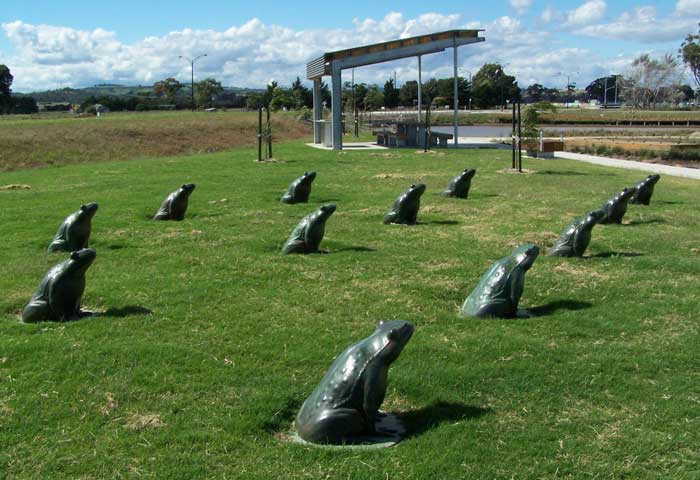 Amphibitheatre, Public Artworks by Heather B Swann, photograph courtesy of Cardinia Shire Council.
The valuation of assets issue is further complicated by other factors, such as the age and condition of assets and different definitions of asset renewal. For instance, a council with a relatively young asset base indicated that when using accounting definitions of asset depreciation its 2012–13 annual depreciated asset value is about $8 million, while if using brownfield rates its estimated real renewal requirements are closer to $4 million.
The valuation of assets in council balance sheets is based on greenfield rates and calculates the assets' current replacement cost in accordance with Australian Accounting Standards.
Another important valuation and measurement issue is how councils determine the useful life of an asset. For instance, some councils will use 88 years as the average life of a road pavement and others 160 years. Such differences have a major impact on asset renewal estimates. Councils should be required to report the basis of their renewal estimates and to use consistent approaches.
3.3.3 Asset disposal practices
Asset disposal is one strategy councils can use to reduce their asset management liabilities when assets have reached the end of their useful life or are no longer needed. We came across many examples of assets that audited councils consider surplus to their needs, including council buildings and public swimming pools.
The appropriate disposal of assets is an integral part of the asset life cycle and is an essential part of the asset management strategy. Asset disposal decisions should consider what new assets will be acquired and how assets being disposed of will be replaced. An asset disposal plan should establish why and when assets may be disposed of and how this can be done most effectively.
None of the five councils was able to provide evidence of a documented asset disposal policy, and there was limited evidence provided by them of a systematic approach to asset disposal.
Managing 'gifted' and non-council assets
Some assets held by local councils are 'gifted' assets—assets that are built or purchased by other government authorities and then given to local councils to operate and maintain. Some councils indicated they would prefer not to have the responsibility for managing those assets, which commonly include buildings and parks and recreational facilities, because they are unable to dispose of them but are obliged to maintain them at a substantial cost.
3.3.4 Asset information systems and knowledge resources
Effective asset management requires complete, reliable and useful information about the assets. However, councils are struggling to achieve best practice in the information systems they use to manage assets.
Over many years, the effectiveness of asset management has been limited by poor asset data and information systems. Two audited councils advised that during the local government amalgamations that occurred in the mid-1990s, they inherited a myriad of asset data and information systems that were fragmented and lacked complete and reliable asset information, particularly about the condition of assets.
Councils are still not confident that all assets under their control have been identified and recorded. For example, one council's current road pavements asset management plan notes the council's historical records are incomplete. Similarly, another council advised that it is still finding drains that are not on the council records. This situation reduces the capacity of councils to effectively monitor, evaluate and report asset performance and properly plan for maintenance and renewal.
Condition assessment information
Without comprehensive, timely and reliable information about the age and condition of all council assets, sound strategic planning and management of those assets is compromised.
We found that all councils had undertaken periodic condition reviews of their major infrastructure assets. We mentioned the challenges councils had following the council amalgamations in producing a complete inventory of the assets within their municipalities. The current challenge for many councils is being able to collect, store and effectively use the large volumes of asset information they need to plan strategically to meet their asset maintenance and renewal requirements.
One council advised it regularly undertakes condition reviews of its infrastructure assets, but does not have up-to-date condition information on all of its assets. For example, it does not undertake condition surveys of its drainage assets because pipes are mostly inaccessible and unsafe to enter, and expensive to survey. Other councils have indicated they are hampered by poor asset management information systems and insufficient resources to address this problem.

Karkarook Park, photograph courtesy of Kingston City Council.
Upgrading asset management information systems
Over the past few years councils have recognised the importance of obtaining a more thorough understanding of their asset portfolios in order to effectively manage assets. Consequently, there has been a push within councils to upgrade their asset management information systems or develop new systems that are compatible with their other corporate systems and activities.
These systems must be capable of performing multiple, complex functions. They need to have comprehensive asset data storage and retrieval capabilities and strong asset management and analysis capabilities. They also need to link to key financial and service data in related systems.
Kingston is the most advanced in implementing a comprehensive asset management information system that integrates with other corporate systems, although this is still under development. Other councils are endeavouring to implement similar integrated asset management information systems, but this is proving a major challenge for them in terms of time, skills and the resources required to make systems work effectively.
In Victoria, councils have assessed their own requirements and sourced a variety of systems. This is in contrast to Western Australia and Queensland where state governments have provided common asset information management systems. LGV should investigate the merits of this approach for Victoria.
3.3.5 Skills and resources for asset management activities
Better practice requires councils to determine what skills and knowledge they require to effectively undertake asset management functions, and to identify and facilitate training for staff. Councils should develop an asset management skills matrix, which identifies staff training needs and details scheduled training.
Only one audited council has developed a skills matrix, although it needs to review and update it to incorporate asset management and financial planning skills. Four councils had not yet assessed the skills and knowledge they need to effectively manage infrastructure assets, and had not developed a matrix. One council indicated this action is a priority for its next asset management strategy review.
None of the five councils had developed a structured professional development program for staff with asset management responsibilities. While larger councils believe they have a high level of skills and knowledge across their organisation in asset management, smaller and regional councils experience difficulties in attracting people with the relevant skills and knowledge.
Councils operate in an environment of limited resources and capacity constraints. Collaboration between councils can potentially generate efficiencies for them, including in asset management. Efficiencies may be derived through increased purchasing power, skills and knowledge sharing, or through agreements about the funding and management of common areas.
We noted a successful collaborative project between a regional group of five councils, including one in our audit sample. This involved a joint tender for road sealing works that generated substantial savings for each of the participating councils, estimated at $3 million, or 15 per cent of the total project cost. This project was supported by LGV's collaborative procurement program as part of the Local Government Reform Fund. Being a member of Procurement Australia is another successful collaborative venture. Procurement Australia source a range of goods and services contracts for councils, and assure their quality, including within the asset management area.
All five audited councils acknowledged the potential benefits of collaboration in asset management and have been actively involved in collaboration in some capacity.
Some councils noted that one difficulty of collaboration was in determining common aims, methods, costs or outcomes that might be achieved. Greater standardisation in asset management practices across local government may improve this.
3.3.6 Monitoring, evaluation and reporting
Sound asset management should include robust monitoring and evaluation processes and the preparation of timely, comprehensive reports that inform council decision-making and the community.
None of the audited councils had fully developed or documented monitoring, evaluation and reporting practices for assessing and reporting their asset performance against their strategies and plans. While councils' policy and strategy documents identify monitoring roles and responsibilities for asset management, they do not describe the processes to be followed in sufficient detail.
None of the councils had developed an asset performance evaluation methodology incorporating performance measures, targets and indicators that would enable an informed assessment of their progress in implementing asset management strategies and plans. This inhibits councils' ability to assess and report asset performance and to make sound and timely decisions.
Internal reporting includes quarterly performance reports that contain progress on the implementation of asset plans and capital works programs, and quarterly financial reports including explanations for any variance between budgeted and actual expenditure. A sample of these reports indicated a common lack of detailed and strategic reporting.
All five councils had established reporting requirements that incorporate asset management information. However, reporting practices do not sufficiently detail their progress in implementing strategies and plans, or report the outcomes achieved.
Reporting to the community
Councils are required to produce an annual report containing audited financial statements and standard performance statements. We found that these reports provide little information on asset management and outcomes.
Council websites are also generally at a very rudimentary level in terms of providing adequate and readily accessible information on councils' management of assets, or asset issues generally.
There is considerable scope to improve reporting to the community on asset management, by reporting against performance measures and long-term strategic plans and by including more detailed explanations on budget variances in capital works programs. Councils also need to address the lack of useful information on their websites, to provide a greater awareness to their communities of the asset management challenges they face, their approach to them, and how they are performing.
Recommendations
Local councils should:
as a priority, develop a strategy for more effectively reducing their asset renewal gaps
improve their asset management information systems and knowledge of their asset portfolios to ensure they have up-to-date information on all assets
identify and review the skills and resources required to effectively manage infrastructure assets, including developing a skills matrix and action plan to address identified skill and resource requirements and gaps
improve the provision of information to, and engagement with, the community on asset management
develop and implement comprehensive asset management monitoring, reporting and evaluation systems, and publicly report their progress and performance against plans and strategies, including against capital works budgets.
Local Government Victoria should:
investigate options for supporting councils to develop and upgrade their asset management information systems, including by reviewing practices in other jurisdictions.