Child and Youth Mental Health
Mental health problems are the most common health issues facing young people worldwide, according to the Global Burden of Disease Study 2017. Three-quarters of all mental health problems manifest in people under the age of 25. One in four Australians aged 16–24 years will experience mental health problems in any given year, while 2.1 per cent of Australian children and adolescents have a severe mental health problem and a further 3.5 per cent have moderate mental health problem. One in 10 Australian adolescents (10.9 per cent) have deliberately injured themselves, and each year one in 40 (2.4 per cent) attempt suicide.
The Australian Government's national survey of child and adolescent mental health defines the most common and disabling mental health problems that children and young people in Australia experience as:
major depressive disorder
attention-deficit/hyperactivity disorder
conduct disorder
social phobia
separation anxiety
generalised anxiety
obsessive-compulsive disorder.
Figure 1A summarises the most recent data on children and young people's mental health problems. This data references various years and sources, and highlights that some children and young people are at higher risk of having a mental health problem. For example, children and young people from socio‑economically disadvantaged families have higher rates of mental health problems. Children living in out-of-home care experience two to five times higher rates of mental health problems and more than double the rate of serious suicide attempts.
Figure 1A
Prevalence of mental health problems in Australian children and young people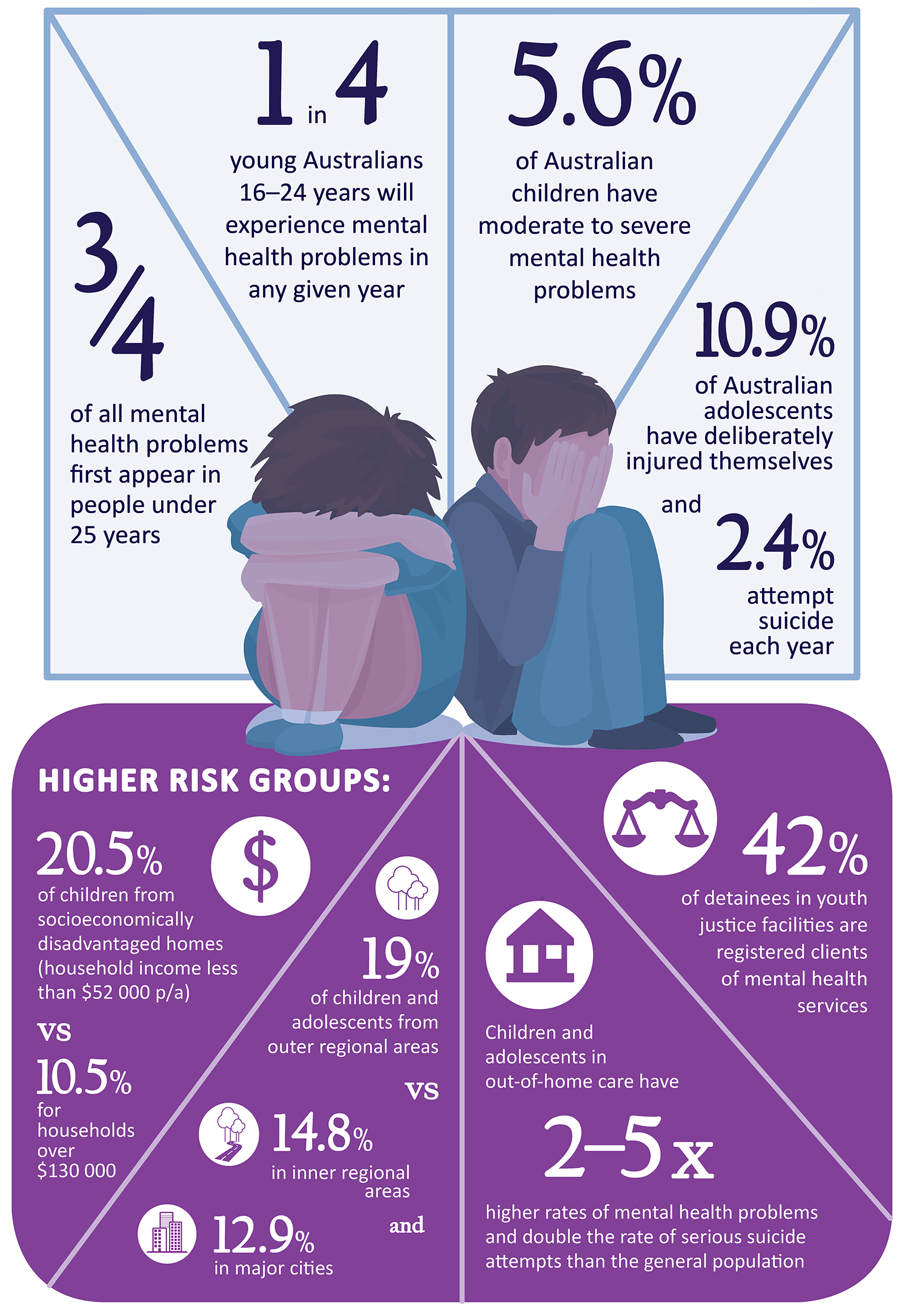 Note: A serious suicide attempt is a suicide attempt that required medical treatment.
Source: VAGO with information from Lawrence D, et al, (2015), The Mental Health of Children and Adolescents: Report on the second Australian Child and Adolescent Survey of Mental Health and Wellbeing; Department of Health, Canberra; Sawyer, M. et al (2007), 'The mental health and wellbeing of children and adolescents in home-based foster care', Medical Journal of Australia, 186:4; Kessler RC, et al, (2005), Lifetime prevalence and age-of-onset distributions of DSM-IV disorders in the National Comorbidity Survey Replication; Australian Institute of Health and Welfare, (2007), Young Australians: their health and wellbeing; DHHS (2018), Mental Health 2018–2023 Services Strategy analysis – Draft, Linkage, Modelling and Forecasting Section.
Services used by children and young people with mental health problems
In 2017–18, there were 11 945 registered clients of CYMHS, 331 058 contacts and 2 014 inpatient stays.
For children and young people, intervention early in life and at an early stage of mental health problems can reduce the duration and impact of the problems. Services that recognise the significance of family and social support are particularly important for children and young people. These principles informed the Australian Government's National Mental Health Plan, published in 2003.
A national survey by the University of Western Australia and Roy Morgan Research for the Australian Government in 2013–14 (published in 2015) on mental health of children and adolescents estimated that 3.3 per cent of Australian children and young people with mental health problems access clinical mental health services. However, 12 per cent with severe mental health problems do not access any services, including those provided through schools, general practitioners, telephone helplines or online. For children and young people with moderate or severe mental health problems, this figure rises to 27.5 per cent. Service use varies by age as well as the severity of problems, as shown in Figure 1B.
Figure 1B
2015 Australian Government report of service use by 4–17 year-old Australians with mental health problems by age group and severity of problem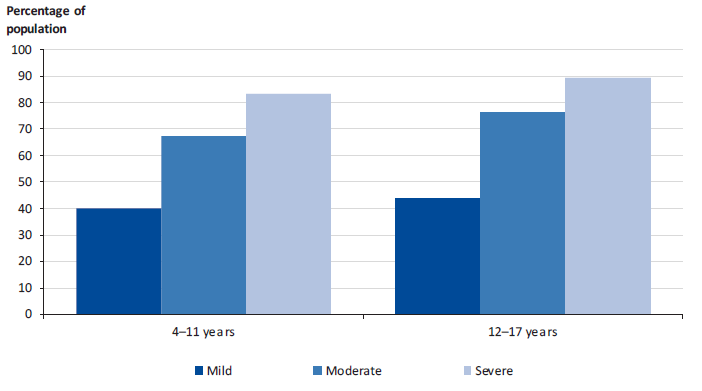 Note: Services include any service provided by a qualified health professional regardless of where that service was provided including in the community, hospital inpatient, outpatient and emergency, and private rooms; school or other educational institution; telephone counselling; online services that provided personalised assessment, support or counselling.
Source: VAGO based on information from the Australian Government's 2015 report, The mental health of Australian children and young people: Report on the second Australian child and adolescent survey of mental health and wellbeing.
1.1 Agency roles and responsibilities
Department of Health and Human Services
DHHS is responsible for ensuring the delivery of good-quality health services to the community on behalf of the Minister for Health and the Minister for Mental Health. DHHS plans services, develops policy, and funds and regulates health service providers and activities that promote and protect the health of Victorians.
The Secretary of DHHS is responsible for working with, and providing guidance to, health services to assist them on matters relating to public administration and governance.
The Mental Health Branch of DHHS has 84 staff who carry out the duties prescribed to the Secretary.
The Chief Psychiatrist
The Secretary of DHHS appoints a Chief Psychiatrist, who has legislated responsibilities under the Victorian Mental Health Act 2014 (the Act) for:
providing clinical leadership and advice to public mental health services
promoting continuous improvement in quality and safety
promoting the rights of persons receiving treatment
providing advice to the minister and the Secretary about the provision of mental health services.
The Chief Psychiatrist is subject to the general direction and control of the Secretary of DHHS in the exercise of their duties, functions and powers under the Act. The Secretary has specific powers to request the Chief Psychiatrist take action, for example, to conduct a clinical audit. The Chief Psychiatrist also has statutory obligations to the Secretary to provide a report of any investigation undertaken. Operationally, the Chief Psychiatrist reports to DHHS's Director of Mental Health.
Clinical mental health services targeting people up to 18 years only are known as child and adolescent mental health services (CAMHS) and those who have expanded their models to 0–25 years refer to themselves as child and youth mental health services (CYMHS). The subtle difference in terminology creates frequent confusion in discussions around these services.
In this report, 'child and youth mental health services (CYMHS)' is used to refer to all clinical services that the Victorian Government funds to support children, adolescents and youth aged 0–25 years who have moderate to severe mental health problems, and includes services named CAMHS.
Child and Youth Mental Health Services
CYMHS support children and adolescents through a mix of community-based or outpatient programs and inpatient treatment in hospitals, as well as a small number of community residential programs. They also provide education, upskilling and leadership on managing mental health problems to the services and agencies that care for children and young people, which includes schools, child protection and disability services. Health services manage CYMHS and are responsible for ensuring compliance with relevant legislation, regulations and policies.
DHHS provides $11.4 million per year for an early psychosis program to target young people aged 16–25 who are experiencing their first episode of psychosis. The program provides case management, medication, psychological therapies, social, educational and employment support, and family work.
In addition to accessing CYMHS, some young people in Victoria use adult mental health services because eligibility for the adult stream commences at 16 years. DHHS funds specialist perinatal mental health services, mother and baby units, and a statewide program that aims to reduce the impact of parental mental illness on family members through the adult mental health system. While these programs directly impact children and young people, this audit does not examine them.
Mental health problems have many causes, including abuse and neglect in childhood, developmental disorders, and physical disability. Children and young people who access clinical mental health services commonly also need services such as child protection or disability support. Coordinating these different services is an important and complex part of best-practice care for many children and young people with mental health problems.
Figure 1C shows one CYMHS's description of the service system for its clients and their role within it.
Figure 1C
Other services that clients of CYMHS routinely require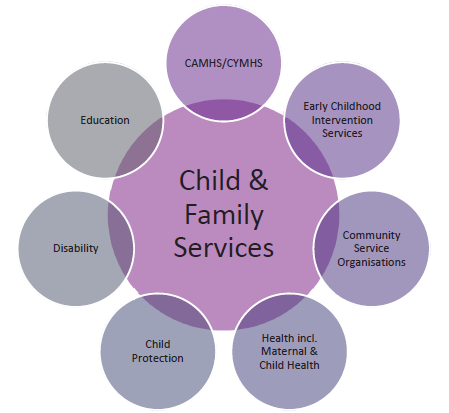 Source: RCH response to DHHS's 10-Year Mental Health Plan, 2016.
Commonwealth-funded services
There are 27 headspace centres around Victoria that offer enhanced primary care services, which include mental health, physical and sexual health, and life skill support around work and study in an accessible, youth-friendly environment.
Children and young people can access Commonwealth-funded services to support their mental health needs. The Australian Government funds Primary Health Networks (PHN), which provide early-intervention services for young people with, or at risk of, severe mental illness, alongside its funding of primary care through general practitioners and headspace centres. Victoria has six PHNs that provide 28 different services. CYMHS are involved with supporting some Commonwealth-funded initiatives. Many CYMHS have active roles in managing and supporting their local headspace centres.
Workforce challenges
Attracting, training and retaining a sufficient and appropriately skilled mental health workforce, and making mental health services safe places to work, is a major challenge for health services and DHHS.
The Royal Australian and New Zealand College of Psychiatrists' (RANZCP) review of workforce issues, which it publicly reported in 2018, noted a shortage of Victorian child and adolescent psychiatrists (CAP). Victoria has 31 CAP training positions, of which two are in regional areas. RANZCP says that Victoria urgently needs 12 additional CAP training positions.
A 2016 study by the University of Melbourne and the Health and Community Services Union, published in the International Journal of Mental Health Nursing, found that 83 per cent of 411 surveyed staff in Victoria's mental health workforce had experienced violence in the prior 12 months, mostly comprising verbal abuse (80 per cent) followed by physical violence (34 per cent) and bullying (30 per cent). One in three victims of violence rated themselves as being in psychological distress, 54 per cent of whom reported being in severe psychological distress. The survey did not report on these matters specific to CYMHS.
1.2 Relevant legislation
In 2014, the Act came into effect. The Act prescribed many changes to the mental health system including ensuring that treatment is provided in the least restrictive way possible.
Under the Act, mental illness is defined as 'a medical condition that is characterised by a significant disturbance of thought, mood, perception or memory'.
The Act mandates that health services report to the Chief Psychiatrist on the use of electroconvulsive treatment (ECT), results of neurosurgery, the use of restrictive interventions, and any deaths that meet the Coroners Act 2008's definition for a reportable death.
The Act sets out roles and responsibilities for the Chief Psychiatrist and the Secretary of DHHS.
The 'Mental Health Principles' in the Act state that:
Children and young persons receiving mental health services should have their best interests recognised and promoted as a primary consideration, including receiving services separately from adults, whenever this is possible.
The Act does not specify an age grouping for children and young persons to which this principle would apply.
1.3 Why this audit is important
There have been considerable changes to the environment in which CYMHS operate in recent years. The types and complexity of mental health problems that children and young people seek support for is increasingly challenging for health services. Demand for services is growing rapidly due to interconnected factors including reduced stigma around mental health problems, and more youth-friendly access points for young people to seek help, such as headspace centres.
This is the first Victorian Auditor-General's Office (VAGO) audit of Victoria's child and youth mental health system, and there has been no other substantial public, external review of this topic. VAGO's 2019 audit Access to Mental Health Services found that DHHS has not done enough to address the imbalance between demand for, and supply of, mental health services in Victoria. VAGO made six recommendations to DHHS about investment planning, monitoring access, funding reforms, catchment boundaries, and internal governance.
During VAGO's audit, the Victorian Government established a Royal Commission to inquire into mental health, which is due to provide an interim report to the Governor of Victoria in November 2019 and a final report in October 2020. The terms of reference released in February 2019 give the Royal Commission an extensive brief to report on how to improve many matters in the mental health system, including access, governance, funding, accountability, commissioning, infrastructure planning, workforce, and information sharing.
The Productivity Commission is currently conducting an inquiry into The Social and Economic Benefits of Improving Mental Health, which will focus on the largest potential improvements, including for young people and disadvantaged groups. This audit adds a detailed review of this particular part of the mental health system to these larger and broader inquiries.
1.4 What this audit examined and how
The objective of this audit was to determine whether child and adolescent mental health services effectively prevent, support and treat child and youth mental health problems. We considered whether the services are appropriately designed and whether DHHS administers them effectively. The audit focused on clinical mental health services for young people with moderate to severe mental health problems.
We selected five health services for the audit, alongside DHHS, in order to sample the varied services in Victoria's devolved health system:
AWH
Austin Health
Eastern Health
Monash Health
RCH.
The audit focused on current service delivery, with some reference to significant changes over the past three to five years.
We conducted our audit in accordance with section 15 of the Audit Act 1994 and ASAE 3500 Performance Engagements. We complied with the independence and other relevant ethical requirements related to assurance engagements. The cost of this audit was $530 000.
In accordance with section 20(3) of the Audit Act 1994, unless otherwise indicated, any persons named in this report are not the subject of adverse comment or opinion.
1.5 Report structure
The remainder of this report is structured as follows:
Part 2 examines the design of CYMHS.
Part 3 examines how DHHS monitors performance, quality and outcomes of child and youth mental health services.
Part 4 examines access and coordination of care for the most vulnerable and complex clients.