Child and Youth Mental Health
2 Design of child and youth mental health services
The Victorian Government funds 17 health services to provide clinical services to children or young people with moderate to severe mental health problems.
In 2017–18, clinical mental health services in Victoria treated 11 945 children and young people up to the age of 18 years—an 11.5 per cent increase on the previous year—and admitted 2 014 to hospital, a 9.8 per cent increase. DHHS was not able to provide any information about young people aged 19–25 years in either the adolescent or adult mental health system.
There are six CYMHS in metropolitan Melbourne and eight in regional Victoria, as shown in Figure 2A. Clients must attend the CYMHS located in the catchment where they live, unless they require a specialised service that is not provided or available in their own catchment. Regional CYMHS are attached to one of four metropolitan services as their primary referral option for specialist or inpatient support that is not available locally, as illustrated by Figure 2A.
Three provide limited, specialised services to children and adolescents such as forensic services and treatment of eating disorders. The remaining 14 provide a general service, often alongside a suite of specialised programs. Eight of these provide inpatient services, of which two include inpatient services specifically for children under 12 years of age. One of these services is specifically 'youth‑focused', providing both inpatient and community services to 15–24 year-olds in its catchment area.
Figure 2A
Location of CYMHS and their partner agencies for inpatient and specialised service referrals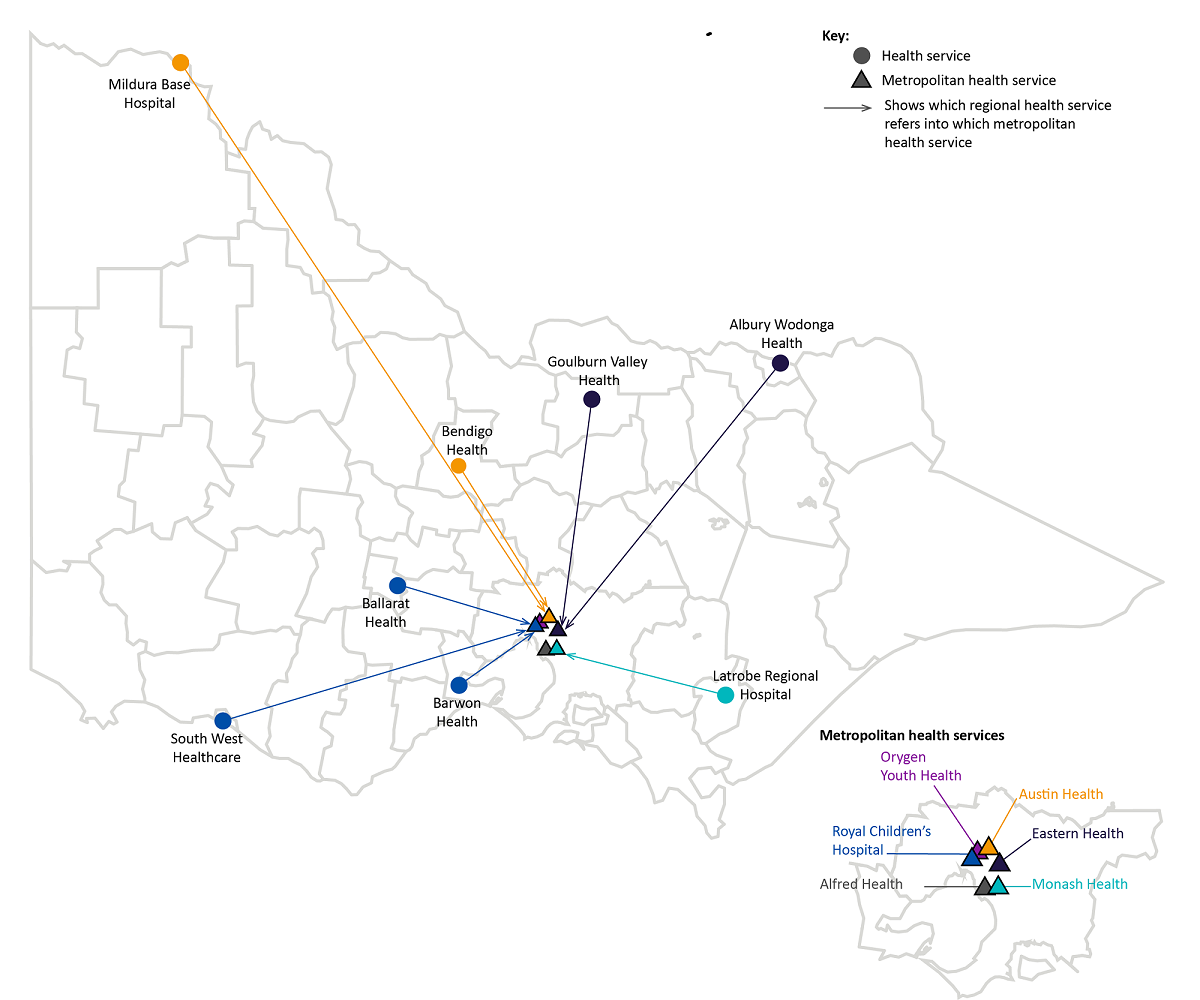 Source: VAGO mapping of DHHS information.
2.1 Conclusion
DHHS has not provided the strategic leadership necessary to effectively plan, fund and manage CYMHS. Consequently, the system consists of a collection of fragmented and overstretched health services. DHHS has created a system that cannot effectively work together even when client need requires it.
DHHS has not met the obligations of its role as a system manager—to set clear strategic directions and service expectations for CYMHS, to establish a transparent and equitable funding model, and to ensure service design supports the infrastructure and service accessibility that children and young people need. Where health services have made innovative attempts to improve services, there are no mechanisms for sharing or collaborating.
This lack of leadership and strong communication and collaboration with the CYMHS sector has created a culture of distrust, and has impeded knowledge sharing among health services and between health services and DHHS. All of this results in a service system that is not meeting the needs of some vulnerable children and young people.
2.2 Strategic direction
In 2015, DHHS published Victoria's 10-year Mental Health Plan (the 10-year plan), which is a high-level framework for mental health service reform. There is one action in the plan that is relevant to child and youth clinical mental health services:
strengthening collaboration between public specialist mental health services for children and young people and paediatricians, other social and community services and schools
The 10-year plan does not provide a strategic framework for child and youth mental health. DHHS formed the Mental Health Expert Taskforce (the taskforce) to advise on the 10-year plan and its implementation. The taskforce identified child and youth mental health as one of the highest priority areas for action; however, no plan was developed on what that action should be.
DHHS's Clinical Mental Health Services Improvement Implementation Plan—endorsed internally in December 2018—commits to developing a 'child and youth service framework' with immediate priorities identified by June 2019 and the framework complete by June 2020. DHHS has not progressed this work and has not determined the framework's scope, purpose or how it will be developed. In early 2019, DHHS took a decision to not progress this work until the Victorian Government's Royal Commission into Mental Health concludes.
During the audit, DHHS became aware of a proposal by RCH for a strategic direction for CYMHS, which calls for bringing all Victorian CYMHS together into a network that undertakes shared work on quality improvement, workforce development and practice innovation. The proposal identified nine priority areas for this work, which are:
development with consumers and carers of a central dataset that monitors clinical needs, accessibility, collaboration with child and family service providers, and outcome evaluation to allow benchmarking and collaboration across mental health services
workforce development
establishing a research forum
clinical pathways between services
policy directions to specify the role of public mental health services
expanding targeted interventions for dual disability, gender dysphoria, eating disorders, Aboriginal and Torres Strait Islander children, trauma, children in out-of-home care, and refugees
clinical guidelines commencing with psychopharmacology, dual disability, and children involved with child protection
implementation research
engaging with schools.
Given our observations of a fragmented system and the lack of strategic direction, RCH's proposal has merit. DHHS should consider this proposal and provide a response to RCH at the earliest opportunity.
The only evidence that DHHS provided strategic guidance to CYMHS about how they should operate is the following statement in the Clinical Specialist Child Initiative program guidelines issued in 2016:
It is expected that the new, expanded and existing services will work together to form a comprehensive response to the mental health needs of children aged 0–12. It is expected that the local operation of these services will interlink and not be delivered in isolation.
Despite giving these directions, DHHS has not taken action to enable services to achieve them and it has not monitored progress.
There has been significant change in the position of Director of Mental Health at DHHS. In the three years from 2016 to 2018, eight people have held the role, as illustrated in Figure 2B. Three permanent appointments covered 15 months out of the three years. Five other individuals held the role in acting positions, and two of the permanent appointees began their tenure with temporary secondments. For 537 days, or 49 per cent, of the three years, there was a temporary appointee in the role.
DHHS advises that there has not been instability in the leadership of the Mental Health Branch because the same people rotated through the temporary appointments, which enabled continuity. However, the temporary, albeit rotational, leadership of the branch likely impacts its ability to maintain a clear long-term vision, and make and follow through on decisive actions.
Figure 2B
Individuals who have held the Director of Mental Health role at DHHS in 2016–18, by month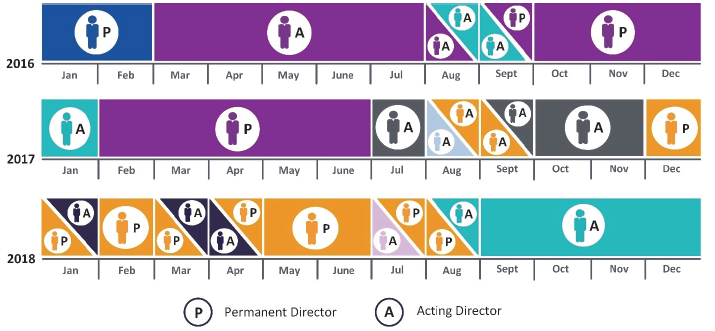 Note: Each colour represents a different individual, with an 'A' or a 'P' indicating whether that individual was in an acting or a permanent role at that time.
Source: VAGO analysis of information supplied by DHHS from 'SAP Organisational Management' database, December 2018.
It is also unclear what resources are dedicated to DHHS's oversight and monitoring of CYMHS, as this is predominantly embedded within positions responsible for broader performance monitoring of individual health services and/or the mental health system more generally. There is one position within the Mental Health Branch whose responsibilities include the 'child and adolescent portfolio' alongside being the lead contact for monitoring performance for several health services. Portfolio responsibilities include program development, service planning and system oversight. These portfolio responsibilities form approximately 20 per cent of the workload in the position, dependent on other responsibilities.
2.3 Funding model
DHHS has not acted to address the transparency and equity problems with the current funding model, and there has been no progress towards introducing activity-based funding for CYMHS.
Mental health is funded through a block funding model, where a sum of funding is provided by DHHS for the health service to deliver an agreed number of services—a number of 'beds' for inpatient services and 'service hours' for community-based services.
DHHS determines each year's funding allocation by considering the previous year's funding, some analysis of services provided in the previous year, and any new government commitments in the State Budget.
As noted in a 2018 report to DHHS's Audit and Risk Committee, Hospital Budget Governance Framework – Internal Audit Report, there is a 'medium-level' risk that models of funding that are not activity-based have 'a lack of governance and documentation of decisions taken'. Figure 2C shows the funded units that are relevant to CYMHS.
Figure 2C
Mental health—funded units applicable to clinical bed-based services 2018–19
Service element

Funded unit

All health services ($)

Admitted care

Acute Care—child/adolescent, adult, aged(a)

Available bed day

712.00

Youth Prevention and Recovery Centre

Available bed day

600.13

Clinical community care

Ambulatory

Community service hour

402.58
Note: (a) Supplement grant provided to support the acute care unit price.
Source: VAGO based on DHHS Policy and Funding Guidelines 2018–19.
DHHS's internal analysis shows that its funding covers 65 per cent of the costs of inpatient mental health beds while other health services are funded at more than 80 per cent of the actual cost. Audited health services confirmed that they 'cross-subsidise' from their community CYMHS funding to cover the costs of meeting demand for their inpatient beds.
In addition to the 'available bed day' funding unit, Monash Health receives $1 092 774 per year labelled 'child bed supplement' in DHHS's funding system. DHHS advises that the extra funding is to support Monash Health to provide inpatient services for children. However, we found that Austin Health does not receive this supplement despite also providing inpatient beds for children. DHHS's explanation for the funding discrepancy is that each health service provides a different model of care and that if Austin Health transitioned to the same model as Monash Health, it would also receive the supplement. DHHS has not communicated this to Austin Health, which demonstrates an example of the risk raised in the internal audit report of a lack of transparency and clarity around block funding arrangements.
DHHS provides a total of $9.3 million for eating disorder services to seven health services. As we were unable to determine what proportion of this funding is spent in CYMHS, we have only included eating disorder funding for RCH in our funding analysis as this health service only treats children and young people.
Activity-based funding is used for most other services provided through Victorian hospitals—the amount paid reflects a service's complexity and cost with some additional loadings for especially complex and high-risk patient groups. In its Policy and Funding Guidelines 2018–19, DHHS states its commitment to introducing an activity-based funding model, also noting its benefits:
There will be a focus on developing a new mental health funding model for specialist community-based adult mental health services in 2018–19. The new model will link funding to the delivery of services and will provide different levels of funding depending on the complexity of the consumer needs. The reforms, and related and revised performance and outcomes monitoring, will improve the transparency and drive improvements in services' performance and consumer outcomes.
During the audit, DHHS was in the early stages of planning a trial of activity-based funding for one adult mental health program. DHHS advises that in future, it will consider using activity-based funding for CYMHS.
2.4 Services funded
DHHS does not have a transparent and clear rationale for the suite of programs and services that it funds, or how it determines the distribution of funding across programs, regions and health services.
DHHS specifies the number of inpatient beds for children and adolescents, but for community or outpatient programs it provides guidance only on how health services should use the funding for two of the 14 funded programs. Health services must deduce what DHHS expects them to deliver and develop their own rationale for what they will deliver with the funding.
In 2018–19, DHHS is providing $127.7 million to Victorian health services for a range of clinical mental health services targeted at children and young people with mental health problems, which is a significant increase in funding. In 2016–17, the Victorian Government committed $73.8 million over four years, primarily to increase accessibility to CYMHS for children under 13 years. In the same year, the government also provided $59 million to support the construction of a new facility to house Orygen, the National Centre of Excellence in Youth Mental Health, which opened during this audit, in Parkville.
The programs delivered by each of the 17 funded health services vary significantly. Four receive more than $15 million per year each for a large array of different programs and services. A fifth receives $7.7 million for services specifically targeted at young people aged 15–24 years. Nine are in regional areas with either no inpatients or two inpatient beds and funding between $2 and $5 million per year each. Funding by service type and health service is shown in Appendix B.
Each service has different client eligibility arrangements—some accept children and young people up to the age of 25 years, while others only accept those up to 18 years. Eligibility also varies by age for specific programs provided within CYMHS. In one region, the client's age determines whether the same service that provides inpatient care will provide ongoing care or whether they need to be referred to another service in the catchment.
DHHS currently distributes funding across seven different types of services, as shown in Figure 2D.
Figure 2D
Distribution of CYMHS funding by type of service
| Type of services | Proportion of total funding (%) |
| --- | --- |
| Community-based assessment and treatment services | 43.9 |
| Inpatient services | 25.6 |
| Other specialised community programs | 14.6 |
| Early psychosis services | 8.9 |
| Eating disorders specialised services | 1.1 |
| School outreach program | 5.0 |
| Autism coordinators | 0.8 |
Source: VAGO, with information provided by DHHS.
Inpatient beds
DHHS determines how many inpatient mental health beds each health service provides and whether these beds are for children (0–12 years), adolescents (13–18 years) or young people (15–25 years). DHHS could not provide a clear rationale for how it determines the location and number of these beds, and there is no evidence that DHHS consults with CYMHS when making these decisions.
Figure 2E shows DHHS distribution of inpatient mental health beds for children, adolescents and young people.
Figure 2E
Number of inpatient mental health beds for children, adolescents and young people funded by DHHS
Health service

Children aged
0–12

Adolescents aged
13–18

Young people aged
15–24

Funding
($ million)

Monash Health

8

15

*

7.07

Austin Health

12

11

 

5.98

Melbourne Health (as auspice of Orygen Youth Health)

 
 

16

4.16

RCH

 

16

 

4.16

Eastern Health

 

12

 

3.12

Ballarat Health

 

2

 

0.52

Latrobe Regional Hospital

 

2

 

0.52

Ramsay Healthcare (as managers of Mildura Base Hospital)

 

2

 

0.52

Total

20

60

16

26.06
Note: * Monash Health operates a youth inpatient service for 18–25 year-olds that is not included in this table because DHHS does not fund it as part of its child and youth mental health funding. Monash Health created the dedicated youth service as part of its adult mental health service.
Source: VAGO from DHHS Policy and Funding Guidelines 2018–19 and DHHS website.
There are complex catchment arrangements across the system. DHHS has acknowledged the catchment arrangements are problematic because they are not aligned with the catchments that other government services use. Clients must attend the CYMHS located in the catchment area they live in, unless they require a specialised service that is not provided or available in their own catchment. Figure 2A shows how regional CYMHS are attached to one of four metropolitan services as their primary referral option for specialist or inpatient support. DHHS has not yet taken action to improve or resolve the catchment issues.
If a child or young person urgently requires inpatient care, health services may admit them 'out-of-area' for care at a CYMHS in another catchment, when one or more of the following occurs:
Their local CYMHS does not have an available bed.
Their local CYMHS does not provide inpatient services.
The health service that their local CYMHS refers to for inpatient services does not have an available bed.
These scenarios can require a child or young person to be transferred to a health service located several hours from their home. Once treatment has ended, the child or young person is 'repatriated' to the CYMHS within their catchment for follow-up care. Health services do not have a consistent process for repatriation. Each repatriation varies depending on the clinical needs of the child or young person, and the availability of their catchment CYMHS service to engage in the repatriation process. Given services are stretched across all CYMHS, it can be difficult for health services to effect repatriations effectively and efficiently.
Children and young people in adult inpatient beds
There are systemic conflicts around inpatient services for young people, which DHHS acknowledges, but has not acted to address:
The Act says 'children and young people' should receive separate services from adults wherever possible. The Act does not define the age of 'young people' though this terminology is commonly understood to include people aged approximately 18–25 years of age.
DHHS does not define eligibility for CYMHS adolescent inpatient beds beyond a description on its website stating that 'CAMHS inpatient units Ö mostly admit young people aged 13–18 years' and that RCH admits young people 13–15 years and Orygen Youth Health 15–24 years.
Audited health services received guidance from DHHS that eligibility for CYMHS adolescent beds ceases on a young person's 18th birthday, but they can use the beds for 18-year-olds if clinically appropriate—there is no written evidence of this guidance.
DHHS only funds dedicated inpatient beds for young people aged 18–24 in one metropolitan catchment.
DHHS defines eligibility for adult inpatient beds as 16 years and over.
DHHS has never analysed the use of adult inpatient beds for children and adolescents and does not monitor the issue despite it being clinically inappropriate, inconsistent with legislation, and a potential indicator of significant demand pressures on CYMHS.
When we analysed inpatient admissions data over three years (2016–18) for our audited health services, we found young people admitted to adult mental health services as young as 13 years, as shown in Figure 2F.
RCH is excluded from this table because it is a paediatric hospital. Monash Health was also excluded as the data could not distinguish between inpatient wards and Youth Prevention and Recovery Centres (Y-PARC) that are designed for 16–25 year-olds.
Figure 2F
Adolescents and young people in adult mental health services at audited health services during 2016–18, by age at admission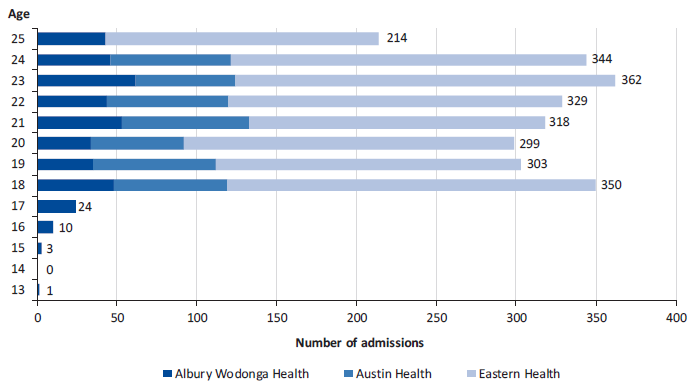 Note: This assumes that all 18–25 year-olds at Austin Health and Eastern Health are in their adult service, but a small but undetermined number are known to be admitted to adolescent beds based on clinical assessments of individual need and availability of beds.
Source: VAGO analysis of Client Management Interface data provided by five audited health services. See Appendix D for data analysis scope and methodology.
Austin Health and Eastern Health had 2 154 admissions of young people aged 18–25 years in the three years between 2016 and 2018. These health services routinely place these patients in adult mental health beds because their age limit for adolescent beds is a child's 18th birthday.
Monash Health recorded 3 131 admissions of young people aged 18–25 years; however, they have established a separate youth ward of 25 beds within their adult service and they also have a Y-PARC community residential facility. It was not possible through our data analysis to confirm that all of the 18–25 year-olds were treated in the separate youth ward or the breakdown between the Y-PARC and the hospital inpatient services.
Monash Health's service development work to create a youth ward within an adult service without dedicated resources is an important initiative. DHHS should review and monitor this youth ward to identify opportunities to share the learnings with other CYMHS and inform service development that could increase compliance with the Act's principle to provide services for young people separate to adults wherever possible.
AWH admitted 403 mental health inpatients aged 0–25 years to its adult mental health ward. This included 86 admissions for adolescents aged 13–18 years. Some were admitted more than once. Sixty-nine individual adolescents had inpatient admissions to an adult facility.
Our analysis considered four health services. It is likely that admission of children and young people to adult mental health beds has occurred in other health services, particularly in regional and rural areas. This warrants broader review by DHHS.
During this audit, AWH undertook a snapshot audit of 13 adolescents admitted to its adult inpatient facility and found that the reasons for admission across the different cases included:
a family who refused a referral to the metropolitan adolescent inpatient unit due to the costs and time of travel involved, including a prior experience of having to arrange return transport without assistance
a patient who was scheduled for transfer to the metropolitan adolescent unit the following day, and spent one night 'contained' in the adult mental health bed while transport was arranged
a patient's residence being out-of-area for AWH CYMHS, but who was admitted after a crisis assessment
the crisis assessment team admitting a patient with no explanation in the notes of why a referral to the metropolitan adolescent service was not considered.
AWH has committed to investigate these adolescent admissions to the adult inpatient unit to understand and address the underlying issues.
DHHS has not reviewed, and does not monitor, the effectiveness and appropriateness of transfers between regional areas and metropolitan CYMHS and has not taken action to understand or alleviate the challenges this poses for both families and health services.
Access to inpatient beds for regional areas
At three regional health services, DHHS provides funding for two CYMHS inpatient beds. DHHS has not reviewed the use of these beds and does not monitor the extent to which CYMHS allocate them to children and young people. It would be challenging for the three regional health services to run a separate, dedicated child and adolescent inpatient service given the small number of CYMHS-funded beds. Not only do the beds need to be physically separate from their adult mental health service to meet the principle of care in the Act, but the clinical staff also need to be trained in the child and youth mental health specialty.
Given the significant demand pressures that we reported in our March 2019 audit Access to Mental Health Services together with the workforce challenges of attracting sufficient child and adolescent psychiatrists to regional areas, as described in Sections 1.2 and 2.7, it is unrealistic to expect these services to deliver appropriate CYMHS inpatient services. There is a high risk that the beds are used for adult mental health patients instead, which could mean that CYMHS funding is diverted from children and young people. In 2018–19, these beds represented $1.56 million of the ongoing CYMHS funding.
All regional CYMHS, including those with their own inpatient bed funding, are designated one of four metropolitan services to refer their clients to if they require inpatient or other specialised care that is not available locally, as shown in Figure 2A. For example, AWH CYMHS refers to Eastern Health's CYMHS.
Over the three years between 2016 and 2018, our analysis of health services' data shows that Eastern Health and AWH shared 59 clients.
AWH believes it may have enough demand for its own CYMHS inpatient service. As shown in Figure 2G, AWH had 86 admissions for adolescents aged 13–18 years and a further 317 admissions for young people aged 19–25 years during the three years between 2016 and 2018. In addition, AWH keeps a manual record of transfers to other health service inpatient units, which shows 44 transfers for admission elsewhere, mostly to Eastern Health, between 2016 and 2018. DHHS has advised that services can submit a business case to DHHS requesting additional resources, but this process is not documented anywhere and AWH was not aware of this process.
Figure 2G
Number of mental health inpatient admissions at AWH for 0–25 year-olds, 2016–18, by age at admission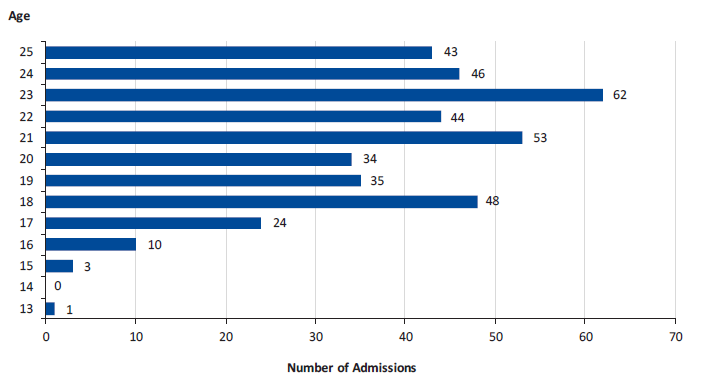 Source: VAGO analysis of DHHS information, February 2019.
Youth Prevention and Recovery Centres
In addition to the inpatient beds located in hospitals, Y-PARCs offer short-term, subacute, intervention and recovery-focused clinical treatment services in residential settings. They are a voluntary program sometimes described as a 'step up, step down' service for young people aged 16–25 years who are unwell, but not so unwell that they need to be in hospital, or who have been released from hospital, but would benefit from further recovery before going home.
There are currently three Y-PARCs—in Bendigo, Frankston and Dandenong—with 10 beds in each. Each received $2.19 million funding from DHHS in 2018‑19. In 2018–19, DHHS allocated $11.9 million over three years to Melbourne Health to establish a fourth Y-PARC in Parkville. DHHS cannot demonstrate how it determined where the Y‑PARCs should be located.
The University of Melbourne evaluated the Frankston Y-PARC and found that it had positive impacts on reducing client crisis episodes and reducing emergency department presentations.
In addition to Y-PARCs, young people use adult Prevention and Recovery Centres (PARC) of which there are 23 in Victoria. All the audited health services except RCH manage at least one PARC. Our data analysis found that for the audited agencies, 212 young people up to 25 years had spent time in an adult PARC in the past three years, of which five were aged 16–18 years.
Community programs
The majority of CYMHS services are delivered to people living in the community through outpatient clinics at hospitals, or outreach programs at other community locations (community programs). These programs represent 74.4 per cent of CYMHS annual funding—$95 million in 2018–19.
DHHS does not advise health services on the intent or deliverables for eight of the 14 CYMHS community programs it funds—totalling over $19 million.
DHHS's lack of guidance on what community programs health services should deliver makes it impossible to understand funding distribution across programs and to monitor performance of health services against program objectives, where they exist. We discuss this further in Section 3.2.
DHHS asserts that health services are best placed to determine local need; however, it should still articulate what it expects health services to deliver based on statewide analysis of need and demographics. Without such guidance, DHHS cannot hold health services to account for the funding they receive and assure itself that the right services are provided in the right places.
Under the current devolved system, children and young people receive different services and care based on the catchment they live in, which leads to inequity across the system and can also mean that clients who move between catchments may lose services that were previously available to them.
With a lack of any other guidance on what they are expected to deliver with their community funding, some health services have developed their own internal systems based on how DHHS provides their CYMHS funding through up to 14 'funding lines' in their financial system. Figure 2H shows how DHHS's financial system identifies 14 'funding lines' and the availability of guidance for each.
Figure 2H
DHHS funding in 2018–19 and guidance to health services for clinical mental health services for children and young people, by funding line
| Program | Total program funding 2018–19 ($) | Number of health services receiving this program funding | Guidelines available | Program description in policy and funding guidelines |
| --- | --- | --- | --- | --- |
| Child and adolescent treatment services | 56 042 170 | 13 | No | Yes |
| Early psychosis | 11 425 522 | 15 | No | Yes |
| CAMHS and Schools Early Action (CASEA) | 6 440 097 | 13 | Yes | No |
| Youth integrated community service | 5 650 860 | 7 | No | No |
| Intensive youth support | 4 807 444 | 9 | No | Yes |
| Child clinical specialist initiatives | 2 115 152 | 13 | Yes | No |
| Gender dysphoria | 2 047 896 | 1 | No | No |
| Mental health output eating disorders funding | 1 432 591 | 1 | No | Yes(a) |
| Mental health and intellectual disability initiative (MHIDI) | 1 321 000 | 1 | No | No |
| Autism coordinator | 1 071 258 | 14 | No | No |
| Homeless youth dual diagnosis initiative (one-off funding) | 1 004 272 | 8 | No | No |
| Community forensic youth mental health | 752 019 | 2 | No | No |
| Youth justice mental health | 724 711 | 5 | No | No |
| Refugee | 200 000 | 1 | No | No |
(a) There is a program description for 'Community Specialist Statewide Services – Eating Disorders', which we have assumed to be the same program as 'Mental health output eating disorders' funding.
Source: VAGO analysis of DHHS information, February 2019.
Lack of program guidelines or expectations
DHHS commissioned the Reform of Victoria's specialist clinical mental health services: Advice to the Secretary, DHHS in 2017. It provided advice on future directions for Victoria's specialist clinical mental health services. The report has not been released to health services or the public.
The 2017 Reform of Victoria's specialist clinical mental health services review recommended that DHHS 'develop clinical guidelines that specify expectations of the level and mix of services', but DHHS disputes that it should develop program guidelines for mental health programs, and does not plan to develop guidelines for the remaining programs.
The DHHS Policy and Funding Guidelines 2018–19 provides a one or two-sentence 'program description' for six mental health community programs that mention children and young people, but only four align with the CYMHS funded programs. The brief program descriptions, where they exist, do not provide sufficient guidance to health services about the intent or expected deliverables for their funded programs.
Some funding lines are historical and reflect programs that have ceased while the funding has continued. For example, the youth integrated community service funding line provides $5.7 million per year to seven CYMHS. DHHS advises that this was originally funding to trial new Youth Early Intervention Teams in 2010 and that DHHS did not continue that program after a change in policy directions in 2013. DHHS does not know why it has continued to provide CYMHS with this funding given the program does not exist, nor could it provide guidance on how health services should use this funding.
2.5 Inconsistency in treatment age
When requiring inpatient care, all 18–25 year-olds must use the adult mental health system with the exception of the 16 beds at Orygen Youth Health in the Western region and the youth inpatient service at Monash Health. Only four of 13 CYMHS provide youth-targeted community programs for young Victorians aged 18–25 years, as shown in Figure 2I.
Historically, all health services treated children only to age 18 years. However, it is now commonly understood that it is not in the best interests of young people to transfer to the adult system at 18 years, as this is a vulnerable time in their life. This is especially true for adolescents in out-of-home care, who must manage the significant transition to independent living at this age.
Figure 2I
Age eligibility for programs, by CYMHS
Health service

Child inpatient

Adolescent inpatient

Youth inpatient/ residential

Community programs

AWH

No

No—refers to Eastern Health

No

0–18

Alfred Health

No

No—refers to Monash health

No

0–18 for residents of Bayside and Kingston

0–25 for residents of Port Phillip, Stonnington and Glen Eira

Austin Health

Yes— up to age 13

Yes—ages 13–18

No

5–18 for community teams Three specialist/outreach teams extend to 24 or 25 years

Ballarat Health

No

Two local beds and also refers to RCH

No

0–14 Child and infant

15–25 Youth

Barwon Health

No

No—refers to RCH

No

0–15

Bendigo Health

No

No—refers to Austin Health

Y-PARC—ages
16–25

0–18

Eastern Health

No

Yes—ages 13–18

No

0–25

Goulburn Valley Health

No

No—refers to Eastern Health

No

0–18

Latrobe Regional Hospital

No

Two local beds and also refers to Monash Health

No

0–18

Melbourne Health (Orygen)

No

Yes—ages 15–24

Yes—ages 15–24

15–24

Monash Health

Yes—ages 0–12

Yes—ages 12–18

Yes—Youth mental health service for 19–25 years

Y‑PARC—ages
16–25

0–18 Early in Life Mental Health Service

19–25 Youth mental health service

Ramsay Healthcare (Mildura)

No

Two local beds and also refers to Austin Health

No

0–18

RCH

No

Yes—ages 13–18

No

0–14 (15+ referred to Melbourne Health) 0–18 (some statewide services)

Southwest Healthcare

No

No—refers to RCH

No

0–18
Source: VAGO interviews and document review with audited health services; public websites service descriptions for other services.
The inconsistencies exist because DHHS introduced, then ceased midway, a suite of pilot projects to increase the age eligibility to 25 at some health services. DHHS has taken no action to address the subsequent differences in age eligibility across the system.
The Victorian Government introduced a reform strategy for mental health services in 2009, Because Mental Health Matters, which included a specific commitment to 'redeveloping services within a 0–25 years framework'. The government provided $34 million for the following projects to progress this commitment:
child and youth mental health service redesign—two demonstration projects
youth early intervention teams—six sites
youth justice mental health initiative—six sites
youth crisis response team—two sites
Y-PARCs—two sites.
This reform strategy ceased in 2013, during its fourth year of implementation, following the change of government. No alternative strategic direction or policy replaced it. Despite this, DHHS continues to provide funding for defunct programs, but does not tell health services what to do with it.
The reform strategy introduced fundamental changes to the whole service system; however, DHHS did not advise health services whether they should continue with the changes or revert to the previous system. This has resulted in inconsistency as some CYMHS chose to continue with the reforms independently while others did not.
DHHS commissioned external consultants to undertake two formal evaluations of the reform projects in 2012 and 2013. These reports contain valuable lessons about effective strategies for undertaking the reforms and delivering services to 0–25 year-olds. The reports would be particularly beneficial for the CYMHS that were part of the projects, as well as those that have chosen to, or are considering, reforming their services to a 0–25 year-old framework. DHHS has not shared this information with those CYMHS and has no plans to do so.
2.6 Geographic distribution of services
Our analysis of CYMHS funding by geographic area compared to the population of 0–24 year-olds shows substantial variation in funding distribution per head, with the South Western area of the state receiving $57.94 per child and young person compared to the North Eastern's $79.87. This analysis does not include forecasts of population growth and includes several statewide services that should not be directly mapped to regions. DHHS should investigate these funding discrepancies.
Figure 2J
Geographic distribution of 2018–19 CYMHS funding compared to population of 0–24 year-olds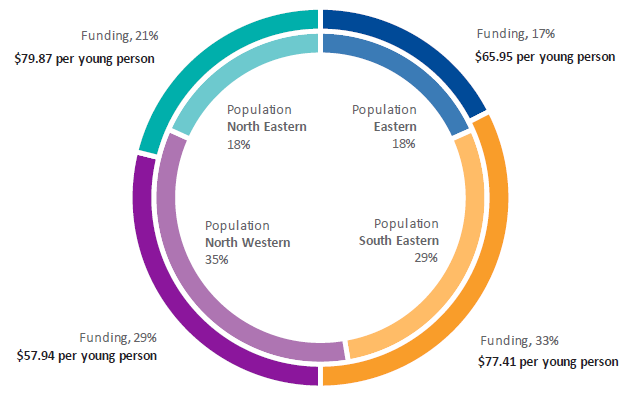 Note: Funding was assigned to a geographic area based on the CYMHS referring relationships as shown in Figure 2A. The three health services delivering a limited program were assigned to an area based on which CYMHS catchment they are located in. Our analysis does not account for exact residence of clients receiving services in each region, such as where one CYMHS delivers a specialised, statewide program and the clients receiving that service may reside in other regions—we have assumed in this analysis that the funding provided into each region is serving that same region's population.
Source: VAGO analysis of Australian Bureau of Statistics (ABS) 2016 Census data, DHHS 2018–19 funding to health services information and DHHS catchment areas.
DHHS has advised that it carries out demand forecasting and considers population size and socio-economic issues when distributing new funding. However, it could provide only one example—the $4.1 million ongoing funding to expand clinical services to children under 12 in 2016–17.
Our examination of DHHS's analysis shows that it distributed most of that funding according to a model that considered the number of children living in each CYMHS catchment, the current funding, and the catchment's socio-economic disadvantage. DHHS applied this model to $3.7 million of the funding and then made some adjustments to the model, which are only partly explained in their working papers.
Monash Health received $100 000 more than the modelling allocated it, which appears to be related to its new inpatient service for children. DHHS allocated the remaining $232 410 to RCH because its funding (per head of catchment population) was significantly lower than all other CYMHS.
DHHS's modelling in 2016 showed that RCH received $38.28 community funding per head of population in its catchment, compared to an average across all CYMHS of $72.42. The second-lowest funded CYMHS was significantly higher than RCH, at $58.88 per head of population. RCH confirmed that it had been operating for many years under very challenging resource constraints and while DHHS had never explained to them the rationale for the substantial increase in funding for 2016–17, it did relieve some of its resource pressures in meeting its population's demand.
Despite carrying out modelling in 2016, DHHS still does not monitor geographical equity of CYMHS funding and has not acted to address the ongoing inequities in geographic distribution that our analysis indicates.
2.7 Workforce development
DHHS's Mental Health Workforce Strategy (the workforce strategy), which it published in 2016, notes age-appropriate and developmentally focused care as a principle, but does not address how the CYMHS workforce's needs might be met.
Although the workforce strategy provides a clear future direction around general mental health workforce issues, it lacks timelines, milestones and mechanisms to keep DHHS accountable for its implementation—such as targets and performance measures. The Workforce Strategy was informed through consultations with members of the workforce, service providers, education and training providers, professional bodies, unions, and peak bodies including consumers and carers. However, DHHS did not specifically consult with CYMHS on the strategy. It advised that this was not possible in its available budget.
The 2018–19 Victorian Budget invested $32.5 million towards implementing the workforce strategy, with a focus on reducing occupational violence against the mental health workforce in inpatient units. This investment included the six Clinical Nurse Consultants appointed to implement quality improvement initiatives in CYMHS inpatient wards—these are described further in Section 3.2. However, it did not include other initiatives to consider or address the specific workforce challenges that CYMHS experiences.
A major workforce challenge for CYMHS is filling clinical positions that require specialised skill sets such as working with children and young people who have a disability and mental health problems. After advertising repeatedly, the MHIDI pilot project at Alfred Health changed its recruitment approach. Alfred Health advertised for mental health clinicians, and committed to train them in working with disability on commencement. The process took two years, which naturally created a delay in initiating the project and the service it created. As DHHS never circulated lessons from the MHIDI project, other CYMHS have not had the opportunity to replicate Alfred Health's solution, risking repetition of the challenges and delays they experienced, as discussed further in Section 4.5.
In 2017, DHHS commissioned RANZCP to conduct a review of workforce issues for psychiatrists in Victoria, which included child and adolescent psychiatry. DHHS has not responded to the review's findings that relate to child and adolescent psychiatry or CYMHS, which included:
a shortage of child and adolescent psychiatrists in Victoria
a shortage of training positions for child and adolescent psychiatrists in Victoria, especially in regional areas
workload issues for child and adolescent psychiatrists in regional areas.
The number and location of psychiatry training positions is determined by federal funding to RANZCP to provide the training, and health services' local decisions to create the training positions within their medical workforce. DHHS has taken no action to encourage health services that it funds to increase their child and adolescent psychiatry training places.