Child and Youth Mental Health
4 Access and service responses for vulnerable populations
Mental health problems increase exponentially when there are other indicators of vulnerability, such as unstable housing and poverty, neglect and abuse, intergenerational trauma or developmental disabilities.
Both individuals and the society they live in substantially benefit from timely wrap-around care that coordinates the many services that can be involved for these most vulnerable children and young people.
4.1 Conclusion
Under-resourcing combined with a lack of DHHS service coordination and oversight mean that many vulnerable Victorians cannot access CYMHS for the support they need. Those who do get access often need multiple providers that are unable to coordinate around their shared clients' needs. This lack of coordination places pressures on CYMHS, which have become the last resort for 'housing' young people who disability and child protection services have not been able to support. DHHS's patchy and often reactive approach to system oversight has impacted its ability to identify systemic failures that are causing harm to vulnerable children and young people.
4.2 Prioritising access to vulnerable groups
DHHS has not identified priority populations for CYMHS nor enabled health services to prioritise access at the local level. DHHS advises that it is not its role to identify priority populations for CYMHS, but that individual health services in Victoria's devolved health system are responsible for managing access and any priority populations at the local level.
DHHS advises that its Policy and Funding Guidelines 2019–20 will include a new statement about prioritising access for vulnerable populations, though there is no evidence that DHHS has taken any action to enable this nor has any plans to monitor it. The statement to be included is:
Vulnerable children and young people, particularly those involved with statutory services such as child protection, are prioritised.
Our analysis of three years of clients at the five audited health services shows that the rates of vulnerable client groups accessing CYMHS is low compared to less vulnerable groups.
People from culturally and linguistically diverse backgrounds are less likely to seek help for mental health problems, but no less likely to experience problems. Figure 4A shows that the majority of CYMHS clients are born in Australia and access CYMHS at a rate proportionate to their share of the total Victorian population aged under 25 years. People who were born in Southern Europe, Asia and on the Indian Subcontinent are underrepresented as CYMHS clients. The percentage of CYMHS clients from these three regions is less than half of what we would expect if they were accessing CYMHS at a rate proportional to their share of the Victorian population. Young people from these regions are at risk of not accessing the mental health services they need.
Refugees are more likely to have experienced trauma than the general population and are at greater risk of mental health problems as a result. Our data analysis shows that young people born in Sub‑Saharan Africa, who are frequently refugees who have experienced trauma, are accessing CYMHS at a higher rate than their population share, but there is no evidence to show whether this rate is commensurate with the mental health needs of the population given its experience of trauma.
DHHS funds a torture and trauma counselling service, which is accessible to children and young people, but it has not evaluated it and so was not able to provide any information on the reach or impact of this program in supporting young people. Other CYMHS therefore miss out on any learnings from this initiative.
Figure 4A
Country of birth for CYMHS clients compared to country of birth for the total Victorian population aged 0–25 years
| Region of birth | Percentage of Victorian population aged 0–25 | Percentage of CYMHS clients | Percentage of expected numbers in CYMHS |
| --- | --- | --- | --- |
| Australia | 79.87 | 79.21 | 99 |
| Other Asia | 6.07 | 2.18 | 36 |
| Indian Subcontinent | 3.02 | 1.47 | 49 |
| English speaking countries in Northern Europe and North America | 1.47 | 1.12 | 76 |
| New Zealand and South Pacific | 1.41 | 1.28 | 91 |
| Middle East and North Africa | 1.06 | 0.72 | 68 |
| Sub-Saharan Africa | 0.88 | 1.08 | 123 |
| Western Europe | 0.28 | 0.19 | 68 |
| Eastern Europe | 0.24 | 0.22 | 92 |
| Southern Europe | 0.21 | 0.09 | 43 |
| Latin America | 0.17 | 0.18 | 106 |
| At sea | 0.00 | 0.01 | 0 |
| Not stated/inadequately described/no data | 5.30 | 12.18 | 230 |
Note: Countries of birth were assigned to a region based on the categories used in either the DHHS report Racism in Victoria and what it means for the Health of Victorians or the ABS's geographical categorisations.
Source: VAGO, based on ABS Census 2016 population figures.
Use of an adult triage process
Mental health triage is the initial process to determine whether a person needs further assessment by a mental health service, and the type and urgency of the response required from mental health or other services.
DHHS introduced a Statewide Mental Health Triage Scale and guidelines in 2010 and has not reviewed it in the nine years since. The scale is still used by all audited CYMHS. It focuses on clinical urgency, specifically risk of physical harm to self or others. It does not give any focus to developmental or cumulative risks that are critical for children and young people, does not capture the severity or longevity of mental health problems, and does not enable prioritising access for high-risk and vulnerable groups of children or young people.
A quality triage process requires a clinical tool to assess urgency, but the tool itself does not and cannot take into consideration other important factors that must influence the triage process, such as severity, complexity, quality of care, workload and staffing. DHHS does not provide any current guidance to CYMHS on triage processes or assessing any of these matters.
The triage approach is the same across all age groups, despite the 2010 guidelines identifying the following six challenges particular to triaging mental health issues in children and adolescents, namely:
not recognising lower-order autism spectrum disorders
confusing post-traumatic stress disorder symptoms with psychosis
failing to identify depression, especially when it is masked by aggression or other forms of acting out
dismissing some symptoms—for example, self-harming behaviour in girls, rage attacks in prepubescent boys—as personality or behaviour issues not requiring mental health services
underestimating the risks involved when self-harming behaviour is new, as opposed to longstanding
not acknowledging that obsessive eating behaviours may be early signs of eating disorders.
While the triage tool does not cater to the needs of children and young people, if it is used by clinicians experienced in working with children and young people some of the risks could be minimised. However, our data analysis from the five audited health services showed that 118 children aged 18 years and under were triaged through either an adult or aged-care system response. A further 115 were admitted to an adult Crisis Assessment Team, who provide a 24-hour urgent assessment and brief, intensive treatment service. The audited CYMHS advise that their triage systems only operate during business hours and week days, and outside of these times, clients calling or attending emergency departments will be diverted to an adult triage service. This creates the risk that a clinician without CYMHS experience may underestimate the risk factors specific to young people and may triage the young person incorrectly.
DHHS has not taken any action to develop a triage approach that recognises the developmental risks for children and adolescents, or that would enable health services to prioritise access for particular population groups.
Aboriginal and Torres Strait Islander young people
There is no data available about the mental health of Aboriginal and/or Torres Strait Islander (Aboriginal) young people in Victoria, specifically. However, Aboriginal young people experience significantly worse mental health outcomes nationally, with four times the rate of suicide, for example.
DHHS's Balit Murrup: Aboriginal social and emotional wellbeing framework 2017–2027 does not make any specific commitments about young people because its focus areas are mostly at the community level. The framework describes relevant new investments, which include some young people-focused initiatives—a youth mentoring program and support for Aboriginal children in out‑of‑home care and youth justice. DHHS advises that a project targeting families at risk of children needing out-of-home care is underway with positive results and an evaluation planned, but was unable to provide evidence of the progress of any other initiatives targeting children and young people or progress against the strategy itself.
The 2016 census showed that 1.4 per cent of 0–24 year-olds residing in Victoria identified as Aboriginal, although a considerably higher proportion of CYMHS clients, 2.4 per cent in the five audited health services, identified as Aboriginal. Without comparable Victorian population data on mental health problems in Aboriginal young people, we cannot determine whether 2.4 per cent is an appropriate proportion of Aboriginal clients to be accessing CYMHS. However, as Aboriginal children are 12 times more likely to be in out-of-home care than non-Aboriginal children, and Aboriginal people are nearly three times as likely to experience high or very high level of psychological distress, DHHS should monitor the rate that Aboriginal young people access CYMHS to ensure that they are getting the mental health support they need.
Homelessness and supported accommodation
In our analysis of five health services over three years, 596 CYMHS clients, or 3 per cent, lived in supported or unstable types of accommodation. The majority of these (56 per cent) were in community or supported residential accommodation. A further 10 per cent had their residence recorded as an acute or psychiatric hospital though, as discussed in Section 3.9, there are no business rules around recording this data so it is not clear what this represents.
Homelessness was recorded for 0.3 per cent of CYMHS clients at the five audited health services, while the 2016 census showed that a higher proportion, 0.5 per cent of Victorians aged 0–24 years, were homeless or living in unstable housing. The prevalence of mental health problems in young people who are homeless is not known, but DHHS data collected from 13 617 rough sleepers found that mental health problems had contributed to 27.5 per cent of those surveyed becoming homeless. We would expect that young people who were homeless or in unstable housing would have a higher rate of mental health problems and be a larger group of CYMHS clients.
DHHS does not publicly report on the number of young people living in supported accommodation, so we cannot confirm whether these young people are accessing CYMHS at the expected rate. DHHS could use their internal data to explore this question further and should do so.
Figure 4B
CYMHS clients in five audited health services 2016–18 by age and housing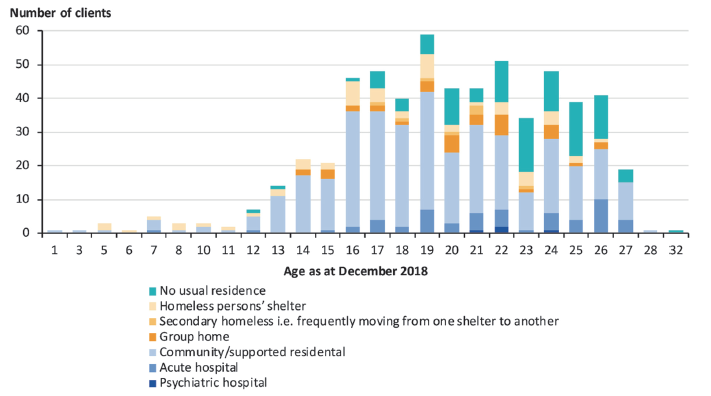 Note: Business rules are not defined for CMI housing fields. It is unclear under what circumstances a young person would be registered as living in an acute hospital or a psychiatric hospital.
Source: VAGO analysis of CMI data provided by five audited health services. See Appendix D for data analysis scope and methodology.
Children in out-of-home care
The OCP developed a guideline for health services on prioritising access for young people in out-of-home care in 2011 but has not reviewed it despite the guidelines having been scheduled for review in 2013, and the Act changing significantly in 2014. One audited health service was not aware that the guideline existed. DHHS advises that it is available on its website, but it is not on the Chief Psychiatrist's website page where other guidelines are listed. It can be found online as part of the DHHS Child Protection Manual.
Only one of the five audited health services had a documented procedure for prioritising access to children in out-of-home care. Two other services had statements about prioritising access to children in out-of-home care, one of which extended to also include Aboriginal and Torres Strait Islander children with psychosis, eating disorders and school refusal, but neither had a documented process for how this occurs. The remaining two services had no policy or procedure on prioritising access.
The child specialist program, which was newly funded in 2016–17, has a deliverable that services develop protocols between CYMHS and child protection, but there is no evidence of any progress with this nor any evidence that DHHS is attempting to monitor progress.
DHHS's reporting system does not collect any information about whether a child is in out-of-home care or if there are any other legal orders around their guardianship, disability or other health or welfare problems. The registration forms health services must complete for every mental health client include a place to record that a client has legal orders under the Children, Youth and Families Act 2005, but it is on the second, non-mandatory, page of the form and is one of several options under the heading 'other legislation', as shown in Figure 4C.
Figure 4C
Excerpt of mental health service registration form PR1A, which health services complete for all mental health clients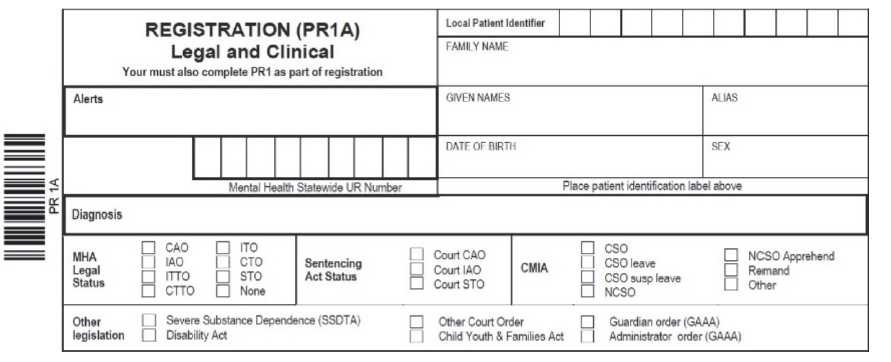 Source: Excerpt of DHHS's client registration forms provided by Austin Health.
Even if this field is ticked on the hard copy form, there is no place in the electronic database to input the information. Subsequently, DHHS has no way to monitor whether children in out-of-home care are accessing CYMHS or any information about this priority population group at all. Most health services operate parallel client management databases where this additional information can be recorded and is accessible to clinicians.
When this issue was identified, we attempted to determine the extent to which children in out-of-home care had been able to access CYMHS through other means. There are database fields which could potentially provide this information, but they fail to provide a reliable source of information, as follows:
'Referral source' is an optional field and was only populated for 9.7 per cent of the 18 460 clients whose data we analysed, which was insufficient to undertake any meaningful analysis.
'Housing' does not contain a response option for 'out-of-home care' or any similar term.
'Carer relationship' is predominantly used to record a client's general practitioner, although 95 clients were identified here as having either a 'case manager', 'appointed guardian' or 'appointed administrator', but there are no definitions for each field so their use cannot be relied on to inform accurate data.
4.3 Clinically unnecessary inpatient stays
Young people frequently stay in inpatient mental health facilities for longer than they need to be because their guardianship and/or housing arrangements change during, or as a result of, their hospital admission. One senior staff member advised us, 'you can't discharge children to homelessness'.
DHHS has not recognised the extent to which this occurs and the significant negative impacts on the young people and families involved as well as the very significant resource and workforce implications the issues present to health services.
DHHS does not strategically monitor extended stays (stays beyond clinical necessity), or any other matters relating to young people with multiple and complex needs, despite being advised of it repeatedly over many years by health services. While some of the drivers of these problems are complex social and family issues, DHHS has not taken any strategic action to address the system issues around service coordination for these people, which they do have the ability to improve.
DHHS does not have long-term housing or care options for young people with multiple and complex needs. In 2015–17, a young person was a CYMHS inpatient for two years because no agency could find a suitable housing service to meet their needs. DHHS had to find and modify a house for this patient to be discharged to. In other similar cases, DHHS waits for the young person to turn 18 so they can be discharged to adult accommodation.
How often this happens cannot be determined through the current systems of data collection and monitoring, but during our audit we worked closely with senior CYMHS clinicians and an independent subject matter expert to design an approach that would allow us to explore the extent of clinically unnecessary inpatient stays.
Health services advised that there are too many occurrences where a portion of a consumer's time in the hospital is clinically unnecessary for the service to document every case during the time of the audit. Instead, a selection of examples from recent years was provided to the audit team by senior clinicians who were involved in providing and coordinating care to the relevant clients and who also had the skills and authority to determine at what point in the person's inpatient stay it became clinically unnecessary.
Case studies of clinically unnecessary inpatient stays
The five audited health services provided us with 29 detailed examples of young people whose recent inpatient stay included a period that was clinically unnecessary. These inpatient stays ranged from two to 254 days, making a cumulative total of 1 054 days, or almost three years. Time periods for the case studies varied, but all were within the past 12 months and one service presented eight such cases within a six-month period.
Figure 4D
Summary of case studies of clients with wholly or partly clinically unnecessary extended inpatient stays
| Age group | Presence of intellectual or developmental disabilities | Total length of stay | Length of stay clinically unnecessary |
| --- | --- | --- | --- |
| 12–15 years | Yes | approx. 268 days + ongoing | approx. 254 days + ongoing |
| 18–25 years | No | 212 days + ongoing | 212 days + ongoing |
| 16–18 years | Yes | 267 days | 189 days |
| 18–25 years | No | 125 days | 70 days |
| 18–25 years | No | 169 days | 60 days |
| 16–18 years | No | 42 days | 34 days |
| 18–25 years | No | 52 days + ongoing | 30 days + ongoing |
| 13–15 years | Yes | 53 days | 30 days |
| 13–15 years | No | 71 days | 30 days |
| 16–18 years | Yes | approx. 55 days + ongoing | at least 21 days + ongoing |
| 16–18 years | No | 43 days | 16 days |
| 16–18 years | Yes | Ongoing (58 days) | 14 days |
| 13–15 years | Yes | 12 days | 12 days |
| 13–15 years | Yes | 13 days | 10 days |
| 16–18 years | No | 11 days | 9 days |
| 16–18 years | Suspected | 12 days | 9 days |
| 0–12 years | No | approx. 35 days | approx. 7 days |
| 0–12 years | Yes | 10 days | 7 days |
| 13–15 years | No | 13 days | 6 days |
| 16–18 years | No | 12 days | 6 days |
| 16–18 years | No | 13 days | 5 days |
| 0–12 years | Yes | 6 days | 5 days |
| 16–18 years | No | 5 days | 4 days |
| 16–18 years | No | 3 days | 3 days |
| 13–15 years | No | 5 days | 3 days |
| 13–15 years | Yes | 2 days | 2 days |
| 16–18 years | No | 3 days | 2 days |
| 13–15 years | Yes | 2 days | 2 days |
| 16–18 years | Yes | 2 days | 2 days |
Note: We conducted fieldwork in the last two weeks of January 2019. 'Ongoing' refers to consumers who were inpatients at that time with no fixed discharge date.
Source: VAGO, based on clinician interviews.
To protect these young people's privacy, the audit will not report the case studies collected and analysed, but instead focus on the system issues that our analysis of the case studies revealed.
System failures identified
We found four main types of system failure through analysis of the case studies, namely:
the family's (or out-of-home carer's) inability to cope at home with the young person's challenging behaviours
the family's inability to participate in therapeutic care at hospital
failure of disability services, including failure to repair damaged disability accommodation and failure to receive NDIS supports
failures relating to child protection, including failure to engage or organise placements in a timely manner, including when abuse is disclosed during an inpatient stay.
If health services' local relationships fail to resolve system issues for complex clients, there are no mechanisms to escalate them. The Chief Psychiatrist's support and advice is frequently sought, though not routinely, and there is no established mechanism that can be applied to resolve barriers to discharging children who are 'stuck' in inpatient units.
Health services described examples where they had failed to gain a timely response from local disability and child protection workers. In several cases, senior clinicians attributed the delay to a lack of understanding of the serious negative impacts on a child or young person from being in a mental health facility beyond clinical necessity. This included a perception from other services that the child was in a safe place. This view contrasts with the opinion of mental health practitioners that the young person's health and wellbeing was deteriorating because of the inpatient stay.
The resource implications of clinically unnecessary inpatient stays are also significant. The 1 054 bed days in the past 12 months that we found through our case studies equates to $750 448 of direct funding, given the DHHS bed price for child and adolescents is $712 per day. Given that the actual cost of inpatient mental health beds exceeds the funding provided, as discussed in Section 2.3, and that higher staffing ratios and use of facilities—such as multiple beds for one complex client—are common place, as discussed in Section 4.5, the actual cost will far exceed this amount.
Failure to get NDIS supports in place for young people with dual disability
There were several examples of the NDIS contributing to a young person's inpatient stay extending beyond clinical necessity. In at least two cases, an NDIS plan did not exist yet or did not include a high enough level of support for the child to be discharged from hospital, and CYMHS staff were writing applications or appeals to the National Disability Insurance Authority while the young person remained an inpatient. In another example, an extensive NDIS plan had been approved and funded, but the family had not engaged the services, preventing discharge.
During the audit, DHHS undertook a 'data snapshot' with responses from nine health services. It identified 11 consumers, in an unknown timeframe, who had clinically unnecessary inpatient stays totalling 336 days, and a further 15 consumers with a total of 966 days of clinically unnecessary stays in bed‑based rehabilitation settings. DHHS did not report if any of these consumers were children or young people, and noted the low response from health services means the data is likely a significant under-estimate of the problem.
DHHS is referring to this issue as 'social admissions', with the following definition:
Social admissions involve participants being relinquished by their carers or NDIS providers at Emergency Departments and subsequently admitted into inpatient care, without a clinical need to be admitted or remain in hospital. This cohort often presents with complex support needs, primarily in relation to acute behaviours of concern associated with multiple disabilities which in many cases is not associated with a mental health presentation.
This data snapshot is part of a detailed analysis of 'social admissions', which is an emerging issue for clinical mental health services. The snapshot considers drivers and impacts, as well as service gaps that contribute to the problem. The analysis notes that DHHS is putting other interim data collections in place to calculate clinical hours dedicated to NDIS-related activity and the numbers of 'social admissions', with plans to amend the ongoing data collection to include these issues.
DHHS's actions to understand and address this issue have been insufficient and slow. During the audit, in 2019, DHHS was identifying funding requirements resulting from the impact of the transition to the NDIS on clinical mental health services and its clients. In February 2019, DHHS launched a website to increase the clinical mental health workforce's 'literacy on the NDIS'. These actions are occurring three years after the full NDIS rollout commenced 1 July 2016 and six years after the trial sites began in 2013. Our audit found examples of CYMHS clients having clinically unnecessary stays as a result of problems with access to NDIS funding for accommodation dating back to 2016 and that DHHS was aware of the issue at this time.
There is activity underway to improve client information sharing and other collaboration between clinical mental health services and the National Disability Insurance Agency. This is being progressed through a series of inter-jurisdictional committees.
The focus of DHHS's work around mental health and the NDIS is people with psychosocial disability, which is a term used to describe a disability that may arise from a mental health issue. Most young people with 'dual disability', which CYMHS support and this audit examined, do not meet the criteria for having a psychosocial disability. Instead, they have intellectual or developmental disabilities that are complicated by serious mental health problems. There is no evidence that DHHS's work to improve the interface between clinical mental health services and NDIS includes this group of clients nor has any focus on CYMHS's particular issues or needs, which can be different from the adult mental health system
DHHS needs to expand the work that it is now commencing to improve the interface between clinical mental health services and the NDIS to specifically include the needs of CYMHS and young people with dual disability as soon as possible.
Long stays in CYMHS inpatient facilities
Long stays in inpatient facilities can be both a partial indicator of clinically unnecessary stays and a system failure in their own right that should be monitored.
Children and young people's mental health and wellbeing can deteriorate when their inpatient stay are long, and even more so when they are clinically unnecessary. They commonly experience escalations in their frustration, which can lead to aggressive behaviours. This can have the following consequences:
Staff may need to use restrictive interventions (such as seclusion, sedation or restraint) to manage a child or young person's behaviour, which can be traumatising for them.
Children and young people may be violent and abusive to staff in the inpatient unit.
Children and young people who have escalated, especially those who are not staying in a high-dependency area and are free to move about the unit at will, may frighten other children and young people. These other young people may not only be traumatised by aggressive behaviour they have witnessed in the unit, but may not have received adequate treatment and as a result may be more likely to present in crisis at a later date.
Agitated children and young people may damage facilities, leading to expenses for the health service and further bed closures while the unit is repaired.
Monitoring long stays is quite achievable with the current data collection systems, and is done for the adult mental health system, but DHHS does not monitor long stays for CYMHS. DHHS could not provide any rationale for this.
Our data analysis showed that over three years there had been 228 inpatient stays greater than 35 days (a long stay) for clients aged 0–25 years in the four health services we looked at. Figure 4E shows that long stays are only 3 per cent of the total number of inpatient stays, which may explain them being missed by DHHS. However, they represent a significant resource burden that should be monitored and better understood.
Figure 4E
Number of admissions by length of stay for four audited health services 2016–18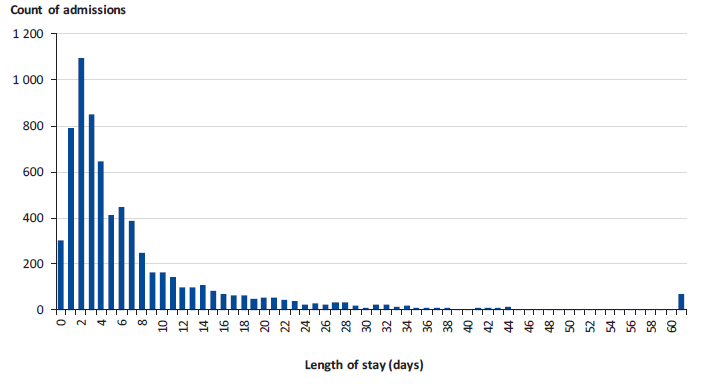 Note: Admissions recorded as zero days are generally part of a planned discharge or recovery program where the young person is admitted to the inpatient facility for a day and returns home before evening.
Source: VAGO analysis of information from audited health services, January 2019.
The long stays are distributed across the four audited health services that we analysed despite their different models of care, as shown in Figure 4F below.
Figure 4F
Number of long inpatient admissions (35 days or more) for 0–25 year-olds during 2016≠–18, by audited health service
Health service

Number of long admissions

0–17 year-olds

18–25 year-olds

Age unknown (a)

Total

AWH

4

24

 

28

Austin Health

49

45

 

94

Eastern Health

18

48

4

70

RCH

36

0

 

36

Total

107

117

4

228
(a) Age at admission unknown but these clients were identified as 0–25 years during 2016–18 through other service contacts.
Note: Monash Health was excluded because our data analysis could not separate the long inpatient stays from community residential stays in their Y-PARC or PARCs.
Source: VAGO analysis of information from audited health services.
Our analysis did not allow for separating Monash Health's Y-PARC data from its inpatient unit admissions, so we cannot report a count of long stays at Monash Health that is comparable to the other audited services. DHHS could undertake further analysis of the CMI data that it collects to determine the extent of long stays at Monash.
There are also significant impacts on the workforce from long and/or clinically unnecessary inpatient stays, which audited health services describe as including:
personal wellbeing burden on staff experiencing sustained aggression from clients with challenging behaviours
increased supervision for staff involved in care to debrief difficult shifts and develop skills in working with challenging behaviours
increased sick leave rates and therefore increased costs for backfill
challenging staff morale.
These are clearly clients with complex needs, as our data analysis showed that they accounted for a total of 652 admissions and 25 per cent of the total bed days that we reviewed. Of the clients with a long admission of 35 days or more, 64 per cent had other admissions during the three-year period we analysed.
We reviewed the diagnostic codes that health services had recorded against these clients to understand the types of mental health problems and complexity that this group experienced. Their diagnoses include the following:
acute psychiatric, for example schizophrenia—70 per cent
anxiety disorder—38 per cent
problems with the social or home environment—45 per cent
additional medical diagnosis requiring hospital treatment—63 per cent
depressive mood disorder—29 per cent
eating disorder—28 per cent
self-harm—19 per cent
developmental disability—18 per cent
maltreatment syndromes, assault or adverse childhood—17 per cent
suicide ideation—14 per cent
autism—11 per cent
homelessness—6 per cent.
Our data showed that multiple stays, which add up to long periods of time as inpatients, are also common in child and youth mental health. When we added clients' multiple stays together, we found 394 young people over three years who had each been inpatients for a total of 35 or more days. Of these, 72 young people (2 per cent) had been inpatients for more than 100 days out of the three years.
Figure 4G
Number of admissions by total bed days for four audited health services, 2016–18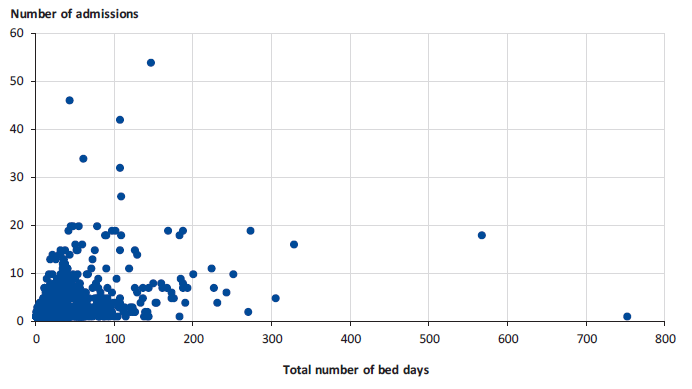 Source: VAGO analysis of information from audited health services, January 2019.
Referral practices as a system blockage
Disputes around referral practices and discharge processes in one region create delays in discharging all young people from inpatient care while their follow-up care is arranged because it is provided by a different CYMHS.
Several interrelated system issues contribute, which include disagreement between the two CYMHS over the information that needs to be provided and received as well as the processes for receiving referrals and communicating with clients, including the role of case managers. Significant demand pressures on both CYMHS across both their inpatient beds and outpatient case managers exacerbates the issues.
Inpatient stays are being extended beyond their clinical necessity while the referral and discharge processes are negotiated.
DHHS advises that it has resolved this issue as follows:
Clinical Directors have been advised to establish structured monthly liaison meetings and escalate any matters that cannot be resolved to the Chief Psychiatrist.
Health services advise that this is an ongoing issue that DHHS needs to monitor.
DHHS intervention in long or clinically unnecessary stays
DHHS has not taken strategic action in response to health services' advice about the challenges of managing 'dual disability' clients who have extended stays in inpatient units aside from the RCH project and the Alfred Health MHIDI pilot project, both of which are outlined in Section 4.5.
There is no evidence of systematic or reliable notifications of extended stays in CYMHS, and there is no mechanism for the Chief Psychiatrist to monitor and intervene in such cases in a timely manner. As an example, the Chief Psychiatrist only became aware of one of these examples more than two months into the period deemed to have been clinically unnecessary, and not via communication of the extended stay, but when reviewing another issue.
Health services have no mechanisms to effectively and efficiently escalate and resolve cases where clients no longer require mental health treatment, but cannot be re-engaged with services to support their other complex needs, such as disability supports. Where direct attempts to engage the necessary services fail, health services sometimes contact the OCP or rely on personal and professional relationships to escalate issues to more senior people in child protection or disability services within DHHS.
Each of DHHS's 17 'management areas' operates a Complex Client Panel, with membership from across DHHS program areas, local service providers, Victoria Police, hospitals, and other government departments such as DJCS. DHHS advises that the panels discuss 'a range of complex clients' and the panel members 'assist in service access, referral and support'. There is no evidence that these panels have been used to address service coordination or access issues that are causing clinically unnecessary inpatient stays in CYMHS, or that CYMHS have ever participated in these panels.
Not all complex clients 'stuck' in in-patient services will have their service needs met through local or area-based coordination. One audited health service suggested the need for a statewide version of the high-risk youth panels that some CYMHS convene to assist with service access and case planning for the most complex clients.
Multiple and Complex Needs Initiative
Currently, 14 young people aged 17–25 years with a diagnosed mental illness are receiving case management support through the MACNI program managed by DHHS, with funding contributed by DJCS. Only one of 28 referrals for young people under 25 years to the MACNI program in 2018 was from CYMHS. Figure 4H shows the referral source for younger MACNI clients.
Figure 4H
Referral sources for MACNI clients aged under 25 years in 2018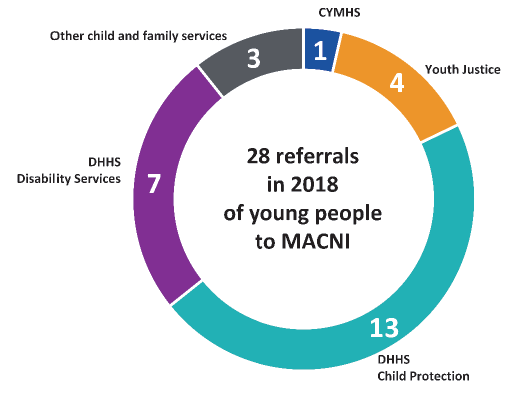 Source: VAGO analysis of information provided by DHHS.
MACNI provides up to three years of case management for people aged 16 years and over with complex needs, which include two or more of the following:
mental illness
substance-use issue
intellectual impairment
acquired brain injury.
To qualify for MACNI, people must also have exhibited dangerous behaviour, or behaviour that is likely to put themselves or another person at risk of serious harm.
Possible cases are referred to the DHHS MACNI coordinator in the client's region, and a panel of senior staff from DHHS programs and local service providers will first consider whether the person is eligible and then develop a care plan to respond to the person's needs and negotiate the services that their agency will contribute.
DHHS advised in November 2018 that it does not 'market' MACNI because despite a recent funding increase, MACNI is almost at capacity. In April 2019, DHHS advised that MACNI does have capacity to take on new clients in all areas. There is no evidence that DHHS has ever 'marketed' to or communicated with CYMHS about the MACNI service. DHHS should advise CYMHS leaders of the process for referring a client to MACNI, the criteria for clients that are eligible and update this guidance regularly, as well as directing MACNI coordinators in each area to ensure they engage with their local CYMHS.
Audited health services report that they do not engage MACNI to support care coordination for the complex clients they have 'stuck' in inpatient facilities for several reasons:
Clients are not eligible if they are under 16 years.
Strict eligibility criteria around mental health diagnosis can often not be met for complex young people, so they are ineligible for MACNI.
It takes too long to be useful because its process involves 12 weeks to establish a care plan and monthly meetings of regional MACNI panels.
One audited health service reported that a young person remained an inpatient beyond clinical necessity when their forthcoming 16th birthday would make them eligible for a MACNI referral. If MACNI or a similar support with a more flexible age eligibility was available, the young person could have potentially been discharged earlier.
In the Western region, DHHS has recognised that there are young people below MACNI's eligibility age of 16 who do require a similar service, and it was trialling a High-risk Youth Panel for 12–16 year-olds during the audit that was based on the principles of MACNI. There is no evidence that the pilot will be continued, nor are there any plans for how its evaluation findings and lessons will be shared.
4.4 Service coordination around multiple and complex needs
Despite clear evidence that CYMHS clients frequently have multiple and complex service needs, and international evidence that coordination of care and systems is crucial for improving outcomes, DHHS has taken no action to direct, facilitate or enable CYMHS to participate in any form of service or care coordination with other service agencies.
DHHS data linkage work has shown that in 2014–15 the following proportions of each service's clients were also registered mental health clients:
42 per cent of youth justice admissions
19 per cent of out-of-home care clients
31 per cent of Child FIRST family services clients.
These findings resulted from an exploratory piece of analysis by the then-new data linkage group within DHHS, and further analysis of this data that was planned has not been completed.
The most promising evidence for improving outcomes for children and adolescents as well as adults with complex needs and serious mental health problems appears when a 'systems of care' or 'wraparound' approach is used to improve the quality and consistency of service delivery. These approaches centre on integration or coordination of the multiple services involved in these complex young people's care. The approach has been shown to reduce the severity of mental health problems and decrease functional impairment that results from mental health problems.
This 'systems of care' approach is not a discrete program or project that can be trialled on a small scale—it requires substantial system reform. For example, in one large-scale initiative in the United States with positive outcomes, single centralised authorities with responsibility for the mental health service system were established in each local area and these authorities were mandated responsibility to develop and coordinate the wide range of services in the public sector including housing, income support, job training, psychosocial rehabilitation, advocacy and general health services, alongside specialist mental health services.
Key features of the 'systems of care' models that have been implemented and evaluated with positive outcomes are:
a family focus and involvement in care and service planning
cultural competency for staff
interagency involvement and partnership across multiple sectors including welfare, health, justice, education and mental health
coordination and collaboration between professionals to avoid duplication and eliminate gaps in care
community-based service provision within close geographic proximity to the targeted community
accessibility in terms of physical location, scheduling and financial constraints
care individualised to the specific needs and strengths of the child
use of the least restrictive setting possible.
Evaluation research conducted around the development of 'systems of care' approaches for both adults and children with complex mental health problems has consistently demonstrated that government-supported strategies can effectively enhance integration of services at a system level and consequently improve outcomes for children and young people.
Local care coordination
Each health service invests significant time and resources into developing and maintaining relationships with service providers who they need to engage in service coordination, most frequently child protection, but when local relationships fail to resolve matters there is no mechanism for CYMHS to escalate matters other than alerting the Chief Psychiatrist.
All audited health services actively participate in monthly or bimonthly meetings with their local child protection services in which high-risk children are discussed and CYMHS clinicians provide advice about management of mental health problems. The purpose of these forums is both case management of high-risk clients and upskilling the child protection workforce in working with mental health problems and behavioural disorders. One health service reported it has a similar arrangement with its local disability service provider, although the others reported that engagement with disability services had ceased since DHHS-funded services had been withdrawn with the transition to the NDIS.
Two health services described a 'high-risk youth' or 'complex care' panel that they convene internally to coordinate the most complex clients and escalate to involve senior staff in the most high-risk or complex cases. One of these panels involves senior staff from external agencies such as child protection and disability to participate as relevant.
Service coordination practice in Victoria
DHHS's 2016 Mental Health Workforce Strategy identifies that skill development in care coordination and service coordination is required. This acknowledgement came 16 years after DHHS began a strong policy and program focus on service coordination for DHHS's many other program areas, as described in Figure 4I.
Figure 4I
Service coordination in Victoria
Since 2000, DHHS and its predecessors have had a strong policy and program of funded initiatives to enable service coordination between the many different types of services available across Victoria's health and human services system.
The Victorian service coordination framework helps health service providers work together to align practices, processes and systems so:
people access the health services they need, no matter what service they go to first
providers exchange the right information so consumers receive good care from the right providers at the right time
people have their health and social needs identified early, preventing deterioration in health.
Service coordination places consumers at the centre of service delivery. The idea is to maximise consumers' likelihood of accessing the services that they need.
Service coordination also enables organisations to remain independent of each other, while cooperating to give consumers a seamless and integrated response.
Resources to support service coordination practice in Victoria include:
the Practice Manual and Good practice guide
the continuous improvement framework
individual tools and templates found online, including consent forms in over 50 languages
ICT specifications for software vendors
sector-specific training guides.
Source: VAGO, from DHHS materials.
Over the past two decades, funding and programs to develop capability for service coordination throughout Victoria has been largely managed through Primary Care Partnerships (PCP). These are alliances of many different health and human services that work together to improve population-based planning and coordination of care for consumers. The work of PCPs has included negotiation and documentation of shared principles, protocols, governance arrangements, service agreement templates and other resources that provide guidance to service providers seeking to enhance interagency collaboration.
When last reviewed in 2010, less than 50 per cent of Victoria's 31 PCPs had engaged any of their local mental health services in their service coordination work. There is no evidence that DHHS has provided guidance or direction to mental health services to engage with PCPs or their service coordination initiatives, nor facilitated or enabled such engagement.
The Chief Psychiatrist's intervention
Under the Act, the Chief Psychiatrist has the responsibility 'to promote cooperation and coordination between mental health service providers and providers of other health, disability and community support services'. The Secretary of DHHS has the same responsibility under the Act, and there has never been any planning about how that responsibility would be coordinated or jointly implemented or monitored between the two.
The Chief Psychiatrist does not directly engage with the Secretary nor have any process to escalate complex matters that require a coordinated response from different program areas across DHHS. The Chief Psychiatrist role is positioned in the organisational structure four reporting lines below the Secretary. A review of the Chief Psychiatrist's role in 2016 made a recommendation on this matter which DHHS has not responded to:
The Public Advocate is appointed by the Governor of Victoria. Their roles and powers are outlined in the Guardianship and Administration Act 1986, which involve promoting and safeguarding the rights and interests of people with disability.
The Public Advocate's 'community visitors' program involves volunteers who make scheduled but unannounced regular visits to all inpatient mental health services and draw up reports of their observations. The right to make these visits and how they will be conducted are described in the Mental Health Act 2014.
That the Chief Psychiatrist meets formally with the Secretary twice a year to provide feedback on issues concerning the quality and safety of care in clinical mental health services. This briefing should occur independently of the director of Mental Health and the Deputy Secretary of Health Service Performance and Programs (HSPP). The Chief Psychiatrist should also have the opportunity to meet at least twice a year with the HSPP Deputy Secretary.
The Chief Psychiatrist meets regularly with the Public Advocate and has asked them to escalate issues to the Secretary on their behalf. There is a formal arrangement that the Public Advocate meets regularly with the Secretary.
Around one complex case with a young person 'stuck' in a CYMHS inpatient unit, the Chief Psychiatrist led a process that involved fortnightly meetings with other program areas in DHHS over a period of 18 months. There were no formal mechanisms that could be enacted to enable this process, and finding the right people to participate with sufficient authority caused significant delays in resolving the complex needs of this young person.
The Chief Psychiatrist meets regularly with their equivalent legislated positions in the disability services and child protection areas, but there is no evidence of outcomes achieved and no evidence of shared identification of priority issues across their sectors or for shared clients. The positions are located in separate divisions of DHHS, as shown in Figure 4J, which may be impeding their capacity to collaborate.
Figure 4J
Position of the Chief Psychiatrist and Chief Practitioners for child protection, disability services, and allied health in the DHHS organisational structure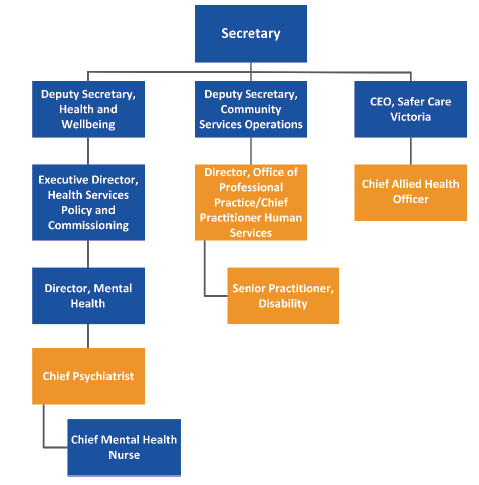 Source: VAGO analysis of DHHS organisational structures.
There are no structures or mechanisms to guide cross-sector collaboration within DHHS, nor are there governance arrangements over complex clients who require service coordination that cannot be resolved through area-level Complex Client Panels or the small cohort that qualify for the MACNI program, both of which have limitations for CYMHS clients that were described in Section 4.3. DHHS should consider establishing a mechanism that allows CYMHS to escalate complex clients who are deteriorating due to clinically unnecessary stays to a cross-sector group of senior officials who can mobilise rapidly and make decisions about service gaps and service coordination barriers for the most complex and vulnerable clients.
4.5 Managing dual disability in CYMHS
Caring for young people with complex needs where mental health problems coexist with intellectual disabilities and/or autism and challenging behaviours creates significant challenges for CYMHS. These challenges include the use of restrictive interventions, impacts on a workforce who may lack the skills and training to work with the clinical issues these clients bring, as well as the issue of extended stays, which have previously been discussed.
RCH described this challenge for CYMHS in their response to DHHS's 10-year plan, as follows:
Difficulties such as severe challenging behaviours in adolescents with Autism Spectrum Disorder pose a major practical, physical and emotional difficulty for carers as well as lead to substantial burden on the residential care system. Across the state, clinical services through regular CAMHS/CYMHS and private practitioners is difficult or impossible to obtain. These young people represent a 'blind spot' or service gap, with high morbidity and cost.
Some young people with dual disabilities also present challenges in terms of the type of inpatient accommodation they require. The case studies that we examined included examples of young people who damaged property, had significant personal hygiene challenges, and who needed to be separated from other patients for safety reasons. In some instances, these patients had to be allocated two rooms to enable staff to clean and maintain their accommodation to a safe standard.
RCH accommodates patients with dual disability who bring very challenging behaviours in a 'pod' that would usually accommodate four patients. At the time of the audit, this pod had been almost continually occupied by just one patient at a time—four different ones—for 18 months. DHHS is aware of this issue and the impact it has on the availability of mental health inpatient services to young people who need them; however, it has not taken any meaningful action to understand or rectify the issue.
Frequency of dual disability in CYMHS
Our data analysis identified 303 CYMHS clients who had intellectual disability of different severity levels, recorded as:
246 (81 per cent) mild
50 (17 per cent) moderate
6 (2 per cent) severe
1 (0.3 per cent) profound.
Our analysis also showed that many of these clients had multiple conditions or risk factors, as follows:
autism (41 per cent)
anxiety disorder (33 per cent)
congenital developmental disability (30 per cent)
problems with social/home environment (29 per cent)
acute psychiatric, for example schizophrenia, (29 per cent)
other medical diagnoses requiring hospital treatment (28percent)
depressive mood disorder (17 per cent)
maltreatment syndromes including assault and adverse childhood (15 per cent)
alcohol and other drug issues (12 per cent)
conduct disorder (12 per cent)
eating disorder (11 per cent)
suicidal ideation (11 per cent)
self-harm (8 per cent)
homelessness (1 per cent).
This analysis excluded 25 per cent of clients where the health service had not recorded any diagnostic codes for that client in their database. The majority of clients whose diagnoses are unknown are outpatient or community clients because 96 per cent of inpatients had diagnostic codes recorded.
Although mental health diagnoses are not recorded for all clients, we have assumed that access to CYMHS indicates the presence of a moderate to severe mental health problem.
In order to protect their privacy, we cannot report the age breakdown for these clients, but our data analysis shows a significant peak in numbers at the five audited health services at age 16. Of 302 clients, 12 per cent were aged 16 years at 31 December 2018. Given our data shows the age at that time for clients who have accessed CYMHS at any point in the three years prior, these clients may have been aged between 14 and 16 years at the time of accessing CYMHS.
This peak at age 16 is consistent across Monash Health, RCH and Eastern Health's data, but was not seen in Austin Health or AWH's data. The number of clients with intellectual disability recorded as a diagnosis was also significantly lower at Austin Health than the other audited services, which may reflect different data entry or diagnostic processes. Further investigation is required to understand the different service responses and access arrangements for young people with dual disability.
MHIDI initiative at Alfred Health
DHHS sought expressions of interest from all CYMHS in 2016 and awarded $5.5 million over four years to Alfred Health to develop and deliver MHIDI. The project included $250 000 of establishment funds to develop resources, protocols and policies.
Other CYMHS have expressed strong interest in learning what they might be able to adapt to their own service from Alfred Health's initiative. However, DHHS has not taken action to disseminate the resources developed, outcomes or lessons learned. While the project has not been independently evaluated, an extensive report which outlines achievements and challenges, lessons learned and strategies trialled was provided by Alfred Health to DHHS in April 2018.
Alfred Health made four recommendations to DHHS about system issues for young people with dual disability, which were:
critical need for step-up, step-down residential options such as a PARC service that can specifically cater to young people with a dual disability aged 12–18 years
an urgent need for access to special beds/pods for 13–18 year-olds in current inpatient settings for a longer length of stay in order to conduct effective psychiatric reviews with specialised treating teams competent in dual disability
more overnight respite options for families
improving placement options for children who are not able to stay in the family home and better systems to support families during a process of relinquishing care, including clarifying the options where the state-funded disability services that used to be central to these cases no longer exist with the transition to NDIS.
DHHS has not responded to the recommendations or acted on them. While these recommendations involve complex system issues that will not be resolved quickly or easily, DHHS needs to act to better understand and address the needs of young people with dual disability.
RCH Dual Disability Service
RCH established a 'Dual Disability Service' in 2016, in which doctors from their developmental medicine area work together with CYMHS to assess and plan treatments for children and young people who have neurodevelopmental disorders and mental health problems, such as adolescents with autism who have severely challenging behaviours.
In their response to the 10-year plan, which DHHS became aware of during the audit, RCH advised DHHS of the high demand for this service and noted that they had collected data through its pilot phase that could assist with 'scaling up and expansion' of the model.
Our data analysis showed that RCH had 114 CYMHS clients with intellectual disability, the largest of any of the audited health services. It is possible that the existence of a dedicated service increases the recording of diagnoses, which contributes to the higher number of clients that we identified in the data analysis at RCH.
DHHS was not aware of the RCH Dual Disability Service and does not provide funding or support for it. Other CYMHS that reported challenges managing these complex clients with dual disability were also not aware of the RCH service or any lessons from it.
Since DHHS ceased to convene its quarterly 'CYMHS leaders' meetings in 2016, there have not been formal opportunities to circulate information among CYMHS, which is a missed opportunity to improve CYMHS service delivery. DHHS needs to re-establish and facilitate a network where operational and clinical leaders of CYMHS can share lessons and challenges to address CYMHS system issues.