Maintaining the Mental Health of Child Protection Practitioners
1.1 Child protection in Victoria
Under Victoria's Children, Youth and Families Act 2005, DHHS is responsible for protecting children and young people from abuse and neglect. As of 30 June 2017, DHHS employed 1 933 CPPs in 24 field offices across four divisions to carry out this mandate. This includes:
receiving reports of suspected neglect and abuse
conducting investigations to determine the need for protective services
intervening when a child is in need of care and protection
taking matters before the Children's Court
supervising children on child protection orders
determining case plans
providing case management services for children and young people who are either living with family or in out-of-home care
engaging with other providers with a role in protecting children, including Child FIRST providers, schools, police, doctors, community health services and courts.
Child FIRST is a state government initiative that aims to connect vulnerable children, young people and their families to relevant services.
Like emergency services workers such as police and paramedics, CPPs are exposed to mental and emotional stress due to the nature of their work. They regularly deal with traumatic incidents, substance‑affected people and violence, which may, on occasion, threaten their personal safety.
DHHS has a duty of care to ensure that CPPs maintain good mental health and wellbeing while working to protect some of Victoria's most vulnerable citizens.
CPPs
CPPs perform different functions depending on their level within the child protection system. The levels are classified from CPP-2 through to CPP-6. The CPP workforce consists broadly of support workers, CPPs and leadership positions. Figure 1A summarises the CPP classifications and roles. See Appendix B for descriptions of each role.
Figure 1A
Child protection classifications and roles
Classification

Role

CPP-2

Case support worker

CPP-3

Practitioner

CPP-4

Advanced practitioner

CPP-5

Team manager

CPP-5.1

Senior child protection practitioner
Senior child protection practitioner (community based)
Senior child protection practitioner (court officer)

CPP-5.2

Practice leader

CPP-6

Principal practitioner

CPP‑6.1

Deputy area manager Area manager Area manager, regional services

CPP-6.2

Child protection operations manager
Source: VAGO based on DHHS Child Protection Manual.
All CPPs who manage cases must have relevant qualifications, the most common being social work, welfare work and psychology. DHHS also provides ongoing training, with programs tailored to different child protection career levels.
DHHS's Child Protection Manual classifies child protection reports as:
requiring protective intervention (including new allegations regarding a current client) and/or a therapeutic treatment
child wellbeing report—generally referred on to secondary family support services
unborn child report—generally referred on to secondary family support services
inappropriate or insufficient evidence to warrant further action.
Establishing the need for child protection services
Family support services are provided through three key systems:
The universal (primary) service system—delivers services to Victorians, and aims to prevent abuse and neglect (antenatal, maternal and child health, and education services).
The secondary service system—provides support through requests or referrals, and aims to reduce drivers of abuse and neglect (integrated family services, respite care, mental health and substance abuse support, and counselling services).
The statutory (tertiary) service system—intervenes when the primary and secondary systems are unable to ensure a child or young person's safety (child protection and out‑of‑home care for children who cannot live at home).
After receiving a report, CPPs assess whether the child or young person's circumstances fall within the legal definition of 'requiring protective intervention'. If a CPP classifies a report as requiring protective intervention:
urgent investigations must occur within 48 hours
non‑urgent investigations must occur within 14 business days.
Phases and decision-making in child protection
Child protection is highly complex, requiring adequate time and support to make informed and effective decisions that are based on the unique circumstances and requirements of each child.
CPPs use a 'best interests' case practice model to determine the level of danger facing the child and the likelihood of future harm occurring. They use this model across the five key child protection phases—shown in Figures 1B and 1C—though the phases are not necessarily consecutive. Figure 1D illustrates how child protection cases move through the child protection program, and Appendix C illustrates the different phases in detail.
Figure 1B
Child protection phases
Phase

Description

Intake

CPPs receive reports and determine the appropriate response, provide advice, help children and families access support services and, where appropriate, make referrals.

Investigation

CPPs assess the risk to the child and determine whether they need protection. This involves direct assessment and interviews with the child and custodial carer(s), and consultation with relevant people, including professionals, to determine whether to substantiate a report and if further protective intervention is required.

Protective intervention

Once CPPs substantiate protective concerns, they prepare a case plan for the child. Throughout protective intervention, CPPs monitor and assess the child's needs and parental capacity, and determine the types of:

assistance the family should receive
protection that should be offered to the child.

Protective intervention ceases when:

a protection order is made by the Children's Court
the court does not make an order (the application is dismissed or withdrawn)
the CPP assesses that there is no further risk of significant harm to a child and the case planner determines that it can be closed.

Protection order

If CPPs are unable to work effectively with the family to ensure a child's safety, they will make a protection application to the Children's Court.

CPPs' primary role during this phase is ongoing engagement with the child and family to assess risks and provide for the child's safety and wellbeing.

Closure

A case can be closed from any of the above points. CPPs must:

ensure linkages and collaborative community plans have been developed and are operational—to further protect the child, promote their development and strengthen families
ensure all final case work actions and tasks are completed
terminate child protection involvement with a child and family in a timely and appropriate manner.
Source: VAGO based on DHHS Child Protection Manual.
Figure 1C
Overview of child protection processes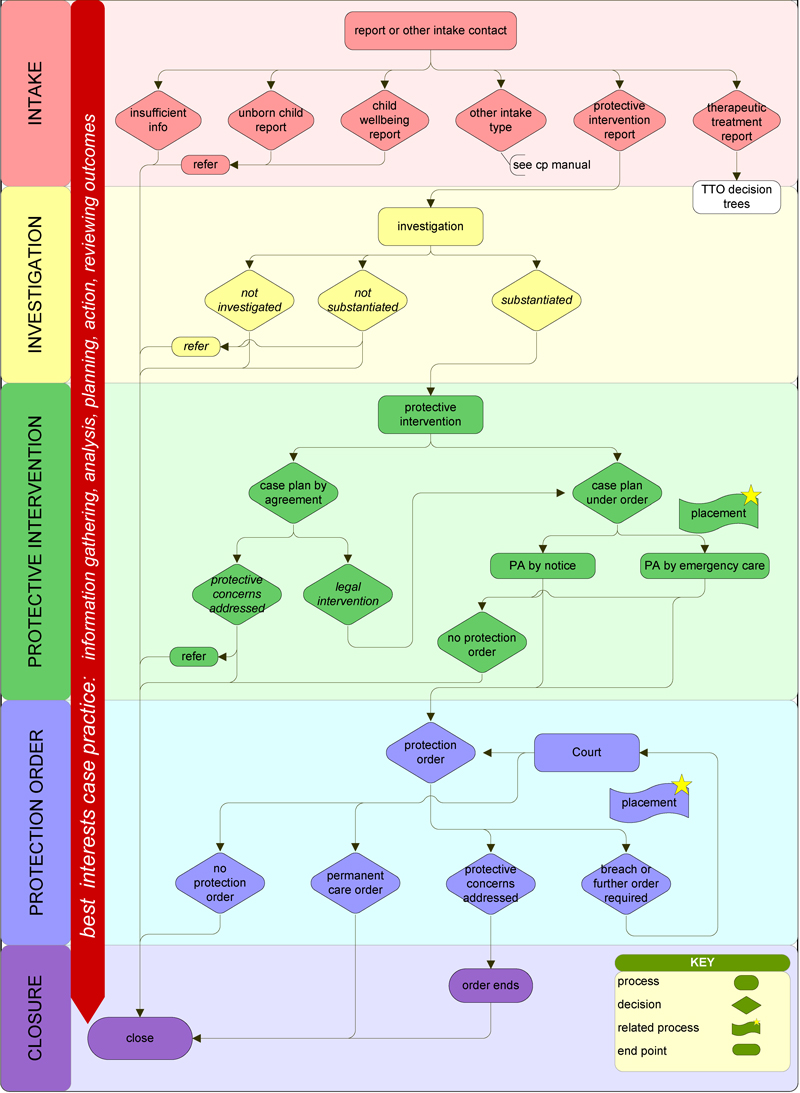 Source: DHHS Child Protection Manual.
Figure 1D
Flow of cases through the child protection program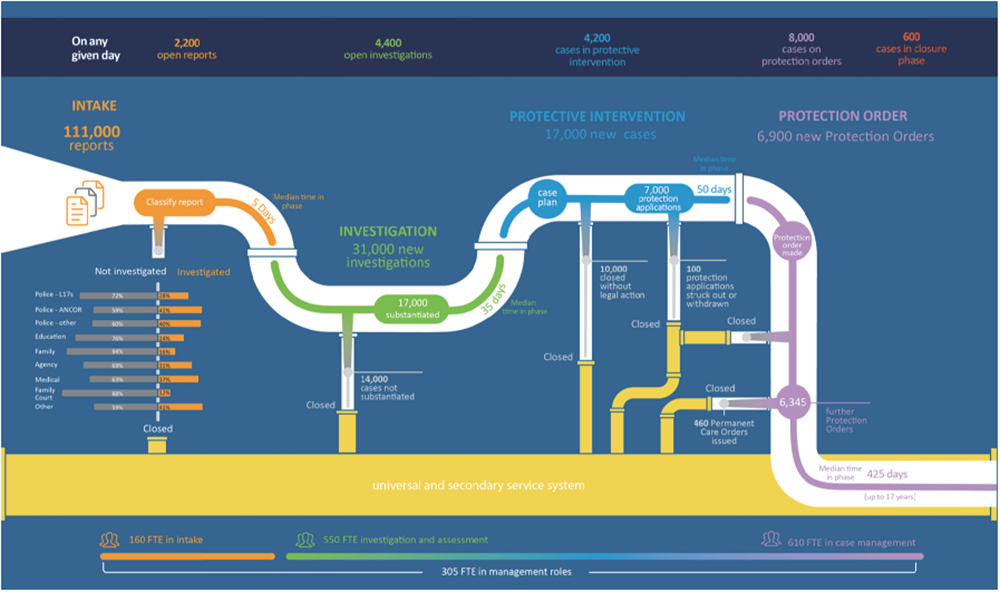 Note: Figures correct as at 20 November 2017.
Source: DHHS, Proposed strategies to reduce and manage cases awaiting allocation (2017).
1.2 Workplace mental health
The role of good mental health in delivering public services
On a global scale, employers are increasingly recognising the role of good mental health in a productive workforce. Poor mental health directly affects productivity and turnover, as well as the achievement of organisational goals.
According to WorkSafe Victoria, mental injury is the second highest source of compensable claims in Victoria, following musculoskeletal disorders and joint or ligament injuries. Chronic stress is also linked to immune system disorders, musculoskeletal disorders and chronic pain, as well as a growing list of conditions such as gastrointestinal disorders, skin rashes, migraines and asthma.
WorkSafe Victoria recorded more than 3 100 claims for mental health disorders in 2016 (about 12 per cent of total claims), and it expects the rate of mental injury in the community to increase over the next 10 to 20 years.
At the same time, studies such as beyondblue's 2014 report Creating a mentally healthy workplace: Return on investment analysis indicate that a mentally healthy workplace, on average, may deliver benefits worth more than double the original investment. These benefits typically take the form of improved productivity resulting from reduced absenteeism and 'presenteeism' (reduced productivity while at work), and fewer compensation claims. The study suggests that this estimate is conservative, however, as it does not account for more intangible benefits such as improved morale.
The role of government in promoting good mental health
Under the OHS Act, employers are responsible for providing and maintaining a working environment that is safe and without risks to health—including psychological health—so far as is reasonably practicable. An employer's specific obligations are set out in sections 21 and 22 of the OHS Act.
Over time, the government has increased its focus on integrating mental health into workplace OHS regimes. The government endorsed the MHWC in October 2016. The MHWC commits government organisations to creating a mentally sound and safe workplace through:
identifying, measuring and treating mental health risks through the OHS system in the same way as physical OHS risks
leaders championing mental health and wellbeing initiatives
developing a culture, skills and environment that empowers workers to recognise and raise mental health issues to assist themselves and colleagues
collecting and reporting data to improve the understanding of mental health and wellbeing in the public sector and to inform continuous improvement in the programs and services offered to employees
delivering evidence-based training programs that support the capability of managers and workers, including health and safety representatives, in identifying, preventing and addressing mental injury and illness, as well as promoting positive mental wellbeing
consulting, communicating and providing services that support mental health and wellbeing that can be accessed and used by all employees.
In February 2017, DHHS was the first agency to roll‑out the MHWC. DHHS supports the MHWC with a Health, Safety and Wellbeing Strategy, a People Strategy and the VPS Mental Health and Wellbeing Education and Training Framework.
Mental health of CPPs
The government recently recognised CPPs as 'frontline' workers, along with police, emergency services staff and youth justice workers. Frontline workers are considered to be at particular risk of developing mental health issues. While the nature of CPPs' work may differ from other sorts of frontline work, they experience the same types of stressors as those set out below.
In examining mental health in emergency services personnel, beyondblue's 2014 report Audit of emergency services mental health programs identified several stressors in particular that contribute to poor mental health, including:
long and unpredictable working hours
repeated exposure to trauma, violence and death
difficult interactions with members of the public
high expectations pertaining to the profession.
In January 2018, DHHS released its CPP Workforce Strategy. The strategy's goal is to build, develop and sustain the capability, wellbeing and professional identity of the Victorian child protection workforce.
The strategy comprises five major priorities:
attracting and recruiting the best people
growing and developing staff
engaging and retaining staff
maintaining the wellbeing of the CPP workforce
building a professional identity for the workforce that recognises child protection as a valued profession of the highest integrity and competence.
The fourth priority—maintaining the wellbeing of the CPP workforce—includes implementation of a child protection psychological support program.
WorkSafe Victoria's role in mental health and wellbeing
As Victoria's workplace health and safety regulator, WorkSafe Victoria's role is to ensure that employers are providing a safe and healthy workplace. It is also responsible for:
monitoring and enforcing compliance with the OHS Act
providing information about duties, obligations and rights under the OHS Act
promoting public awareness and discussion of OHS and welfare.
WorkSafe Victoria also chairs Victoria's Public Sector Occupational Health and Safety Improvement Interdepartmental Committee. This committee provides a forum for government departments to share information and establish benchmarks for OHS best practice.
WorkSafe Victoria's focus on mental health and wellbeing has been growing since 2004. As part of its psychological health program, WorkSafe Victoria has produced handbooks and guidance documents on subjects such as stress and bullying. It also developed the People at Work project—a free risk assessment tool that organisations can use to identify psychosocial hazards in the workplace.
WorkSafe Victoria's 2016 Annual Report notes:
'Community expectations of our role in the complex issues of mental injury, bullying and occupational violence are also expanding, requiring us to reassess how we regulate workplace safety and how we deliver our services.'
In April 2017, WorkSafe Victoria announced the next iteration of its psychological health program, which aims to promote and protect the mental health and wellbeing of all Victorian workers.
1.3 Why this audit is important
DHHS has a duty of care to ensure that CPPs maintain good mental health and wellbeing. As CPPs are routinely exposed to environments that carry a high risk of harm to their mental health, there is an expectation that DHHS actively works to minimise or eliminate such risks. Supporting the mental health of CPPs also:
helps to lower recruitment and training costs associated with staff turnover
works to reduce the number of WorkCover claims related to mental health
better enables CPPs to deliver quality services to protect vulnerable children.
1.4 What this audit examined and how
Our audit objective was to determine whether Victoria's CPPs maintain good mental health and wellbeing. In making this determination, we considered whether:
DHHS promotes mental health and works to prevent mental illness in CPPs
potential and existing mental health issues are identified and appropriately managed.
We also considered WorkSafe Victoria's role in monitoring and enforcing compliance with the parts of the OHS Act relevant to mental health.
Our audit did not examine the effectiveness of the child protection program.
We examined DHHS's policies and procedures for supporting good mental health, interviewed CPPs and child protection management staff, and reviewed data related to the causes and effects of poor mental health in CPPs.
Survey and interview data
The PMS is an annual survey of Victoria's public service staff. The survey asks a range of questions, addressing topics such as wellbeing, satisfaction with work‑life balance, and experiences with bullying and grievance processes. We used the CPP responses to the PMS from 2013 to 2016 to support our analyses and findings.
There are approximately 100 questions in the PMS. The exact number varies based on the respondents' demographic and individual experiences. Because all responses are voluntary, some questions may receive a higher response rate than others.
During our audit, DHHS expressed concerns about the reliability of PMS data, as some of the questions had poor response rates from CPPs. As such, we have used the results to provide a 'general sense' of CPP opinions.
We supplemented the PMS results by interviewing over 100 CPPs and executive staff in multiple locations, observing their processes and working conditions, and collecting evidence of CPPs' experiences in managing their mental health. While we visited three metropolitan offices, two regional offices and the child protection program's central office in Melbourne, we interviewed staff from many different offices, both metropolitan and regional, across Victoria.
Finally, we conducted a survey of Victoria's CPPs, to learn about their views and experiences in managing their mental health. Our survey was not a comprehensive study of CPPs' mental health, but rather a tool to establish whether views and experiences presented to us in focus groups and one‑on‑one interviews were also held more broadly.
We received 190 survey responses, which represents 9.8 per cent of Victoria's CPPs. While this is a low response level, it nevertheless contributes to the larger body of evidence that informed our findings and conclusions.
We have sought to present CPPs' perspectives by including representative responses to our survey questions and comments made during focus group sessions in the report. Further responses and comments are categorised by theme in Appendix E.
Child Protection Workforce Strategy 2017–2020
At the time of this audit, the CPP Workforce Strategy had only recently been released, it would have been premature to evaluate it during our audit. Consequently, we do not comment on the strategy outside of identifying how it intends to address the issues we have raised.
Conducting our audit
We conducted our audit in accordance with section 15 of the Audit Act 1994 and ASAE 3500 Performance Engagements. We complied with the independence and other relevant ethical requirements related to assurance engagements. The cost of this audit was $550 000.
1.5 Report structure
The remainder of the report is structured as follows:
Part 2 examines the identified risks to CPPs' mental health
Part 3 examines how DHHS supports CPPs in managing their mental health
Part 4 examines the impacts of mental health risks on CPPs.