Maintaining the Mental Health of Child Protection Practitioners
2 Risks that impact the mental health of CPPs
CPPs are regularly exposed to risks that may affect their mental health and wellbeing. At the same time, CPPs' workloads continue to increase, with the rising number of reports that CPPs are required to investigate and, where substantiated, act on.
This part examines the nature and origin of the risks that are affecting CPPs' mental health.
2.1 Conclusion
Poor management of psychosocial risks limits CPPs' ability to maintain good mental health.
DHHS's CPP Workforce Strategy, if properly implemented, will be a positive step in addressing the secondary risks to CPPs' mental health, which DHHS has historically not managed well.
Its plans to improve the child protection program's relationship with the media and raise CPPs' professional profile have the potential to increase recognition of the specialist nature of CPP activities and clarify where poor child protection outcomes are the result of capacity rather than capability.
In addition, DHHS's introduction of mechanisms to reduce CPP experiences of inappropriate conduct towards them may help to address another key barrier to maintaining good mental health.
However, DHHS's efforts to improve organisational support will not be enough unless the primary issue affecting CPP mental health—unreasonable workloads—is addressed.
2.2 Mental health risks
The mental health risks facing CPPs can be broadly categorised as:
role-based—risks that are largely inherent in a CPPs' assigned duties
psychosocial—risks associated with CPPs' organisational environment.
Role-based risks
Role-based risks are those that CPPs are exposed to because of the nature of their work. This includes vicarious trauma, critical incidents, sometimes hostile and, on occasion, violent treatment by a child, their family members, or others associated with the child.
DHHS acknowledges role-based risks as mental health risks and has supports in place to assist CPPs to manage their mental health when exposed to such events. In our discussions with CPPs, they frequently discussed that they felt able to cope psychologically, at least to some extent, with such risks.
Psychosocial risks
While exposure to violent, traumatic and distressing situations is likely to be a strong driver of stress for CPPs, leading experts in clinical and organisational psychology propose that contextual factors tend to have a stronger influence on staff wellbeing than role-based risks.
Academic research into the mental health and wellbeing of CPPs in Australia—such as the Australian Institute of Family Studies 2016 report Caring for our frontline child protection workers—generally identifies workplace concerns as significant stressors.
The impact of organisational factors on mental health also featured in the 2016 Victoria Police Mental Health Review. The review found that 'whilst operational incident exposure is an important contributing factor to mental health risk … all evidence suggests that organisational factors (particularly leadership style, management practices, workload and resourcing issues) are also very important'.
DHHS's comparatively more mature approach to role‐based risks (than to psychosocial risks) is also reflected in its WorkCover payments data which shows that from 2012 to 2016, there were only three WorkCover payments related to occupational violence. In contrast, there were 29 payments related to work pressure and 50 payments concerning work‐related harassment and/or workplace bullying for the same period.
CPPs consider their internal working environment—or psychosocial risks—to be the key driver of poor mental health outcomes. As such, our report focuses on the child protection program's psychosocial risk environment, which can be categorised as:
a primary risk—unreasonable workloads
secondary risks—resulting from inadequate organisational support for mental health management.
2.3 Primary mental health risks for CPPs
Unreasonable workloads—case loads, unallocated cases, and administrative burdens
Victoria's CPPs have faced excessive workloads for some time. The difficulties CPPs face in fulfilling their obligations due to unreasonably high workloads are reported at least as far back as 2009 in the Victorian Ombudsman's investigation into child protection. This report described CPPs as 'dedicated staff working under difficult circumstances' in a 'system struggling to meet its operational responsibilities'.
In 2016, DHHS commissioned an independent review of child protection that described it as a 'high voltage program' where:
'The combination of constant interactions with traumatised and damaged families and vulnerable children, large workloads, tight timelines and the intensity of the interface with the Children's Court differentiates it from other programs. Coupled with these factors is a workforce that has a high turnover in comparison with most other programs …'
DHHS's 2016 family support services strategy, Roadmap for Reform: Strong families, safe children, simply states 'Child protection services are overwhelmed'.
Figure 2A shows that the rate of reports per 100 CPPs increased from 4 110 in 2009–10 to 7 501 in 2016–17.
Figure 2A
Rate of reports to child protection, 2009–10 to 2016–17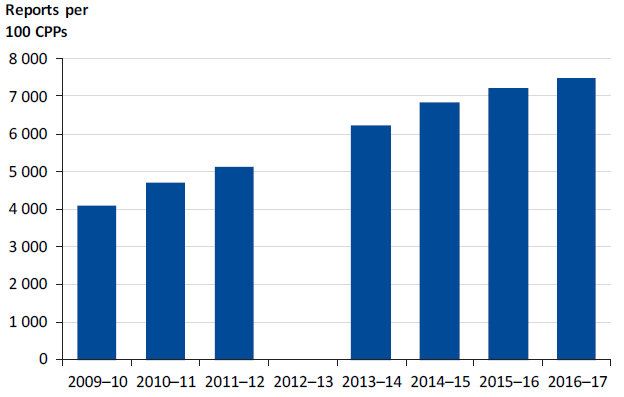 Note: Figures stated as at 30 June each year.
Note: CPP numbers for 2012–13 were not available.
Note: CPP numbers for 2016–17 exclude the 453 full-time equivalent (FTE) CPPs funded through government's one‑off payment of $72.242 million.
Source: VAGO based on DHHS data.
DHHS has communicated to government that CPPs are subject to unreasonable workloads, stating in 2017:
'The Victorian Child Protection program is under significant and sustained pressure arising from growing and unprecedented demand … the workforce that supports the vulnerable children and families is not being supported itself … In today's system, demand pressures, coupled with resource and funding restraints, mean the workforce cannot always fulfil its role—resulting in responses that do not achieve the desired outcomes for clients.'
'Staff are exhausted and are not able to do the good work they would hope to do due to the increasing demand.'
—CPP survey respondent
DHHS argues that one of the strongest indicators of successful interventions is the relationship between the child, the immediate family and the CPP—but it takes time to gain the trust and confidence of all relevant parties in what can be an environment of high tension and active mistrust.
However, many issues—primarily driven by workload—limit the time available to CPPs for this critical activity. CPPs cannot form effective relationships with clients and their families when DHHS records show that CPPs could be managing more than 25 cases (including work on unallocated cases) at any one time. Requiring CPPs to deliver outputs that are not realistically achievable increases the risk that they forego or compress services to meet statutory time frames.
The CCYP noted in its report on the 2016 inquiry into child protection that:
'Having time to critically reflect and make thoughtful decisions is difficult with such an increasing workload … Workers need to have the time and the freedom to reflect on the cases they deal with, and on the decisions they make. They need to be able to consider relevant sources of knowledge in their decision-making, including research evidence and more intuitive forms of knowledge like the wisdom they accumulate over years in practice.'
Our discussions with CPPs and their responses to our survey and the PMS support our finding of unreasonable workloads. Many of the CPP comments from our survey respondents and from our focus groups and interviews—see Appendix E—highlight workload as a major issue. Records from the workload review panels provide further evidence of excessive CPP workloads, discussed in Part 3.
In addition, from 2012 to 2016, WorkCover payments for mental injury claims about work pressure were the second most common type of mental injury claim made by CPPs after work‐related harassment and/or workplace bullying.
The 2017 CCYP report on the implementation of the Children, Youth and Families Amendment (Permanent Care and Other Matters) Act 2014 drew the same key conclusions about excessive CPP workloads. A number of recommendations from the report were designed to address what it refers to as 'system wide challenges relating to demand management and resourcing of the child protection system'.
The report notes that these recommendations are made based on 'significant evidence that the child protection system is under such strain that it cannot support an adequate level of work with children, families and carers to ensure timely progress towards permanent outcomes'.
CPPs' unreasonable workloads are not solely the result of a high number of allocated cases—CPPs are also required to work on cases not assigned to a case manager, known as unallocated cases, as well as managing the administrative burden associated with each case. Figure 2B shows the different contributors to a CPP's workload.
Figure 2B
CPP workload

Source: VAGO.
In a 2014 review of the child protection operating model commissioned by DHHS, CPPs reported spending only around a third of their time working directly with children and families, creating an unsustainable work environment for many staff and severely limiting the time available for CPPs to work intensively and therapeutically with children, young people and families.
Case loads
Our analysis shows that reports to child protection rose by 121 per cent between 2009–10 and 2015−16, increasing from 48 403 reports to 107 095. In meeting this increased demand, average CPP allocated case loads rose by 42 per cent during this period, from an average of 12 to 17 cases.
There is no official position on what represents a reasonable CPP case load, and comparisons with benchmarks from other jurisdictions are also problematic due to differences in legislative requirements, case types, and practice models.
DHHS has historically avoided mapping the time and resource requirements of child protection activities to establish a 'formula' for child protection resourcing. This is partly due to the challenges of trying to establish a uniform approach to planning and resourcing activities that are by their nature subject to sudden and frequent changes—making them highly unpredictable.
A child's circumstances may change on any given day—which changes the complexity of the case and the risks to the child. Unpredictable events are commonplace, especially in cases where the child is exposed to family violence, substance abuse, mental illness or familial instability. Consequently, CPPs' risk assessment is continuous, case allocation decisions are highly individualised, and the type and amount of work associated with a case is not fixed. As CPPs continuously receive new reports, a case's priority can also change in relation to other cases.
'I have worked in Child Protection for over 10 years and must say that the climate today is the most challenging.
The workload demands are simply unrealistic and the diversionary support programs have not eased our demand.'
—CPP survey respondent
Even details such as the distance between a child's out‑of‑home placement and the family home can add a significant burden to the allocated CPP's workload. This is because they must factor often time‑consuming child transport requirements into their existing work schedule.
Consequently, what constitutes a reasonable case load depends greatly on the details of each case, rather than on just the number of cases.
Nevertheless, the lack of a precise understanding of the time and resources needed for different child protection activities means:
it is difficult to plan the best use of CPP resources
the full impact of the increased demand on CPP workloads is unknown.
Currently, CPPs and their team leaders 'negotiate' case allocation, typically during scheduled supervision—see Section 3.3. As such, a team leader must have a clear understanding of each CPP's current workload—comprising their case load and the 'administrative burden' of each case—as well as a range of factors specific to the individual CPP. Figure 2C summarises key factors that impact CPPs' workloads.
Figure 2C
Factors impacting CPPs' workloads
CPP's level of experience and competence
Seriousness and complexity of a case's protective issues
Availability of other organisations to work with the child and family to address the protective issues
The family's recognition of and response to protective concerns
Worker safety issues
Level of contact required with the child
Court processes
The level of court-ordered access or supervised access
Whether the case is contracted to a community service organisation
CPP's case load
Source: VAGO based on DHHS material.
In a 2017 funding submission, DHHS argued that child protection funding has not kept pace with demand and that the child protection program does not have adequate resources to meet further increasing demand. It stated that to meet its statutory obligations and stabilise the child protection system, it is critical to adopt a model that allocates a CPP to every child in the system.
One of the challenges in planning the best use of CPP resources is the lack of a precise understanding of how long different child protection activities take. While acknowledging the challenges in quantifying the time and resource requirements of CPP activities, not doing so means that DHHS has been unable to provide a compelling argument to government that the increased demand has resulted in unreasonable CPP workloads.
Unallocated cases
CPPs have statutory responsibilities to deliver child protection services, and many of the activities that CPPs undertake have legislative or regulatory time lines attached to them. These time lines exist for good reason—to minimise any delay in ensuring a child's safety.
However, for child protection to meet these time lines, DHHS frequently requires CPPs to perform tasks on unallocated cases. This requirement can drive CPPs to de‑prioritise their own cases in order to meet the statutory deadlines of the unallocated cases.
Our discussions with CPPs showed that in addition to their allocated cases—shown to be up to 25 cases in DHHS's reporting system—they may also be required to work on multiple unallocated cases at the same time. However, unallocated cases are not recognised as part of a CPP's assigned case load, making it an invisible additional burden.
CPPs often discussed concerns about having their performance challenged for not meeting time lines for their allocated cases when they had de-prioritised their own case load to meet the statutory deadlines of unallocated cases.
DHHS's 2017 funding submission for additional CPPs highlighted to government the impacts of unallocated cases:
'In order to manage the growing number of unallocated cases, team managers often distribute specific tasks on cases unable to be allocated (such as investigations of abuse and neglect or follow up visits to families) to already overworked child protection practitioners who have an existing and significant case load.
These practitioners rarely have the capacity to undertake the level of case [management] required to support the work required for families to effect real change in their circumstances; or to follow a case through to closure and instead, these especially vulnerable children, young people and families are moved between multiple workers. Such duplication and disruption is inefficient and ineffective, and can inhibit the development of positive relationships with workers, case progress and achievement of positive outcomes.'
From June 2011 to June 2016, the rate of unallocated cases per 100 CPPs rose from 61 to 222. The 2017 CCYP report described the number of unallocated cases as a 'major concern'.
Administrative burdens
In 2016, DHHS engaged a consultant to review the impact of supervised contact and placement‑related transport on child protection operations. The review found that DHHS's core case-carrying staff—CPP-3s (practitioners) and CPP-4s (advanced practitioners)—spend between 26 and 28 per cent of their time managing supervised contact, such as scheduling, transport and administration.
The review noted that this significantly limits their capacity to undertake core responsibilities, engage in practice-based work with children and families, and consequently, to effectively manage case loads.
Activities such as supervised contact and transporting children are an important part of effective child protection. Nevertheless, they add significantly to CPPs' workloads, reducing the time CPPs have for working directly with children, young people and their families. This is despite DHHS guidance stating 'other than the family's characteristics, the quality of the relationship you form with the family is the single most important factor contributing to successful outcomes for the child'.
DHHS has considered ways to minimise the amount of time that CPPs are diverted from their primary purpose of engaging with clients and their families. This includes changed arrangements for supervised contact visits and court‑related administration.
'Child protection work in rural areas requires a significant amount of travel that is not taken into consideration by upper management. In many instances, after having worked a full day, practitioners are required to transport clients up to 4 hours one way. This adds further stress to workers.'
—CPP survey respondent
Facilitating supervised contact
If the court decides to remove a child from a parent's care and place them in out-of-home care, it may also require child protection to provide the child and the family with supervised contact. There is no limit to the number of contacts that a court can order, nor the distance that a CPP might have to travel to transport a child to and from a contact visit. As a result, scheduling, organising, and facilitating supervised contacts can take substantial time away from CPPs' core role of directly engaging with children and families.
In our focus groups, participants told us of a number of instances where children were placed hours away from their home. This was particularly common in regional areas. In such cases, the time spent travelling to collect the child, transporting them to the contact destination, supervising the contact with the family, returning the child to the placement, and finally returning the car to the office could be five or more hours.
Further, for school-aged children, contact visits typically occur after school hours. This means that a CPP does not begin transporting a child until the afternoon and returns to the office late in the evening. CPPs do not work in shifts so, in such cases, a CPP's working day can extend to more than 11 hours, finishing around 8 pm or later.
DHHS commissioned a review of supervised contact in 2016. The review found that it was investing significant specialist resources into supervising contact with families and transporting children. While only around 24 per cent of allocated cases require supervised contact and transport, the review estimated that the use of specialist resources to deliver these services costs $22 665 433 annually.
DHHS incorporated these findings in its 2017 Budget bid, which sought funding for non-specialist (thus less costly) staff to manage supervised contact and transport. Because the initiative did not receive any funding, DHHS is currently using funding from unfilled CPP positions to run a trial of the program, and intends to build a business case for a future funding bid.
Court-related administrative burdens
Courts' evidentiary requirements impose a high level of administration. While necessary for the integrity of Victoria's legal system, this administration places a significant burden on CPPs. This particular burden has been the subject of past reports—the 2009 Victorian Ombudsman's investigation into child protection noted concern about the amount of resources necessary to service court requirements.
The investigation found that although only 7.3 per cent of all reports led to legal intervention being initiated (where a protection application follows an investigation), CPPs spent approximately 50 per cent of their time servicing Children's Court work and subsequent protection orders. The Ombudsman described this as 'a waste of scarce resources'.
The true impact of court work on CPPs' time is likely to be much greater again. This is because the broader definition of 'legal intervention' includes about 45 different application types, which can be made after a protection order is granted. In 2016–17, CPPs made 23 661 applications.
DHHS's 2014 review of the child protection operating model also discussed how dealing with subpoenas greatly reduced the time CPPs had available for critical engagement activities. It recommended that administrative tasks—such as evidence discovery, redacting files, and delivering documentation to registrars or court officials—could be performed by staff who do not manage cases. DHHS is trialing this approach as a pilot program.
DHHS's 2017 strategy for reducing unallocated cases describes the impact of statutory deadlines on the way CPPs prioritise their cases. The analysis underpinning the strategy found that because court requirements have statutory deadlines, CPPs tend to prioritise cases with court‑related obligations. This occurs even where cases without court requirements may actually involve greater risk of harm to a child.
While we did not confirm that this is occurring as a part of our audit conduct, we nevertheless agree that where workloads are so high that missing deadlines is often a very real possibility it does create the potential for case managers and senior staff to prioritise meeting statutory deadlines over ensuring a child's immediate safety.
In 2017, DHHS received a one-off payment of $72.242 million for child protection. DHHS is using this funding to recruit 453 FTE CPPs and to continue a small number of services. Figure 2D shows the breakdown of this funding.
Figure 2D
One-off funding for child protection, 2017–18
| Service | Funding received ($ million) |
| --- | --- |
| Unavoidable demand | 67.024 |
| Section 18 implementation(a) | 1.140 |
| Specialist Intervention Unit (lapsing program)(b) | 2.488 |
| After-hours emergency service | 1.590 |
| Total | 72.242 |
(a) Section 18 provides for legal guardianship for Aboriginal children subject to a Children's Court protection order.
(b) The Specialist Intervention Unit carries out continuous improvement design and implementation, and provides and performs child protection duties when the child protection program is experiencing acute operational pressure.
Source: VAGO based on DHHS data.
DHHS is also using funding from any unfilled positions to trial new support programs for CPPs. However, as DHHS recruits new staff, the funding will transfer to staffing and these support programs will cease without additional funding.
While the 2017 CCYP report noted that it was pleased with the one‑off payment allocated to DHHS, it nevertheless found that funding has not kept pace with significant increases in demand, and that the child protection system is under 'substantial stress'. The report stated that even though there has been an overall increase in expenditure, the rise in reports, investigations, and substantiations has caused a reduction in recurrent expenditure on each of these activities.
The report also notes the CCYP's 'serious concerns about the capacity of the under‑resourced department to adequately act "as a good parent would" in the context of staff shortages, high numbers of children's cases without an allocated worker (particularly children on protection orders) and high case loads'.
DHHS advised that the $72.242 million that it received for child protection is an 'unprecedented' level of funding. However, we note that the purpose of the funding is to 'maintain' an approach to child protection which is recognised as unsustainable, and shown through this audit to directly impact on CPPs' mental wellbeing.
DHHS's push for reform
DHHS has been conscientious in informing government of the impacts of CPPs' workloads, but its efforts have met with limited success. Consequently, DHHS has been unable to secure sufficient funding to reduce CPPs' excessive workloads—the key mental health stressor identified by CPPs.
DHHS has advised government that the child protection workforce is taking on more responsibility and risk, but with less support and time to do their jobs effectively. It has explained that having to perform routine compliance and administrative tasks compromised CPPs' capacity for key case work. It has also reported that divisional managers are struggling to manage proactively while also reviewing case plans and managing crises.
DHHS contends that if demand pressures could be stabilised, the child protection program could refocus on providing effective, specialist and culturally responsive interventions that collaborate and ensure better practice across all relevant government agencies.
'Child Protection cannot keep up with the demand, given this, children and their families are not receiving an appropriate service.'
—CPP survey respondent
DHHS's most recent best estimate is that to properly support CPPs, it needs to return their average case load levels to 12. To achieve this, it must double the size of the CPP workforce, which requires around $325 million per year for the next four years.
If DHHS is unable to achieve this outcome, it is unlikely that it will be able to mitigate the primary risk to CPP mental health—excessive workloads.
DHHS has a responsibility to make government fully aware of the potential liabilities of exposing CPPs to mental health injuries due to unreasonable workloads.
DHHS has sought additional resources from government to address child protection workload issues. Its submissions to government have discussed the impact of resource restrictions on the delivery of protective services. However, DHHS has not sufficiently detailed the potential legal and financial implications of CPPs being exposed to unreasonable workloads.
DHHS's future advice to government about child protection should detail:
 the risk to CPPs from unreasonable workloads
 the rate of CPP mental health injuries stemming from exposure to unreasonable workloads
the time costs of the different CPP activities.
2.4 Secondary risks to CPPs' mental health
Poor professional standing and unprofessional behaviour towards CPPs
'The verbal abuse which emanates from clients, but more importantly the expectations and reactions from community service organisation staff, carers, schools, magistrates when we are unable to meet their expectations due to high workload.
I currently only link into one particular care team meeting via phone in order to create a buffer between myself and the other participants.'
—CPP survey respondent
Working to ensure the safety and wellbeing of vulnerable children and young people and embedding change within families takes a highly specialised workforce. This workforce needs to have an expert understanding of childhood development, trauma, the dynamics of family violence, and transmission of disadvantage across generations. CPPs also need to be supported by sufficient resources to respond to demand as it arises.
To make decisions that are in a child's best interests, CPPs must hold recognised qualifications in a range of areas. Entry‑level CPPs must have at least a DHHS‑recognised Diploma of Community Services or equivalent qualification. Advanced CPPs typically have a minimum of two years of case work experience in addition to their qualifications, and senior CPPs more experience again.
Despite this, we learned through our interviews and focus group discussions with child protection staff that there is a general consensus across Victoria's child protection program that CPPs do not necessarily receive the same level of respect as other kinds of frontline workers. DHHS is aware of this, and its new CPP Workforce Strategy specifically considers the need to improve CPPs' professional standing in the community, the media and among other professions. It includes a CPP‑specific public relations strategy, to accurately convey CPPs' roles and expertise, and the true value they contribute to the Victorian community.
Child protection as the 'default' service provider
Child protection is the third of Victoria's key family support systems. The child protection program is 'activated' when services in the primary and secondary systems have been unable to ensure a child's safety. While child protection is often referred to as a 'service of last resort', someone raising concerns about a child's welfare may choose child protection as the first point of contact.
While CPPs are not responsible for coordinating other support services, they must nevertheless work in collaboration with many other family support organisations, including legal, health and community services. A 2010 DHHS study, Child protection workforce: The case for change, found that, over the course of the year, CPPs had worked with staff from 95 agencies across Victoria.
Figure 2E illustrates the interactive nature of the CPP role.
Figure 2E
Interactions between CPPs and other services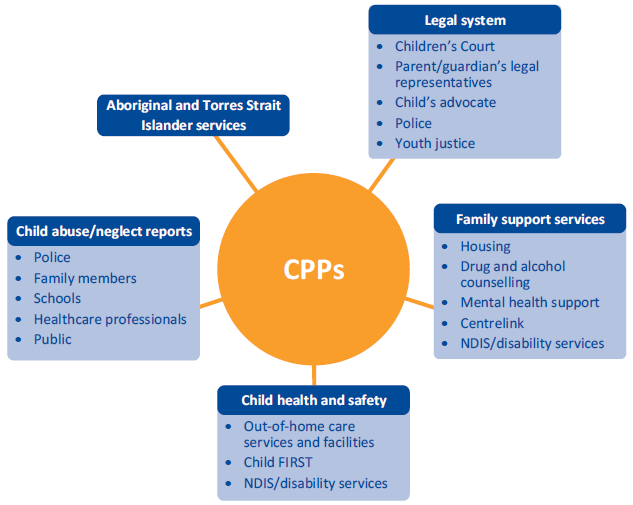 Source: VAGO.
Across the three systems, services operate under their own mandates and have their own jurisdictional powers. However, staff across all levels of the child protection program reported that the community and other family service organisations often perceive CPPs to be responsible for all family support services. As a result of this misperception, CPPs are often expected to assist with housing, disability, substance abuse support, healthcare and financial support.
DHHS's analysis found that many people and organisations contact child protection with concerns about a child's wellbeing, but a much smaller number report a child at risk of 'significant harm'. As a result, significant child protection resources are used to record and assess reports that may be more appropriately addressed by primary or secondary services. As Figure 2F shows, only around 25 to 29 per cent of reports lead to investigations.
Figure 2F
Child protection reports resulting in investigations, 2009–10 to 2016–17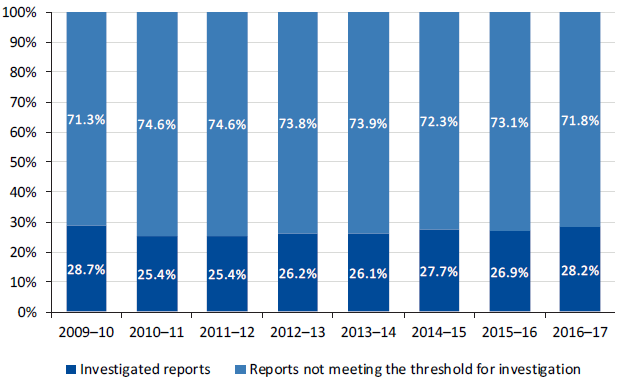 Source: VAGO based on DHHS data.
While it is important that CPPs are able to work with other service providers to ensure they serve the best interests of at‑risk children, they are not authorised or resourced to coordinate and deliver the entire spectrum of family support services.
Our 2015 audit report Early Intervention Services for Vulnerable Children and Families also found that there is room to improve coordination of the government's family support systems. We found that Child FIRST had not created a visible point in the community for early intervention and connection with the full range of available services and supports.
Considering CPPs as the only available avenue for accessing family services places an unrealistic burden on the child protection workforce. It is not possible for CPPs to perform the 'wellbeing' duties of primary and secondary providers, and fulfil their own obligations at the same time. Such expectations are likely to leave CPPs feeling that they are 'set up to fail', and clients are likely to feel that they are not receiving a quality service.
The 2016 report from the Royal Commission into Family Violence also raised the need for family support services to better work together. Specifically, it reported that primary and secondary systems—such as mental health, drug and alcohol services, aged care, and the health and education systems—must play a more direct role in identifying and responding to family violence.
One of government's key commitments to addressing family violence is the establishment of support and safety hubs. These hubs will co‑locate a number of family services at an initial contact point, so staff will be better able to connect people to the most appropriate service. The hubs aim to provide a pathway for assisting vulnerable children before child protection is required.
Professional respect for CPPs
Child protection work involves decision-making that is much more than 'just common sense'. A paper developed to inform South Australia's Royal Commission into the Child Protection System stated that 'child protection work addresses the most complex social issues, where stakes are high and the work is done under intense scrutiny' and 'at times decisions need to be made quickly to ensure the safety of children'.
Occasionally, such decisions will be wrong. While these errors are sometimes very serious, they represent only a portion of CPPs' work in assessing over 100 000 reports per year. However, unbalanced or sensationalised reporting on child protection when a child comes to harm can create unfounded negative perceptions of CPPs and encourage hostility towards them.
In Section 2.3, we discussed how unreasonable workloads restrict the time CPPs have available to engage with clients and their families. A recent report describes this as a 'failure to engage children'. While inadequate engagement with clients is undoubtedly the outcome, by omitting important contextual information, the report may encourage readers to conclude that the failure is a question of capability rather than capacity.
A more sophisticated and proactive relationship with the media would improve public awareness of the positive outcomes achieved by CPPs, and the context of any negative outcomes. This could in turn help to raise the professional standing of CPPs in the community.
Hostility and abuse from families
Abuse of and violent behaviour towards CPPs is increasing. CPPs who participated in our interviews and focus groups frequently shared experiences of verbal abuse and physical assault from clients' family members, and sometimes from the clients themselves. This included instances of CPPs being assaulted and receiving death threats.
Recent reports on Victoria's child protection support this anecdotal evidence. For example, the 2016 CCYP inquiry into family violence in child deaths noted that in three of the 20 cases it examined (15 per cent), parents were aggressive or had threatened CPPs or other professionals.
When we questioned CPPs as to how they managed the psychological effects of such experiences, they most commonly responded that, unless the incident involved physical violence, they do not tend to make reports. CPPs explained that harassment such as being cursed or spat at was something that they 'just had to put with'. This suggests that abusive behaviour towards CPPs has become a normalised aspect of child protection work.
The government has recently invested in several anti‑violence campaigns on behalf of health care workers, paramedics and other ambulance staff. Despite the escalation of abusive behaviour towards CPPs, a similar campaign for CPPs does not exist.
DHHS's CPP Workforce Strategy commits to developing a 'positive and compelling' public relations strategy for child protection. DHHS intends the strategy to advocate publicly for the child protection discipline and profession.
Lack of professional respect in the courtroom
In our discussions with CPPs, they conveyed that they are regularly subject to poor behaviour from legal professionals during the course of their duties. At each of the five child protection offices we visited and at the child protection program's central office, CPPs mentioned this treatment as a significant cause of distress, describing their experiences as 'brutalising' and 'demoralising'.
'A relative of mine recently asked me about my job as they were interested in doing a similar role … I [also] told her about the court system and how disrespectful and, at times, disgusting this place is and how little respect is given to the role of child protection and the workers themselves from the magistrates and legal reps.'
—CPP survey respondent
When we asked CPPs whether they would report unprofessional conduct and/or abusive behaviour, they commonly responded with comments such as 'Why? It's not like anyone will do anything about it … That's just what you have to deal with'. These matter‑of-fact responses from CPPs suggests this sort of treatment—another driver of mental stress—has also been considerably normalised.
Further, while this issue was also widely recognised in discussions with child protection's executive staff, DHHS does not monitor the frequency or specific sources of distress. DHHS does not have a mechanism for recording CPPs' reports of unprofessional conduct they have experienced in the court environment. Consequently, there is no data to help DHHS analyse the origin of these mental health risks, or how best to address them.
This is not the first time that CPPs' negative experiences in court have been reported on. The Ombudsman's 2009 investigation into the child protection program identified CPPs' experiences dealing with the legal system as a prominent reason for low retention of CPPs. The 2012 report from the Protecting Victoria's Vulnerable Children Inquiry echoed this finding, noting that CPPs cited court processes as one of the greatest difficulties that they experience in their work. The inquiry found that interactions with the courts are a significant issue for the child protection workforce.
More recently, Victoria Legal Aid's 2016 consultation and options paper as part of its Child Protection Legal Aid Services Review noted high levels of distrust and disrespect between lawyers and CPPs.
'New CPPs are seeing CPPs being reamed in court and saying "I'm not doing that″.'
—CPP focus group discussion comment
Two magistrates that we spoke to indicated that they have, at times, been frustrated if CPPs were not fully prepared for court, as it hinders their own capacity to work efficiently. At the same time, they acknowledged that this may sometimes be the result of resource constraints. CPPs we spoke to recognised that, in such cases, the frustration was primarily directed at DHHS more broadly—but understanding this did not reduce the very personal impact of being publicly criticised for systemic issues beyond their control.
DHHS's CPP Workforce Strategy intends to give potential applicants and new staff more information about CPPs' interactions with the courts. It also intends to develop and deliver training on the best approach for successful courtroom engagements.
Inappropriate conduct in the workplace
Under the Equal Opportunity Act 2010, employers can be held responsible for instances of:
discrimination
victimisation
bullying
sexual harassment
racial and/or religious vilification.
Victoria's Equal Opportunity Act 2010 requires employers to eliminate workplace discrimination, sexual harassment and victimisation. It also imposes vicarious liability. Unless an employer can demonstrate that it has taken reasonable preventative precautions, it may be responsible should these things occur in the workplace or in connection with a person's employment.
While our survey did not seek specific information about whether CPPs had witnessed or experienced bullying, PMS results show that CPPs increasingly see workplace bullying as an issue. In 2013, 73 per cent of CPP respondents agreed or strongly agreed with the statement 'Bullying is not tolerated in my organisation'. However, by 2016, this figure had dropped to 52 per cent. Figure 2G shows the percentage of CPP respondents who had personally experienced bullying from 2013 to 2016, according to the PMS.
Figure 2G
PMS results, 2013 to 2016: 'I have personally experienced bullying in the last 12 months'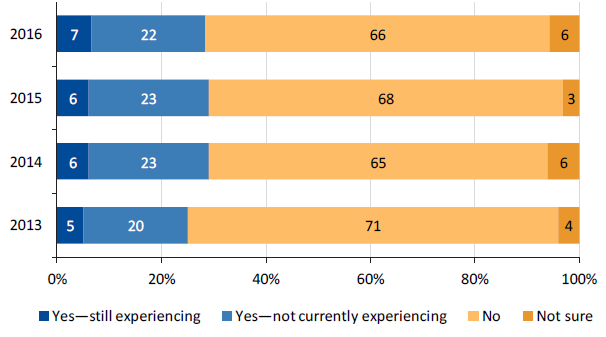 Note: Totals may vary due to rounding.
Source: CPP responses to the PMS.
While the proportion of CPPs reporting having experienced bullying in the workplace has been stable, the fact that it is as high as 29 per cent is of concern. Further, the 2016 PMS results—as shown in Figures 2H and 2I—noted that less than 45 per cent of CPP respondents were confident that:
if they lodged a grievance, it would be investigated in a thorough and objective manner (43 per cent)
they would be protected from reprisal for reporting improper conduct (42per cent.
Figure 2H
PMS results, 2013 to 2016: 'I am confident that if I lodge a grievance in my organisation, it would be investigated in a thorough and objective manner'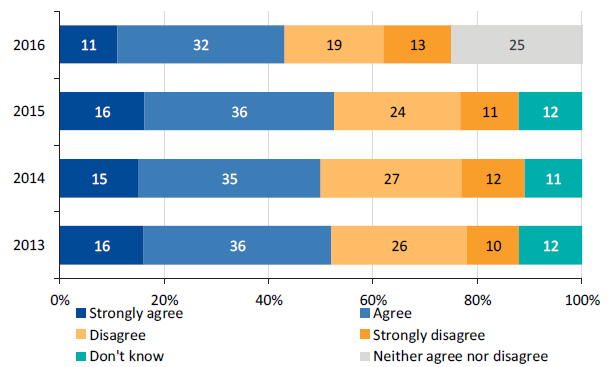 Note: Totals may vary due to rounding.
Note: Response 'neither agree nor disagree' was introduced in 2016.
Source: CPP responses to the PMS.
Figure 2I
PMS results, 2013 to 2016: 'I am confident that I would be protected from reprisal for reporting improper conduct'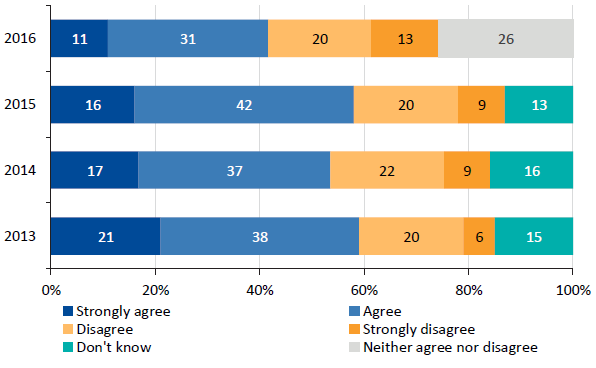 Note: Totals may vary due to rounding.
Note: Response 'don't know' was used from 2013 to 2015, and replaced with 'neither agree nor disagree' in 2016.
Source: CPP responses to the PMS.
Our own survey provided additional insight into CPPs' lack of confidence in DHHS's grievance processes—48 per cent of respondents disagreed somewhat or strongly with the statement 'People in my organisation are held accountable for their actions'.
The low levels of confidence go some way to explaining why the 2016 PMS results also shows that:
75 per cent of CPPs who had experienced bullying in the previous 12months chose not to lodge a formal complaint, as shown in Figure 2J
66 per cent of CPPs who had lodged a formal complaint were not satisfied with the way it was handled, as shown in Figure 2K.
Figure 2J
PMS results, 2013 to 2016: 'I have personally experienced bullying and lodged a formal complaint'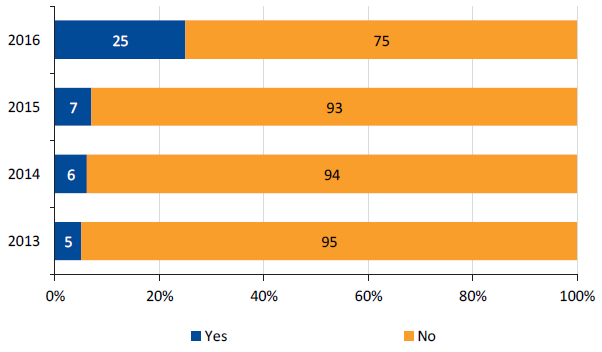 Source: CPP responses to the PMS.
Figure 2K
PMS results, 2016: 'I am satisfied with the way the formal complaint was handled'

Note: This question was first introduced in 2016.
Source: CPP responses to the PMS.
Following our 2016 audit on bullying and harassment in the health sector, DHHS commenced work on an initiative to 'build positive workplaces'. The initiative includes three phases:
build the confidence and capability of managers to create a positive workplace
check-in on staff wellbeing
create team-based development programs.
This initiative is also underpinned by DHHS's People Strategy, which includes a commitment to prioritising health, safety and wellbeing, and a culture of 'safety always'.
The Secretary of DHHS spoke out against inappropriate workplace behaviours more generally in an address to all staff in May 2017:
'We are responding to what you've told us through the People Matter Survey about what we need to do better—such as providing a supportive workplace where bullying and inappropriate behaviour is simply not tolerated.'
While DHHS's work is aimed at the department as a whole, the CPP workforce will also benefit from the focus on a more respectful and engaging workplace.
Further, the CPP Workforce Strategy commits child protection leaders to being more responsive to employee issues and support needs, and to help drive a culture of safety and wellbeing.