Maintaining the Mental Health of Child Protection Practitioners
3 Supporting CPP's to manage their mental health
A 2014 study on the impact of mental health conditions by Australia's Mentally Healthy Workplace Alliance advises that:
'A critical starting point [for improving staff mental health] for organisations is ensuring that policies are developed and implemented which support employees to identify that they have a mental health condition, and access appropriate treatment and support.'
In addition, centralised monitoring and reporting on mental health—particularly for staff whose roles include multiple potential drivers of mental illness—provides valuable data. It enables senior management to identify emerging mental illness trends, analyse their root causes and recommend effective interventions and supports. It also demonstrates a commitment at a senior level to supporting staff to manage their mental health—a central component of psychosocial risk management.
During this audit, 80 per cent of CPPs who responded to our survey agreed that DHHS provides services to support their psychological health. However, in CPP focus group discussions and interviews, a common theme was that those services did not adequately meet their needs. In this part, we discuss the effectiveness of DHHS's mechanisms for identifying CPPs at risk of poor mental health, and supporting them to manage those risks.
3.1 Conclusion
DHHS needs to strengthen its approach to supporting CPPs to manage their mental health. Poorly designed support tools, inconsistent guidance and provision of support, and disincentives to accessing available services all reduce the effectiveness of the support programs that DHHS has in place.
The existence of multiple avenues for raising mental health concerns or seeking support is a positive approach and reflects DHHS's desire to give CPPs every opportunity to do so. However, the absence of a mechanism to bring together the data from the disparate sources prevents DHHS from achieving a full understanding of CPPs' mental health and support needs.
3.2 Mental health education and training
For early intervention to work successfully, it is essential that managers at all levels are trained to recognise early warning signs and have the skills to respond appropriately.
DHHS does not have CPP‑specific programs that focus on managing mental health. CPP training has historically been more focused on 'traditional' areas of health and wellbeing, such as occupational violence. However, as part of its implementation of the MHWC, DHHS must ensure all staff are trained and can understand:
what mental illness is
how to support their own mental health and wellbeing along with that of those around them.
To meet these commitments, DHHS is implementing the VPS Mental Health and Wellbeing Education and Training Framework. The training programs in the framework are shown in Figure 3A.
Figure 3A
Training programs under the VPS Mental Health and Wellbeing Education and Training Framework
Audience

Training

All staff

Appropriate Workplace Behaviours
Mental Health and Wellbeing at Work—half-day workshop:

The importance of workplace mental health and wellbeing
Common workplace mental health issues
How to recognise early warning signs
Practical intervention and support strategies
Introduction to more complex mental health issues in the workplace
The impact mental health has on the individual, their family, the workplace and the community
Promoting and contributing to improved individual and organisational resilience and wellbeing
Case studies and additional resources
Support services available

Awareness and early intervention programs such as those provided by beyondblue, Sane Australia, and Heads Up

Managers and supervisors

Mental Health and Wellbeing at Work—half-day workshop:

The role of the manager—what to do and what not to do
The impact mental illness has in the workplace and community
How to protect worker mental health and wellbeing
The benefits of work for mental health and wellbeing
More complex mental health issues in the workplace
How to recognise early warning signs
Accessing available support and emergency contact information
Effectively manage return to work situations for workers with mental health issues
Improving the workplace psychological and physical environment
Managerial case studies and role plays

Executive staff

Mental health and wellbeing at work—one-hour executive briefing:

Why it matters—the human and financial cost, productivity and engagement
The impact mental illness has in the workplace and the community
Your responsibilities to manage psychological harm
The importance of promoting workplace mental health and wellbeing
The importance of senior leadership in creating a psychologically safe workplace culture
Early intervention and support strategies for employees
Source: Adapted from the VPS Mental Health and Wellbeing Education and Training Framework.
DHHS's targets are to have this training completed by:
a minimum of 80 per cent of executives, HR staff, managers and supervisors by 2018
100 per cent of executives, HR staff, managers and supervisors by 2019
100 per cent of staff by July 2020.
DHHS plans to run refresher training every three years. It also delivered a pilot of the framework's all‑staff awareness component to managers and supervisors in February 2018.
Mental health and wellbeing in CPP training programs
DHHS's 'Beginning Practice' is an in‑house training course that focuses on equipping new CPPs with the skills and knowledge to be effective in their role. Staff joining DHHS as CPP-3s complete the course before being allocated cases. 'Beginning Practice' includes some information and training on mental health self‑care, including vicarious trauma.
Staff in the 'Beginning Practice' team determine training requirements for CPPs, and schedule and deliver the course centrally. Team managers monitor attendance.
The 'Supervision and Leadership Program' is a learning program for new CPP-5s. The program covers topics such as mental health self-care and promotes the use of emotional intelligence in managing staff OHS issues.
DHHS has also offered several types of non‑mandatory mental health courses to CPPs, covering resilience, self-care and vicarious trauma. In addition, divisions offer staff non-compulsory training based on their assessment of their staff's training needs. This means that access to voluntary training programs may vary across divisions.
Eighty-four per cent of respondents to our survey agreed somewhat or strongly that their manager encourages and supports their participation in learning and development opportunities. Nevertheless, uptake of DHHS's courses has been limited. In our discussions, CPPs indicated that this is primarily due to workload pressures and resource constraints that make spending time away from core duties challenging.
The CPP Workforce Strategy includes a new CPP capability framework and refreshed learning and development programs. The strategy also includes activities to improve workforce and workload planning and aims to increase opportunities for CPPs to attend more training.
3.3 Supervision
Supervision—the key tool for monitoring risks to CPPs' mental health
The child protection program requires CPPs to participate in supervision. This is where CPPs meet regularly with a more senior practitioner to discuss their workload and receive professional support. Case management advice is also a component of supervision.
Child protection guidance recognises supervision as 'a key element of staff satisfaction and therefore critical to a stable workforce'. The guidance also states that 'regular scheduled supervision is the most appropriate way to ensure … optimal and safe workloads for individual staff members'.
The mandatory components of supervision include:
supervision tools such as formal guidance and record templates, to ensure CPPs and their managers consider all variables that will help to develop or maintain a safe and sustainable workload
discussion of the support or training needs that may impact a CPP's capacity.
Divisions report compliance with supervision requirements centrally. Figure 3B shows CPPs' compliance with supervision requirements, across DHHS's four divisions. For information on the types and regularity of supervision required for each CPP level, see Appendix D.
Figure 3B
Compliance with CPP supervision requirements, June 2015 to March 2017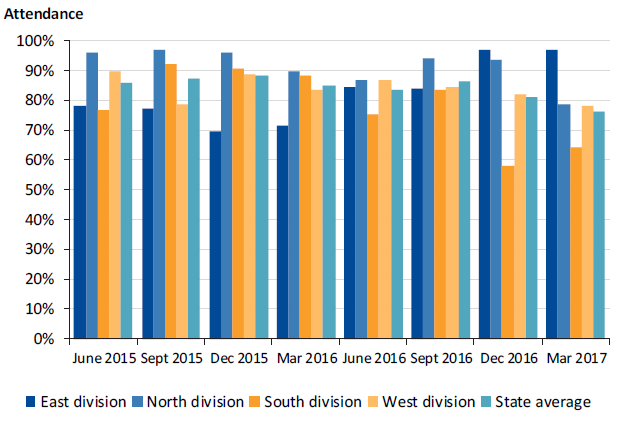 Source: VAGO based on DHHS data.
'I haven't had any professional supervision in the last 12 months—not a single 1–1 meeting with a supervisor as per the CPP practice manual.
I know that managers report on this to head office—so what is being reported?'
—CPP survey respondent
Structured supervision is the primary mechanism for monitoring CPPs' mental health. However, both CPPs and their managers spoke openly about supervision frequently not taking place as required, or the time being used solely for case direction—primarily due to workload issues. Records from the child protection workload review panels also reflect a lack of supervision—see Section 3.4—which, in some cases, show that teams were without supervision for several months.
Despite the high reported levels of compliance with supervision requirements, evidence shows that it is not occurring. This strongly suggests that DHHS's senior management lacks sufficient visibility of CPPs' ongoing mental health. It also suggests that, as a consequence, the risks to CPPs' mental health are not being properly identified and managed.
3.4 'Downtime'
Leave, 'flex', and time-in-lieu
The importance of balancing effort and recovery in the workplace is well understood. Recovery time allows for rest, exercise, nutrition and interaction with loved ones, which are important for managing stress and maintaining resilience. This is why employees' workplace agreements generally provide for regular breaks, leave entitlements and access to compensatory programs for excess working hours such as time in lieu (TIL).
The model for preventing and managing work-related psychological injury used by Comcare, the Commonwealth Government's OHS regulator, notes that 'even a workgroup with high morale is unlikely to continue to be able to cope with high work demands indefinitely without adequate recovery time'.
Workload review panels
Each CPP division has a workload review panel made up of CPPs and managers. Panels are autonomous, so they can operate in different ways, but they are required to meet at least monthly to:
support ongoing management of CPPs' workloads
provide an avenue for CPPs to escalate a request for a review of their workload.
Our review of panel records found regular discussion of CPPs being overloaded with work. Comments included:
'concerned for staff regarding work/life balance'
'staff are feeling stressed due to high case loads—affecting wellbeing'
'getting smashed'
'any day you survive is a good day'.
The frequency of comments such as these indicate that, while the panels do attempt to manage CPPs' workloads, there is an implied acknowledgment that little can be done.
Our review of minutes from panel meetings found insufficient evidence that the meetings were effectively escalating workload concerns. In many cases, minutes of panel meetings reiterated the severity of excessive workloads month after month, while noting that CPPs continue to 'do their best' under immense pressure.
While the panel meetings are appropriately operational by nature, the child protection program as a whole would benefit from a centralised and strategic approach to analysing workload data and recommending approaches to alleviate the burden on CPPs.
DHHS's CPP Workforce Strategy notes that 'a key component in providing our workforce with improved wellbeing outcomes is through reducing the need for staff to work overtime'. However, because DHHS does not capture TIL data for CPPs at a program level, it could not provide us with consolidated data for CPPs' TIL accrual and usage. Instead, senior managers keep TIL records on behalf of their individual teams.
Without program‑level information about CPPs' excessive work hours, DHHS cannot determine trends in CPPs' TIL. Further, it cannot be sure that its improvement initiatives are addressing the root causes of CPPs accumulating TIL.
DHHS's implementation plan for the CPP Workforce Strategy includes an analysis of CPPs' TIL and overtime. The analysis is intended to help DHHS better understand the specific situations that cause workloads to reach levels that pose risks to CPPs' metal health.
DHHS will also review the workload review panel model to consider how it might better support CPPs to manage their workloads.
Under-reporting excessive working hours
Records from workload review panels indicate that, while there are some areas where excessive workload does not appear to be a concern, in the majority of cases, it is the standard operating environment.
'The Department is severely under staffed and as a consequence since the introduction of the New Child Protection Model workers now work longer hours with many working and not claiming this.'
—CPP survey respondent
Despite having to work excessive hours, many CPPs told us that they regularly under-reported any additional hours they worked, or did not report them at all. When we questioned them about this practice, CPPs commonly expressed concern that management would implement performance management processes rather than acknowledge their heavy workload.
One CPP manager described repeated pressure to implement performance management whenever a CPP missed a statutory deadline. The manager would commonly—but unsuccessfully—argue that the missed deadline was due to unreasonable workload rather than underperformance.
Similar statements appear in CPPs' responses to our survey—see Appendix E—and Section 3.5 discusses suggestions of performance management in response to CPPs raising issues of 'day‑to‑day pressures' such as their workload.
Ability to use leave
To understand CPPs' experiences in accessing work breaks, we asked CPPs in our survey to state their level of agreement or disagreement with the statement 'My organisation supports me taking my entitled work breaks'.
Figure 3C shows that while 67 per cent of respondents somewhat or strongly agreed with the statement, 33 per cent of respondents somewhat or strongly disagreed.
Figure 3C
CPP survey results, 2017: 'My organisation supports me taking my entitled breaks'

Source: VAGO CPP survey.
The most common reasons for CPPs not feeling supported to take entitled breaks included competition for leave, the risk of falling further behind with work, and a culture of delivering at any cost.
'Competition' for leave
CPPs repeatedly discussed an established practice of only one CPP from each team being permitted to take leave at any time. CPPs advised that they were acutely aware of the impact that taking leave of any kind, including sick leave, has on an already overburdened workforce, particularly when teams were understaffed. They nevertheless felt that this practice unfairly set them up 'in competition' with their colleagues.
When taking time means making up for lost time
Some CPPs reported being reluctant to use accrued TIL. These CPPs explained that doing so frequently resulted in them 'only falling further behind' with their work.
Delivery at any cost
CPPs also conveyed that, in cases where they felt unable to attend work due to fatigue, they would typically report the absence as a physical illness or injury instead. CPPs believed that their workplace had a 'deliver at any cost' approach, and taking time off for anything 'non-physical' would result in them being stigmatised, labelled as underperforming, or told that perhaps the job was not for them.
3.5 Reporting mental health concerns
Speaking up about mental illness
DHHS has a number of avenues through which CPPs can raise concerns about their mental health, or the mental health of their colleagues. Figure 3D illustrates these avenues.
Figure 3D
Avenues for CPPs to raise mental health concerns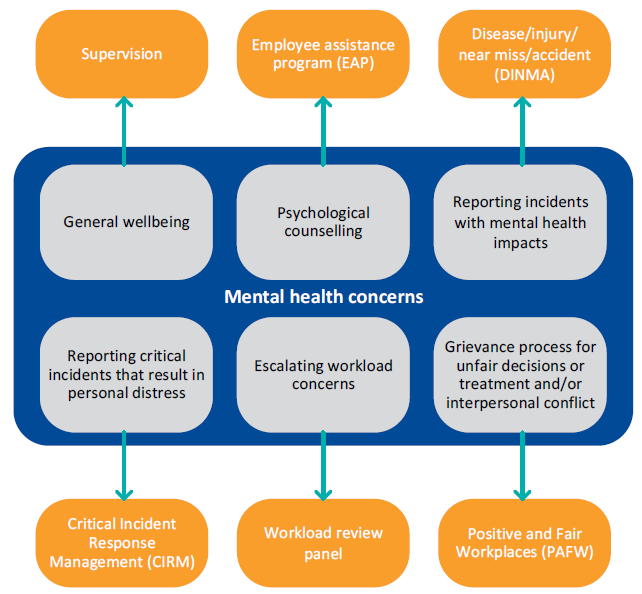 Source: VAGO.
Employee assistance program
The EAP provides employees with access to short‑term, confidential, professional counselling.
Many CPPs stated that while they appreciate the service being available, they have not found it to be especially helpful. The key reason for this was that EAP providers lacked in‑depth knowledge of the child protection program and tended to provide high‑level advice only.
EAPs may be helpful for staff not in frontline roles, but CPPs' mental health management needs are significantly more complex. CPPs working in open-plan areas also expressed concern about maintaining privacy when making or attending EAP appointments.
Our focus groups in regional areas were particularly critical of the EAP. CPPs reported significant difficulties in accessing the EAP, often having to wait a number of weeks before receiving an appointment. Some areas are trialling dedicated onsite EAP services. In these areas, CPPs spoke more favourably of the program and their ability to access its services, albeit with the same privacy concerns. In addition, shorter waiting times for appointments in these areas meant that the mental health assistance that CPPs received was more timely and thus more effective.
Acknowledging the more complex mental health needs of frontline workers, a 2016 review of Victoria Police's approach to mental health discussed the need for a statewide specialist mental health network of psychiatrists and clinical psychologists. These specialists would be experienced in treating emergency services workers and accessed on an outpatient basis. This type of support would benefit the child protection workforce.
DHHS advised that it intends to incorporate clinical relevance and availability requirements into its upcoming tender for EAP support services. In addition, the CPP Workforce Strategy includes a psychological support program designed to:
reduce psychological risks associated with child protection work
reduce the stigma of mental health and facilitate CPPs seeking early support and access to appropriate care.
Disease / injury / near miss / accident process
DHHS uses a standardised reporting process to record OHS incidents known as disease / injury / near miss / accident (DINMA) reporting. Staff record incidents in a DINMA book for management review and actioning. However, the approach is primarily geared towards recording physical injuries, with little to no prompting for mental health information.
CPPs discussed the inadequacy of the DINMA proforma as a key reason for not reporting mental health incidents. An additional reason was that CPPs considered that very little was done to address OHS incidents when they related to mental health.
Records from workload review panels support this opinion, frequently noting issues with the DINMA process. Issues ranged from the DINMA book being 'missing for some time', incidents not being addressed, and even references to CPPs not completing the DINMA proforma because of workload issues.
The way the DINMA process categorises stressors makes root-cause and trend analysis challenging. In 2016–17, CPPs made 142 stress‑related DINMA reports. Figure 3E shows that work pressure is the most common stress trigger reported, followed by 'other mental stress factors'. However, our analysis of the 'other' category found that it included incidents for which categories already existed—for example, workload and work‑related stress were reported as 'other' instead of as 'work pressure'.
Some DINMA categories also overlap with other DHHS processes, including its PAFW policy and CIRM framework.
Figure 3E
Stress‑related DINMA reports, 2016–17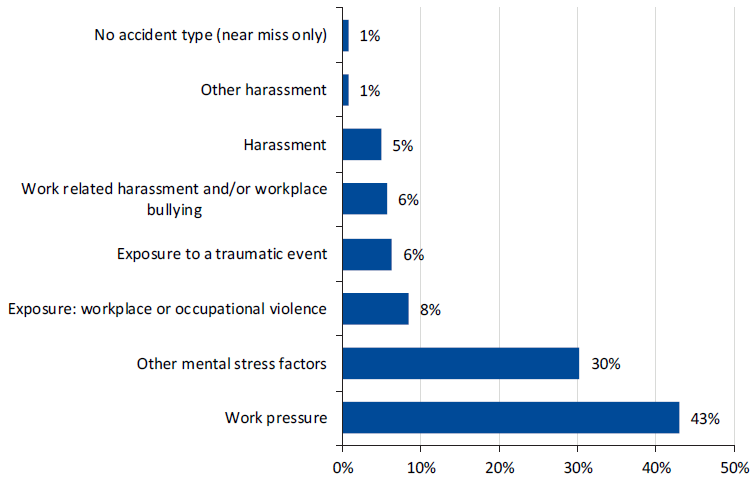 Note: Data from 1 July 2016 until 31 March 2017.
Source: VAGO based on DHHS data.
The lack of a strategic and systematic approach for managing DINMA reporting has impeded DHHS's analysis of OHS issues. DHHS recognises that its approach needs improvement, so it is redesigning the DINMA proforma to better document mental health injuries. It is also implementing an electronic DINMA reporting process.
A staged rollout of the electronic DINMA reporting system commenced in March 2018. DHHS intends this system to:
provide real-time incident reporting
improve the process's transparency by notifying the employee's manager via an email workflow
require managers to plan corrective actions with emphasis on implementing and enforcing appropriate risk controls.
This new approach is also likely to help DHHS identify trends and root causes in all OHS matters, in addition to mental health.
Critical Incident Response Management framework
Another DHHS mental health support service is DHHS's CIRM framework. The framework is a contracted service for employees in personal distress due to having experienced critical incidents at work. DHHS defines critical incidents as 'sudden, unexpected and unusual', including:
serious injury or death of an employee or client
incidents involving serious physical or psychological threat or sudden loss
situations that attract significant media attention
a series of distressing events in a short period of time
situations involving conflict or interpersonal stress.
Other eligibility criteria for the framework include—somewhat inconsistently—prolonged stress or unusual and overwhelming demands, and extraordinary and prolonged energy expenditure. CIRM guidance also states that, in cases where the distress stems from day‑to‑day pressures, it may be more appropriate to introduce performance management, supervision, professional development or the EAP.
Suggesting performance management as a response to staff distress may explain to some extent CPPs' concerns that it is an automatic response to them seeking mental health support. DHHS advised that it does not support such an approach, and that the use of 'performance management' in this guidance was intended to mean the recommendation of performance development planning.
DHHS funds a number of providers to deliver CIRM services, but only one provider is required to report on the use of its services. As such, the true uptake of CIRM services is unknown. Figure 3F shows that CPPs were the second largest group accessing the provider's CIRM services in 2015–16. This indicates that CPPs may also be large users of the services offered by other CIRM providers.
Only 11 of the 248 users of the reporting CIRM services provider in 2015–16 (4.4 per cent) provided an evaluation of the service. Because of this and because other providers do not report on usage, we were unable to draw conclusions about the service provision.
The CIRM provider collects information about users such as their location, role and reasons for requesting services. However, its reporting to DHHS is general in nature, focusing on service provision location, type and timeliness. While this information helps DHHS to evaluate service efficiency and response speed, more detailed information about the various mental health risks facing different DHHS roles would help it to conduct more in‑depth analyses.
DHHS is reviewing the CIRM service, to identify ways to improve service provision and how it captures and reports data about staff using the service.
Figure 3F
DHHS groups' use of CIRM services, 2015–16
Source: VAGO based on DHHS data.
Positive and Fair Workplaces policy
DHHS rolled out its PAFW policy in 2010. Under the policy, DHHS defines a positive workplace as one that is rewarding, enjoyable, healthy and productive for all employees, where:
expectations are clear
employees are safe and treated fairly
employees' contributions are valued and recognised
employees are able to work harmoniously with others
bullying, discrimination or harassment is addressed in a timely and sensitive manner.
If staff believe they have been subject to behaviour or actions that breach the PAFW policy but local intervention has been unsuccessful, they can register their concerns through a formal review process.
We reviewed the 12 PAFW requests lodged by CPPs from 2013−14 to 2017−18. Half of the requests concerned inappropriate behaviour by line managers towards staff. The other half related to allegations of bullying by management (three incidents), by a team manager (one incident), by a line manager (one incident) and by a team member (one incident).
The impact of corporate knowledge gaps on CPP mental health support
DHHS provides many ways for CPPs to identify a need for mental health support or raise concerns about a colleague's support needs. This means that, without appropriate training, new staff and those unfamiliar with the different channels may not fully understand when each should be used.
When visiting different offices, we observed that CPPs were not always aware of the different purpose of each process—for example, staff may use a DINMA proforma instead of PAFW request to report bullying concerns. Similarly, staff might use informal channels to raise workload issues, rather than the workload review panel or CIRM service.
This was particularly evident in one office that had experienced multiple staff changes and shortages over the last five years. Ongoing retention issues had resulted in a significant loss of corporate knowledge. Many CPPs that we interviewed advised that not only were they not aware of the different avenues available to them, they were also not aware of which staff might be able to advise them.
This issue highlights the importance of continuously communicating how staff can access the different support services. One regional office that has experienced years of workforce instability created a poster to help staff navigate the range of services—see Figure 3G.
Figure 3G
Workplace systems awareness poster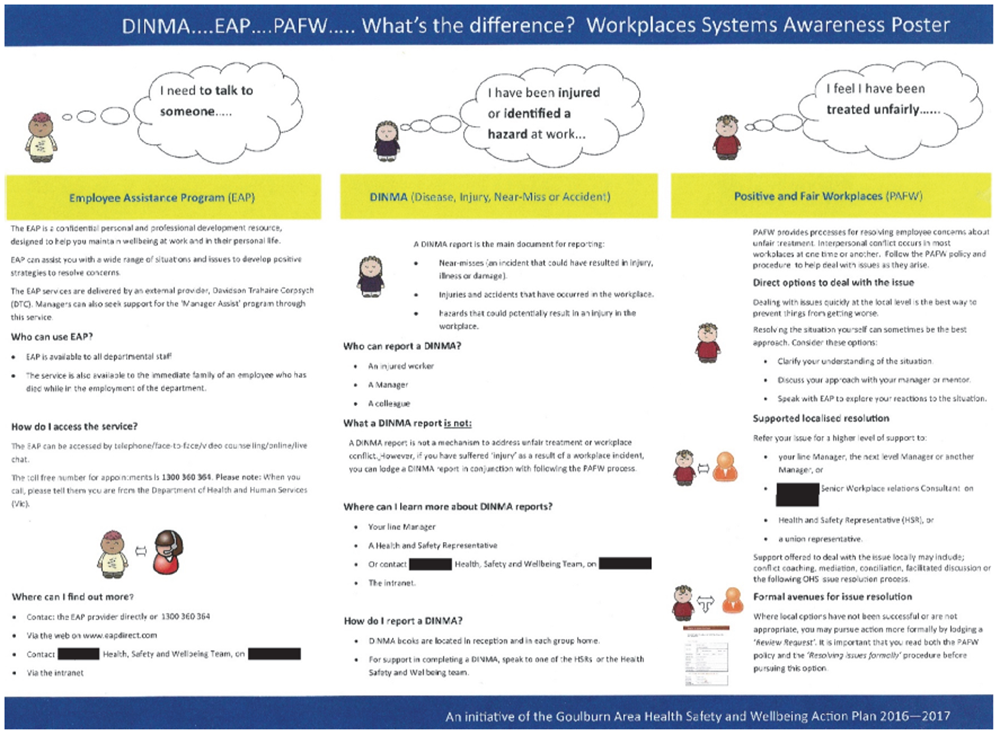 Source: DHHS. 
Agencies' capacity for trend and root-cause analysis
DHHS's use of different and sometimes general terms to classify mental health stressors—discussed earlier—makes it challenging to analyse the data about CPPs' mental health.
WorkSafe Victoria also recognises that it is challenging to analyse the origins of mental stress claims. Its Psychological Health Program's delivery approach paper discusses weaknesses in the current approach to classifying mental injury claims. Specifically, it does not allow for the identification of an 'injury mechanism'—that is, the origin or cause of the mental stress. This makes it difficult to determine the factors causing mental injuries, and thus better tailor prevention approaches.
WorkSafe Victoria is updating its coding system to address this weakness. The update is intended to better identify and classify mental injuries stemming from psychological hazards. WorkSafe Victoria anticipates that this work will help it identify opportunities for tailored prevention interventions.
DHHS does not currently have a process that brings together all the different data sources about CPPs' mental health. Such a process would provide a rich source of information to inform policies and initiatives to improve the management of CPPs' mental health.
DHHS's commitment to the MHWC includes the development of a mental health and wellbeing minimum dataset. This dataset intends to provide a consistent method for assessing and benchmarking psychological health and safety performance across government departments.
Developing this dataset should help DHHS to address its current lack of information about CPPs' mental health. It should also help DHHS to continue improving the support it provides to CPPs.