Managing Landfills: Message
Ordered to be printed
VICTORIAN GOVERNMENT PRINTER September 2014
PP No 346, Session 2010–14
The Hon. Bruce Atkinson MLC
President
Legislative Council
Parliament House
Melbourne

The Hon. Christine Fyffe MP
Speaker
Legislative Assembly
Parliament House
Melbourne

Dear Presiding Officers
Under the provisions of section 16AB of the Audit Act 1994, I transmit my report on the audit Managing Landfills.
The audit assessed whether the Environment Protection Authority (EPA) and local councils, as landfill owners, are complying with their responsibilities for the construction, operation and management of municipal landfills. It examined EPA's administration of the regulatory framework and four councils' operation and management of both active and closed landfills and their compliance with the regulatory framework requirements.
I found that EPA has developed a better practice risk-based approach to its role as a regulator, resulting in a significant improvement in the regulation and oversight of landfill performance. There are still, however, some shortfalls in the implementation of this approach that require further work.
The four audited councils have made significant efforts to comply with the regulatory reforms. As a result, the management of the highest risks associated with generation of gas and contaminated water at landfills has significantly improved. However, further work is required to better manage localised risks to the environment and community amenity from landfills. These risks are associated with poor management of some daily operational activities and rehabilitation and after-care practices. Both EPA and councils have been slow to implement key initiatives to address these localised risks at older landfill sites.
I have made several recommendations aimed at addressing these issues. I am encouraged by the commitment of EPA and the four audited councils to respond to these recommendations.
Yours faithfully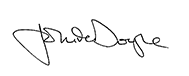 John Doyle
Auditor-General
3 September 2014