3 Regulation and oversight of landfills
3 Regulation and oversight of landfills
At a glance
Background
The Environment Protection Authority's (EPA) objective in regulating and overseeing landfill performance is to achieve compliance with the regulatory requirements, protect the environment, human health and amenity, and drive environmental improvement.
Conclusion
EPA's regulatory framework and approach for overseeing the performance of landfill operators has improved as it has become more risk based, active, targeted and transparent. However, further improvement is still required as there are shortfalls in its current approach and implementation. Therefore, EPA is yet to comprehensively oversee compliance with all its regulatory requirements.
Findings
EPA's implementation of key landfill reforms has been fragmented and slow, partially due to the absence of a comprehensive overarching strategy and implementation plan.
Its risk-based approach is not sufficiently embedded in its compliance and audit reporting requirements.
Guidance to meet landfill requirements needs improvement and further clarification.
Roles and responsibilities around closed landfills are not well understood by councils.
Recommendations
That EPA:
develops a comprehensive landfill strategy with a detailed implementation plan
develops risk-based compliance and audit reporting requirements for landfills
improves guidance materials and planning controls in consultation with stakeholders.
3.1 Introduction
The 2009 and 2010 external reviews of the Environment Protection Authority (EPA) by the Victorian Ombudsman and the Victorian Auditor-General, and EPA's own subsequent 2010 internal review, found systemic issues associated with EPA's regulatory approach. As a consequence, EPA identified its regulation and oversight of landfills required significant improvement. To address this, it commenced an extensive reform of its regulatory approach, and within this identified and implemented specific reforms to improve its regulation and oversight of landfills.
3.2 Conclusion
As a result of its regulatory reform, EPA's oversight of landfill performance has significantly improved. However, there are still shortfalls in its current implementation and transparency of its risk-based approach to its oversight of landfill performance. Some of these are understandable, given the time needed for these to be embedded into both EPA's and councils' practices, and the complexities and associated costs of addressing landfill legacy risks. However, other shortfalls require further work to ensure EPA's risk-based approach is fully effective in managing landfill risks and impacts.
EPA has developed a sound risk-based framework to target its landfill activities and is in the process of collecting reliable information to inform its approach. It has a systematic and comprehensive process in place to collect information around licensed landfills, but the same comprehensive process is not evident for closed and unlicensed sites.
EPA has not effectively translated its risk-based approach to its licensing, auditing and compliance reporting requirements. As a result, all environmental audit recommendations and licence noncompliance are reported and are given equal importance irrespective of risk and impact. This has led to onerous reporting and review requirements for both EPA and landfill owners, for at times little benefit. Also, some landfill licence conditions are standard and not adequately targeted to site specific risks making compliance with, and enforcement of, some conditions difficult.
The new reforms have contributed to a lack of certainty around the approval process for new landfill cells for landfill owners, which in turn has led to unnecessary cost and time delays. EPA guidance material used to assist environmental consultants, EPA‑appointed environmental auditors and landfill owners in complying with the regulatory requirements is copious, and not well integrated or at times understood by all stakeholders.
Historically, roles and responsibilities under the regulatory framework for closed and unlicensed landfills were not clearly understood by councils or enforced by EPA. While new guidelines have improved this situation, there is still confusion around responsibility for the identification of closed landfills and the assessment these sites require.
EPA's approach to compliance monitoring and enforcement has significantly improved over the past four years. However, improvement is still required in consistently applying actions to address and deter landfill noncompliance. Additionally, its processes for monitoring and reporting compliance with policy objectives for unlicensed and closed landfills are not as effective as those for licensed landfills due to the lack of comprehensive information available and the lack of clarity around roles and responsibilities to collect, collate and report this information.
3.3 Environment Protection Authority's approach to overseeing landfill performance
As a result of its comprehensive reform process, EPA has implemented a better practice risk-based and responsive approach to improve its regulation of environmental pollution. It has also identified and implemented a range of specific initiatives and reforms required to improve its oversight of landfills.
These reforms have led to the more effective identification and, therefore, management of high and very high risks associated with active landfills and closed cells at active landfill sites. Guidelines which should lead to better management of risks from closed and unlicensed landfills are also now in place.
However, while better identified due to EPA reforms, the lesser landfill risks that may lead to localised impacts on the environment and surrounding community amenity are still not overseen or managed in a consistent and timely manner. This is because:
there has been a fragmented and slow approach to implementing key initiatives to address landfill legacy risks
information used for EPA's assessment of risks posed by all landfill phases and types is not yet comprehensive
EPA's risk-based approach is not effectively translated to its licence, auditing and compliance reporting requirements
there is uncertainty surrounding EPA's reformed approval processes for landfills
guidance to support compliance with the regulatory requirements is not well integrated and is ambiguous in places
roles and responsibilities under the regulatory framework for closed landfills require clarification.
3.3.1 Slow implementation of key initiatives
The absence of a comprehensive overarching landfill strategy to drive the planning, integration and coordination of EPA's landfill initiatives since 2010 has contributed to the slow and fragmented implementation of a number of key initiatives to address landfill legacy risks—Figure 3A describes this. EPA's slow approach has also stemmed in part from the complex nature of landfill risk management.
Figure 3A
Actions to address landfill legacy risks
| Area of action | Description |
| --- | --- |
| Financial assurances | A vital tool intended to protect the community from costs associated with remediation, site closure and post-closure liabilities where landfill owners cannot or do not meet these costs. Prior to this audit, EPA had failed to embed an efficient and effective financial assurances model to address this issue. EPA has now finalised the development of a revised financial assurances model and approach to drive the required reforms. However, a number of risk factors that saw EPA fail to embed an appropriate financial assurance model to manage potential landfill clean up liabilities still need to be actively managed. |
| Closed landfills | EPA did not implement a systematic approach to regulating closed landfills until 2012—four years after the Brookland Greens Estate landfill case. EPA is now systematically reviewing closed landfills. While regulation and management have improved, 50 per cent of the 88 previously regulated closed landfills remain regulated via out-dated tools. |
| Landfill information | EPA's three-year Spatial Inventory project, initiated in 2011 to map and incorporate information around the construction and location of active and known closed landfills, was a key step in identifying and ranking landfill risk and integrating this information into maps. This project has been significantly delayed and is now due for finalisation in 2015. |
| Landfill gas risk management | The assessment and management of landfill gas risks lost its impetus after the initial risk assessment of 256 sites in 2009. High-risk sites were identified and managed. Unlicensed and closed sites that were rated as medium risk, such as Hume's Bolinda Road landfill, have not been systematically reviewed and addressed in the same way as licensed landfill sites. |
| Leachate management | Was identified as a key risk in the 2009 Ombudsman's report, but EPA has not implemented a systematic approach to addressing this risk for all landfill types and phases. While it has identified leachate risks from licensed sites through risk assessments, it has just finalised an operational strategy to investigate the risks from a limited number of metropolitan unlicensed sites—13 out of the 36 active sites—but no rural landfill sites, and has only required the assessment of 50 per cent of closed landfill sites. This audit identified a number of leachate issues associated with closed and rural sites located close to the groundwater table and/or areas of environmental significance. |
Source: Victorian Auditor-General's Office.
In 2013, EPA identified landfills as one of its six high-risk sectors that require a strategic focus. This has brought landfills back into focus, after the initial focus in 2009–10 lost momentum due to EPA's whole-of-organisation reform process. As a result, EPA has recently approved a strategic plan for landfills to improve the integration, coordination and implementation of its key landfill reforms and initiatives. However, not all key initiatives and activities are identified in the plan, and it is not yet underpinned by a comprehensive implementation plan.
Encroachment issues around landfills
The Brookland Greens Estate case highlighted the risks associated with encroachment of residential development into landfill 'buffer' areas as a result of landfill gas impacts. A buffer is the area recommended between the landfill boundary and the nearest development to protect the amenity, health and safety of people.
As a result of the Brookland Greens case, EPA clarified the suggested buffer distance of 500 metres for operating and closed landfill sites in the Best Practice Environmental Management—Siting, Design, Operation and Rehabilitation of Landfills (the Landfill BPEM). However, the processes associated with determining and implementing appropriate buffers around active and closed landfill sites are inconsistently interpreted and applied by council planning authorities. As a result, there is limited assurance that EPA's buffer guidelines are acting as a safeguard against human health and amenity risks posed by landfills.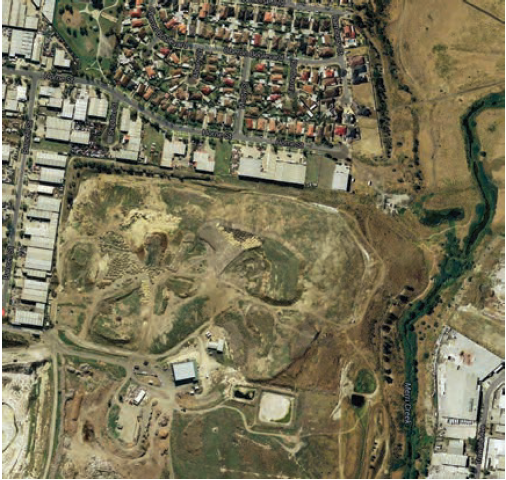 A closed landfill, with development adjacent to the landfill boundary on two sides.
Imagery copyright 2014 CNES/Astrium, DigitalGlobe, Sinclair Knight Merz & Fugrot.
Map data copyright 2014 Google.
The four councils audited also varied in how they addressed planning applications adjacent to landfills, due to different interpretations of EPA's guidelines and planning tools. Examples of areas of differing interpretation included:
whether they should identify all closed landfills and make this information available to planners
if and what type of an environmental assessment is required to assess the impact of a landfill to a proposed development on or adjacent to a landfill
when or if a planning application is referred to EPA for comment, as it is not a formal referral authority under the planning system for many planning decisions near landfills.
This has resulted in development encroaching into landfill buffer zones, leading to impacts on the amenity of surrounding communities. In other cases, it has resulted in sites being prematurely approved for development without adequate assessment and, where required, clean-up. Often these costs are also inappropriately assigned to the approved developers.
Clause 52.10 of the Victorian planning scheme details threshold distances for uses that have the potential to adversely impact on local amenity. However, while some resource recovery activities undertaken at council landfill sites are referenced under this clause, landfills are not. This omission and the absence of an efficient method to obtain EPA comment on planning scheme amendments or applications for residential developments near landfills pose significant issues in managing encroachment issues around landfills.
In November 2013, the government approved funding to the Metropolitan Waste and Resource Recovery Group to lead a four-year, $1.5 million program to protect landfill sites and adjacent development through the development and use of appropriate buffers and planning tools. Its implementation is being supported by a cross-agency industry action group, including EPA. The project will also work with regional waste management groups and councils to identify sites of regional significance and develop appropriate tools for protecting buffers around these sites. The program will also work with regional waste management groups and councils to identify sites of regional significance and develop appropriate tools for protecting buffers around these sites.
This project should explore ways to address these issues by developing appropriate planning processes/tools to manage encroachment issues and ensure EPA's involvement in any planning process where development adjacent to active or closed landfills may be involved.
While this project should lead to improved outcomes for known landfills and future adjacent development, it will not address the planning issues associated with the development of land on or adjacent to closed landfills that are not currently identified. To achieve this, all closed landfills would need to be identified by councils and included on a public register managed by EPA to inform planning and development decisions.
3.3.2 Shortfalls in the implementation of the Environment Protection Authority's risk-based approach
An effective risk regulation model is based on a sound understanding of risk to prioritise regulatory and compliance activities and effort. It also requires that risk be considered through all parts of the regulatory model, tools and guidance material.
Sound understanding of risk
EPA's risk-based approach to prioritise its compliance efforts is not yet based on comprehensive knowledge of risks posed by all landfill types and phases. EPA has prioritised—and is in the process of gathering of information around—licensed landfill sites based on risk. However, there is still no systematic and comprehensive process in place to address information gaps around all 36 unlicensed sites and closed sites that have not been regulated by EPA. Currently:
Twenty out of 36 unlicensed sites have been assessed. There is a further process in place to assess 19 sites between 2014 and 2015, but it is not clear why these sites have been chosen, whether they include the previous 20 sites and what form the assessment will take.
It has a list of 245 closed metropolitan sites, but this does not include all of the 12closed sites in the Hume municipality, nor any of the eight in Wyndham.
It does not have a comprehensive list of non-metropolitan closed sites, which are likely to number over 150, given that 63 councils responding to the audit questionnaire had a total of 387 closed landfills.
The lack of information around old closed landfill sites and those that have not been regulated by EPA is a result of inadequate clarity and understanding in the past around their identification and assessment. This lack of information means there is a significant gap in the effective oversight and management of risks posed by landfills, as outlined in the examples in Figure 3B. EPA needs to make clear whose role it is to collect, collate and register this information.
Figure 3B
Closed landfill risks—two case studies
| Situation | Detailed description |
| --- | --- |
| Dwellings built on a former landfill site sink into the ground—Yarraville. | In 1973, around 40 housing units built on a former landfill began to sink into the ground and crack. The dwellings were abandoned and the residents compensated. Following environmental audits and other studies, the main landfill area was deemed suitable to be redeveloped for parkland while only small parts of the site were considered safe for residential redevelopment. |
| Land adjacent to a known landfill and earmarked for development turns out to be part of the landfill—Ballarat. | In 2012, initial work started on a proposed residential development adjacent to a landfill that had closed in 1981 and been developed into a park and sporting ground. Landfill material was found outside the known landfill boundary which formed part of the land to be developed. The developer took council to court—settled with council paying developer damages and buying the land. |
Source: Victorian Auditor-General's Office.
Translation of the Environment Protection Authority's risk-based approach
While EPA has adopted a better practice risk-based model and approach to overseeing the performance of landfills, improvements are still required to improve the transparency of this approach and to translate and embed its risk-based intent into its licence compliance and auditing reporting requirements and its licence conditions.
Identification of high risks
EPA has identified that landfills require a key strategic focus due to their inherent high risks to the environment and local amenity, and it has also identified a number of priority landfill sites for a focused effort to improve their environmental performance. However, it has not identified high noncompliance risks across all landfills that require this same active and targeted approach in order to minimise risk to the local environment and amenity.
Whilst EPA has a robust process to collect information to monitor and report landfill noncompliance across all sites, this information is not being regularly analysed and reviewed to identify and monitor the high risks, and to prioritise these for a targeted effort. It also has not regularly reviewed this information and data to determine how effective its risk controls—i.e. licence conditions—are in managing risk and driving compliance with the regulatory requirements.
This has contributed to:
all noncompliance being given equal status in terms of risk and therefore no prioritisation to address high risks over low risks
onerous reporting requirements for landfill owners, who are required to report all landfill noncompliance and actions irrespective of the risk and impact to the environment, human health and amenity
unrealistic expectations of communities surrounding landfills that all risks and noncompliances can be addressed equally and effectively at any point in time.
Identifying high noncompliance risks would allow EPA to target its resources to areas of highest risk with lower risk core compliance responsibilities being addressed through less resource intensive actions to promote compliance—including guidance, education and sporadic inspections. It will also provide enhanced direction for landfill owners in relation to where to focus effort and capital in addressing landfill risks—in an environment where the cost to remedy all risk and actual noncompliance far exceeds the capital available. It will also improve the consistency of, and enhance certainty for, EPA-appointed environmental auditors in prioritising audit recommendations.
Compliance reporting requirements
EPA's compliance reporting requirements in its landfill licence and annual licence statements are not risk based. All licence noncompliances must be reported both immediately and annually to EPA, irrespective of the severity of impact to the environment, amenity and/or human health. Figure 3C outlines licence noncompliance by the four audited councils.
Figure 3C
Case study—licence noncompliance and severity of impacts
The licence audits and annual performance statements showed the four audited councils were all noncompliant with at least one and up to five of their licence conditions, but the associated reporting of these provided limited to no indication of the severity of impact to the environment, human health or amenity.
Noncompliance was evident in relation to landfill gas concentrations at the boundaries of the site, leachate management, groundwater impacts, waste acceptance, litter and odour beyond the boundaries of the landfill site and the required daily cover of the wastes.
This noncompliance ranged in risk from low—litter beyond the premises boundary—to high—poor asbestos management.
Source: Victorian Auditor-General's Office.
Overall, current noncompliance reporting requirements have led to:
all noncompliances being given equal importance, irrespective of likelihood and severity of impact
ad hoc feedback by EPA on actions to address noncompliance in annual licence statements and on licence action plans addressing audit recommendations, in terms of their adequacy to address risks and noncompliance
unwarranted time and business compliance costs—as onerous compliance reporting requirements impose unnecessary burdens on landfill owners.
Basing the requirement to report noncompliance on risk likelihood and severity of impact would reduce the current onerous landfill noncompliance reporting requirements, for which, in many cases, there is little environmental benefit.
Audit reporting requirements
Licence audit reporting requirements do not adequately reflect EPA's risk-based approach. This has contributed to the slow implementation of actions to address landfill risks and noncompliance by landfill owners. Currently as evidenced in our review of the audited councils' environmental audit reports:
the majority of audit recommendations are poorly linked to risks
audit recommendations are not consistently prioritised based on risk
landfill owner licence action plans to address audit recommendations are not prioritised by risk.
This is partially a result of poor or unclear guidance around licence audit reporting requirements. There is no clear statement requiring audit recommendations or associated reporting by landfill owners, through licence action plans, to be prioritised according to risk. Risk prioritisation is only inferred in EPA's guidelines for the preparation of environmental audit reports by EPA-appointed environmental auditors, and it is not specified as a better practice measure in EPA's landfill licensing guidelines for landfill licence holders.
Landfill licence conditions
Effective licensing, compliance monitoring and reporting against licence conditions requires licence conditions that are easily understood and enforced, readily complied with and that effectively target the highest noncompliance risks. EPA currently has the same landfill licence conditions for all landfills irrespective of site-specific high noncompliance risks. Current licence conditions for asbestos and groundwater are not easily understood by landfill owners or enforced by EPA officers.
The current licence condition requiring no contamination of groundwater is appropriate to manage this risk from landfills sited and constructed after 2010, but not for those sited and constructed prior to 2010 where groundwater contamination has already occurred as a result of legacy issues. For some of these landfills where groundwater contamination has occurred, the risk to or impact on current use of this groundwater is minimal, because it is not polluted—i.e. there is no negative impact on the beneficial use of this resource. As such, EPA does not require contamination to be cleaned up, only monitored to assess any increase in risk and impact in relation to the audited councils—as described in Figure 3D.
EPA's approach is that where licence conditions do not cover site-specific risks, a notice can be issued to 'supplement' the licence conditions to manage these risks. However, this is not done consistently, particularly in relation to groundwater risks.
Figure 3D
Case study—compliance with the groundwater licence condition
All five licensed landfills owned by the four councils audited were built before 2010 but also have new cells built after 2010. Three out of the five did not comply with the licence requirement to not contaminate groundwater, and risk assessments rated the potential environmental impact of this noncompliance as medium for one site and high for two. All sites have implemented actions to monitor and work towards reducing their impact on groundwater, but these actions are unlikely to ever result in compliance with this condition.
Source: Victorian Auditor-General's Office.
EPA's groundwater policy acknowledges this approach as it allows for a higher tolerance around historic groundwater contamination where appropriate risk controls are in place, through the definition of pollution rather than contamination. Reflection of this approach in a licence condition for landfills where the appropriate risk controls are in place would allow landfill owners to comply with a risk-based groundwater licence condition, by ensuring there is no pollution or increased risk to groundwater beneficial uses. It would also allow EPA-appointed environmental auditors and landfill owners to more transparently determine and report whether the risk and/or impact of the landfill to groundwater is escalating. This would also limit ongoing noncompliance reporting against a licence condition that is not achievable and not driving improved environmental performance.
The UK Environment Agency model for regulating landfills takes a more targeted approach by adopting site-specific risk-based conditions supported by a comprehensive environmental impact assessment. EPA already requires a comprehensive risk assessment as part of its licence requirements, but does not amend standard licence conditions based on this assessment.
Some landfills are licensed to accept asbestos waste, but licence conditions do not address the specific management of this waste, which if managed inappropriately can pose a significant risk to the health of on-site workers. This audit identified significant and ongoing noncompliance of asbestos management with EPA's better practice standards and its asbestos guideline.
3.3.3 Clarity and certainty around regulatory requirements
Clarity of guidance material
EPA's 2011 Compliance and Enforcement Policy recognises the importance of businesses and individuals understanding the law and their obligations. To achieve this, EPA should have clear guidance material to clarify and interpret the standards and duties required of landfill owners.
Landfill requirements are founded around multiple policies and systems, the language and terminology used in the framework is complex and/or technical, and the guidance material used to inform stakeholders of the processes to comply with these requirements is at times ambiguous. Guidance around the landfill approval processes, design, construction, and management and licensing, which includes auditing, monitoring and reporting requirements is copious, but not well integrated—for example, the landfill policy is supported by over 15 guidelines, with at least eight specific to landfills and waste management. EPA's hierarchy of laws, policies, objectives, outcomes, measures and guidelines is not clear or well-articulated for landfills—for example, the Landfill BPEM is a guideline but as it is referenced by the landfill policy, much of its content becomes requirements rather than guidelines.
The current framework makes it difficult for landfill owners to fully understand much less carry out their regulatory responsibilities. This at times has contributed to poor and/or ongoing noncompliance with the regulatory requirements—for example with asbestos management, as outlined in Figure 3E.
Figure 3E
Lack of clarity on asbestos management requirements
There are no specific licence conditions for the management of asbestos. This results in a lack of clarity and understanding for landfill owners on how to best manage asbestos.
The 2010 Landfill BPEM states that, where sites are licensed to accept asbestos, the landfill operator must comply with the licence acceptance criterion. However, the licence acceptance criterion does not specifically address asbestos management—it only addresses the types of wastes allowed at the landfill.
There is no specific licence condition to address the management of asbestos at landfills. However, the licence requires compliance with the Landfill BPEM. The Landfill BPEM states that site operators must ensure that asbestos disposal is carried out in accordance with EPA's guideline for asbestos management.
Source: Victorian Auditor-General's Office.
The current situation would be improved by EPA preparing a guide explaining the structure and hierarchy of the framework—including requirements, objectives and outcomes—and what processes and duties need to be undertaken to comply with these and by whom.
Certainty of approval processes
Good attributes of a better practice regulatory framework include both flexibility and certainty, supported by and with access to authoritative advice and decision-making criteria that provide certainty around approval processes.
EPA attempts to provide certainty for landfill owners by identifying 'deemed to comply' measures that if implemented will meet the outcomes in its Landfill BPEM. Its framework is also flexible as it allows landfill owners the scope to adopt least-cost innovative approaches to meet the set performance outcomes. However, the onus of proof is then shifted to the landfill owner who must prove these measures will comply with the required outcomes.
The four councils audited as well as 13 councils responding to the audit questionnaire identified issues around the certainty of EPA's approval processes for the design and construction of landfills due to:
a lack of clarity around the standards, criteria, judgements and guidance EPA uses to assess the adequacy of alternative measures to meet the outcomes of the Landfill BPEM
the inconsistent quality of the work undertaken by environmental consultants, which leads to EPA-appointed environmental auditors requiring additional work to satisfy their obligations
the approval process applied by EPA causing project delays.
This has led to uncertainty for landfill owners and increases in the cost and time associated with landfill approval processes. This has made planning and budgeting difficult for councils, especially within council budgeting constraints, as discussed in the case study in Figure 3F.
Figure 3F
Additional costs and time delays
The design of a new landfill cell for council was prepared by a consultant and submitted to an EPA-appointed auditor in early 2011. After negotiations between council, consultants, the EPA-appointed auditor and EPA, the application was approved in March 2012. In addition to the time delays, processes to obtain overall approval led to considerable cost increases:
the estimated costs for design and construction reports were $25 000, but have cost$59 000 to date
the quality assurance testing cost proposal was $95 000 and actual costs to date have been $130 000
audit costs were estimated at $23 000 but the actual cost was $37 000
consultant audit costs for the proposed leachate pond were set at$24 000 but actual costs were $40 000.
A new landfill cell design was developed by the consultant and audited by an EPA‑appointed auditor. The loop of enquiry and further testing and design requirements between the two parties and EPA was ongoing for 12 months, with an impact of $30 000 for additional testing and approximately $30 000 for additional design costs above the original fees quoted by design consultant. Additional work and delays were attributed to auditor and EPA requirements for a range of issues, including:
testing of the liner for compatibility with leachate—six-week test—in Queensland
testing of the liner in the USA
details of existing cells and leachate controls that EPA had previously approved
new treatments for capping on existing cells that EPA had previously approved.
Source: Victorian Auditor-General's Office.
Councils indicated they needed clearer technical guidance on a range of issues within the Landfill BPEM to assist consultants and help them understand and comply with the required outcomes and objectives. Issues that lacked clarity included:
ongoing monitoring requirements for closed landfill cells
monitoring of fugitive gas emissions
construction standards for liners, leachate and gas bores
landfill gas action levels.
EPA is in the process of amending the Landfill BPEM. As part of this process, it should work with landfill owners, EPA-appointed environmental auditors and consultants to identify and address clarity and uncertainty issues within the Landfill BPEM and associated approval processes.
EPA has not addressed the Ombudsman's 2010 recommendation to convene an independent panel to improve the efficiency and certainty associated with approval processes for complex landfill issues due to the limited number of independent landfill experts in Australia. However, a peer review panel to advise EPA in relation to complex approval processes would provide surety around the approval process and not result in significant conflict of interest issues.
3.3.4 Roles and responsibilities
The management of landfills entails multiple entities working toward the same performance outcomes identified in the landfill policy. For this to be effective, roles and responsibilities must be clearly understood and communicated.
Roles and responsibilities for regulating and managing landfill risks under the landfill policy, the Landfill BPEM and EPA's closed and unlicensed landfill guidelines are not accurately understood by councils that are landfill owners. This has historically resulted in:
poor leadership and responsibility for ensuring landfills that are not subject to a licence or notice—unregulated landfills—comply with the landfill policy
councils not understanding their responsibilities for unlicensed and closed landfills
little accountability and incentive to address the problems around unregulated and closed landfills
lack of resource commitment by councils to address the problems around unregulated landfills.
EPA has attempted to clarify roles and responsibilities around unlicensed and closed landfills by releasing new guidance material in 2012 and 2014 respectively, but ambiguities still exist around roles and responsibilities:
The identification and assessment of closed landfills—the guidance does not clearly assign responsibility for identifying, assessing and mapping all types of closed landfills. Therefore, neither EPA nor councils has adequately done this
Regulation of unlicensed landfills—EPA explained that it was the responsibility of the regional waste management groups to oversee the performance of these sites in consultation with councils. There was no evidence that this was happening and this role was also unknown to the audited councils.
3.4 Compliance
EPA's approach to compliance and enforcement has significantly improved over the past four years. For it to be fully consistent, enforcement around low to moderate landfill risks and associated noncompliance must be followed up in a more consistent manner.
3.4.1 Compliance activities
EPA is now far more active in undertaking compliance activities targeted to the areas of highest risk to the environment and human health than it was prior to 2010. It has done this by implementing new and reformed better practice systems, processes and tools, including:
an improved inspection program, which is more comprehensive, evidence-based and targeted
transparent annual performance statements for licensed landfills
a more transparent and stronger compliance and enforcement policy and supporting annual compliance plans
more comprehensive policies, guidance and standard operating procedures for compliance and enforcement activities
specific compliance outcomes, indicators and targets in internal and external reports.
EPA's approach to ensure the principles and outcomes of its Compliance and Enforcement Policy are met is outlined in its 5 Year Plan 2011–2016. The delivery of these compliance outcomes are further articulated and detailed through its annual compliance plans, which set compliance activity targets supported by a range of measurable indicators.
EPA's performance in meeting its compliance plan targets has continuously improved since 2011. In 2012–13, the majority of its targets for landfills were met or exceeded.
EPA's compliance performance reporting
A comprehensive performance reporting framework is integral to good governance. It is a mechanism for obtaining assurance that the regulator has done what it said it would and demonstrates its effectiveness in achieving compliance with legislation and corporate outcomes.
Since 2010, EPA has put in place, or is well on the way to having in place, the essential elements of a better practice reporting framework—which are detailed in Figure 3G.
Figure 3G
EPA's new better practice reporting framework
| Element | Better reporting practices |
| --- | --- |
| Compliance performance information | Assembling complete and accurate quantitative and qualitative information through a new licensee risk assessment model, annual performance statements for licensed sites and assessments of compliance with all remedial notices. |
| Compliance performance measures | Introduced outcomes, measures and indicators providing relevant, appropriate and fair representation of performance—such as level of compliance with notice conditions, level of compliance with licence conditions and outcomes. |
| Information management | Developed an integrated database to manage compliance and enforcement information. |
| Compliance performance assessment and reporting | Performance information is analysed against performance measures to assess the program/service against appropriateness, effectiveness and efficiency. Findings are then effectively reported internally and externally through a comprehensive reporting approach. |
Source: Victorian Auditor-General's Office.
EPA has good systems for measuring, monitoring and internally reporting on its performance in delivering its compliance functions across active licensed landfill sites and compliance with remedial notice requirements for both active and regulated closed landfills. Its systems for measuring, monitoring and internal reporting of unlicensed landfills and closed landfills compliance with the landfill policy are not as effective or comprehensive. This is because EPA has not prioritised these sites as a high risk and the level of assessment, monitoring and reporting with the landfill policy reflects this.
Consequently, councils also put far less focus and effort into these sites. Councils are not required to report to EPA around the compliance of these sites with policy. However, EPA's 2011 Compliance and Enforcement Review questioned the adequacy of its approach around unlicensed sites.
To improve councils' focus, EPA released its Closed Landfill Guidelines in 2012 and its guidelines for Landfills exempt from licensing in 2014. While this has improved the focus on these sites, the lack of clarity around roles and responsibilities and aspects of these guidelines still require addressing to improve councils ability to assess and ensure compliance of these sites with the landfill policy. Additionally, councils need to apply the same level of responsibility for the compliance of these sites with policy as they do for EPA-regulated sites.
EPA has a project to assess the performance of closed regulated landfills against the landfill policy, but this project does not address all EPA-identified closed landfills or unregulated closed landfills owned by councils. Therefore, the extent of compliance of all closed landfills with policy is not known by EPA or councils.
While EPA has prioritised both unlicensed and closed landfills as lower-risk sites, past evidence indicates that these sites can pose significant risk to the environment, health and stability of land when development occurs in their vicinity. Therefore, it is important that the compliance of these sites with the landfill policy objectives is assessed.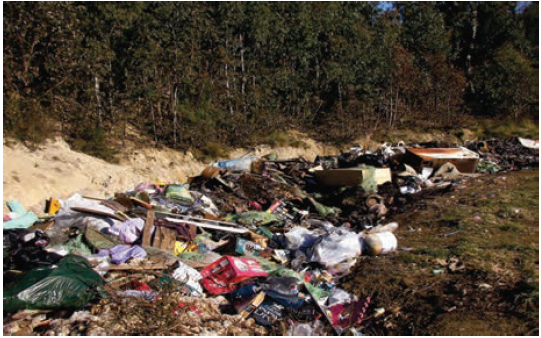 Small unmanned, unlicensed landfill consisting of a single trench.
Photograph courtesy of East Gippsland Shire Council.
Annual licence statements
This audit's analysis of annual licence statements in 2012–13 against EPA's inspection reports showed noncompliance around asbestos management and that daily cover requirements were not accurately reported. This indicates two issues:
inaccurate compliance reporting on annual performance statements, although this does not appear intentional by licence holders
poor analysis of all available information by EPA to check the accuracy of annual performance statement reporting.
EPA is unable to apply the hierarchy of sanctions specified in its Compliance and Enforcement Policy to deter unintentional false reporting because currently under the Environment Protection Act 1970 false and misleading reporting on annual performance statements is an indictable offence, punishable only by prosecution.
Enforcement
EPA has implemented a range of processes to improve the consistency of its enforcement activities. This includes its Compliance and Enforcement Policy, standard operating procedures, its revised environment protection officer training program and its enforcement review panel to improve governance around the application of sanctions. As a result, EPA's enforcement actions are more active, targeted and consistent. However, improvements are still required to further increase the consistency around the management of low to moderate risks and associated noncompliance.
EPA's enforcement actions are focused around the two key elements of remedies to fix the problem and sanctions—that is, applying a penalty or punishment for breaking the law.
While there had been no sanctions applied to the landfills owned by the four audited councils in the past two years, EPA had applied a number of remedies to address low to moderate risks and associated licence noncompliance—such as not keeping appropriate records or managing asbestos and daily cover requirements. Improvement is required around the consistent application of these remedies. Among the four councils audited there were examples of:
inconsistent implementation of the Compliance and Enforcement Policy principle that if an identified risk cannot be fixed in front of an EPA officer, then a notice must be applied
different decisions about what remedy should be applied for identical licence noncompliance around minor to moderate risks, with no documented rationale or explanation in the inspection notice to justify different approaches—for example, some sites were issued with improvement letters, some with verbal advice and some with notices for uncovered asbestos and inadequate daily cover.
While it is appropriate to allow officer discretion in applying remedies, it is important that documented explanations are provided to justify why one remedy is chosen over the other. There is also currently no review of officer decisions around the consistency of remedies to address risks and noncompliance.
Recommendations
That the Environment Protection Authority:
further develops its current landfill plan into a comprehensive strategy that integrates all its landfill plans and activities, and is underpinned by a detailed resourcing and implementation plan
reviews its landfill information to determine and prioritise the key noncompliance and emerging risks for targeted action, and identifies these in its annual compliance plan, supported by measures and outcomes to assess the effectiveness of its actions
reviews the efficacy of current landfill licence conditions and develops additional risk based conditions where required for inclusion on a site-by-site basis
implements risk-based compliance and environmental auditing reporting requirements, which include risk-based prioritisation requirements and reporting based on likelihood and severity of impact
uses a peer review panel of landfill experts to advise it on complex landfill approvals, with clear terms of reference
improves landfill guidance by:
preparing an overarching landfill guide explaining the structure and hierarchy of the regulatory requirements for all landfill-related processes and how all the relevant landfill guidelines and processes integrate
clarifying that it is councils' role to identify all closed landfill sites within their municipalities and register this information with the Environment Protection Authority and describing risk assessment requirements for unregulated closed landfills
improving best practice environmental management guidance in consultation with all stakeholders
works with the Metropolitan Waste and Resource Recovery Group to develop an appropriate planning process/tool to ensure the Environment Protection Authority's involvement in any rezoning or application process across Victoria where development adjacent to active or closed landfills may be involved
develops a public register of landfills
reviews its standard operating procedures for issuing remedies to require documented reasons as to what remedy is applied and why.