1.1 Landfills
Landfills are an important part of Victoria's waste management infrastructure. While disposal of materials to landfill is the least preferred option for waste management, landfills will continue to be required to manage those wastes that cannot practically be removed from the waste stream.
Prior to the 1970s there was no overarching environmental protection legislation or regulatory framework to control what materials were disposed of to landfills or design and operation standards for landfills. The result is that there are landfills across metropolitan and rural areas that have accepted materials that are potentially hazardous to the environment and human health, which were not constructed to today's good practice standards. This was evidenced in 2008 when residents living in close proximity to a closed landfill were exposed to unacceptable levels of gas generated from the site—the Brookland Greens case—and were later successful in obtaining a multimillion dollar class action settlement against the City of Casey and the Environment Protection Authority (EPA).
EPA commenced a significant reform process in 2010 following the Ombudsman's inquiry into the Brookland Greens case, VAGO's 2010 report on the management of hazardous waste and EPA's own internal review of its compliance and enforcement approach in 2010. This led to EPA adopting a risk-based and responsive regulatory model with the intent of focusing compliance activities and follow up on the highest risk sites and activities to achieve significant environmental improvements. The aim was then to translate this approach to its oversight of landfill performance. This resulted in amendments to the landfill regulatory framework and supporting tools. It also contributed to a renewed emphasis by EPA on ensuring landfill operators and owners comply with the regulatory framework requirements.
1.1.1 Risks posed by landfills
Active and closed landfills can pose a wide range of risks to the environment, human health and amenity based on their siting, design, operation and management. The sources and levels of risk posed by landfills change with the age of the landfill, the phases of the landfill lifecycle, its siting and construction standards, the type of waste accepted and the management controls in place.
EPA ranks landfill risk based on two key factors–sites that pose the greatest risk of harm to the environment and those that pose the highest risk of noncompliance against regulatory requirements. It assesses this by gathering a range of information and measuring it against the following criteria:
site activities—the type of site activities and the level of risk they pose to human health and the environment
proximity to sensitive receptors around the site—such as groundwater, surface waters and residential areas
emissions and waste—the type and amount of waste accepted at the site
site management—the management systems and investment in environmental management
compliance rating—the number and severity of noncompliances against regulatory requirements identified at that site
community engagement—the ability of a site to work with its local community and listen to any concerns.
Environmental risks
Environmental risks from landfill sites generally result from contaminated water leaching into the soil, groundwater and surface water. Contaminated water is generated from the mixture of waste breaking down with surface water that comes into contact with it. This mixture is known as leachate. Leachate seepage from landfills can lead to soil, groundwater and surface water impacts. High levels of landfill gas can impact vegetation and atmospheric concentration of greenhouse gases—depending on the type and concentration of gas generated.
Human health risks
The most significant risk to human health posed by landfills is the migration of landfill gas underground from the landfill to structures and enclosed spaces on site or adjacent to the landfill. It is possible for this gas to accumulate in these structures and spaces, where there may be a risk of asphyxiation or explosion under particular conditions. Surface emissions of gas can affect local communities due to odour. Strong responses to odour can affect an individual's sense of wellbeing. The risks posed by landfill gas largely depend on the type of gas emitted, its concentration, mobility and the level of exposure. Adverse health effects from exposure to landfill gas are rare.
Health risks may also occur where individuals are exposed to dangerous materials accepted at the landfill—such as asbestos—if their acceptance and disposal is poorly managed.
Amenity risks
Odours generated from poor landfill management practices can impact on the amenity of nearby residences. Poor daily waste cover and leachate management can also result in odours. Poor on-site litter management can impact nearby residences and affect the aesthetic values of an area.
Legacy risks
Older landfill sites also pose risks that need to be managed. These risks are the legacy from those sites or cells—see below—sited and built to the accepted standards of the day, which were less stringent than standards required post-2010. Legacy risks arise mostly from closed landfills, but may also arise from older cells at active licensed and unlicensed sites. Landfills can continue to pose legacy risks for 30 years or more.
To minimise landfill risks, good landfill management should result in the:
maximum capture and use—or other management—of landfill gas emissions to minimise adverse impacts to air quality and human health
mitigation of leachate to minimise adverse impacts to surface waters, groundwater and the gas collection system
mitigation of odours to minimise adverse impacts to air quality and local community amenity
control of vermin, wind-blown litter and dust, to minimise adverse impacts on the local community
appropriate monitoring, rehabilitation and after-care of the site to minimise long‑term environmental and human health impacts following its closure.
1.1.2 Types and number of landfills
Landfill capacity can vary considerably—from sites that are over 100 hectares and receive several hundred thousand tonnes of waste annually, to small sites only a few metres long and deep, which receive only 50 tonnes a year. This audit has examined the two main phases of the landfill lifecycle—the active phase and the closed phase.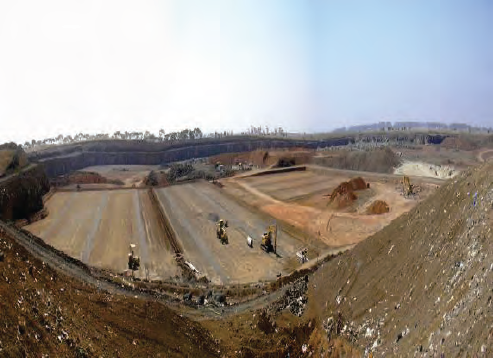 Photo shows a large cell being built adjacent to cell already filled. Photograph courtesy of the Environment Protection Authority.
Active landfills, those that currently accept waste may be licensed by EPA, or if they serve a population of less than 5 000, be exempt from licensing—referred to as unlicensed in this report. Active landfill sites are generally divided into landfill cells—defined areas within a landfill that accept waste. Figure 1A is a diagram of such a system. Generally, only one cell is filled at a time and once full the cell is closed and a new cell comes on line. There is a regulatory requirement to progressively rehabilitate landfill sites as cells close.
Figure 1A

Diagram of a landfill and landfill cell

Source: Victorian Auditor-General's Office.
Closed landfills are those landfills that have received waste in the past, but no longer do so. There are also two types of closed landfills—regulated and unregulated. Regulated sites are those that were licensed by EPA or brought to EPA's attention as a high-risk site and now either have a licence or remedial notice issued under the Environment Protection Act 1970 (EP Act). For this audit, unregulated sites are defined as those sites not actively regulated by EPA through either a licence or notice. However, all landfill sites are required to comply with the provisions of the EP Act and the relevant landfill policies.
EPA's data, presented in Figure 1B, indicates there are over 100 active landfills in Victoria, in both council and private ownership, and at least 245 closed landfills, with the majority having closed at least 10 years ago.
Figure 1B

Summary of the numbers and types of landfills currently known to EPA
| Landfill status | Description | Total | Council owned | Privately owned |
| --- | --- | --- | --- | --- |
| Active | Currently accept wastes | 107 | 72 | 35 |
| Licensed | Has a licence controlling the waste that can be received and how pollution must be managed | 71 | 37 | 34 |
| Unlicensed | Exempt from licensing as it serves a population of 5 000 or fewer | 36 | 35 | 1 |
| Closed | No longer receives wastes | 245 | n/a | n/a |
| Regulated | Was licensed when active | 88 | 66 | 22 |
| Unregulated | Was exempt from licensing when active and EPA has not issued it with a remedial notice | 157 (a) | n/a | n/a |
(a) This number includes landfills in metropolitan Melbourne only.
Note: n/a = information not available.
Source: Victorian Auditor-General's Office.
1.2 The regulatory framework to manage risks from landfills
1.2.1 Regulating landfill sites
The siting, management and rehabilitation of landfills requires a high level of design and management to ensure that that the environment is protected and community aspirations are met.
Landfill sites are regulated through the EP Act, and a range of complementary policies, guidelines and regulatory tools, including licences and remedial notices that outline conditions that a landfill owner/operator must adhere to. This system of policies, guidelines and tools is referred to in this audit as the regulatory framework for landfills. Figure 1C is a diagram of this framework.
Figure 1C

The landfill regulatory framework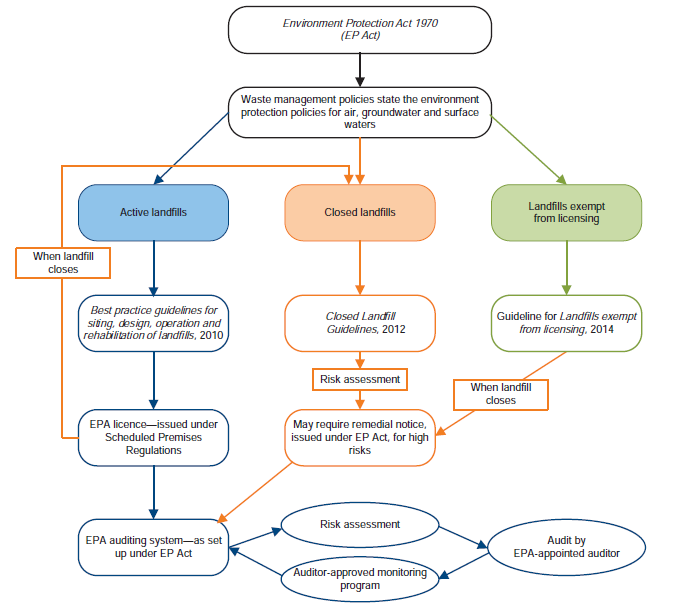 Source: Victorian Auditor-General's Office.
In 2010, EPA requirements for environmental management of landfills changed as part of the licence reform program. These changes led to landfill licences being less prescriptive and clearly identified that the responsibility to better identify, monitor and manage the environmental impacts of landfill operations belonged to the licence holders, not EPA.
This clarification of responsibility included the requirement for licence holders to obtain environmental assessments, and audits of landfill management to be undertaken by appropriately qualified consultants and environmental auditors appointed under the EP Act—EPA appointed environmental auditors. The environmental monitoring and auditing component of landfill management comprises four main processes:
risk assessment
environmental monitoring program
environmental audit program, which assesses the risk of environmental harm from the site and activities at the site
annual licence performance statements from the licence holder to EPA, detailing compliance with licence conditions.
Landfills accepting municipal wastes and low level contaminated soils must generally meet better practice requirements. EPA provides guidance on how to demonstrate this through the development and implementation of a range of guidelines for landfills. These include:
the 2010 guideline Best Practice Environmental Management—Siting, Design, Operation and Rehabilitation of Landfills(the Landfill BPEM)
the 2012 Closed Landfill Guidelines
the 2014 guideline for Landfills exempt from licensing.
Closed landfills that were licensed by EPA while active must surrender their EPA licence and be regulated through the issue of a remedial notice as required by the Waste Management Policy (Siting, Design and Management Of Landfills) 2004 (the landfill policy).
Unlicensed landfills are generally not regulated by either a licence or a remedial notice, but still must comply with landfill policy objectives. However, if they are found to be causing an unacceptable risk to the environment, EPA can issue a notice to address the risk.
EPA monitors compliance through inspections, annual licence performance statements, including statement reviews and audits, and investigations. It also has a range of enforcement tools available to manage landfill noncompliance. These require remedies to fix the problem, for example through written advice or a remedial notice and can also involve sanctions—penalties or punishments—such as an infringement notice, licence suspension or prosecution.
Figure 1D is a time line of changes that EPA has made to landfill guidelines and regulation since 2009.
Figure 1D

Time line of significant changes to landfill regulation and guidelines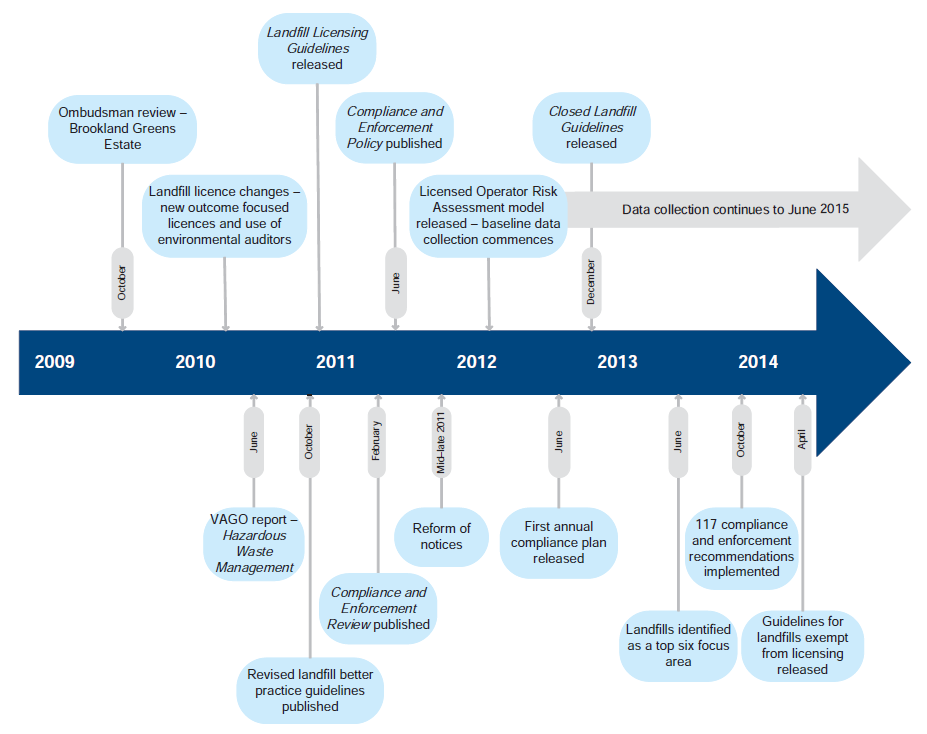 Source: Victorian Auditor-General's Office based on information from the Environment Protection Authority.
1.2.2 Regulating development on or adjacent to a landfill
The provisions of the Planning and Environment Act 1987 (P&E Act) provide the principal mechanisms by which Victoria's broader planning objectives are achieved. Under the P&E Act, councils and the Department of Transport, Planning and Local Infrastructure, on behalf of the Minister for Planning, act as:
responsible authorities—making decisions on planning permit applications, which permit certain land uses or developments
planning authorities—preparing planning scheme amendments, which zone large areas of land to allow for its redevelopment for a different use, such as from an industrial zone to a residential zone.
Sections 12(2)(b) and 60(1)(e) of the P&E Act require a planning authority, when preparing an amendment to the planning scheme, or a responsible authority, when deciding on a planning permit application, to take into account any significant effects that the amendment or permit might have on the environment or the environment might have on the use or development. This includes risks associated with active and closed landfills. The Landfill BPEM also recommends buffer distances to separate landfills from buildings or structures, and requires the responsible planning authority to obtain sufficient information for any proposed new development or rezoning within the buffer to demonstrate it will not be adversely impacted by its proximity to the landfill site.
1.3 Roles and responsibilities
Environment Protection Authority
Landfills are only one sector among many that EPA regulates, and currently landfills comprise approximately 10 per cent of the licensed premises that EPA regulates. However, EPA has identified landfills as one of its six high-risk sectors that require a focused effort.
EPA administers the legislation, policies, best practice guidance, approval and licensing processes for landfills to protect the environment and human health. It does this through a number of mechanisms:
Administration of the regulatory framework—includes implementing waste legislation, and developing and implementing policies and best practice guidelines which govern and guide the design, operation and management of active and closed landfills.
Setting financial assurances—EPA requires financial assurances from landfill operators/owners, in the form of a bank guarantee or a budgetary provision. Financial assurances are intended to provide a guarantee that the costs of remediation, site closure and post-closure liabilities are not borne unfairly by EPA and ultimately the community.
Approving and licensing landfills—an EPA works approval must be obtained before a landfill can be constructed, except for municipal landfills serving a population of fewer than 500 people. Similarly, an EPA licence is required for the operation of all landfills, except for municipal landfills serving a population of fewer than 5 000 people. The licence sets the performance objectives for the operating landfill, defines operating parameters, and outlines monitoring programs to oversee its environmental performance. EPA monitors the owner's compliance with both landfill works approval and licence conditions.
Issuing and monitoring compliance with EPA notices—EPA issues owners of all closed, formerly licensed landfills with a remedial notice that requires a closed landfill to be managed in a manner that does not pose an unacceptable future risk to the environment or human health.
Landfill owners
Councils and private organisations own and operate landfills throughout Victoria. Private organisations own a minority of the landfills but these include some of the largest active landfills. Most landfills that operated prior to the 1980s were owned by councils. Therefore, as landfill owners, councils play a key role in the management of the majority of both active and closed landfill sites across Victoria.
It is the responsibility of the landfill owner to ensure the operation, management and rehabilitation of a landfill site complies with EPA's regulatory framework requirements and the relevant best practice guidelines.
1.4 Audit objective and scope
This audit examines whether EPA's current regulatory approach is appropriately administered, is being complied with and has been effective in providing assurance that landfills are not leading to adverse human health and environmental impacts, both currently and for future generations.
The audit reviewed the activities of EPA and a sample of four councils that own and operate landfills:
City of Ballarat
East Gippsland Shire Council
Hume City Council
Wyndham City Council.
The councils were selected to provide a range of council sizes and locations and municipal waste landfill types. To complement the information from the four audited councils, we issued a questionnaire to the other 75 councils to collect general information around landfill management practices. We received 62 responses, an 83 per cent response rate.
1.4.1 Audit approach
The audit examined whether:
EPA effectively administers the regulatory framework for landfills and oversees compliance with it by landfill operators/owners
active landfills are well operated and managed in accordance with the regulatory framework requirements and guidelines
closed landfill sites are well managed in accordance with the regulatory framework requirements and guidelines.
1.5 Audit method and cost
The audit was conducted in accordance with the Australian Auditing and Assurance Standards. Pursuant to section 30(3) of the Audit Act 1994, unless otherwise indicated any person named in this report are not subject of adverse comment or opinion.
The cost of the audit was $400 000.
1.6 Structure of the report
Part 2 examines the performance of councils in managing risks for both active and closed landfills, with a focus on risks from landfill gas and leachate.
Part 3 assesses EPA's approach to regulating landfills and overseeing councils' performance, including monitoring and enforcing compliance.