Auditor-General's comments
John Doyle

Auditor-General

Audit team

Kris Waring—Engagement Leader

Caitlin Makin—Team Leader

Emily Arthur—Analyst

Engagement Quality Control Reviewer

Michele Lonsdale
Death and dying can be a confronting prospect for anyone with a terminal illness. Understanding your prognosis, finding out what options exist and deciding what kind of care you would prefer can be complex and emotional. Families, friends and carers can also be overwhelmed with decisions as they attempt to access services and support their loved ones. Making this process as straightforward and responsive to a patient's needs and symptoms as possible is what good palliative care is about.
The Department of Health & Human Services (DHHS) first developed a palliative care strategy in 2004 and refreshed it in 2011 with the Strengthening palliative care: Policy and strategic directions 2011–2015 (Strategic Directions). However, as palliative care continues to develop and becomes more widely understood and valued, demands on health services and community palliative care organisations are changing and escalating.
Advance care plans (ACP) are one of the central pillars of palliative care—helping patients to set out their personal decisions and preferences, and assisting palliative care staff and other health care professionals to make well-informed decisions. DHHS's new strategy—Advance care planning; have the conversation: A strategy for Victorian health services 2014–2018—places renewed focus on all parts of the health service to consistently adopt and communicate ACPs.
In this audit I looked at whether Victorians with a terminal illness have access to high-quality palliative care that is timely, coordinated and responsive to their needs and wishes.
I found that palliative care in Victoria is delivered by skilled and dedicated staff who specialise in caring for people with a terminal illness. Indeed, Victoria has a strong palliative care sector and DHHS has set a clear and ambitious agenda for what remains a relatively new area of health provision. However, a number of areas for further improvement remain.
Demand for home-based care is increasing and some metropolitan community palliative care services have struggled to meet this demand, resulting in waiting lists to access services. This can place additional stress on patients and carers, and can mean that some people who have chosen to die at home cannot spend their last days there. DHHS has committed to better forecasting demand for services and to work with palliative care services to better understand how to support carer needs and respond to unmet demand.
More also needs to be done to support carers and families. While there has been progress in some areas, improving respite provision and access to psychosocial support remain major priorities. Notably, 'support for carers' and 'engaging with the community' were two key priorities of DHHS's Strategic Directions that have not been met.
Going forward, it is imperative that DHHS sets clear expectations for service delivery across the state and provides sufficient and appropriate funding to health services and community organisations.
The majority of palliative care takes place in patient homes, provided by community palliative care services. However, the provisions of the Audit Act 1994 limited the extent to which we could assess non-government community palliative care, despite a Parliamentary inquiry recommending changes to the Act over four-years ago. I hope that promised changes to my mandate to introduce follow‑the‑dollar powers will enable me in future to provide Parliament and the public with greater assurance that palliative care services being delivered by non‑government and community organisations are effective.
I have made 12 recommendations to address the major issues identified in the audit. DHHS has accepted all recommendations and included an action plan detailing how it intends to address them. I will also follow up separately with all health services in Victoria who provide palliative care services to ensure that they act on my recommendations where appropriate.
I am particularly pleased with the constructive and considered way in which DHHS and audited health services approached the audit and assisted my staff to complete their work. I wish to thank them and their staff for their time, and for their ongoing commitment to patients in their care.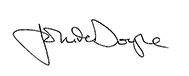 John Doyle

Auditor-General
April 2015