1.1 Introduction
The end of a person's life is always going to be difficult for them and their families. However, with the right planning, care and support, death can be made easier on all involved. Palliative care is delivered by a range of healthcare professionals and provides this type of support.
Around half of all Victorians who die each year would benefit from palliative care. Traditionally, people diagnosed with terminal cancer have represented the majority of palliative care patients. However, people with other chronic illnesses—such as motor neurone disease, HIV/AIDS, end-stage heart, lung or kidney disease, and advanced dementia—are increasingly accessing palliative care. Early referral to palliative care services can help people begin making decisions about the type of care they want.
Palliative care is different to curative treatment, but they can be provided alongside each other. While curative treatment is aimed at prolonging life, palliative care is aimed at improving the quality of life. Palliative care can be provided in an inpatient hospital setting or within the community, at a person's home, aged care facility or disability group home. In community-based settings, patients and their carers can also access after‑hours telephone support. Palliative care staff are trained to work with families, carers and patients to understand where the patient would like to die and the treatment they would prefer.
In 2013, the Australian Bureau of Statistics (ABS) conducted analysis of population trends in Australia. Its analysis shows that the Australian population is ageing and growing. It predicts that 19 per cent of the population will be aged over 65 by 2033 if current trends continue.
Similarly, the ABS predicts that in Victoria the median age of the population will increase significantly over the next 40 years—in 2012, the median age was 37.3 years and the ABS forecasts that it will increase to 39.5 years by 2013 and 42.4 years by 2061. This growth in the aged population will increase the need for palliative care services.
1.2 Palliative care service provision in Victoria
Palliative care is delivered through community, inpatient and consultancy services, administered by public, private and non-government providers:
Consultancy services provide symptom management and discharge planning for patients in acute hospital wards and outpatient services for community palliative care services.
Community palliative care services provide in-home and after-hours services to manage symptoms and provide end-of-life care.
Inpatient palliative care wards provide symptom management, end-of-life care, discharge planning and respite. They also provide care aimed at controlling unstable or deteriorating symptoms. Inpatient staff also prepare patients and carers for the transition home where possible.
Figure 1A
Palliative care service map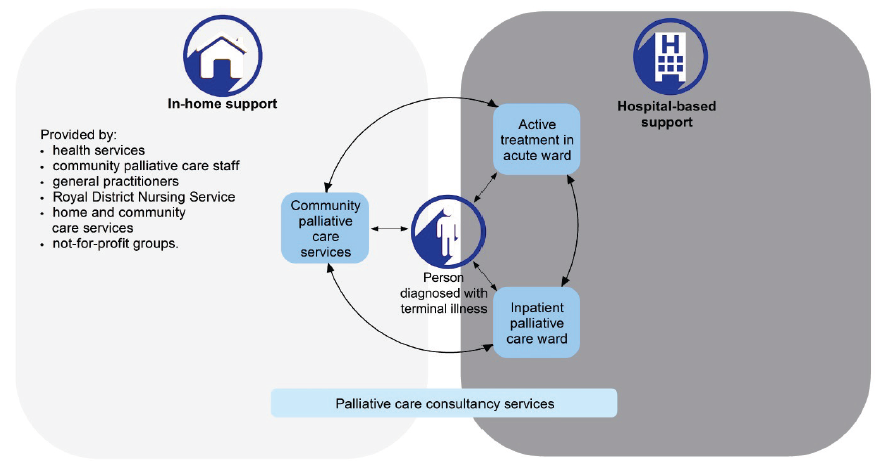 Source: Victorian Auditor-General's Office.
The majority of care occurs in community-based settings and is delivered by non‑government providers. Public and non-government community palliative care services also link with other services to provide palliative care in the patient's home:
Royal District Nursing Service—contracted by some community palliative care services to provide after-hours nursing support.
Home and community care services—provide basic support to people over 65 who live at home.
Not-for-profit support groups and volunteers—may assist by providing meals for patients or transport to medical appointments.
Volunteers are also an essential part of the palliative care sector. A Department of Health & Human Services (DHHS) workforce study released in 2013 reported that the number of hours volunteers work in palliative care is equivalent to 30 per cent of paid full‑time employees. Further, it identified that in-home support was the main role undertaken by volunteers.
Patients move between different levels and places of care depending on the progression of their illness and their needs at each stage. There is no standard pathway that patients follow—rather their care should cater to their prognosis and personal needs and wishes. Figure 1B is a fictional example of one person's pathway through palliative care services.
Figure 1B
A journey through palliative care services
Mrs H is diagnosed with end-stage pancreatic cancer at the oncology ward of Hospital A. A consult team specialising in palliative care visits the oncology staff to discuss Mrs H's symptoms and needs and suggests a change in pain medication. A meeting is held with the treating specialist, a social worker and Mrs H's adult son and daughter. The daughter lives two hours away and has difficulty visiting more than once or twice a week. The son lives close-by but is worried his employer will not be happy if he takes a lot of time off work. He is also anxious that he does not know how to properly care for his mother.
The following day the palliative care team held their weekly meeting to discuss newly admitted patients. Mrs H's pain symptoms are under control but she needs physical therapy. The physiotherapist arranges time to visit her. The social worker advises that he has provided some information about financial support for carers to the son, and suggests staff contact him to provide more information about what to expect in preparation for her discharge home. Staff agree that due to the family's financial circumstances they should seek funding to help with the cost of equipment that will be needed in the home.
The next week Mrs H is in a stable condition and ready to be discharged home. She understands that she has only a few weeks left to live and told staff she prefers to die at home, if it is not too much of a burden for her family. Hospital staff brief the local community palliative care service on Mrs H's situation. It agrees to take on Mrs H as a client and plans for nursing staff to visit within five days of her discharge. Hospital staff arrange for a community worker to visit once a week to clean the house. The son draws up a care roster with his aunt, a neighbour and his sister. This makes him feel more at ease.
Six weeks later, the community service nurse advises the son that Mrs H is likely to die soon. He calls his sister and two days later Mrs H dies peacefully at home with her family.
Source: Victorian Auditor-General's Office.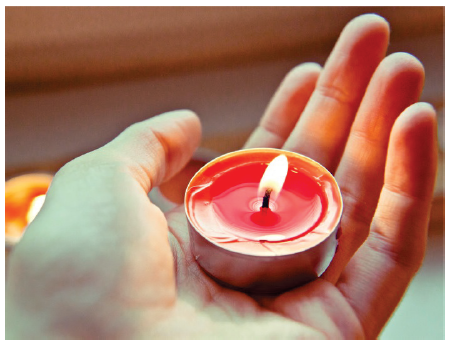 1.2.1 Regional consortia
In 2004, DHHS set up eight palliative care regional consortia across the state to:
undertake regional planning in line with departmental directions
coordinate palliative care service provision in each region
advise the department about regional priorities for future service development and funding in conjunction with the Palliative Care Clinical Network.
Palliative care consortia comprise members from all funded palliative care services in each region, as well as other health, community and aged care providers.
1.2.2 Funding
Under a devolved governance model, DHHS is responsible for devising policy and guidance for the sector, setting targets, providing funding and determining service priorities for public hospitals and other public health services. In return, these agencies provide a range of services to the public.
Inpatient palliative care is funded using an activity based funding model, which was introduced in the 2013–14 financial year. This funding approach applies daily payments weighted on the patients' phase of care—stable, unstable, deteriorating and terminal—during their hospital stay.
Formerly, palliative care bed-based activity was funded on a daily basis. The daily rate was higher for rural in-patient palliative care activity. In-patient services received block funding, where a price was assigned according to hospital size and geographic location, and whether the patient was in an acute, sub-acute or mental health ward. Smaller rural services attracted additional funds.
Community palliative care services are block funded. Base funding for community palliative care was determined from a 1998 tender process. In 2005 and 2011 additional growth funding was allocated using the Palliative Care Resource Allocation Model that includes a weighted population formula. Figure 1C shows that in 2013–14 DHHS' funding for palliative care provision was approximately $111.1 million.
Figure 1C
Funding for palliative care services, 2013–14
| Service | Budget ($ million) |
| --- | --- |
| Inpatient services (bed-based and consultancy teams) | 56.8 |
| Community palliative care services (home-based care, day hospices, flexible funding) | 39.4 |
| Consultancy services (to hospitals and health services) | 10.3 |
| Research, education and training | 3.5 |
| Regional palliative care consortia | 1.1 |
| Total | 111.1 |
Source: Victorian Auditor-General's Office based on information provided by DHHS.
1.2.3 Cost of dying
The Grattan Institute's 2014 report Dying well reported on palliative care in Australia. It projected that health and social care costs associated with dying will likely double to more than $10 billion a year in the next 25 years as the crude death rate increases. It also found that the cost of dying in hospitals and aged care facilities far exceeds the cost of dying at home, supported by community palliative care services. Figure 1D shows the relative cost of dying in different settings.
Figure 1D
Place and costs of death for older people in 2012
| Place of death | Deaths (number) | Deaths (per cent) | Costs ($ million) | Costs (per cent) |
| --- | --- | --- | --- | --- |
| Acute inpatient(a) | 51 759 | 35 | 2 440 | 48 |
| Sub-acute inpatient(b) | 21 470 | 15 | 221 | 4 |
| Residential care | 50 866 | 35 | 2 330 | 46 |
| Community-based care | 4 655 | 3 | 77 | 2 |
| Other(c) | 18 182 | 12 | – | – |
| Total | 146 932 | 100 | 5 066 | 100 |
(a) Acute—urgent inpatient care often through emergency admission that may require a short stay.
(b) Sub-acute—extended inpatient care that can include geriatric, rehabilitation and mental health care.
(c) Other—includes deaths that occurred outside hospital, group home or community-based care settings.
Note: Totals may vary due to rounding.
Source: Victorian Auditor-General's Office from Dying well, Grattan Institute, 2014.
1.3 Policy and legislative framework
1.3.1 Strengthening palliative care: Policy and strategic directions 2011–2015
DHHS' Strengthening palliative care: Policy and strategic directions 2011–2015 (Strategic Directions) identifies seven strategic directions and 23 associated priorities to provide comprehensive and well-coordinated palliative care services to Victoria. These are set out in Figure 1E.
Figure 1E
DHHS' Strategic Directions, 2011–15
Strategic direction

Priorities

Informing and involving clients and carers

Provide information about palliative care that is tailored to the needs of clients and carers.
Actively involve clients and carers in the planning and delivery of their care.
Ensure that advance care plans inform client care.

Caring for carers

Strengthen practical, psychological, social and spiritual support for carers of people with a life-threatening illness acknowledging that their needs may change over time.
Strengthen support for families of children and young people with a life‑threatening condition.
Increase the availability of after-hours support to clients and carers in their homes, particularly in rural areas.
Provide consistent support and training to carers that recognises they can have different needs and interests to clients.
Ensure bereavement assessment and support is available to families and carers across Victoria.
Provide support to carers from groups that are less likely to have access to palliative care, including Aboriginal and culturally and linguistically diverse groups.

Working together to ensure people die in their place of choice

Raise the awareness of palliative care by other health, community, and aged care providers to ensure that people are cared for and die in their place of choice.
Assist aged care services to care for people at the end of life.

Providing specialist palliative care when and where it is needed

Ensure people who need access to specialist palliative care are receiving care appropriate to their needs at the right time, in the place of their choice.
Provide a sustainable and equitable specialist bereavement support service for people experiencing complicated grief.

Coordinating care across settings

Integrate practices across health services and community-based settings to ensure access to coordinated and consistent care at the end of life.
Strengthen the role of palliative care consortia in coordinating palliative care service provision and leading policy implementation in each region.
Strengthen links between stakeholders in palliative care.
Use technology to enhance service coordination for all palliative care services.

Providing quality care supported by evidence

Develop consistent clinical care protocols that are informed by research and evidence.
Support and build future palliative care research capability across academic and clinical services and its translation into practice.
Ensure all Victorian palliative care services provide quality care that is assessed against national standards and supported by a quality improvement culture.
Continue to build and support the palliative care workforce to meet increasing demand for palliative care services.
Ensure sustainability of the specialist paediatric palliative care workforce.

Ensuring support from communities

Strengthen Victorians' awareness, capacity and resilience in relation to dying, death, loss and bereavement, and their ability to support people with a life‑threatening illness and their carers.
Source: Victorian Auditor-General's Office based on information provided by DHHS.
DHHS has implemented a number of other relevant policies and standards, including:
Strengthening care for children with a life-threatening condition (2008)
After-hours palliative care framework (2012)
Bereavement support standards for specialist palliative care services (2012)
Advance care planning; have the conversation: A strategy for Victorian health services 2014–2018 (2014).
1.3.2 National Palliative Care Strategy 2010
The National Palliative Care Strategy 2010 (NPCS) aims to inform policy and service development across Australia, and guide states and territories in planning for the development of palliative care services. NPCS identifies four goal areas and associated actions:
'Awareness and Understanding
Appropriateness and Effectiveness
Leadership and Governance
Capacity and Capability'.
1.3.3 Palliative care patient data
DHHS collects a wide range of palliative care data from health services and community palliative care organisations. This data is a combination of mandatory and voluntary reporting and participation levels vary. This means that some of the information is more reliable than other information. Figure 1F sets out the key data collection methods.
Figure 1F
Palliative care data collection
Dataset

Compulsory/

voluntary

Information collected

Health services

Victorian Admitted Episodes Dataset

Compulsory

Clinical and administrative data, such as:

diagnosis
admission date
country of birth.

Inpatient health services

Victorian Integrated Non‑Admitted Health minimum dataset

Compulsory

Clinical and administrative data, as well as patient-centred data such as:

preferred place of death
living arrangement
advance care plan documented date.

Community palliative care services
Hospital consult services

Policy Implementation Audit Tool

Compulsory

Survey data on policy implementation, such as:

uptake of advance care planning
involvement in research
consultation with other services.

Inpatient health services
Community palliative care services
Hospital consult services
Regional consult services
Day hospices

Palliative Care Outcomes Collaboration

Voluntary

National benchmarking data related to patient outcomes, such as:

time taken for episode to start
length of episodes and average phase length
palliative care problem severity score.

Inpatient health services
Community palliative care services

National Standards Assessment Program

Voluntary

Accreditation against national quality improvement standards including:

care based on respect for patient, carer, family needs and wishes
care is coordinated to minimise burden
comfort is maximised and dignity preserved
services have appropriate philosophy, values and structure for compassionate care
care based on clinical need irrespective of diagnosis, age, culture or geography.

Inpatient health services
Community palliative care services
Hospital consult services

Victorian Palliative Care Satisfaction Survey

Compulsory for health services to provide to patients and carers, whose response is optional

Survey responses on palliative care services including satisfaction with:

information on care options
treatment of symptoms
respect shown to patient
support for legal issues, financial burden, funeral arrangements
support for cultural or spiritual needs
support with psychological burden.

Inpatient health services
Community palliative care services
Source: Victorian Auditor-General's Office.
1.4 Previous audit coverage
The 2012 VAGO report, Carer Support Programs, included carers involved in palliative care. The audit assessed the extent to which the former Department of Health, now DHHS, was effective in recognising and supporting people who care for others. It made five recommendations, all of which DHHS accepted. This included that DHHS:
identifies and addresses gaps in the promotion of carer supports to improve carer awareness of services
requires consistent carer identification and needs assessment
improves administration and monitoring of carer brokerage funds
monitor and reports on timeliness of access to carer supports
develops outcome measures for carer supports and monitor outcomes.
In February 2015, the Auditor-General released the audit report Responses to 2012–13 Performance Audit Recommendations, which determined the extent of agency response to, and monitoring of, VAGO performance audit recommendations from 2012–13 audits. DHHS advised it has completed four of the five recommendations outlined in the Carer Support Programs audit. The first recommendation—to identify and address gaps in the promotion of carer supports to improve carer awareness of services—is still in progress. DHHS expects to complete it by June 2015.
In 2012 DHHS outlined that it would address this recommendation by requiring palliative care services to self-assess against national palliative care standards, as Standard Five includes quality elements in relation to carers. DHHS developed a Victorian service delivery framework for palliative care services to self-assess against, which includes assessment against the national standards. Part 2 of this report discusses the challenges associated with this framework in more detail.
1.5 Audit objectives and scope
The objective of the audit was to determine whether Victorians with a terminal illness have access to high-quality palliative care that is timely, coordinated and responsive to their needs and wishes.
To test this, the audit examined whether:
DHHS' Strategic Directions has equipped health services in Victoria to efficiently meet growing demand for palliative care
health services have effective planning and strategies to meet palliative care patients' needs and preferences
health services work together to provide comprehensive and coordinated support for admitted and non-admitted palliative care patients and their carers.
This audit was commenced under the Department of Health. On 1 January 2015, machinery-of-government changes took effect and the responsibilities of the former Department of Health transferred to DHHS.
The audit included DHHS and four out of 59 public health services providing palliative care—St Vincent's Hospital Melbourne (including Caritas Christi Hospice), Northern Health, Mercy Health (Werribee Campus) and Central Gippsland Health Service. They were selected to provide a cross-section of different types of service in different socio‑demographic and geographic areas.
While we consulted non-government community palliative care services as part of this audit and they willingly contributed their time to broaden our understanding of the sector, the provisions of the Audit Act 1994 limited the extent to which we could assess non‑government community palliative care.
The audit did not consider services provided by general practitioners and residential aged care services. These are the responsibility of the Commonwealth Government.
1.6 Audit method and cost
The audit method involved:
assessment of DHHS' policies, strategies, guidance, evaluation and assessment tools to support health services to diagnose, refer and care for palliative care patients
assessment of the Victorian Palliative Care Satisfaction Survey
analysis of DHHS data on public and community health services' key performance data
analysis of health services' evaluation tools and patient data to understand referrals and documentation of patient choices
assessment of health services' triage systems and waiting lists
interviews with DHHS staff
interviews with generalist and specialist staff from health services across the sector
feedback from a community-based palliative care forum and a community visitors' forum—community visitors are responsible for monitoring disability group homes.
The audit was conducted in accordance with section 15 of the Audit Act 1994 and Australian Auditing and Assurance Standards. Pursuant to section 20(3) of the Audit Act 1994, unless otherwise indicated, any persons named in this report are not the subject of adverse comment or opinion.
The total cost of this audit was $375 000.
1.7 Structure of the report
This report is structured as follows: