2 Palliative care policy and planning
At a glance
Background
The Department of Health & Human Services (DHHS) released its second palliative care policy in 2011—Strengthening palliative care: Policy and strategic directions 2011–2015 (Strategic Directions). Palliative inpatient services work with other hospital wards and community palliative care services to coordinate patient care.
Conclusion
DHHS' Strategic Directions set ambitious goals for the sector. While these goals addressed the right issues, DHHS failed to appreciate the complexity and time required to implement some goals. Around 20 per cent of initiatives are unlikely to be completed on time and others require ongoing investment. A new refreshed policy is needed to advance and refocus this work. DHHS needs to set clear expectations for service delivery, monitor compliance with its requirements, develop measurable indicators and appropriately fund and support providers.
Findings
Eighty per cent of DHHS' Strategic Direction actions have been completed.
DHHS' monitoring framework for palliative care is unwieldy. It is burdensome and cannot track some activities, particularly in the community.
Some terminally ill patients cannot access timely community-based support.
Recommendations
That the Department of Health & Human Services:
reviews service provision to understand system gaps and inform planning
develops a robust evaluation method to monitor its new framework
closely monitors reporting on palliative care and intervenes when necessary.
That health services:
conduct regular audits of patient files to understand if referrals and admissions to palliative care were managed in a timely and appropriate manner
prioritise integrating patient data systems and improve information sharing.
2.1 Introduction
The Department of Health & Human Services (DHHS) released its first palliative care policy in 2004. It focused on developing skills and building awareness of palliative care across health settings, and emphasised providing timely, appropriate and coordinated care, and increased support for carers.
In 2011, DHHS released a successor policy—Strengthening palliative care: Policy and strategic directions 2011–2015 (Strategic Directions). The Strategic Directions extended the still relevant principles and introduced a new implementation plan to further develop palliative care services. An internal monitoring framework was developed to track progress of the policy and implementation plan.
This Part examines how effectively DHHS has implemented its Strategic Directions, including monitoring and reporting practices, coordination and collaboration between health services, and planning for future growth. It also considers the role of regional consortia.
2.2 Conclusion
The Strategic Directions set ambitious but relevant goals for palliative care. However, these targets were set without due regard for the complexity or the time needed to effect change. A number of its goals will not be met by the end of 2015. These relate to supporting carers, building community awareness of palliative care and taking steps to enable people to die in their place of choice. Arguably, these are some of the more challenging objectives in the Strategic Directions.
The Strategic Directions include 314 key performance indicators (KPI). This is a very large number of indicators for a program area of this size and it is a significant reporting burden on DHHS, health services and community palliative care organisations. The KPIs are further undermined by some poor quality evidentiary sources. Ultimately, this makes it difficult for DHHS to meaningfully track and report on the implementation or effectiveness of its Strategic Directions.
Demand for palliative care is growing as the population ages and people endure increasingly lengthy periods of chronic illness, sometimes with more than one disease. Further, as awareness of palliative care options grows, the number of those who elect to die at home or home-like settings—aged care facilities and disability group homes—is increasing.
These trends are shifting pressure from the palliative inpatient care system on to community palliative care services. This in turn is presenting new challenges, increasing the need for different services to work in increasingly joined-up, collaborative ways. This pressure is starting to result in patients in Melbourne having difficulty accessing appropriate community palliative care services on discharge from hospital.
DHHS plays an important role in guiding the sector. This will only increase as palliative care services try to adapt their service models to become more flexible and patient‑centred and provide the type of service required for a modern and effective palliative care system. It is important that DHHS sets clear and realistic expectations for service delivery across the state, provides sufficient and appropriate funding to health services and community palliative care organisations, and monitors compliance with reporting requirements.
2.3 Strengthening palliative care: Policy and strategic directions 2011–2015
Audited health services and other stakeholders advised that DHHS has consulted well on palliative care. They agreed that its Strategic Directions appropriately reflected the gaps and needs of the sector at the time. However, patient needs and expectations are changing and while some goals are still relevant, not all have been fully implemented.
The strategy is now in its fifth year and DHHS' evaluations indicate that 80 per cent of its action items have been addressed. It has not yet realised the outcomes of some ongoing actions. While the majority of actions are completed, DHHS will fall short of achieving the intended outcomes for strategic direction 2—Caring for carers. Similarly, further work is required to fully address strategic directions 3 and 7:
Strategic direction 2: Caring for carers—while some important activities have been completed—such as the after-hours telephone triage service for patients and carers in community-based palliative care—these activities do not fully address complex carer needs. DHHS provided evidence of continued research on carer respite needs and advised that it plans to consult with the sector on priorities for carers to inform more feasible support options. Carer respite remains a high priority for DHHS and the sector and is discussed in greater detail in Part4.
Strategic direction 3: Working together to ensure people die in their place of choice—slightly more community-based palliative care clients died in their preferred place of choice in 2012–13 (64 per cent) compared with 2009–10 (61 per cent). However, despite some initial progress with this important yet challenging goal, it will require sustained effort:

training staff to have difficult conversations
encouraging patients to consider advance care plans—discussed in Part 3
linking to services that can respond.

Strategic direction 7: Ensuring support from communities—this direction aims to raise community awareness of palliative care, particularly in culturally diverse communities and rural areas. In 2013–14, DHHS commissioned a culturally responsive community awareness project to begin working in Chinese, Italian, Maltese, Turkish and Vietnamese communities. While positive, this did not commence until the third year of the Strategic Directions. An earlier start would have allowed greater progress to be made as awareness raising and behaviour change takes time. DHHS needs to build on this work to ensure members of communities who don't traditionally access palliative care services have the knowledge and opportunity to access palliative care, and are supported by interpreters and culturally competent health staff. These projects are discussed further in Part3.
2.4 Monitoring and reporting
DHHS collects and uses a wide range of palliative care data. However, some of this data is of poor quality and provides limited information. Some services do not routinely submit the required data and DHHS has acknowledged that its monitoring system for palliative care has shortcomings. It has committed to develop and use a simplified model for its new policy framework. However, considerable work remains to develop comprehensive high-quality and relevant palliative care data sets.
2.4.1 Reporting against the Strategic Directions
The evaluation matrix for DHHS' Strategic Directions is overly complicated. Weaknesses in the evidence sources and the sheer number of KPIs make it difficult for DHHS to track activities—particularly around community provision—and report meaningfully on performance and progress. It includes 314 KPIs including some where:
the source data cannot be identified
the measure does not directly link to intended impacts and outcomes
there is missing and duplicated information.
There is a risk that these data problems mask real progress, or result in DHHS missing important issues.
DHHS does not report publically on its progress against each KPI. Instead it produces an annual thematic report on the implementation of the policy. This allows it to communicate the major achievements to the sector in an accessible format, however, it limits the report's usefulness. While each report provides important information, the current approach is at the expense of systematic, comprehensive reporting. This reduces the capacity of the reports to demonstrate changing palliative care activities and outcomes over time. Consequently, each report exists as a stand-alone document rather than a report in a longitudinal series. It also limits the ability of the palliative care sector to understand gaps and challenges in implementation progress.
2.4.2 Palliative care reporting
DHHS draws on five main datasets to inform itself about palliative care activity and outcomes:
Victorian Admitted Episodes Dataset (VAED)
Victorian Integrated Non-Admitted Health (VINAH) minimum dataset
Policy Implementation Audit Tool (PIAT)
Palliative Care Outcomes Collaboration (PCOC)
Victorian Palliative Care Satisfaction Survey (VPCSS)
Where possible throughout this audit, we have drawn on evidence contained within these datasets. However, in many cases it was not possible to obtain meaningful data to support specific issues or findings. While these systems provide comprehensive coverage, they have limitations that restrict their usefulness.
Victorian Admitted Episodes Dataset and Victorian Integrated Non-Admitted Health minimum dataset
Palliative care inpatient services are required to collect patient data and record it on VAED. Community and consultancy services are required to report their patient data on the VINAH minimum dataset. Together, these datasets provide a good baseline of information that allows DHHS to understand the frequency and length of hospital stays and the proportion of people dying in home settings or in hospital.
VAED data has been collected over an extended period of time and covers all hospitals' patient services. Palliative care data is a small component of this overall dataset. VAED data is complex to analyse and has a strong medical focus. It captures patient information following discharge or death only, whereas the VINAH minimum dataset captures each separate contact with a patient, typically over a longer period so the information should provide a fuller picture of care services.
If completed properly, the VINAH minimum dataset is a tool that provides greater understanding of the patient context, such as living arrangements and the availability of a carer. Given that the majority of palliative care is managed by non-government community palliative care services, the VINAH minimum dataset should allow DHHS to complete useful trend analysis. However, there are some challenges with this data:
Participation varies between community palliative care organisations—some smaller services struggle to complete all reporting or at worst, not report at all.
The VINAH minimum dataset shows how many patients have limited or no support from a carer. However, many patients who are recorded as having no carer reside in an aged care or disability group home and benefit from regular supervision.
DHHS also requests data on service coordination to understand the extent to which different health services and community palliative care organisations connect—response rates from palliative care services are inconsistent or low. DHHS needs to be strategic and coordinated in managing its demands on time-poor palliative care staff and in the work it creates for itself in assessing the considerable volume of data.
Policy Implementation Audit Tool
DHHS uses PIAT to collect information on advance care plans, consultation with aged care and disability support homes, and palliative care research. However, DHHS has not enforced compliance with this reporting requirement and response rates have hovered around 70 per cent. Further, not all data received has been useable.
DHHS has used PIAT since 2011–12 to measure progress against the goals in its Strategic Directions that it cannot track through other existing reporting mechanisms. In its first year, 57 out of 72 health services responded to the PIAT survey. However, some did not have adequate data systems to fully answer all questions.
In the next year, 59 services responded, but in 2013–14 responses dropped to 50. Only 31 services have reported each year since the survey started in 2011–12.
Audited health services reported that it is still takes a long time to complete this survey and they do not understand how the information is used or what value it provides. As a result, they do not prioritise completing it.
DHHS has not adequately enforced compliance with this reporting requirement. Consequently it does not have a baseline that it can measure progress against over time. Given the significant reporting requirements placed on health services, it is important that they can understand the value in the data they are being asked to submit.
Palliative Care Outcomes Collaboration
PCOC is a voluntary program that uses standardised clinical tools to measure and benchmark patient outcomes in palliative care. It is coordinated by the University of Wollongong. Many smaller services do not participate due to the resources required. Therefore the services that participate are likely to be better resourced and able to meet benchmarks. This limits the extent to which results can be extrapolated to the whole sector. Nevertheless, they provide a useful snapshot of performance for this cohort. For the period January to June 2014, only 18 out of 56 services in Victoria participated in PCOC's voluntary reporting, comprising:
10 inpatient services
six community palliative care services
two services providing both inpatient and community palliative care services.
Victorian Palliative Care Satisfaction Survey
DHHS has been funding the VPCSS since 2010. The survey collects responses from palliative care patients, carers and bereaved carers and a report is released annually with statewide results. Responses to the survey are positive overall, and health services receive their individual results to assist them to target improvements. These individual reports include five questions that the health service received the lowest satisfaction scores for. One audited service stated that issues for improvement identified in the VPCSS had become KPIs. This is a transparent way to improve delivery of care.
2.5 Growing demand for services
A growing demand for and awareness of palliative care is increasing pressure on services—particularly community palliative care services. Lengthy stays in hospital are costly and more people, if consulted, prefer to die at home. This shift is already being felt in metropolitan areas and will continue to put stress on the sector. Patient and carer needs are not being met due in part to gaps in the range and availability of community palliative care services.
2.5.1 Dying in your place of choice
Research shows that most people would prefer to die at home. In 2012–13, 67 per cent of people who died in the care of a Victorian community palliative care service recorded their preferred place of death. The majority indicated they would prefer to die at home, however, only half were able to do so.
As the health care profession gets better at discussing death, and models of health care allow patients to have a greater role in decision-making, it is likely that there will be growing demand for palliative care to be managed in the home. Audited services reported that some clinicians still struggle to discuss dying. DHHS has an important role in guiding the sector to manage this transition.
In its Strategic Directions, DHHS committed to modelling demand for palliative care and developing a business case to support the sector to cope with a growth in service need. This has not yet occurred. However, it did recently hold a forum to discuss options for a new policy framework to succeed the Strategic Directions. DHHS' early feedback from palliative care representatives suggests that the sector is ready to aim higher and is interested in exploring how to measure the impact of its activities by focusing more on reporting patient outcomes. An example would be to report on how much time patients were able to spend in their place of choice prior to dying, rather than just recording the percentage of patients who actually died in a specific place. The modelling and new policy will be critical to help the sector better manage and coordinate existing resources, and to build the case for gradually expanding services and attracting more skilled professionals to palliative care.
2.5.2 Service capability
DHHS developed a palliative care service capability framework for health services. It required all health services to complete an annual self-assessment tool against key palliative care capabilities. However, following the first round of assessments in 2014, a DHHS review found that most palliative care services did not meet the expected standards. Some services had a perception of their service capabilities that exceeded their level of service provision. DHHS also decided that the self-assessment tool that services used was too stringent.
The service capability assessments are intended to provide DHHS with information on quality and service levels across the Victorian palliative care sector, and help health services understand how their practices align with DHHS' requirements. This would be enhanced by setting regional expectations for palliative care so that services can increasingly provide patients in rural areas with access to complete services. Some rural services struggle to access the range of professionals expected for comprehensive palliative care. Identifying the existing mix of services in each region would help DHHS identify gaps and overlaps.
DHHS has revised the tool and sought advice from the Palliative Care Clinical Network working group on its revisions. It intends to release a revised tool in late 2015.
DHHS acknowledges the challenges facing rural services in attracting specialist palliative care physicians. It has funded two programs to improve access to specialist palliative care skills and support in rural communities, the:
Rural Palliative Care Medical Purchasing Fund
Victorian Palliative Care Nurse Practitioner Collaborative.
Planning for any future palliative care policy should include performance expectations and clear guidance to specialist palliative care services with a service capability framework or a more structured suite of tools.
2.5.3 Discharging patients home—community-based care
The majority of palliative care occurs in community settings operated by non‑government providers. Currently, 35 per cent of Victorian palliative care funding goes to community-based palliative care—based on individual tender negotiations dating back to 1998. This is supplemented by modest growth funding introduced and distributed in 2005–06 and again in 2011–12, according to a population and needs‑based model. Audited health services expressed concern that their catchment demographic has changed in this time, but without any change in the base funding arrangement.
Given that some community palliative care services are struggling to accommodate people within appropriate time frames, it is timely for DHHS to review the funding model, which has remained largely unchanged for 10 years.
In 2012–13, there were 15 859 episodes of care for community-based palliative care patients—an episode of care for a community patient begins when the palliative care organisation takes responsibility for them and ends when they complete their treatment, refuse further treatment, or they die. In the same year, there were 7 305 palliative care separations in hospital—a separation is counted each time a patient is admitted and discharged from hospital during the year.
Waiting times
Some terminally ill patients have struggled to access community-based palliative care in a timely manner. The two audited health services that had an integrated community service advised that they do not have waiting lists for palliative care services. However, the other audited health services advised that accessing community-based palliative care is more difficult.
One service advised it had difficulty in getting community palliative care services to see patients with significant symptoms but longer life expectancy, such as emphysema. The other service stated that while it encourages its palliative care consultancy teams to get involved with terminally ill patients at an early stage, they sometimes have difficulty getting community palliative care services to accept patients at this early stage of their illness.
Community palliative care services identified that patients in inner-metropolitan areas have been made to wait extended periods for support in the home and that it is likely to occur again. For a period in 2014, one community service had a waiting list of up to six weeks and did not accept new patients due to a spike in demand and an unexpected staffing shortfall. In this instance DHHS was able to work with the health service to find alternative solutions. While it is good that DHHS was able to intervene in this manner, it is far from an ideal set of circumstances. This remains a major concern for metropolitan-inpatient facilities wishing to discharge patients to the community. It could potentially result in patients staying in hospital longer than they want, or receiving basic, non-palliative care in the home, or even re-presenting to hospital if symptoms escalate or become distressing.
In the first half of 2014, six Victorian community palliative care services submitted data to PCOC to benchmark the timeliness of their services. To meet the benchmark, 90 per cent of patients must be contacted on the day they were ready for care or the following day, which may be just a telephone call. As shown in Figure 2A, Victoria's score was 75.8 per cent for January to June 2014—an improvement on 62 per cent for the previous reporting period of July to December 2013. This compares with 84.3 per cent of for all Australian participating community palliative care services. Over 18 per cent of contacts in Victoria were made between two and seven days, compared to 11 per cent for all Australian services. So while there is overall improvement, Victorian services are still comparatively underperforming.
Figure 2A

Time taken for palliative care services to make first contact with patients January–June 2014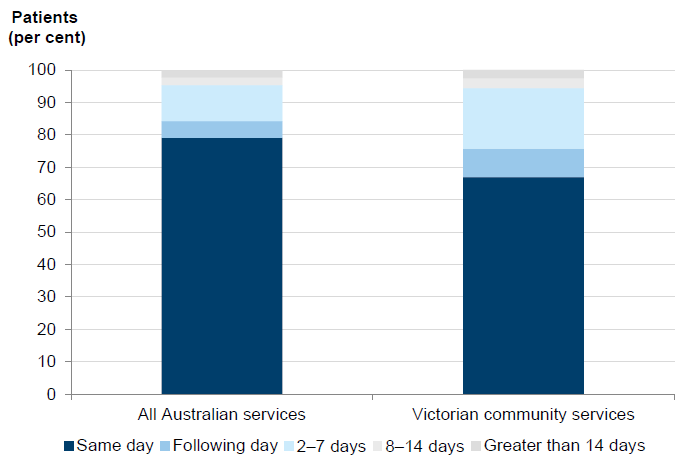 Source: Victorian Auditor-General's Office based on data provided by PCOC.
2.5.4 Gap for those with longer disease trajectories
Some palliative patients may be deemed to be in a stable condition but continue to need supervised care. In this case, the hospital may seek a bed in a residential aged care facility. However, community care and aged care is not suitable for many patients. Staff at two services spoke of the need for medium-term residential facilities for patients with longer disease trajectories, whose care requires palliative training and may be too physically demanding for a carer to manage unassisted.
A 2004 survey of carers of people with Alzheimer's disease found that 65 per cent provided care that is physically demanding and complicated due to the person's disorientation and confusion. Nearly one-in-four carers of people with Alzheimer's disease provided 40 hours or more of care a week. Further, 71 per cent sustain this for one year and 32 per cent for five years.
Staff from two services also identified difficulties associated with discharging people who are alone and have no family or support network to help with their care. There are limited facilities to support these people. In 2008, approximately 37 per cent of people with dementia received no formal care.
Community palliative care services said funding needs increase in the last days of the person's life as care needs increase. Often these people re-present to hospital as community palliative care services cannot provide the long-term or time-intensive support at the home.
2.5.5 Coordinating palliative care
Inpatient admissions
Audited health services have defined processes for admitting patients to their palliative care ward. Each used a different model for referrals and admissions depending in part on the capacity of their electronic patient information systems. The complexity of these systems and processes varied according to the size of the service. While the largest service had a lengthy, detailed admissions process, the smallest had a far simpler process in place more befitting a service of its size.
Each audited service used a different mix of health software for patient management and referrals and there is still a heavy reliance on faxes to transmit patient information. In particular, faxes and telephone calls were often relied on to refer patient information to community palliative care services.
All four audited health services had an arrangement in place with their emergency departments to directly admit known palliative patients to a palliative ward to avoid unnecessary queuing.
Allied health
Health services are expected to determine the staffing mix for their service based on local population needs and models of care. However, three of the four audited health services reported a lack of allied health support—social work, pastoral care, counselling, physiotherapy, occupational therapy, nutrition, speech therapy—for palliative patients.
DHHS advised that individual palliative care units need to advocate within their own organisations if they believe that allied health resourcing levels or mix are inadequate. However, as the system coordinator, it also has a significant role to play in monitoring and supporting service provision across the state.
Community referrals
DHHS has developed a tool to record patient information for health services to use when referring patients to community palliative care services. However, it is lengthy and audited health services advised that it took too long to complete. One health service had designed its admission process and electronic patient system to capture and automatically populate the data required by DHHS for referrals. There is, therefore, scope for other services to redesign and streamline their patient data systems to make referrals more efficient.
There is no evidence that patients in audited hospitals are not being referred to community palliative care services as a result of poor information systems. However, there is a risk that inadequate or out-dated patient tracking, transmission and storage of information could result in missed or delayed referrals.
As stated in Part 2.5.3, some patients who are discharged from hospital can experience difficulties accessing community palliative care services due to high demand.
Audited health services with integrated inpatient and community-based services were better able to support transition into community-based palliative care. Staff at these services reported that they do not have waiting lists. For one service, 2013 data shows that 78 per cent of community patients accessed care on the same day or the following day that they needed it. Data was not able to be verified for the other service.
Internal audits and reviews
One health service conducted routine audits on a selection of patient deaths—both those who had and had not received palliative care—to assess if there was an opportunity for earlier interaction with specialist palliative staff. This is a useful way for consult teams to understand how patient referrals happen across the health service and where there is more scope to build awareness of palliative care.
However, except for this one service, the audited health services did not routinely conduct internal audits of admission and referral processes.
2.5.6 Regional consortia
There was broad agreement among health services consulted that consortia are not fulfilling the planning role originally envisaged of them. Each consortium is run independently of DHHS, and feedback on their activities and effectiveness from health service staff varied between services. Those consortia that comprised largely dedicated palliative care staff and those that focused on education and improving clinical practice were generally more highly regarded.
Some positive consortium initiatives included training aged care staff and hiring nurses to train and promote palliative care to disability support and aged care staff. Not all consortia are progressing at the same pace and some have been slow to hire the staff required to complete training. DHHS monitors consortia performance through their annual reports, and provided guidance to assist consortia to report information that aligns with the Strategic Directions.
Consortia are not given a specific role in culturally-inclusive palliative care, but as demand for services increase, migrant populations will age and the sector needs to be prepared to respond to a variety of cultural and spiritual needs.
Cultural competency is required to ensure Aboriginal and Torres Strait Islander people and culturally and linguistically diverse communities feel comfortable accessing services. If the workforce cannot respond to a diverse population, the burden will fall to family and other carers. DHHS helped fund the Culturally Responsible Palliative Care Project in 2013–14, but there may also be a role for consortia to monitor cultural competency in their regional areas in future.
Recommendations
That the Department of Health & Human Services:
reviews service provision as a priority to understand gaps in the system, better forecast demand and inform future service planning
develops a robust policy evaluation method to monitor the implementation and outcomes of its new end-of-life care framework
closely monitors health services' reporting on palliative care and follows up with health services when non-compliance is identified so that all required reporting is completed and can be analysed and communicated back to services.
That health services:
conduct regular audits of patient files to understand if referrals and admissions to palliative care were managed in a timely and appropriate manner
prioritise integrating patient data systems and improve information sharing options for communicating with community palliative care services.