Results of 2016–17 Audits: Local Government
Councils prepare a financial report and performance statement annually. Their financial report shows the council's financial results and is prepared in line with relevant Australian Accounting Standards and applicable legislation. The performance statement outlines the council's performance against performance indicators set by the Minister for Local Government. We audit both the financial reports and the performance statements.
2.1 Audit opinions
Independent audit opinions add credibility to financial reports and performance statements by providing reasonable assurance that the information reported is accurate and reliable.
A clear audit opinion confirms that the financial report presents fairly the transactions and balances for the reporting period, in keeping with the requirements of relevant Australian Accounting Standards and applicable legislation. A clear audit opinion for the performance statement confirms that the actual results reported are fairly presented and comply with the performance indicators set by the minister. We carried out our financial audits of the local government sector in accordance with the Australian Auditing Standards.
Figured 2A outlines the status of the sector's 2016–17 financial report and performance statement audits, and the types of opinions issued to each entity. Appendix B lists the local government entities, type of audit opinion and when they were issued.
Figure 2A
Status of 2016–17 audit opinions
Entities

Clear audit opinions

Qualified opinion

Number of opinions issued

Incomplete

Financial report

Council

79

–

79

–

Regional library corporations

10

–

10

–

Other(a)

15

–

15

1

Total

104

–

104

1

Performance statements

Council

78

1

79

–
(a) MAPS Group Limited has a 30 September balance date—no audit opinion had been issued at the date of this report for the year ending 30 September 2017.
Source: VAGO.
Qualified audit opinion for Towong Shire Council's performance statement
A qualified audit opinion is issued when the auditor concludes that a clear opinion cannot be expressed because of a conflict with the applicable reporting framework or a limitation of scope.
We qualified the performance statement audit opinion of Towong Shire Council due to the fact that the council did not conduct or participate in the required community satisfaction survey for the 2016–17 financial year. The survey obtains information from the community on the following service-related performance measures:
satisfaction with council decisions
satisfaction with sealed local roads within the municipality.
Accordingly, the council was unable to report results for these performance indicators in its 2016–17 performance statement. The inability to report these performance indicators constitutes a departure from the performance statement requirements under Part 6 of the Local Government Act 1989.
2.2 Quality of financial and performance reporting
The quality of an entity's financial and performance reporting can be measured by the timeliness and accuracy of these reports.
Timeliness
Timely financial reports and performance statements enable users to make better informed and prompt decisions. The later these reports are produced, the less relevant the information is.
Councils are required to submit their financial reports and performance statements to the Minister for Local Government and have them certified by 30 September each year. Figure 2B shows when councils' reports were certified in 2016 and 2017.
Figure 2B
Timeliness of financial reports and performance statements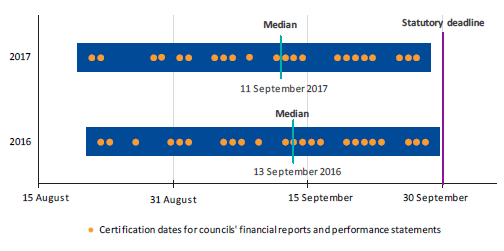 Note: The certification date for Central Goldfields Shire Council is omitted from this figure.
Source: VAGO.
Shell accounts are a set of financial reports and performance statements prepared by management prior to the balance date. These assist with planning the structure and contents of the actual financial report and performance statement.
With the exception of Central Goldfields Shire Council's reports—which were certified on 9 November 2017 and received an extension from the minister until 30 November 2017—all councils met the statutory deadline, as in 2016.
While the sector made a small improvement in the median time taken to certify the reports compared to the prior year, further improvements could be made by bringing forward work such as:
conducting asset valuations prior to the balance date
evaluating and mitigating key risks during the year such as the completeness and accuracy of landfill provisions
preparing shell accounts for audit review.
Accuracy
Material errors are significant misstatements or omissions of information that may influence a user's decision-making.
The number and size of errors identified through our audit of the financial reports and performance statements is a direct measure of the quality of those documents. Ideally, there should be no errors or adjustments required as a result of an audit. When material errors are detected through the audit process, they are brought to management's attention for correction.
Material errors identified during the audit process need to be corrected before a clear audit opinion can be issued. While some errors may appear immaterial in isolation, a series of smaller errors when considered together may have a material impact on the entity's financial report or performance statement.
Developer contributions are physical assets such as roads and drains that are transferred to councils once their construction is complete.
Financial reports
Aggregated errors that required adjustment include:
a $727.7 million understatement of total assets due to incorrect valuation of non-current assets—we explore these matters further in the Section 2.3
$81.9 million in term deposits incorrectly classified as either other financial assets or cash equivalents
a $25.6 million overstatement in total revenue due to developer contributions reported in the incorrect financial year
a $3.5 million understatement and a $1.7 million overstatement in total liabilities due to errors in landfill provision calculations.
In 2016–17, LGV provided guidance to the sector regarding accounting for landfills. We encourage councils to review this information when evaluating the reasonableness of their landfill provisions.
Performance statements
LGV issues the Local Government Performance Reporting Framework (LGPRF) which outlines the requirements for councils' performance statements. Based on our analysis of errors identified through the audit process, performance indicators that were more susceptible to error include:
statutory planning—council planning decisions upheld by the Victorian Civil and Administrative Tribunal (VCAT)
food safety—critical and major noncompliance outcome notifications
aquatic facilities—utilisation.
These errors were generally due to a lack of awareness of the LGPRF or challenges the council faced in interpreting whether an item should be included in a specific performance indicator.
When preparing their statements, councils are required to explain significant variations in performance indicators compared to prior years. While this information is useful, the current performance reporting framework does not impose targets. As a result, management and readers of the performance statement are unable to determine if a council is operating efficiently and effectively.
Setting a target would assist management and users of performance statements to understand where a council's performance can be improved.
2.3 Key audit themes
As we plan our financial audit work across the sector each year, we seek to identify key audit risks. These risks, if not addressed, may lead to material misstatements in financial reporting. We communicate these risks in our audit strategy documents, which are presented to management and audit committees at each council prior to the end of the financial year.
The homogenous nature of local councils means that there are often common risk themes across the sector, covering governance, operations and customers. This year, the most common key audit risks we identified were:
noncompliance with the accounting standard requirements in AASB 124 Related Party Disclosures (AASB 124) , which applied to this sector for the first time
the valuation of non-current physical assets
found assets recognised across the sector
information technology (IT) risks—see Part 3.
AASB 124 Related Party Disclosures
In their financial reports for the year ended 30 June 2017, not-for-profit entities were required to apply AASB 124 for the first time. This meant that all councils needed to disclose information about material related-party transactions and relationships that may have affected their financial performance or position. The application of AASB 124 created challenges for both the councils preparing the financial report and their auditors, to ensure that the information disclosed was complete and accurate.
Across the local government sector, there was a broad range of material related‑party relationships that needed to be disclosed, including:
KMPs are employees who make strategic decisions for the council.
key management personnel (KMP) and their close family
other entities controlled by KMPs
all other council-controlled agencies.
While the level of disclosure varied across the sector, rural and regional councils typically reported more material related-party transactions than metropolitan councils. Common disclosures included:
provision of goods and services to councils
community grants to related parties
KMP family members employed by council
payments to related entities such as regional library corporations.
These transactions were reported to be on normal commercial terms.
Overall, we noted that most councils had appropriate processes in place to capture and disclose the information needed to meet the requirements of AASB 124.
In its first year, the implementation of AASB 124 went relatively well. Other significant changes to standards in the next few years—summarised in Appendix C—will also impact council financial reporting. Councils are encouraged to examine these changes, identify potential impacts and prepare for their implementation.
Physical asset fair value assessments and revaluations
The fair value is the estimated cost to purchase or replace an asset. Calculation of fair value should take into account any conditions or restrictions placed on the asset.
At 30 June 2017, the 79 councils held $91.2 billion in infrastructure, property, plant and equipment ($84.6 billion at 30 June 2016). In particular, there was a $5.2 billion asset revaluation increment across the local government sector.
To comply with Australian Accounting Standards, each council must annually determine and disclose the fair value of its infrastructure, property, plant and equipment assets in its financial report.
There are two common methods used to calculate fair value across the local government sector:
Market approach—based on market sales of similar assets. This method is generally used to value land and buildings.
Current replacement cost—reflects the expected cost in today's dollars of replacing an asset to a similar standard and at a similar age. This method is generally used to value infrastructure such as roads and bridges.
As the total value of infrastructure, property, plant and equipment represents a significant percentage of a council's total assets, our audits allocate a significant amount of time and effort to verifying their fair value estimates. As valuing infrastructure, property, plant and equipment involves significant management judgement across a range of values, there is a higher risk of material financial report errors.
Found assets are physical assets controlled by the council that have previously been omitted from their records.
Ghost assets are items recorded by a council that no longer exist.
Duplicate assets are additional items recognised for an existing asset.
We found that the practices governing asset revaluations varied across the sector. Key issues include:
incorrect unit costs applied to assets
underlying data integrity issues resulting in found, ghost or duplicate assets
lack of review of underlying spreadsheets resulting in calculation errors.
All material errors identified were resolved before we signed relevant councils' financial reports.
Found assets
Included in the $91.2 billion in infrastructure, property, plant and equipment, the Victorian local government sector recognised $175.3 million in found assets this year (compared to $149.3 million in 2015–16). Figures 2C and 2D show the spread of these assets across Victoria and metropolitan Melbourne.
Figure 2C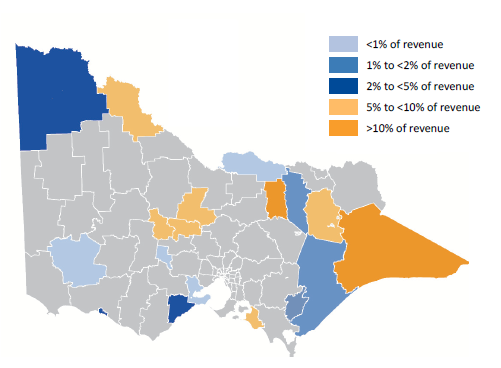 Source: VAGO.
Figure 2D
Found assets as a proportion of revenue in metropolitan category, 2016–17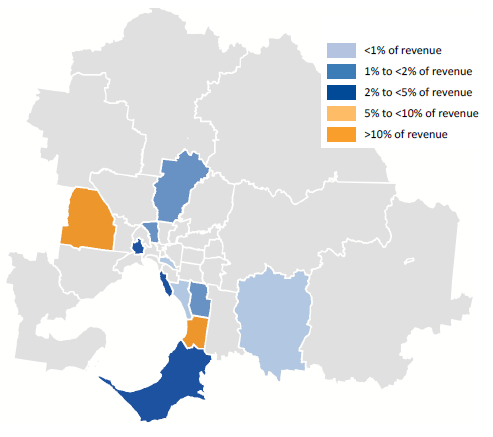 Source: VAGO.
The value of found assets varied across the local government sector. The majority of these relate to infrastructure.
Common challenges included:
underground assets such as drains which are difficult to inspect
uncertainty over ownership of assets between entities, such as drains with water entities.
Technological advances, including GPS information, have assisted councils in improving the accuracy of data in their asset registers. Nevertheless, further work is required to reduce the number of found assets across the sector. Those assets that are not captured are obviously not subject to regular maintenance and may continue to deteriorate, resulting in considerable long‑term costs.