Results of 2016–17 Audits: Local Government
5 Rate capping impact assessment
In 2015, the Victorian Government introduced rate capping legislation in the form of its Fair Go Rates System. This system controls general rate increases for all councils. The annual rate cap is set by the Minister for Local Government.
We assessed local councils' response to the rate capping regime in the short term and their budgeting process from a medium- to long-term perspective.
5.1 Conclusion
The 2016–17 financial year is the first year of rate capping—rate increases are capped at 2.5 per cent (2 per cent in 2017–18).
The majority of councils identified rate capping as a long-term viability risk.
Longer-term planning tools—for the next 10 to 20 years—are essential for assessing and responding to community expectations. Further, this will assist councils to develop robust asset maintenance programs.
Councils need to clearly identify the individual services they provide and determine the cost of providing them to the community. This will assist them to determine the community's service requirements and find efficient ways to provide them. In this regard, community consultation is critical.
Councils must also consider collaborative arrangements with other councils as a cost-effective way to deliver services.
5.2 Rate revenue
Rate revenue, as a proportion of total revenue, increased between 2012–13 and 2016–17, as shown in Figure 5A. Councils forecast this trend to continue despite the impact of rate capping. This is partly due to decreases in government grant funding for the sector.
Figure 5A
Rate revenue as a percentage of total revenue, 2012–13 to 2019–20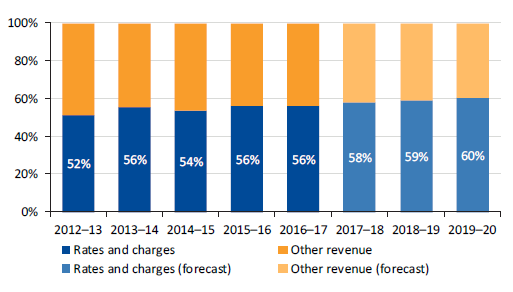 Source: VAGO.
Councils—especially rural and regional cohorts—have a limited capacity to generate additional own-sourced revenue. Therefore, reducing expenditure and prioritising service delivery become key considerations for managing their cash flow in the future. Figure 5B shows the estimated impact of the rate capping regime across the local government sector.
Figure 5B
Rate revenue forecast before and after rate capping, 2011–12 to 2020–21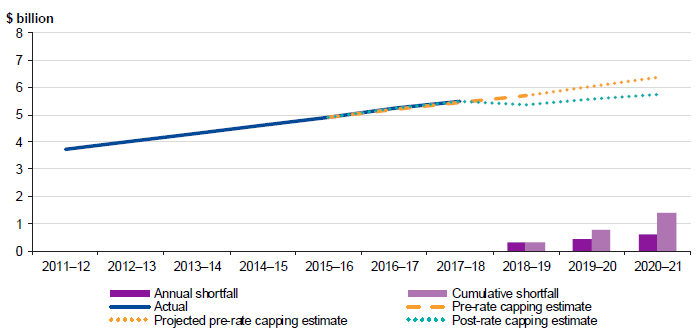 Source: VAGO, based on analysis of published council budgets prepared before and after rate capping.
The sector forecasts that the cumulative projected rate revenue gap is approximately $1.6 billion over the next three years. This highlights the requirement for councils to use the budgeting process appropriately, to adjust their operational and capital spending in future years. In responding to this shortfall, councils must also assess community expectations on service delivery and its financial viability.
Review of council services and cost of provision
The cost of individual services that councils provide—broken down into direct and overhead elements—is a key tool for council management to assess efficiencies in service provision. Coupled with service reviews to identify non‑essential services, a comprehensive costing analysis of services would be a powerful tool for councils to mitigate some of the expected funding pressures that the sector will face as a result of rate capping.
This costing could be partially informed by councils' analysis and reporting for their annual baseline data submissions to the Essential Services Commission.
5.3 Short-term impacts of rate capping
A majority of councils have predicted short-term impacts on their operations following the introduction of rate capping. Common council responses through the budgeting process include:
seeking additional revenue streams, such as full user-pays models for service delivery and the sale of council-owned surplus assets
reducing capital programs, including freezing new capital works in the short term and focusing more on asset renewal than asset acquisitions
increasing efficiency in service delivery through the use of new technology and cost reduction.
We note that a small number of councils are also opting to apply for a rate increase above the capped amount, as a short-term funding measure.
Importance of community consultation
To understand the impact of rate capping on the users of their services, councils need to engage with their communities. This can provide a council with a clear idea of the services and projects that their community expects and values. It is also a useful tool for communicating the actions that the council needs to take in response to having less revenue to fund the services that it provided previously.
Where councils are engaging with the community, consultation varies from workshops to media campaigns, to promote awareness, engage community members and collect valuable input for council decision-making.
Figure 5C is a case study of better practice community engagement at Casey City Council.
Figure 5C
Case study: Community engagement at Casey City Council
Background
Casey City Council is located in Melbourne's south-eastern suburbs, covering an area of 409 square kilometres. It includes Berwick, Cranbourne, Hallam, Hampton Park and Narre Warren. Casey is Victoria's largest council, with an approximate population of 304 000 residents, which is forecast to grow to over 500 000 by 2040.
Council assessment of the impact of rate capping on future operations
Due to rate capping, the council forecast a $168 million decrease in rate revenue over 10 years and estimated a decrease of $3 million per year in funds available for capital works. The expected impact on operations included:
delaying non-critical capital works and reducing the asset maintenance program to match funding
funding major capital projects with new debt
being unable to deliver required services to the community in the longer term
future enterprise bargaining agreements being aligned with future rate increases.
Council responses to rate capping
In March 2016, Casey applied to the Essential Services Commission for a rate capping variation of 0.97 per cent above the cap limit of 2.5 per cent for 2016–17. Council performed a detailed assessment on the impact of rate capping as part of the application process.
The Essential Services Commission's reasons for rejecting the application included the council's underspending on its capital expenditure budget. Over the past five years, Casey had on an average underspent its capital expenditure budget by $14 million per year. The Essential Services Commission concluded that it was reasonable to expect Casey to manage its overall capital works program to match available funding.
During 2015–16, the council informed the community about the rate cap variation application through targeted community engagement programs, Casey Let's Chat and Building Our Future. Further community engagement activities—People's Panel and Casey Next—took place in 2016–17.
Feedback from Casey Next included recommendations on what the community thought the council should focus on. This feedback was captured by the council and conveyed through its planning document. People's Panel provided recommendations about how the council should manage long-term financial challenges. The council incorporated all recommendations from this community consultation process into its long-term plan.
Casey also formulated strategic programs to manage council assets, expenditure and revenue:
The council completed an efficiency and effectiveness program, which resulted in an organisational restructure, a more agile workplace and, in turn, significant cost savings. The recommendations from People's Panel and Casey Next confirmed and validated the importance and type of work being undertaken by the council's efficiency and effectiveness program.
The council's property strategy helped identify several surplus commercial properties as being owned by the council. The council has since decided to sell these properties over the next three years, forecasting cash inflows of $18 million.
The council set a clear debt policy, including setting a maximum leverage ratio of the total project cost.
Conclusion
Managing community expectations
Casey engaged extensively with the community to understand its needs and used the knowledge to frame its response through various strategic initiatives.
Engagement with staff
Rate capping will affect negotiations of future enterprise bargaining agreements. It is important that the council discusses these impacts with its staff and their bargaining representatives in a timely manner, to avoid any disputes that may affect operations.
Longer-term planning
Councils need to have a longer-term planthat takes into consideration community expectations and asset management strategies.
Source: VAGO.
5.4 Longer-term impact and responses
Most councils identified rate capping as a strategic risk in their risk registers. In response, they are planning various initiatives to assess the impact on the services they provide and their asset renewal and maintenance programs.
Responses include:
increasing revenue through:

instituting a full user-pays model for selected council services
identifying additional revenue streams

reducing asset renewal programs over the medium to long term
funding new assets by borrowing rather than accessing cash reserves
reducing expenditure by:

setting enterprise bargaining agreement negotiations so that wage and salary costs increase in line with forecast rate cap increases
initiating collaborative projects and shared-service models between councils in the same region

introducing efficiency measures, particularly using new technologies such as automated solutions that allow customers to access council services online.
Longer-term capital project planning
Councils need to focus on delivering services to their communities now and ensuring they can continue to meet community expectations in the future. The sustainability issues that we highlighted across the sector require a longer-term planning response. Given the nature of the assets involved, this longer-term plan should incorporate robust asset management strategies as well.
Through our review, we identified Horsham Rural City Council as a better practice example of a council reviewing their capital works program—see Figure 5D.
Figure 5D
Case study: Longer-term capital project planning at Horsham Rural City Council
Background
Horsham Rural City Council is a small council situated in the Wimmera region of Victoria, approximately 300 kilometres north-west of Melbourne. It has a population of 19 774 and covers an area of 4 267 square kilometres. At 30 June 2017, Horsham had $341 million of infrastructure assets, of which $279 million represented road assets. The council's existing road network consists of 2 976 kilometres of local roads, of which 32 per cent represents sealed roads.
Road asset renewal versus asset additions
The council identified a growing gap in the level of renewal funding it required to maintain its existing road assets. Due to external factors such as soil conditions, the use of the local road network by larger vehicles and farming practices in the Wimmera region, the council's road network deteriorates at an accelerated rate. The council also noted that when road assets deteriorate beyond a certain point, the renewal cost exponentially increases.
Horsham engaged an independent contractor during 2013–14 to perform a condition assessment of the council-owned road network. The report costed the gap in renewal funding at $6.5 million. The contractor recommended that the council increase its annual expenditure on road asset renewal by 3 per cent per annum over the subsequent 10 financial years.
The table below illustrates how the council plans to increase infrastructure renewal funding over the medium term by reduce funding allocations for new capital works.
| Asset funding | 2017–18 | 2018–19 | 2019–20 | 2020–21 |
| --- | --- | --- | --- | --- |
| Asset renewal ($m) | 8.5 | 7.0 | 9.7 | 9.8 |
| New assets ($m) | 7.3 | 6.3 | 4.8 | 2.4 |
| Total budgeted capital works expenditure ($m) | 18.3 | 14.9 | 15.4 | 15.1 |
| Asset renewal as percentage of total capital works | 46% | 47% | 63% | 65% |
Source: VAGO.
Internally, the council allocates a portion of each year's rate increase as an infrastructure levy intended to close the asset renewal gap. One of the council's objectives is to ensure that rate increases establish sustainable capital funding for asset renewal.
Increase in rate capping
Horsham successfully submitted an application to the Essential Services Commission for a rate capping exemption for the 2016–17 financial year. The council requested an increase of 1 per cent over the rate cap of 2.5 per cent. The main reason the council cited was the growing gap in the renewal funding it required to maintain the condition of its existing road assets.
Source: VAGO.
Currently, many budgeting tools used by councils include only a four-year strategic report plan and a one-year detailed budget. Proposed legislative changes require councils to have longer-term forecasts. This will help councils to manage funding pressures more proactively and deliver services more efficiently.
Shared-service arrangements
One way that councils plan to rationalise costs is by sharing various services and functions with other councils, to take advantage of collective bargaining arrangements.