Results of 2016–17 Audits: Local Government
Appendix C. Upcoming changes to financial reporting
Upcoming changes accounting standards over the next three years may require substantial adjustments by not-for-profit organisations, including councils.
Figure C1 shows a time line of changes impacting the sector.
Figure C1
Time line of upcoming changes in accounting and auditing standards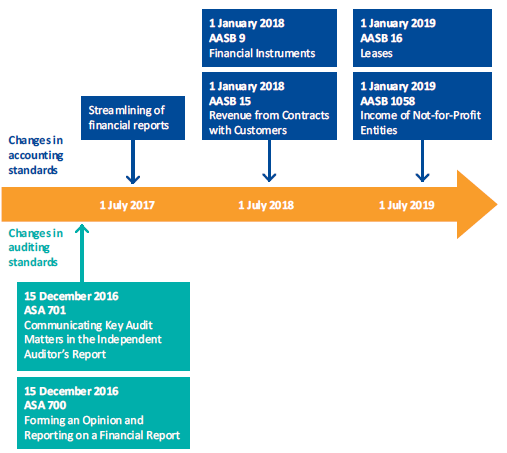 Source: VAGO.
What do councils need to do?
2017–18—Streamlining of financial reports
Councils should look at simplification of financial reporting as a real opportunity to use financial reports to engage with various stakeholders in a more meaningful manner. We encourage councils to:
implement effective internal systems and governance structures to enable accurate and timely month end and year end reporting
explain significant judgements and complex calculations impacting any material information presented through the financial report
fully communicate any financial risks including complex transactions, impairment and any financial sustainability risks
highlight and include commentary on unusual transactions
inform the reader through meaningful analysis of key balances and transactions
incorporate easy-to-read design features and plain English
remove irrelevant disclosures and notes
include only disclosures that are material to the entity.
2018–19—AASB 9 Financial Instruments
This new accounting standard will apply from financial year 2018–19 and replaces the existing rules-based approach to financial instruments with simplified principles. A deeper understanding of how an entity manages its financial instruments will be required to apply this standard. Depending on circumstances, subsequent measurement of financial instruments will more likely be at fair value.
This standard is not likely to have a significant impact in the local government sector.
2018–19—AASB 15 Revenue from Contracts with Customers (2019–20 for not-for-profit entities including councils)
While these new requirements are not mandatory for the not-for-profit sector until 1 January 2019, they represent a major change in how the sector recognises revenue.
This standard shifts the focus from transaction-level accounting to a contract‑based accounting approach. This accounting standard will have a significant impact on council profit and loss statements, with revenue from grants or donations recognised only when the specific performance obligation to provide the goods or services is satisfied.
2019–20—AASB 16 Leases
The accounting standard on leases will apply from 2019–20, and entities can elect not to restate comparatives.
This accounting standard will have a significant impact on council balance sheets with various contractual arrangements including asset-dependent service contracts (such as waste management contracts) potentially triggering lease accounting requirements.
2019–20—AASB 1058 Income of Not-for-profit Entities
This standard applies to all income that is not captured by AASB 15 Revenue from Contracts with Customers and will apply from 2019–20. Earlier application is permitted, provided entities also apply AASB 15 to the same period.
This standard is likely to have a significant impact on councils in two key areas:
volunteer services—if fair value of the services can be reliably measured and would otherwise be purchased, the entity must elect to recognise the services as an expense and recognise a corresponding revenue
grant income—revenue recognition will depend on the nature of the grant and, in particular, if the grant agreement places specific, clear performance obligations on the council.
Exposure draft on Reporting Service Performance Information
This exposure draft establishes principles and requirements for an entity to report service performance information. Councils, through existing performance reporting activities, may achieve the objective of the standard.