Results of 2018‒19 Audits: Local Government
The Victorian local government sector comprises 79 councils, 10 regional library corporations and 17 associated entities. Appendix B lists all these entities.
Local Government Victoria (LGV) classifies councils into five Victorian Local Government Comparator Groups. These groups, or cohorts, are determined based on size, demographics, and funding, and are summarised in Figure 1A.
Figure 1A
Council cohorts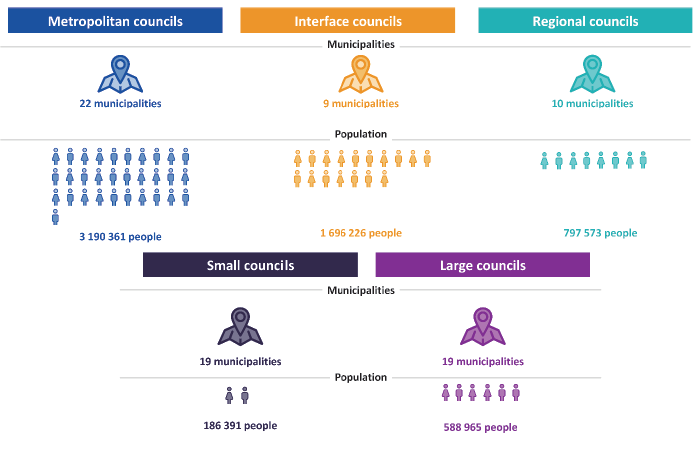 Note: Interface councils are the municipalities that surround metropolitan Melbourne, forming the interface between it and regional Victoria.
Source: VAGO, based on Australian Bureau of Statistics, Data by Region, 2017–18.
Councils' principal activities are to maintain the peace, order and good government of each municipal district. They also provide a range of services to local municipalities—as shown in Figure 1B—including maintaining local roads, waste management, delivering family services, and operating aquatic and library facilities.
Figure 1B
Overview of the local government sector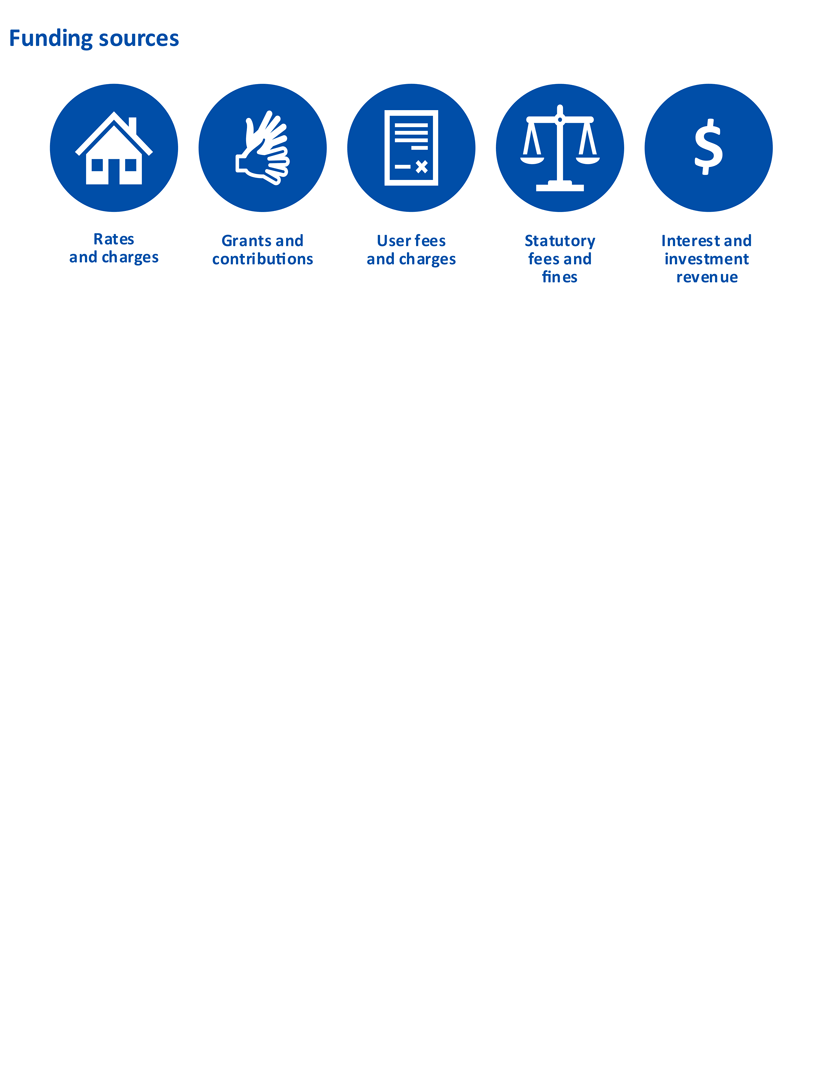 Source: VAGO.
Councils are primarily funded through rates and charges, state and Commonwealth government grants and other contributions. The majority of the sector's assets consist of the infrastructure, property, plant and equipment needed to deliver services to the community. The sector also holds a significant amount of cash and investments, which are used to fund day-to-day activities and long-term capital programs.
Figure 1C summarises key financial balances for the sector.
Figure 1C
Local government sector financial snapshot for the year ended 30 June 2019
Source: VAGO.
1.1 Legislative and reporting framework
Victoria's Constitution recognises local government as one tier of government, with democratically elected councillors governing councils, and a council appointed chief executive officer managing their operations.
Local Government Act 1989
The Local Government Act 1989 establishes the constitutional, electoral, and operational arrangements for local government in Victoria. This includes the roles and responsibilities of councils, elected councillors and council administration. While councils are administered under the Local Government Act 1989, they operate autonomously and are accountable to their ratepayers and residents.
Along with LGV as the responsible government agency providing information, policy advice and support works to councils, councils are also represented in Victoria by:
the Municipal Association of Victoria, established under the Municipal Associations Act 1907
Local Government Finance Professionals (FinPro)—an association for people working in local government in Victoria
the Victorian Local Governance Association—an independent member‑based association supporting councils, councillors, and the community in good governance.
Local Government Bill 2019
The Local Government Bill 2019 was introduced to Parliament on 13 November 2019 and builds on the reforms presented in the previous proposed Local Government Bill 2018, which lapsed before the November 2018 election.
The Bill aims to deliver on the Victorian Government's commitment to create a Local Government Act that introduces a modern framework empowering councils to improve service delivery, focus on deliberative engagement and long-term financial management to support Victoria's councils and their communities.
1.2 Sector developments
Combustible cladding
In response to significant building fires caused by combustible cladding in Melbourne in November 2014 and in London in June 2017, the state government established the Victorian Cladding Taskforce in July 2017. This taskforce investigated the extent of non-compliant external wall cladding on buildings in Victoria, and make recommendations for improvements to protect the public and restore confidence that building and fire safety issues are being addressed appropriately.
Following the release of the interim findings and recommendations by the taskforce in December 2017, the Victorian Building Authority (VBA), on behalf of the state government and with the assistance of councils, undertook a state‑wide audit of residential, multi-unit buildings of three storeys or more likely to have combustible cladding. Four ministerial declarations since February 2018 have given the VBA the functions of the Municipal Building Surveyor for over 300 buildings assessed as higher risk.
The state government established Cladding Safety Victoria (CSV) in July 2019 to oversee a $600 million program of rectification works on class 2 buildings of a higher risk rating across Victoria. CSV will provide support and guidance to owners and occupants of buildings with combustible cladding and aims to reduce risks to an acceptable level.
Councils need to monitor CSV's rectification program and continue to work with the VBA to identify buildings at risk.
Waste and recycling
China's restriction of its intake of foreign waste for recycling in 2018 and the collapse of SKM Recycling in July 2019 have significantly affected kerbside recyclable waste management across the sector.
While some councils found alternative short-term recycling processors, many had no alternative other than to send their recyclable waste to landfill. Public media has estimated this waste at more than 4 500 tonnes per week, across 31 councils.
Diverting recyclable waste to landfill has resulted in councils incurring more costs, which will likely be passed onto ratepayers and residents in the form of waste charges. The full impact of this is yet to be determined, given the expected time lag between councils incurring the costs and recovering them from ratepayers.
Administrators are appointed by the Minister for Local Government in instances of serious governance failure to undertake the roles and responsibilities of the council.
While some councils have resumed recycling following resolution with SKM Recycling's receivers, and the announced purchase of SKM Recycling, councils and the state government need to explore sustainable, innovative and long‑term solutions to recyclable waste.
Governance matters
High standards of governance are fundamental in enabling councils to effectively and efficiently manage the public resources entrusted to them.
While most councils have suitable controls to govern their operations, several recent governance failures have resulted in interventions by the state government through the appointment of administrators or municipal monitors.
Figure 1D summarises the status of councils with recent governance issues.
Figure 1D
Status of governance matters
Council

Description of finding

Ararat Rural City Council

On 2 May 2019, the Minister for Local Government advised Ararat Rural City Council that he had concluded the municipal monitor's appointment at the council, who had previously been appointed for two years to August 2019.

Central Goldfields Shire Council

Central Goldfields Shire Council continue to have a state government-appointed panel of administrators oversee its operations. This will remain until the next council general election in October 2020.

Greater Geelong City Council

The role of the two municipal monitors at Greater Geelong City Council will shift to a 'watching brief' in recognition of progress since their appointment on 7 September 2017 following a Commission of Inquiry.

The municipal monitors will be in place until the council's general election in October 2020.

Frankston City Council

Following an 18-month appointment term ending in June 2019, the municipal monitor at Frankston City Council was extended to 19 September 2019, upon the appointment of a new chief executive officer.

South Gippsland Shire Council

The municipal monitor, appointed to South Gippsland Shire Council by the state government from 18 June 2018 to 4 April 2019, provided his final report to the Minister for Local Government about the council's governance processes and practices on 21 March 2019.

The Minister for Local Government subsequently appointed a Commission of Inquiry, which provided its report to the Minister on 13 June 2019.

The council was subsequently dismissed on 22 June 2019 under the Local Government (South Gippsland Shire Council) Act 2019.

The state government appointed a panel of three administrators to operate the council from 24 July 2019 until the next general election for the council in 2021.
Source: VAGO.
Municipal monitors monitor and advise council on governance processes and practices. They report and provide an update on council improvement actions to the Minister for Local Government.
Governance failures impede a council's ability to maintain strong internal controls that safeguard assets, promote accountability and increase efficiency. Several reports discussing procurement risks, fraud and corruption across the sector have recently been published, including:
the Independent Broad-based Anti-corruption Commission's Special report on corruption risks associated with procurement in local government (September 2019)
the Tasmanian Audit Office's Procurement in Local Government (September 2019)
the Office of the Auditor General for Western Australia's Fraud Prevention in Local Government (August 2019)
VAGO's Fraud and Corruption Control—Local Government (June 2019).
We further analyse the sector's procurement practices in Section 3.2.