Results of 2018‒19 Audits: Local Government
This Part summarises the results of our financial report and performance statement audits, including observations about internal controls for the sector, for the year ended 30 June 2019. Appendix B lists all the entities covered by this report and the date and nature of audit opinions issued.
2.1 Conclusion
The financial reports and performance statements of all the entities in the local government sector that we audited were found to be reliable.
At the date of this report's publication, the financial audits of one council— West Wimmera Shire Council—and three associated entities—Regional Landfill Clayton South Joint Venture, Regent Management Company Pty Ltd, and Procurement Australia—have not been completed.
2.2 Financial report audit opinions
We carried out our financial audits in accordance with Australian Auditing Standards. Figure 2A summarises the financial report audit opinions we issued, highlighting that, overall, the sector's financial reports are accurate and reliable.
Figure 2A
Financial report audit opinions issued for the year ended 30 June 2019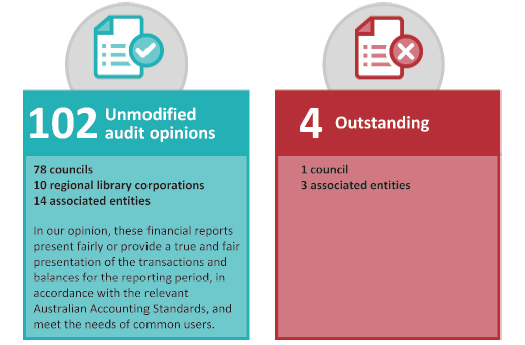 Source: VAGO.
The financial report is prepared in line with relevant Australian Accounting Standards and applicable legislation. It shows the financial performance and position of the entity.
2.3 Performance statement audit opinions
We carried out our audits of performance statements in accordance with the Local Government Performance Reporting Framework (LGPRF).
Figure 2B summarises the performance statement audit opinions we issued.
Figure 2B
Local government sector performance statement audit opinions issued for the year ended 30 June 2019

Source: VAGO.
The performance statement outlines council performance in accordance with indicators prescribed by the Local Government (Planning and Reporting) Regulations 2014.
Thematic errors and inconsistencies in performance statements
Our audits of the sector's performance statements identified accuracy and completeness errors mostly relating to:
statutory planning—council planning decisions upheld by the Victorian Civil and Administrative Tribunal, with decisions incorrectly included or excluded from the relevant reporting period
food safety—critical and major non-compliance outcome notifications, where calculations were based on the financial year, rather than the calendar year per the LGPRF
workforce turnover—resignations and terminations compared to average staff, where non-permanent employees were incorrectly included in the indicator, and permanent or terminated employees incorrectly calculated.
These errors were mostly due to incorrectly using and classifying data, due to a lack of robust quality review processes when preparing performance statements.
We also identified inconsistencies in the approach taken for the unrestricted cash indicator—some councils incorrectly included term deposits with a maturity date over three months as unrestricted cash.
Where we identified material errors, we required councils to amend their indicators and statements.
Councils should ensure there are appropriate preparation, and independent quality review processes over the performance indicators, as they are key measures of council transparency, accountability and performance.
Local Government Performance Reporting Framework
Based on previous VAGO recommendations, the Minister for Local Government approved the Strategic Directions Paper 2018–21 in February 2019 to introduce mandatory performance reporting to strengthen and improve the transparency and availability of performance information about councils.
Our performance audit Reporting on Local Government Performance—tabled in Parliament on 23 May 2019—assessed if the LGPRF communicated performance information that is relevant, timely, accurate and easy to understand for councils and the community. It examined how councils use the LGPRF to improve their performance and if councils' other performance activities, such as reporting on strategic objectives and benchmarking, are effective.
The report made 11 recommendations—five to DELWP and six to councils—and concluded that the LGPRF:
along with other internally generated data, is not being sufficiently used by councils to understand their performance and communicate it to their community or inform their decisions
lacks good outcome measures, with data reported inconsistently between councils and some reported data being unreliable
has not achieved the aim of reducing the reporting burden on councils.
2.4 Financial reporting quality
The timeliness of the published financial reports and the accuracy of draft reports presented for audit are important and interrelated quality attributes of financial reporting.
Generally, councils implemented effective processes and procedures to prepare their financial reports and presented accurate draft reports for audit.
Timeliness
The Local Government Act 1989 requires councils to submit their audited financial reports and performance statements to the Minister for Local Government by 30 September each year.
Timely financial reporting is a critical element of an entity's accountability to users of the financial statements. The later financial reports are produced after year end, the less useful they become. We measure timeliness by the time taken after year-end for each council to finalise their financial reports.
As shown in Figure 2C, 76 councils met the statutory deadline of 30 September 2019 (79 in 2018).
Figure 2C
Timeliness of financial reporting by councils
Source: VAGO.
Northern Grampians Shire Council and West Wimmera Shire Council did not meet the original statutory deadline. They sought, and received, extensions from the Minister for Local Government.
Yarriambiack Shire Council made an application to the Minister for Local Government for an extension to the statutory deadline. This application was made after the statutory deadline and therefore not considered, and the council advised accordingly.
In all three cases, the delay was primarily due to issues encountered with reporting of property, plant and equipment values.
Accuracy
Material errors are significant misstatements or omissions of information that may influence a user's decision‑making.
Accurate financial reports do not contain material errors and reliably record an entity's financial performance and position. Material errors identified during the audit must be corrected before we can issue a clear opinion. Errors that are not corrected reduce the accuracy and clarity of the final financial report.
We identified 187 financial statement errors across the 79 councils, totalling $240.4 million (2017–18: 155 financial statement errors, totalling $307.7 million). Figure 2D summarises the most common errors we found during our audits.
Figure 2D
Common errors identified
Dollar errors

Common errors we found included:

incorrect valuation of infrastructure, property, plant and equipment, identification of found assets and incorrect timing for the recognition of developer contributed assets
disaggregated disclosure balances not reconciling to the totals in the comprehensive operating statement and balance sheet
provision for doubtful debts not calculated in accordance with Australian Accounting Standards Board (AASB) 9 Financial Instruments
errors in the calculation of the landfill provision and airspace asset balances
incorrect classification between cash and cash equivalents and financial assets
errors in the calculation and classification of employee benefit provisions.

Disclosure errors

Common financial statement disclosure errors we found related to:

errors in the accuracy of commitment balances
errors in the accuracy and completeness of key management personnel and senior officer remuneration.
Source: VAGO.
2.5 Internal control observations
Internal controls help entities meet their objectives reliably and cost effectively, comply with relevant legislation and also decrease the risk of fraud and error.
In our annual audits, we consider the internal controls relevant to a council's financial and performance reporting. We also assess whether councils have managed the risk that their reports will not be complete or accurate.
To the extent that we considered them, councils' internal controls were adequate to ensure reliable financial and performance reporting. However, we identified some weaknesses, which are summarised below.
We identified 127 new medium and high-risk internal control issues during our 2018–19 audits (121 in 2017–18). Figure 2E shows that the number of new issues identified in 2018–19, while slightly higher than in 2017–18, has decreased over the last four years.
The number of unresolved prior year issues has also steadily reduced over the last four years. This indicates that councils are actively addressing their control deficiencies. While an improvement, councils should continue to address outstanding issues within recommended and agreed time frames.
We have not analysed low-risk internal control issues in this report, because they are minor issues or opportunities to improve. In Appendix C we provide the risk rating definitions applied to the issues we report in our audit management letters.
Figure 2E
Number of new and unresolved prior year management letter issues in the local government sector for the years ended 30 June, 2016 to 2019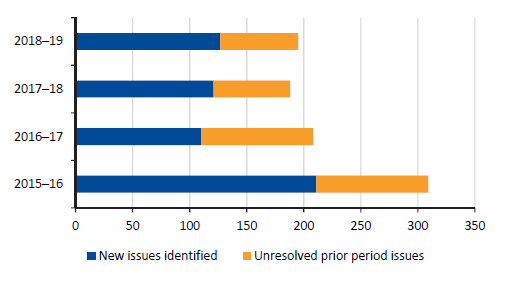 Source: VAGO.
High-risk rated issues
New issues raised in 2018–19
We identified 14 new, high-risk issues at 10 councils in 2018–19 (compared to nine new, high-risk issues across six councils in 2017–18). Thirteen of these 14 issues remain open at the following councils:
Ballarat City Council
Central Goldfields Shire Council
Greater Geelong City Council
Hepburn Shire Council
Horsham Rural City Council
Mildura Rural City Council
South Gippsland Shire Council
Strathbogie Shire Council
Warrnambool City Council.
The high-risk rated internal control issues identified in 2018–19 primarily relate to:
asset management and valuation processes (46 per cent of all issues raised)
procurement processes, including the use of corporate cards and vendor master file changes (15 per cent of all issues raised).
We discuss these key issues in further detail in Part 3.
Unresolved prior year, high-risk issues
In 2017–18, we reported 14 unresolved high-risk rated issues. Our follow up of these issues in 2018–19 indicated that councils continue to work through implementation plans to resolve them, with six remaining unresolved at 30 June 2019.
Figure 2F summarises the high-risk rated internal control issues identified in prior years that remain unresolved.
Figure 2F
Unresolved high-risk rated issues from prior years
Council

Description of finding

Campaspe Shire Council

Campaspe Shire Council did not undertake a valuation of assets in 2018–19—which was originally scheduled to be completed in 2017–18—for bridges, drainage assets, footpaths and cycle ways. Roads were scheduled for a valuation assessment in 2016–17. No condition or impairment assessments were completed for any of these assets in 2018–19.

Management acknowledge this issue remains unresolved and have committed to completing a full unit rate and condition assessment for these asset classes in 2019–20.

Central Goldfields Shire Council

Prior to 30 June 2019, Central Goldfields Shire Council last performed a valuation for its land and building assets in 2014. While it completed a valuation of land and buildings at 30 June 2019, several assets controlled by the council were not included in the valuation.

Management have committed to revaluing these assets in 2019–20.

Gannawarra Shire Council

Gannawarra Shire Council did not complete a fair value assessment over asset classes not revalued at 30 June 2019, consistent with practices in 2017–18.

Management continue to work to resolve this issue and an update on the progress will be followed up in 2019–20.

South Gippsland Shire Council

Performance reporting preparation process issues were previously raised at South Gippsland Shire Council. These issues included non-compliance with the LGPRF, as well as errors in performance statement indicator data and the performance statement template.

Management have made some progress in addressing this issue by updating systems and processes, implementing quarterly checks and educating new staff to improve the quality and accuracy of data captured.

The risk rating of this issue was escalated in 2018–19, as it had not been fully resolved.

Towong Shire Council

Towong Shire Council did not appropriately document the fair value assessment of their infrastructure, property, plant and equipment assets. Further, the council did not complete an impairment assessment for their assets.

Management have revised their rectification plans to June 2020 from June 2019 due to internal staff changes.

West Wimmera Shire Council

West Wimmera Shire Council did not have a detailed fixed asset register at 30 June 2017 that identified individual assets such as bridges, road segments and drainage assets.

As the audit is still outstanding, an update on the progress of this issue will be followed up in 2019–20.
Source: VAGO.
Medium-risk rated issues
New issues raised in 2018–19
Of the 113 new, medium-risk issues identified in 2018–19 (112 newly identified issues in 2017–18), 60 per cent related to infrastructure, property, plant and equipment, payroll and expenditure systems. Issues generally included:
lack of fair value assessments being adequately completed for all infrastructure, property, plant and equipment, and inconsistencies and weaknesses in asset valuation process (see Section 3.3)
poor controls relating to procurement practices (see Section 3.2)
lack of segregation of duties within the payroll function.
Timely and adequate rectification of control weaknesses will reduce the risk of:
material misstatements to the presentation of infrastructure, property, plant and equipment balances in council financial statements, and non‑compliance with the Local Government Better Practice Guidance materials
unauthorised procurement of goods and services
misappropriation of assets
fraudulent behaviour.
Unresolved prior year, medium-risk issues
There were 62 unresolved medium-risk issues at 30 June 2019 (62 at 30 June 2018), demonstrating that councils continue to address their control deficiencies.
Figure 2G shows the types of issues raised in prior years that are still unresolved, noting that these issues are consistent with the problematic areas previously reported on.
Figure 2G
Unresolved medium-risk rated prior year issues at 30 June 2019 and 30 June 2018, by area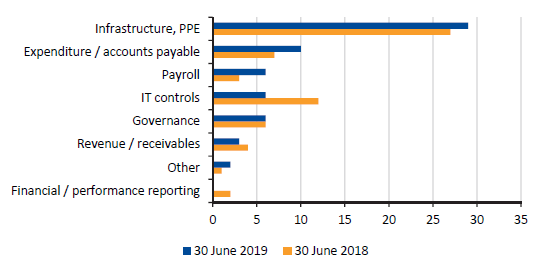 Note: PPE = property, plant and equipment.
Source: VAGO.
2.6 Found assets
Found assets are assets that have not previously been valued or included in the entity's financial report when they should have been, because the entity was not aware of their existence.
Across the sector, councils continue to identify found assets, albeit significantly fewer than in previous years. This is symptomatic of many issues, including:
poor data accuracy in asset management systems
a lack of regular and timely communication between asset management and finance teams
poor communication between councils and other Victorian public sector entities where there is uncertainty about the ownership of assets
councils not assessing and recording assets in a timely manner.
Figure 2H summarises the sector's found assets since 2015–16.
Figure 2H
Found assets as a percentage of total infrastructure, property, plant, and equipment over the last four years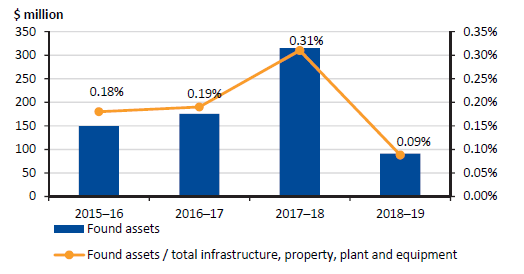 Source: VAGO.