Results of 2018‒19 Audits: Local Government
3 Focus areas at a glance
In this Part, we summarise some key themes currently affecting the sector and comment on the results of the information we obtained and observed during our audits.
We asked all 79 councils to complete a self-assessment, and collated their responses on their current processes and systems in respect to:
preparedness for new Australian Accounting Standards
procurement
outsourced service providers.
This Part further analyses ongoing issues relating to asset management and asset valuations that were raised in previous years' reports.
3.1 Conclusion
Overall, most councils assessed themselves as being adequately prepared for the incoming accounting standards and concluded that the expected impact was minimal.
The sector continues to experience internal control weaknesses surrounding procurement practices, asset management and valuation processes, and with management oversight and monitoring of its outsourced service providers.
3.2 Focus area highlights
Preparedness for new Australian Accounting Standards
A suite of significant changes to accounting standards will impact the local government sector's financial reporting for the financial year ending 30 June 2020.
These standards include:
AASB 15 Revenue from Contracts with Customers
AASB 1058 Income for Not-for-profit Entities
AASB 16 Leases.
The majority of councils stated that they have a plan to implement the new accounting standards and had communicated this plan to key operational stakeholders.
However, most councils also assessed that there were improvements to be made in the communication of issues, impacts and progress updates relating to the implementation of the standards to those charged with governance and Audit and Risk Committees.
Figure 3A summarises the sector's self-assessment of their preparedness for the incoming accounting standards.
Figure 3A
Results of councils' activities in preparation for incoming Australian Accounting Standards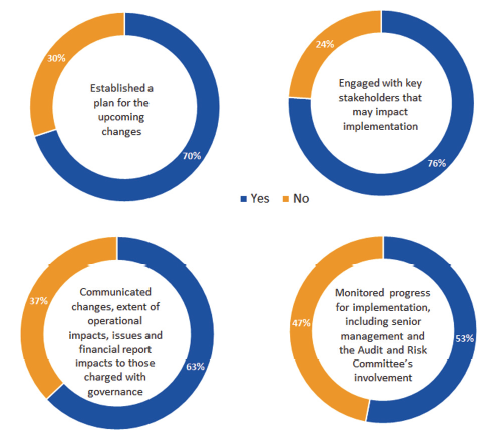 Source: VAGO.
Councils had varying results in determining the impact of the incoming accounting standards on their financial statements, accounting policies and key internal controls. The sector's self-assessment concluded that:
the majority of councils believe there will not be an impact, or, if there is an impact, it will be immaterial
while the impact to the financial statements is likely to be minimal, most councils identified there would be changes to underlying controls, data collection and processes
the incoming accounting standards would have minimal impact on existing software, with the majority of councils relying on spreadsheets or expecting to easily modify existing software.
Almost all councils stated they relied on LGV-delivered webinars or FinPro training and forums for their information, training and research about the incoming accounting standards. Almost half of councils also relied on their auditors for information.
In light of these responses, and the significant reliance on FinPro and LGV by councils, we recommend LGV continue to provide sector-wide guidance and develop overarching frameworks and policies to address the key impacts relating to the incoming accounting standards, and to ensure consistent application.
AASB 1052 Disaggregated disclosures
LGV publishes the Local Government Model Financial Report annually to assist councils in preparing annual financial statements in accordance with Australian Accounting Standards and the Local Government Act 1989.
The 2018–19 Local Government Model Financial Report (LGMFR) reintroduced a separate note to the financial report in accordance with AASB 1052 Disaggregated disclosures, requiring councils to disclose:
the nature and objectives of each broad function of the council
the carrying amount of assets that are reliably attributable to each function
the income and expense attributable to each function, with grant funding separately disclosed.
Councils were typically able to disaggregate their financial data and present this disaggregated information in line with the requirements of the LGMFR. However, we recommend councils continue to scrutinise the disaggregation of their financial data to better reflect the functions and activities of their council, and that LGV provide further guidance on the presentation requirements in line with the accounting standards to ensure consistency across the sector.
Procurement
The primary function of procurement is to cost‑effectively and efficiently acquire the goods and materials required by an organisation to provide services to their customers.
Procurement policies
All 79 councils stated they had a procurement policy in place, and 68 councils stated that they had an up-to-date policy in 2018–19.
Forty-one councils identified at least one breach in their procurement policy during the year. Six councils reported more than 10 individual breaches of their procurement policy in 2018–19. Breaches in council procurement policies included:
tender process not undertaken when supplier spend exceeds council determined threshold—11 per cent of councils did not have systems and processes in place to monitor supplier spend and ensure it is within the prescribed thresholds
staff self-approving their own invoices or purchase orders—22 per cent of councils stated staff could approve their own invoices, and staff could approve their own purchase orders at 29 per cent of councils
purchase orders raised subsequent to the receipt of the invoice—however, 71 per cent of councils stated they had a monitoring process over purchase orders raised after invoice date.
Vendor master file changes and user access rights
Figure 3B summarises the strengths and weaknesses, based on council self‑assessments, in respect to the vendor master file change processes and management of user access rights for procurement.
Figure 3B
Strengths and weaknesses relating to vendor master file changes and user access rights
Strengths

Ninety-seven per cent of councils stated that they require independent and supporting evidence prior to changes to the vendor master file being actioned.
All councils have a process in place to monitor changes made to the vendor master file.
Eighty-four per cent of councils stated they have sufficient systems in place to generate a report that lists all users and their access levels within the procurement system.
In managing user access rights, 82 per cent of councils also performed an assessment of the appropriateness of the user access rights.
Eighty-seven per cent of councils were comfortable that user access monitoring controls in place were sufficient for their requirements and operations.

Weaknesses

While 97 per cent of councils stated the review of vendor master file changes is completed by the finance, accounting or procurement function, only 53 per cent of staff reviewing the changes do not have ability to also make changes themselves—indicating a high-risk of self-review and a lack of segregation of duties.
Only 46 per cent of councils stated that an independent secondary review is completed over changes to the vendor master file.
Twenty-one councils indicated that the person responsible for managing procurement user access rights is also in the procurement team, while a further 17 councils stated the person responsible is also a bank signatory. Additionally, 40 councils reported that the person responsible also has access to make vendor master file changes—indicating a high risk of self-review and a lack of segregation of duties.
Source: VAGO.
Corporate cards
Councils stated that, on average, they had 76 corporate or procurement cards in operation. The number of cards in use varied from none to 256. This number did not necessarily correlate to the size of the council.
Seventy councils advised that they had an approval process in place for corporate and procurement card transactions in a formal documented policy.
Seventy-six councils confirmed that they have monitoring controls implemented to ensure policy compliance—in the form of reconciliations, approval of transactions, review of monthly statements and audits. Thirty-five councils also confirmed that there had been instances of non-compliance with their internal policy in 2018–19.
Our performance audit Fraud and Corruption Control—Local Government—tabled in Parliament on 19 June 2019—assessed whether local councils' fraud and corruption controls were well designed and operating as intended, focusing on expenditure and processes relating to a variety of areas, including corporate card use.
The report made 12 recommendations, including for councils to:
review their corporate card policies
improve controls to ensure only allocated cardholders use the cards and ensure appropriate segregation of duties over expenditure approvals exist
document and develop formalised reporting over the use of credit cards, and to incorporate, where appropriate, data analytics to identify anomalies.
Given the high risk of misappropriation of assets and fraudulent behaviour surrounding corporate and procurements cards, councils need to ensure they have robust frameworks and policies in place to control their use. Councils also need to ensure they conduct an appropriate level of oversight, review and monitoring to reduce associated risks.
Outsourced service providers
Where an entity outsources aspects of its operations to external providers, management must have appropriate oversight of the financial activities undertaken externally if they are to have an effective internal control and financial reporting process.
Forty-nine councils stated they had outsourced services that directly impacted their financial reporting or internal control processes. These services include:
cash collections from various sources, including carparks and leisure centres
issuing parking infringements and debt collection
information systems support
aquatic and leisure centre management.
Only nine of the 49 councils that had outsourced arrangements stated they had formal policies in place. Forty-three councils concluded they had appropriate processes and controls in place to monitor the performance of their external providers, mostly documented in formal service agreements.
An assurance report provides details on the description, design and operating effectiveness of controls at a service organisation for use by user entities, where it relates to financial reporting.
However, councils indicated that less than a quarter of these service agreements stipulated that the external provider needed to provide them an assurance report on the adequacy and functioning of their internal controls, as it relates to financial reporting. In the absence of an assurance report, councils need to obtain oversight and comfort over the functioning of internal controls at the external provider through other means. Councils are generally not obtaining this oversight or comfort, which creates a financial risk.
Collection of outstanding parking infringements by Fines Victoria
For 2018–19, no councils obtained an assurance report from any external providers of outsourced service arrangements with a financial impact. This is particularly concerning, given many councils outsource the collection and follow up of outstanding parking infringements to Fines Victoria.
While councils obtained written representation from Fines Victoria at 30 June 2019 on the adequacy of their internal control processes as it relates to financial reporting, the delays in relation to outstanding debt collections further demonstrate the need for councils to maintain sufficient oversight over the internal control processes at outsourced service providers.
3.3 Asset management and valuation process
The sector recognised an asset revaluation decrement of $45.3 million in 2018–19 ($7.0 billion increment in 2017–18), against an infrastructure, property, plant, and equipment asset base of $103.3 billion at 30 June 2019 ($102.1 billion at 30 June 2018). This decrement was mainly driven by a reduction of around $1.5 billion in land values, offset by a $1.4 billion increase in infrastructure values.
Figure 3C summarises the valuation movement in the asset classes in 2018–19 compared to the prior year.
Figure 3C
Asset revaluation movement in 2018–19 and 2017–18
| Asset class | 2018–19 | 2017–18 |
| --- | --- | --- |
| Land | ↓ $1.5 billion | ↑$5.6 billion |
| Buildings | ↑$69.7 million | ↑$162.5 million |
| Infrastructure | ↑$1.4 billion | ↑$1.2 billion |
| Other | ↑$11.8 million | ↑2.9 million |
| Total | ↓ $45.3 million | ↑ $7.0 billion |
Source: VAGO.
Against this overall decrement, the sector undertook asset renewal and upgrades of $2.7 billion ($2.2 billion in 2017–18) compared to $1.6 billion ($1.5 billion in 2017–18) of depreciation and amortisation expenses— demonstrating continued positive capital replacement, in line with previous years.
In our review of infrastructure, property, plant and equipment—and the revaluation process within the sector—we continue to identify issues mainly relating to:
fair value assessments of many asset classes not being undertaken with sufficient regularity
inconsistencies across the sector in the application and appropriate documentation of the condition assessment process for infrastructure assets, including:

a lack of key metrics and indicators in determining the condition of infrastructure assets and the resulting impact on fair value and remaining asset useful life
inadequate regularity of condition assessments, with some infrastructure asset classes never having had a condition assessment performed
poor communication between asset management teams and finance staff, and a lack of sufficient oversight of the condition assessment process by management

individual asset components within an asset class measured inconsistently with the entire asset class, which is not in accordance with Australian Accounting Standards
delays in the timing of capitalisation for completed capital works in progress projects—resulting in understatement of depreciation expenses
a lack of robust and sufficiently regular impairment assessments over all infrastructure, property, plant and equipment asset classes
ongoing found assets, albeit there has been a significant improvement across the sector in 2018–19 (see Section 2.6).
These key issues persist across the sector. Councils, with the guidance of LGV, need to prioritise improving their asset management frameworks, policies, and processes to ensure infrastructure, property, plant and equipment balances disclosed in the financial statements are complete and accurate. This is particularly important given the management of these assets represents a key function of the council for providing services to the community.