Technical and Further Education Institutes: 2016 Audit Snapshot
The Victorian technical and further education (TAFE) sector delivers vocational education and training (VET) throughout Victoria. VET courses equip students with the practical and educational skills required for a variety of careers.
The sector is made up of 12 TAFE institutes and their 16 controlled entities. Since the financial result of each controlled entity is consolidated into its parent entity, we do not discuss them separately. Appendix B lists all 28 entities.
Figure 1A shows the TAFEs that operate across Victoria.
Figure 1A

TAFE locations and staff profiles in Victoria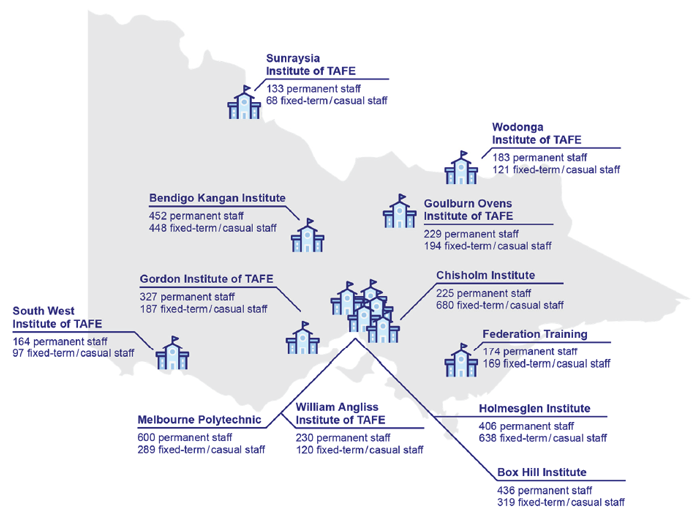 Source: VAGO.
In addition to the 12 TAFE institutes, four dual-sector universities also operate within the VET sector. They are included in our Universities: 2016 Audit Snapshot report.
TAFE institutes are established and governed under the Education Training and Reform Act 2006 (ETRA). The main provisions of ETRA are to:
outline the requirements for establishing a TAFE board and its governance responsibilities
define the function and powers of TAFEs
define the objectives of TAFEs.
The objectives of TAFEs are to:
perform functions for the public benefit
facilitate student learning
collaborate as part of a strong network of public training providers.
TAFEs are 'public bodies' under the Financial Management Act 1994 (FMA). They are required to comply with the FMA and with any general or specific direction given by the Minister for Finance. They are also subject to the Public Administration Act 2004, which provides a framework for governance in the public sector. Each TAFE board is accountable to the Minister for Training and Skills (the minister).
The Department of Education and Training (DET) is responsible for overseeing the sector on behalf of the minister. This includes the quality of the training TAFEs provide under VET contracts with Registered Training Organisations (RTO). DET funds the delivery of this training via a subsidy for each training hour delivered—known as contestable funding. RTOs compete with one another for this funding.
TAFEs compete directly with private training providers to deliver training to students in Victoria. Both the TAFEs and private providers are registered as RTOs with either the Victorian Registration and Qualifications Authority or the Commonwealth equivalent, the Australian Skills and Qualifications Authority.
1.1 TAFE funding model
The TAFE funding model in Victoria has changed significantly over the past five years. In 2013 and 2014, TAFEs received only contestable funding and no recurrent grants from government. TAFEs were given one-off grants to fund the structural adjustments needed to transform their business operating models so that they could be competitive in a contestable environment.
We noted in our Technical and Further Education Institutes: 2014 Audit Snapshot report that most TAFEs were not able to adjust quickly enough to the funding model changes, and this resulted in significant deficits across the sector.
In November 2014, the government announced additional funding for TAFEs. This funding was to address the significant losses and the emerging going-concern risk in the short term because TAFE student numbers were falling.
Figure 1B illustrates the pattern of student enrolments from 2012 to 2015.
Figure 1B

Number of government-subsidised students in accredited and pre-accredited training by sector, 2012–2015
|   | 2012 | 2013 | 2014 | 2015 |
| --- | --- | --- | --- | --- |
| Private RTO | 259 723 | 254 229 | 253 998 | 210 579 |
| Learn Local(a) | 57 414 | 51 656 | 47 851 | 48 344 |
| TAFE | 192 660 | 178 880 | 141 838 | 118 908 |
| Total | 509 797 | 484 765 | 443 687 | 377 831 |
| TAFE market share | 38% | 37% | 32% | 31% |
(a) In the Learn Local program, accredited community organisations offer tailored education and training.
Note: 2016 data was not available at the time of publishing this report.
Source: VAGO, based on Table 5-1, Victorian Training Market Report 2015, DET.
A TAFE Rescue Fund was introduced, with funding to be allocated over five years starting in 2014–15. The Rescue Fund included $200 million for Community Service Funding over four years, and $20 million to provide cash support where necessary across the sector.
The government has also set up additional funding to assist the sector:
$50 million—TAFE Funding Boost to improve training levels
$50 million—TAFE Back to Work Fund.
Figure 1C illustrates the TAFE funding sources for 2016.
Figure 1C

TAFE funding sources for 2016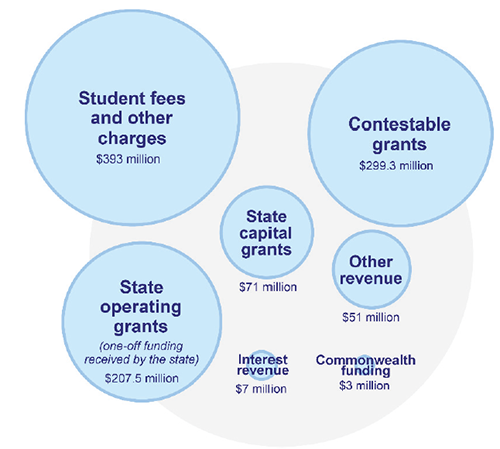 Source: VAGO.
To address the longer-term structural funding issue, an independent VET funding review was conducted and a report published in December 2015. The report made 109 recommendations on how to improve the TAFE sector in Victoria.
The government's response to this report included an outline of a new funding model, known as Skills First, which began in January 2017. The new model provides an initial $114 million to TAFEs for the additional costs they face as public providers, and gives them opportunities to apply for additional funding for:
high needs learners
training in new, emerging and priority areas
training in regional and rural communities
community service obligations to support students
building organisational capabilities.
1.2 What we cover in this report
In this report, we provide information on the outcomes of our financial audits of the 12 TAFEs and their 16 controlled entities for the year ended 31 December 2016.
We identify and discuss the key matters arising from our audits, and provide an analysis of the information included in the TAFEs' financial and performance reports. Figure 1D outlines the structure of the report.
Figure 1D

Report structure
| Part | Description |
| --- | --- |
| 2 Results of audits | Comments on the results of the financial and performance report audits of the 12 TAFEs for the 2016 financial year. Includes a short overview of the performance reporting framework. |
| 3 Internal controls | Summarises the internal control issues observed during our audits and comments on the asset maintenance policies and processes in place in the sector. |
| 4 Financial sustainability | Provides an insight into the TAFE sector's financial sustainability risks and financial challenges. |
Source: VAGO.
We carried out the financial audits of the 28 entities included in this report in accordance with section 8 of the Audit Act 1994 and the Australian Auditing Standards. Each entity pays the cost of its audit.
The cost of preparing this report was $154 000, which is funded by Parliament.