Tendering of Metropolitan Bus Contracts
Tendering of Metropolitan Bus Contracts: Message
Ordered to be published
VICTORIAN GOVERNMENT PRINTER May 2015
PP No 31, Session 2014–15
The Hon. Bruce Atkinson MLC
President
Legislative Council
Parliament House
Melbourne

The Hon. Telmo Languiller MP
Speaker
Legislative Assembly
Parliament House
Melbourne

Dear Presiding Officers
Under the provisions of section 16AB of the Audit Act 1994, I transmit my report on the audit Tendering of Metropolitan Bus Contracts.
The audit examined whether the state has effectively secured value for money from the new Melbourne Metropolitan Bus Franchise (MMBF) arrangements. It assessed the planning and conduct of the MMBF tender, and the management of the resulting contract. The audit also examined the state's progress in reforming future metropolitan bus contracts.
I found that the state has not yet secured full value for money from the MMBF arrangements. While the contract resulted in cost savings of $33 million in 2013–14, cost savings alone are note sufficient to demonstrate value for money. In particular, the contract's potential has not yet been realised due to Public Transport Victoria's (PTV) failure to resolve longstanding issues impacting the implementation of the related performance regime.
A further concern is the Department of Economic Development, Jobs, Transport and Resources' and PTV's slow progress in preparing to reform the remaining metropolitan bus contracts, which are expiring in 2018. This risks compromising the state's immediate opportunity to leverage better value from these services.
Yours faithfully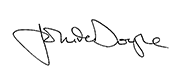 John Doyle
Auditor-General
6 May 2015