Tendering of Metropolitan Bus Contracts
1.1 Introduction
1.1.1 The role of buses in Melbourne
Buses are an important part of Melbourne's public transport system providing local and cross-town travel and connections to rail and tram networks. They also provide an alternative to travelling by car. Buses are often the only readily accessible form of public transport available for people living in Melbourne's middle and outer suburbs. As Figure 1A shows, around 82 per cent of Melbourne dwellings are within 400 metres of a bus route compared to around 20 and 30 per cent for trams and trains respectively.
Figure 1A
Melbourne dwellings within 400 metres of public transport, 2010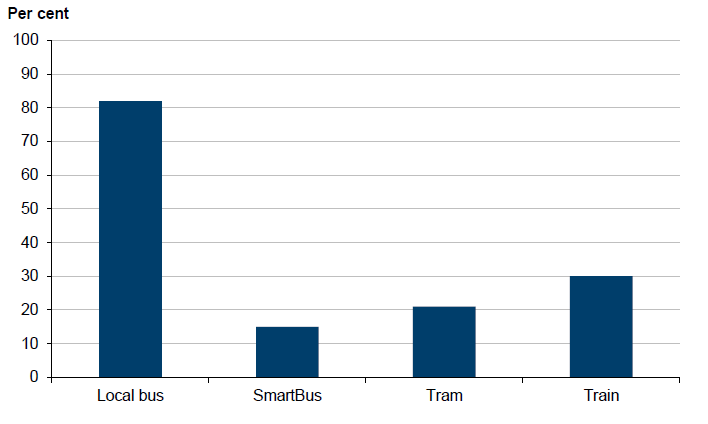 Source: Victorian Auditor-General's Office from Public Transport Victoria's, Network Development Plan—Metropolitan Rail, December 2012.
In the 10 years since 2004–05, metropolitan bus patronage has been steadily increasing overall, as Figure 1B illustrates.
Figure 1B
Total metropolitan bus boardings by year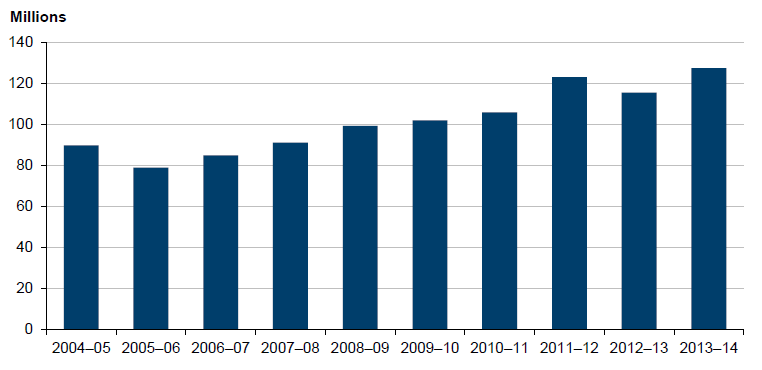 Source: Victorian Auditor-General's Office from information provided by Public Transport Victoria.
1.1.2 Overview of Victoria's bus industry
Melbourne's bus network is extensive—it consists of more than 300 routes covering over 5 500 kilometres, and is serviced by approximately 1 700 buses. The arrangements underpinning the delivery of these services are set out in:
27 private contracts with 11 operators established in 2008, covering around 70 per cent of bus services
a contract established in 2013 with a single operator, covering roughly 30 per cent of services—this contract is the Melbourne Metropolitan Bus Franchise (MMBF) agreement.
In 2013–14, bus services were the second largest transport expenditure for the state. As Figure 1C shows, 26 per cent, or around $0.6 billion, of the total paid to transport service providers was for operational payments to metropolitan bus service providers.
Figure 1C
Payments to transport service providers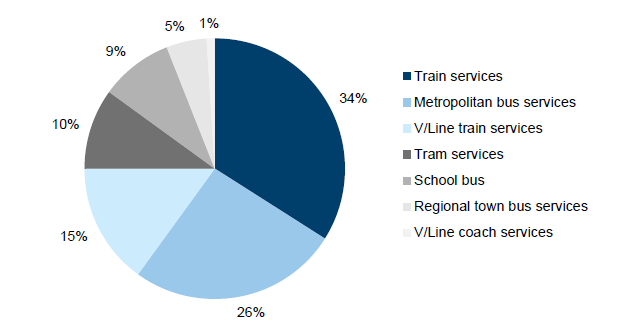 Source: Victorian Auditor-General's Office from information provided by Public Transport Victoria.
1.1.3 Evolution of Victoria's bus industry
Private operators
From 1869 to 1974, bus services were provided by private, self-funded companies which developed bus routes, determined their own schedules and fares, and bought bus depots and vehicles. In 1974, the government introduced regulated fares across the whole metropolitan public transport system and began subsidising bus operators. This marked the start of contractual relationships between government and bus operators.
Despite bus operators becoming increasingly financially dependent on state subsidies throughout the 1980s and 1990s, the bus industry retained the view that its history of private investment entitled it to exclusive rights to operate the routes they had developed. Accordingly, the industry disputes the government's right to competitively tender services. However, our 2009 report Melbourne's New Bus Contracts noted that the state does not accept this position. The issue has never been legally tested and remains a potential risk and barrier to reform.
The bus industry has not been exposed to the same open market competition as Melbourne's other public transport modes. Instead, contracts have historically been renewed by negotiating with incumbent operators only. Throughout the 1990s, successive reports by the then Industry Commission, the Victorian Commission of Audit and VAGO noted that these negotiated contracts lacked incentives for operators to minimise costs and improve services.
State established routes
In the early 1990s the state sought to increase bus services while setting conditions for future bus industry reform.
The state established and privatised two companies—the National Bus Company (NBC) and Melbourne Bus Link (MBL)—to run new bus services independent of the private operators. As the private operators could not claim the same historic ownership rights over the routes they operated, the state had more control over the related procurement and contracting decisions.
Further additional routes—the SmartBus orbital routes—were established by the state in 2006 under an interim contract with the former Department of Transport, with the intention of offering the routes to tender in December 2012.
2008 bus contracts
On 1 July 2008, 29 metropolitan bus contracts came into effect. These were established through negotiation with the incumbent operators and fell into the following two categories:
Two contracts covering around 30 per cent of services were let to NBC and MBL for a five-year term, from 1 July 2008 to 30 June 2013. These were interim arrangements, allowing the state time to run an open tender to establish successor operators. The services covered by these contracts are now part of the MMBF.
27 contracts for the remaining 70 per cent of services were let to existing private operators. These were established for a term of seven years, from 1 July 2008 to 30 June 2015, with an embedded right to extend a further three years to 2018.
The 27 contracts for the remaining 70 per cent of services are traditional fee‑for‑service style arrangements, with fixed routes and limited incentives or penalties available to encourage performance improvements or innovation. This has not changed significantly since the late 1980s.
1.1.4 Previous audits of Melbourne's bus services
Previous VAGO audits in 2009, 2012, 2013 and 2014 have highlighted ongoing challenges with the delivery and performance of Melbourne's bus services.
This audit focused on the 27 private contracts, and found that while there were likely to be significant gains from the new contracts, the state had not fully achieved its procurement objectives.
The key areas identified where the new contract regime failed to deliver on the procurement objectives include:
an absence of competitive tendering
no right to tender existing local services and no agreement to tender at the end of contract
limited access to strategic assets for government
no rights over existing local bus services assets
no access to operators' financial data and open book access for most operators.
The audit also found the operational performance regime for bus services needed to be strengthened to provide greater assurance about the on-time running of buses.
This audit examined the performance of public bus, tram and train services across Victoria and found that the former Department of Transport was not prepared for the rapid growth in public transport patronage between 2004 and 2009.
The audit also found that information for measuring bus performance fell short of expectations for sufficiency and reliability. While the department introduced a rolling program of audits of contractual compliance for metropolitan buses, it had not implemented VAGO's 2009 recommendation to use its contractual rights to examine and verify operators' records of on-time running.
This audit assessed the effectiveness of state agencies in planning and delivering transport infrastructure and services for population growth areas. It examined whether planning effectively identified current and future transport needs, and whether implementation and funding strategies supported the timely delivery of required transport infrastructure and services.
The audit found that residents in growth areas generally have less frequent and direct bus services compared to those in metropolitan Melbourne. It also noted that significant investment of more than $10 billion is required to address the current infrastructure and service backlog, and additional recurrent funding of $197 million per year is needed to improve bus services across metropolitan Melbourne.
This audit examined how well Public Transport Victoria (PTV) is managing the coordination of trams, trains and buses, and specifically how its activities and existing contractual arrangements support the achievement of seamless travel within and between different modes.
The audit found that many of Melbourne's bus routes currently have long wait times, indirect routes and do not operate on schedules designed to harmonise well with the rail network or other bus routes. This reduces their usefulness for commuters and impedes patronage growth.
The audit also highlighted that the limitations with the tracking technology used on most buses mean that PTV is highly reliant on self-reporting by operators for determining penalties and other incentive payments. The absence of robust performance information and heavy reliance on self-reporting by bus operators means it is not possible to reliably use financial incentives to improve bus services.
1.2 Melbourne Metropolitan Bus Franchise
The MMBF consists of:
41 routes servicing the eastern suburbs and Melbourne CBD, plus approximately 107 school special services
nine routes servicing the western suburbs, south eastern suburbs and the Melbourne CBD, plus approximately 15 school special services
three SmartBus orbital services, which are premium cross-town bus services linking radial train lines and key activity areas in Melbourne's middle and outer suburbs.
1.2.1 Key features and benefits
A key feature of the MMBF is the performance-based incentives included in the franchise agreement, similar to those used for tram and train services. The MMBF contract incorporates financial incentives and penalties linked to key performance targets, designed to improve services and patronage performance.
The expected benefits of the MMBF agreement include:
improved public transport coordination through timetable changes
timetable and route changes to better meet customer needs
enabling the MMBF network to evolve with community demands
improved communication with customers.
These benefits were expected to be realised in two stages:
Between the commencement of the contract in August 2013 and April 2015, the new operator was expected to develop an understanding of the MMBF business and customers, and to develop changes intended to improve the business model and customer experience.
From April 2015 more significant changes are expected when the operator's rebuilt timetable takes effect. This is expected to result in improvements in punctuality, patronage, and coordination with other public transport modes.
1.2.2 Reform agenda
In approving the open tender for the MMBF in September 2011, the then government also approved a reform agenda and determined that it would consider MMBF as having achieved value if it:
reduced costs for the state
delivered improved services for more customers
progressed reform of the bus industry.
Figure 1D summarises the main priorities of the reform agenda.
Figure 1D
Key reform agenda priorities
Establishing incentive-based contracts to improve coordination of the public transport network and promote continuous service improvement through incentive and penalty regimes.
Increasing value for money through the introduction of restructured contracts, which are more aligned with train and tram contracts, to drive improved service delivery and customer experience.
Driving innovation through the procurement process by encouraging operators to submit proposals focused on improving services—including timetabling, routes, safety, staff training and the customer experience.
Improving risk sharing by introducing clearer incentives to grow patronage, innovate and share the risk of depot development and management.
Including step-in rights and end of term provisions in new contracts in the event of operator non-performance to provide clarity on the arrangements for procuring and transferring assets at the end of the contract term.
Increasing transparency by collecting financial and operational information to allow the state to better understand where productivity gains can be made, and to monitor the sustainability of the contracts.
Source: Victorian Auditor-General's Office.
These reform priorities were reflected in the MMBF agreement, making it fundamentally different to any other contracting arrangement within Melbourne's bus network. It contains a suite of incentives and penalties designed around performance targets—including reliability, punctuality, patronage growth and customer satisfaction. It also gives the operator flexibility to design and propose route changes in collaboration with PTV, and requires the operator to review all routes and do a total rebuild of the current bus timetable—known as a Greenfields timetable—in 2015.
These reforms are intended to establish an environment for wider reforms when the contracts for the remaining 70 per cent of services expire in 2018.
1.2.3 Objectives and outcome of the tender
The MMBF agreement was awarded through a competitive open tender process, referred to as the Metropolitan Bus Services Project (MBSP). This process was expected to reduce the cost to the state and increase competition in Melbourne's bus market.
The MBSP had the following objectives:
to encourage sustainable competition in the provision of services
to establish new contracts that:

provide safe, integrated, accessible and reliable services
support the efficient operation of passenger transport services
promote innovation in the delivery of services
provide value for money.
The open tender process for the MMBF was approved in September 2011 and on 26 April 2013 the government announced the chosen operator.
The MMBF agreement became operational in August 2013. It is worth approximately $1.718 billion in nominal terms over 10 years and comprises 50 bus routes, 100 school special routes, 504 buses and around 1 000 drivers operating from seven depots across Melbourne.
1.3 Roles and responsibilities
Public Transport Victoria
PTV became operational in April 2012. Its primary objective is to plan, coordinate, provide, operate and maintain a safe, punctual, reliable and clean public transport system. PTV's core functions include managing ongoing network improvements, planning for future public transport needs and ensuring public funds are spent prudently and efficiently.
PTV oversees public transport operators who are responsible for the day-to-day operation of services and, subject to PTV's specifications, for improving scheduling to support better connectivity between transport modes.
PTV is responsible for planning, tendering, negotiating and managing all bus service contracts. While PTV was responsible for managing the MMBF procurement process, initial planning occurred prior to its creation, and was the former Department of Transport's responsibility.
The Department of Economic Development, Jobs, Transport and Resources
The MBSP was initiated by the former Department of Transport in April 2009, now incorporated within the Transport Division of the Department of Economic Development, Job, Transport and Resources (DEDJTR). However, when PTV became operational in April 2012, most of the staff in the public transport division transferred to PTV along with responsibility for MBSP.
DEDJTR is currently part of a bus services reform joint working group with PTV. This group is responsible for formulating plans on the future of bus services, contractual and legislative issues, options for dealing with expiring contracts, and any other elements of reform.
The Department of Treasury and Finance
The MMBF was designated a complex procurement and was therefore subject to additional oversight from the Department of Treasury and Finance (DTF) and the Treasurer under the High Value High Risk framework. DTF worked with PTV in trying to achieve value for money procurement outcomes at both the working group and steering committee level.
1.4 Audit objectives and scope
This audit examined whether the state has effectively secured value for money from the new MMBF arrangements by assessing whether:
the project to establish the MMBF was based on sound planning and was conducted in accordance with purchasing, probity and ethical conduct requirements and guidelines
management of the franchise agreement is delivering value for money and improved performance.
The audit also examined whether appropriate planning to optimise value for money in future metropolitan bus contracts is underway, including progress on implementing the lessons learned from the MMBF procurement.
The audit includes PTV, DEDJTR and DTF due to their involvement in the MMBF procurement process and future bus contract planning.
1.5 Audit method and cost
The audit involved:
desktop research
consultation with agencies and stakeholders
qualitative evaluation against best practice principles.
The audit was performed in accordance with the Australian Auditing and Assurance Standards. Pursuant to section 20(3) of the Audit Act 1994, unless otherwise indicated, any persons named in this report are not the subject of adverse comment or opinion.
The total cost of the audit was $475 000.
1.6 Structure of the report
The report is structured in the following parts:
Part 2 discusses the performance of the MMBF
Part 3 discusses the tendering process
Part 4 discusses the adequacy of contract management of the agreement.