Victoria's Consumer Protection Framework for Building Construction
1.1 Introduction
Domestic building is a significant area of economic activity. In 2013–14, over 101 000 permits were issued for building works in Victoria with an estimated value of more than $25.3 billion. Domestic building work made up around 82 per cent of all permits and accounted for half of this value.
For individual consumers, the construction or renovation of a house is often the single largest investment in their lifetime. They may be ill-equipped to resolve building quality or contractual issues that may arise. The process of seeking to resolve such issues can be confusing, long and expensive and, for some consumers, can have serious financial and personal consequences. As a result, a robust consumer protection framework is important to minimise these potential adverse consequences.
A significant number of Victorian consumers experience problems with domestic building. Research published by Consumer Affairs Victoria (CAV) in 2009 estimated that 16 per cent of consumers in the Victorian domestic building market sector experienced problems. This sector had the highest proportion of consumers reporting detriment across all market sectors. More recently, the Commonwealth and state Governments' 2011 Australian Consumer Survey report indicated that 28 per cent of consumers in Australia had experienced a problem related to building or renovating—with the most common problem reported, accounting for 63 per cent, being poor workmanship.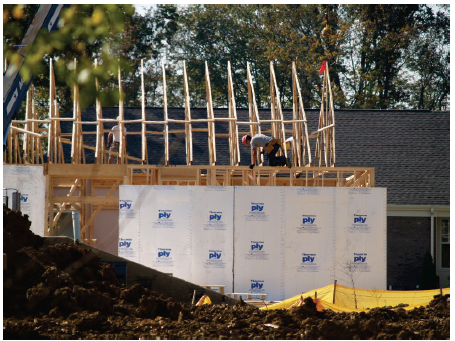 Victoria's current building consumer protection framework has been in place and largely unchanged since 2002. In addition to general consumer protection laws, the framework consists of the building practitioner registration system, building regulations, practitioner discipline system, a dispute conciliation service, access to the Victorian Civil and Administrative Tribunal (VCAT) and a 'last resort' mandatory insurance scheme.
Successive governments have acknowledged that consumer protection policies in domestic building have not provided adequate protection for consumers. A series of reviews, inquiries and audits since 2000 have identified weaknesses in both the design and implementation of the current consumer protection framework. While the previous government initiated a reform process to address weaknesses in the framework to improve the level of protection for consumers, those reforms were not enacted and it is unclear at this stage what reforms, if any, will progress.
The Victorian Competition and Efficiency Commission's 2005 inquiry into Housing regulation in Victoria: building better outcomes identified the importance of an effective consumer protection regime for building construction in Victoria. It noted that while most markets feature information asymmetries—where information is known to some people but not others—these are 'relatively more significant for housing construction markets'. The reasons for this include:
the long-lived nature of housing means that flaws may only become apparent years after construction is complete
consumers are infrequent purchasers of building services and so lack the experience to monitor the quality and cost of work
consumers are not well qualified to compare the quality and cost of building services from different suppliers
many decisions about houses involve technical considerations and are therefore made by builders rather than consumers.
The Victorian Competition and Efficiency Commission highlighted the important role that government intervention and effective regulation could play in addressing the potential costs, equity issues and significance of market failures in housing construction.
1.2 The framework and key agencies
The building consumer protection framework comprises protections aimed at:
preventing disputes from arising, and limiting the time taken and cost to resolve those disputes where they do arise
providing a safety net for consumers, where there is no longer a builder to pursue, for a structural defect or for non-completion of the building project.1
This framework is established by legislation which sets out roles and responsibilities for a number of government agencies.
1Victorian Domestic Building Consumer Protection Framework Public consultation paper April 2012
1.2.1 Agency roles and responsibilities
The current building consumer protection framework involves a range of entities with functions extending from protections, including the registration and monitoring of building practitioners, to dispute handling and the provision of domestic building insurance (DBI).
Victorian Building Authority (successor to the Building Commission)
Amendments to the Building Act 1993 (the Act) established the Victorian Building Authority (VBA) on 1 July 2013 as the statutory agency responsible for regulating the state's building and plumbing industries. These amendments integrated functions of the former Building Commission and Plumbing Industry Commission into VBA.
VBA's functions most relevant to consumer protection include:
monitoring and enforcing compliance with the Act and the Building Regulations 2006 (the Regulations)
providing information—including to consumers—on matters relating to:

building standards and plumbing standards
the regulation of buildings, building work and building practitioners

providing information and training to assist people and bodies to carry out functions under the Act and the Regulations
promoting the resolution of consumer complaints
conducting or promoting research relating to the regulation of the building and plumbing industries in Victoria
monitoring the collection of the building permit levy and administering the VBA Fund.
VBA's functions are funded by consumers through a levy on building permits, registration fees paid by practitioners and fines and costs levied through the practitioner discipline system. In 2013–14 the total permit levy collected was $24.5 million. Around $8 million of this levy income was paid to CAV to fund its domestic building activities.
Building Practitioners Board
The Building Practitioners Board (BPB) is an independent statutory body established under the Act. It administers the practitioner registration and discipline systems and monitors the conduct and ability of registered building practitioners. This role is critical to maintaining the quality and performance of practitioners in the building industry.
BPB has no independent dedicated staff or resources. VBA provides administrative and other support to BPB in the performance of its functions.
Building Appeals Board
The Building Appeals Board (BAB) is an independent statutory body established under the Act. BAB is empowered to determine any matter relating to the Regulations, the Building Code of Australia and specified provisions of the Act.
Specifically, BAB hears appeals and disputes in relation to building control matters and can waive, modify or vary the provisions of particular regulations based on the particular case.
Before July 2013, BAB was also the forum for reviewing BPB's decisions. This function was transferred to VCAT under amendments to the Act.
Local government
Under the Act, councils are responsible for the administration and enforcement of Parts 3, 4, 5, 7 and 8 and the Regulations within their municipal district.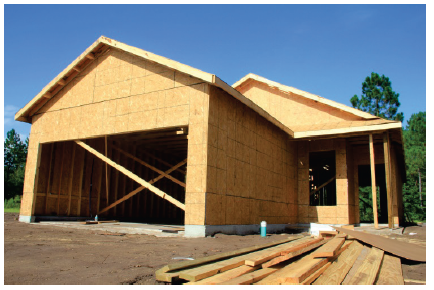 Consumer Affairs Victoria
CAV is the state's consumer affairs regulator. At 30 June 2014, CAV was responsible for administering 29 Acts of Parliament. CAV's role is to:
review and advise the government on the consumer protection framework
provide information and advice to consumers, tenants, businesses and landlords on their rights, responsibilities and changes to relevant laws
register and license businesses and occupations
enforce and ensure compliance.
CAV aims to assist Victorian builders, owner-builders and consumers to avoid home building disputes by providing information about domestic building contracts and through its compliance activities, including the Better Business Initiative. It aims to assist consumers and builders to work together to solve building disputes. Its services include advice and conciliation.
CAV has administrative responsibility for the Domestic Building Contracts Act 1995 (the DBCA). The objects of the DBCA are to:
provide for the maintenance of proper standards in the carrying out of domestic building work in a way that is fair to both builders and building owners
enable disputes involving domestic building work to be resolved as quickly, as efficiently and as cheaply as is possible having regard to the needs of fairness
enable building owners to have access to insurance funds if building work under a major domestic building contract is incomplete or defective.
The DBCA provides for CAV's conciliation services in relation to domestic building disputes. CAV is constrained by the DBCA to only accept complaints or disputes for conciliation which are reasonably likely to be resolved. Under the DBCA, participation in conciliation is voluntary and CAV cannot enforce conciliation outcomes.
While the DBCA aims for timely low cost dispute resolution, in practice some building disputes are either not accepted for conciliation or not satisfactorily resolved through the conciliation process. In these cases the consumer or building practitioner's only remaining options are to pursue the matter through VCAT or court.
Victorian Civil and Administrative Tribunal
VCAT is established under the Victorian Civil and Administrative Tribunal Act 1998. It has two main areas of involvement in the framework:
a domestic building list for disputes between home owners, builders, subcontractors, architects, engineers and other building practitioners
hearing appeals of BPB's practitioner registration and disciplinary decisions.
Victorian Managed Insurance Authority
The Victorian Managed Insurance Authority (VMIA) is a statutory authority established by the Victorian Managed Insurance Authority Act 1996. VMIA assists government departments and agencies in the area of risk management and acts as an insurer for departments, agencies and related bodies.
DBI has been a mandatory feature of Victoria's consumer protection framework since 1996. The original DBI scheme was 'first resort', allowing consumers to lodge a claim regardless of their builder's status. In 2002, DBI was changed to a 'last resort' scheme to keep remaining insurers in the market following the collapse of the HIH insurance group.
VMIA has provided DBI since mid-2010 in accordance with a direction from government. DBI is an important part of the building consumer protection framework. The Act requires that building practitioners must be eligible for DBI to gain registration and must possess DBI cover when undertaking domestic building works over $16 000 in value.
The Essential Services Commission monitors the VMIA's pricing and performance in delivering DBI, and reports on these publicly and to the Minister for Finance.
Department of Treasury and Finance
Department of Treasury and Finance led the development of the government's 2013 Domestic Building Consumer Protection Reform Strategy.
Department of Treasury and Finance also supports and provides advice to the Minister for Finance on his portfolio responsibilities including for insurance policy.
Department of Environment, Land, Water & Planning
The Department of Environment, Land, Water & Planning (DELWP) is responsible for providing advice to the Minister for Planning on building and plumbing policy, legislation, regulation and standards. This includes working with portfolio agencies, industry bodies and other stakeholders. Through the machinery-of-government changes effective 1 January 2015, DELWP became responsible for building policy and legislation in Victoria. Previously it was the responsibility of Department of Transport, Planning and Local Infrastructure (and formerly the Department of Planning and Community Development).
1.2.2 Operation of the framework
Figure 1A shows the steps that a consumer who is not an owner-builder follows when undertaking building work under the current building consumer protection framework.
The key consumer protections under the current framework are:
the contractual protections and statutory checks protecting consumers against faulty or incomplete work—critical to the effectiveness of these protections are:

consumers understanding their rights and the terms and implications of the contracts they sign
builders applying the skills and required financial resources to complete works as intended and to applicable standards
building surveyors properly reviewing works and taking appropriate action to have faults addressed

complaint handling and dispute resolution processes, where it is critical that:

consumers understand how to pursue and resolve a claim
dispute resolution is capable of reaching a fair outcome
regulatory and professional bodies are able to detect and address poor practices by surveyors and builders
insurance is effectively and efficiently applied where the builder is dead, has disappeared or is insolvent.
Figure 1A
Domestic building process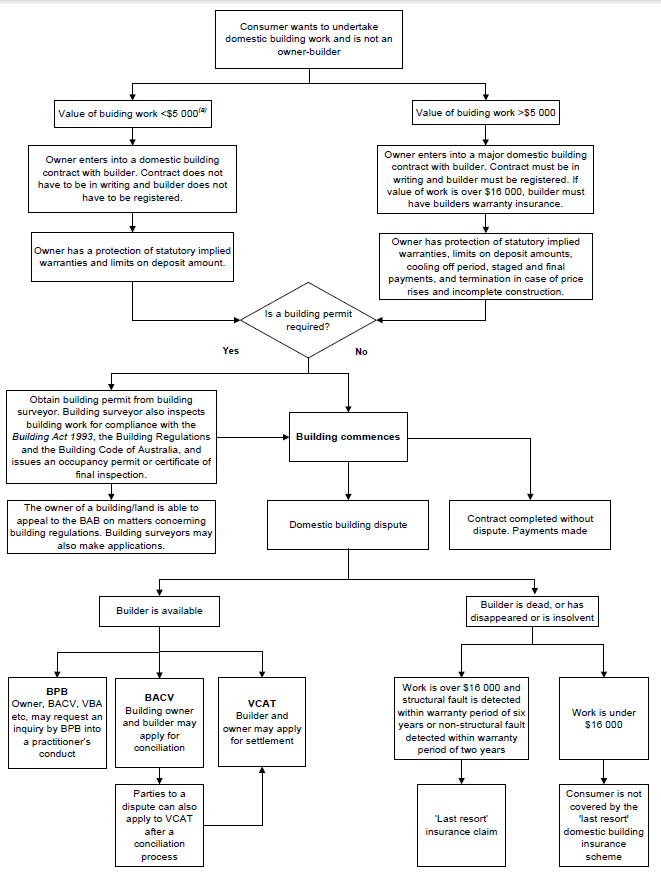 (a) The exceptions to this are the re-blocking or restumping of a home, or the demolition or removal of a home. These must be performed by a registered practitioner regardless of value.
Note: BACV is Building Advice and Conciliation Victoria, which is part of CAV.
Source: Victorian Auditor-General's Office.
Figure 1B shows the complex and multiple entry points and pathways for consumers wishing to have a concern or dispute with a building practitioner resolved under the current building consumer protection framework.
Figure 1B
Pathways for domestic building disputes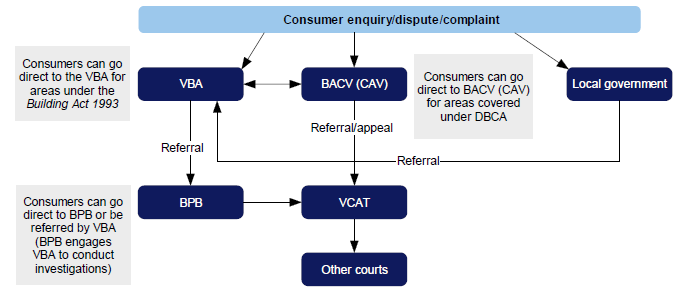 Source: Victorian Auditor-General's Office based on a presentation by the former Building Commission to the Legislative Council's Standing Committee on Finance and Public Administration's Inquiry into Builders Warranty Insurance in April 2010.
A key aim of the May 2013 proposed Victorian Domestic Building Consumer Protection Reform Strategy was to set up VBA as the one-stop-shop for registering practitioners, monitoring and overseeing the industry—including disciplinary activity—providing consumer information and preventing and resolving disputes. The reforms proposed that VBA would assume Building Advice and Conciliation Victoria's current conciliation functions and the functions of BPB which was to be abolished. These reforms included the establishment of VBA, however, they were not completed.
1.2.3 Previous reviews of the framework
Since 2000 a number of reviews, inquiries and audits have identified weaknesses in both the design and implementation of the building consumer protection framework in the following areas:
the robustness and integrity of the system and processes for registering building practitioners
the adequacy of practitioner compliance monitoring
a lack of cohesion and accountability in the operation of the framework
the extent to which consumers understand and are protected by DBI
a lack of focus on measuring the performance and effectiveness of regulatory and other activities.
VAGO's performance audit of the building control system, Building control in Victoria: Setting sound foundations, 2000
This audit found:
weaknesses in the then Building Control Commission's monitoring—including its identification of building control risks and targeting of monitoring and enforcement activities
a need to improve the rigour and suitability of registration and renewal processes
that the Building Control Commission lacked a framework to measure its effectiveness
the BPB was constrained in fulfilling its legislative responsibility to monitor the conduct and ability of building practitioners to practise, due to a lack of resources.
Victorian Competition and Efficiency Commission's inquiry into Housing regulation in Victoria: building better outcomes, 2005
The inquiry found:
significant opportunity for improvement, particularly in establishing a more closely defined regulatory environment and improved performance reporting to enhance transparency and accountability
a need for the then Building Commission to improve its performance reporting and a recommended that it publish the rationale behind its monitoring and enforcement strategy and performance indicators.
Legislative Council Standing Committee on Finance and Public Administration Inquiry into Builders Warranty Insurance, 2010
The inquiry found:
that government policy on builders' warranty insurance had developed primarily in reaction to market conditions since 2002 with inadequate consultation with consumer interests and insufficient regard to the aim of the scheme—consumer protection
it was too early to determine the impact of the government's reforms to builders' warranty insurance in 2010—the reforms had not yet addressed consumer complaints about the 'last resort' nature of the scheme
first and 'last resort' schemes both require consumers to try to resolve problems directly with builders in the first instance—if the consumer is unsuccessful, 'last resort' schemes only become involved in limited circumstances such as the death, insolvency or disappearance of the builder, whereas first resort schemes can assist unsuccessful consumers even when the builder is still trading
administration of Victoria's builders' warranty insurance scheme, and consumer protection in the building industry generally, was fragmented and poorly coordinated
poor accountability and transparency measures, along with reports of enforcement inaction and poor handling of consumer complaints, were adding to concern about Victoria's builders' warranty insurance scheme.
VAGO's performance audit Compliance with Building Permits, December 2011
This audit found:
the then Building Commission could not demonstrate that the building permit system was working effectively or that building surveyors were effectively discharging their role to uphold and enforce minimum building and safety standards
results of testing a sample of building permits revealed a system marked by confusion and inadequate practice—including a lack of transparency and accountability for decisions made
the absence of leadership, guidance and rigorous scrutiny from the commission meant councils adopted a largely reactive approach to enforcing the Act that offered little assurance of compliance within their municipalities
there was little assurance that surveyors carried out their work competently, that the Act was being complied with, and the risk of injury or damage to any person was being minimised
the BPB's assessment process for registering building surveyors was not well documented, nor supported by clear criteria and standards—gaps in guidance and documentation reduced accountability for decisions and did not provide assurance that assessments were soundly based.
Ombudsman Victoria, Own motion investigation into the governance and administration of the Victorian Building Commission, December 2012
The Ombudsman found:
concerns with the vulnerability, integrity and administration of the registration system for building practitioners overseen by the BPB with administrative support from the then Building Commission
BPB's lack of rigour or proper oversight of the building practitioner registration system created risk and opportunities for maladministration and misconduct to occur—this included registration as a licensed builder being given to people who failed parts of the competency assessment, and others being registered without having to sit assessment tests
particular concerns with the conduct of the former Registrar of BPB who failed to declare business interests in the industry and approved applications for people he knew
significant questionable spending by commission executives on entertainment, hospitality and sponsoring industry bodies' events and awards
recruitment practices involving both contractors and internal staff that were in breach of the then Building Commission's policies and government procurement guidelines.
1.2.4 Victorian Domestic Building Consumer Protection Reform Strategy
Following a public consultation process in 2012, the government responded to weaknesses in the current framework by releasing the Victorian Domestic Building Consumer Protection Reform Strategy in May 2013.
The strategy acknowledged that the current framework provides only modest levels of protection for consumers and has significant gaps and opportunities for improvement in relation to:
practitioner registration, licensing and re-registration standards
the need to extend the scope of regulation beyond individual practitioners to corporations and partnerships
the regulator's disciplinary powers
the absence of binding rectification orders where building works are assessed as defective
oversight of building surveyors and the building permit system
the range, depth and accessibility of consumer information including information on building practitioners' disciplinary history
the extent of protection provided by DBI.
The aim of the strategy was to address these issues and reduce the number of building disputes, and, where they do arise, to help them be resolved quickly, fairly and cost efficiently. The strategy proposed significant changes to administrative arrangements for regulation and oversight of the building sector.
While extensive, the reform strategy did not fully address the key issues with the current domestic building consumer protection framework identified in previous reviews and submissions to the reform process, including the:
effect of having non-mandatory conciliation on the capacity for early resolution of building disputes
conflicts of interest for private building surveyors between performing their statutory roles and their business interests.
Implementation of the reform strategy commenced in 2013 with stage 1 involving the establishment of VBA on 1 July 2013. Since the December 2011 VAGO report, the former Building Commission and VBA have had five chief executive officers with the first stable leadership team being established by VBA in April 2014.
The most significant of the stage 2 reforms relied on the Building Legislation Amendment Bill 2014 which sought to enable:
the transfer and enhancement of functions and powers from BPB, BAB and CAV to VBA to create a one-stop-shop for the registration and oversight of building practitioners
provision of additional consumer information
additional mechanisms to resolve domestic building disputes, including giving VBA the power to issue binding rectification orders to parties where building work is assessed as defective or incomplete by a VBA inspector
the extension of the triggers for access to domestic building insurance.
This Bill did not proceed through Parliament in 2014. The new government is yet to announce whether it will pursue or re-examine these reforms.
1.3 Audit objective and scope
The audit objective was to assess whether key elements of the current domestic building consumer protection framework are effectively managed by relevant entities. To do this we examined whether:
VBA, BPB and CAV are performing existing functions and using powers effectively
VMIA's provision of domestic building insurance is effectively and economically managed.
This audit included the following relevant departments, agencies and statutory boards:
Victorian Building Authority
Building Practitioners Board
Building Appeals Board
Consumer Affairs Victoria
Department of Environment, Land, Water & Planning
Victorian Managed Insurance Authority
Essential Services Commission
Department of Treasury and Finance.
The audit examined relevant organisational arrangements and priorities, and evidence on how current responsibilities are met, measured and reported on.
1.4 Audit method and cost
The audit involved:
desktop research and interviews with relevant departmental and agency staff, members of statutory boards, consumers and practitioners
examination of relevant policy and procedure documents
document and file reviews and analysis of sampled registrations, monitoring and enforcement activity, disciplinary reviews, consumer complaints, records of outcomes of disputes, etc.
examination of any other relevant evidence held by departments, agencies and statutory boards
examination of consumer correspondence.
The report includes quotes taken from correspondence received by the Auditor‑General from domestic building consumers. These quotes are included for illustrative purposes only and individual cases were not investigated as part of the audit.
The audit was performed in accordance with the Australian Auditing and Assurance Standards. Pursuant to section 20(3) of the Audit Act 1994, unless otherwise indicated, any persons named in this report are not the subject of adverse comment or opinion.
The total cost of the audit was $595 000.
1.5 Structure of the report
The report is structured as follows:
Part 2 examines the registration, monitoring and discipline of building practitioners where the effectiveness of these processes underpin the contractual protections and statutory checks by building surveyors designed to prevent disputes
Part 3 assesses CAV's role in preventing and resolving disputes by educating consumers about their rights and obligations, managing complaints and conciliating disputes, undertaking compliance and enforcement activities, and advising government on how best to achieve its policy goals
Part 4 examines the effectiveness and efficiency of the domestic building insurance scheme.