Victoria's Consumer Protection Framework for Building Construction
3 Consumer education and dispute handling
At a glance
Background
Consumer Affairs Victoria (CAV) manages key parts of Victoria's consumer protection framework for domestic building. It provides education and information, undertakes conciliation, compliance activities such as the Better Business Initiative and enforcement action under the Domestic Building Contracts Act 1995. The Victorian Building Authority (VBA) receives complaints relating to the Building Act 1993 and undertakes inspections of domestic building works, which support Victorian Civil and Administrative Tribunal hearings.
Conclusion
CAV's building conciliation and dispute resolution functions provide limited consumer protection because CAV is unable to compel parties to undergo conciliation or enforce compliance with the negotiated outcomes. CAV and VBA do not adequately measure performance which means their effectiveness is not clear. CAV, VBA and the Building Practitioners Board do not effectively coordinate education and information to better assist consumers.
Findings
The effectiveness of CAV's conciliation service is limited by its inability to make participation mandatory and to issue binding rectification orders.
CAV does not have relevant and appropriate performance measures and robust evaluation methods to determine the effectiveness of its activities.
CAV has consistently briefed government on potential framework and legislative improvements.
CAV and VBA could improve their information sharing, although steps have recently been taken to address this.
Recommendation
That Consumer Affairs Victoria reviews its dispute resolution and conciliation activities and advises government on options to improve their effectiveness.
3.1 Introduction
Consumers need to understand the domestic building system to make well-informed choices when choosing a practitioner, entering a building contract, and exercising their rights.
Consumer Affairs Victoria's (CAV) stated purpose is to help Victorians to be responsible and informed businesses and consumers. CAV's domestic building related functions are funded by consumers through the building levy, which it uses to fund a number of activities including:
receiving and assessing complaints
providing advice and conciliation services
education and information programs for consumers and businesses
compliance, enforcement and prosecution.
CAV also supports and provides advice to the Minister for Consumer Affairs in administering and reviewing the Domestic Building Contracts Act 1995 (DBCA) which regulates domestic building work and provides for dispute resolution and domestic building insurance.
CAV has a role under the DBCA to receive complaints. While other bodies also accept building related complaints, CAV receives a much higher volume of complaints from consumers, which reflects its status as the state's consumer protection regulator.
Building Advice and Conciliation Victoria (BACV) conducts conciliations to resolve domestic building disputes. BACV is a division of CAV, jointly provided with the Victorian Building Authority (VBA) under a memorandum of understanding (MOU) between both organisations. It accepts complex or higher-value complaints for conciliation, provided there is a 'reasonable likelihood' of resolution, as required by the DBCA.
3.2 Conclusion
CAV's building conciliation and dispute resolution function does not provide consumer protection because CAV is unable to compel parties to undergo conciliation or enforce compliance.
There is a lack of relevant and appropriate performance measures for both CAV and VBA's activities. Both VBA and CAV's functions are not well understood and are perceived as ineffective. Due to a lack of performance measurement, neither organisation fully understands the extent of this issue.
There is insufficient coordination and information sharing between CAV and VBA which means that despite the large volume of education and information provided, consumers may not always find the relevant information. CAV, VBA and the Building Practitioners Board (BPB) should more actively promote the disciplinary register and other tools that can assist in informing consumers and reducing consumer detriment.
Until recently, VBA had not addressed any of VAGO's 2011 audit recommendations. While VBA has recently introduced a new framework to handle complaints and to manage its investigations, it is too early to assess its effectiveness.
While CAV should improve its information, coordination and performance measurement, it has consistently provided advice to government and departmental heads about potential improvements to the consumer protection framework.
3.3 CAV's role
As part of its role, CAV is responsible for advising the Minister for Consumer Affairs on the DBCA. The objectives of the DBCA are to:
provide for the maintenance of proper standards in the carrying out of domestic building work in a way that is fair to both builders and building owners
enable disputes involving domestic building work to be resolved as quickly, efficiently and cheaply as is possible having regard to the needs of fairness
enable building owners to have access to insurance funds if building work under a major domestic building contract is incomplete or defective.
In practice, the DBCA limits CAV's ability to balance consumer and practitioner needs, and limits its capacity to achieve the legislative objectives of the DBCA.
Under the DBCA, CAV is unable to mandate conciliation or enforce any outcomes. CAV has consistently briefed the minister and departmental heads on the need for mandatory conciliation and the power to issue binding rectification orders. This suggests it is proactively advising government on potential improvements to the system. CAV has taken positive steps to address these limitations by including a focus on education, information and compliance activities such as the Better Business Initiative (BBI) that aim to reduce noncompliance before it occurs.
Section 43D of the DBCA gives CAV the power to institute proceedings on behalf of a building owner in a domestic building dispute. CAV uses this power to issue enforcement letters and instigate court proceedings at its discretion, although the rate at which it does this has declined significantly over the past five years. In 2014, CAV instigated court actions in one case where it alleged breaches of the DBCA and Australian Consumer Law (ACL). The number of court actions has declined from 13 in 2009–10, to 10 in 2010–11, seven in 2011–12, and four in 2012–13. According to CAV, this decline is the result of the proposed transitioning of dispute resolution and conciliation functions to VBA as per the former government's policy. As of 2015, CAV will retain these functions following the change of government.
Domestic building activities at CAV are funded by consumers through the building levy, which VBA collects as part of the building permit application process. CAV's Trust Fund Governance Committee provides advice and recommendations to the Director CAV, who is responsible for managing these funds in accordance with CAV's Trust Funds Investment Policy. These funds were valued at $10.346 million at July 2014. According to the Trust Funds Investment Policy, the fund is to be used to carry out CAV's objectives.
3.4 Consumer education and understanding
Some consumers are confused about the options for resolving their building construction issues, relevant processes and the role of relevant agencies. Addressing these misunderstandings is critical to reducing consumer detriment. Briefings by CAV to departmental heads and government support this finding.
Previous reviews, audits and correspondence from consumers received by the Auditor‑General indicate that consumers are both surprised and disappointed by the limited powers of regulatory agencies. The Victorian Domestic Building Consumer Protection Framework Public Consultation Paper April 2012 also noted that there was 'scope to improve consumer awareness of available information'. For example, BACV can assist in negotiating an outcome between a consumer and practitioner, but neither BACV nor VBA can compel a practitioner to rectify defective work. However, consumers are not always aware of this:
'The items on the report remained defective and the builder simply walked away—what are we supposed to do when the report states 'Neither the VBA nor the inspector can direct the builder to carry out the rectification work'.'
'Why have all these government departments and guidelines if consumer affairs and the VBA can't enforce what is written?'
Consumers appear confused about the role of some agencies in the framework. For example, the BPB inquiry and sanction functions are entirely disciplinary in nature. It has no power to provide restitution to consumers. Consumer correspondence to the Auditor-General suggests this is not well understood:
'The end result once the inspection report was submitted was that the builder responded not to us (as we were expecting) but to the BPB. Now this is the confusing part. The BPB does not pay for this home's mortgage or live here. We do!'
3.4.1 Agency roles
It is unclear whether CAV and VBA's education and information services are effective because there is insufficient coordination and cross-referencing of performance measures that measure consumer awareness of these services.
CAV, VBA and BPB provide consumer education and information mainly online though their respective websites:
CAV provides education, advice and resources to assist consumers in planning and managing a building contract.
VBA provides a range of technical resources for consumers, including fact sheets on specific problems such as termites.
BPB maintains the disciplinary register, which currently has 387 building practitioners listed, and is accessible through VBA's website.
BPB's disciplinary register is difficult to locate on VBA's website, and it is not linked to CAV or VBA. Similarly, while VBA provides some suggestions to consumers about domestic building contracts on its 'contracts' webpage, it doesn't mention CAV's provision of a model contract for consumers and provides a link only to its homepage, not directly to CAV's contract assistance pages.
All agencies should make links to the register and model contract more prominent on their websites and as part of information and education tools to alert consumers to practitioners who have previously engaged in misconduct.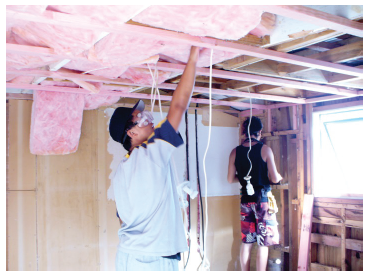 3.4.2 CAV's consumer education services
CAV focuses its consumer education services on preventing disputes by educating consumers on their rights and responsibilities. CAV's resources and services for consumers include:
information designed to assist them in seeking quotes, choosing a builder and managing their contract
checklists to guide them through entering a domestic building contract
complaint forms
social media communications and advertisements to inform them of CAV services should the need arise.
Since at least 2007, CAV has repeatedly briefed government that it believes that some industry contracts were biased in favour of industry with unfair contract terms, which breached the DBCA. As a result, CAV developed a model domestic building contract which it released in 2012.
All of these activities have the potential to reduce overall consumer detriment. However, CAV does not have performance measures for its consumer awareness or education and information services, which means the extent of their effectiveness is unclear. Despite this, its development of the model contract and associated checklists are positive steps, and its briefings on issues with industry contracts support its education activities.
3.5 Complaints and conciliation
The effectiveness of CAV's functions, and the extent of consumer protection they afford, is limited by CAV's inability to compel parties to participate in conciliation or enforce compliance with negotiated outcomes. This means that CAV cannot effectively protect consumers where both parties do not agree to conciliation. The remaining options for these consumers, such as Victorian Civil and Administrative Tribunal (VCAT), are expensive and may be out of reach. In addition, while CAV collects extensive data, it cannot demonstrate that it analyses or uses the bulk of this data to improve the efficiency or the effectiveness of its service, with the exception of BBI. This means it does not fully understand the impact or benefits derived from its conciliation service.
3.5.1 Accepting complaints
CAV's enquiries service is the first point of contact for consumers and building practitioners. CAV uses a triage approach to assessing complaints, and has detailed policies and procedures for complaints, Front Line Resolution (FLR) and conciliation, and has a BACV operating manual. CAV receives complaints and assesses them to determine suitability for conciliation, or whether a consumer should be referred to another body such as VBA or VCAT. CAV has a set of operating principles and a protocol with VBA for the referral of complaints under the MOU, which is detailed in Figure 3A.
Figure 3A
Operating principles and complaints handling under the MOU
| CAV | VBA |
| --- | --- |
| CAV is the first point of contact for all domestic building complaints | VBA accepts referrals from CAV relating to registration and technical matters |
| Solely technical matters will generally be referred by CAV to VBA | VBA has responsibility for solely technical matters |
| CAV will implement a triage approach to written complaints received |   |
| In the process of resolving written complaints, CAV provides conciliation services | VBA provides technical inspection services |
| Builders can access the complaint resolution service | VBA supports BPB to hear cases in relation to building practitioners |
| The parties will explore opportunities to work together onsite where appropriate, CAV will provide conciliators | The parties will explore opportunities to work together onsite where appropriate, VBA will provide technical inspectors |
| CAV provides information and education services to consumers and building practitioners in relation to the DBCA | VBA provides information and education in relation to registration and training |
Source: Victorian Auditor-General's Office.
Disputes that are not complex are dealt with by CAV using FLR—typically provided over the phone. All complaints are triaged by the Evaluation and Assessment Team of CAV's Information and Disputes Service Centre. Higher value or complex complaints are then referred to the Trader Compliance Services Branch to be assessed for suitability for conciliation by BACV.
CAV's Conciliation Policy includes a set of criteria that it uses to assess complaints to determine their suitability for conciliation, which in summary include:
the complaint is within CAV's jurisdiction
there appears to be a breach of contractual rights or consumer legislation
CAV believes the complaint warrants involvement for consumer protection purposes and for the promotion of an informed and responsible marketplace
the consumer has made a reasonable attempt to resolve the dispute with the trader
the consumer has not breached the contract
the complaint is reasonably likely to be settled
VCAT or the courts have not already determined the matter and no case is pending.
Accepting a complaint is at CAV's discretion, and it may take into account any circumstances that suggest the dispute is unlikely to be settled, for example, if the builder is not able to be contacted. This approach is appropriate, given CAV's inability to compel parties to conciliate. However, there may be a gap between consumer expectations and CAV's approach.
CAV monitors the status of complaints undergoing FLR and those managed by BACV. It determines whether complaints should be referred to conciliation based on the level of financial or other individual consumer detriment, the frequency of the complaint amongst consumers and therefore the likelihood that establishing a resolution will assist other consumers, and the overall likelihood of resolution, which is a key legislative requirement. However, with the exception of the BBI, the lack of performance measures or evaluation associated with CAV's conciliation process means that its effectiveness is not known.
3.5.2 Conciliation process
Conciliation is a voluntary process, which means that in effect, there is no recourse to CAV if one party is unwilling or unable to participate. In these instances, CAV may advise a party to lodge a dispute at VCAT. However, seeking resolution of a building dispute through VCAT can be costly and time consuming:
'How are we to find the money to pay for an estimated 10-day hearing, which can cost $10 000 per day? Show me an average person who has a spare $100 000 in their back pocket to spend on fighting for something they've already paid for.'
CAV applies threshold criteria for undertaking conciliation and will do so only where there is a 'reasonable likelihood' of resolution, as required under the DBCA and in line with government policy. CAV's definition of resolution is 'where conciliation is commenced and an agreement between the parties is able to be reached... unless there is reason to believe the agreement may fall over or a follow up may be necessary'.
According to CAV, it will take on cases for conciliation where there is no breach of contractual rights, to assist in negotiating acceptable outcomes for consumers and building practitioners. This can include instances where there are customer management issues which lead to relationship breakdown. CAV should review this practice to determine whether it is the best approach to complaints where there is no breach of rights.
Conciliation may be undertaken by CAV even in the absence of a breach of consumer rights, and is therefore fundamentally about establishing a compromise between two parties in conflict, rather than the pursuit of consumer satisfaction or compensation.
Consumer correspondence received by the Auditor-General indicates that consumers may misunderstand CAV's role and its undertaking to provide conciliation, and see this as CAV supporting their claim. Consumers may be subsequently disappointed when conciliation does not result in an enforceable order to the builder to address their grievances:
'Most people assume new home builders are protected in the same way as new car buyers. Unfortunately, this is not so. Our experience of the building project revealed a deplorable code of builder conduct, home warranty insurance that can only be described as junk and massive failures by building, regulators and agencies to properly investigate consumer claims.'
'An urgent call was made to the first BACV conciliator [...] His advice was for me to 'get a lawyer and go to VCAT'. I then realised that all my efforts had been in vain.'
CAV produced a domestic building strategy in 2011 outlining its approach to domestic building compliance in a shared regulatory environment with the Building Commission (BC). Included in the program management approach was a target of 40 per cent of conciliations to be conducted onsite by BACV with representation from BC, now VBA.
In 2012, following a restructure and to meet government savings targets, the program management approach and its target were discarded. However, onsite conciliation has remained a focus of CAV, with 578 onsite conciliations undertaken in 2013–14. CAV focuses on onsite conciliation where a dispute is related to defective work, because it believes that this method achieves a higher rate of success. CAV concluded this as the result of a review of 350 BACV cases in 2010, but has not reviewed its decision since to ensure its effectiveness.
CAV's system for determining the outcome of complaints
CAV uses a system of coding to assign outcomes to complaints, including where a complaint may be referred to another agency, where a complaint cannot proceed to conciliation because a building practitioner cannot be located or contacted, where conciliation cannot achieve a compromise, ineligible complaints, or where no action is required by CAV.
CAV assigns 'complaint resolved' not only to conciliations, but to matters in which CAV assisted in some way. However, complaints are sometimes listed as 'complaint resolved' without any follow up with the consumer to confirm that this is in fact the case, as Figure 3B highlights.
Figure 3B
Case study
A consumer called and engaged a trader to build their home (which has been done) but is reluctant to deal with a mound of dirt left near the garage. The home is nearly finished and ready to be handed back to the consumer. The CAV officer contacted the trader to ask that he/she contact the consumer, which the trader agreed to. The complaint was then closed and the outcome code 'complaint resolved' was applied.
Source: Victorian Auditor-General's Office based on CAV FLR case notes.
While resolution of a complaint, at least in the case of conciliation, does not necessarily mean the consumer is satisfied with the outcome, it is difficult to see in the above case how CAV could consider resolution had occurred without following up the agreed actions. However, according to CAV, consumers will always inform it where a party has failed to comply with a resolved complaint and follow up by CAV officers is undertaken, although case notes provided do not always demonstrate this. In addition, CAV's inability to enforce any agreement made under conciliation means that it does not follow up on action. CAV assigns complaints as 'resolved' in instances where it considers that the outcome achieved by a conciliation, or through other means to which it may not have directly contributed, enables the parties to move forward without further escalation.
Complaints monitoring and data collection
CAV is the main receiver of complaints from consumers about building-related issues. In 2013–14, it received 21 342 telephone enquiries compared to VBA's 2 014.
CAV collects extensive output data about the number of complaints it receives, but apart from its annual customer satisfaction survey, it does not currently collect any outcome‑based data. CAV does not collect data on consumer or builder satisfaction levels or on the outcomes of closed building disputes. The annual satisfaction survey is of consumers of the Information and Disputes Service Centre and does not include BACV, and CAV does not survey builders. In 2014, 20 building consumers were surveyed, which does not provide meaningful information about overall consumer satisfaction in domestic building. In addition, CAV's system of outcome coding and FLR note taking does not provide the rigour needed to understand the reasons why complaints may or may not be resolved. This means that CAV's effectiveness in resolving complaints is unclear.
Figure 3C provides data on complaints at CAV from 2009–10 to 2013–14.
Figure 3C
CAV building activity 2009–2014
| Activity | 2009–10 | 2010–11 | 2011–12 | 2012–13 | 2013–14 |
| --- | --- | --- | --- | --- | --- |
| Total building calls answered | 35 155 | 39 871 | 36 849 | 25 169 | 21 342 |
| Complaints received in writing | 2 325 | 2 889 | 3 823 | 3 244 | 2 285 |
| Complaints received face to face | 28 | 45 | 87 | 61 | 60 |
| Complaints received via telephone | 54 | 31 | 235 | 243 | 338 |
| Total complaints assessed | 2 407 | 2 965 | 4 145 | 3 548 | 2 683 |
| Building disputes subject to conciliation | 1 694 | 2 078 | 2 672 | 2 353 | 1 833 |
| Percentage of building disputes that met CAV's criteria for conciliation | 70% | 70% | 64% | 66% | 68% |
| FLR disputes finalised | 0 | 2 | 337 | 314 | 523 |
| BACV total disputes finalised | 2 038 | 2 356 | 2 364 | 1 932 | 1 399 |
| BACV total disputes subject to conciliation | 1 584 | 1 877 | 1 825 | 1 459 | 1 141 |
| Onsite conciliations undertaken | 245 | 796 | 845 | 696 | 578 |
Source: Victorian Auditor-General's Office based on information from CAV.
There are a number of flaws in CAV's collection and reporting of information, including that it does not:
collect information on the total number of consumers facing building difficulties
seek to share and compare information about the proportion of overall complaints it receives compared to VBA and BPB.
CAV should consider adopting these practices, because collecting this information would assist it to understand the effectiveness and efficiency of its complaints handling and conciliation services, and allow it to better target its resources.
3.5.3 Complaints to the VBA
BC took no action to address VAGO's 2011 recommendations on complaints handling. VBA began to address these when it was established on 1 July 2013, but did not adequately do so until late 2014 when it introduced new complaints handling policies and procedures. The recent implementation of these means it is too early to determine their effectiveness.
Complaints handling processes
In 2013–14, VBA received 2 014 complaints about building practitioners—956 formal written complaints and a further 1 058 complaints on its building complaints telephone line.
Similar to CAV, VBA receives consumer complaints directly in cases where consumers are seeking a solution and also on behalf of BPB where consumers wish to request an inquiry.
In 2011 VAGO found that BC did not have appropriate arrangements to prioritise complaints or improve the complaints system. There were no quality assurance standards for handling complaints and no performance measures.
VAGO recommended that BC strengthen its complaints handling and investigation processes to:
systematically prioritise and clearly document complaints according to the risk of noncompliance with safety and technical building standards
investigate complaints with reference to clear standards of effectiveness and efficiency, and regularly review and monitor adherence to these requirements.
In November 2011, BC finalised its complaints management policy and its complaints assessment and procedures. These contained clear standards of efficiency with target time lines for most processes, but lacked standards for effectiveness, reporting time lines, and the requirement of the involvement of technically qualified staff. Despite the emphasis on internal review as a guiding principle in the Complaints Management Policy, there was no process for ensuring senior management was involved and no evidence that such a review ever occurred. Given these limitations, it is doubtful that the policies and procedures developed by BC could have addressed VAGO's recommendation.
VBA's revised complaints assessment and procedures policy and complaints management operational policy came into effect on 12 January 2015. These documents establish a clear triage process to prioritise complaints according primarily to the risk of noncompliance with safety and technical standards, and then in relation to a range of other factors including:
the remaining time frame for potential consumer legal action
whether the matter is a referral from a municipal building surveyor
if the subject of the complaint has 'also had an unacceptable number of complaints and investigations and/or prior findings by the BPB'.
The assessment process incorporates both technical and customer service staff.
It is difficult to assess the effectiveness of the complaints management framework given that it has been in place for a short period of time. While the policy includes a requirement to keep clear, comprehensive and current file notes on each complaint and the progress of aspects of the process are tracked, for example, the delivery of technical inspection reports, a comprehensive performance reporting framework is still under development. It is important that VBA assesses the effectiveness of this policy once it is fully established.
3.5.4 Investigations and inspections
Both CAV and VBA lack comprehensive performance reporting frameworks for complaints management, investigations, and inspections. This means the effectiveness of these processes cannot be determined.
CAV and VBA are responsible for investigating complaints, and for providing onsite services to both consumers and building practitioners to assist in conciliation and to provide evidence to assist in achieving an outcome, or for future action through VCAT or BPB's practitioner disciplinary process.
An MOU between CAV and VBA sets out the arrangements to jointly operate BACV. BACV's service includes onsite conciliation, and inspections and investigations. CAV and VBA may work together in some instances by attending domestic building sites with both a conciliator, from BACV at CAV, and a building inspector, from VBA. The objectives of the MOU are to improve:
coordination in complaint handling by VBA and CAV
time lines for complaint resolution and referral
inter-agency information sharing and communication
information and communication to builders
information and communication to consumers
linkages between compliance and enforcement activities and disciplinary actions against registered builders.
Neither CAV nor VBA have ever sought to measure or assess the extent to which the objectives of the MOU are being met. As a result, it is not clear whether these arrangements are effective. While CAV and VBA have collaborated on some educational initiatives, information sharing could be improved, for example, in relation to building practitioners who are under investigation by VBA and the subject of a complaint to CAV at the same time. This could inform conciliation activities and reduce overall consumer detriment.
According to CAV, building complaints are a priority because of the high level of potential detriment to consumers. How a complaint is investigated depends on the value of the complaint and the likelihood of it being resolved—complaints over $10 000 are always allocated to BACV, while complaints of a lesser monetary value are allocated to general conciliation. This includes FLR or general conciliation for cases between $5 000 and $10 000 that do not relate to defective work. Defective work cases over $5 000 are allocated to BACV.
Where disputes cannot be resolved and the consumer is seeking redress, CAV recommends that the consumer apply to VCAT to have the matter resolved.
The VBA
Until the establishment of VBA in 2013, there was no evidence that its predecessor organisation—BC—had addressed any of VAGO's 2011 audit recommendations.
VBA investigates complaints and conducts inspections producing inspection reports which can be used in conciliation processes, but also produced as evidence at VCAT hearings.
VAGO's 2011 audit was critical of BC's investigative and inspection processes finding that most were outsourced with no clear guidelines, documented standards or procedures to ensure investigations were effectively handled.
VAGO recommended that BC strengthen its complaints handling and investigation processes to:
provide investigators with sufficient training to enable them to form appropriate judgments about technical building matters
establish clear quality assurance standards and effective controls for technical reports sourced from its external panel to enable them to be competently prepared.
There is no evidence BC took any action to address these recommendations. Action was first taken in July 2013 when VBA issued expressions of interest for external consultants and reviewed and updated their skills requirement for external consultants acting on the technical panel used to supplement internal investigative and inspection resources.
VBA has made recent improvements, including updating its investigations policy and issuing a detailed Investigations Manual in October 2014. Investigations are now undertaken in-house by VBA investigators who have a Certificate IV in Government (Investigation) qualification. VBA investigators are responsible for gathering evidence for dispute resolution and preparing briefs of evidence for potential prosecutions.
VBA has established an enhanced training program for investigators to increase their technical skills including:
a 1.5 day internal training session on recognising basic technical building faults
a guest speaker program featuring investigators from other regulators sharing their skills and experience
a nationally recognised cognitive interview training course.
VBA has advised that it is currently working to ensure its investigation processes comply with the Australian Government Investigation Standards where applicable.
Building inspectors are qualified to inspect building work and determine its compliance with the Building Act 1993 and the Building Regulations 2006. VBA assigns a building inspector to conduct an inspection if detailed technical knowledge is required, and inspectors may then advise VBA's building investigators or assist by attending inspections.
VBA has an in-house team of building inspectors, whose inspection reports are reviewed by VBA building surveyors to ensure their quality and consistency. The current rate of required inspections exceeds VBA's capacity, which means it uses an external panel of contract inspectors. According to VBA, the inspection reports prepared by these contracted inspectors are reviewed by VBA building surveyors to ensure consistent standards apply throughout.
Individual inspectors are provided with feedback on their reports and this feedback, in addition to timeliness tracking, is recorded in a technical reports log. Reporting to the VBA board on the volume and progress of investigations and inspections is conducted through the regular compliance and performance division report on operations. At 31 October 2014, there were 247 current investigations into building practitioners being undertaken by VBA, a decrease of 13 on the previous month.
VBA's actions in response to VAGO's 2011 report to improve inspector training and ensure the standard of external technical reports are positive. However, these initiatives are all recently established and their effectiveness is not yet well understood. VBA should evaluate these programs to ensure they are achieving their objectives.
3.6 Is conciliation effective?
CAV's performance measurement is inadequate. It provides information that is limited largely to the volume of its outputs, with the exception of the complaints reporting used for the BBI, which demonstrates a reduction in complaints for the builders that participate.
Monitoring and reporting are important in assisting CAV to identify trends and measure success, which in turn may enable it to provide more relevant and targeted services as a result.
CAV uses a range of strategic documents to set out its vision, objectives, and actions underpinning these, including its 2010–14 strategic directions document. While this document clearly outlines CAV's vision and priorities for the four-year period, it did not commit to evaluation. This means that CAV cannot be assured that it has achieved its objectives.
CAV recently developed its corporate plan 2015–18, which outlines its vision of 'a fair and competitive marketplace in Victoria', with updated goals including:
businesses are compliant with consumer laws
Victorians exercise their consumer rights
a fair and safe rental market for Victorians
a modern and effective consumer law framework
a sustainable and innovative regulator.
The corporate plan does not specifically commit to evaluation, but does mention that CAV's strategy will be driven 'through a continually improving planning process that is integrated with evaluation'.
While CAV monitors its work through monthly, quarterly and half-yearly updates, these focus on output rather than outcome measures. This reporting does not include any robust evaluation of whether CAV is achieving its domestic building objectives. Reporting through CAV's annual report and Budget Paper 3 (BP3) measures does not enable an understanding of its effectiveness in supporting consumer protection for domestic building activity.
3.6.1 Internal reporting
CAV's reporting consists mainly of output reporting on the number of complaints, conciliations, and some limited reporting using outcome codes for the results of its conciliations process. CAV undertakes output reporting across several areas:
monthly data on calls and enquiries
key performance indicators, including referrals to VBA, profile of complaints finalised, time taken, and whether a complaint was subject to conciliation
quarterly reporting on unregistered builders with major domestic building contracts and other enforcement issues
quarterly reporting against the corporate plan, which focuses on project status updates and progress against output based BP3 measures.
This type of reporting means CAV has a good understanding of the volume and type of complaints it is dealing with. CAV has a relatively high rate of conciliations resolved, but it does not know the ultimate outcome of conciliations. In addition, reporting is not sufficient to determine the performance of CAV's domestic building activity. With the exception of BBI, CAV's performance measurement of its dispute handling and conciliation functions is inadequate and provides little insight into whether services are meeting community expectations and legislative or policy objectives.
3.6.2 External reporting
Budget Paper 3: Service Delivery
CAV reports its performance externally through its annual report, and through the Department of Justice & Regulation's BP3 measures. To assist it with external reporting, CAV undertakes monthly reporting on the volume of complaints it receives, including what proportion go to conciliation at BACV. CAV uses this information to track its progress against BP3 measures which cover the whole of CAV's operations, and are detailed in Figure 3D.
Figure 3D
CAV BP3 measures
Type of performance measure

Performance measure

Quantity

Information and advice provided through telephone service
Information and advice provided through other services including written correspondence, face to face and dispute assistance

Major outputs

Number of compliance activities, from compliance assistance through to court actions
Number of registration and licensing transactions
Number of Residential Tenancies Bonds Authority transactions

Quality

Customer satisfaction with services provided

Timeliness

Services provided within agreed time frames
Source: Victorian Auditor-General's Office.
Figure 3D shows that the BP3 measures provide an understanding of the range of CAV's outputs, but not their effectiveness or efficiency:
Quantity targets relating to enquiries received are outside of CAV's control.
CAV's customer satisfaction quality measure is taken from an annual customer satisfaction survey for all of CAV's activities, and for 2013–14 only included 20 domestic building consumers which is not adequate to provide statistical representation.
The timeliness measure does not measure the volume of services provided within a specific time frame, which means that it does not provide an understanding of the efficiency of service delivery.
BP3 measures do not provide sufficient information to give an understanding of CAV's performance overall, or in relation to domestic building consumer protection.
CAV's annual report
External reporting through the annual report does not provide sufficient detail nor report on appropriate measures to provide a sound understanding of CAV's performance in relation to the achievement of its objectives. In particular, CAV's 2013–14 annual report consists of a few pages of activity-related status updates and output-based reporting, for example:
'in 2013–14, we finalised 9 395 disputes through our Front Line Resolution service'—this is the entire FLR service, not limited to domestic building
'Building Advice and Conciliation Victoria also helps consumers and builders work together to solve disputes'.
These statements do not provide the information necessary to determine the effectiveness of CAV's activities or provide a context for consumer protection activity in domestic building.
3.7 Advice to government
CAV has effectively carried out a core function of its role by providing robust advice to government in relation to consumer protection.
Since 2007, CAV has briefed government regularly on specific issues in consumer protection including:
industry views and opposition to proposed schemes for domestic building dispute resolution
consumer protection issues and the case for a dedicated consumer advocacy body
model contracts and bias in industry body generated standard contracts
the need to review the DBCA
the inadequacy of domestic building insurance coverage
proposals to implement the Victorian Domestic Building Consumer Protection Reform Strategy.
In 2007 advice to government, CAV stated the DBCA 'has not delivered contracts which fairly balance the rights of consumer and builders and accord with government policy as reflected in the DBCA'.
In 2009, CAV's proposal to amend the DBCA to address these issues, including introducing mandatory conciliation and rectification orders, was approved by government, but did not proceed. In addition, in 2010, CAV advised the Minister for Consumer Affairs to implement the proposal despite opposition from the Housing Industry Association and the Master Builders Association of Victoria.
In 2010, CAV provided advice to the Minister for Consumer Affairs that 'consumers lack of knowledge and poor bargaining position leads to an inability to negotiate changes to terms of standard industry contracts, or to properly monitor their building project'.
In a 2014 incoming government brief, CAV advised that it proposed and supports 'introducing mandatory conciliation prior to lodgement of a dispute at VCAT, providing an opportunity to resolve disputes in a non-confrontation setting'.
CAV has provided advice to government and departmental heads about potential improvements to the consumer protection framework across a range of issues that indicate that CAV is aware of the consumer consequences of the legislative limitations it faces and the extent to which these limitations impede its effectiveness.
3.8 When conciliation fails
3.8.1 VCAT
CAV encourages consumers to apply to VCAT where they are unsatisfied with a conciliation outcome or where a complaint is not likely to be resolved through CAV. This occurs both at the beginning and end of the conciliation process:
'We have been let down on so many levels; by the trades who carried out noncompliant work that damaged our house; by the builder who failed in his responsibilities to oversee and correct the work of his trades; by the surveyor who failed in his responsibilities to identify and bring works into compliance via enforcement; by the organisation that refuses to carry out its duties as an industry regulator; by the rort that is builders warranty insurance; by the VCAT system that is highly unaffordable and ineffective for consumers.'
The audit did not examine VCAT's role in resolving domestic building complaints. However, correspondence to the Auditor-General from domestic building consumers who did go to VCAT, and those who decided not to, indicates that seeking resolution through the VCAT domestic building list is costly, risky and not considered a realistic option for many consumers who are often already suffering financial stress due to building costs:
'We considered VCAT, but decided against it [...] in the building area it is very expensive and you have to spend a lot of money without any real chance of getting back the expenses, aside from the money to rectify all the defects to the house [...] The VCAT system is not a solution.'
'After I obtained my first expert report, and had my first meeting with a lawyer, I was able to establish that to go to VCAT would cost me in the vicinity of $50 000 plus, which I am afraid I didn't have at the time. All my savings were tied up in the extension and renovation and I had to maintain another house, as I could not return to mine until after the builder finished.'
Recommendations
That Consumer Affairs Victoria reviews its dispute resolution and conciliation activities and advises government on options to improve their effectiveness, so that they are:

easy to access
low cost, simple and timely
objective and outcome focused
supported by necessary powers to compel participation in conciliation and enforce compliance with negotiated outcomes
underpinned by relevant and appropriate performance measures and effective monitoring, reporting and evaluation to demonstrate effectiveness.

That Consumer Affairs Victoria and the Victorian Building Authority review their consumer education and awareness activities to ensure consumers have access to straightforward and timely information and advice aimed at enabling consumers and builders to:

understand their rights and obligations under building contracts
understand the consumer protection framework and access required information to make informed decisions
be aware of the services available to assist with addressing consumer issues, and their limitations.