Victoria's Consumer Protection Framework for Building Construction
2 Building practitioner registration, discipline and compliance monitoring
At a glance
Background
The Victorian Building Authority (VBA) monitors and prosecutes noncompliance with the Building Act 1993. Private and municipal building surveyors also play a key role in compliance. The Building Practitioner's Board (BPB) registers and disciplines practitioners. Consumer Affairs Victoria (CAV) educates building practitioners about their obligations under the Domestic Building Contracts Act 1995 and enforces this Act.
Conclusion
BPB's practitioner registration system does not ensure that the only practitioners who are registered are qualified, competent and of good character. There are significant deficiencies in VBA's oversight of building surveyors and in the coordination of compliance and practitioner performance monitoring across agencies. However, over the last year VBA has commenced action to address many of VAGO's 2011 audit recommendations and to establish an appropriate governance framework.
Findings
There is limited assurance that BPB performs its registration and disciplinary functions effectively.
The role of building surveyors is undermined by a conflict of interest arising from surveyors typically relying on builders for recurrent work.
BPB sanctions appear ineffective in deterring practitioner misconduct.
VBA lacks an effective monitoring and evaluation framework for its activities.
CAV provides practitioner information, advice and training, but lacks outcome focused performance measures to gauge the effectiveness of these programs.
Recommendations
That the Department of Environment, Land, Water & Planning reviews the regulatory arrangements governing the engagement of building surveyors to ensure they support the independent and objective performance of their function to provide appropriate independent oversight of building and the building system.
2.1 Introduction
Building practitioner information and education services, registration and discipline, compliance monitoring and enforcement all play a part in ensuring that building practitioners meet required standards and that consumers are protected. The Victorian Building Authority (VBA) and Consumer Affairs Victoria (CAV) share responsibility for monitoring and compliance in domestic construction. Local councils are responsible for the administration and enforcement of parts 3, 4, 5, 7 and 8 of the Building Act 1993 (the Act) and the Building Regulations 2006 (the Regulations) within their municipalities.
VBA is primarily responsible for monitoring compliance with the Act and the Regulations. This includes auditing the collection of building levy payments and the compliance of building permits issued by building surveyors.
Building surveyors—both private and municipal—play a critical role in implementing, enforcing and monitoring the building standards prescribed by the Act and the Regulations through conducting inspections and issuing building permits. CAV and VBA provide educational resources, guidance and support programs for practitioners—VBA in technical building matters and CAV in issues of a contractual and customer focused nature.
The Building Practitioners Board (BPB) is responsible for supervising and monitoring the conduct and ability to practise of registered building practitioners. It operates a discipline and sanction regime which aims to reinforce the incentives for practitioners to behave appropriately, discourages those practitioners who have been found guilty of misconduct from repeat offending, and suspends or cancels registration for those practitioners whose misconduct is particularly harmful.
In 2011 VAGO undertook an audit, Compliance with Building Permits, which focused on both building permits and the role and oversight of surveyors. We found that 96 per cent of permits examined were noncompliant and we made a series of recommendations aimed at strengthening the regulation of building surveyors.
2.2 Conclusion
There has been little improvement in the registration and oversight of building surveyors, and the coordination of compliance and practitioner performance monitoring since VAGO's 2011 report. The administration and monitoring of the building levy system is still hindered by VBA's lack of powers to reassess and recoup underpaid levy and to require building surveyors to remit levy promptly.
BPB's practitioner registration and discipline systems do not ensure that the only practitioners who are registered are qualified, competent and of good character. Registration assessment practices are inconsistent and no objective standards are in place. Deficiencies in this system are compounded by the open-ended nature of building registrations under the Act and the lack of effective triggers or mechanisms to review practitioner competence. In addition, sanctions imposed in BPB's disciplinary processes appear ineffective in deterring practitioner misconduct.
The independence of compliance monitoring by surveyors is weakened by a long‑recognised conflict of interest for private building surveyors which undermines confidence in the system. This conflict, combined with building surveyors' disproportionately high representation in BPB inquiries, registration suspensions and cancellations, and reoffending, is concerning given their critical role in assuring building standards. Similarly, VBA's risk-based monitoring and compliance activities, while promising, are newly established and lack an evaluation framework to assess their effectiveness. However, over the past year VBA has taken action to address many of VAGO's 2011 audit recommendations and establish an appropriate governance framework, including developing a memorandum of understanding (MOU) with BPB to define governance arrangements between the bodies.
2.3 Practitioner registration and education
The practitioner registration system assesses a range of relevant factors including competence, solvency, character and work history. We evaluated the adequacy of these assessment processes by spot sampling a randomly chosen selection of 23 building practitioner registration assessment records. For a description of the practitioner classes chosen and the number of practitioner records in each class reviewed see Figure 2A. These classes were chosen as the most relevant to domestic building and most likely to directly impact on consumer protection. A full description of practitioner categories and classes is available at Appendix A.
Figure 2A
Practitioner categories and classes
Category and class

Description

Number of records reviewed

Domestic builder-unlimited
(DB-U)

May personally carry out, manage or arrange for subcontractors to carry out all components of domestic work.

4

Domestic builder-manager
(DB-M)

May manage or arrange for domestic builders registered in another class to carry out components of domestic building work specified in their Certificate or Registration which is generally quite specific—for example, work on retaining walls or work on garages and carports.

3

Domestic builder-limited
(DB-L)

May carry out, manage or arrange to carry out only the components of domestic building work specified in their Certificate of Registration.

8

Building surveyor-unlimited
(BS-U)

May conduct building surveying functions—ensure construction projects meet building regulations—for all buildings.

4

Building surveyor-limited
(BS-L)

May conduct building surveying functions—ensure construction projects meet building regulations—for buildings up to three storeys high with a maximum floor area of 2 000 square metres.

3

Building inspector
(BI-L)

Permitted to inspect certain classes and components of buildings and varieties and types of construction.

1
Source: Victorian Auditor-General's Office based on information from VBA.
We also examined BPB's supporting documentation for the registration system, relevant programs, activities and legislation.
We found:
a lack of objective guidance and standards for assessing applications
a poor standard of documentation of assessment decisions
a lack of competency assurance for 'grandfathered' practitioners—whose existing registrations were transferred into the new system without assessment—and practitioners applying for mutual recognition of qualifications from other states or territories
inadequate assessments of practitioners' financial and business skills.
The current practitioner registration system does not ensure that the only practitioners who are registered are qualified, competent and of good character. VAGO's 2011 audit found significant deficiencies with the registration system and records for surveyors. Our spot sampling of records for both building surveyors and domestic builders—who undergo a similar registration process—shows that these deficiencies remain.
2.3.1 Registration assessment and approval processes
Under the Act practitioner registration lasts until cancelled, subject to the payment of an annual renewal fee and an insurance premium. This amplifies the significance of initial registration assessments and the consequences of allowing unsuitable practitioners to gain registration. Despite this, the registration process effectively provides absolute discretion to individual assessors.
All practitioner registration applications are assessed by an individual assessor—either a VBA in-house assessor, a BPB member, or in the case of DB-U applications, by a contracted assessor, whose assessments are then reviewed by a BPB member or assessor.
VAGO's 2011 audit recommended that BPB 'develop criteria and guidelines for evaluating the competency of applicants to be registered as building surveyors and clearly document the basis of all decisions'. Objective criteria and standards would ensure consistency and objectivity in assessment. They would also provide transparency given that BPB members, and therefore assessors, are usually appointed from, and may be currently active within, the construction industry.
The need for objective criteria and standards is reinforced by our spot sampling of registration files which revealed significant inconsistencies between assessors and a poor standard of documentation of decisions. Several issues were identified:
Assessors' recommendations and the outcomes of individual assessment stages are not recorded clearly—two of the files contained assessors' reports that have both 'approve registration' and 'do not approve registration' boxes checked.
Required supporting documentation is not recorded accurately.
Assessors' commentary and/or annotations are inconsistent and often ambiguous—for example, some registration records provide detail against all checklists and components, while others leave sections blank, several files indicate the insufficiency of supporting evidence, but appear to approve registration regardless.
Assessors have an inconsistent understanding of assessment evidence requirements—for example, some assessments contain detailed narrative descriptions of the applicants working history, demeanour, and the initial conversations between the assessor and applicant, while others contain no explanatory notes.
Despite requiring applicants to provide extensive supporting documentation including example building contracts, health and safety plans, business and financial plans, site plans etc., there is no guidance in place to support qualitative assessment of this documentation beyond a checklist evidencing that it has, in fact, been provided. The registration files we examined showed inconsistent practices and in some cases limited evidence that the supporting documentation had been assessed at all.
BPB needs to determine what supporting documentation is critical to the assessment process and then develop specific criteria for assessing the adequacy of this documentation beyond relying on the individual discretion and knowledge of assessors.
BPB advised that its registration subcommittee began work to address VAGO's relevant 2011 recommendation in January 2012, however, little progress was made. During 2013, VBA assumed oversight of this work given that legislative reforms were expected to transfer these functions from BPB to VBA. While together VBA and BPB made some progress, BPB still lacks a current registration policy and comprehensive standards and/or guidance for assessing the knowledge, skills, and suitability of applicants for registration. Consequently, there is no assurance around the adequacy, consistency and objectivity of registration application assessments.
The BPB's consideration of applications
While BPB officially approves all registration applications individually, in practice these decisions are made on large numbers of applications at each meeting on the basis of limited information. The Ombudsman's December 2012 report recommended that BPB should 'ensure the board receives detailed information, including the results of applicants for each stage of the assessment to inform its consideration of applicants for registration'. Prior to this recommendation, BPB members received only a list for approval, showing the number of applicants that had been assessed for registration in each practitioner category.
From December 2013, BPB papers included a table indicating the qualifications and years of experience of each applicant and the computer-based test results for some classes of practitioner. However, these documents are often provided to members the day prior to the relevant meeting. This does not allow BPB members sufficient time to examine and inquire about any issues of concern related to the applicant's suitability in accordance with the requirements of the Act.
While these changes may technically address the Ombudsman's recommendations, they are not sufficient to address VAGO's 2011 concerns that the registration assessment and approval process provides little assurance that decisions are soundly based. BPB provides only limited applicant information in part because it is impractical for BPB to consider at length the large number of registration applications that it receives. However, introducing benchmark standards for assessing and evaluating applications prior to seeking BPB approval, would practically address this issue and provide greater assurance that registration approvals were based on objective and critical assessments of practitioner competence and suitability. Advice provided by BPB indicates that as of February 2015 all BPB agenda items, including registration application recommendations, are circulated with at least five days for members to review.
2.3.2 Competence
Qualifications
The Act does not include specific minimum standards for qualification and experience, which could act as a baseline for practitioner competency. Such minimum standards would improve the objectivity and robustness of the practitioner registration system. Under the Act, BPB has limited discretion in granting or refusing registration. It must register an applicant if it is satisfied that the applicant has:
provided proof of suitable insurance coverage
submitted a suitable and complete application
provided any more information that BPB reasonably requires, and either:

holds an appropriate prescribed qualification, or
holds a qualification that BPB considers is, either alone or together with any further certificate, authority, experience or examination equivalent to a prescribed qualification

is of good character
complied with any other condition prescribed for registration in that category or class.
In December 2012, the Ombudsman recommended that BPB 'review the registration process for all categories of registration and develop minimum standards for qualifications and experience of applicants, and clearly identify the supporting documentation to be submitted with an application'.
Under the Act, one of BPB's three functions is to make recommendations to the Minister about the qualifications for registration. However, it took until November 2013 for BPB to provide advice to the Minister for Planning recommending that Schedule 7 of the Regulations be amended to allow for minimum qualifications to be prescribed. The Minister responded in late February 2014 indicating that he had referred the Chair's advice to the then Department of Transport, Planning and Local Infrastructure to consider as part of the review of the Regulations review process in 2016.
'Grandfathered' practitioners
In late 1996, when the current practitioner registration system was introduced, the government directed BPB to 'grandfather' existing building practitioners—to transfer them directly into the new registration system without assessment. There were 26 242 practitioners eligible to have their registrations transferred, of whom 12 382 subsequently registered with BPB.
The risks posed by the grandfathering of practitioners into the current registration system and their continued trading are unknown. This issue was first raised by VAGO 15 years ago, but no attempt has been made to assess the competence of these practitioners or address this risk. Our spot sample of registration files examined only one 'grandfathered' practitioner. The relevant file did not show any evidence that the practitioner had formal qualifications.
When we first raised the issue of grandfathered practitioners in our 2000 report Building control in Victoria: Setting sound foundations we recommended that the competence of practitioners in categories and classes assessed as high risk should be assessed on a progressive basis, observing:
'The 20 600 existing building practitioners, registered under transitional arrangements between July 1994 and June 1997, have not been assessed for suitability in terms of qualifications, skills or experience. In my opinion, the decision to 'grandfather' in such a large number of practitioners was an expedient process for the Board to follow in the circumstances.'
While this issue is diminishing over time as grandfathered practitioners age and retire, there are currently 5 677 grandfathered practitioners registered with BPB, accounting for 5 694 registrations—practitioners may be simultaneously registered in multiple classes. BPB advised us in the course of this audit that it believes that grandfathered practitioners do not represent any greater risk than any other practitioners. It also noted that the current legislative framework does not allow for the competency of grandfathered practitioners to be reviewed. BPB considers that the major flaw in the current legislation is the ongoing nature of practitioner registration.
Mutual recognition
Mutual recognition is enabled by Commonwealth legislation and involves registering applicants in Victoria if they can demonstrate that they hold an equivalent registration in another state or territory and do not have an adverse disciplinary history in that jurisdiction. While BPB is precluded from conducting competency assessments of mutual recognition applicants it does subject these applicants to a police check.
Analysis of BPB registration data indicates that the number of mutual recognition applications increased by around 130 per cent between 2012 and 2014. The practitioner classification with the highest increase in mutual recognition applications was DB-L which increased by 273 per cent from 97 applications in 2012 to 362 in 2014.
Analysis of registration data identified 20 cases where BPB rejected applications for Victorian building practitioner registration, typically due to insufficient qualifications and/or experience, but the practitioner subsequently obtained registration under mutual recognition provisions.
In March 2013, BPB's registration subcommittee meeting raised concerns about the significant increase in mutual recognition applications and resolved to write to the Minister to point out concerns about the mutual recognition loopholes. While BPB advised that it has recently raised its concerns about mutual recognition in a submission to the Productivity Commission on its review of mutual recognition schemes, it has not advised the Minister on this issue.
2.3.3 Solvency, business and financial management
Insolvency is a trigger for insurance claims under the domestic building insurance (DBI) scheme and the most common reason for DBI claims. Given the prevalence of this issue, BPB should be actively considering this risk when it assesses registration applications.
BPB's assessment of solvency and financial and business management skills of registration applicants is inadequate and implicitly relies on the Victorian Managed Insurance Authority (VMIA) conducting a thorough assessment when it decides to offer DBI. Registration assessors are appointed on the basis of technical building background and are unlikely to be suitably qualified to assess financial probity.
Spot sampling of financial information provided in registration files indicated that:
plans provided by applicants were typically very basic and aspirational
there was no requirement to provide evidence of current financial standing or credit history—either as a trader or individual
there was little evidence of any detailed assessment by BPB of financial information provided by applicants.
BPB's reliance on VMIA's assessment is inappropriate given VMIA focuses on solvency and does not assess key issues including the capacity of practitioners to successfully plan and run a business.
To gain registration certain practitioners must provide evidence that they are covered by DBI or that they are eligible to be covered. VMIA provides advice to BPB when denying an application for DBI eligibility—for further discussion of this refer to Part 4.
2.3.4 Character
VAGO's 2011 report recommended that BPB 'systematically verify a sample of character declarations supplied by applicants for registration to gain reasonable assurance they are reliable'. This recommendation was addressed by amendments made in July 2013 to the Act which make it mandatory for registration applicants to authorise a police check with their applications.
BPB began using police checks as a screening mechanism on all building practitioner registration applicants from March 2014. Police checks that return anything other than minor offences are referred to a Probity Panel of three BPB members including the Chair.
To date no candidate has been refused registration on the basis of the outcome of their police check alone, and no convictions for very serious offending have been disclosed in police check results. Prior to the introduction of police checks, BPB members contacted a sample of applicant supplied character referees by phone.
Registration period and compulsory professional development
Once registered, a building practitioner can continue to operate subject to the payment of an annual fee and insurance premium. VAGO's 2011 report noted that the ongoing nature of registrations means that 'a practitioner does not have to demonstrate they have maintained their capability to the level that they can discharge their duties', and that this was 'a gap in the regulatory framework'.
The report recommended that the then Department of Planning and Community Development (DPCD), in consultation with stakeholders, seek approval from the Minister to:
introduce a system of compulsory continuing professional development for building surveyors
amend the Act to make registration renewal contingent on building surveyors satisfying minimum compulsory continuing professional development requirements.
In response, the then DPCD sought legal advice which advised that amendments would be required to both the Act and the Regulations in order to mandate compulsory continuing professional development for registered building surveyors.
The May 2013 Victorian Domestic Building Consumer Protection Reform Strategy committed to improve re-registration standards by limiting the registration period to 'no more than five years, with renewal being required on expiration of the period'.
DPCD subsequently commissioned a cost-benefit analysis that found that there was a lack of compelling evidence that introducing mandatory continuing professional development would improve professional standards. In light of this, DPCD advised government to strengthen the legislative requirements by introducing five-year re‑registration periods. This was designed to provide the regulator with the capacity to assess the practitioner's ongoing competence as part of the registration renewal process.
Amendments to enact this change were included in the Building Legislation Amendment Bill 2014 (the Bill). However, as the Bill did not pass Parliament, there is still no requirement for practitioners to demonstrate their ongoing competency. Legislative change to introduce a finite registration period remains the most direct way to address this issue.
CAV's practitioner information and education services
CAV provides a range of practitioner information and education services for building practitioners including:
practitioner information sessions at registered training organisations
presentations in partnership with VBA at trade shows
email updates to practitioners on their obligations.
CAV's reporting on its practitioner information and education services is largely narrative—for example, descriptive reports of trade show appearances. It cannot measure the effectiveness of these programs because it lacks outcome-based performance evaluation measures.
Better Business Initiative
CAV's Better Business Initiative (BBI), described in Figure 2B, is primarily a compliance tool aimed at practitioners who generate large volumes of complaints. While BBI has resulted in positive outcomes, it is a targeted program. CAV needs to ensure that its broader practitioner education and information programs are similarly effective.
Figure 2B
BBI
The BBI supports participating businesses to adopt practices to assist them in improving compliance with the Domestic Building Contracts Act 1995.
CAV targets builders who undertake a large volume of building works and also have a large volume of complaints. It develops an action plan for each builder which outlines the number of meetings, skills and resources needed to assist the builder. Follow-up meetings are held with BBI participants to determine whether they have experienced any reduction in complaint volumes. BBI participants may be subject to compliance measures to reduce complaints. If the builder does not respond to such measures this may lead to enforcement action.
In 2013, there was a 24.2 per cent reduction in complaints about the builders that CAV had engaged under the BBI.
The BBI effectively assists CAV to reduce the volume of complaints from specific building practitioners, by educating practitioners to improve industry practice and consumer experience.
Source: Victorian Auditor-General's Office.
2.4 Monitoring compliance
2.4.1 The role of building surveyors
Building surveyors are responsible for making sure that buildings are safe and accessible. They issue building permits and manage the inspection process from foundations through to completion. In 1994, regulations were introduced to allow private building surveyors to issue building permits to increase competition. Prior to these reforms, all building permits were issued by municipal councils.
VAGO's 2011 report found that the former Building Commission (BC) could not demonstrate that building surveyors were effectively discharging their role to uphold and enforce minimum building and safety standards. It recommended that BC consult with stakeholders to:
develop standard templates and procedures to require building surveyors to adequately document their assessment approach and the basis of their decisions
require building surveyors to use these templates and procedures to demonstrate how they had considered and acquitted mandatory safety and technical requirements.
The Bill included a requirement for surveyors to complete a checklist of required documentation and certify that all documents required had been given to the local council. However, this is not sufficient to fully address VAGO's recommendations. VAGO's 2011 audit found that there was both a lack of required documentation and a lack of detail on documentation that was provided. It also identified a lack of information supporting surveyors' assessments, and evidence that building surveyors were 'inappropriately abdicating some of their technical assessments to third parties'.
VBA has indicated that it intends to address these recommendations by:
identifying specific regulations that require relevant building surveyors to apply discretion, and developing templates for building surveyors to use where there is discretion
developing documentation outlining the role of the relevant building surveyor and drafting a code of conduct for relevant building surveyors which will require consultation with industry
delivering information and training seminars to building surveyors in collaboration with peak bodies and representative groups.
In order to ensure that these actions effectively address the issue, VBA needs to monitor surveyors' use of the templates to confirm that their use is resulting in appropriate documenting of assessment approaches and decisions. It is also important that VBA maintain ongoing engagement with building surveyor peak bodies in order to gain support for, and enable evaluation of, any code of conduct and training initiatives established.
Potential conflict of interest
The current regulatory framework fails to manage a long-recognised conflict of interest for private building surveyors. This potential conflict of interest arises when a private building surveyor is engaged by the builder rather than the owner. This is typically the case. In these circumstances, the building surveyor can potentially be reliant on the builder for future engagements, which may limit the building surveyor's independence to challenge any building work not consistent with standards or permits.
This issue was also raised in submissions to the government's Victorian Domestic Building Consumer Protection Framework Public Consultation Paper April 2012. The submission of the Victorian Bar observed 'the current system of private building surveyors, combined with a weak regulatory system, provides an environment where collusion and conflict of interest between builders and building surveyors is prevalent'.
Correspondence to the Auditor-General from consumers who have experienced difficulties in building indicates that this remains an issue:
'The builder insisted on using his own surveyor, claiming that this would expedite the project as they have been working together for a very long time and he said the surveyor knew his work.'
The Bill was to introduce a requirement that, prior to accepting an appointment in relation to domestic building work, building surveyors would be required to provide consumers with information about their role. The Bill also proposed a requirement for surveyors to adhere to a code of conduct.
However, responses to the government's Victorian Domestic Building Consumer Protection Framework Public Consultation Paper April 2012 from a range of stakeholders raised concerns about the likely effectiveness of these measures. The Victorian Bar, the Law Institute of Victoria and the Consumer Action Law Centre advocated more substantial changes to building surveyor regulation, suggesting either a model similar to that of Western Australia, where building permits are issued by authorities, usually local councils, or a model where jobs are centrally allocated to private building surveyors by VBA or a similar authority.
VAGO's 2011 recommendations for addressing fundamental weaknesses in how building surveyors are regulated have not been addressed. These weaknesses mean that surveyors' potential conflicts are not effectively controlled and consumers are at risk from the kind of practices that have seen one in 10 surveyors disciplined by BPB over the past five years.
The Department of Environment, Land, Water & Planning should review the effectiveness of the regulatory arrangements that govern the engagement of building surveyors. In the interim, VBA and CAV should review their consumer education initiatives to ensure that consumers are informed about the role and accountabilities of surveyors to the greatest extent practicable.
2.4.2 The role of the VBA
Performance audit
While progress by the former BC was slow, the VBA has taken positive steps to develop a risk‑based performance audit program.
VBA is responsible for monitoring compliance with and enforcing the Act and the Regulations. It has the power to appoint performance auditors to examine the work carried out by registered building practitioners. Performance audit is effectively the only form of proactive and direct monitoring of practitioner work in the building regulation framework, particularly with regards to surveyors.
VAGO's 2000 and 2011 reports both found that the former BC's performance audit program did not effectively target major risks or achieve adequate coverage and scrutiny of practitioners' work. Instead it focused on administrative issues and hence did not meet the Act's intent to ensure work does not pose a risk of injury or death.
VAGO's 2011 report also noted that BC did not have targets for auditing private building surveyors even though they issued over 85 per cent of all building permits. The report recommended that BC strengthen its performance audit program to ensure it meets its legislative remit to provide assurance that the work of registered practitioners has been competently carried out and does not pose a risk of injury or damage to any person.
In September 2012, BC commenced an audit of 1 000 building permits which VBA subsequently continued and expanded. VBA conducted a more in-depth audit of a subset of 450 of this 1 000, targeting those that posed a risk to human safety. These audits detected significant levels of noncompliance and VBA's Compliance and Performance Division used the findings from these audits to identify risks and select areas of priority for future audits of building permits, and of the building levy. The division's business plan for 2014–15 identifies demolition, draftspersons and building surveyors as the three priority areas for audit.
VBA communicated the results of these audits to its board in July 2014. It also issued an industry report to practitioners in September 2014 including a discussion of technical and general findings, recommendations for practitioners and consumers, and a list of actions, including VBA actions. The report's findings on building permit files at council offices echoed those of VAGO's 2011 report, including:
poorly prepared building permit forms with prescribed fields not completed appropriately and errors present
property information and planning information lacking
documentation on the building work—specifications, methodology, engineer computations, energy reports—and energy efficiency documentation lacking
reports and consents absent from files.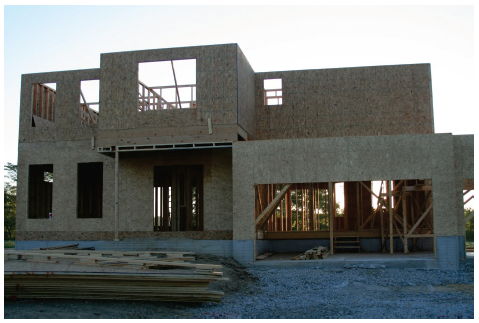 A key recommendation to building surveyors was that they 'must not approve building permit applications where documentation provided by the owner/owner's agent is not sufficient to demonstrate compliance with legislation'. To assist practitioners to achieve compliance VBA issued individual audit reports in February 2015 to 212 practitioners.
Since mid-2014, VBA has been implementing a framework to guide a more systematic approach to the selection and conduct of performance audits. VBA's June 2014 Performance Audit Policy provides a broad framework for VBA's audit activity, including standards and expectations for audits. While this is a positive development, VBA needs to establish detailed guidance on how its employees should apply this audit framework to ensure rigour, objectivity and consistency in the process.
There are some key performance indicators listed in the Compliance and Enforcement Divisional Plan for measuring how well VBA targets and performs this audit activity, however, these are limited to timeliness and efficiency measures. The business case and project plans for each audit define tangible targets—for example, number of audits per class of practitioner, or target per cent uptake of recommendations by audited practitioners—against objectives such as increasing practitioner competency and compliance with the Act and the Regulations. However, VBA needs to develop more detailed outcome-based targets and standards to measure whether the audit program is achieving these objectives.
VBA is currently developing a monitoring and evaluation framework. In the interim, its reporting on the performance audit program consists of a monthly divisional report on operations to VBA's board. Point in time information is also available through an ongoing compliance dashboard.
Advice to VBA's board in July 2014 stated that VBA had 'delivered on VAGO's Recommendations' by virtue of having undertaken the audit of 1 000 building permits and 'associated activities'. While these actions begin to address VAGO's recommendation, the recommendation requires an ongoing audit program to be established. The current year is the first of the new audit program and while VBA's corporate and divisional plans indicate that the program is intended to be ongoing, more time will be needed to ensure that the program operates effectively.
Individual actions identified in VBA's industry report, such as issuing guidance to building surveyors need to be finalised. It will also be important for VBA to provide assurance of the effectiveness of the audit program by meeting its commitment to having the audit framework independently reviewed regularly.
VBA has indicated that work to strengthen its audit program is ongoing. It is working to align VBA audit procedures with national standards where appropriate and to establish a practitioner intelligence unit to consolidate data from audits, investigations, levy collection, conciliation services, the customer service unit, and licensing and registration processes. This is intended to enhance decision-making for risk-based regulation. However, to make best use of these resources the potential for expanding enforcement options needs to be considered, particularly in regard to reassessing and recouping levy payable.
2.4.3 Building levy
VBA is funded by a levy on building permits and from fees charged to register building practitioners. The levy also funds other agencies, including Building Advice and Conciliation Victoria—discussed in Part 3. VBA is responsible for monitoring the system for collecting building permit levies, which raised $24.5 million in 2013–14.
Levies are calculated based on the value of the works covered by the building permit and collected by the building surveyor, who then deposits the funds in VBA's Building Administration Fund each month.
VAGO's 2011 report found that BC relied entirely on the surveyor to accurately estimate the value of proposed building works. In the absence of authoritative guidance and systematic monitoring by BC there was no assurance that surveyors were accurately estimating the value of building works, and therefore that all levies due were being recovered. VAGO recommended that BC should develop guidance for surveyors, implement controls to prevent surveyors from using levies collected as their working capital and systematically audit surveyors' estimates of the value of building works.
VAGO's 2011 audit, like the BC's 2011 discussion paper before it, identified two key challenges in collecting the building levy:
Reliance on self-reporting—payment of building permit levies to VBA depends entirely on self-reporting by building surveyors on the number of permits issued and the value of building works they account for.
A lack of adequate enforcement powers—under current legislation, building surveyors who fail to meet their statutory obligations for reporting permits issued, prescribed building activity data and collected levies to VBA each month, or fail to remit all levies received are not committing offences.
Guidance on determining the value of building works
For three years no action was taken by the then BC or VBA to address VAGO's recommendation to develop guidance for building surveyors on estimating building levy. This perpetuated the situation highlighted by VAGO in 2011 of there being 'no assurance that surveyors are accurately estimating the value of building works'.
There has been ongoing uncertainty about whether any advice issued by the then BC, now VBA, on determining the value of building works would be binding given ambiguities in the Act. VBA sought legal advice during August 2014 on defining the cost of building work under the Act from the Victorian Government Solicitors Office. The advice stated that although the Act is clear that the levy is payable as '0.064c in every dollar of the cost of building work', 'cost' is not defined in the Act, making its meaning 'somewhat ambiguous and uncertain'.
The Bill sought to clarify the method for calculating the amount of levy due. It did this by defining the cost of building works in terms of the contract price, and by giving VBA powers to reassess the costs of building works.
Since this audit commenced, VBA has reviewed and updated the Reference Guide Building Permit Levy & Building Information, which includes guidance for building surveyors on estimating the building levy. VBA has indicated that it intends to develop a new definition and methodology to determine the cost of work and to distribute appropriate guidance to surveyors by the end of July 2015. However, it still lacks the legislative authority to reassess the costs of building works in order to recover underpaid levies.
Preventing surveyors from using levies as working capital
There was little evidence that BC had taken effective action to address the recommendation to prevent surveyors from using levy collected as working capital. Since this audit commenced, VBA has developed a draft practice note and building surveyor levy self-assessment checklist, which contain guidance on the appropriate use and reconciliation of building permit levy funds. These are currently under legal review. Failure to remit levies is not currently an offence under the Act, and without legislative change, compliance with such a practice note can only be monitored through the audit program, not enforced.
Audit of building permit levy
In 2011, VAGO recommended that BC undertake systematic audits of surveyors' estimates of the value of building works to gain assurance that they are soundly based and that it is preventing financial losses arising from any incorrect valuations.
VBA and its predecessor, BC, have had a levy audit program in place in various forms since 1997. In 2013, VBA established an annual Levy Audit Work Program that targets surveyors based on historical risk posed by type—municipal, private or lodgement organisation, previous adverse audit findings, years of experience, and period elapsed since last audit. However, the program is largely focused on addressing levy leakage—surveyors failing to lodge permits and pay levy at all—not on the incorrect calculation of levy. In 2013–14, $24 150 was recovered against 19 permits where an incorrect cost of work was reported. This accounted for only about 7.2 per cent of the total $334 746 recovered by the Levy Audit Work Program in 2013–14, the remainder was recovered from 666 unreported permits.
The focus of the Levy Audit Work Program on levy leakage does not address VAGO's recommendation related to incorrect valuations. However, VBA notes that there is no legislative basis for recouping underpaid levy arising from incorrect valuations. Currently, practitioners may only be investigated and face possible disciplinary action relating to their competence. In contrast, since 2013, VBA has pursued three matters under section 205K of the Act, which provides for civil action against surveyors who fail to pay, and has recovered almost $100 000.
In the absence of legislative change, VBA has strengthened its practitioner education and its communications to building surveyors in the following ways:
Receipt confirmation emails are sent to building surveyors when they submit their monthly payment return. These emails contain messages to building surveyors about levy‑related issues including:

upcoming levy payment return due dates
links to levy payment return forms on the VBA website
links to building permit activity data summaries—produced from submitted levy payment return data
upcoming seasonal events such as Christmas/New Year—many building surveyors close their offices during this period and VBA encourages building surveyors to lodge their levy payment return early whenever possible.

Information sessions for registered building surveyors have been introduced for 2014–15 aimed at both newly registered building surveyors and those with greater experience.
Media releases are issued regarding the Levy Audit Work Program, and to highlight particular examples of action against noncompliant building surveyors as a deterrent.
2.4.4 Targeting risk areas
VBA's risk-based inspection program 'field-based compliance' uses staff and community intelligence to target areas with a higher risk of noncompliance.
Field-based compliance
As part of its monitoring and compliance system, VBA established field-based compliance programs from April 2014. These programs are time-limited, targeted investigations and inspections designed to address known noncompliance in the building industry.
Sites are chosen according to their likelihood of presenting a predefined risk, and examined to determine compliance in that area—findings can potentially result in prosecutions or referrals to the practitioner disciplinary system.
In 2013–14, the field-based compliance program focused on the construction of sheds. There were 164 inspections of construction sites of sheds constructed by owner‑builders in the Bendigo area, and 143 inspections undertaken in the western suburbs of Melbourne focusing on sites where a registered domestic building manager was overseeing the work. However, the program has not been evaluated which means that its effectiveness in addressing risk is unknown.
The 2013–14 VBA annual report has only one measure associated with the field-based compliance program—number of inspections undertaken, a total of 307. This is an output measure which does not provide information on the effectiveness and efficiency of the program in meeting its objectives. However, VBA is developing a performance measurement and monitoring framework, which needs to contain relevant and appropriate performance measures in order to accurately assess performance.
2.4.5 Responsibility for monitoring
Under the Act, councils are responsible for administering and enforcing Parts 3, 4, 5, 7 and 8 and the Regulations in their municipal districts, including:
issuing building permits and occupancy permits
undertaking inspections where the council is appointed the relevant building surveyor
protection of adjoining property
enforcement of safety and building standards and the Regulations, for both municipal and private building surveyors.
Councils are required to appoint a municipal building surveyor responsible for administering and enforcing these parts of the Act. VBA is responsible for monitoring and enforcing compliance with the provisions of the Act and the Regulations relating to building and building practitioners.
VAGO's 2011 report noted that councils were not clear about whether their role to administer and enforce the Act within their municipalities extends to private building surveyors, and that there were significant opportunities for councils and BC to work together more effectively.
BC established a working group in August 2012 with members from the then DPCD, the Municipal Association of Victoria, the Victorian Municipal Building Surveyors Group and the Australian Institute of Building Surveyors to develop a strategy to address VAGO's recommendations. The strategy, Towards a cooperative approach between the VBA and Local Government was intended to provide guidance to councils and was due for completion in May 2014. The strategy did not support councils' responsibility for administration and enforcement in relation to work undertaken by private building surveyors and considered that this should be undertaken by VBA.
However when the Bill was introduced it clarified that the role of councils is to administer and enforce relevant parts of the Act and the Regulations within its municipality even where a private building surveyor has been appointed.
As a result of this conflict, the strategy was not to be finalised until the respective enforcement roles of VBA and local councils were settled legislatively. The Bill did not pass, which means that VAGO's 2011 recommendations remain unaddressed.
An MOU has been drafted by VBA, the Municipal Association of Victoria and the Victorian Municipal Building Surveyors Group which will be finalised after consultation with council chief executive officers. VBA has also implemented a fast track process for municipal building surveyor referrals to VBA which forms part of the MOU.
It is clear that there has been ongoing uncertainty surrounding the role of councils in administering and enforcing the work undertaken by private building surveyors. However, VBA and the councils could have pursued an administrative solution. Such collaboration is clearly possible, even without legislative change, as is evidenced by the current MOU development. Timely establishment of communication and reporting protocols would have significantly enhanced system-wide monitoring, and assisted the development of audit activities.
2.4.6 Information sharing and agency coordination
Systematic information sharing between organisations would assist in identifying patterns of noncompliance and building practitioners that represent potential compliance risks.
CAV and VBA signed an MOU in 2008 acknowledging their joint role in domestic building, and providing for the joint arrangements for Building Advice and Conciliation Victoria, which is located at CAV. Under the MOU, there is an objective to 'enhance inter-agency information sharing and communication'.
Intelligence exchange between CAV, VBA and BPB is currently case specific and limited to on-site conciliations and section 43F referrals, which provide VBA with intelligence on builders. CAV has recently moved to establish a working group with VBA in order to address their relationship, including issues raised throughout the conduct of this audit. A more coordinated approach to practitioner intelligence has the potential to enable CAV to assist VBA in targeting its audit program and performing its practitioner monitoring functions more effectively, and also BPB in undertaking its practitioner disciplinary functions.
2.4.7 Reporting and evaluation of monitoring
VBA is responsible for providing assurance that the building control system is working effectively. Effective monitoring, evaluation and reporting on performance is required to enable VBA to perform this function.
VAGO's 2011 report found that BC had no effective performance monitoring framework, and could not evaluate the operation of the building permit system. In response, BC produced a framework in 2012, but this contained no targets, standards or arrangements for assessing system effectiveness. Although an implementation project for the framework was begun in 2013, it was ended to focus on the Victorian Domestic Building Consumer Protection Reform Strategy
VBA remains without an effective monitoring and evaluation framework, although it has begun work on a new framework, by establishing a baseline dataset and reporting requirements. Once the framework is established, VBA should undertake regular reviews to ensure that it is providing meaningful data with which to assess the effectiveness of the organisations activities.
2.5 Addressing practitioner misconduct
There is little evidence that the practitioner discipline system is operating effectively to protect consumers from poor practitioner performance, and current sanctions appear ineffective in deterring misconduct. The disproportionately high representation of building surveyors in BPB inquiries, registration suspensions and cancellations, and reoffending, is concerning given their critical role in assuring building standards.
Correspondence that we received indicates that consumers are dissatisfied with the sanctions applied by BPB:
'In regards to our relevant building surveyor [...] he has appeared at least three times in front of the BPB in the past four years [...] Each time he has received a reprimand, fine and costs. He is still registered despite his consistency of noncompliance.'
2.5.1 Inquiries and sanctions
Process overview
BPB is responsible for disciplining building practitioners and may order an inquiry into the conduct or ability to practise of a registered building practitioner or a building practitioner who was registered or suspended for less than three years at the time of the conduct in question. BPB may initiate an inquiry itself or on the recommendation of CAV, VBA, the Victorian Civil Administrative Tribunal, an insurer, or at the request of any other person, including consumers. The disciplinary process is shown in Figure 2C.
Figure 2C
BPB disciplinary process overview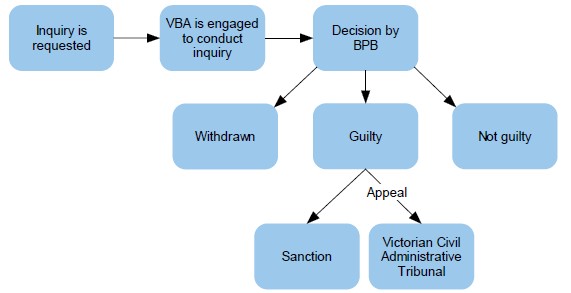 Source: Victorian Auditor-General's Office.
Where BPB has decided to investigate, it appoints VBA to conduct investigations on its behalf in accordance with the Act.
BPB does not have any efficiency or timeliness standards in relation to its disciplinary functions, nor does it measure the time taken to conduct inquiries. In the absence of these measures, it is not possible to determine whether BPB performs this function efficiently.
However, correspondence from consumers suggests the process is lengthy, which underscores the importance of having effective measures related to the efficiency and timeliness of its inquiry and disciplinary functions and outcomes:
'While I am glad BPB has now decided to hold our Inquiry, I am very disappointed that it will be two years between my initial contact to BPB and the Inquiry possibly taking place.'
'We lodged our complaint about the builder with the BPB in early December 2008, but the inquiry was delayed and delayed and the BPB inquiry did not take place until May 2011.'
Recording and reporting inquiry outcomes and sanctions
BPB's data recording and analysis of inquiry outcomes and sanctions does not allow for trends in risk and offending to be identified to inform training and compliance activities. Outcomes are recorded only as narrative paragraphs in the practitioner disciplinary register. Offences are not recorded in a consistent manner and are often bundled where breaches of the Act have occurred. Sanctions and offence information are not recorded in a database or using similarly functional software making comparison and aggregation difficult.
When a BPB inquiry finds against a practitioner, BPB reports the outcome on its Practitioner Disciplinary Register. VBA publishes this register on its website. The register lists practitioners who have been found guilty of misconduct by BPB, details of any penalties imposed and the suburb or town in which the conduct took place. The register enables consumers to check the record of practitioners before engaging their services. It is updated regularly as findings are made, though BPB and VBA do not promote its use or measure how often it is accessed.
Internal reporting consists of a monthly debrief on recent inquiry and conduct review outcomes and a report from the BPB hearings coordinator at BPB meetings. External reporting of aggregated data on BPB inquiries is limited to an appendix of the VBA annual report as shown in Figure 2D.
Figure 2D
BPB disciplinary activity 2013–14
| BPB performance | Number |
| --- | --- |
| Inquiries and conduct reviews | 61 |
| Inquiries completed | 53 |
| Conduct review meetings | 8 |
| Case proven | 52 |
| Dismissed | 1 |
| Registrations suspended | 5 |
| Registrations cancelled | 0 |
| Fines | 38 |
| Fines ($ value) | $173 383 |
Source: Victorian Auditor-General's Office based on the VBA Annual Report 2013–14.
BPB has recently sought to extract data to conduct quantitative analysis on its conduct inquiries. This data has been extracted from narrative entries in its disciplinary register and is therefore subject to the following limitations:
the data set runs from January 2009 to December 2013 and cannot easily be broken down by financial or calendar year
some information was not able to be extracted from source documents either because it was not available or because it was never recorded
all percentages are approximations.
Despite these limitations, VAGO analysis of this available data is presented in the following two sections.
Offences
Building surveyors are over-represented in BPB inquiries and findings of misconduct. This is concerning given their status within the building control system as 'gatekeepers' of safety and quality. Building surveyors can work on several sites simultaneously and because of the nature of their role have an influence in many more jobs than most builders. BPB inquiries may examine multiple offences at multiple sites—for example, in January 2013 a BS-U was found guilty of 17 offences in relation to five sites, while in 2010 another was found guilty of 25 offences relating to 11 sites.
Between January 2009 and December 2013, 58 building surveyors appeared before BPB with all found guilty of at least one offence. This represents nearly 10 per cent of registered building surveyors, with 16 of those 58 appearing more than once. Despite making up just 2.8 per cent of Victorian building practitioners, building surveyors represented approximately 16 per cent of BPB inquiries, and accounted for 36 per cent of allegations against all building practitioners during this period—with 86 per cent of these allegations against building surveyors proven—see Figure 2E. VAGO observed a similar trend in the 2000 audit where it found building surveyors accounted for one in every three complaints received.
Figure 2E
Proportion of surveyors and domestic builders sanctioned by BPB, January 2009 – December 2013
Source: Victorian Auditor-General's Office based on information from BPB.
Most of the allegations brought before BPB for all building practitioner types between January 2009 and December 2013 resulted in a guilty ruling, noting that individual practitioners routinely face multiple allegations. Guilty ruling were made for 89 per cent of allegations against domestic builders-unlimited, 86 per cent of allegations against building surveyors, 91 per cent of allegations against domestic builder-managers and 81 per cent of allegations against building inspectors. The most common offence was that the practitioner failed to comply with the Act or the Regulations, followed by unprofessional conduct. A small percentage of allegations—1 per cent of allegations against building surveyors and 2 per cent for domestic builder-unlimited—found that the building practitioner was not a fit and proper person to practise as a building practitioner.
Sanctions
The Act defines the decisions that can be made at a conduct inquiry. These range from finding a practitioner guilty of unprofessional conduct to finding they obtained registration or the required insurance by fraud or misrepresentation.
BPB may impose sanctions. Those most commonly imposed include:
reprimanding the person
requiring the person to complete a specified course of training
suspending registration for not more than three years
disqualifying the person from being registered for a period of up to three years.
In the most serious cases, BPB may cancel the practitioner's registration. In the past five years, 32 practitioners have had their registration cancelled.
From January 2009 to December 2013, the majority of BPB inquiries related to DB-U and building surveyors. On average during this period a registered building surveyor in Victoria was over five times more likely than any other class of practitioner to be suspended by BPB and almost seven times more likely to have their registration cancelled. While the over-representation of building surveyors in disciplinary hearings may be partly due to the fact that surveyors work concurrently on multiple jobs and complete more jobs in any given time period than builders, it is still concerning, given the critical role of surveyors in ensuring the safety and accessibility of buildings.
All building surveyors and domestic builders-unlimited found guilty by BPB received some form of sanction, the most common being a reprimand. However a reprimand was rarely applied as a sole sanction. The percentage of building practitioners subject to each sanction is shown in Figure 2F.
Figure 2F
Sanctions applied to practitioners found guilty by BPB
| Sanction | Domestic builder-unlimited | Building surveyor |
| --- | --- | --- |
| Reprimand | 59% | 100% |
| Required to pay costs | 94% | 97% |
| Fined | 65% | 75% |
Source: Victorian Auditor-General's Office based on information from BPB.
The range of costs imposed on both surveyors and DB-U ranged from less than $1 000 to over $80 000 with 45 per cent of surveyors' costs and 54 per cent of DB-Us' costs falling in the range of $1 000 to $5 000. Fines imposed on surveyors and DB-Us ranged from less than $1 000 to almost $15 000 with 45 per cent of surveyors' fines and 58 per cent of DB-Us' fines falling in the range of $1 000 to $5 000. BPB is limited in its capacity to impose fines by section 179(2) of the Act which sets a maximum fine of 100 penalty units—equal to $14 761 until 30 June 2015.
Between 1 July 2009 and 23 July 2014, 22 building practitioners of all classes—mostly building surveyors and DB-Us—were found guilty by BPB on more than one occasion. An examination of sanctions imposed indicates that sanctions typically escalate with successive appearances. Five practitioners who received a combination of reprimands, fines and costs imposed in their first appearances, had their registrations suspended or cancelled at their next appearance. However, given the number of building practitioners, particularly building surveyors, who have appeared multiple times before BPB in this period, it is worth assessing the effectiveness of current sanctions in acting as a disincentive to engage in misconduct.
BPB has recently undertaken similar analysis of its disciplinary outcomes data. Recognising the limitations of the data identified above, and in preparation for assuming the functions of BPB, VBA has begun work to facilitate an improved data capture process within its Compliance and Performance Division.
2.5.2 Prosecutions
VBA's prosecutions focus on unregistered builders and builders operating without a valid permit. VBA seeks criminal prosecutions in the Magistrates' Court when the conduct of a building practitioner is serious in nature and/or where it considers the breach of the law was conscious and deliberate. It also seeks criminal prosecutions against individuals who perform building or works without being licensed or registered in Victoria. VBA's prosecution guidelines outline the factors VBA consider in deciding whether or not to prosecute. In addition, VBA is directed by the Director of Public Prosecution's prosecutorial discretion guidelines.
In 2013–14, VBA prosecuted 28 people in the Magistrates' Court:
A person practising as a building surveyor while unregistered was fined $10 000.
A project manager was fined $10 500 for entering into a major domestic building contract and carrying out the work without a permit, registration or insurance. The prosecution in this instance is a Domestic Building Contracts Act 1995 prosecution under the authority of the Director CAV.
A person who identified himself as a registered draftsperson and registered engineer, despite not holding the relevant registrations, was fined $4 500.
A company director was ordered to complete 100 hours of volunteer work after being charged with carrying out work without a permit and without registration.
Recommendations
That the Department of Environment, Land, Water & Planning and the Building Practitioners Board, in consultation with the Victorian Building Authority, reviews the practitioner registration and discipline regimes, and advises government accordingly, so that:

only qualified, competent and suitable practitioners are allowed to trade
practitioners have necessary building, business and financial skills and experience, appropriate resources and character, and fully understand their responsibilities and obligations
monitoring provides assurance that practitioners maintain and update their skills over time and as building practices evolve
practitioners' suitability for registration can be reassessed at the expiration of a finite registration period
disciplinary systems and sanctions ensure that there is sufficient disincentive to engage in misconduct and that registered practitioners who do so can be excluded from trading
data from registration and discipline regimes is collected and analysed to inform system improvements.

That the Department of Environment, Land, Water & Planning reviews the regulatory arrangements governing the engagement of building surveyors to ensure they support the independent and objective performance of their function to provide appropriate independent oversight of building and the building system.
That the Victorian Building Authority reviews its monitoring and compliance framework, and takes action, including advising the Department of Environment, Land, Water & Planning where necessary, to:

identify poor practitioner performance and appropriately prosecute and/or refer for discipline
prioritise the monitoring and enforcement oversight of relevant building surveyors
clarify respective agency responsibilities for monitoring and compliance including expediting the establishment of a memorandum of understanding to clarify the roles of the Victorian Building Authority and councils for monitoring and enforcing compliance with the Building Act 1993
effectively administer the building permit levy including expediting the establishment of arrangements to allow the Victorian Building Authority to reassess and recoup underpaid levies, and require surveyors to remit levies promptly.