1 Our organisation: About VAGO
The Auditor-General is an Independent Officer of the Victorian Parliament, appointed on behalf of Victorians to scrutinise how well government spends public money. VAGO helps hold the government to account through our financial and performance audits of public sector agencies and our resulting reports to Parliament.
Along with the Independent Broad-based Anti‑corruption Commission, the Victorian Ombudsman and the Victorian Inspectorate, we are part of Victoria's modern integrity system, and we work to protect the public interest.
Two principal pieces of legislation govern what we do:
The Constitution Act 1975 establishes the role of the Auditor-General and gives the Auditor-General complete discretion in how the functions and powers of the role are performed and exercised.
The Audit Act 1994 establishes the Auditor-General's mandate and VAGO. It provides the legal basis for our powers and identifies the responsibilities of our role. In Section 1.4 we discuss the proposed changes to this Act.
We audit the financial reports of over 500 agencies each year, including government departments, statutory bodies, educational institutions, public hospitals, water corporations, insurers and local government councils. We also conduct performance audits that assess the effectiveness, efficiency, economy and compliance of government agencies, programs and services.
With our new follow-the-dollar powers, we are also able to audit non‑government organisations that provide government services under contract. Our first follow-the-dollar audit, Safety and Cost Effectiveness of Private Prisons, was completed this year.
Our unique position and access to information across the entire public sector gives us insights into common issues and allows us to create more value for the agencies we audit. We not only provide recommendations on how to improve services and function more efficiently and effectively, we are now also providing useful information back to agencies through our data analytics dashboards.
1.1 Our new strategic plan
In late 2017, we launched our new strategic plan which articulates our intentions for VAGO's future. It maps out where we are heading, how we will work together to get there, and what success looks like. Our strategic plan, combined with our new values, detailed in Section 1.2, provides a solid foundation for change and will help us achieve our vision of creating better lives for Victorians through our insights and influence.
 
Our objectives

Our directions

What success looks like

Our progress towards success

Be more relevant by delivering credible and authoritative reports and advice about things that matter and will make a difference

Modernise our auditing methods
Update how we audit to reflect new and emerging technology‑enabled practices

Explore our full mandate
Rebalance our audit programs to evenly cover efficiency and effectiveness, governance and compliance

Take a longer-term perspective
Analyse audit results through time to identify what works on complex and interconnecting issues

Our audit program effort is targeted across efficiency, effectiveness, economy and compliance

As part of our Annual Plan 2018–19, we have better balanced our performance audit program across efficiency, effectiveness, economy and compliance to ensure we explore our full mandate. We have included targeted reviews on efficiency, audits that analyse a thematic audit area over time and matters of good housekeeping and financial regularity that underpin service delivery.

The benefits realised by the public sector show an increased return on investment from our audit work

We have started foundational work to help us understand our influence, the impact we have through our audit work, and the benefits realised for audited agencies.

Be valued for our independence and more influential because of the unique perspectives we provide

Strengthen our engagement
Build more productive relationships based on mutual respect and understanding of our respective roles and organisational contexts

Better leverage our access
Use our access to cross-government datasets to provide our clients with new insights they can use

Increase accessibility to our work
Develop new interactive channels with our stakeholders and open up access to our data to allow tailored use to meet specific needs

More of our performance audits originate from requests from Parliament, the public sector and the public

We have started to review the source of our audit topics over the past year to establish a baseline against which we can measure our performance in the future.

Use of our reports and associated datasets in government service delivery and for parliamentary purposes has increased

We have started foundational work to help us understand our influence, the impact we have through our audit work, and the benefits realised for audited agencies.

Enable high performance by our people through a supportive culture, professional development and collaboration

Be clear about what we stand for
Demonstrate leadership and accountability in how we work and live our values and culture

Invest in excellence
Support our people to harness new and emerging technologies by developing their technical, analytical and people management capabilities

Get the mix right
Ensure our workforce composition builds our capability to position us to meet future business needs

Employee engagement has increased

Employee engagement is measured by the People Matter Survey run by the Victorian Public Sector Commission. In 2018 our score on the Employee Engagement Index was 66.

We develop, attract, and retain the talent we need

In 2017–18, our staff attended around 25 hours of training on average, covering technical audit topics, professional requirements, management training and a range of other topics.

Model exemplary performance in everything we do

Simplify our business
Eliminate unnecessary internal red tape, and streamline and increase automation of core business processes

Embrace new technology
Invest in cloud technology, implement the best software solutions to integrate our business systems, and share information to improve our practice

Better intelligence to drive decisions
Develop a comprehensive portfolio of service, product and project performance measures

Workforce productivity has increased

From 2016–17 to 2017–18, we have increased the overall VAGO productivity rate (the per cent of available hours dedicated to audit work) from 55 per cent to 60 per cent.

Our internal practices set the benchmark for public sector entities and other audit offices

In 2017–18, we have started to apply the same lens that we apply to audited agencies to ourselves to ensure that we meet the same standard. Notable areas in which we have been forging the way include digital records and our move to cloud-based services and integrated applications.
Note: Next year, as our first full year operating with the new strategic plan, we will report our progress more completely.
1.2 Our values
We launched our new values in May 2018. They were developed using a staff‑led process, through focus groups and a committee. The values guide our behaviours, shape how we interact with our stakeholders and drive a more open and supportive culture.
We are an independent integrity organisation. We will stay true to our values and meet the high standards that Victoria's Parliament, public sector and community expect from us.
We show respect
We celebrate our diversity.
We seek out, listen to and understand each other's perspectives.
We treat people with fairness and dignity, and protect confidentiality.
We collaborate
We enjoy working together, and we support and trust each other.
We learn and develop, and give constructive feedback.
We share our knowledge and insights.
We are innovative
We harness ideas to adapt and evolve.
We have the courage to take informed risks and challenge the status quo.
We embrace what we learn from the new things that we try.
We are accountable
We empower each other.
We meet our agreed commitments.
We are responsible for, and transparent about, our decisions and actions.
We make decisions that withstand scrutiny.
1.3 Our operating model
Our operating model underpins how we create value for Parliament and the Victorian community.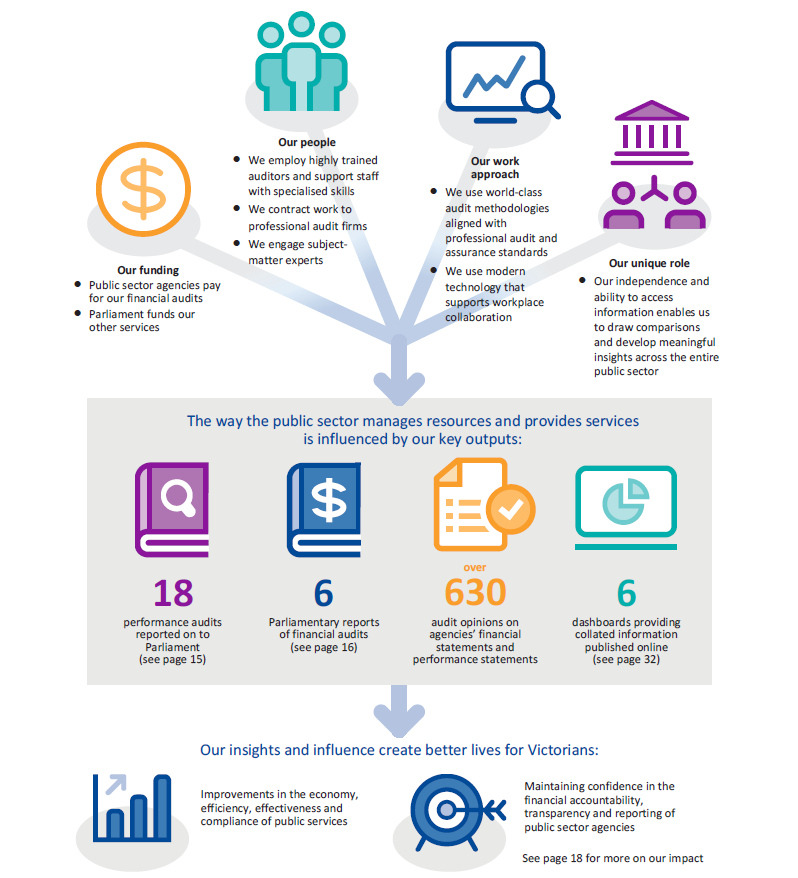 1.4 Proposed changes to our legislation
The Audit Amendment Bill 2017 was introduced into Parliament late in 2017 and proposed a substantial modernisation of the current Audit Act 1994. The changes, if they had passed, would have clarified how some of our existing powers operate and introduced some new powers.
One key amendment would have allowed us to conduct assurance reviews: short, focused reviews of a matter or issue. We would have been able to form a limited assurance opinion on whether the subject of the audit met the particular aspect of efficiency, economy or effectiveness we examined. These reviews would allow us to be more responsive to Parliamentarians as they would not be as time consuming as traditional performance audits. This amendment would also allow us to provide positive feedback about what agencies are doing, highlighting where they are performing well.
Another major new addition would have been the power to enter the premises of public bodies or associated entities to inspect the premises and any document or other thing. These access powers could be used only if the required information is not provided voluntarily and after we have issued an information‑gathering notice to an agency.
More broadly, the changes proposed in the Bill would have clarified our powers to access privileged and other protected information, without the need to issue a coercive notice under section 11.
This is significant because our current legislation modifies our unrestricted access to such information by linking it to our coercive powers to obtain information under section 11 of the Act. We have always treated our coercive powers as a measure of last resort, as evidenced by the fact that they have rarely been used. Without the new provisions, we are concerned that the use of section 11 will need to become routine, especially as we roll out our data analytics strategy. This will place extra administrative burdens on us, the audited agencies and the Victorian Inspectorate, which monitors our use of our coercive powers.
The proposed amendments would also have provided us with the ability to better share the information we gather through our audit process with public bodies. This means, for example, we could share our data analytic dashboards more broadly.
At the time of publishing this annual report, the Bill had not been passed.