Recovering and Reprocessing Resources from Waste
Victorian residents and businesses threw away some 12.9 million tonnes of waste in 2016–17. SV predicts that this waste will reach 20 million tonnes by 2046. Metropolitan Melbourne accounts for around 80 per cent of total state waste.
Councils and private waste operators manage rubbish and discarded materials through a network of collection and transportation services, and recovery, reprocessing and landfill facilities. Recovery is the separation of recyclables from waste destined for landfills. The government's role is to provide strategic direction, support and, where necessary, effective regulation.
Community participation in the recycling process is an important component of the state's waste system. To invest their time in separating bottles, papers and other recyclables, Victorians need confidence that these materials are properly recycled.
For the purposes of this report, 'waste' refers to all materials that consumers and business have discarded.
1.1 Waste streams and material types
Waste streams
Waste is typically sourced from:
MSW—household and some commercial waste collected at the kerbside by councils or their contractors
C&I waste—commercial and industrial buildings collected mostly by private waste operators
C&D waste—construction sites, collected by private operators.
Waste generated from these streams include glass, paper and cardboard, metal, plastic, tyres, FOGO, e-waste, and general rubbish. Some waste materials are hazardous in nature, including asbestos and chemical wastes from industries. EPA regulates the handling, storage, transport and disposal of these materials through the Environment Protection (Industrial Waste Resource) Regulations 2009.
Waste material types
Plastics
SV broadly groups plastic as either rigid or flexible. Rigid plastics are widely used in products such as bottles, containers, toys, pipes, and window frames. Flexible plastics are used for packaging film, plastic bags, shrink wrap, builder's film, and agricultural products such as silage wrap and wheat bags.
In 2016–17, the state recovered 131 000 tonnes of plastic—more than half of which came from MSW.
Paper and cardboard
The main categories of value for reprocessing in Victoria are:
cardboard and paper used for packaging (boxes)
newspapers
magazines
printing and writing paper.
These items are used to manufacture recycled paper, packaging material and boxes. Material exported overseas is usually baled, compacted mixed paper.
According to available 2016–17 data, the Victorian waste and resource recovery system managed approximately two million tonnes of paper and cardboard. Of this, Victoria recovers 1.5 million tonnes, or approximately 75 per cent, with the remaining disposed of in landfill.
Tyres
A tyre becomes a waste tyre when it can no longer be used for its original purpose. Every year, Australians generate 56 million waste tyres.
If not properly managed, waste tyres can cause significant environmental and public health risks. Whole tyres are flammable and pose a considerable fire hazard when stored together or stockpiled. If ignited, large volumes of waste tyres are difficult to extinguish and can have severe impacts on the air, soil, and water due to pollution. This can result in high economic costs and liabilities.
Organic waste
Organic waste refers to any material that comes from a natural and biodegradable substance. It can be solid material such as timber and woody garden waste, food, or liquid waste such as grease trap waste or dairy effluent. It includes food waste from households, supermarkets, manufacturing, restaurants, and agricultural and effluent waste.
According to available data, organic waste makes up to 35 per cent of the total solid waste sent to landfill in Victoria. If not managed properly it has the potential to impact negatively on the community, environment and public health.
Available data indicates that food waste has the lowest recovery rate of all materials. According to the SWRRIP, the system currently manages nearly a million tonnes of food waste but in 2015–16 only 10 per cent was recovered:
67 per cent from the MSW sector (4 per cent recovered)
33 per cent from the C&I sector (23 per cent recovered)
less than 1 per cent from the C&D sector.
E-waste
E-waste includes televisions, computers, mobile phones, kitchen appliances and white goods. It is any product that uses an electric current to run. These items can contain valuable materials, such as gold, copper and platinum. E‑waste can also contain highly hazardous materials.
E-waste makes up only 1 per cent of waste currently going to landfill; however, it is one of the fastest-growing waste streams in Australia. E-waste from televisions and computers alone is expected to grow by over 60 per cent, or 85 000 tonnes, by 2024.
In late 2014, the government committed to banning e-waste from landfill to reduce harm to the environment and human health, and increase recovery of the resources in e-waste.
1.2 Waste infrastructure
The state's waste sector comprises operators that collect, sort, recycle, recover and dispose to landfill waste materials generated through the three waste streams. Figure 1A shows the infrastructure used to manage this waste.
Figure 1A
Four major groups of waste and resource recovery infrastructure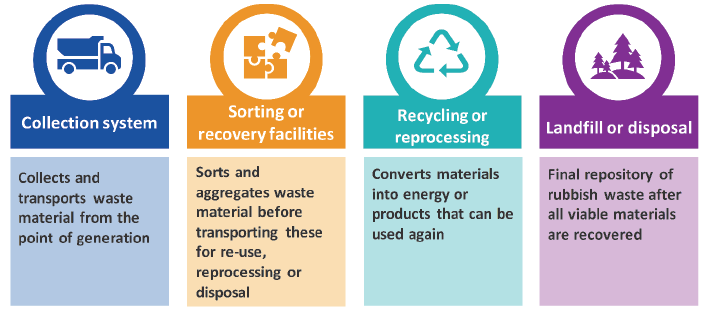 Source: VAGO, from the SWRRIP.
According to SV, as at 1 June 2017 the state has more than 630 sorting, recycling and landfill infrastructure sites. Figure 1B provides a breakdown of these sites by region.
Figure 1B
Number of waste infrastructures across Victoria
| Region | Sorting or recovery facilities | Recycling or reprocessing facilities | Landfill or disposal infrastructure | Total |
| --- | --- | --- | --- | --- |
| Metro Melbourne | 69 | 69 | 18 | 156 |
| Barwon South West | 52 | 21 | 6 | 79 |
| Gippsland | 97 | 21 | 10 | 128 |
| Goulburn Valley | 41 | 22 | 5 | 68 |
| Grampians Central | 74 | 13 | 16 | 103 |
| Loddon Mallee | 47 | 8 | 13 | 68 |
| North East | 21 | 10 | 4 | 35 |
| Total | 401 | 164 | 72 | 637 |
Source: VAGO, from the SWRRIP.
1.3 Legislation and policy
All Australian environment ministers endorsed the 2018 National Waste Policy: Less waste, more resources, which lays out the country's waste management and resource recovery direction to 2030.
Environment Protection Act 1970
The Act, which established EPA, is also the primary legislation that deals with Victorian waste management and resource recovery. It establishes a waste management hierarchy, which sets out an order of preference for how waste should be managed to help achieve the best possible environmental outcomes. This is shown in Figure 1C.
Figure 1C
The waste hierarchy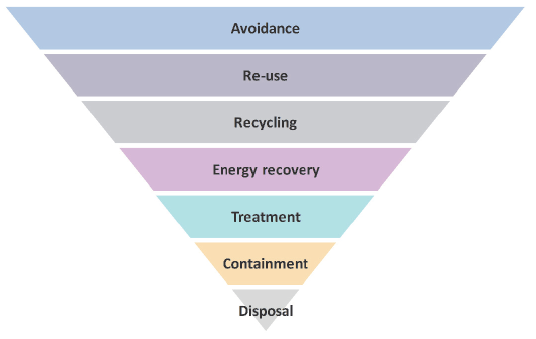 Source: VAGO, from the Act, s.1I
Victorian Waste and Resource Recovery Planning Framework
The 2014 amendments to the Act established the Victorian Waste and Resource Recovery Infrastructure Planning Framework (the Framework). The Framework's objective is to ensure long‑term strategic planning for waste and resource recovery infrastructure at state and regional levels through integrating needs, policy and statewide coordination. The Framework consists of:
the SWRRIP
regional waste and resource recovery implementation plans (RWRRIP)
relevant ministerial guidelines.
Victorian waste policy
In 2013 the then Victorian Government released Getting Full Value (GFV) as the overarching statewide waste policy. To deliver on its objectives, GFV mandated the development of the SWRRIP, RWRRIPs and several other waste strategic plans.
The current government did not endorse GFV as the state's waste policy when it came to office in 2014 and has not released a new policy. In 2018–19 the government approved a $9.02 million funding allocation for DELWP to develop a whole-of-government waste policy that incorporates circular economy principles. DELWP advised us that this will be released in 2020.
Statewide Waste and Resource Recovery Infrastructure Plan
Under the Act, SV must prepare the SWRRIP to provide strategic direction for the development and use of waste and resource recovery infrastructure for 30 years. SV published the first SWRRIP in 2015 and republished it in 2018 to incorporate the priorities and infrastructure analyses of the WRRIPs of the seven WRRGs.
The Act requires SV to review the SWRRIP at least once every five years. This must include an analysis and description of current and future waste and resource recovery sources, levels, and trends.
Regional Waste and Resource Recovery Implementation Plans
RWRRIPs set out how the resource recovery infrastructure needs of the WRRGs will be met over at least a 10-year period. They align with the SWRRIP and describe how statewide infrastructure needs will be implemented at a regional level.
RWRRIPs must include an analysis and description of current and future waste and resource recovery sources, levels, and trends. RWRRIPs are also required to include an infrastructure schedule for their region and a description of how the long-term directions of the SWRRIP will be implemented locally.
1.4 Roles and responsibilities
Maximising the recovery and reprocessing of resources from waste relies on goodwill from the community and the effective collaboration of the state government, responsible agencies, and councils. Clarity in roles and responsibilities is critical for effective and coordinated planning and implementation of the state's waste programs and activities.
Department of Environment, Land, Water and Planning
DELWP is primarily responsible for:
policy development
leadership, coordination, and oversight of the waste portfolio
working with other state and federal government departments
oversight of the Sustainability Fund, including financial management and advice on expenditure.
Sustainability Victoria
According to the Sustainability Victoria Act 2005 and relevant waste strategies and plans, SV is responsible for:
planning and facilitating the statewide management of waste
developing and implementing strategies to foster sustainable markets for recovered resources and recycled materials
developing tools to measure and report on government waste targets
promoting waste avoidance, waste reduction and recovery, re-use, recycling of resources and best practices in waste management across the state
preparing the SWRRIP and assisting in the preparation of RWRRIPs
developing and implementing strategies, frameworks, projects, and programs to promote and facilitate the sustainable use of resources
providing investment facilitation expertise and funding infrastructure development
delivering statewide waste education and behaviour change campaigns
developing and implementing a data management governance framework, including developing standards and guidelines to ensure consistency, accuracy and timeliness of the data collected to support decision-making and infrastructure planning.
Victorian Environment Protection Authority
EPA is responsible for controlling pollution from waste through the development and enforcement of regulations and environmental standards. EPA also manages the collection of funds related to environmental regulation and enforcement, including the landfill levy.
Regional waste and resource recovery groups
Regional WRRGs, including MWRRG, are responsible for:
developing RWRRIPs for inclusion in the SWRRIP
facilitating the procurement of waste services on behalf of member councils
providing waste education, under SV's coordination and oversight
delivering specific projects as funded by SV or other organisations.
Councils
Councils provide a range of waste disposal and recycling services for their communities including:
kerbside collection and disposal of general household garbage, hard rubbish, recyclables, and FOGO
drop off for disposal and/or recycling of other specific types of items including metals, chemicals, oil, e-waste, paper, cardboard, garden organics and used printer cartridges
operation of landfills for the disposal of waste
commercial waste removal services in specific circumstances
community education services about waste, resource recovery and litter.
Other roles and responsibilities
Government waste and resource recovery instruments—including the VORRS and MDS—also allocate roles and responsibilities to relevant agencies and councils.
For example, the RISP identifies the lead agencies for specific responsibilities. Some of these are shown in Figure 1D.
Figure 1D
Roles and responsibilities according to the RISP
| Responsibilities | Lead agencies |
| --- | --- |
| Support local government and industry to transition to new contract arrangements for recycling services | DELWP, SV |
| Improve contracting and procurement processes used by local government for recycling services | DELWP, MWRRG |
| Improve the collection of recycled materials | DELWP, SV |
| Drive demand for products containing recycled materials through government procurement | SV, Department of Treasury and Finance (DTF) |
Source: VAGO, from the RISP.
1.5 Impact of the foreign export market
Chinese Sword Policy
According to SV data, in 2016–17 Victoria exported three-quarters of recovered plastic and nearly half of recovered paper and cardboard for offshore reprocessing. A significant amount of Victoria's waste export—nearly all plastic exports and 75 per cent of paper exports—went to China.
China formally announced that it was restricting its waste imports in a notice to the World Trade Organization in July 2017, and the restrictions went into force at the start of 2018.
However, in 2013 China had already been working to block imports of low‑quality recyclables under a crackdown referred to as the Operation Green Fence Policy. Customs officials increased their inspection of scrap plastic, paper, and metals to reject contaminated imports. Figure 1E shows that China's import of waste started decreasing in line with the implementation of the Operation Green Fence Policy.
Figure 1E
China's waste imports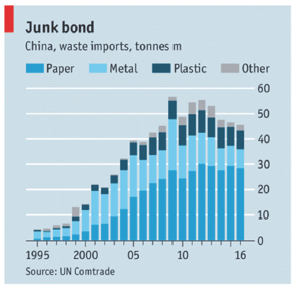 Source: 'China tries to keep foreign rubbish out', The Economist, 3 August 2017, https://www.economist.com/china/2017/08/03/china-tries-to-keep-foreign-rubbish-out. Last accessed 23 March 2019.
Figure 1F shows that Australian exports to China started decreasing in 2013.
Figure 1F
Exports of waste materials for recycling by type from Australia to China, 2006–07 to 2017–18

Source: National Waste Report 2018.
The Chinese Government's decision to stop importing low-quality or unsorted plastic and paper recyclables led to the significant decline of Australian waste exports to China across the second half of 2017 and into the first half of 2018. According to SV-commissioned research in 2018, Australian export of paper, cardboard and plastic to China fell from 71 per cent (98 300 tonnes of the 139 400 tonnes total Australian export) in January 2017 to 24 per cent (25 300 tonnes of the 107 100 tonnes total Australian export) by February 2018. SV had not yet released data on 2017–18 Victorian waste during the audit.
The same SV-commissioned research noted that international commodity prices for these materials declined significantly from:
$124 per tonne to $0 per tonne for paper and cardboard
$325 per tonne to $55 per tonne for plastic.
Figure 1G illustrates the time line of the Chinese Sword Policy.
Figure 1G
Time line of Chinese Sword Policy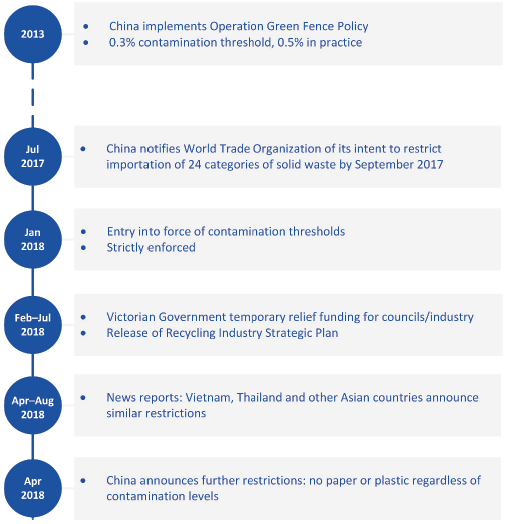 Source: VAGO.
Prior to the Chinese Sword Policy, many resource recovery facilities paid Victorian councils around $60 per tonne of recyclables, which offset the cost of providing the service to ratepayers. Resource recovery facilities then sold these materials to China.
When China started significantly restricting its importation of scrap paper, plastics and metal, these private resource recovery facilities notified Victorian councils that instead of being paid for these materials, councils would need to start paying $70 per tonne to have them collected.
Councils had little choice but to agree as the alternative would be to stop kerbside recycling services to Victorian households. The full impact of this contract revision varied from council to council but DELWP estimates it at about $120 to $150 per tonne on average.
1.6 Why this audit is important
The Victorian waste sector is currently facing many challenges, in particular the closure of export markets for recyclables. Illegal dumping, large-scale stockpiling of recovered resources, and illicit storage of hazardous chemicals are increasingly exposing the Victorian community to health and environmental risks.
Our 2011 Municipal Solid Waste Management performance audit report found that contrary to the objectives of the then Victorian waste policy Towards Zero Waste (TZW), waste generation in Victoria continued to rise. The audit found that a lack of effective planning, leadership, coordination, and oversight from responsible agencies hindered the effective implementation of TZW. The audit's three recommendations were all accepted.
1.7 What this audit examined and how
This audit examined whether responsible agencies are maximising the recovery and reprocessing of resources from Victoria's waste streams.
The audit reviewed the activities of DELWP, SV, EPA, MWRRG, and two metropolitan councils—Banyule Council and Monash Council.
We conducted our audit in accordance with section 15 of the Audit Act 1994 and ASAE 3500 Performance Engagements. We complied with the independence and other relevant ethical requirements related to assurance engagements. The cost of this audit was $540 000.
1.8 Report structure
The remainder of this report is structured as follows:
Part 2—Leadership for waste management
Part 3—Understanding Victoria's waste data
Part 4—Identifying and managing risks
Part 5—Changing community behaviour.