Recovering and Reprocessing Resources from Waste
2 Leadership for waste management
As Victoria's population grows, so too does the volume of materials we discard. In 2016–17 available data suggests that Victoria generated 12.9 million tonnes of waste. SV predicts that by 2046 this will reach 20 million tonnes—an increase of 55 per cent.
An effective waste and resource recovery system is essential to manage Victoria's waste to minimise the impact on the environment. Achieving this requires leadership and clear policy direction to drive coordinated effort across both state and local governments and the engagement and cooperation of businesses, communities and individuals.
2.1 Conclusion
DELWP's failure to fulfil its leadership role to ensure that the state operates under an overarching waste policy is depriving responsible government agencies and their stakeholders of a clear and definitive direction for waste management. This means that government responses to waste issues have been ad hoc and reactive.
In the absence of a statewide policy, agencies involved in waste management lack clear signals about what their priorities should be and how best to use their limited resources. DELWP's, SV's and MWRRG's six waste and resource recovery strategies and plans have myriad objectives and actions, which do not provide clear and coherent guidance in place of a statewide policy. Stakeholders, particularly some councils and waste operators, are confused about the roles and responsibilities of state-level agencies. Significant gaps in the waste instruments available lead to missed opportunities to improve waste management.
Further, DELWP, SV and MWRRG are not clearly and publicly reporting on the progress of the individual actions, overall objectives and outcomes of their strategies in a way that enables industry and the community to track their progress.
2.2 No statewide waste policy
Without a statewide waste policy, responsible agencies are operating in an uncertain environment and cannot effectively prioritise their limited time and resources.
GFV, which was published by the previous government in 2013, was the last statewide waste policy. DELWP advised us that after the 2014 election and change of government, GFV stopped being referred to as the state's waste policy. Some stakeholders and other relevant agencies we spoke to were not aware that, since 2014, GFV was no longer state policy.
The lack of a statewide policy since then has:
caused frustration among relevant state agencies and local governments, making it more challenging to make decisions on which interventions to prioritise
added to the confusion among councils and industry about the roles and responsibilities of SV and DELWP
limited agency action in areas such as WtE—a clear policy would provide greater clarity and direction for EPA, MWRRG, councils, and industry in planning for WtE facilities.
DELWP advised that the 2017–18 Budget was the first opportunity it had to seek resourcing to address the policy gap. Although unsuccessful, a bid put forward for the 2017–18 Budget identified stakeholder concerns about the lack of a coherent overarching policy increasing business uncertainty.
State government policy is a critical tool that drives both public and private investment priorities. EPA and MWRRG informed us that economies of scale and the ability to sustain reliable markets for recovered waste materials requires predictable policy settings and investment certainty.
The 2018–19 Budget allocated $9.02 million for DELWP to create an evidence-based, whole-of-government waste policy and action plan to 2030 that incorporates circular economy principles and includes the government's position on WtE. DELWP advised us that it is working to finalise the policy by 2020. DELWP has developed a draft issues paper that it expects to release to the public as the first part of the policy's development.
Unclear roles and responsibilities
The WRR PCB oversees the development and delivery of policy, programs and projects in waste and resource recovery. It is made up of DELWP, SV, EPA and WRRGs.
Despite changes arising from the recommendations of our 2011 report, Municipal Solid Waste Management, and the MAC Review, roles and responsibilities in the waste and resource recovery sector remain unclear.
DELWP has worked to improve the understanding of state agency roles and responsibilities through the establishment of the Waste and Resource Recovery Project Control Board (WRR PCB).
In 2015, through this forum, state agencies agreed on and documented their roles and responsibilities. However, in mid-2018 DELWP surveyed portfolio members to understand constituents' thoughts on the clarity of roles and responsibilities. The survey identified that there was residual ambiguity and a need for further clarity around the roles and responsibilities of each organisation. DELWP addressed these areas of ambiguity in its 2019 Waste and Resource Recovery Portfolio Collaboration Framework.
However, external stakeholders we spoke to through our audit consultation continue to find roles and responsibilities of key agencies confusing. This indicates that efforts to provide a greater understanding of the roles and responsibilities at a state agency level have failed to filter down to councils and industry.
The considerable number of disparate waste instruments that provide for agency tasks and functions adds to the confusion. For example, the RISP tasks SV and DELWP to assess different options to improve the collection of recycled materials. This is a specific function that has not been previously spelled out either in legislation or other waste instruments.
DELWP needs to clarify and set out in one document the roles and responsibilities of each agency responsible for waste management. In doing this, DELWP also needs to determine whether SV, MWRRG, EPA, and itself, have sufficient resources to undertake all the designated roles and responsibilities.
2.3 Unclear statewide guidance
SV developed the SWRRIP and MWRRG developed the MWRRIP in line with legislative requirements. Collectively, however, the six strategies and plans do not provide clear and coherent guidance on required or priority activities.
Figure 2A lists the six statewide waste strategies guiding the waste and resource recovery sector in metropolitan Melbourne. These identify 23 goals or objectives, 23 strategic directions and 103 actions.
Figure 2A
Content of waste and resource recovery strategies
| Instruments | Responsible agency | Number of goals/ objectives | Number of strategic directions | Number of actions |
| --- | --- | --- | --- | --- |
| SWRRIP | SV | 4 | 6 | 20 |
| MWRRIP | MWRRG | 4 | N/A | 13 |
| VORRS | SV | 4 | 4 | 14 |
| MDS | SV | 7 | 7 | N/A (in business plan) |
| WES | SV | N/A | 6 | 45 |
| RISP | DELWP | 4 | N/A | 11 |
| Total |   | 23 | 23 | 103 |
Source: VAGO, from SV for the SWRRIP, MWRRIP, VORRS, MDS and WES and DELWP for the RISP.
There are also key gaps in these strategies and plans, as shown in Figure 2B.
Figure 2B
Waste and resource recovery strategies
| Strategies and plans | Responsible agency | Implementation plan | Lead agency identified for each action | Time lines | KPIs | Public reporting |
| --- | --- | --- | --- | --- | --- | --- |
| SWRRIP | SV | ✘ | ✔ | ✔ | ✔ | ✔ |
| MWRRIP | MWRRG | ✔ | ✔ | ✔ | ✔ | ✘ |
| VORRS | SV | ✘ | ✘ | ✘ | ✘ | ✘ |
| MDS | SV | ✘ | ✘ | ✘ | ✘ | ✘ |
| WES | SV | ✘ | ✘ | ✘ | ✘ | ✘ |
| RISP | DELWP | ✔ | ✔ | ✔ | ✔ | ✘ |
| Total (✔/✘) |   | 2/6 | 3/6 | 3/6 | 3/6 | 1/6 |
Source: VAGO, from SV for the SWRRIP, MWRRIP, VORRS, MDS and WES and DELWP for the RISP.
Statewide Waste and Resource Recovery Infrastructure Plan—quasi‑statewide policy
In the absence of a statewide waste policy, some councils and stakeholders have incorrectly considered the SWRRIP as Victoria's waste policy. This confuses the purpose of the SWRRIP, which is to provide a 30-year plan for the state's recovery, reprocessing and landfill infrastructure. The previous government designed the SWRRIP to be one of four key strategies and plans—including the MDS, VORRS and WES—to underpin the implementation of its overarching statewide waste policy, GFV.
This confusion has led Monash Council and some other stakeholders consulted during the audit to believe that SV and not DELWP is responsible for developing the statewide policy.
2.4 Limited implementation of statewide strategies
SV is not effectively implementing its four strategies guiding the waste and resource recovery sector in Victoria to ensure waste to landfill is minimised. The SWRRIP is a 30-year strategy, the MDS and WES have a 10‑year outlook, and the VORRS is a five-year action plan. Despite this, three years since their publication, SV does not have a clear plan to implement them. In particular, SV's limited and ineffective implementation of the VORRS is a missed opportunity to improve the recovery rate of organic material by 2020.
No implementation plans
SV's SWRRIP, VORRS, WES and MDS include some vague actions and do not provide specific guidance on how to achieve identified objectives. Actions indicated often have multiple projects sitting underneath them, but no implementation plan. This makes it difficult to determine the activities required to achieve identified objectives.
In contrast, each action included in the RISP is accompanied by a more detailed implementation description that identifies the expected outcome or target, time lines and lead agency.
SV developed the 2015–16 Delivery Plan for the SWRRIP, which includes a three‑year activities table that SV updates annually. 'Activities' are defined in the delivery plan as projects, programs and initiatives that are being undertaken by portfolio partners to deliver SWRRIP actions. For example, MWRRG is providing workshops, training and guidance to councils to improve their waste and resource recovery strategies. However, the activities table does not provide a detailed enough description of what needs to occur for responsible agencies to implement each action and for SV to implement the overall strategy.
No targets or performance measures
The SWRRIP is a 30-year strategy but does not identify any targets or immediate, intermediate or end measures for outputs or outcomes. This makes it difficult to understand how SV will determine and report on its progress. The VORRS, WES and MDS do not have targets, performance measures or specific requirements for the frequency of reporting.
Limited monitoring and reporting
Transparent public reporting on government performance is an important way to build and maintain public trust. This is particularly relevant given the importance of community involvement in minimising and recycling waste.
DELWP, SV and MWRRG publicly report on the completion of individual projects and programs within their strategies and plans in their annual reports. However, they are not clearly, transparently and publicly reporting on the progress of the actions, overall objectives and outcomes of their strategies in a way that enables industry and the community to track their progress or understand their impact.
SWRRIP reporting
SV monitors progress of the SWRRIP actions through its Evaluation Report and reports this to the WRR PCB annually. It raises project or activity status, risks and issues on an as needs basis through the WRR PCB.
SV does not have similar reporting for the VORRS, WES or MDS but rates their overall progress in the SWRRIP Evaluation Report. The assessments are imprecise, and the evidence base of the ratings is not clear given the lack of regular monitoring and reporting on actions in these strategies. SV only provides this full evaluation report to portfolio members, it does not report it publicly.
SV has released a progress report on the SWRRIP for 2015–17 and 2016–18, but these do not include an assessment of whether identified objectives are being achieved. These progress reports do not communicate clear outcomes to the Victorian community. Instead, they summarise key outputs and monitor performance indicators using self-reported surveys. SV does not clearly link activity reporting and performance measures with SWRRIP goals or collect primary data against the indicators.
Limited and delayed funding
EPA is responsible for collecting the Municipal and Industrial Landfill Levy (MILL) under the Act. EPA collects the MILL from licensed landfill operators, councils or commercial operators, and transfers it to the MILL Trust Account, managed by DELWP.
SV, EPA and the seven WRRGs receive core funding allocations from the MILL Trust Account through an annual ministerial determination. DELWP transfers the remaining balance to the Sustainability Fund. SV and MWRRG source project and program funding through the Sustainability Fund. Funding for each project and conditions and accountability requirements are specified in funding agreements with the recipients.
Since 2017–18, the government has allocated SV $785 000 from the Sustainability Fund to deliver the VORRS, $8.31 million to deliver the WES and related education programs and $6.42 million to deliver the MDS. This forms part of the $78.7 million the government allocated in 2017–18 from the Sustainability Fund to deliver waste and resource recovery programs.
SV advised that these allocations are not sufficient to fully implement these strategies. We note that as at 30 June 2018, the balance of the Sustainability Fund was $511.3 million. The Act provides for this funding to be used for best practices in waste management.
SV could have provided more detailed advice to government specifying and costing out all the remaining action items when seeking funding to deliver the strategies.
Other jurisdictions
Victoria spends less than other jurisdictions on waste and resource recovery despite Victoria managing much higher volumes of waste. In 2016–17, available data suggests that Victoria generated 12.9 million tonnes of waste and SA produced just over 4 million tonnes of waste. Yet in 2016–17 Green Industries—SA's agency responsible for waste and resource efficiency—received almost $10 million more in funding. This is because in SA, the Green Industries SA Act 2004, legislated that Green Industries SA receive 50 per cent of the waste levy income.
Figure 2C compares the funding of Green Industries SA and SV from 2010–11 to 2018–19. Proportional to waste generated, Green Industries SA receives a substantial amount more in funding allocations than SV.
Figure 2C
Funding comparison of SV and Green Industries SA from 2010–11 to 2018–19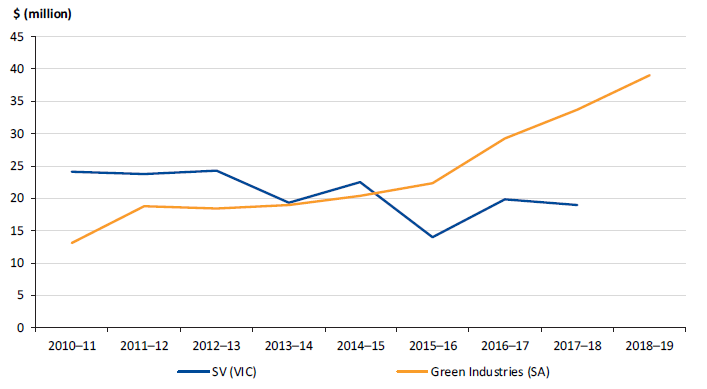 Source: VAGO, based on Green Industries SA annual reports and SV documentation.
Further, Green Industries SA is concerned solely with waste issues, while SV also delivers programs on climate change and resource efficiency. In addition to its core funding, SV also receives program-specific funding through the Sustainability Fund. In 2017–18, SV received $9.86 million in specific program funding. From 2012–13 to 2016–17, NSW EPA received $465.7 million to deliver the NSW government's Waste Less, Recycle More initiative. From 1 July 2017, Waste Less, Recycle More received a further $337 million in funding to 2021. Figure 2D shows the funding comparison between NSW, SA and Victoria from 2012–13 to 2016–17.
Figure 2D
Funding comparison of NSW EPA, Green Industries SA and SV from 2012–13 to 2016–17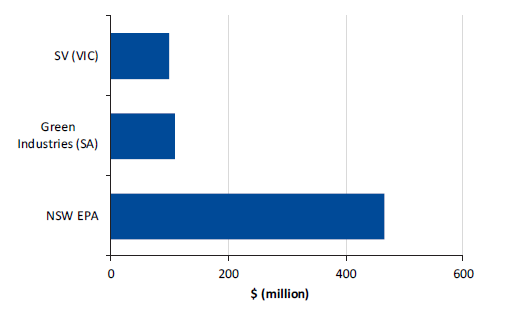 Source: VAGO.
2.5 Gaps in statewide guidance
Current waste plans, strategies, policies and regulations do not give sufficient—or in some instances any—policy direction or guidance on:
waste avoidance
hazardous waste
planning decisions
MUDs
WtE
C&I waste.
Waste avoidance
While the current waste strategies and plans refer to the waste hierarchy and mention waste avoidance, none focus directly on improving waste avoidance practices. Waste avoidance is discussed in more detail in Section 5.2.
Hazardous waste and prescribed industrial waste
The SWRRIP does not include planning for hazardous waste infrastructure. SV acknowledges this gap and has stated that this will be included in the next iteration of the SWRRIP expected in 2023.
Planning decisions
The objective of the Victorian Planning Policy Framework, clause 19.03-5S is to reduce waste and maximise resource recovery so as to reduce reliance on landfills and minimise environmental, community amenity and public health impacts.
The SWRRIP contains a goal to protect 22 sites or 'hubs' that contain the state's key pieces of waste and resource recovery infrastructure. To implement this goal, DELWP revised the Victorian Planning Policy Framework, clause 19.03-5S Waste and Resource Recovery, to include the 2015 SWRRIP as a relevant policy document to help protect these hubs in land use planning decisions.
However, the SWRRIP does not sufficiently guide planning decisions to ensure waste and resource recovery hubs are protected. In November 2018, SV's Hubs of State Importance Risk Register rated 13 out of 22 hubs as high risk—which SV defines as 'many conflicting issues currently exist that are problematic to resolve'—and 10 out of 22 at risk of encroachment.
The SWRRIP includes decision-making guidance for planners but it is not specific enough to protect the waste and resource recovery sites SV identifies as having state importance. SV provided us with nine examples where their interventions led to land use planning decisions made in line with, and with reference to, the SWRRIP. This illustrates the need for the decision-making guidance and other tools to be more accessible, specific, and user-friendly for land use planners.
In addition, DELWP is currently reviewing how the planning system can better manage buffers between industries and sensitive uses—such as those protecting the waste and resource recovery hubs—as currently, approaches can vary, be complex and lead to inconsistent decision making.
Multi-unit developments
Despite all audited agencies identifying MUDs as a growing issue for waste and resource recovery management—particularly for metropolitan Melbourne—there is limited guidance or direction for this issue. Compared to single dwellings, MUDs have lower resource recovery rates and higher contamination rates. As a growing number of Victorians live in MUDs—particularly in metropolitan Melbourne—DELWP, SV, MWRRG and councils need to introduce measures aimed at improving recovery rates in MUDs to minimise waste going to landfill.
Commercial not council collection services
Council kerbside waste collection is not available to most MUDs due to:
insufficient kerbside space to present the bins for all MUD residents (for example, smaller MUDs such as townhouses with narrow street frontage)
the waste collection infrastructure needed to manage a large multistorey building not being compatible with the collection equipment owned and operated by a council
councils avoiding entry to private property to collect waste because they consider the liability risk too high.
As a result, MUDs engage private operators to collect their waste. As councils do not provide the collection services they have limited influence over the type of collection services offered by private operators.
Design guidance
A planning scheme is a statutory document that sets out objectives, policies and provision for the use, development and protection of land in the area to which it applies.
Although councils can influence the design of MUDs' waste infrastructure through the planning process, until recently there was limited consistent guidance in the planning system. In 2016, DELWP incorporated the Better Apartment Design Standards (the Standards) into the Planning Scheme. These require MUDs to plan for the collection of waste into three streams—landfill, recyclables and organics, in accordance with SV guidelines. While this is a positive change, more integrated responses across the responsible agencies are needed. Council planners, however, base their decisions on their interpretation of the Standards—which are not prescriptive—and so their application varies between councils.
In 2018, SV released an updated Better practice guide for waste management and recycling in multi-unit developments, which includes specific guidance to ensure that building design includes space for multiple waste bins and collection vehicle access. DELWP advised that it is updating the Standards, Victorian Planning Provisions and all planning schemes to reflect the SV better practice guidance. While this is a step in the right direction, it is not yet clear whether these actions will provide planners with sufficient guidance and support. DELWP could achieve better clarity through citing specific guidelines in the planning clauses and including critical performance measures directly in the planning provision, rather than relying on SV guidelines.
Notwithstanding this, neither the Standards nor the Apartment Design Guidelines apply to MUDs approved before 2016. Responsible agencies advised they are now considering how to address waste issues for these MUDs and those that were approved after 2016 but are non-compliant with the Standards.
Noting that planners sometimes lack the required technical knowledge to assess whether planning applications are compliant with the Standards, MWRRG developed the 2017 Improving resource recovery in multi-unit developments toolkit (MUDS toolkit) to help local councils adopt and implement MUD waste management planning considerations. A broader review of the support available to Victorian councils will help enhance the skill base of council planners.
Monash Council has developed guidelines for MUDs to provide for better-practice waste management design features. In addition, Monash Council staff have attended MWRRG's Better Practice Guide for Waste Management and Recycling in MUDs training. Monash Council's Waste Management Strategy 2017 –2027 also makes recommendations about MUDs such as to increase resource recovery.
Banyule Council's Waste Management Team advised us it is applying the Standards to MUD proposals. Since the audit, Banyule Council has implemented a process to ensure that council planners refer MUD applications—for three or more units—to council's waste team for review and assessment. Among other requirements, the assessment process asks applicants to submit Waste Management Plans that provide for the separate collection of garbage, commingled recyclables, and food and garden organics.
Collection services
There is currently no requirement for MUDs to offer comingled recyclables and organics recycling services. Consequently, most MUDs have only one waste collection service—for waste going to landfill. As the number of MUDs increases, overall recovery rates are likely to decrease.
The 2016 MWRRIP set a target that at least 95 per cent of all new MUDs in metropolitan Melbourne will accommodate resource recovery collections by 2026. DELWP also included this target in Plan Melbourne 2017–2050.
However, neither DELWP nor MWRRG has reported on how they are tracking to meet the 95 per cent target. DELWP advised that MWRRG is working with councils to gather this information as they approve planning applications. MWRRG advised that it will use SV's VLGAWSR to review council waste standards for MUDs and may also undertake a random sample audit of waste management plans of new MUD applications.
No similar target is in place to maximise resource recovery collections in MUDs built before 2016.
Waste to energy
The Act's waste management hierarchy identifies the transformation of WtE as the fourth preferred option, higher than treatment, containment or disposal to landfill. Despite this, there is currently no WtE policy to guide government agencies and potential investors on what WtE technologies are acceptable and how they should implement them in Victoria. However, EPA has developed an Energy from waste guideline.
In 2017, DELWP released a discussion paper to inform the government's position and policy on WtE technologies. The discussion paper indicated that a policy would be released in early 2018. Following the consultation process, however, the government has not released a WtE policy. DELWP and SV advised that the government decided to consider the role of WtE as part of the circular economy policy to be released in 2020.
DELWP documentation notes that SV receives some 50 enquiries a year on potential WtE investments. A WtE policy could provide a stable environment for government to attract more investment and enable better and more effective long-term planning.
One of MWRRG's important roles is to assist metropolitan councils to maximise resource recovery. In October 2018 MWRRG completed a business case for advanced waste processing infrastructure to reprocess south-east Melbourne councils' kerbside waste more efficiently instead of sending it straight to landfill. MWRRG is currently assisting these councils to collect market information on potential and available waste reprocessing options.
While MWRRG's proactive work to secure a market for metropolitan Melbourne's waste resources is commendable, there is a risk that the technology it chooses may not be in line with the yet-to-be-developed state WtE policy. MWRRG advised us that it is not pushing for a specific technology. It is approaching the market in a technology neutral way and placing the onus on bidders to demonstrate how proposed solutions will address councils' desired performance standards and service outcomes.
Commercial and industrial waste
Unlike MSW, the collection of most C&I waste is organised through contracts between businesses and private waste collectors. Sending C&I waste to a landfill remains a relatively low cost for business, and as a result, many businesses chose to send recyclables to landfill rather than recycling them.
To date, government has had minimal intervention in the management of C&I waste to ensure that its recovery is maximised. Current waste strategies and plans give limited guidance and direction on increasing the recovery of recyclables from C&I waste. SV advised that the current suite of strategies focus on the recovery of target materials regardless of their origin but acknowledge the limited effort to increase the diversion of C&I recyclables from waste going to landfill.
According to the 2018 SWRRIP, the state produced 4.4 million tonnes of C&I waste—more than double that produced by Victorian households.
Prior to 2013, WRRGs only had responsibility for MSW. However, the 2013 MAC Review recommended that the responsibilities of WRRGs be expanded to include C&I and C&D. Despite the government accepting the recommendation, MWRRG was not given additional ongoing funding to support its increased responsibilities. In 2014 MWRRG received a one-off payment of $300 000 to cover its additional responsibilities—such as a bigger coverage area, to include the Mornington Peninsula—but this funding was not specific to C&I and C&D.
In June 2018, MWRRG released its C&I strategy under the direction of MWRRIP. It includes a three-year action plan and identifies two priority C&I waste materials—food waste and plastics waste—for increased diversion from landfill. MWRRG chose these two problematic waste materials based on 2014 data because the C&I sector:
sent all but 3 per cent of 248 000 tonnes of food waste to landfill
recovered only 37 per cent of the 218 000 tonnes of plastics waste.
In 2017–18, MWRRG reallocated $226 000 from its core funding to deliver the C&I strategy. In the absence of new government funding, MWRRG has reallocated existing core funding to support actions to increase the recovery rates from C&I waste. The limited available funding impedes MWRRG's ability to provide effective guidance on C&I waste management. More needs to be done to encourage and promote better practice waste management among businesses and industry.
2.6 Council waste plans
Banyule Council, Monash Council and MWRRG are effectively fulfilling their roles in delivering waste resource and recovery services. Council waste plans include targets and time lines, and both councils are working with MWRRG to achieve cost efficiencies in their procurement contracts for waste services, including organics processing and landfill services.
Both councils have managed to provide continued waste services to their communities in spite of the challenges brought about by the Chinese Sword Policy. This is due in part to the continued ability of their contracted resource recovery facility operator—both councils use the same operator—to process councils' recyclables. Both councils are also taking steps to ensure that their waste services to their communities remain undisrupted.
Banyule Council
Banyule Council's Toward Zero Waste Management Plan 2019–23 (TZWMP) provides effective guidance on council activities and includes clear actions, measures and priorities in the action plan attached. The action plan contains 32 actions relating to the four strategic directions in the TZWMP. As with its previous waste management plan, Banyule Waste Management Plan 2015–19, Banyule Council reports to the community on progress of these actions in its annual reports.
The TZWMP aims to assist Banyule Council to achieve its target of zero waste to landfill, or 100 per cent recovery rate, by 2030. Currently, Banyule Council's recovery rate is at 52 per cent. The TZWMP explains that achieving the 100 per cent recovery rate is an aspirational target that requires council and the community to work together to rethink their purchase and use of materials—avoiding waste, repairing and reusing items. For the four-year period 2018–19 to 2022–23, the TZWMP focuses on the diversion of FOGO and aims to increase Banyule Council's recovery rate to 64 per cent by 2023.
Banyule Council reviews its waste management plans every four years, and in developing the TZWMP, it considered its achievements and learnings from the 2015–19 plan, along with the results of its community consultation and new legislative requirements, such as the e-waste Policy.
In 2018, Banyule residents gave Banyule Council's waste management services, which includes recycling services, its highest satisfaction rating. Nearly 80 per cent of residents rated council's performance as either good or very good, with 11 per cent of residents noting that waste management is one of the best things about living in Banyule. Residents considered waste management as the most important council responsibility.
Monash Council
Monash Council's Waste Management Strategy 2017–27 provides clear guidance on council's activities. It includes 31 actions relating to the five key goals of the strategy. It also includes clear targets relating to waste and resource recovery for 2022 and 2027.
Monash Council advised that it developed its strategy's targets by determining and projecting the impact of relevant council activities on identified objectives. For example, Monash Council's key objective for the strategy is to reduce waste to landfill. Monash Council identified that its FOGO project will help achieve this objective. Using data from its bin audits and landfilled waste, Monash Council decided that it will work towards increasing its recovery rate from 50 per cent to 60 per cent by 2022.
Monash Council uses a reporting software tool to track and report on the progress of its waste activities relative to strategy objectives. It uses this reporting tool for its regular quarterly internal reporting to senior management, and yearly public reporting in its annual reports.
In 2018, Monash residents gave Monash Council the highest performance satisfaction rating for waste and recycling services. These include regular garbage collection, green waste collection, regular collection of recyclables and hard rubbish collection. Residents also rated these services as Council's most important services to the community.