Recovering and Reprocessing Resources from Waste
4 Identifying and managing risks
Waste management is complex. It relies on varying types of infrastructure, private businesses, export markets, and multiple agencies across multiple levels of government. The potential impacts of failure of this system on human and environmental health are significant. As such, waste management is a critical function of government that warrants high levels of risk assessment and management to address factors that:
result in unacceptable risks to the Victorian community and environment
threaten the viability of the sector and the continuity of kerbside services
heighten Victoria's exposure to international waste market fluctuations.
The effects of recent changes to the international export market for recyclables on the Victorian waste management system have shown the truth of this. This Part examines the approaches of responsible agencies to risk in the waste management system.
4.1 Conclusion
DELWP and EPA have responded reactively to the risks that have eventuated within the waste management system, rather than foreseeing and mitigating them. This is despite the presence of lead indicators, such as the obvious heavy reliance on export markets, the earlier flags that the export market was shutting down, the limited infrastructure to locally reprocess recyclables, and the growing environmental and public health risks from significant waste stockpiles across the state.
As these risks emerged:
DELWP and SV did not provide strong, timely advice to government to minimise the risks to waste services in Victoria.
EPA was slow to act on recyclable stockpiles, and more recently with hazardous waste stockpiles. It took a toxic fire at Coolaroo in 2017 to spur EPA to take more serious action.
The ongoing risk is that there is no clear and comprehensive plan forward. DELWP's planned Circular Economy policy is not due until 2020, there are no infrastructure plans to address emerging issues, and there will likely be considerable time between the release of a plan and implementation of any new infrastructure. Yet recyclables continue to grow without viable alternatives to stop them from ending up in landfills or contributing to further stockpile issues.
Affected Victorian communities are understandably concerned about EPA's ability to effectively regulate the management of hazardous wastes and waste stockpiles. The Victorian community has the right to expect that where recovery facilities and the storage of waste pose health and environmental risks, EPA will promptly identify these risks, work with relevant agencies, and apply the full force of the law.
4.2 Market demand for recyclables
Government response to the loss of export markets
Recycling Industry Strategic Plan
In February 2018, the Victorian Government provided temporary relief funding of $13 million to local councils and the recycling industry to help deal with the short-term impacts of the Chinese Sword Policy. The package allocated:
$12 million for councils to subsidise the new collection fees imposed by their waste recovery contractors to 30 June 2018, with councils expected to shoulder these costs beginning 2018–19
$1 million for resource recovery facilities to upgrade their sorting machinery and increase the quality of baled recyclables for exports.
In July 2018, the government released the RISP to:
stabilise the recycling sector
increase the quality of recycled materials
improve the diversity and productivity of the recycling sector
develop markets for recycled materials.
The temporary relief funding was a welcomed and important government intervention. DELWP coordinated the funding release to all 79 Victorian councils in a timely manner. The RISP is a well-developed action plan that clearly articulates specific interventions that are currently being coordinated by relevant agencies. For transparency, DELWP should publicly report on the progress of RISP implementation before the end of the financial year.
Earlier planning for a response
DELWP together with SV could have more closely monitored early developments in China to better anticipate potential impacts on the state's waste. In many ways, China's heightened regulation under its Operation Green Fence Policy beginning in 2013 foreshadowed its subsequent announcements to significantly restrict its waste importation.
DELWP advised that although it was aware of China's July 2017 announcement to restrict waste imports, it did not know whether China would actually do it. However, given Victoria's significant reliance on the Chinese market, particularly for recycling kerbside waste, the risk and the impact of China's decision warranted a proactive response. DELWP did not provide strong, timely advice to government on the risks associated with Victoria's dependence on overseas markets for recycling. It was not until January 2018—when the significant export restrictions had already started—that DELWP and SV started to develop a list of possible interventions and support councils to develop contingency plans. In July 2018, the government released the RISP.
It is likely that the lack of reliable waste export data limited government's understanding of the actual exposure of Victorian recyclables to the international market, particularly China. The 2017 Resource Recovery Facilities Audit Taskforce's interim report suggests that SV's export data, which SV advised is partly based on Australian Bureau of Statistics' data, is significantly underestimated. Figure 4A compares SV's reported data with the Taskforce's estimates.
Figure 4A
Comparison of export data, 2015–16
SV data

Taskforce report

Reported exports:

44 per cent for paper
58 per cent plastic
18 per cent for metal

Actual exports could be as high as:

60 per cent for paper
80 per cent for plastic
90 per cent for steel
nearly 100 per cent for aluminium
Source: VAGO, using December 2017 Resource Recovery Facilities Audit Taskforce interim report data.
Further export restrictions
In April 2018, China further announced that it would stop importing paper and plastic altogether, regardless of contamination levels, effective 1 January 2019. The latest restrictions also include scrap metals, such as stainless steel, copper, aluminium and ferrous metals.
SV is the state's lead agency tasked to achieve the government's goal to develop markets for recycled materials. The RISP and MDS tasks SV to:
support the development of end markets for recycled materials
drive demand for products containing recycled materials through government procurement.
In response to China's latest import restrictions, SV advised that it has commenced a market advisory service to:
identify potential new market opportunities for plastic, paper and glass (mostly domestic market options)
collect and collate information on market conditions, including import restrictions and implications for Victorian recycling operators.
Moreover, SV advised that it is working with the Department of Jobs, Precincts and Resources to target its investment facilitation service to identify market‑ready projects for plastics, paper and cardboard, and to provide targeted investment, or, if appropriate, link these projects into other government funding streams.
SV advised that as part of the RISP, it has commenced working with DTF to assist Victorian Government agencies to identify opportunities to purchase more recycled products including construction and development material, paper and other supplies, furniture, and other office and field equipment. Setting targets for government procurement of recycled products and materials could fast-track this initiative.
Other Victorian Market Development Strategy for Recovered Resources activities
To date, SV's activities under its MDS have largely targeted new and expanded uses for products that include recovered glass, tyres and recycled concrete.
SV's research and development initiatives have made good progress in:
amending VicRoads' specification requirements to require sourcing crumb rubber from authorised tyre recyclers
encouraging the use of recycled tyre products in local government road construction
confirming the usability of recovered glass and plastics for concrete footpaths and rail sleepers.
SV advised that its activities under its MDS have allowed for the direct use of Victorian recyclables, particularly:
8 000 tonnes of recycled glass (from roughly 40 million waste glass bottles) for the Bulla Road to Power Street section of the Tullamarine Freeway widening project in 2018
3 972 tonnes of recycled glass and plastic (from roughly 1.2 million waste glass bottles, 3.1 million plastic bags and 71 500 toner cartridges) for three kilometres of roads in various suburbs across metropolitan Melbourne in 2017 and 2018
some 600 000 tonnes of recycled concrete for portions of the Peninsula Link, Eastlink and Dingley arterial road.
EPA action against a resource recovery facility operator
On 14 February 2019, EPA ordered one of the three Victorian resource recovery operators to stop receiving collected recyclables at its Coolaroo and Laverton facilities because its stockpiles posed an unacceptable fire risk. EPA officers identified issues with the size and configuration of stockpiles, lack of access, and the separation distances between stockpiles, and buildings and other stockpiles.
This particular resource recovery operator lost its major market when China decided to significantly restrict importing recyclables and despite its efforts to find new markets, was unable to move its growing stockpiles. The operator services 34 Victorian councils, including 18 metropolitan councils and, according to DELWP, collects more than half of the state's recovered resources from council kerbside waste.
Because of EPA's action, the operator's Coolaroo and Laverton sites were banned from receiving new recyclable materials from 14 February 2019 until 15 March 2019 for the Coolaroo site, and 20 March 2019 for the Laverton site.
The affected councils did not receive prior warning about the closure order. They first heard about it from EPA after business hours on 14 February 2019, the day the action against the operator was taken.
Although it is important to swiftly respond where necessary to protect the community and the environment from harm, EPA's action meant that councils had no opportunity to prepare for alternative arrangements for their recyclables. Many affected councils had no choice but to send these to landfills during the closure period.
DELWP, as the lead Victorian agency with portfolio responsibility of the waste sector, attempted to identify contingency measures and minimise the adverse consequences of this order. It explained that it first knew of the impending EPA action late in the afternoon of 8 February 2019, and while it tried to find contingency measures so that recyclables would not end up in landfills, it was unable to do so.
MWRRG advised that together with other regional WRRGs, it assisted affected councils to put contingency plans in place and, as a result, was able to save some recyclables from being sent to landfills. Notwithstanding, DELWP's documentation suggests that nearly 500 tonnes of collected recyclables were sent to landfills for every day that the two recovery facility sites were closed.
The participation of the Victorian community is a critical component of the recycling system and the disposal of segregated recyclables to landfills is a serious disincentive to continued recycling efforts.
SV's April 2019 Recycling Attitudes and Behaviours Survey found that 96 per cent of respondents who saw media reports on recyclables going to landfill were either concerned or very concerned about it. The survey also indicated that 60 per cent of those who saw the news took some form of action as a result of seeing the media reports, including:
discussing the recycling issue with my friends/family
trying to reduce the amount of recyclables produced, recycling different material, or recycling fewer materials
finding different ways to dispose of their recyclables
getting further information online.
Notwithstanding, SV's June 2018 and April 2019 Recycling Attitudes and Behaviours Survey show that the majority of Victorians still believe that recycling is important to protect the environment, and that it is the responsibility of the individual to do the right thing.
Monash and Banyule councils
The councils included in this audit, Monash and Banyule councils, engage the services of a different recovery facility for their recyclables. Therefore, EPA's action against the sanctioned recovery facility did not affect them.
Both councils are also taking steps to ensure that their waste services to their communities remain undisrupted. Banyule Council works closely with its recovery facility operator who leases council property for its Heidelberg site. This lease arrangement provides stability to Banyule Council's continued collection of recyclables from its residents.
Monash Council is proactively working to negotiate and execute a two-year extension of its current recycling contract to ensure the collection and receipt of its residents' kerbside recyclables. Both Monash and Banyule councils are also coordinating with MWRRG to participate in the latter's collective procurement for recyclables collection services, which is expected to be available in 2020.
Victorian councils
To meet community expectation that the recyclables they segregate do not end up in landfills or waste stockpiles, Victorian local governments and WRRGs should work together to better and more efficiently deliver waste services. This should include setting performance measures and reporting requirements in arrangements with waste contractors to demonstrate that recyclables are actually recycled.
Councils can also purchase products made from recycled resources. This will help create and expand markets for recycled products, increasing the likelihood that recyclables segregated by their residents are recycled.
4.3 Sufficiency of infrastructure
Infrastructure planning
Further risks for the sector exist given the inadequacy of waste infrastructure planning. Neither the SWRRIP nor MWRRIP provide a clear plan for future infrastructure. They do not specify the estimated cost, type or location of infrastructure needed to increase resource recovery rates now and into the future. In comparison, SA's Waste and Resource Recovery Infrastructure Plan estimates the cost of investment needed for new or expanded infrastructure for different diversion scenarios over the next 10 to 30 years.
Infrastructure capacity analysis
Since 2014, the Act has required WRRGs to prepare a regional implementation plan for each region. The objective of these RWRRIPs is to set out how the waste and resource recovery infrastructure needs of metropolitan and regional areas will be met over at least a 10-year period.
Based on the infrastructure plans prepared by WRRGs, SV's view—as stated in the 2018 SWRRIP—is that, in general, there is sufficient waste recovery and landfill infrastructure to service Victorian waste until 2025. This may have been true when capacity analyses were done in 2014 and 2015. However, it has become clear that the state needs more local reprocessing facilities to convert recovered materials into products that can be used again, or to energy. SV's 2018 update of the SWRRIP did not consider the impacts of the significant consequences of the Chinese Sword Policy on Victoria's waste infrastructure needs despite China's announcement in July 2017. Neither did it consider the early indications in 2013 that China was getting stricter with the contamination levels of the waste it was importing.
Figure 4B shows MWRRG's assessment in 2016 of whether metropolitan Melbourne has sufficient waste infrastructure capacity for the subsequent 10 years.
Figure 4B
Metropolitan Melbourne infrastructure capacity analysis 2016–25
Infrastructure type

Analysis

Recovery infrastructure

Sufficient capacity until 2025

Reprocessing infrastructure

Insufficient capacity for paper, plastics and cardboard—however, 'the direct export of these materials for reprocessing will continue to cover the shortfall and there may not be a particular need to increase local capacity'
Significant shortfall in capacity to reprocess timber and tyres
Sufficient capacity to process food and garden organics in line with recovery projections
Requires infrastructure investments in mechanical biological treatment and WtE to increase MSW recovery rates to 55 per cent or higher—current MSW recovery rate is 46 per cent

Disposal (landfill) infrastructure

Melbourne is at risk of having inadequate landfill capacity by 2025 if appeals against approved planning permits or works approvals are successful. This would effectively stop or delay any increase in air space for metropolitan Melbourne's waste.

If the air space above a metropolitan Melbourne landfill cannot be increased, a new landfill of similar capacity will need to be scheduled by 2021 and commissioned by 2026.
Source: VAGO, from the 2016 MWRRIP.
MWRRG is working with DELWP, SV and south-east metropolitan councils to reduce their reliance on landfill by establishing new and more efficient resource reprocessing infrastructure, which may include the use of WtE technology (discussed in Part 2). However, it is unlikely that this infrastructure will be ready in six years' time to absorb potential shortfalls in Melbourne's landfill capacity.
MWRRG advised that it has commenced a review of its infrastructure capacity through a review of the MWRRIP, taking into consideration export market changes. Further, MWRRG is working to collectively tender for recycling services on behalf of metropolitan councils, to be available by 2020, to reduce current reliance on the export of recyclable materials and attract local options.
4.4 Waste regulation
The Act provides EPA with regulatory and enforcement tools to use against persons or waste operators. Figure 4C lists some of these. The first three involve instances when the Act makes it an offence to dump, abandon or otherwise improperly manage waste when it results in a:
serious threat to public health
state of danger, whether imminent or otherwise
substantial risk of serious damage to the environment
substantial risk of a serious threat to public health.
In these instances, actual damage or imminent environmental hazard is not a requisite element of the offence. These enforcement tools are available to EPA under the Act and carry substantial fines of up to $1.6 million. Section 59E(d) on aggravated pollution includes a jail term, in lieu of fines, for individual offenders. EPA's more frequent use of these provisions could have served as a strong disincentive to irresponsible, illegal, and rogue practices that have resulted in large-scale waste stockpiles across the state.
Figure 4C
EPA Act provisions available to EPA
Provision

Explanation

Penalty

 

s. 27A(1)(c) Offences relating to industrial waste

Cause or permit environmental hazard, which is a state of danger to human beings or the environment whether imminent or otherwise resulting from the location, storage or handling of any substance having toxic, corrosive, flammable, explosive, infectious or otherwise dangerous characteristic.

2 400 penalty units plus, in the case of a continuing offence, a daily penalty of 1 200 penalty units* for each day the offence continues after conviction.

 

s. 27A(2)(a) Offences relating to industrial waste

Dump or abandon waste at an unlicensed site.

5 000 penalty units, plus in the case of a continuing offence, 2 500 penalty units for each day the offence continues after conviction.

 

s. 59E Offences of aggravated pollution

Aggravated pollution—includes substantial risk to public health—results in:

a serious damage to the environment; or
a serious threat to public health; or
a substantial risk of serious damage to the environment; or
a substantial risk of a serious threat to public health.

2 500 penalty units or seven years imprisonment or both.

In the case of a body corporate, a fine of 10 000 penalty units.

s. 31A Pollution abatement notice (PAN)

EPA being satisfied use of the premises either:

has caused or is likely to cause a failure to comply with any requirements contained in any policy; or
has caused or is likely to cause pollution; or
has created or is likely to create an environmental hazard.

 

s. 54(1) Furnishing of information

EPA has the power to require the occupier of any premises to furnish to EPA information as to any waste that is being or is likely to be stored on the premises.

 
Note: *One penalty unit is currently $161.19, Monetary Units Act 2004.
Source: VAGO, using the Act.
EPA advised that despite these provisions in the Act, it did not have appropriate powers to deal with stockpiles and the risk of fire and that it needed a new policy—the 2017 Interim Waste Management Policy (Resource Recovery Facilities), and the subsequent 2018 Waste Management Policy (Combustible Recyclable and Waste Materials) (CRWM Policy) to address these.
EPA received legal advice that section 31A of the Act, in conjunction with the CRWM Policy, is an available power for EPA to put resource recovery facilities on notice for their growing stockpiles. However, the advice notes that section 31A may not be the best option to use because a PAN only takes effect 30 days after it is served, and therefore may not address the most urgent risks.
The 2018 Management and storage of combustible recyclable and waste material Policy Impact Assessment (CRWM PIA) states that the use of the Act's provisions on general pollution offences to mitigate fire risk is difficult and inefficient. The CRWM PIA identified several barriers to EPA's use of these provisions:
EPA does not have fire risk expertise and therefore requires the assistance of fire services.
Proving likely pollution or likely environmental hazard is difficult.
Prosecutions are costly and time consuming.
Recovering costs through the courts can be challenging.
EPA further advised that amendments to the Act that will take effect in 2020 give it more power to address stockpiling issues. Some of these are indicated in Figure 4D.
Figure 4D
Some 2018 amendments to the Act—resource recovery
Issue

Provision and intended effect

Stockpiling/abandonment

Clear trigger for issuing notices—clear power to issue an environmental action notice to reduce stockpiles of waste. Issuing a notice to do this has often been difficult under the current Act.

New permission tiers—sit below licensing (permits and registration) and provide lower burden options to better manage activities that are liable to stockpiling or abandonment.

Illegal dumping

Higher penalties for illegal dumping offences—to deter conduct of these offences. Penalties for litter/ non‑industrial waste dumping graduated based on the volume of waste dumped.

Duties relating to industrial waste—places a clear duty on persons to ensure that the place is authorised to receive industrial waste. In addition, persons involved in transporting industrial waste, including generators and producers of industrial waste, have an obligation to take reasonable steps to ensure the waste is transported to and received at a place authorised to receive industrial waste.

Rogue operators

Repeat waste offender penalty—enables courts to impose a sentence of up to two years imprisonment on repeat industrial waste offenders.

Prohibited person provisions—enables undesirable operators to be excluded from undertaking specified activities or be subject to an imprisonment term if they undertake an activity that requires a permission without approval.
Source: VAGO, from EPA documentation.
These provisions presumably provide additional clarity and certainty for how EPA can address particular waste sector issues. It is not clear how and to what extent it will use these additional powers.
Stockpiles at resource recovery facilities
Stockpiling is a significant concern due to the potential for levy avoidance through the indefinite holding of material without either recovering and selling the materials or disposing them to landfill.
There is a need to balance the legitimate need of operators to undertake some degree of stockpiling against excessive stockpiling that creates environmental and abandonment risks.
The broad range of risks associated with stockpiling various wastes includes fire, litter, dust and odour emissions, attraction of vermin, and safety risks due to the instability of stockpiles.
Resource Recovery Facilities Audit Taskforce
In response to the July 2017 Coolaroo fire, the Victorian Government established the Taskforce to identify and assess waste stockpiles across the state. The Taskforce prioritised addressing risks associated with legitimate resource recovery facilities over illegal dumping.
The Taskforce identified 831 sites across the state and classified five as extreme risks and a further 209 as high risk. Figure 4E explains the risk classifications and Figure 4F shows the spread of the stockpiles across the state. Sites classified as extreme and high risk are mostly located within the metropolitan region with smaller clusters in regional centres. These sites have diverse waste types, including construction and demolition waste, paper, plastic, composts and metal scraps.
Figure 4E
Risk assessment of identified sites
| Rating | Description | Number of sites |
| --- | --- | --- |
| Extreme | Excessively large stockpiles of waste with no effort made to separate stockpiles. Fire impossible to contain. | 5 |
| High | Large disorganised waste piles with separation distances absent or inadequate. Fire would be difficult to contain. | 209 |
Note: The Taskforce did not include its assessment for the remaining 617 stockpile sites.
Source: VAGO, from the June 2018 Taskforce report.
EPA advised that as at April 2019, four of the five sites that were assessed as posing extreme risks were compliant with the 2018 CRWM Policy.
The fifth site, involving a C&D waste stockpile in Lara, will be cleaned up at taxpayers' expense, at least initially. On 30 April 2019, the Minister announced that to reduce risk to community and environment, the government has provided initial funding of $30 million for fire prevention measures and site clean-up. The site contains an estimated 320 000 cubic metres of mostly C&D waste, including materials such as timber, concrete, bricks, plaster, glass and ceramics.
Figure 4F
Location and initial assessment of identified resource recovery stockpiles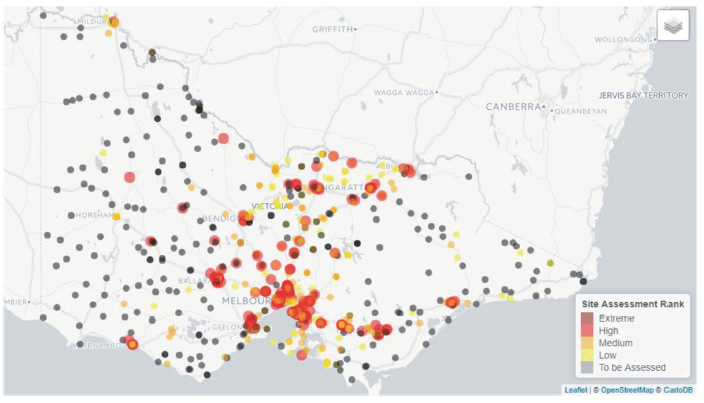 Note: This map was current as at December 2017.
Source: December 2017 Taskforce Report.
The Taskforce undertook site inspections and reported that for many sites, it initially underestimated the risk because visual assessments did not detect internal storage or warehousing of waste. It found that many resource recovery facilities store large volumes of waste inside buildings where fire protection systems including water supply and pressure are often inadequate. The Taskforce also raised concerns that these facilities are located very close to residential areas.
From August 2017 to June 2018 the Taskforce conducted 291 inspections of 114 identified stockpile sites. Following these inspections EPA issued 61 remedial notices, four infringement notices and three official warnings (as shown in Figure 4G).
Figure 4G
EPA activities on stockpiles identified by the Taskforce
Action

Number

Remedial

PANs

49

Clean-up notices

7

Minor works notices

3

Produce information notices

2

Sanctions

Infringement notices

4

Official warnings

3
Source: VAGO, from June 2018 Taskforce report.
C&D recovery facility issued closure order—1 April 2019
On 1 April 2019, EPA ordered a C&D recovery facility in Coolaroo to stop accepting CRWM until it implemented measures to reduce the fire risks associated with the stockpiles at the site.
The Taskforce officers found the premises had large stockpiles of waste and recyclable materials that presented a significant risk of fire and would be difficult to extinguish.
The company processes C&D waste, including timber, plasterboard, foam, insulation, cardboard, plastic and metals.
Fire incidents
Available data indicates that for the 10-year period from 2008 to 2017, there were 136 separate fire incidents at resource recovery facilities across the state. Of these fires, 79 (58 per cent) took place at sites identified by the Taskforce as extreme and high risk.
The data also indicates that the majority of the 136 recorded fires were most likely due to malfunctioning onsite machinery or human error, although for many of them the cause remained unknown.
Figure 4H shows the frequency of fires at resource recovery facilities over the period 2008–17, according to the Taskforce site risk classification.
Figure 4H
Number of fires by Taskforce risk category at resource and recovery facilities, 2008–17
| Risk category | Number of fires |
| --- | --- |
| Extreme | 14 |
| High | 65 |
| Medium | 39 |
| Low | 18 |
| Total | 136 |
Source: VAGO, from DELWP 2018 Management and storage of combustible recyclable and waste material Policy Impact Assessment.
Figure 4I shows that most of the fires at resource recovery facilities took place between 2012 and 2017, with 2016 having the highest number of incidents.
Figure 4I
Number of fires at resource recovery facilities, 2008–17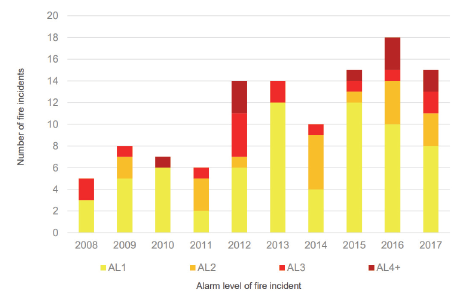 Note: Alarm levels refer to fire severity.
Note: The total number of fires as shown in Figure 4I is 112. This differs from the total of 136 in Figure 4H. DELWP noted that this is because the dataset used to produce Figure 4H is slightly different from that used for Figure 4I.
Source: DELWP 2018 Management and storage of combustible recyclable and waste material Policy Impact Assessment.
Many of these fires burned for days, generating hazardous air pollutants, oil runoff and leachate that affected the soil, waterways and air.
PM2.5
Particulate matter (or air pollutants) are smaller than 2.5 micrometres (0.0025 millimetres) in diameter. Often described as fine particles, they are up to 30 times smaller than the width of a human hair.
During the July 2017 Coolaroo fire, nearby residents were evacuated from their homes, 12 required medical attention and four were hospitalised. Nearby businesses closed, and local residents were asked to remain indoors. Recorded air quality at the time showed high levels of airborne PM2.5, which is known to cause respiratory and other serious illnesses.
Hazardous waste in metropolitan Melbourne warehouses
Following the August 2018 fire at a West Footscray hazardous waste warehouse, EPA investigations identified several other warehouses similarly filled with highly flammable solvents, aerosols, cleaning liquids, paint, and other hazardous chemicals.
These hazardous waste sites are separate from the 831 sites previously identified by the Taskforce for closer monitoring—its focus being resource recovery facilities. EPA regulates the movement of hazardous wastes in the state, however, as these hazardous sites were not authorised, they did not hold the appropriate EPA permit to store hazardous or prescribed industrial wastes.
Effective EPA oversight—informed by regulatory inspections and joined-up intelligence activities with relevant agencies—could have earlier identified and potentially addressed the illegal storage of waste chemicals and dangerous goods in warehouses.
On 5 April 2019, another fire broke out at a hazardous waste storage site in Campbellfield, north of Melbourne. In contrast to the previously identified hazardous waste storage sites, the operator of this site has an EPA licence to process toxic chemical waste. EPA suspended it the month before the fire for storing more waste than permitted, and for not adequately storing containers indoors in breach of its licence conditions.
Emergency Services Victoria advised residents in Broadmeadows, Pascoe Vale and Coburg to stay indoors. The Department of Education and Training ordered the closure of many nearby schools because of the fire.
Affected communities are understandably concerned over their exposure to poor air quality, school closures and business disruptions as a result of waste fires. Given the frequency with which fires are occurring, EPA needs to also prioritise addressing illegal and non-compliant behaviour in the hazardous waste sector. The Victorian community has the right to expect that where recovery facilities and the storage of hazardous waste pose health and environmental risks, EPA will promptly identify these risks, work with relevant agencies, and apply the full force of the law.
EPA advised that since the August 2018 West Footscray fire, it has been working with WorkSafe Victoria and other relevant agencies to:
focus on combustible recyclables with 513 inspections, covering 156 high‑risk sites, with 159 remedial notices and 28 sanctions issued since the July2017 Coolaroo fire
inspect sites that potentially contain hazardous wastes, with 150 inspections conducted since the August 2018 West Footscray fire.
The extent of waste stockpiles across Victoria shows that these are not isolated instances of poor waste management—it has become a large-scale and systemic problem.
Stricter regulations in other jurisdictions
Stricter and more effective regulations in other jurisdictions meant that waste from these states, particularly recovered recyclables and end-of-life tyres, were transported to Victoria and have contributed to our growing stockpiles.
For example, prior to EPA regulation of waste tyre storage in 2014, waste tyres from SA and NSW were transported to Victoria for stockpiling. Both jurisdictions have more stringent regulatory frameworks relating to the transport, storage and disposal of waste tyres. This meant that it was cheaper to pay for the transport of waste tyres to Victoria for stockpiling than to dispose of them to licensed sites in either SA or NSW.
Also, the SA EPA has stricter requirements on the amount and method of storing recyclables in resource recovery facilities, including for stockpiles to be stored in enclosed, undercover facilities. There is no such requirement in Victoria and baled, commingled recyclables from SA have been transported for stockpiling to a resource recovery facility in metropolitan Melbourne.
Waste tyres
EPA estimated that in 2013 there were approximately 14 million tyres stockpiled in various locations across the state. In response, EPA developed the 2014 interim Waste Management Policy (Storage of Waste Tyres) and revised the 2015 Environment Protection (Scheduled Premises and Exemptions) Regulations.
However, legacy tyre stockpiles continue to pose significant public health and environment risks. Despite initiating enforcement actions, EPA has not been able to compel tyre storage operators or landowners to clean-up the most significant stockpiles.
In August 2017, EPA removed approximately one million tyres from a site in Stawell at taxpayers' expense. Of the 9 464 tonnes of waste tyres removed from the site, 5 978 tonnes were recycled with the remaining 3 486 tonnes shredded prior to sending to landfill.
EPA spent $5 million for the clean-up and is now working to recoup its expenses from the Stawell waste operator. However, there is little assurance that the $5 million clean-up cost will be fully recovered from responsible parties.
In late 2018, EPA announced it would also clear approximately 900 000 waste tyres at a Numurkah stockpile. This will also be at taxpayers' expense, at least initially.