Recovering and Reprocessing Resources from Waste
5 Changing community behaviour
A key policy objective of government is to reduce Victoria's reliance on landfill. Changing community behaviour to prioritise waste avoidance, re-use, and recycling will be key to achieving this. Landfills create social and environmental problems, including greenhouse gas emissions, soil and water pollution, and amenity issues such as odour, dust and vermin for surrounding communities. Therefore, we should save landfills for wastes that cannot be recycled or recovered.
The waste hierarchy identified in the Act prioritises waste avoidance, followed by re-use and then recycling. Education is a key tool that agencies can use to encourage behaviour change and promote the waste hierarchy priorities. Education to drive behaviour change is most effective when it reinforces key messages over time and is tailored to local areas.
Education and incentives are important as Victorians' participation in the waste and resource recovery system is critical for its success. To keep waste and resource recovery services running, continuous participation of individuals and businesses is required—for example, to store garbage in a specific bag or bin, bring it to an agreed point, or separate recyclables from those going to landfill. Changing the behaviour of the community and business, particularly to avoid waste, is challenging because the creation of waste is strongly linked with consumption and lifestyle choice.
5.1 Conclusion
Responsible agencies are not taking a strategic, statewide approach to changing community behaviour to minimise reliance on landfill, and therefore not fulfilling this important policy objective. In Victoria, there remains significant opportunity to avoid and reduce waste generation, increase recycling, and divert recyclables currently going to landfill.
DELWP, SV, MWRRG and councils are not effectively encouraging the community, through education and incentives, to reduce waste and recover resources.
For example, many Victorians still do not understand what is and what is not recyclable. This is due to both the lack of ongoing, comprehensive education campaigns to change community behaviour to improve recycling and reduce contamination levels, and the different recycling practices across local governments.
Waste management in Victoria also does not prioritise waste avoidance and instead focuses on managing materials already in the waste stream.
Despite focusing on managing materials already in the waste stream, responsible agencies are also missing a key opportunity for diversion—organic waste. Organic waste makes up almost half of recyclable materials still going to landfill. DELWP, SV and MWRRG have not taken strong action to address this. To date, government funding for activities to increase the recycling of organics has been limited. However, DELWP and SV did not provide detailed enough advice to government specifying and costing out actions when it sought funding.
5.2 Disposal of waste to landfill
According to available data, SV estimates that Victorians send 33 per cent of generated waste to landfill.
In 2015, Banyule Council conducted a bin audit and estimates that 58 per cent of its kerbside garbage bins—40 per cent food organics, 6 per cent garden organics and 12 per cent other recyclables—could have been viably recovered for recycling or reprocessing as shown in Figure 5A. For the same year, Monash Council's bin audit estimates that 65 per cent of its average kerbside garbage bins—51 per cent food organics, 6 per cent garden organics and 8 per cent other recyclables—could be further recovered.
SV conducted a bin audit in 2013. The results are consistent with Banyule and Monash councils' bin audits and show that nearly half of the average Victorian garbage bin holds valuable materials that could be recycled rather than disposed of to landfill. These bin audits show that the state's current recovery rate of 67 per cent could be higher if the recyclables in garbage bins are separated for recycling or reprocessing.
Figure 5A
Garbage bin audit
Source: Banyule Council's Towards Zero Waste Management Plan.
5.3 Waste avoidance
The Act's waste hierarchy prioritises how the community and responsible agencies should manage waste to achieve the best possible environmental outcomes. Waste avoidance is the first of the seven options.
Product stewardship is a scheme whereby producers take responsibility for the recycling of the products they sell. Examples include TyreCycle for waste tyres, and Paintback for used paint tins and waste paint.
DELWP, SV, MWRRG and councils are taking some waste avoidance actions at the statewide, regional and local levels including:
the Victorian Government's role in developing national product stewardship arrangements
DELWP's development of the plastic bag ban
DELWP's development of the Plastic Pollution Action Plan
the Minister's endorsement of national packaging targets
SV's Love Food Hate Waste (LFHW) campaign
Monash Council's 2017 Waste Management Strategy, which includes targets for a reduction in annual kerbside waste generation (residual, recycling and organics) per resident, per year.
While current waste instruments refer to the waste hierarchy and mention waste avoidance, none focuses directly on improving waste avoidance practices. As a result, responsible agencies focus their efforts on managing waste already in the system and do not give avoidance actions sufficient preference or attention. They should increase their efforts to encourage businesses, the community, and industry to avoid creating waste in line with legislative priorities. Less waste overall would result in cost and environmental benefits.
Other jurisdictions such as France and Canada are delivering initiatives to ensure businesses practice food waste avoidance.
In 2015, France became the first country in the world to ban supermarkets from throwing away or destroying unsold food. Instead, supermarkets donate surplus food to charities and food banks. Large supermarkets must sign donation contracts with not-for-profit organisations. In addition, food organics recycling is mandatory for all businesses that produce at least 10 tonnes of organic waste per year.
Since 2015, Vancouver has imposed a fine of 50 per cent on top of disposal costs when food is found in general waste bins for all buildings (including healthcare, retail and restaurants) to encourage people to use their green waste bins and recycle organic materials.
5.4 Waste education
Victorians are still not clear on what is and what is not recyclable due to the lack of a clear and consistent statewide approach to education, short-term campaigns, and inconsistent practices across local governments. For example, many Victorians do not know that takeaway coffee cups are not recyclable because they have a plastic lining. The plastic lid, however, is recyclable.
Educational campaigns are an efficient and often effective way to drive behavioural change. However, behaviour change requires consistent, sustained messages and support tools.
SV, MWRRG and councils have delivered waste education using several education programs or communication campaigns that have raised some awareness of waste and resource recovery issues. However, they could be delivering state, regional and local education campaigns more efficiently with greater resourcing, coordinated long-term project time lines and by better leveraging existing materials and resources already developed by other agencies.
Limited coordination and sharing of materials
There is limited coordination and sharing of materials between SV, MWRRG and councils, which are all working in this space to ensure an efficient and effective approach to waste education.
Food organics and garden organics campaigns
SV, MWRRG and councils all developed separate education campaigns and materials associated with food waste education:
SV developed LFHW in 2014 after identifying the need for a campaign to raise community awareness of food waste avoidance.
MWRRG launched the Back to Earth program in 2013 to promote the importance of compost, develop its market, and support the opening of three collectively procured organics processing facilities in metropolitan Melbourne.
The City of Glen Eira produced its own education materials to support the rolling out of FOGO recycling in its municipality.
Given that many Victorian councils are now moving to collect food waste through kerbside collections, responsible agencies should deliver a coordinated and integrated statewide approach to food waste avoidance and collection services.
Council programs
Banyule Council's Rethink Education Centre provides interactive and multi-media sessions on waste, including on waste minimisation and recycling. It offers these services to audiences of all age levels including primary school students and adult corporate groups. SV could better use existing council waste education resources, such as the Rethink Education Centre, as part of its work to instil good waste practices in Victorians from an early age.
E-waste campaign
In contrast, the model SV used for its e-waste education campaign was comparatively efficient. SV developed e-waste education materials at a statewide level. It consulted with 69 of the 79 councils to develop this material. It distributed this to councils to help them communicate the e-waste ban within their local area to raise awareness of the importance of keeping e-waste out of landfill.
No long-term messaging and support tools
Except for SV's long-term education program ResourceSmart Schools (RSS), SV's education initiatives are short-term. This limits their reach, impact, and ability to effectively change behaviour and is due, in part, to limited resourcing for waste and resource recovery education campaigns.
SV ran three iterations of the LFHW program, which targeted food waste avoidance. Each campaign had resources for six weeks of advertising, which allowed the campaign to aim for reach and engagement objectives, but not to change behaviours. The 2017–18 'Love a List' campaign was designed around one behaviour that households can undertake to reduce food waste. The program evaluation reported a 41 per cent increase in waste reduction behaviours at home after the campaign. Despite this, the campaign was limited in reach due to the scale of its advertising buy of $98 000 and short time frame.
Sufficient funding goes a long way to enhancing the effectiveness of education campaign programs. The Department of Premier and Cabinet's Victorian Government Advertising Report 2017–18 stated that the top 10 information campaigns each received a minimum of $2.8 million per year. In contrast, government funding for SV's waste education campaigns are short-term and project-based. For example, in 2018–19, the government allocated a one-off $1.5 million funding to SV to run a multi-year campaign for e-waste—including for research, development, advertising and program campaign material. In comparison, government campaigns such as the level crossing removal campaign received $2.9 million for advertising in 2017–18 alone.
ResourceSmart Schools
SV has administered RSS since the late 1990s, making it SV's only long-term education program. It is a voluntary program and there are no requirements for schools to participate.
RSS facilitators support participating schools to:
complete up to five RSS modules—core, energy, waste, water and biodiversity
gain up to five stars in recognition of their sustainability results—a five-star school is the pinnacle of school sustainability, having completed all five modules, met all benchmarks, and shown sustained resource efficiency over time.
We reviewed the last two iterations of the program from 2016–17 and 2017–18. Benefits to the waste and resource recovery sector include cost savings resulting from reduced waste to landfill.
The government allocates RSS project funding on an ad hoc basis. MoUs for these projects list key performance indicators and require end-of-project evaluations.
SV's 2017–18 evaluation report highlighted an issue with data collection to inform the evaluation. For example, the RSS program requires participants to self-report and provide billing information online—such as utility bills and waste pick-up costs. The 2017–18 evaluation report noted that for many schools, data entry has been sporadic and inaccurate.
Inconsistent council recycling practices
Waste disposal and recycling services differ among councils. These differences can act as a barrier to efficiently and effectively educating the community on what they can recycle. These include:
recyclable materials—these differ between councils depending on who they have a contract with, for example, some councils have contracts that allow them to separate soft plastics for recycling, but others consider soft plastics a contaminant
bin lid colours—there is an Australian Standard for bin lid colour but not all councils follow this (see Figure 5B)
food organics recycling—19 councils allow residents to put food scraps in their green waste bin, while the others do not
compostable bags—some councils allow residents to put their food waste in compostable bags before they place them in green organic bins—this is due to the ability of their commercial composters to reprocess these bags.
These variations impact SV's ability to deliver consistent statewide education campaigns.
Figure 5B
Non-compliance with Australian Standards Policy on bin lids
Variations in bin lid colours
There is considerable variation in the bin lid colours and sizes that councils use across Victoria. A 2012 audit conducted by SV found that 560 000 bin lids in 18 municipalities do not meet the best practice Standard Australia's 'Mobile waste containers–Colours, markings, and designation requirements' 4123.7-2006 (R2017). According to analysis completed in its 2016 Bin Standardisation Guide, MWRRG found only nine out of 31 metropolitan councils are fully compliant with bin lid colour.
SV determined that it would cost $14 million to change bin colours across the state to be compliant with the Standard. In 2012, SV received $1 million funding for bin lid upgrades. SV advised the Minister to reallocate the funding because this would not cover the cost of upgrades.
SV and the government should provide support to the remaining councils to become compliant as this is one measure that may provide a foundation for responsible agencies to develop and run more efficient and effective statewide education campaigns with consistent messages to help residents maximise their recycling efforts.
Source: VAGO, based on SV analysis.
Councils need to tailor education materials to their recycling services. Banyule and Monash councils provide this information on their websites. Figure 5C shows an example of Banyule Council's education material on its website.
Figure 5C
Recycling information from Banyule Council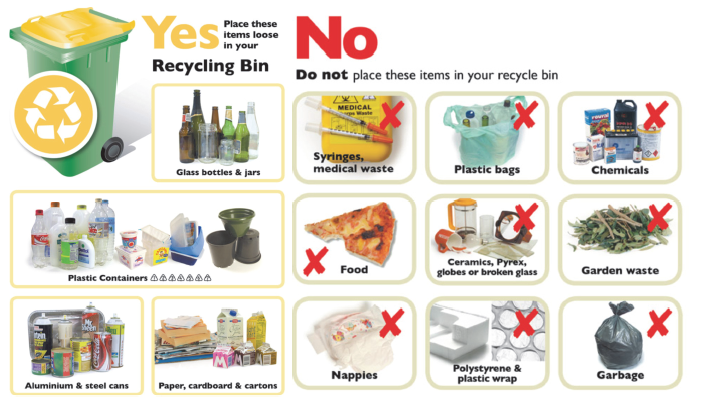 Source: Banyule Council. https://www.banyule.vic.gov.au/Services/Waste-Services-Rubbish-and-Recycling/Recycling-Service
5.5 Capacity building
MWRRG is increasingly supporting the professional development needs of council waste officers. It develops and delivers workshops and guidance on an as-needed basis with support from consultants.
Advanced waste processing
MWRRG provided workshops for council officers as part of developing a regional business case for advanced waste processing. These workshops included information on:
understanding advanced waste processing technologies
procurement of advanced waste processing technologies
contract models.
Multi-unit developments
MWRRG developed guidance—the MUDs toolkit—for architects, building designers, developers, planners and waste management officers to assist councils to adopt and implement waste management planning considerations into building planning approvals processes.
It hosted a workshop for councils, state government and industry on engaging with residents and tailoring waste and resource recovery services in MUDs. The workshop featured presentations from councils showcasing innovative resource recovery solutions for managing food waste, textiles and e-waste in MUDs, a tour of a best-practice building and information on the latest social research. MWRRG advised that it will evaluate councils' and stakeholders' use of the MUDs toolkit by 2020.
MWRRG is developing educational materials for use in MUDs by owners' corporations and property managers. There was significant council interest and support in MWRRG developing these materials on behalf of councils.
Food organics and garden organics
MWRRG delivered a training program for metropolitan and regional councils waste officers to support the implementation of FOGO collection. The workshops focusing on behaviour change received over 80 registrations and MWRRG has to cap them due to limited resources.
Many councils do not have the resources to invest in understanding how to deliver a FOGO service, although it has shown to deliver longer-term environmental, social and financial benefits for most councils.
Land-use planning
MWRRG's Local Buffer Support Program delivered 11 training courses for land use planners in Melbourne and regional locations. The courses are part of the Planning Institute of Australia's professional development program and help land use planners meet the challenges and opportunities of planning to protect important waste and resource recovery facilities across Victoria. This $1.3 million program was funded from the Sustainability Fund but has not been funded in 2019–20.
MWRRG will provide $60 000 in 2019–20 for a reduced program to continue providing land use planning training to councils and regional WRRGs. The time and cost to undertake training for planning scheme amendments to implement buffer controls is prohibitive for many councils, more so in regional Victoria.
5.6 Managing organics and e‑waste
SV, MWRRG and both audited councils identify organic waste as the key material stream they should target to increase diversion of materials from landfill because it makes up such a large portion of recyclable materials still going to landfill. Despite this, they have not taken strong action nor been able to secure funding from government to support activities to increase organics recycling. In contrast, the government has acted in a preventative manner through the e-waste ban.
Organic waste
All audited agencies identified increasing the diversion of organic waste from landfill as a key priority. However, there is limited effort focused on this, despite that organic waste:
has the lowest recovery rate according to the 2018 SWRRIP
makes up 35 per cent of total solid waste sent to landfill according to the 2018 SWRRIP
makes up 46 per cent—the largest amount of any recyclable material—in the average Victorian garbage bin according to Banyule Council's 2015 bin audit.
Food waste makes up almost two-thirds of organic waste sent to landfill and has the lowest recovery rate of all materials.
Limited statewide guidance and support for increasing diversion of organic waste
Victorian Organics Resource Recovery Strategy
The Minister launched the VORRS in September 2015 as a five-year action plan to:
increase the recovery of organic waste
improve practices to recover organic waste
build confidence in recycled organic products.
Three-and-a-half years into the plan, SV has not reported on achievements against the VORRS' objectives. The 2017 SWRRIP progress report shows no increase in organic material diverted from landfill. SV advised that, while the VORRS was approved in 2015, it was not allocated funding until 2017–18 ($300 000) and 2018–19 ($395 000).
SV advised us that it did not identify strong commitments in the VORRS such as targets and performance measures because it was not sure what it could deliver without receiving specific funding. However, in developing the VORRS, SV should have considered the funding it required to implement it and included in its bid specific:
targets and time lines for what it intended to achieve from the VORRS
actions to achieve these performance measures.
In September 2018, SV commissioned a review of its delivery of the VORRS. The contractor's November 2018 interim report identifies challenges in evaluating SV's implementation of the VORRS including:
an unclear relationship between the strategic directions and action plan priority areas
some actions are vague and open-ended
a lack of measurable targets and limited quantitative data to evaluate performance
that the impact of 13 of the 30 actions completed are yet to be fully realised as the outcomes are long-term.
The review also found that stakeholders have limited knowledge of and use for the VORRS and its outputs.
The contractors completed the review in March 2019. Based on their findings, SV will develop a revised implementation plan for the VORRS. SV will need to ensure it is accompanied by performance targets and measures, as well as the required funding to implement them by September 2020—the end of the five-year time frame for the action plan originally identified in the VORRS.
Commercial and Industrial food waste
Food waste is the largest component of C&I waste going to landfill—589 000 tonnes annually. Despite this, the VORRS has no actions to target diversion of C&I food waste from landfill.
Food organics and garden organics collection services
Currently, 36 councils have a garden organics collection service and 19 councils have a FOGO collection service. An increasing number of councils, including Monash and Banyule councils, are piloting or are planning to expand their collection services to include food organics. MWRRG has facilitated collective procurement arrangements for four of the 19 councils that have FOGO services. In addition, it recently facilitated the south-east organics contract, which will result in seven additional councils introducing FOGO collection services, including Monash Council by 2020 and Banyule Council by 2021.
Fifteen of these 19 councils planned and implemented their FOGO services independently of state government. They identified the opportunity to increase their diversion to landfill rates and implemented FOGO services with limited funding and guidance from SV.
SV's Building Victoria's Organics Recovery program and Kerbside Food Organics and Garden Organics programs supported 11 regional councils to introduce FOGO collection services that would not otherwise have been cost-effective.
Consulted councils advised that they prioritised these services for a range of reasons, including:
meeting greenhouse gas emissions reduction targets in council sustainability plans
possible financial benefits if councils FOGO services were cheaper than landfill services and landfill levy costs combined
pressure from the community.
Increased state government effort on the diversion of food waste from landfill through the introduction of FOGO services would result in benefits including:
use of food waste as a resource for compost or as a bioenergy
a reduction in greenhouse gas emissions
cheaper costs than future landfill, Advanced Waste Technology, Advanced Waste Recovery and Reprocessing Technology or WtE facility costs
less frequent garbage collection services, which would result in reduced transport costs and amenity issues caused by trucks.
There is an opportunity to reduce our reliance on landfill and increase resource recovery rates through increasing diversion of organic waste to landfill.
E-waste ban
In 2014, the government committed to banning e-waste—one of the fastest-growing material stream—from landfill to reduce harm to the environment and human health, and increase recovery of valuable resources. However, there are several issues with its implementation.
The ban was originally planned to commence on 1 July 2018, but this was pushed back to 1 July 2019 after stakeholder consultation revealed that councils were not adequately prepared for it. Despite this, evidence suggests councils will not be prepared for the ban when it comes into force on 1 July 2019.
DELWP completed the e-waste Policy in June 2018, four years after the current government announced the ban as an election commitment in 2014. The significant time taken to develop the policy has left limited time for councils to sufficiently prepare for the ban in terms of:
establishing recovery infrastructure to comply with the e-waste Policy
setting up contracts with e-waste collectors
educating the community about the proper management of e-waste.
DELWP advised that the bulk of the policy's content and support measures were known two years prior to its commencement and that councils could have acted earlier. Councils were reluctant to act on e-waste until details of the policy requirements were finalised.
DELWP also advised that its initial consultation on the draft policy identified infrastructure, contracts and education as key risks to effective implementation. As a result, it developed a package of support measures to assist councils to implement the e-waste Policy.
Infrastructure
The e-waste Policy requires council transfer stations to have undercover facilities for the collection and storage of e-waste materials.
SV coordinated a $15 million e-waste infrastructure upgrade grant and in September 2018, approved 122 applications of up to $100 000 to assist 62 councils to upgrade their transfer stations to meet the e-waste Policy's storage requirements.
However, given each council has different sites, existing services and specific needs, the package of support may not be sufficient for all councils. For example, Banyule Council's e-waste grant application states that because its transfer station sits on an elevated engineered structure, changes to accommodate the provisions of the e-waste Policy 'requires a significant lead time to plan, engineer, obtain approvals, and then construct.' Consequently, Banyule Council's estimated cost for its total infrastructure upgrade exceeds what is available under SV's e-waste infrastructure grant program. Banyule Council is negotiating with SV about possible interim measures that fit within this program.
Moreover, the delay in DELWP's completion of the policy meant that councils had limited time to appropriately design their infrastructure upgrades and procure for and complete the required upgrades. SV reported that it expects 75 per cent of approved infrastructure upgrades to be completed before 1 July 2019.
Both audited councils advised that they will not complete their transfer station upgrades in time for the ban and will therefore not be compliant with the Standard for safe handling and storage of e-waste when it comes into force on 1 July 2019.
EPA has acknowledged that given the tight time frames, some councils may not have sufficient time to complete their upgrades before the ban. It advised that it will work with councils to ensure compliance, as long as councils work towards the completion of their upgrades.
Collection contracts
Both audited councils currently receive end-of-life televisions and computers in their transfer stations. The Australian Government's National Television and Computer Recycling Scheme covers these products and each council has a service agreement for their collection.
In anticipation of diverse e-waste products that they will collect under the e‑waste Policy, both councils tried to secure collection contracts for e-waste resources other than televisions and computers without success. Depending on the quantity and quality of e-waste they would receive, councils might hold substantial e-waste materials that no contractor will be collect. In such a situation, councils may apply for an exemption under section 30A of the Act to enable them to send e-waste products to landfill. However, if the exemption is not granted, their only option is to decline to receive further material or stockpile what they have.
MWRRG advised that it will work with local governments, transfer stations, and resource recovery centres to identify barriers and opportunities to increasing recovery of e-waste, and monitor quantity and quality to determine if a future collective contract could be implemented.
Education
After holding workshops with 69 of the state's 79 councils, SV has developed statewide e-waste campaign materials and tools to support councils to rollout the campaign. This includes grants of $10 000 per council to support local delivery. The production of statewide materials that can be adapted by local councils is an efficient model for education campaigns.
The 2017 Managing e-waste in Victoria Policy Impact Assessment notes that a comprehensive and ongoing education campaign will be critical to help Victorians understand their obligations under the ban. SV's commissioned research found that most Victorians do not know what e-waste is or how to safely dispose of it. However, the government allocated SV and councils a one‑off budget (with no ongoing funding) that is 25 per cent less than the e‑waste Policy impact assessment estimated was needed to deliver the campaign. SV is yet to determine whether this funding will be enough to provide effective ongoing education.